Welcome to Falmouth port, Jamaica!
Nestled in the northwest of Jamaica, Falmouth port is the best developed Jamaican port and a frequent stop in the Western Caribbean cruise itineraries.
The city of Falmouth boasts rich historical and cultural heritage and is located 34 km (21 mi) from Montego Bay (35 minutes drive), 67 km (41 mi) from Ocho Rios (a 1-hour drive), and 137 km (85 mi) from Kingston (a 2-hour drive), Jamaica's capital.
I've had numerous opportunities to visit Falmouth while I was working as a Shore excursions staff on cruise ships, and in this article, I share with you:
Falmouth port info (Falmouth cruise terminal, getting around the port)
10 best things to do in Falmouth port (+ Falmouth shore excursions, port highlights)
Check out today's cruise deals from Cruise Critic!
Falmouth Port
The port of Falmouth opened its doors in 2011 and boasts a status of one of the cleanest and best-developed ports in the Caribbean.
Officially named "Historic Falmouth Cruise Port", the port was built in a triangular shape and is co-owned and run by the Port Authority of Jamaica (PAJ) and the Royal Caribbean International.
See Falmouth port map on Google maps
It consists of 2 long piers that can accommodate the world's largest cruise ships. The two piers meet at the seaside end and share a terminal building where you can find a security check, a waiting area, and a small tourist information desk where you can pick up some maps and brochures.
The port area lies within the triangle and is filled with several Georgian-style buildings housing souvenir shops, duty-free shops, jewelry stores, bar restaurants. At the end of the port, you'll find Craft Market where you can find local handicrafts and buy authentic Jamaican souvenirs.
The whole area is flat and suitable for guests in wheelchairs and with walking difficulties.
These are some of the familiar brands you'll find in Historic Falmouth Cruise Port:
Diamonds International
Tanzanite International
Diamonds Forever
Touch of Gold
Pandora
Colombian Emeralds
Pirana Joe
Harley-Davidson
Margaritaville
La Casa del Habano
Starbucks
Blue Mountain Jamaican Coffee
Shore excursions meeting location and a taxi rank are located at the exit of the port area, approximately a 5-10 minute walk from the terminal building. You'll see multiple stations with different tour operators, so make sure you hold your tour ticket/booking confirmation form in hand so that you can easily identify your meeting spot. The meeting areas are shaded and some of them have benches where cruise passengers can sit and relax while waiting for their tour departure.
Upon coming to your designated meeting location, you need to check in at the tour booth you'll find at the station. Shore excursions staff and tour operators will be there to assist you. If you haven't booked a shore excursion, don't worry – you can also do it on-site!
Important Note: Some tours meet right in front of the terminal building, so always double-check the instructions on your tour ticket!
There is also a taxi stand with official taxi fares displayed at the exit of the port area, as well as a public bus station near the Craft Market from where you can catch a bus to Montego Bay.
Currency in Jamaica
The official currency is the Jamaican Dollar (JMD) and 1 US dollar equals approximately 154 JMD. Currency converter
US dollars and credit cards are accepted, however, I suggest you pay by card only in the port area. Have some cash on you if you want to spend money outside the port because it's safer.
Hotels in Falmouth
Check out the best hotels in Falmouth on Booking.com, Agoda, Expedia, Hotels.com, Tripadvisor
Do You Need a Reliable Travel Insurance? Get a Quote!
10 Best Things to Do in Falmouth Port
Before I share with you my list of the top 10 things to do in Falmouth on a cruise, I invite you to sign up below and get my exclusive, insider Shore Excursions Guide for FREE!
Suggested articles:
25 Top Shore Excursion Packing List Items
What to Pack for a Caribbean Cruise – Top 40 Must-Have Items
1. Explore Falmouth Downtown
If you are in Falmouth for the first time, my honest suggestion is that you skip the downtown area and explore the island's attractions instead because there's so much to see outside the town.
However, if you decide to stay, I suggest you start (or end) your visit at the port area as you'll find not only great shops but also tasty Jamaican dishes (Jamaican jerk chicken, the famous patty dish), local coffee (Jamaica Blue Mountain Coffee is absolutely delicious), rum cakes and the best Caribbean rum!
Falmouth was established in 1769 as a sugarcane farming town and boasts beautiful Georgian architecture and old churches reachable within a short walking distance.

Upon exiting the port, you'll find yourself on Seaboard Street and within a 5-minute walk, you'll reach the Water Square, the central square in Falmouth. From there you can explore the town's architecture, lively streets, shops or check out one of the bars and restaurants.
You can book a guided heritage walking tour or a 45-minute Trolley tour of Falmouth that will allow you to visit the town's main landmarks (Falmouth Courthouse, Baptist Manse), and stop at St Peter's Anglican Church. You can book these tours at the terminal information kiosk.
There is no beach in Falmouth, and it takes at least 15 minutes drive to reach the nearest nice beach. I recommend Blue Waters Beach Club which is located only 10 minutes' driving distance from the dock.
2. Dunn's River Falls
The famous waterfalls are located 63 km (40 mi), or a 1-hour drive east of Falmouth port. If you are looking for a fun and adrenaline-packed day, Dunn's River Falls is a must!
Nestled in the middle of the Jamaican jungle, right by the ocean and only 5 minutes drive from the city of Ocho Rios, the falls rank among the most visited attractions on the island.
The terraced waterfall is popular for climbing and it takes around 45 minutes to climb from the bottom to the top. The activity itself is considered strenuous, however, if you don't feel like doing it – you can spend your day within the complex where you can walk, shop at one of the numerous souvenir shops, have a drink, or grab a bite at one of the eateries.
The area is incredibly scenic and there is a staircase parallel to the waterfall so you can walk along, take pictures of your loved ones, take in the waterfall view or get down to the beautiful scenic beach at the bottom.
You'll need water shoes and a swimsuit if you want to climb the falls, and I suggest you get a waterproof phone case so you can bring your phone with you (as there is no professional photographer taking pictures of you).
Suggested article:
25 Top Shore Excursion Packing List Items
What to Pack for a Cruise in 2022 – Top 50 Cruise Essentials
Changing rooms and restrooms are available on site.
Dunn's River Falls official website
Check out Dunn's River Falls tours from Falmouth on Viator and Tripadvisor
3. Martha Brae Bamboo Rafting
At only 10 minutes' driving distance from Falmouth port, you can reach Martha Brae Rafting Village, a starting point for a peaceful 3-mile journey down the river tucked in untouched nature and lush vegetation.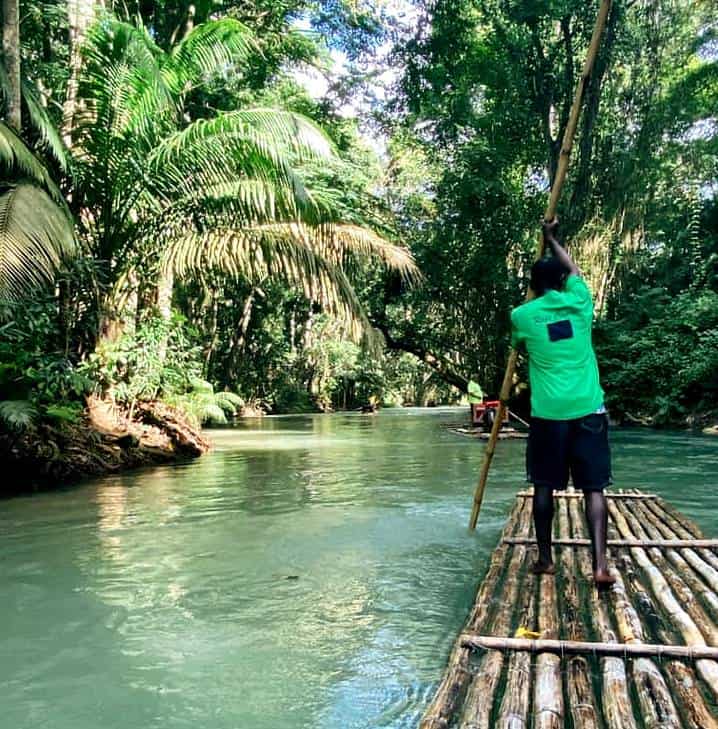 Embark on a tranquil bamboo raft ride and enjoy the unspoiled beauty of the Jamaican countryside. The village boasts picnic areas, a bar, and gift shops.
Check out Martha Brae River Bamboo Rafting reviews, tours and activities on Viator and Tripadvisor
4. Dolphin Cove
If you are into animal encounters, you should head to the Dolphin Cove located a 5-minute ride from Dunn's River Falls and a 1-hour drive from Falmouth cruise port.
Tucked in a lush tropical rainforest, this marine park allows visitors to interact with dolphins, stingrays, and sharks.
You can choose between different programs including dolphin encounters (kiss, hug, dance with the dolphin), swimming with dolphins, snorkeling with stingrays, shark feeding.
Within the complex, you'll find a small zoo, a bar restaurant, souvenir shops, and several trails that you can explore.
Dolphin Cove Jamaica official webpage
5. CHUKKA Adventures
CHUKKA Adventures is a reputable tour operator providing a wide range of adventure activities not only in Jamaica but also in other Caribbean islands (Belize, Dominican Republic, Grand Turk, Barbados).
They partner with the major cruise lines and the majority of adventure shore excursions offered by cruise lines are operated by CHUKKA.
The tour operator boasts several estates scattered across the island, offering a great variety of activities including river tubing, zip lines, ATV rides, horseback ride and swim, bamboo rafting, and so much more.
Good Hope (Eco-Adventure Outpost at Good Hope) is a 2000-acre plantation located only 20 minutes drive from the port of Falmouth. I've had the opportunity to visit it, and I was amazed by its beauty!
You can visit the Good Hope Great House and learn about plantation tradition and island history, go for adrenaline activities (ATV, zip lines, river tubing), enjoy 6 swimming pools, waterslides, and a replica of Dunn's River Falls.
You can opt for Appleton Rum Tasting Experience, indulge in delicious jerk chicken in an on-site restaurant, or simply chill out in one of the hammocks and swings over the river.
CHUKKA also has a couple of more outposts throughout the island, where you can enjoy numerous activities and cultural experiences. I also did horseback ride and swim which was a truly unique experience.
Chukka Caribbean Adventures official webpage 
Check out CHUKKA reviews, tours and activities on Viator and Tripadvisor
6. Montego Bay
A famous resort town and port of Montego Bay is located only 34 km (21 mi), or a 40-minute drive from Falmouth port.
Montego Bay is packed with beach resorts, hotels, eateries, shops, and historic landmarks. Hip Strip is an area parallel to the ocean filled with entertainment venues, shops, restaurants, hotel resorts, and fast food places.
Check out the best hotels in Montego Bay
The most popular Montego Bay beaches are:
Doctor's Cave Beach

, right on the "Hip Strip", is ideal for families due to its shallow waters and sandy bottom.
Walter Fletcher Beach, which is home to a large seaside amusement park (Aqua Sol Theme Park).
Dead End beach
One Man Beach
Harmony Beach Park
Cornwall Beach
In Montego Bay, you can visit an old Saint James Parish Church, Sam Sharpe Square filled with colorful houses with a monument to a British abolitionist, its narrow, cobbled streets, Montego Bay Craft Market, Old Jewish cemetery, golf clubs, and more!
Check out Montego Bay reviews, tours and activities on Viator and Tripadvisor
7. Rose Hall Great House
The 18th century Rose Hall Great House built on the 6.600-acre Rose Hall Plantation is one of the main Montego Bay attractions, preserving the memory of White Witch Annie Palmer who tortured countless slaves and murdered her three husbands on the property according to the legend.
The Georgian mansion was restored and transformed into a history museum where you can learn about the island's history and hear the haunted stories of the White Witch of Rose Hall.
Rose Hall Great House is located a 20-minute ride from Montego Bay and 20 minutes drive from Falmouth.
Rose Hall Great House official website
Check out Rose Hall Great House reviews, tours and activities on Viator and Tripadvisor
8. Blue Hole
This gorgeous natural attraction is situated 77 km (48 mi) or a 1-hour 20-minute drive from Falmouth port, in the proximity of Ocho Rios.
Blue Hole features scenic tropical waterfalls with multiple limestone swimming holes where you can swim, cliff dive, rope swing, and hike to the secret waterfalls through the lush rainforest.
Alternatively known as Cool Blue Hole, it is located in Cascade St Mary on Cascade Road, and is not to be confused with Blue Hole Thatch Hill (on Thatch Hill Road).
Check out Jamaica Blue Hole reviews, tours and activities on Viator and Tripadvisor
9. Bob Marley Experience
Jamaica is the birthplace of reggae legend Bob Marley who was born in Nine Miles district, in Saint Ann Parish.
It is possible to tour the musician's house and museum in the village of Nine Mile where he was born, and Kingston, the island's capital where the museum is located.
Kingston is located 143 km (89 mi) from Falmouth, and it takes 2 hours' ride one way to get there, while Nine Mile is situated around 66 km (41 mi) or a 1-hour 30 minutes from the Falmouth port.
Some cruise lines offer these tours, and if you are willing to join I suggest you book it with your cruise line as it guarantees your return to the ship on time.
Check out Bob Marley tours and activities on Viator and Tripadvisor
10. Green Grotto Caves
Surrounded by lush vegetation, this mystical labyrinth of underground caverns served as a shelter of the native Arawak Indians (Tainos), a hiding place for smugglers and runaway enslaved people, and in recent history, it was even a site of a nightclub.
Green Grotto is 1.5 km (0.9 mi) long and 12 meters deep, with numerous chambers, spectacular rock formations, and a subterranean lake – the Grotto Lake. Guided tours are available.
The caves are located 42 km (26 mi) east of Falmouth, and it takes approximately 35 minutes drive to get there.
Green Grotto Caves official webpage
Check out Green Grotto Caves reviews, tours and activities on Viator and Tripadvisor
---
Wrapping Up
If you are planning your cruise to Falmouth, make sure you plan your day accordingly to the ship's schedule to maximize your stay in port. If you are a first-timer, I definitely suggest you explore the island as in downtown Falmouth there's not much to do (my honest opinion).
Suggested article: Ocho Rios Cruise Port (Jamaica), Things to Do, Shore Excursions
10 Best Things to Do in Falmouth:
Explore Falmouth Downtown
Dunn's River Falls
Martha Brae Bamboo Rafting
Dolphin Cove
CHUKKA Adventures
Montego Bay
Rose Hall Great House
Blue Hole
Bob Marley Experience
Green Grotto Caves
---
This article may contain affiliate / compensated links. For full information, please see my disclaimer here.
You May Also Like:
Snorkel Gear and Scuba Diving Equipment – Tips by a Pro!
25 Top Shore Excursion Packing List Items
What to Pack for a Caribbean Cruise – Top 40 Must-Have Items
What to Pack for a Cruise in 2022 – Top 50 Cruise Essentials
Women's Cruise Wear – Top Cruise Essentials for Ladies