Welcome to Aruba cruise port guide!
Aruba is a gorgeous little island located just a few miles off the Venezuelan coast in the southern Caribbean Sea, and one of the three islands that make up the ABC Islands: Aruba, Bonaire, Curaçao.
"One Happy Island", as Aruba is often referred to, is a popular Caribbean cruise destination that I had the opportunity to visit several times on a cruise ship I worked on. As I have been working in the Shore excursions department, I had a chance to join quite a few Aruba tours and explore the island in different ways – that's why I think my article can be extremely helpful to you if you want to know more about the cruise port and Aruba tours.
Read about:
Aruba cruise port info (Aruba cruise terminal, local transportation, how to get around in port)
Top 10 Aruba shore excursions & port highlights
Check out today's cruise deals from Cruise Critic!
Aruba Cruise Port
Aruba Cruise Terminal
The port of Aruba consists of two modernly equipped cruise terminals located in the very heart of Oranjestad, the island's capital. Aruba is a constituent country of the Kingdom of Netherlands with a few other Caribbean countries and the name of the capital refers to orange color – a symbolic color of Netherlands and Dutch people.
There are 4 berths and all of them are next to each other, so everything is quite simple and there is not much walking involved. The cruise terminal boasts a modern building filled with souvenir and clothing shops, restrooms, a tourist information center (where you can get maps and brochures), tour booths, car rentals, a post office, and more.
See Aruba cruise port on Google maps
If you are joining a cruise line-sponsored shore excursion, the tour operators will wait for you inside the building with the signs displaying the name of the shore excursion. However, always double-check the meeting time on your tour ticket as that might change sometimes. If you book a tour with an Independent Tour Operator, the tour guide normally waits for you either inside the terminal building or outside by the exit of the terminal.
From your cruise terminal, everything is within walking distance – the main street, designer shops and glamorous boutiques, jewelry stores, casinos, malls (Renaissance mall is the most famous one – just a 5-10 minute walk from your cruise ship), restaurants, bars, the waterfront promenade, and main historical landmarks: Fort Zoutman historical museum, the Archaeological Museum, the Parliament building, and other monuments.
Oranjestad is an amazing place to explore and go shopping, and my advice is to save some time to visit the capital as well. If you search for an ATM of free wi-fi, you can get them at the Diamond International store that you'll spot upon exiting the terminal. There is an ATM inside the terminal building as well.
Best hotels near Aruba cruise port: Renaissance Aruba Resort & Casino, Pista Q, Wonders Boutique Hotel, Divi Dutch Village Beach Resort (Eagle Beach), All-Inclusive – Divi Village Golf and Beach Resort (Eagle Beach), Cadushi Apartments.
Local Transportation
There are several different ways to get around Aruba:
By public bus – The main bus station is located on L.G Smith Boulevard, located across the street from the cruise terminal. I suggest you use a bus to go to one of the Aruba beaches, such as Eagle beach which is one of the most famous ones. You'll pay only a couple of dollars (around 2.50 $ round-trip, while a one-way ticket is around 1.50 $ per person) instead of taking a taxi which can be much more expensive. Make sure you have some cash on you. The buses accept dollars as well.
The currency in Aruba is Aruban Florin (AWG), and 1 AWG equals 0.562 US dollars.
By taxi – Taxis in Aruba are not metered, and the drivers should stick to the official fares established by the government. However, they don't always respect that, and you can be overcharged. For instance, once I went to Eagle beach that is only a 10-minute driving distance from the port, and taxi driver charged the three of us 18.00 $ for one-way. Upon returning, the taxi cost was around 12.00 $.
So, the rule practically doesn't exist and I suggest you agree on the price first (check the official fares at the Tourist information center beforehand). If you want to explore the island, I definitely suggest you either rent a car or book a shore excursion.
Rent a car – I rented a car once and it was truly amazing! Aruba is a small island easy to get around, and if you plan your day ahead you can visit most of the island's attractions in a day! I dedicated an entire article to how to get the most of Aruba in a day! Check it out: Aruba Highlights in a Day
When it comes to the car/off-road vehicle/bike rental, it is relatively easy as you'll find many car companies and local vendors outside the terminal. However, I definitely suggest you rent a car beforehand through a reliable car rental agency, as you can get much better deals than on-site.
For more port-of-call money-saving tips, make sure you sign up for my FREE Shore Excursion Guide below!
Top 10 Aruba Shore Excursions & Port Highlights
3 Ways To Book a Shore Excursion
Before I tell you about the best Aruba shore excursions, I want to advise you on the different options to book a shore excursion.
For more additional information, you can check my article: Pros and Cons of Booking Cruise Ship Shore Excursions
Book a shore excursion through your cruise line
ADVANTAGES: This is always the safest way to go! Booking a tour with your cruise line means that everything will be organized for you from start and that you don't have to worry about anything. Your only task should be to show up on time at a designated meeting place, and your tour guide will take care of the rest. The meeting place and time are always visibly marked on your tour ticket, so make sure you bring it with you.
Another great thing in regards to booking a shore excursion with a cruise line is that you are guaranteed that a cruise ship won't leave without you in case something goes wrong on a tour and a tour's return to the ship is delayed. This happened quite a few times (not in Aruba, though), and a cruise ship always waited until the last passenger got on board before setting sail.
Last but not least, if something goes wrong on a tour or it didn't meet your expectations, you can always talk to the Guest Services or Shore Excursions representatives, and they will do their best to help you out.
DISADVANTAGES: On the other side, there are a few disadvantages when it comes to booking a tour with a cruise line – the prices of shore excursions are often more expensive than if you book with an independent tour agency (I tell you this from experience).
Also, it might happen that the tour you want is fully booked (that's why you should always pre-book your tours – it's also cheaper), or it gets canceled last minute for various reasons. In that case, you need to either book another tour or find other alternatives.
Suggested article: 10 Things That Can Negatively Impact your Cruise Vacation
Finally, joining a cruise ship shore excursion means you will be in a larger group of people and that you'll need to strictly follow the group and the tour flow. Some people find this annoying and prefer to have it their own way.
There are more advantages and disadvantages, but these are the most important ones I think you should be aware of.
Book a shore excursion through an Independent Tour Company
Some cruise ship passengers prefer to book a tour with an independent tour company. Normally, they do it online before their cruise, and upon booking they get a confirmation e-mail with a booking code, information on a meeting place, and a contact of a person in charge of the tour arrangement. And this usually works fine.
ADVANTAGES: The main advantages of this sort of arrangement are that you usually travel in a smaller group (or, it's just you), tour departure times and cancellation policies can be more flexible, prices can be cheaper, and the whole experience more personal.
DISADVANTAGES: The main disadvantage is that in case something goes wrong – a cruise ship cannot guarantee for you. Everything is between the travel agency you booked your tour with, and you.
TIP: If you choose to book a tour with an independent travel agency, make sure you do it through reliable online platforms, such as Get Your Guide, Expedia,  Viator, or Trip Advisor.  Always check the terms and conditions, the cancellation policy, and the arrival time of the tour (make sure it's at least an hour before all-onboard time). Most of the travel agencies have experience in working with cruise ship passengers but always double-check.
Book a tour with a local vendor
There are many local agencies or individuals in Aruba offering their travel services to cruise ship passengers, and they usually wait outside the cruise ship terminal. I'll be honest with you and tell you that I don't trust this kind of service. It's 50/50, you never know what kind of service to expect, and I'll give you an example.
I've never booked any Aruba trip with a local vendor, but I rented a vehicle twice: the first time, my friends and I rented a car (I wrote about it in my article: Aruba Highlights In A Day) and it was a super cool adventure, although we overpaid a car (we paid around $60, but you can find a much better deal if you book online).
The second time, my friend and I wanted to go to the Natural Pool located in the Arikok National Park and for that purpose, we needed an off-road vehicle. We rented a two-seater ATV (cost us around 100$) and headed to the Natural Pool. Overall, the experience was risky, as the terrain was so rugged that not even the ATV could handle it (or we couldn't find the right road). The local vendor hasn't mentioned any of this, he just didn't have any UTV to offer us and sold us an ATV.  Anyway, my friend and I managed to get there and back, but we were angry and frustrated because the ride was too risky and dangerous. I remember my elbows were completely red, almost bleeding, and all that because of a crazy bumpy ride.
That's why I personally don't trust this kind of service, but I don't want to generalize. It's up to you to choose what experience you want and need to feel both secure and satisfied with a service. Experiences and preferences are personal and different.
Those were the main things I wanted to point you out.
Read more: Pros and Cons of Booking Cruise Ship Shore Excursions
Now back to the topic – Top shore excursions in Aruba.
1. UTV Off-Road Adventure
This is an absolutely extraordinary experience if you enjoy this type of tour! Usually, the cruise lines offer it, but you can also book it with an Independent Tour Company.
The tour normally starts in Oranjestad (like all other tours), the capital of Aruba where the cruise terminal is located. The tour representatives pick you up and drive you to the private property where the UTV vehicles are parked. Once you get there, you split into groups of two, you get provided with the equipment (bandana) and the safety briefing, and when everyone is ready – you're good to go!
The tour includes several stops in the area of Arikok National Park that cannot be visited by car or bus. The terrain is extremely rugged but easily manageable with a UTV. In addition, your guide/instructor is with you all the time, so in case you get stuck, they will help you.
The stops this tour usually includes are:
The Natural Bridge – there are several Natural Bridges on the northern and eastern rugged shore of Aruba. Natural bridges are the island's natural wonders made of coral limestone, created by the strong winds and waves over the centuries. They are truly impressive to see, so make sure you have a good

camera

on you!
Bushiribana Gold Mill Ruins – the remnants of a former gold mill built from the natural stone in the 19th century. The mill was built by the Aruba Island Gold Mining Company, for the purpose of extracting gold from the ore mined in the nearby hills. You will learn from your guide about the 19th century Gold rush in Aruba and the pirates that used to hide in the ruins!
Ayo Rock Formations – Another natural wonder of Aruba that got its name after the nearby village is also known as the Casibari Rock Formations. The unusual formations made of tonalite rocks were used by the Arawak people, the earliest settlers on the island – their paintings and inscriptions carved in rocks are still visible today! It is possible to climb the formations following man-made paths and take some breathtaking photos of the entire island. There is also a restaurant there, so you can use the restrooms and get refreshments if you wish!
Based on the cruise line/travel agency you book the tour with, you might have some other stops, but overall these are the stops the tour includes.
TIP: This tour is not suitable for people with back or knee issues, as the terrain is rugged and the road very bumpy. Get ready to get very dirty, as you'll be driving through dirt and dust.
WHAT TO BRING: Besides the valid driving license for the person who drives, the items I would highly recommend you to wear and bring are sunglasses (extremely important to protect your eyes), a hat, snickers that you don't mind getting dirty, a camera, phone case (otherwise, your phone will be full of dust), light clothes, a sunscreen, a backpack. Water and bandana are usually provided for you and included in the tour price.
See the list of UTV Aruba tours
2. Kukoo Kunuku Aruba
Kukoo Kunuku is a very authentic, open-air, colorful party bus typical for Aruba. The cruise lines and travel agencies have different tour offers – some include Kukoo Kunuku sightseeing tour with a beach break and some include Kukoo Kunuku night tour with stops at local bars, with complimentary drinks included and local dancing. The pick-up/drop-off point is normally in front of the cruise terminal, so your only task is to show up on time at a designated meeting place and from there your guide will take over.
One is sure – whatever tour you choose, you will have a hilarious time with lots of laughter and fun, as the tour guides are extremely entertaining and friendly. People of all ages can join this tour, as it doesn't require any demanding physical activity level. Just make sure you are over 18 if you want to do a night Kukoo Kunuku tour!
TIP: If you want to book this tour with your cruise line, make sure you pre-book it, as the spaces are limited, and very often it is sold out the first day you come on board!
WHAT TO BRING: If you are joining the Aruba Kukoo Kunuku sightseeing tour with a beach break, bring sunglasses, hat, beach bag, swimsuit, towels. If you are coming on a night tour, then just come in a great mood and bring a camera!
Suggested article: 25 Top Shore Excursion Packing List Items
Read about the tour in detail: Aruba Happy Kukoo Hour
3. Aruba Horseback Riding
The first time I rode a horse, it was on this tour! Aruba horseback riding tour is absolutely amazing and one of my greatest horseback riding experiences! There are several different tours that cruise lines/travel agencies offer, and they all have one thing in common: a horseback ride through Aruban countryside and the exploration of natural treasures of the island.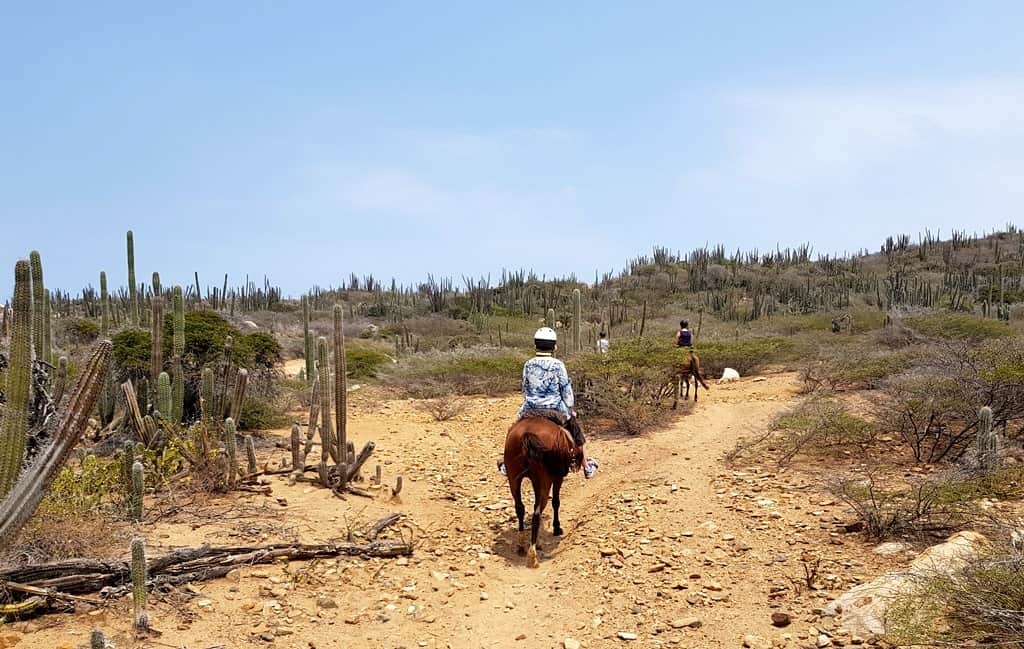 The tour I joined lasted around 2 hours and started at a local ranch (the round trip transportation to get to the ranch and back to the cruise ship was included in the price), where we had a safety briefing, met our horses, and got the equipment (helmets).
Although I was a complete beginner, I didn't feel uncomfortable because the instructor/guide was with us every time. During the ride, he would point us out the main places of interest and told us more about the flora and fauna of the island. We rode along the island's north and east coast and stopped at the beach to take pictures and refresh ourselves. We had the opportunity to see huge cacti trees – so typical in Aruba, lizards, iguanas, and other Aruban wildlife. The highlight of the horseback riding tour was the scenery that followed us along the way – gorgeous sea views, sand dunes, and the view over the whole north-eastern coast of Aruba.
Overall, the tour is a great experience for nature lovers, and there are many options to choose from – horseback riding in Aruba with a stop at Natural Pool, a horseback ride through Arikok National Park, sunset horseback ride, and others.
TIP: Aruba horseback riding tours are usually organized in small groups, so make sure you pre-book your tour as it may run out of spaces! Also, if you have any issues regarding your physical health – any back, neck, knee, leg problems – you shouldn't book this tour. Make sure you always have adequate insurance when you join this type of activity.
WHAT TO BRING: I made a mistake when I went on a tour and wore shorts. The truth is – it's much more comfortable to wear closed-toes shoes and long pants, to avoid scratches and injuries. Make sure you have your camera, phone, or a Go Pro with you – you'll want to memorize the moments, trust me! Also, a phone case might be a good idea, in case your phone falls off! The water and refreshments are usually included in the price but always double-check that.
Explore Aruba Horseback riding tours
4. Aruba Snorkeling Tour
Snorkeling in Aruba is a wonderful experience, and almost all cruise lines and travel agencies offer this type of activity! I personally haven't done it, but those who did – my teammates and some cruise ship guests I talked to – said it was great and well worth doing!
The concept of each snorkeling tour is similar, only the program can be slightly different. Some tours include a catamaran cruise, some have meals included, some of them sailing and snorkeling… The options are various, and it's up to you to choose which one you prefer! Tour duration is usually from 2-3 hours but can be longer as well, depending on the tour package.
Almost every snorkeling tour consists of a stop at two snorkeling sites where you get to learn about a rich Aruba's marine life, admire an old German shipwreck and explore the fascinating underwater world populated by corals and tropical fish such as angelfish, snapper, parrotfish, and damsels. Some of the tours include a swim at the Boca Catalina – Catalina Bay, a remote and secluded place ideal for peace and nature seekers.
Suggested article: Snorkel Gear and Scuba Diving Equipment – Tips by a Pro!
TIP: Snorkeling tours normally include full equipment (mask, fins, snorkel, lifejacket), so you don't have to worry about buying the gear separately! However, always double-check with the tour provider. Also, in case your tour doesn't have drinks included and you want to have a drink, make sure you have some cash on you because on the boat they might not accept cards.
WHAT TO BRING: Towel (ship towel or one of these super practical microfiber beach towels), a Go-Pro camera (I've never had a Go-Pro on my snorkeling trips, and that's the thing I regret the most), beach bag, waterproof phone case, hat, sunglasses, sunscreen.
Explore Aruba snorkeling tours
5. Aruba Island Sightseeing Tour
Aruba is one of the Caribbean islands that truly has to offer a lot of points of interest not to be missed during your stay in Aruba! Sightseeing tours are organized in different ways – by bus, jeep, kukoo kunuku, boat, ATV, UTV. If you prefer a comfortable ride – you can opt for an Aruba bus sightseeing tour; if you want it to be fun and authentic – choose Kukoo Kunuku; if you seek adrenaline – go for an ATV, Jeep, or UTV sightseeing tour! There are various options, and most of those tours include stops at several key places of interest in Aruba:
California Lighthouse
Alto Vista Chapel
Casibari Rock Formations
Bushiribana Gold Mill Ruins
Natural Bridge
Oranjestad
Aloe Vera factory
Natural Pool
Butterfly farm
I wrote about some of these landmarks in my article: Aruba Highlights In a Day, so feel free to check it out if you want to know more!
TIP: If you are not in good physical shape, consider booking a tour by bus to avoid any inconveniences. Also, many of these tours include some beach time (sometimes, guests don't know it!), and sometimes that time is very limited (guests expect to stay at the beach for over an hour, but you don't spend more than 20 minutes) – that's why always double-check with your Shore excursions staff onboard or a travel agent how long you'll stay at the beach, to avoid any unexpected situations.
WHAT TO BRING: Walking shoes or sandals, sunglasses, sunscreen, hat, water (usually, water is not provided on such tours, so bring water!!). Towels and swimsuit – if the tour includes a beach stop.
Explore Aruba island sightseeing tours
6. Off-Road Jeep Safari Tour
You are a thrill-seeker but you don't want to sit behind a wheel? Hop aboard a Land Rover caravan-style Jeep and explore off the beaten track rugged coast of Aruba! These vehicles can usually accommodate from 8-16 people, and the tours combine the most famous Aruba attractions with some beach/snorkel time. Some of them include a stop at a Natural Pool, one of the most famous island's natural attractions, located inside the area of Arikok National Park – I highly recommend it!
Safari is a great option if you are with a family, or a group of friends – a fun-filled and memorable day is guaranteed!
TIP: If you are in poor physical condition, or are a wheelchair user, this tour might be very challenging for you. A good alternative would be the Kukoo Kunuku sightseeing tour – equally fun, only without the off-road portion of the tour.
Also, on this tour, the driver is provided, so you don't need a driver's license.
Explore the best Aruba jeep safari tours
WHAT TO BRING: For this tour make sure you have comfortable clothes and shoes, sunglasses, sun protection, a hat, swimwear, a camera, and water shoes for the Natural Pool!
Suggested article: 25 Top Shore Excursion Packing List Items
7. Aruba Sunset Sail
Sunset is probably the best time of the day to admire the breathtaking sugar-white beaches of Aruba's shoreline. The sail goes along the west coast of the island, and the tour normally includes complimentary drinks, light snacks, or a meal – depending on the tour package. It usually lasts 2 hours and is truly a unique experience where you get to relax and admire Aruba's tropical landscapes and gorgeous sceneries.
TIP: Before booking a sailing tour, check what the boat is like and how many people can fit. If you prefer privacy, you won't be happy to see a bunch of people on a catamaran, so make sure you choose the right tour with the right boat. Also, this type of tour is not suitable for people with mobility difficulties.
WHAT TO BRING: A good camera and smile are a must!
Explore Aruba sunset sail tours
8. Aruba Scuba Dive
Scuba diving in Aruba is an amazing experience that allows you to discover the depths of the ocean and explore its reefs, wrecks, and unspoiled marine habitat that shelters stingrays, turtles, giant tube sponges, colorful tropical fish, and coral formations.
Suggested article: Snorkel Gear and Scuba Diving Equipment – Tips by a Pro!
My teammates scuba divers who have done the scuba diving tour in Aruba say it's totally worth it! There are usually two types of tours: the one for non-experienced divers, where you don't need the certification nor previous experience, and the other one for experienced divers that requires a PADI certificate and a "C" card. A professional PADI instructor is with you all the time, provides you with training, briefing, and all necessary equipment.
TIP: The most important thing is to pre-book this tour as it usually runs out of space (spots are limited if you are booking through your cruise line). Also, if required, you should provide the tour operator with a waiver, valid PADI Open Water certification, health documentation, or any other if needed. Double-check these things in advance.
WHAT TO BRING: a Go-Pro camera, swimsuit, a wetsuit (usually it's not provided).
See the list of Aruba scuba diving tours
9. De Palm Island Tour
De Palm Island is a private island and an all-inclusive destination located just off the coast of Aruba. I would say it's an ideal place for families, as the whole concept of the island is designed for fun – besides all-inclusive food and drinks, you can enjoy activities such as snorkeling (snorkel gear included), banana boat rides, the waterpark, beach volleyball or salsa dancing! The island has beautiful beaches and the beach chair is included in the price, but if you want more comfort and privacy, you can upgrade to a beach cabana. There is also a possibility to see pink flamingoes in a reserved section of the island and take unique photos with these fascinating creatures!
Also, if you want to try yourself out at SNUBA or Sea Trek (underwater Helmet Walk), you can do it for an additional fee. The tour usually lasts 4-6 hours, although it varies on the tour package.
TIP: If you have already been to Aruba before, and you want to experience a new adventure, you can do the De Palm Island tour! However, if you have never seen the island of Aruba, I suggest you do that first and leave De Palm Island for one of the next times. Also, if you have small kids with you – De Palm Island is a nice option to fulfill your day with fun and quality family time.
WHAT TO BRING: a camera, swimsuit, sunglasses, hat, sun protection.
See the list of De Palm Island tours
10. Aruba Beaches
Although you don't need to go on a tour in order to take a dip in the turquoise waters of Aruba, I have to mention the beaches as an inevitable part of every Aruba visit. The beaches of Aruba are absolutely gorgeous, and above all – they are all-natural. Most of the beaches are sandy, with soft, sugar-white sand and warm, crystal-clear sea, a true paradise for eyes and soul!
Here below is my list of must-see beaches in Aruba and the distance between the cruise terminal and each of them. Most of the beaches are located on the west, northeast, and southeast coast of Aruba. Here is the list:
Eagle Beach (4.5 km)
Manchebo Beach (4.4 km)
Palm Beach (7.5 km)
Arashi Beach (14 km)
Andicuri Beach (11.5 km)
Boca Catalina (11.6 km)
Druif beach (17 km)
Malmok beach (10.5 km)
Baby Beach (25 km)
Rodgers beach (25.3 km)
In my article Aruba Highlights In a Day, I wrote more in detail about my favorite beaches – Palm beach, Eagle beach, and Baby Beach, so feel free to check it out!
To Wrap Up
You have no idea how much I enjoyed writing this article! I love Aruba and I hope I managed to give you an idea of places to see and shore excursions to do! Aruba cruise is absolutely worth your time and energy, and I can promise you will have an amazing time on this unique Caribbean island!
It is important to prepare ahead, though, so you can get the most of Aruba in a day. You should have your day organized and fulfilled, and this article is here to help you avoid any unnecessary inconveniences or situations! On the other hand, if you decide to do your own thing, I recommend you to have a look at this 1-day itinerary I did with my friends the first time we came to Aruba: Aruba Highlights In A Day.
Stay tuned for our next Caribbean adventure!
Check out today's cruise deals from Cruise Critic!
---
This article may contain affiliate / compensated links. For full information, please see my disclaimer here.
You May Also Like: