Welcome to Gibraltar port of call!
Gibraltar, a territory known for the Strait of Gibraltar – strategically and economically important as it connects the Atlantic Ocean to the Mediterranean Sea – is located at the southwestern tip of the Iberian Peninsula. It is a British Overseas Territory dominated by the Rock of Gibraltar from where you can see the African continent and three countries (Morocco, Gibraltar that belongs to the UK and Spain) when skies are clear.
At its foot is located the beautiful little town of Gibraltar – a very British one, as Gibraltar has been part of Great Britain since 1713 (after the War of the Spanish Succession).
I had the opportunity to visit Gibraltar several times while working as a shore excursions staff onboard cruise ships, and in this article, I share with you:
Gibraltar port information (Gibraltar cruise terminal, getting around the port)
10 best things to do in Gibraltar and Gibraltar shore excursions
Visit our cruise port guides for Alicante, Bilbao, Vigo, Barcelona, La Coruna, Cartagena, Malaga, Cadiz, Lisbon
Gibraltar Port Information
Gibraltar cruise port is located in the Bay of Gibraltar, northwest of Gibraltar downtown that you can reach within 15 minutes walking distance. Cruise vessels dock alongside both sides of a 940-meters long quay that has a capacity to accommodate 4 cruise liners simultaneously depending on the size of the ship.
See Gibraltar port map on Google maps
Port of Gibraltar boasts an attractive cruise terminal featuring a wide range of facilities including the Gibraltar Tourist Board Information office, a cafeteria, toilets, security facilities/X-ray machines, public phones, souvenir shops, waiting area, etc.
Check out Gibraltar cruise schedules on Gibraltar Port Authority's official website.
Local Transportation
Tour/shuttle buses and a taxi rank are available outside on the pier. The town is located 1.5 km (0.9 mi) or a 15-minute walk from the Gibraltar cruise terminal.
You can either walk or take a mini-van shuttle bus provided by Gibraltar Port Authorities for an additional fee (around £3.00 per person one way, £4.00 round trip).
A taxi is an alternative option, however, keep in mind that they are limited. Wheelchair-friendly taxis are available as well, but you should pre-book these (on Gibraltar Taxi Association official webpage). Gibraltar Taxi Association also offers Rock tours and taxi rentals.
I strongly suggest walking into town because you might experience a lot of waiting for taxis and shuttle buses. Guests booked on cruise line sponsored shore excursions will be escorted from the ship to their designated tour buses.
There is also a public bus service in Gibraltar operated by two major bus companies: Gibraltar Bus Company and Calypso Transport. There are 8 bus routes in total and the ticket price is £1.80 for adults (single)/£2.50 (all day pass), and £1.50 for children (single)/£2.00 (all day pass). The nearest bus station is at North Mole Road (Albert Risso House), 650 meters from the cruise terminal (7 minutes walk).
Currency in Gibraltar
Gibraltar is part of the United Kingdom and the official currency is the British Pound (GBP; symbol £). 1£ equals 1.37 US dollars. Currency converter 
Hotels in Gibraltar
Hotels in Gibraltar near the cruise port are Sunborn Gibraltar, Jasmine Coral Jay, The Eliott Hotel, Westone Luxury Self Catered Apartments.
Check out more Gibraltar hotels on Booking.com, Agoda, Hotels.com, Expedia and Tripadvisor
Do You Need a Reliable Travel Insurance? Get a Quote!
Gibraltar International Airport is located 2.6 km (1.6 miles) from Gibraltar port and it takes less than 10 minutes drive to get there.
10 Best Things to Do in Gibraltar Port
Before I share with you the top things to do in Gibraltar, I invite you to sign up below for my exclusive, insider Shore Excursion Guide for FREE!
1. Rock of Gibraltar
Gibraltar is a densely populated place spreading over four square kilometers only (therefore is relatively easy to walk around on foot).
The main highlight of the Gibraltar peninsula is the legendary Rock of Gibraltar that rises 426 m (1.398 feet) above sea level and dominates the Mediterranean Sea. The Rock of Gibraltar was known in ancient times as one of two "Pillars of Hercules", one of the two promontories that flanked the entrance to the Strait of Gibraltar (the other one is Jebel Musa in Northern Africa).
A large part of the Upper Rock is covered by a nature reserve that is home to around 300 Barbary apes that you can see on the top. The Rock itself is an attraction, but there are also some other attractions and landmarks that you can visit on the Rock such as Europa Point, St. Michael's Cave, Great Siege Tunnels, the Moorish Castle, etc.
How to Get to the Rock of Gibraltar?
There are several ways to climb the Rock of Gibraltar.
1. Rock of Gibraltar Cable Car Ride
The most popular option is to climb to the top of the Rock by cable car. Cable car base station is located at the foot of the Rock on Red Sands Road (at the south end of Main Street), approximately 30 minutes walking distance from Gibraltar port. A taxi ride to get there takes around 10 minutes.
But beware! It can get very crowded and lines can be long at the base station! The cable car ride to the top is quite short (around 6 minutes), each cable car carries around 30 passengers and there is a limited number of them, so you might experience some waiting.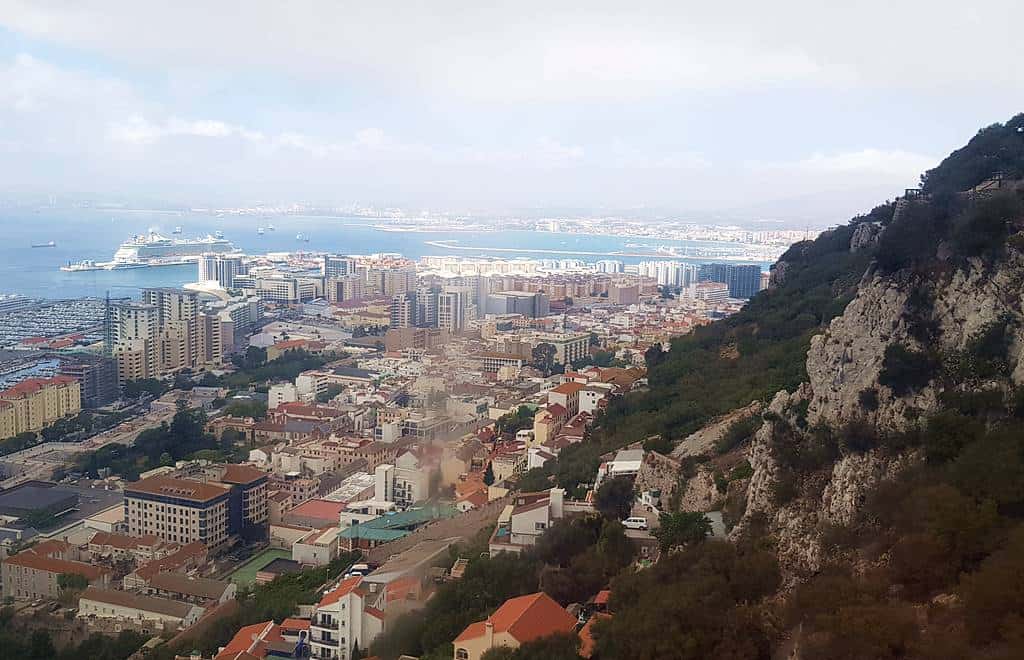 At the Cable Car Top Station, visitors can meet the famous Barbary apes and enjoy a breathtaking view of two continents (Europe and Africa), the Atlantic Ocean, and the Mediterranean Sea.
Unfortunately, I wasn't that lucky as you can see in the pictures – I couldn't see much through the fog because it was very cloudy the day when I visited. Still, the temperature was pleasant, and with a hot cappuccino from the nearby restaurants and welcoming monkeys – it was just perfect.
The cable car entrance ticket costs £16.00 for adults (senior citizens £14.50), and £7.00 for children. It is advisable to book the tickets in advance. Cruise lines also offer Rock of Gibraltar shore excursions and I strongly suggest you pre-book your tour as the spaces are limited.
Check out Gibraltar Cable Car Ride tours and activities on Viator and Tripadvisor
2. By taxi
Once you come to Gibraltar, you will be able to find taxi drivers everywhere (that's only if you decide to go to the Rock. If not, most of them won't agree to take you to the town as it's reachable on foot within few minutes).
If you are coming with a cruise ship, usually they wait for you in front of the terminal area. Sometimes, they can accommodate up to 8 people, so don't be confused if they put you together with another group.
Try to negotiate the price in advance, as some of them can charge you more than they should. Bear in mind that the Rock is not far and the ride is quite short! Some taxi companies also offer tours to the Rock (such as Gibraltar Taxi Association).
3. On foot
If you are ready to do some sports and have enough time (and you are in good shape!), you can hike through Gibraltar Nature Reserve that covers most of the Upper Rock part.
Several safe trails will take you to do the top and once you start your way up, you will be greeted by Barbary apes who will be more than happy to pose for a photo (but here you have to be careful because they can take your camera away!).
If you decide to climb the Rock on foot, make sure you have enough water and comfortable shoes! And don't forget a good camera, as monkeys really enjoy posing!
Suggested article: 25 Top Shore Excursion Packing List Items
4. Public Bus
Public buses are going to almost all parts of the Rock. They are quite cheap and easy to get, so if you are not limited with time – this is one of the most convenient ways to visit the Rock. To get to the Rock, you can take bus route #10 at North Mole Road and get off at Boyd Street Terminus (near Trafalgar Cemetery). The bus ride takes around 10 minutes one way.
The buses in Gibraltar are small and comfortable, and drivers can be very friendly and informative which will make your ride even more enjoyable.
However, if you are traveling on a cruise ship, I don't recommend taking a bus because it can be time-consuming.
5. Shore Excursion
If you are coming to Gibraltar for the first time, the best way to explore the Rock is on a guided shore excursion which will allow you to learn about the Rock's history, its flora and fauna, and in the company of a licensed tour guide who will point you the main places of interest.
Check out the top-rated Rock of Gibraltar tours and activities on Viator and Tripadvisor
2. Meet Barbary Apes
Besides historical landmarks, breathtaking views, and fascinating nature, one of the main Rock of Gibraltar attractions is the Barbary macaque, tailless monkey species native to Morocco.
At the Cable Car top station, you will meet a lot of these permanent Gibraltar residents whose population is constantly growing.
Spread on three terraces located at the top of the Rock, tailless Barbary apes will gladly welcome you to their territory. This unique monkey species is the only wild monkey population in Europe. They live in freedom and according to the official statistics, there are around 300 of them in the Upper Rock area of the Gibraltar Nature Reserve.
Although they seem to be cute and friendly, you need to be cautious and treat them with respect as they are wild animals. It is strictly forbidden to feed them or get too close as they can bite you or take your stuff away!
3. Visit St. Michael's Cave
20-minute walk downhill from the Cable Car top station, you walk right into the Nature Reserve. Along your way, you will spot numerous monkeys either on the trees or on the top of taxis, in company with their best friends – taxi drivers.
The path will take you down to St. Michael's Cave, an impressive cave system consisting of a large area where many concerts take place – the Upper Hall – and several smaller chambers equally impressive. The Upper Hall is also used to host weddings and other memorable events.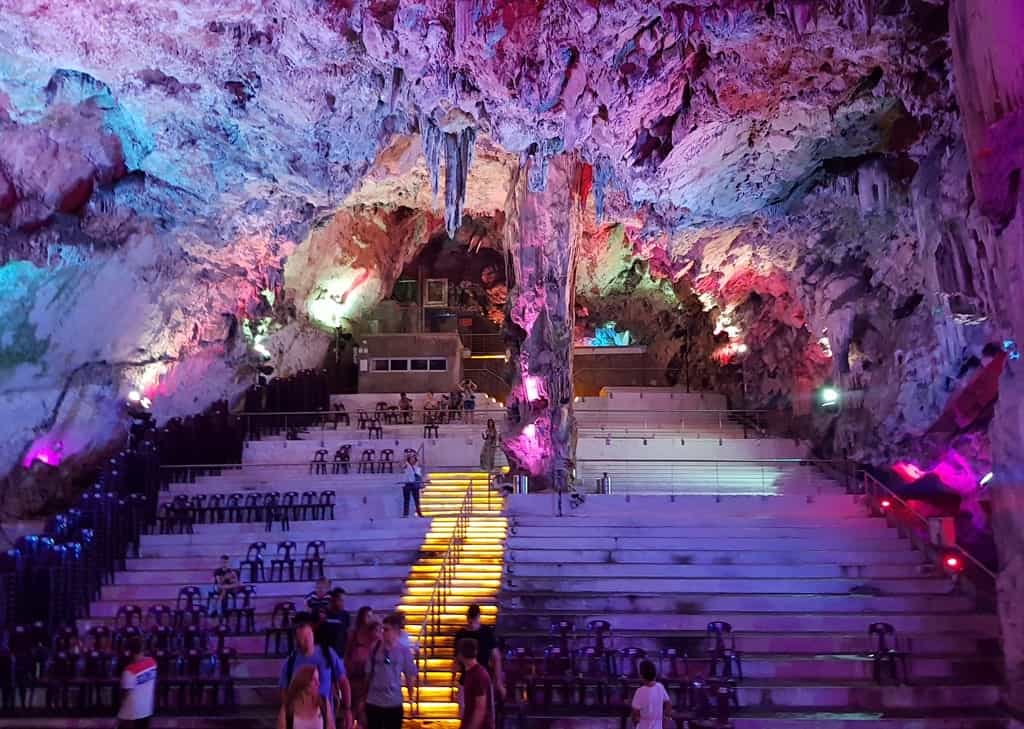 It is relatively easy to walk around the cave, but if you have trouble walking – it's advisable to stay at the Upper Hall where a lot of seats are available. If you come down to the lower chambers, there will be steps to climb and those can be slippery.
One of the recommendations is to take a tour with a guide, as the cave boasts a rich history and interesting stories about the origin of its stunning formations.
The admission ticket to St Michael's Cave is included in the Gibraltar Upper Rock Nature Reserve Ticket that costs £13.00/adults, £8.00/children (5-11). This general ticket covers the entrance fees to all Gibraltar Upper Rock attractions.
Check out St Michael's Cave tours and activities on Viator and Tripadvisor
4. Gibraltar National Museum
If you want to learn about the history of Gibraltar, the best place to do it is at the Gibraltar National Museum, located in the city center approximately a 25-minute walk from Gibraltar port.
The entry ticket to the museum is £5.00 for adults and £2.50 for children under 12. The ticket includes entry to all galleries, impressive 14th-century Moorish baths, archeological excavations in the garden, and all temporary exhibitions.
Visit Gibraltar National Museum's official webpage for more information.
5. Europa Point
The famous Europa Point (Punta Europa) is located at the southernmost point of Gibraltar's peninsula and is known for its 19th century Trinity Lighthouse. You can see Morocco and Spain from there on a clear day.
There are 5 notable landmarks at Europa Point: Harding's Battery; Ibrahim-al-Ibrahim Mosque (also known as King Fahad Bin Abdulaziz Al Saud Mosque) inaugurated in 1997; the 15th-century Shrine of Our Lady of Europe, a Roman Catholic Church; the Europa Point Lighthouse (known as the Trinity Lighthouse) dating from 1841; and the Nun's Well, an ancient underground water reservoir.
The admission is free for all Europa Point attractions.
Check out Europa Point tours and activities on Viator and Tripadvisor
6. Great Siege Tunnels
Great Siege Tunnels of Gibraltar are part of the Upper Rock Nature Reserve and one of the main attractions of Gibraltar.
They are carved out by the Merchant Marines in order to defend Gibraltar during one of its numerous sieges – the Great Siege of Gibraltar that lasted from 1779 to 1783. This was the 14th siege of Gibraltar (unsuccessful one!) led by the Spanish and French troops against the British Army during the War of the American Revolution.
Great Siege Tunnels make part of a 55 km (34 miles) long tunnel system constructed over the course of nearly 200 years, mainly by the British Army.
Great Siege Tunnels admission ticket is included in the Gibraltar Upper Rock Nature Reserve Ticket that costs £13.00/adults, £8.00/children (5-11).
Check out Gibraltar Tunnels reviews, tours and activities
7. "City Under Siege" Exhibition
This exhibition is usually part of almost all Gibraltar tunnels tours and is located only 500 meters away from Great Siege Tunnels.
This authentic exhibition shows how people and soldiers in the fortress survived the most difficult and tragic moments of the siege during the 4 long years. The exhibition is housed in two old buildings dating from the early 18th century.
The first one is known as Willis's magazine and was used for the storage of gunpowder, while the second magazine offers a visual presentation of the Great Seige of Gibraltar.
8. Moorish Castle
Moorish Castle is a medieval fortification in Gibraltar that consists of diverse buildings, gates, and fortified walls, dominated by the Tower of Homage and the Gate House.
The castle complex is located on the top of the hill on the Rock of Gibraltar, in the vicinity of the "City Under Siege" exhibition, Queen Charlotte's Battery and World War II Tunnel.
The admission ticket is included in the Gibraltar Upper Rock Nature Reserve Ticket that costs £13.00/adults, £8.00/children (5-11).
Check out Moorish Castle tours and activities
9. Explore Gibraltar Downtown
If you decide to stay downtown and skip the Rock, you'll have a great time as the town is lively, packed with shops, bars, restaurants, and friendly people.
Gibraltar is very British and in the town center, you'll find many red telephone booths and fish and chips restaurants. You should also try some seafood – it's absolutely delicious and very local!
Some of the town highlights you should visit are the Main Street promenade, the Gibraltar National Museum, Holy Trinity Cathedral, Commonwealth Park, The Convent (Governor's Residence), King's Chapel Anglican Church, Trafalgar Cemetery, Gibraltar Botanic Gardens, Alameda Wildlife Park (a zoo) among others.
The Town center is also very cheap, so if you are planning on buying perfumes, watches, or some fancy alcohol bottles – do it in Gibraltar as the place is VAT-free jurisdiction.
10. Dolphin Watching Adventure
There is an exciting activity for adventure seekers and animal lovers – dolphin-watching excursions that are suitable for families and kids of all ages.
There are 3 species of dolphins in the Bay of Gibraltar, and if you are into these wonderful mammals, you have a chance to see them swimming in their natural habitat!
These boat tours usually last around 1.5-2 hours and you get to cruise along the Strait of Gibraltar and admire the stunning views of the Rock and the coast.
Check out Dolphin Watching tours and activities on Viator and Tripadvisor
Wrapping Up
Gibraltar port is an amazing place and I suggest you plan your day so you can maximize your stay in this friendly, welcoming port of call. There are plenty of options and the Gibraltar cruise port is located near the town center, which makes it easy to navigate the area and cover the major highlights in one day.
Visit our cruise port guides for Alicante, Bilbao, Vigo, Barcelona, La Coruna, Cartagena, Malaga, Cadiz, Lisbon
---
10 Best Things to Do in Gibraltar
Rock of Gibraltar
Meet Barbary Apes
St. Michael's Cave
Gibraltar National Museum
Europa Point
Great Siege Tunnels
"City Under Siege" Exhibition
Moorish Castle
Explore Gibraltar Downtown
Dolphin-Watching Adventure
---
This article may contain affiliate / compensated links. For full information, please see my disclaimer here.
You May Also Like:
Western Europe Cruise Port Guides
Mediterranean Cruise Port Guides
25 Top Shore Excursion Packing List Items