Welcome to Istanbul port, Turkey!
With its 15 million inhabitants, Istanbul is the largest city in Turkey and the only city in the world spreading on two continents, Europe and Asia. The city is located between two seas, the Sea of ​​Marmara and the Black Sea (Eastern Mediterranean) and the European and Asian sides are divided by the mighty Bosphorus Strait.
Formerly known as Constantinople, Istanbul has a rich cultural and historic heritage that dates back to the 7th century BCE and is one of the most visited cities on the planet.
During the ship sail-in and sail away, make sure you come out on the outer decks to admire the breathtaking Istanbul panorama, its awe-inspiring mosques, minarets, palaces, and picturesque Bosphorus Strait.
In this article, read about:
Istanbul cruise port (Istanbul cruise terminal, getting around the port)
10 best things to do in Istanbul port, Istanbul shore excursions, port highlights
Visit also our cruise port guides to Kusadasi, Rhodes, Santorini, Athens (Piraeus), Civitavecchia (Rome), Marseille, Barcelona
Istanbul Port Information
The newly built, modern Galataport is the main cruise port of Istanbul, situated in the Karaköy neighborhood of the Beyoğlu district, located on the European side of İstanbul. It consists of two adjoining piers, the Galata Pier and the Salıpazarı Pier, that extend from the Galata Bridge to Salıpazarı on the west coast of the Bosporus.
See the Istanbul port map on Google maps
Galataport is part of a huge project that occupies 1.200 meters (3.900 ft) of the city-center shoreline, consisting of leisure areas, state-of-the-art facilities, museums, hotels, office buildings, shopping malls, exhibition areas, and hundreds of dining and shopping options on-site. The port is located a 15-minute walk from the Galata Bridge and Galata Tower, and only a few minutes' walk from the tram stop. It is very easy to get around the city, as all main city attractions are located within a walking distance.
Galataport cruise terminal consists of three passenger halls and can accommodate 3 cruise liners at a time, with a total capacity of 10.000 cruise passengers. Large parking and a taxi rank are available within the Galataport complex. In case there are more vessels, cruise ships dock at Salipazari Pier, situated a few kilometers further, close to Dolmabahce Palace.
Local Transportation & Getting Around
The best way to explore Istanbul is on foot, and you can reach the main city highlights within 20-30 minutes by walking.
When you exit the cruise terminal, you will find yourself on Meclis-i Mebusan Boulevard where you will find lots of local cafes, restaurants, and shops. Turn left and after only 10 minutes walk, you will reach the Galata Bridge (Galata Köprüsü) across the Golden Horn where you will get spectacular views of the skyline of Istanbul. This bridge connects the old and modern parts of the city, and when you cross it keep going left and you'll reach Hagia Sophia, Blue Mosque, Topkapi Palace and other landmarks.
Some cruise lines offer a convenient shuttle service to the city center for a nominal fee. Make sure you check for the availability of this service onboard the cruise ship.
If you decide to explore the city on your own, consider taking the public tram as it's very reliable, quick and efficient. For this purpose, you'll need Istanbulkart – a public transport card that you can get for 25 TL (price updated in May 2022). You need to load this card and one ride costs 7.67 TL (0.44€). You can purchase the card at kiosks or yellow ticket machines at the station. You will find tram stations along Meclis-i Mebusan Boulevard that runs parallel to the cruise port, only a couple of minutes' walk from the cruise terminal. Tophane stop is the name of the tram stop nearest to the cruise terminal.
Find all Istanbul travel tips and practical information (including public transport info) in my article

Top 20 Things to Do in Istanbul for First-Time Visitors (+ Travel Tips)

There are four tram lines in Istanbul (T1, T2, T3, T4), however, you'll most probably need to use T1 (Kabataş–Bağcılar). This is the most useful tram line as it stops at the port area (Tophane stop) and continues to the historic Sultanahmet district where Grand Bazaar, Blue Mosque, Hagia Sophia, Topkapi Palace, and other major city landmarks are located (Sultanahmet stop is the tram stop where you need to get off to visit these landmarks). The ride from Istanbul port to the historic city center takes around 10 minutes one way, and the trams run frequently every 5-10 minutes.
Public buses and the metro are available as well however for cruise passengers the tram is the best option to get around the city. Find routes, schedules and more information on Istanbul public transportation on

https://iett.istanbul/

A taxi from the pier to the city center takes around 10 minutes. Taxis in Istanbul are cheap, though I strongly suggest negotiating the rate in advance. You shouldn't pay more than 100 TL to get to the Sultanahmet district. The most convenient option would be to tell the driver to turn the taximeter on so you can get the right rate to pay (it will cost you really cheap this way). Make sure you inquire at a local tourist information center at the cruise terminal to get updated rates and proper information.
Istanbul Tourist Pass allows access to 35+ city attractions and services and is a convenient way to explore the city, especially if you're staying for a few days. However, I wouldn't recommend this to cruise passengers as you won't have time to use it. Also, there is no entrance fee for the majority of landmarks including the mosques (Hagia Sophia, Blue Mosque, Suleymaniye Mosque). You'll only need to pay entrance for Topkapi Palace (320 TL basic ticket), Dolmabahce Palace (300 TL) and Galata Tower (130 TL) in case you decide to visit these attractions.
If you are staying more days in Istanbul, check out my 

5-Day Istanbul Itinerary for First-Time Visitors (+ Istanbul Travel Tips)

with useful maps and explanations
Istanbul Hop on Hop off buses are also available and they normally come to the pier when there are ships in port. Check out Hop on Hop off tours/Istanbul Tourist Pass offers on

Viator

 and

Get Your Guide

 
Istanbul Airports
Istanbul Airport (İstanbul Havalimanı) is located in the European part of Turkey, 40 km (25 miles) or a 40-minute drive north of Istanbul cruise port.
Istanbul Sabiha Gökçen International Airport is located in the Asian part of the country, 50 km (31 miles) or a 1-hour drive southeast of the port of Istanbul.
Currency in Istanbul
The currency in Turkey is the Turkish Lira (TL/sign ₺). Credit cards and local currency are widely accepted. Some tourist-friendly places take euros/US dollars as well. 1 EUR equals 17.50 TL. See the Currency converter
Cruise lines do not offer money exchange services for this currency however ATMs can be found on the main street along the tram lines or in the city center.
There are numerous currency exchange kiosks all around Istanbul, so I would suggest you change money straightaway upon your arrival (you'll find them in the port area). You'll get the best rate around Taksim Square and Istiklal Street, while it may be slightly lower in the Sultanahmet district.
10 Best Things to Do in Istanbul Port
Before I share with you the best things to do in Istanbul cruise port, I invite you to sign up below and get my exclusive, insider Shore Excursion Guide for FREE!
Read also:
Top 20 Things to Do in Istanbul for First-Time Visitors (+ Travel Tips)
5-Day Istanbul Itinerary for First-Time Visitors (+ Istanbul Travel Tips)
1. Galata Tower
The iconic Galata Tower (Galata Kulesi) dominates the city skyline and dates back to the Genoese presence in Constantinople in the 14th century. It is located in the heart of Beyoğlu district, one of the most touristy districts of Istanbul and only a 10-minute walk from Istanbul cruise port.
Galata Tower is nowadays a modern museum with a 51.65 m (169.5 ft) observation deck that you can climb and admire the most spectacular panoramic 360-degree views of Istanbul. Visitors can also enjoy the exhibitions located in the lower areas, featuring ancient artifacts and photographs of old Istanbul.
The entrance fee to Galata tower is 130 TL per person, and there is free entrance for children under 7 years old. There is an elevator inside the tower that takes you to the 7th floor however the last 2 floors where the observation deck is located can only be reached by climbing the stairs.
While there, do not miss the chance to wander around the picturesque streets around the Galata Tower. Visit the famous Istiklal Street (Istiklal Caddesi), the most famous pedestrian street in the city, and Taksim Square, filled with cozy cafes, restaurants, clothing stores, and souvenir shops.
Check out Galata Tower tours and activities
2. Galata Bridge
One of my favorite places to see in Istanbul is definitely the Galata Bridge. Strolling through this place full of fishermen who sell their catch to the restaurants on the lower level of the bridge and gazing at the city skyline is a unique experience that you certainly cannot miss!
It is the most famous bridge in the city, a 490-meter-long construction located on the Golden Horn, linking the old town of Istanbul (Sultanahmet district where Hagia Sophia, Blue Mosque, Suleymaniye Mosque are located) with modern areas of Istiklal Street and Taksim Square.
The best thing is that it's located only within a few minutes' walk from Istanbul cruise port.
Check out Galata Bridge tours and activities 
3. Hagia Sophia
Not only the most famous mosque in Istanbul but also one of the emblems of the city and one of the most impressive buildings on the planet, Hagia Sophia (Aya Sophia) was originally built as a Christian cathedral in AD 537 during the Roman Empire.
Hagia Sophia was the religious and spiritual center of the Eastern Orthodox Church for nearly one thousand years, after which it was converted into a mosque after the Fall of Constantinople to the Ottoman Empire in 1453. In 1935 Hagia Sophia was turned into a museum, but as of July 2020, by order of the Turkish government, Hagia Sophia opened as a mosque again.
Inside you can enjoy the colossal dimensions of the main room, the huge decorative medallions, the monolithic columns, and several of the most beautiful mosaics on the planet. Some of the Christian Mosaics and paintings have been covered by curtains.
Like in any other mosque in the world, a strict dress code is enforced. Women should cover their heads, with no exposed arms or legs. In case you didn't bring any long clothing you will encounter at the entrance disposable tunics and headscarf (at an extra charge). Visitors are also required to remove their shoes prior to entering.
You will also notice that some areas have been restricted and are only accessible to worshipers separating men's side and women's side.
Hagia Sophia is located at Sultanahmet Square in the old part of Istanbul, approximately 3 km (1.9 miles) or a 40-minute walk from the port of Istanbul. A taxi from the port to Sultanahmet should cost about 100 TL. If you chose public transport, head over to the closest tram station (Karaköy or Tophane), take the T1 tram line, and get off at Sultanahmet station. After a short 3-minute walk you will be at Hagia Sophia. To use public transport, please refer to the transportation information to see more details.
Since converted into a mosque, the entrance fee is free of charge like any other mosque in Turkey, however, you may need to queue for a while. Please keep in mind that tourists can visit it at any time except during the 5 daily prayers.
Hagia Sophia's ground floor is wheelchair accessible via numerous ramps, however, be ready to manage a few bumps going to and from the ramps.
Check out Hagia Sophia tours and activities
4. The Blue Mosque
The original name of this imposing mosque is Sultan Ahmed Mosque, built in honor of the sultan who ordered its construction in the 17th century. Blue Mosque (Sultanahmet Camii) is considered one of the most beautiful mosques in Istanbul and one of the most magnificent mosques in the Islamic world.
History tells that this sultan was a bit arrogant, so he ordered the construction of the Blue Mosque with 6 minarets, a feature that only the Mecca mosque had at that time. However, some legends say that it was a result of a misunderstanding between the sultan and the architect.
The interior of the Blue Mosque is truly a marvel, decorated with 20.000 blue tiles from the city of Iznik, more than 200 stained glass windows, and fantastic chandeliers hanging from the ceiling.
The Blue Mosque is situated right in front of Hagia Sophia in Sultanahmet Square. Between the two mosques, there is a beautiful Sultan Ahmet Park with its lavish fountain and green spaces.
Remember that the dress code is enforced if you decide to visit the interior of the mosque (no exposed shoulders or legs) and visitors should remove footwear (bring socks). If needed, there is a free-of-charge rental place for headscarves and long skirts. Also, there is no entrance fee and no visitors are allowed during the praying times.
The Blue Mosque is wheelchair friendly, the accessible entrance is located close to the German fountain. There are accessible sidewalks throughout the complex. Please be advised that wheelchair users will need to transfer wheelchairs prior to the interior visit but no worries, the Mosque staff will be there to assist you.
Check out Blue Mosque guided tours and activities
5. Topkapi Palace
The Topkapi Palace (Topkapi Sarayi) ranks among the most representative buildings in Istanbul. It was the main residence of the sultans of the Ottoman Empire and the seat of their government between the 15th and 19th centuries.
The Topkapi Palace is an impressive museum that spreads across 700.000 square meters and comprises several buildings located around four beautiful courtyards. Among all the magnificent rooms of the palace, you should definitely visit the treasury room where you can find the richest collections of Islamic weapons in the world and Hagia Irene (Aya İrini), the oldest Church of the Byzantine Empire dating from the 4th century.
The Gate of Felicity is one of the most important places of the palace because it was the place where the Sultan used to host the most important celebrations. In the heart of the palace, you will find the Chamber of Holy Relics, featuring the Clock of Prophet Muhammed, a hair of his beard, and many other important relics of the Muslim World.
Another must place to visit is the Imperial Harem or Imperial Quarters, a place where the Sultan, his concubines, and his family used to live in. It comprises nearly 300 rooms, 9 baths, 2 mosques, and a hospital. There is an extra 100 TL entrance fee per person and it is free for children under 6 years old.
The general entrance fee is 320 TL per person however it's free for children under 12 years old, and entry to the Harem is free for those under 6. Palace is closed on Tuesdays. Due to the popularity of this place, it is strongly recommended to purchase your tickets ahead of time to avoid long lines and waiting.
Topkapi Palace is located within a 5-minute walking distance from Hagia Sophia. A taxi ride from Istanbul port to Topkapi Palace takes less than 10 minutes and should cost around 100 TL per taxi. If you decide to take public transport, then head over to the closest tram station to the port, get off at Gülhane station and walk around 10 minutes to the Palace.
Topkapi Palace is mostly wheelchair friendly however some buildings are not wheelchair accessible.
Check out Topkapi Palace tours and activities
6. The Grand Bazaar
The Grand Bazaar (known also as Kapalıçarşı) is of the largest and oldest covered markets in the world, and one of the best places to shop and see in Istanbul.
In the 15th century, Sultan Mehmet II began the construction of a covered bazaar near his palace, originally dedicated to the sale of fabrics and silks. In the surroundings of the bazaar craftsmen's workshops were installed over time, forming union streets that were also covered by vaults and today feature more than 58 streets and 5.000 stores.
Whether you like shopping or not, the Grand Bazaar is a place that I advise you to visit since it is one of the most important places to see in Istanbul receiving between 300.000 and 500.000 visitors daily.
If you are definitely interested in something you like, I suggest comparing the price at different shops before you buy it, then go back to where you got the best deal but do not buy it yet! Start to bargain and I guarantee you will get a better price than expected. Do not show excessive interest since the seller could realize it and not lower the price.
The Grand Bazaar is located within a 15-minute walking distance of Sultanahmet Square, Blue Mosque and Hagia Sophia. From the cruise port, a taxi should cost around 100 TL per taxi. If you opt to take public transport, take the T1 tram line to Beyazıt – Kapalıçarşı station, located next to the Bazaar. If you decide to walk then the journey takes around 35 minutes from Galataport.
Check out Grand Bazaar tours and activities
7. Dolmabahçe Palace
This breathtaking palace is located in the Beşiktaş district, in the European part of the Bosphorus Strait, a 25-minute walking distance from Galataport and only a few minutes walk from Salı Pazarı cruise port.
Dolmabahçe Palace (Dolmabahce Sarayi) was built in opulent Baroque, Rococo and Neoclassical European styles. It was ordered in the 19th century by the Empire's 31st Sultan, Abdülmecid I, who wanted to move from Topkapi Palace into a more modern, European-style palace.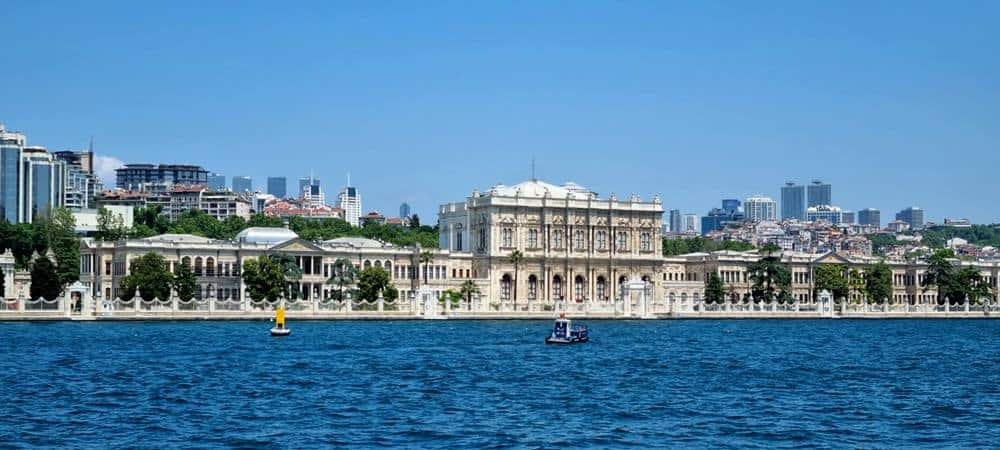 This monumental palace was constructed between 1843 and 1856 and is one of the largest palaces in Turkey with 285 rooms, 46 halls, 6 baths (hamam), and 68 bathrooms. It boasts the largest collection of Bohemian and Baccarat crystal chandeliers in the world and is decorated with gold, glass, crystal, marble, and other expensive stones.
The palace was a residence of the last six Ottoman Sultans, and Mustafa Kemal Atatürk, the first president and founder of the Turkish republic. Make sure you visit Mabeyn-i Hümayun (Selamlik), where the state's administrative works were carried out back in time; Ceremonial Hall, boasting the world's largest Bohemian crystal chandelier; and the Harem-i Humayun, used for the State ceremonies.
Dolmabahçe Palace is open between 9 am and 4:30 pm every day except on Mondays. The entrance fee is 300 TL. Guided tours are available as well.
Check out Dolmabahçe Palace tours and activities
8. Süleymaniye Mosque
Overlooking Bosphorus from the Third Hill of Istanbul, this majestic mosque was ordered by Süleyman the Magnificent in 1550 and completed within 7 years.
Designed by the celebrated Imperial Ottoman architect Mimar Sinan, Süleymaniye Mosque (Süleymaniye Camii) is the largest imperial mosque in Istanbul, surrounded by beautifully landscaped gardens overlooking the Bosphorus Strait. It was commissioned by Suleiman the Magnificent and today you can visit the octagonal mausoleums of Suleiman the Magnificent and his wife Hurrem Sultan within the mosque's complex.
Suleymaniye Mosque is located a 25-minute walk from Hagia Sophia and Blue Mosque, and a 30-minute walk from Galataport. Admission is free. Make sure you respect the dress code.
Check out Süleymaniye Mosque guided tours and activities
9. Bosphorus Cruise
Bosphorus Strait divides Europe and Asia and connects the Black Sea and the Sea of Marmara. It is truly the heart of Istanbul, dotted with elaborate parks, sumptuous Ottoman mansions, palaces, upscale hotels, churches, mosques, and other historic landmarks.
There are many tour companies that offer cruises along the Bosphorus Strait and Golden Horn as this is one of the most unique ways to see Istanbul. Delight in traditional Turkish food and dance while your tour guide points to you the main places of interest in this awe-inspiring city. The tours and ticket prices vary, depending on the duration of the tour and what's included in it.
Check out Bosphorus tours and activities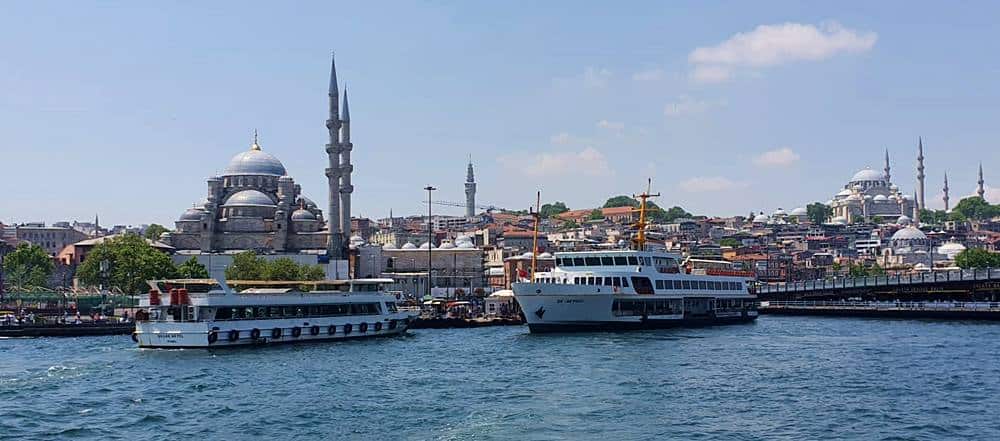 10. Spice Bazaar
Also known as the Egyptian Bazaar, this colorful covered bazaar dates from the 17th century and counts among the oldest bazaars in Istanbul. Here you can buy typical products such as spices, sweets, nuts, food, and textile at a more affordable price than in the Grand Bazaar.
Although it is less known and significantly smaller than the Grand Bazaar, the Spice Bazaar is in my opinion much more beautiful. Upon entering you will find a burst of smell and color, a delight for the senses.
The Spice Bazaar is located very close to the cruise port, approximately 15 minutes walk across the Galata Bridge. You can also take the T1 tram and get off at the Eminönü stop.
Check out Spice Bazaar tours and activities 
Wrapping Up
With its imposing minarets, mosques, majestic palaces and rich tourist offer, Istanbul is a perfect cruise destination that you will always want to return to (as one day in Istanbul is certainly not enough).
Since your time in port is limited, I definitely suggest taking an organized shore excursion if you are in Istanbul for the first time, as it will give you an overview of the city's history, culture, and major highlights.
However, if you decide to explore the city on your own, make sure you read my articles below:
Top 20 Things to Do in Istanbul for First-Time Visitors (+ Travel Tips)
5-Day Istanbul Itinerary for First-Time Visitors (+ Istanbul Travel Tips)
Visit also our cruise port guides to Kusadasi, Rhodes, Santorini, Athens (Piraeus), Civitavecchia (Rome), Marseille, Barcelona
---
10 Best Things to Do in Istanbul, Turkey
Galata Tower
Galata Bridge
Hagia Sophia
Blue Mosque
Topkapi Palace
Grand Bazaar
Dolmabahçe Palace
Süleymaniye Mosque
Bosphorus Strait Sightseeing Cruise
Spice Bazaar
---
You May Also Like:
25 Top Shore Excursion Packing List Items
7-Day Turkey Itinerary: Antalya-Fethiye Road Trip
Mediterranean Cruise Port Guides
Western Europe Cruise Port Guides
This article may contain affiliate / compensated links. For full information, please see my disclaimer here.