Welcome to Kusadasi port of call!
Nestled on Turkey's Aegean Sea coast, Kusadasi (Kuşadası) is a popular seaside resort and the main getaway to the ancient city of Ephesus. Kusadasi is located 20 km (12.4 mi) southwest of Ephesus and 99 km (61.5 mi) south of Izmir, which makes it a great starting point for those who want to explore the historical heritage and archeological treasures of Izmir and Aydin provinces.
Kusadasi is a frequent stop in the Eastern Mediterranean cruise itineraries together with Istanbul, and in this article, I share with you:
Kusadasi port information (Kusadasi cruise terminal, getting around the port)
6 best things to do in Kusadasi, port highlights, Kusadasi shore excursions
Check out today's cruise deals from Cruise Critic!
Kusadasi Port Information
Kusadasi cruise port is conveniently located in the center of the town, only 5 minutes walking distance from the shopping area. It consists of two parallel piers that can accommodate 4 cruise ships simultaneously.
See Kusadasi port on Google maps
As you get off the ship you will need to walk to the end of the pier in order to exit the terminal. Normally you will find some locals offering wheelchair assistance for guests with walking difficulties.
The tourist information desk is located right outside the terminal building, next to the parking lot.
As you exit the port you will encounter a small shopping complex known as Scala Nuovo, full of souvenir stores, jewelry shops, cafes, and taxi drivers offering their services. You'll find ATMs, restaurants (seafood, fast food, traditional Turkish restaurants), and historic landmarks nearby.
On your way back visitors have access to the duty-free shops.
The port of Kusadasi is also one of the major ferry ports, and there are in total 8 docks.
Getting around Kusadasi
If you decide to stay in Kusadasi town, you can easily explore it on foot as the waterfront promenade, main attractions and beaches are located within a short walking distance.
On the other hand, if you decide to explore outside of the city, I definitely suggest booking an organized shore excursion or hiring an official taxi (speak with the tourist information center for recommendations).
Public transport may be an option if you are adventurous and want to feel local. This transportation is called "dolmuş" and they look like minibusses. These are basically shared taxis that run set routes and will take you between the towns. The single ticket price is 3.50 TL (0.40 USD).
Taxis are also available in Kusadasi. They are quite cheap and easy to get, however, if you want to take a long journey I suggest negotiating the price in advance to avoid inconveniences. You should inquire about the official taxi prices at the tourist information desk in the cruise terminal.
Izmir Adnan Menderes Airport is the closest airport and it is located in Izmir (99 km away from Kusadasi), the largest city in the region. It takes approximately 70 minutes drive from Kusadasi and a taxi costs around 50 – 60 euros one way.
Currency in Turkey
The official currency in Turkey is the Turkish Lira (TL) but USD, GBP, and Euros are widely accepted. Cruise lines do not offer an exchange service for this currency onboard, and if you wish to get some liras you will need to go to a bank or money exchange place. I've been to Turkey many times and never needed local currency (not in the tourist areas at least).
These are the approximate exchange rates, however, I strongly suggest you check the currency converter.
1 USD = 8.38 TL
1 EUR = 9.86 TL
1 GBP = 11.53 TL
Make sure you bring small denomination bills.
Language in Kusadasi
Turkish is the official language in Kusadasi. In large cities and in highly touristy areas, you usually find people who speak English, and some other major languages like Spanish, German and Italian. However, in the interior of the country the only possible communication language is Turkish.
Hotels in Kusadasi
Check out the top-rated Kusadasi hotels on Booking.com, Agoda, Hotels.com, Expedia, Tripadvisor
Do You Need a Travel Insurance? Get a Quote!
6 Best Things to Do in Kusadasi Port
Before I share with you the best things to do in Kusadasi, I invite you to sign up below and get my exclusive, insider Shore Excursion Guide for FREE!
1. Ephesus Archeological Site
Visit one of the most fascinating archaeological sites in the world and a UNESCO World Heritage Site. This impressive ancient city was once the most important trading center in the Mediterranean region.
Ephesus boasts several constructions that attract a lot of attention, both for their historical and archeological importance and for the state of conservation they present.
The most attractive structure is definitely the Library of Celsus built by Galius Julius Aquila in honor of his father. The Celsus Library was the third richest library in ancient times after the Alexandra and Pergamum, holding over 12.000 scrolls.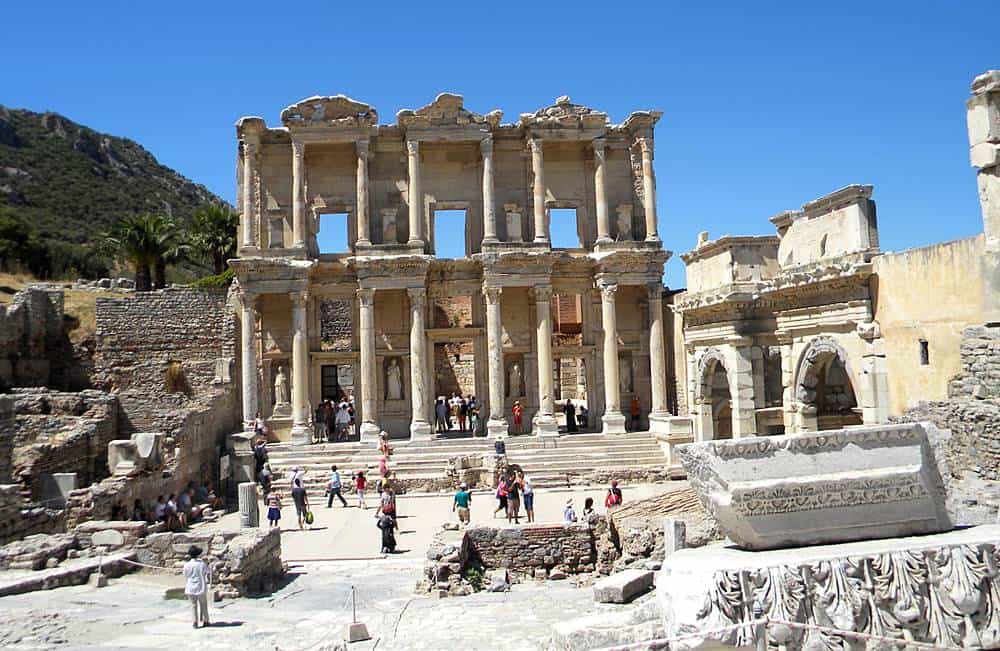 The Great Theatre of Ephesus had the capacity to accommodate 20.000 people and was used for plays, concerts, fights, political or religious meetings.
The best way to explore the ancient city of Ephesus is definitely with a knowledgeable guide who will provide you all historical facts, local stories and anecdotes. You can also explore it on your own.
Make sure you get there early because it can get crowded. During the peak summer months it can get really hot, so bring water with you and wear comfortable footwear and clothing.
Suggested article: 25 Top Shore Excursion Packing List Items
While exploring Ephesus you also have the option to visit the Terrace Houses, which were owned by the richest Ephesians (extra fee applies). Even though the site is still in excavation, you will be able to admire the beautiful wall decoration and designs.
Terrace Houses are located on a hill, so please take into consideration that you will need to climb several sets of staircases up and down.
You can also visit the Ephesus Museum where you will see lots of statues, columns, decorations, and many more interesting items that were found in the ancient city.
The entrance fee to Ephesus costs 100 TL per person (12 USD); Terrace Houses cost 45 TL (5 USD); Ephesus Museum costs 25 TL (3 USD).
Ephesus is partially wheelchair accessible. Guests with wheelchairs should have a companion.
How to Get from Kusadasi to Ephesus?
The Ruins of Ephesus are located near the town of Selçuk, approximately 20 km (12.5 mi) from Kusadasi. It takes around a 20-25 minute drive from the port of Kusadasi, and a taxi costs around 20-25 USD one way per vehicle (4 people).
If you are adventurous, you can try to get the public bus or dolmus from the closest stop at the cruise port for around 11 TL, however, bear in mind that buses might be full and you will have to wait for another one.
Check out Ephesus tours and activities on Viator and Tripadvisor
2. House of Virgin Mary
Drive through "Bulbul" mountain to the Catholic and Muslim shrine, where it is said the Virgin Mary spent her last days after the crucifixion of Jesus.
Even though the Catholic Church has never confirmed its authenticity, the House of Virgin Mary (Meryem Ana Evi in Turkish) is considered a major holy place that has been visited by several popes throughout history.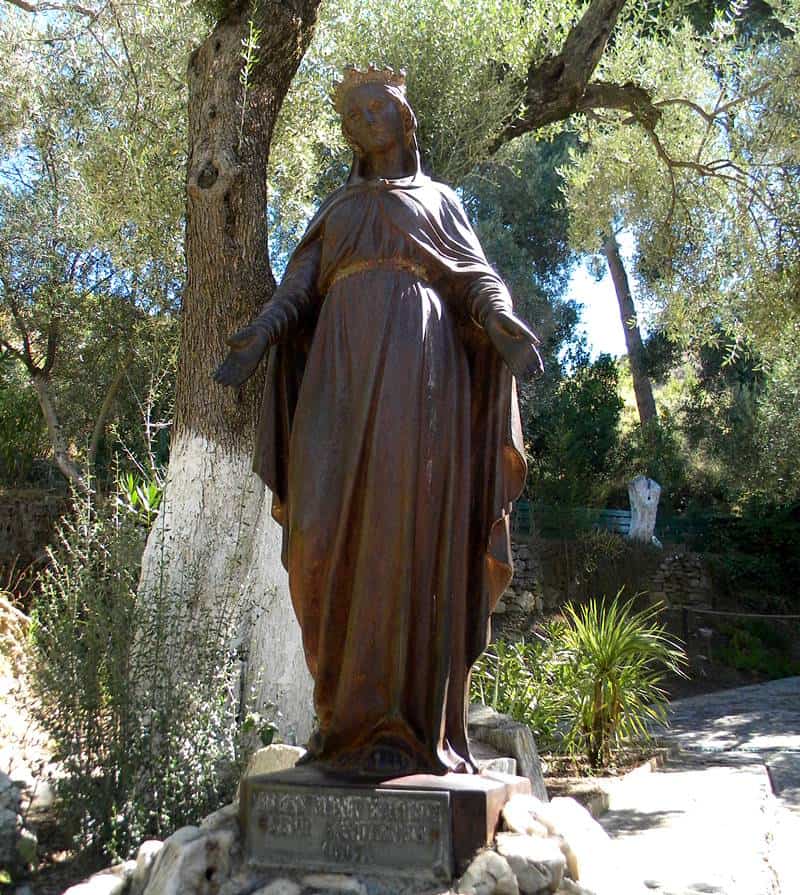 Hundreds of tourists visit this place every day and pilgrims believe the natural spring next to the house has healing properties. It is a common sight to see visitors drinking the water or taking some as a souvenir in a little clay container that can be purchased at the site. You will also see visitors tying their personal intentions at the wishing wall.
The House of the Virgin Mary is located in Selçuk,  around 26 km (16 mi) or a 35-minute drive from Kusadasi cruise port (and only a 10-minute drive from Ephesus).
A taxi costs around 20-25 USD one way (4 people). The entrance fee is 25 TL per person (3 USD). This site is almost 100 % wheelchair-friendly.
Check out the House of Virgin Mary tours and activities
3. Temple of Apollo
Take a trip to the Sanctuary of Didyma and visit the Temple of Apollo, home to the second oracle in the Greek world, after Delphi. Thousands of pilgrims arrived here looking for answers and they did not hesitate to pay a good price for them or leave large gifts and offerings.
This sacred enclosure was supported by 122 Ionic columns almost 20 meters high and two meters in diameter at its base. Even though only three columns remain standing today, one feels tiny in front of its imposing measurements.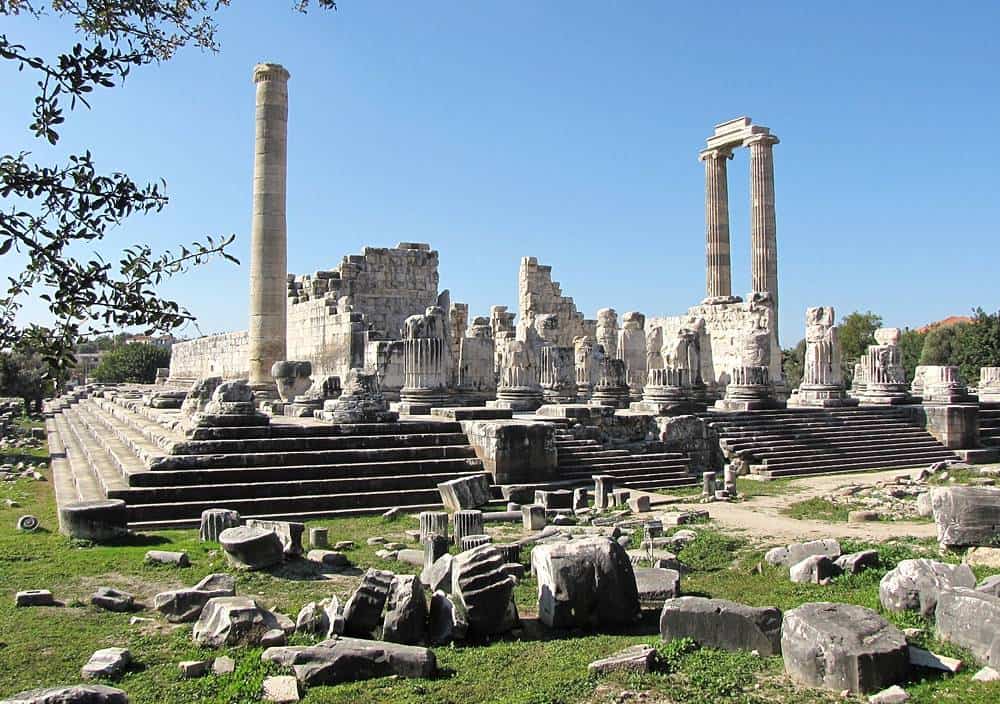 Driving time to Didyma and Temple of Apollo is approximately 70 minutes one way (the distance is 80 km/50 mi), and the best way to get there is definitely on an organized shore excursion. Some tour options include stops at the ancient towns of Miletus and Ephesus.
A taxi from Kusadasi cruise port to Didyma costs approximately 50 USD one way (4 people).
The entrance fee is 10 TL per person (1.20 USD).
Temple of Apollo is not suitable for guests with walking difficulties.
Check out the best Temple of Apollo and Didyma tours and activities
4. Sirince Village
Once a Greek Orthodox village, Şirince is one of the most scenic villages on the coast of the Aegean Sea that has become a popular tourist destination in the last few years. Apart from its characteristic architecture that mainly consists of old, traditional Greek white houses, the village is situated in lush nature surrounded by vineyards and olive trees.
The village is known for a centuries-old winemaking tradition producing unique fruit wines, which you can taste in the many shops scattered around the town where the vendors will encourage you to enter. You can also visit St John the Baptist Church and admire frescoes dating from the Byzantine era. According to locals, the church's basement was used to ripen wines.
Sirince is located near Selçuk, approximately 20 km (12.5 mi) from Kusadasi. The best way to get there is on an organized shore excursion or by hiring a taxi as public transport does not run often.
The village is hilly and the streets are cobblestone, so it is recommended to wear comfortable footwear. This village is not suitable for guests in wheelchairs or with walking difficulties.
Check out the best Sirince tours and activities on Viator and Tripadvisor
5. Adaland Aquapark
Adaland Aquapark is considered one the biggest aqua parks in Europe and rated as one of the top 10 waterparks in the world! It features numerous water slides, children's pool, slides using the theme of the Kremlin towers, Jacuzzi pool, wave pool, activity pool, ocean pool, lazy river, rafting river (extra charge), jumping towers, trampolines, and more fun-filled activities suitable for the whole family.
Food and beverage options are available for purchase inside the park, from Turkish specialties to international dishes.
Adaland is located around 8 km (5 mi) north of Kusadasi port, approximately a 15-minute drive.
A taxi costs between 20-25 USD (4 people).
The entrance fee is 24 EUR for visitors 10 years and above. Kids 4 – 9 years old pay 17 EUR. Free entrance for children 0-3.
Please note that there are age and height limits in the slides. Cash cannot be used within the park. Visitors will need to refill an Adaland card at the reception and the unused money will be returned at the end of your visit.
Find more information on Adaland Waterpark official webpage
Check out Adaland tours, reviews and activities
6. Explore Kusadasi Town
If you decide to skip a shore excursion and stay in the town of Kusadasi, these are the things you should see and do:
Kusadasi Castle – This beautiful castle was built between the 14th and 19th centuries and is the iconic landmark of Kusadasi. It is also known as the "Pirate Castle" as it was defending the Kusadasi harbour from pirates back in the past.
The castle sits on Pigeon Island (Güvercinada) that is connected to mainland Kusadasi via a man-made narrow causeway. You can visit the castle's museum, enjoy gorgeous panoramic views, or delight in the specialties from one of the island's restaurants. The admission is free, and it's located 10 minutes walk from the cruise terminal.
Check out Kusadasi Castle tours and activities on Viator and Tripadvisor
Ladies beach – This beach is located less than a 10-minute drive from Kusadasi cruise port. It is a beautiful sandy beach with crystal clear waters, however, it can get very crowded during the peak season. It is filled with restaurants, bars and you can find all sorts of amenities including sunbeds and umbrellas.
Kaleiçi Camii – A beautiful Ottoman-style mosque with painted windows and walls, it is located 5 minutes walk from the cruise terminal.
Kuşadası Bazaar – Only 5 minutes walk from the port, you'll come across this traditional colorful market where you can find leather jackets, belts, jewelry, local handicrafts, ceramics, and a lot more.
You can shop, walk around the lively Kusadasi streets, indulge in Turkish delicacies and enjoy a beautiful view of the harbour. There is also a downtown beach around 15 minutes walk from the port (upon exiting the terminal turn left and follow the waterfront promenade until you reach the beach.
Wrapping Up
Kusadasi is a lovely place that definitely deserves the status of one of the most beautiful ports in the Eastern Mediterranean.
If you want to read my full cruise port guide to Istanbul, check out my article:
Istanbul Port Guide, 10 Best Things to Do, Shore Excursions
---
6 Best Things to Do in Kusadasi
Ephesus Archeological Site
House of Virgin Mary
Temple of Apollo
Sirince Village
Adaland Aquapark
Explore Kusadasi Town
---
This article may contain affiliate / compensated links. For full information, please see my disclaimer here.
You May Also Like:
25 Top Shore Excursion Packing List Items
Snorkel Gear and Scuba Diving Equipment – Tips by a Pro!
Mediterranean Cruise Port Guides
Western Europe Cruise Port Guides