Welcome to Livorno port guide!
Nestled on the northwest coast of Italy, the city of Livorno is the main gateway to Tuscany and its iconic cities of Pisa and Florence. It is one of the major cruise ports in Italy together with Civitavecchia (Rome), Naples, Venice, and La Spezia, often included in the Mediterranean cruise itineraries.
In this article, I share with you information on:
Livorno port (port info, local transportation, getting around)
Livorno city highlights, day trips to Florence, Pisa, Lucca, Cinque Terre, Volterra, San Gimignano, Siena & best shore excursions
Last Minute Cruise Deals on the Mediterranean Sea and Baltic Sea Cruises – book now on Cruise Critic.
Livorno Port Info
The cruise port of Livorno is one of the largest seaports in the Mediterranean and the third-largest port in Italy. The harbour consists of two main parts: Porto Industriale (or Porto Nuovo – New Port) in its northern part, and Porto Mediceo (part of Porto Vecchio – Old Port) in the south, closer to the Livorno downtown.
See Livorno port map on Google maps
Porto Industriale – Industrial Port
The majority of cruise lines dock at Porto Industriale, the large container and cargo cruise terminal located in the northern part of the harbour. It consists of 3 main berths that can accommodate 3 large cruise vessels at the time. It is also possible to dock at several other piers, so in total the port can accommodate up to 8 ships simultaneously.
The new Livorno cruise terminal, Alto Fondale (located at Calata Punto Franco) is mainly used by ferries and cruise ships doing turnarounds in Livorno.
The industrial port handles heavy traffic and is usually very noisy, as that is also a ferry terminal offering ferry transportation between Sardinia and Corsica and the mainland. Guests are not allowed to walk around the port, so a complimentary shuttle service to the main port entrance is provided.
The shuttle bus will drop you off at the terminal building by the port entrance where cruise passengers can find ATM, a tourist information office, car rentals, taxis, tour operators, and free Wi-Fi internet. In front of the ship, guests can find only taxis and a tourist information kiosk.
Over there you can take a 5 € shuttle bus to the city center (the drop-off point is Piazza Grande, the main square). Tickets for this shuttle can be purchased in cash right before boarding the bus, and the ride takes less than 10 minutes.
If you are taking a cruise line organized shore excursion, your tour buses are parked outside the terminal building. However, if you have booked a trip with an Independent tour operator, your transport will be waiting for you at the port entrance near the terminal building and you must take the free shuttle to get there.
Porto Mediceo
Porto Mediceo (a historic Medici port) is located in the southern part of the Livorno harbour and is dedicated to smaller cruise ships/yachts. It has 2 berths, located within 10-15 minutes walking from the city center. In the cruise terminal, you will find a tourist information kiosk, taxis and car rental service.
Local Transportation
The easiest way to get to the city center is by 5 € shuttle bus that picks you up at the terminal building and drops you off at Piazza Grande. From there, you can explore the city of Livorno on foot.
Train
If your plan is to get to the train station (Livorno Centrale) you can take the shuttle to the city center and then take Bus #1 in front of the Duomo (Cathedral) to Livorno Centrale train station. You can buy the bus ticket at Tabacchi – Tobacco shops, and you will find several of these at the place where the shuttle bus drops you off (in Via Claudio Cogorano and Via Grande streets). You can also purchase the tickets at the newsstands. You will find the bus stations on Via Grande, the street in front of the Cathedral and Piazza Grande square.
The bus ride from Piazza Grande to Livorno Centrale takes only 5 minutes, the ticket costs 1.20 € and is valid for 75 minutes. Once you arrive at the Livorno train station, you can take trains to Pisa, Florence, Lucca, and other places.
If you are planning to use the train services during your visit, make sure to check the train schedules and always have a backup plan, as you never know when trains can go on strike. You can check the timetables and fares on Trenitalia.com
If you are not in a hurry, you can also walk to the station and the journey takes around 30 minutes.
You can also take a taxi to Livorno train station directly from the cruise terminal, and the cost is 25 € per vehicle one way. The ride takes approximately 15 to 20 minutes.  This is a convenient option since 6 people can fit in a taxi.
Taxi
Taxis are also available outside the terminal; a ride from Porto Industriale piers to Livorno city center lasts approximately 15 minutes and costs between 13 € – 15 € per vehicle one way. However, many taxi drivers won't agree to drive you to Livorno as most of them wait for the passengers who want to travel further – to Pisa, Florence, or elsewhere.
Bear in mind that taxis are not cheap in Italy. I strongly suggest that you check with the tourist information center for guidance on prices before you take a taxi. Taxis are normally metered, however, you will encounter some drivers that will tell you that it's broken just to try you to overcharge the rate, so in this case – agree on a price in advance.
Public Bus
Livorno has a reliable bus network and is well connected to other places in Tuscany.
The two main bus routes in Livorno are LAM BLU (LB) Bus Route (or Bus #1), and LAM ROSSA (LR) Bus Route (or Bus #2). You can use both to get to the Livorno Centrale train station. If you are docked at Porto Mediceo, there is a bus stop within walking distance from the port and you can catch the LAM BLU bus to go to the city center.
Livorno Card – At the newspaper shops at the train station, Porto Mediceo and Piazza Grande you can buy the Livorno Card for 3 € (daily ticket, free for children under 12 accompanied by at least one paying adult) that offers unlimited rides on all local public buses and free entries to Giovanni Fattori Civic Museum and Museo Diocesano, plus the discounts on sightseeing tours/entrance to museums and landmarks. Read more on visittuscany.com
Currency in Livorno
The official currency in Italy is EURO (€) and 1 € equals 1.18 US dollars. Currency converter
Cruise lines normally offer exchange services for this currency, and you can also obtain euros at one of the ATM machines onboard the ship. I am not a fan of using local ATMs (the random ones you find on the street) as I've been told many stories about account hacking. If you really need to use ATM, I suggest finding a bank and using their ATM machine.
Major credit cards are widely accepted and normally they will display a sign at the entrance. Small businesses though will only take cash. Some stores might accept US dollars but at a very poor exchange rate.
Hotels in Livorno
Most of the hotels are located in the city center of Livorno, however, Agave in Città hotel is located near Porto Industriale and has great reviews.
Check the best Livorno hotels on Booking.com, Expedia, Agoda, Hotels.com, Tripadvisor
Livorno Shore Excursions, Highlights & Day Trips to Tuscany
The city of Livorno is known as the gateway to the Italian Tuscany region and its iconic cities of Pisa, Lucca, and Florence.
If you consider booking an organized shore excursion, bear in mind that tour buses are only allowed to park at designated areas, which doesn't necessarily mean close to the main city attractions. Please, consider wearing comfortable footwear and always double-check with the shore excursions team/independent tour operator about the extra walking involved.
Suggested article: 25 Top Shore Excursion Packing List Items
Before I share with you Livorno port highlights and the best day trips/shore excursions, I invite you to sign up below and get my exclusive insider Shore Excursion Guide for FREE!
1. Livorno Sightseeing
If you decide to stay closer to the ship, do not miss the opportunity to visit the city of Livorno because it has a lot to offer! Once the shuttle bus drops you off at Piazza Grande, you can explore the majority of Livorno city attractions on foot.
The entrance to the city from the port already speaks well of its history, because one of the first things you will come across is Fortezza Vecchia, an imposing medieval fortress with three defensive bastions that were built in the 16th century.
Further on, the Cathedral of San Francisco (Cattedrale di San Francesco), also known as Duomo, dominates Piazza Grande and Via Grande, the main street that connects the old port (Porto Mediceo) to Piazza della Repubblica. The Cathedral was constructed in the early 17th century and represents a remarkable example of Renaissance architecture, boasting valuable artworks and a beautiful interior. It had a turbulent history as it was completely demolished during World War II bombings, only to be restored in the 1950s.
There are also a few other Livorno highlights not to be missed:
Jewish Synagogue – located only 2oo m from the Duomo, the new synagogue was built in the 1960s to replace the original one that was destroyed in World War II.
Venice Quarter (Quartieri Venezia) – Less than a 10-minute walk north of the Cathedral, close to the Livorno cruise port, you will come across this historic quarter that kept its original look as it wasn't destroyed in the WWII bombings. Often referred to as Venezia Nuova district, with its channels, bridges, colorful facades and ancient buildings, this part of Livorno will throw you back to Venice. In the vicinity, you will find the Church of St Catherine (Chiesa di Santa Caterina) and Fortezza Nuova – an imposing ancient fort dating from the early 17th century.
Central Market (Mercato Centrale) – Known as Mercato delle Vettovaglie, this market is one of the favorite local spots and a popular landmark of Livorno. Housed in an ornate 19th-century building, this is the best place to shop for fresh products and feel the authentic Italian spirit. Ground coffee, fresh pastries, cheeses, meats, seafood, bread, wines, oils, fruits, vegetables… over 200 stalls and shops await you for a unique local experience!
Civic Museum "Giovanni Fattori" (Museo Civico Giovanni Fattori) – Approximately 30 minutes walk (or 10 minutes drive) south of Livorno city center and Porto Mediceo, and a 15-minute drive south of Porto Industriale, art lovers can visit this exceptional art museum dedicated to Giovanni Fattori, a 19th-century artist born in Livorno and a leader of 'Macchiaioli' artistic movement. In the gallery, you can visit the remarkable collections of his paintings, as well as the artworks of other Macchiaioli painters.
The Four Moors (Monumento dei Quattro Mori) – Dominating Piazza Giuseppe Micheli and Piazza del Pamiglione, this extraordinary monument overlooks Porto Mediceo dock and sits at the beginning of Via Grande. The marble and bronze monument was erected in the early 17th century and commemorates Medici Grand Duke Ferdinando I's victories over the Ottomans.
Mascagni's Promenade (Terrazza Mascagni) – A 30-minute walk south of Porto Mediceo and the city center, this immense chessboard promenade square offers outstanding views of the harbor and the sea. Besides numerous cafes and eateries, here you can find a gazebo, benches to relax, and Livorno Aquarium featuring Mediterranean marine life.

Book your Aquarium ticket here

!
Livorno Hop on Hop off – Get a 24-hour open-top sightseeing bus ticket and explore the city at your own pace. The buses start from Piazza Grande (Via Cogorano), and they stop at the major city highlights, including Teatro Goldini and Old English Cemetary. The ticket costs 13 € and the whole loop takes 1 hour. Check out Hop on Hop off Livorno tours on

Viator

and

Get Your Guide

.
If you are only looking for some food and shopping – You're at the right place because Livorno offers visitors great shopping opportunities and many restaurants where you can enjoy delicious Italian cuisine!
Check out Livorno sightseeing tours and activities on Tripadvisor and Viator
2. Pisa
Thanks to its legendary Leaning Tower, Pisa is one of the most famous cities in Italy known all over the world.
Located in the Field of Miracles (Campo dei Miracoli), a UNESCO World Heritage Site, the spectacular Leaning Tower is surrounded by the Pisa Cathedral (Duomo di Pisa), the cemetery (Camposanto) and the Baptistery – considered the most beautiful example of Romanesque architecture.
The tower was originally built as a bell tower for the Cathedral but never fulfilled its purpose due to its faulty design and loose soil beneath it. Undoubtedly, climbing the most famous Tower in Italy is among the main experiences of your trip in Italy, but please consider that you will need to climb 300 spiral steps to the top.
The base ticket to enter the Tower costs 18 € if bought on site (the price is the same for both children and adults). However, it is strongly recommended to purchase tickets at specific times selected in advance to ensure your place in line. For security reasons and conservation of the Tower of Pisa, visitors can climb in groups of 40 people with shifts of 35/40 minutes. Kids under 8 cannot climb the Leaning Tower of Pisa due to safety reasons.
It takes 5-10 minutes to reach the top, depending on your pace, so you can admire Pisa and the Field of Miracles for about 30 minutes.
Unfortunately, there is no elevator inside the tower to accommodate wheelchair users, however, you can admire the beauty of the tower from the outside and take the iconic picture holding the tower. Check out more information on the Tower of Pisa official webpage
Besides its extraordinary landmarks, The Field of Miracles is packed with cafes, restaurants and souvenir shops.
How to Get to Pisa from Livorno Port?
Train
You can catch the train from Livorno Centrale train station to Pisa Centrale; the train runs every 10-15 minutes, and the journey to Pisa takes 15 minutes. The ticket price is 2.60 € per person. The train station in Pisa (Pisa Centrale) is approximately 20 minutes walking distance from the Field of Miracles. Check out the timetables on Trenitalia.com
Bus
The buses to Pisa depart from Piazza della Repubblica, the square located a 5-minute walk from Piazza Grande in Livorno. You will need bus #10 that runs every 30 minutes, and the ride to Pisa lasts approximately 1 hour. Once you arrive in Pisa, the bus will drop you off at the bus stop near the railway station, so you can either walk to the Field of Miracles or take a local bus to get there. The bus ticket costs 4 €.
Taxi/Private Transfer
A taxi to Pisa from the cruise port in Livorno takes around 30 minutes (the distance is 25 km; 15.5 mi) and costs approximately 60 € per vehicle one way. As I mentioned before, taxis in Italy are quite expensive, so a better deal is to book a private transfer.
Book a private transfer from Livorno port to Pisa
Shore Excursion
Cruise lines offer different tour options to Pisa – some of them include the entrance fee to the Tower, others a guided tour and free time at the site, or just the On your Own transfers. You can either book with your cruise line, or explore Independent tour operator offers.
Suggested article: Pros and Cons of Booking Cruise Ship Shore Excursions
Check out the best Pisa tours and activities from Livorno on Tripadvisor and Viator
3. Florence
Known as the cradle of the Renaissance thanks to its remarkable architecture, historical and cultural heritage, Tuscany's capital is a must-see place if you are visiting Tuscany for the first time.
As there are many places to see and one day is certainly not enough, the best way to explore Florence is to take a guided walking tour along with a knowledgeable guide, who will share the local stories and take you to the most interesting corners and hidden gems of the city.
If you decide to come on your own, keep in mind that for most of the museums and landmarks you need to purchase the entrance ticket in advance.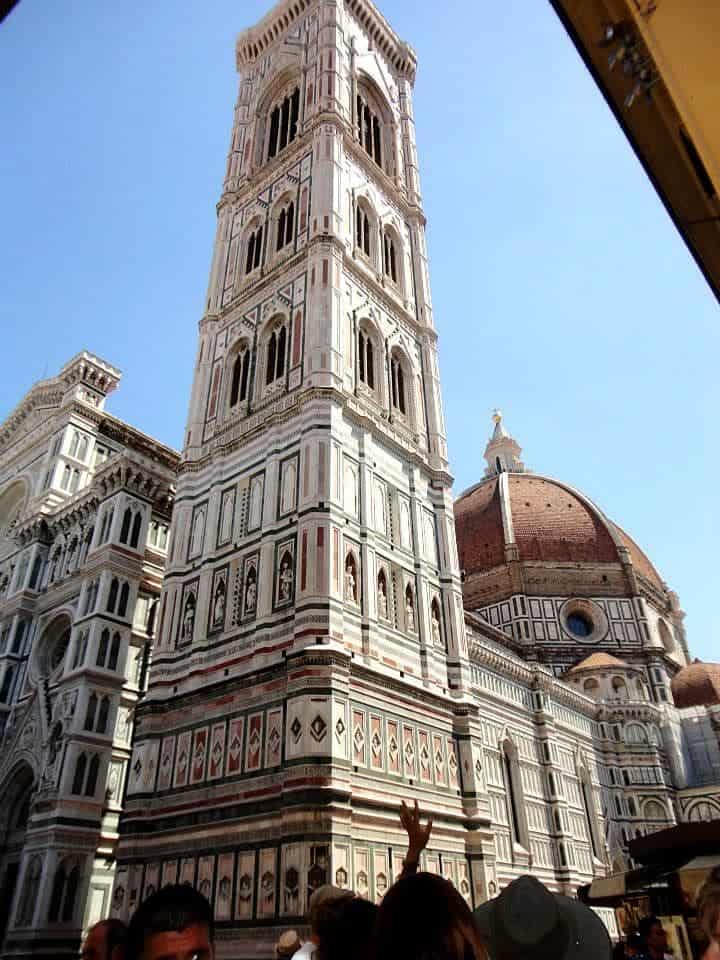 Here are some of the must-see places in Florence:
If you are an art lover, you should visit Uffizi Gallery, and Galleria dell'Accademia (which houses the original Michelangelo's David) considered some of the most renowned museums in Florence. Be prepared for the long lines, especially during the summer months. Some other museums and art galleries to consider are Palazzo Vecchio, Palazzo Pitti, Palazzo Strozzi, Casa di Dante Museum, Casa Buonarroti (Michelangelo's Museum) among others.
At the beautiful Piazza della Signoria square dominated by the imposing Palazzo Vecchio, you can see a replica of Michelangelo's David, and the statues of the great artists of Florence.
The 13th-century Cathedral of Santa Maria del Fiore (Cattedrale di Santa Maria del Fiore) located in Piazza del Duomo is definitely the most striking structure in Florence with its red-tiled Dome – the symbol of Florence. The Cathedral is absolutely majestic and

in addition to enjoying its external beauties, it is worth visiting the Cathedral's interior and climb to the Dome to enjoy an incredible panoramic view of the city. 

Basilica of Santa Maria Novella is a remarkable 15th-century basilica and the city's main Dominican church featuring famous frescoes by Gothic and Renaissance masters.
The famous Baroque Porcellino fountain (Fontana del Porcellino – the bronze fountain of a boar) is located in the 16th century Market Square (Mercato del Porcellino) and is a mandatory stop for those who want to return to Florence. Tradition says that if you touch the boar's snout you will surely return.
No visit to Florence is complete without a stop at Ponte Vecchio (old bridge). Take your time to admire it from a distance or walk through and visit one of the shops – the jewelry on the bridge is not cheap, but looking at the jewelry does not cost anything!
How to Get to Florence from the Port of Livorno?
Shore Excursion
Florence is located 90 km (56 mi) from the port of Livorno, approximately a 1-hour 30-minute drive. Due to the distance and the limited time in port, I strongly suggest you take an organized shore excursion, either from the cruise line or a reliable tour operator.
Check out the best Florence tours and activities from Livorno on Tripadvisor and Viator
Train
You can take the train from Livorno Centrale to Firenze Santa Maria Novella station. The train runs 2 or 3 times per hour, and the journey takes 1 hour 20 minutes (up to 1 hour 40 minutes). The ticket costs around 10.10 € per person each way. Once you get off the train, you'll be in front of the Basilica of Santa Maria Novella, and in less than a 10-minute walk you can reach The Cathedral of Santa Maria del Fiore. Check the train schedule on Trenitalia.com
Taxi/Private Transfer
A taxi can be a little pricey and can cost around 150 € per vehicle one way, but you can try to get a better deal if you hire the taxi for the day. If you are interested only in transport, I suggest booking a private round-trip transfer to Florence.
Book a private transfer from Livorno to Florence
4. Lucca
If you are already familiar with Pisa and Florence then head over to Lucca, one of the few Italian cities that has kept all the medieval splendor of its historic center intact. Known as the city of 100 towers and 100 churches, it contains historical and artistic sites that deserve to be visited.
The city is famous for being surrounded by a wall built between the 16th and 17th centuries that has remained intact, and it is the birthplace of two of the greatest Italian musicians, Luigi Boccherini and Giacomo Puccini.
Stroll through the beautiful elliptical-shaped square, Piazza Anfiteatro, built on top of an ancient amphitheater from the 2nd century AD. See the monumental church of San Michele in Foro with its 13th-century façade decorated with intricate details and its huge statue of the Archangel Michael at the top.
The Guinigi Palace (Palazzo Guinigi) and Guinigi Tower (Torre Guinigi) are must-see attractions, especially if you look for spectacular panoramic views of the city and the surrounding mountains. You can climb 230 steps of this 14th-century brick tower and admire some great views of Lucca from the picturesque garden at the top.
Torre delle Ore (Torre dell' Orologio) located only a few minutes walk from Guinigi Tower, is the medieval clock tower and the tallest tower in the city from the top of which you can see the entire city of Lucca. The most interesting thing about this tower is the manual clock mechanism, which can be observed in detail while climbing.
Throughout the old town, you will find signs that indicate a tour of the city; I advise you to follow them as they will allow you to find the monuments easily.
How to Get to Lucca from Livorno Cruise Port?
Train
The distance between Lucca and the port of Livorno is approximately 50 km (30 mi). The most convenient and affordable option is to take the train from Livorno Centrale to Pisa Centrale and then change train to Lucca. The train runs twice per hour, and the whole one-way trip takes around 1 hour. The ticket price starts at 5.80 € per person. For more info, check out Trenitalia.com
Taxi/Private Transfer
A taxi ride takes around 45 minutes and costs around 80 € per vehicle one way.
Book a private transfer to Lucca from Livorno port
Shore Excursion
Cruise lines and independent tour operators offer shore excursions to Lucca.
Check out Lucca tours and activities from the port of Livorno on Tripadvisor and Viator
5. Cinque Terre
Cinque Terre ("five towns") is a UNESCO World Heritage Site and a national park that consists of five fishing villages perched high up on the cliffs of the Italian Riviera approximately 110 km (68 mi) north of Livorno. The beauty of the colorful medieval villages can best be admired by boat, which allows visitors to take in the breathtaking views of the villages and the dramatic coast of northwest Italy.
The villages of Riomaggiore, Manarola, Vernazza, Corniglia, and Monterosso al Mare boast rich history and traditions as they date from the Middle Age, and they are interconnected by trails so you can explore them on foot, or by hiking. There is also a train that runs every few minutes between the villages, which allows travelers to easily move from one village to another.
Another wonderful place to visit is Portovenere, a medieval coastal village located south of Cinque Terre. Although it isn't officially part of Cinque Terre, the village is equally beautiful and often included in the same itinerary and Cinque Terre shore excursions.
I wrote about Cinque Terre in detail in my article: Day Trip to Cinque Terre and Portovenere from La Spezia Port
How to Get to Cinque Terre from Livorno Port?
It takes at least 1 hour 30 minutes drive one way to reach the first village of Riomaggiore from Livorno cruise port and due to the distance, not all the cruise lines offer shore excursions to Cinque Terre.
Cinque Terre is more easily explored from the port of La Spezia, but in case you decide to visit it from Livorno, the best way would be to either book a shore excursion or a round trip private transfer.
The train is not a convenient option as it would take you at least 2 hours one way to get to the villages, including changing one or two trains (at Pisa Centrale and La Spezia Centrale). The ticket price starts at 12.55 € per person one way. You would need to carefully plan your day according to the train timetables and the ship's scheduled time in port. Check the timetable on Trenitalia.com
Check out Cinque Terre shore excursions from Livorno on Tripadvisor and Viator
6. San Gimignano
Nestled in the heart of the Tuscan countryside and the Chianti wine region in the province of Siena, San Gimignano is another hidden gem of Tuscany boasting stunning medieval architecture. The distance between San Gimignano and Livorno port is 83 km (52 mi) and it takes a 1 hour 30 minutes drive to get there.
San Gimignano is a small walled hilltop town also known as the Town of Fine Towers due to a dozen of preserved tower houses. The town boasts beautiful Gothic and Romanesque architecture, churches, medieval fortifications, great local cuisine, and delicious wines.
The main San Gimignano highlights are the Colegiata (Collegiate Church of Santa Maria Assunta); the Church of Sant' Agostino; the Communal Palace (Palazzo Communale, the Town Hall) located on Piazza del Duomo and home to the town gallery; Palazzo Vecchio del Podestà; the Cistern Square (Piazza della Cisterna, the main town square); Torre Grossa (54m, the tallest tower); Salvucci Tower (Torri dei Salvucci); and a few others.
How to Get to San Gimignano from the Port of Livorno?
It takes around 1 hour 30 minutes drive one way to reach San Gimignano. Some cruise lines offer shore excursions, however, most of them include stops at other places in Tuscany (Siena) which means that you won't have much time to spend in San Gimignano.
You can either book a shore excursion, private round trip transfer, or you can rent a car, which is a great option as there are a couple of car parks outside the walls of San Gimignano where you can leave your car for a fee (1.50-2 € per hour).
You can also take a train from Livorno Centrale to Poggibonsi-S.Gimignano (with 1 change at Empoli). The ride takes around 1 hour 40 minutes, and the ticket price costs 10.10 €. Check out Trenitalia.com for timetables.
Check out San Gimignano tours and activities from Livorno on Tripadvisor and Viator
7. Siena
With its historic center protected by UNESCO, medieval architecture, a great number of museums, galleries, and a long history of banking/commercial activities, Siena is the capital city of the province of Siena located 130 km (81 mi) southeast of Livorno port.
It is one of the most visited cities in Italy, and if you decide to spend your day in Siena, you should absolutely see the city highlights including the imposing Campo Square (Piazza del Campo, the main square), the Tower of Mangia (Torre del Mangia), the 12th-century Siena Cathedral (Duomo di Siena) overlooking Piazza del Duomo, Santa Maria in Provenzano Church, the 14-th century Gothic Palazzo Salimbeni dominating a large Piazza Salimbeni, Siena Synagogue…
How to Get to Siena from Livorno Port?
Some cruise lines offer shore excursions to Siena, however, these excursions normally include stop at either San Gimignano or other places in Tuscany.
Due to the distance between the Livorno cruise port and Siena, it's advisable to either book a shore excursion, private round trip transfer, or rent a car. The traveling time to Siena is approximately 2 hours each way.
You can also take the train from Livorno Centrale to Siena; the train runs once per hour, and you will need to change the train in Empoli. The ride takes at least 2 hours and the ticket price starts at 11.80 €. For more info, check out Trenitalia.com
Check out Siena shore excursions from Livorno port on Tripadvisor and Viator 
8. Volterra
Located around a 1-hour drive from Livorno cruise port (72 km; 45 mi), the mountaintop town of Volterra is known for its rich history and the ruins dating from the Etruscan, Roman, and Medieval periods.
While there, don't miss out to visit some of the main Volterra highlights: the Roman Theater of Volterra (Teatro Romano di Volterra) dating from the 1st century BC; Piazza dei Priori (the main square) dominated by Palazzo dei Priori, the 13th-century Town Hall building; Volterra Cathedral (Cattedrale di Santa Maria Assunta) with its marble entrance and a gilded coffered ceiling; the Etruscan Museum "Mario Guarnacci", and the remains of the Etruscan Acropolis (Acropoli Etrusca) among others.
How to Get to Volterra from Livorno Port?
Some cruise lines offer shore excursions that include a stop in Volterra, however, if you want to go on your own, the best option would be to either rent a car or book a private transfer. The ride takes approximately 1 hour 10 minutes each way.
You can also take the train from Livorno Centrale to Volterra-Saline-Pomarance train station (including 1 change in Cecina). The ride takes up to 1 hour 30 minutes, at the ticket price starts at 7.10 € one way. Once you get off at the Volterra-Saline-Pomarance, you will need to catch a local bus #780 and ride for another 25 minutes. Check the timetables on Trenitalia.com
If you decide to go by train, you need to carefully plan your day because there are only a few trains running per day, and the local buses are not frequent. I suggest you definitely book a shore excursion, either with your cruise line or a reliable tour operator, as you will avoid all the hassle with the local transportation.
Check out Volterra shore excursions from Livorno on Tripadvisor and Viator
To Wrap Up
When taking a cruise to Livorno, make sure you plan your day ahead to maximize your day in port. If you opt for a day trip to one of the destinations, I suggest you take into account the traveling time, the cost and the actual time you'll spend at the destination selected as the time in port is limited and you don't want to risk missing your ship.
Many cruise passengers often go to the same location, so you can always consider sharing a vehicle to save your money. However, if you truly want to immerse yourself in the history and culture of the place, booking an organized shore excursion is always the best way to go!
---
This article may contain affiliate / compensated links. For full information, please see my disclaimer here.
You May Also Like: