Welcome to Santorini port!
Before we start chanting about the beauty of this unique Greek island, let me remind you something – what you are seeing today are only the remains of a big single island that was destroyed in the volcano eruption that shaped Santorini (Thera) as we know it today and gave us the famous caldera everyone dreams of sailing through!
Nestled in the southern Aegean Sea, this breathtaking island is a part of a group of islands known as the Cyclades and is a frequent stop in Mediterranean cruise itineraries. The stunning capital of Santorini, Fira, overlooks the vast bay where cruise ships anchor, and is usually the starting point for everyone visiting the island of Santorini.
In this article, I share useful, insider tips and advice on:
Santorini port info (cruise terminal, getting around the port)
Top 5 things to do in Fira (where your tender will drop you off)
5 best Santorini shore excursions and port highlights
Visit also our cruise port guides for Heraklion, Chania, Rhodes, Athens (Piraeus), Kusadasi, Civitavecchia (Rome), Barcelona, Valencia, Ajaccio (Corsica), Palma de Mallorca
Santorini Port Info
Cruise ships anchor in the bay at the bottom of the volcanic cliffs of Fira and the view of whitewashed buildings perched on the town's steep cliffs is a spectacular sight that will leave you speechless!
See Santorini port map on Google maps
Cruise passengers are transferred ashore by large, comfortable tender boats to 2 ports: The ferry port which is called Athinios, and the old port of Skala which is below the town of Fira where the famous cable car is.
Athinios ferry port – The guests with prebooked excursions from the cruise line will be tendered to Athinios the ferry port, where there isn't much besides a big parking space for the buses and a few coffee shops. If you are doing your own thing or taking a tour with an

Independent Tour Operator

, make sure NOT to embark on these tenders because it will make it complicated for you to get back to the correct one and you will lose the precious time you have in this unique port of call.
Port of Skala – Freelance guests (including those joining the shore excursions independently) will take a tender boat to the old port of Skala. Keep in mind that there is no passenger terminal; it's a narrow dock with several souvenir stores, a few taverns, cafes, and tour booths. Here, you'll find the staircase leading you to the cable car base station where the restrooms are available, as well as a small souvenir kiosk where you'll find a tourist information booth (maps are usually available).
There are several options to reach Fira from the port of Skala:
By cable car that connects the port of Skala and Fira. The ride takes only several minutes and offers fabulous views of the town and bay. The cable cars are small, each can take up to 4 people and cost 6 €/adult, 3 €/children (aged 5-10) one-way per person. You might experience lines, so be mindful of that especially on the way back to the ship (allow at least 1 hour to embark on the last tender). You can purchase the tickets on-site and both cash and credit cards are accepted.
Mule (Donkey) back riding (around 8 € per person)
On foot, by climbing  587 stairs which will only cost you the calories of the dessert you had for dinner last night!
The entire island is very uneven and with cobblestone, so comfortable, non-slippery shoes are a must, especially if you decide to walk even if it's just downstairs to catch the tender back to the ship.
NOTE: If you consider booking a shore excursion with a cruise line, check beforehand whether your tour will finish in Fira downtown or will take you back straight to the Athinios port and back to the ship. Some tours will drop you off in town so you can go shopping and explore, while some of them will bring you straight back to Athinios port. Keep in mind that you won't have any time to explore the town of Fira in case your tour finishes here. In case you are dropped off in town, you will need to take a cable car back to the tender station on your own.
Suggested articles:
What to Pack for a Cruise – Top 50 Cruise Essentials
25 Top Shore Excursion Packing List Items
Subscribe below and get my exclusive, insider SHORE EXCURSION GUIDE for FREE!
Top 5 Things to Do in Fira 
As mentioned earlier, as soon as you leave the tender boat and reach the port of Skala, there aren't many options right on the spot. You will either decide to explore the town of Fira or you can rent one of the boats, take a taxi (around 50 €), or a public bus (ride costs 1-3 €) that will take you to the picturesque blue dome village called Oia.
However, bear in mind that in order to catch a bus or a taxi you need to climb to Fira first.
If, however, you decide to stay in Fira and take it easy on yourself and your budget, you can spend the day exploring the highlights of Santorini's picturesque capital. The town is very small and can easily be explored on foot, as the major attractions, historic landmarks, restaurants, cafes, and shops are located within a short walking distance from each other.
1. Walk around and Enjoy the View
Rising 853 ft above sea level, the town of Fira owes its shape to the volcanic eruption that took place in 1650 BC.  The town boasts unique architecture that you can explore while roaming its cobblestone streets, squares, and alleys. If you want to spend a peaceful day just soaking up the local atmosphere, consider grabbing a bite or a coffee at one of the numerous taverns or cafes offering awe-inspiring views of the coast. 
Keep in mind that cobblestone is everywhere and there are a lot of stairs and inclines. 
2. Explore Fira's Religious Sites
One of the most famous religious sites in Santorini is the Orthodox Metropolitan Cathedral, a monumental white Greek Orthodox Church featuring an imposing bell tower, offering majestic views of the coast. The church was built in the middle of the 19th century, however, it was destroyed by an earthquake in 1956 and later restored. It is located in the heart of the town and boasts a beautiful interior ornated with frescoes painted by a local artist.
Another iconic landmark of Fira is St. John the Baptist Cathedral, the only Catholic cathedral in Santorini, known for its colorful exterior, located at a stone's throw from the cable car upper station.
3. Handicraft & Souvenir Shopping
It's hard to resist the town's numerous beautiful little stores all around the city. From magnets, hand-made local jewelry, white cotton dresses that match the beautiful views perfectly, olive soaps, leather shoes…You can find whatever your heart desires!
4. Try Out the Local Cuisine
There is no mention of Greece without mentioning the amazing food they offer. There are a lot of restaurants offering options from fast food such as gyros and souvlaki to proper sit-down restaurant meals such as fish, meat, salads, and others.
There are a lot of options for vegetarian dishes too, such as fried feta cheese and stuffed peppers… a bit of something for everyone's taste. When it comes to drinks and desserts, I would like to suggest the Cappuccino Freddo which they are so proud of – all of you coffee lovers will definitely enjoy it, and for dessert, if you are not interested in sweets such as baklava, an amazing street option would be Greek Yogurt – refreshing and with so many flavor options for you to indulge in!
5. Visit Fira's Museums
Santorini's capital boasts several museums where you can learn about the island's history and origins. One of the most famous ones is the Archaeological Museum of Thera where you can admire exhibits and archeological findings including ancient vases, sculptures, frescoes, and inscriptions. This museum is located near St. John the Baptist Cathedral, in the heart of the town. The visit takes only 20-30 minutes, and the entrance fee is around 3 € per person.
Megaron Gyzi museum, located a block away, is a local history museum housed in a 17th-century mansion with a beautiful yard. It contains letters, photos, paintings, and artifacts that reveal the history of this fairytale island. The entrance fee is 3 € per person and the museum is quite interested, so I recommend you take a look.
Last but not least, the Museum of Prehistoric Thira is a small museum located a 5-minute walking distance from the cable car upper station and other historic landmarks. It contains prehistoric artifacts found during the excavations of ancient Thira, including pottery, frescoes, and other valuable pieces. The museum is well worth visiting if you want to learn about the island's past, and the ticket cost is 6 € per person.
Check out Fira tours and activities
5 Best Santorini Tours & Things to Do
This little island offers a variety of attractions and activities, and here is my list of top 5 Santorini excursions and port highlights:
1. Akrotiri 
Known as Pompeii of Greece, Akrotiri is an archeological site of an ancient city that was covered in ash at the end of the 1600s BC. It is located in the south of the island, approximately 12 km (7.5 mi) from Fira, and a 10-minute drive from the village of Akrotiri, built on the slopes overlooking the caldera cliffs. Akrotiri excavation site and museum are a UNESCO World Heritage Site and represent one of the most important Minoan Bronze Age archeological sites in the entire Aegean. Here, you will have the opportunity to admire unique frescoes and artifacts from the Minoan Civilization era and discover the everyday life of its settlers.
The driving distance between Fira and Akrotiri is approximately 20 minutes, but due to the traffic and crowds, it can take longer. The site is enclosed and a visit takes anywhere between 4o minutes to 1 hour (or more, if you wish). You can book an Akrotiri guided tour or explore on your own. The ticket costs 12 € per person, but there are some discounts and combo packages offered as well.
See the list of the top-rated Akrotiri tours
Within a short driving distance from the archeological site, you can visit the village of Akrotiri boasting a handful of taverns, shops, and historic landmarks, including the Venetian castle built on top of the village and a lighthouse offering staggering views of the caldera.
For beach lovers, Red beach and Vlychada Beach located nearby are the top picks!
2. The Village of Oia
If the name doesn't ring the bell, you probably recognize it by the famous Blue Domed Church featured on countless Santorini postcards. Oia, probably the most famous and the most photographed village in Greece, is situated on the northern tip of the island, approximately 10 km (6 mi) away from the capital Fira. The ride takes 15 minutes, however, bear in mind that due to the busy seasons and traffic it usually ends up being 40 minutes instead.
The village is most famous for the scenic views over the caldera and the magnificent sunset colors contrasting the white-washed houses and famous blue domes. In the village itself, besides the Blue Domed Church, there is a Naval Maritime museum interesting to explore, the Castle of Oia ruins, a picturesque windmill, small art galleries, and numerous restored small churches that you can visit.
The village itself is a true feast for the eyes and the attraction itself, so you can spend your day meandering its narrow cobbled streets, alleys, and staircases, browsing its shops and indulging in Greek traditional dishes.
Make sure you bring your best camera, as the beauty of Oia is mind-blowing!
3. Volcano Hiking & Hot Springs Swim
If you are more of an adventure and nature lover, this will be a wonderful experience for you! However, if you book this tour with your cruise line, keep in mind that the sailing boat picks you up straight from the ship and you don't go to Fira but in the opposite direction.
The hike takes place on Nea Kameni, a tiny uninhabited island of volcanic origin, nestled just off the coast of main Santorini island, across the town of Fira. The day trip starts with a beautiful panoramic sailing of the caldera before you reach the point where you start your volcano hiking.
As mentioned before, the island as we know is what is left after the volcano eruption and here you have an amazing opportunity to hike the Nea Kameni volcano which has eight craters. The last one you will visit is still active and you can easily see the steam coming out. 
The hike is not surprisingly all uphill, so please make sure to wear proper shoes and keep hydrated, as you are hiking in warm weather with mostly rocks around you so it can get pretty hot. The hike down usually takes only 15 minutes.
After the hike, tours normally take you to the hot springs for a swim.  You need to swim from the boat to the springs about 40 meters, so if you are not a strong swimmer ask for a vest. The temperature in the springs is warmer, however, the cooler the weather outside the more you will feel the difference so don't be disappointed if you don't feel a big difference. The recommendations are to wear dark swimwear as the sulfur can leave traces on it.
See the list of top-rated Volcano Hike & Hot Springs tours
4. Wine Tasting in Pyrgos Village 
Surrounded by vineyards producing renowned Assyrtiko white wines, Pyrgos village is an authentic fortress settlement of the Cyclades that sits at the highest point of Santorini island. It was declared a protected settlement in 1995 and is located less than a 10-minute driving distance from Fira.
At the highest point of the village, you will see the ruins of Kasteli Castle and near the entrance, there is a memorial plaque for those who died in World War II. Greek from this village are very proud of their wine and if you are a wine lover you will understand why. I suggest you explore its wonderful architecture, galleries, churches, and winding paths, but above all – delight in the traditional Greek meze and taste the delicious wine in one of the renowned Pyrgos wineries!
The scenic surroundings, sunny and hot weather give it even more of a special flavor and round up the entire experience of this magnificent village.
Explore Santorini wine tasting tours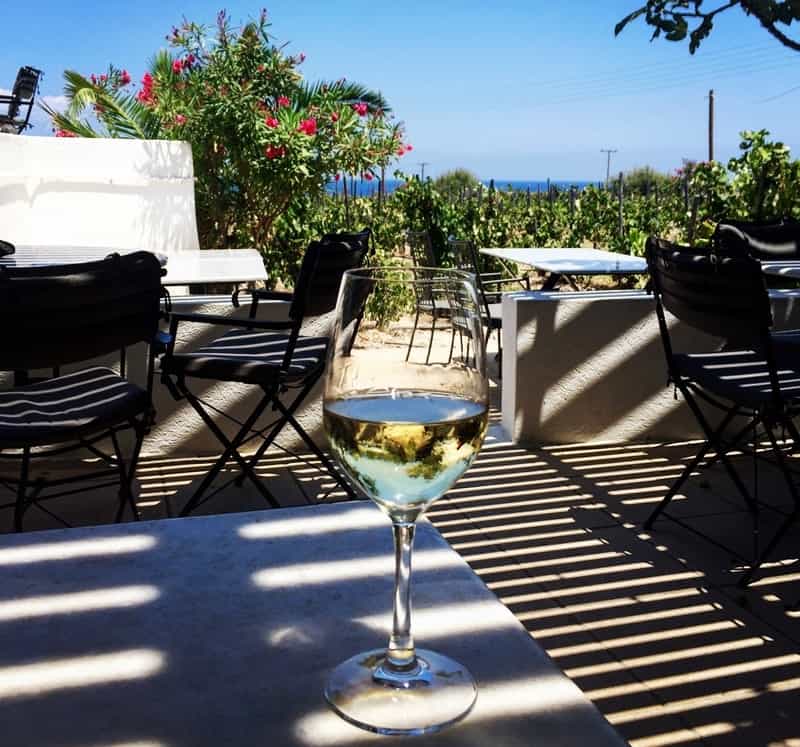 5. Caldera Catamaran Sail 
If you are looking for something to relax and just soak in the sun with breathtaking views, you should book a sailing trip around the island!
No strenuous activities included, all you need to be able to do is board the sailing boat. It's a perfect option for those who have already seen Santorini from land and want to change it or any of you who wish to avoid crowds in the city. For those who have family members that cannot cope with the cobblestone and the stairs, sailing is an ideal option and a magnificent experience for the entire family. These trips usually include a full meal and drinks to top off your sightseeing of the spectacular Santorini coast.
See the list of Santorini Catamaran Sail tours 
Final Words
No matter what you decide to do in this fabulous port of call, Santorini is one of those places that you will never forget and will always want to return to. The burning sun, crystal clear turquoise water, mouth-watering food, and wine, and the views that will give you the most beautiful vacation pictures make this place one of a kind in the world!
Visit also our cruise port guides for Heraklion, Chania, Rhodes, Athens (Piraeus), Kusadasi, Civitavecchia (Rome), Barcelona, Valencia, Ajaccio (Corsica), Palma de Mallorca
---
You May Also Like:
What to Pack for a Cruise – Top 50 Cruise Essentials 
Women's Cruise Wear – Top Cruise Essentials for Ladies
Cruise Guides for Mediterranean Ports of Call
Top 20 Things to Do in Rhodes Island, Greece
Top 15 Things to Do on Crete from Rethymno, Chania and Heraklion
Subscribe below and get my exclusive SHORE EXCURSION GUIDE FOR FREE!
This article may contain affiliate / compensated links. For full information, please see my disclaimer here.