Welcome to Costa Maya cruise port!
The port of Costa Maya is located in the Yucatan peninsula in the state of Quintana Roo (Mexico), and it is the only port in the Western Caribbean designed specifically for cruise ships.
This beautiful port of call is known for its gorgeous beaches, a wide range of activities offered, and archeological ruins attractive not only to history buffs but all visitors wanting to learn about Mexico's rich historical and cultural heritage.
In this article, read about:
Costa Maya cruise port info (cruise terminal, local transportation)
7 Amazing things to do in Costa Maya on a cruise
Check out today's cruise deals from Cruise Critic!
Costa Maya Cruise Port Info
Costa Maya port (Puerto Costa Maya) is Mexico's second-largest cruise port after Cozumel. It is located about 5 minutes ride from the small fishing village of Mahahual, and around 290 km (180 miles) south of Playa del Carmen and the island of Cozumel.
See Costa Maya cruise port on Google maps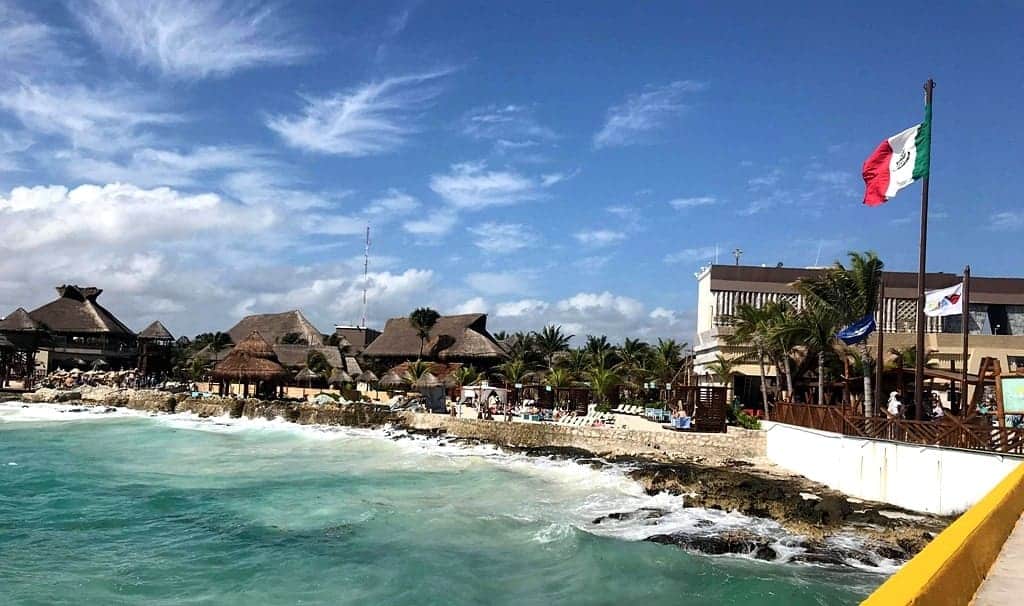 Resembling an authentic Mayan city, the Costa Maya cruise port complex is designed to suit the cruise ship passengers' needs. Costa Maya cruise terminal can accommodate the world's largest cruise liners (Royal Caribbean's Oasis Class) and has 4 berths in total. If there are more than 4 cruise ships in port simultaneously, other ships will drop anchor and transfer their guests ashore via tender boats.
Once you exit the ship, there is a long pier taking you to the terminal building housed in an orange building. If you have walking difficulties or traveling with small kids, there is a free trolley service to take you from your ship to the terminal building. If you have booked a shore excursion, here is where the tour dispatch takes place: here you can also book last-minute tours if you still haven't.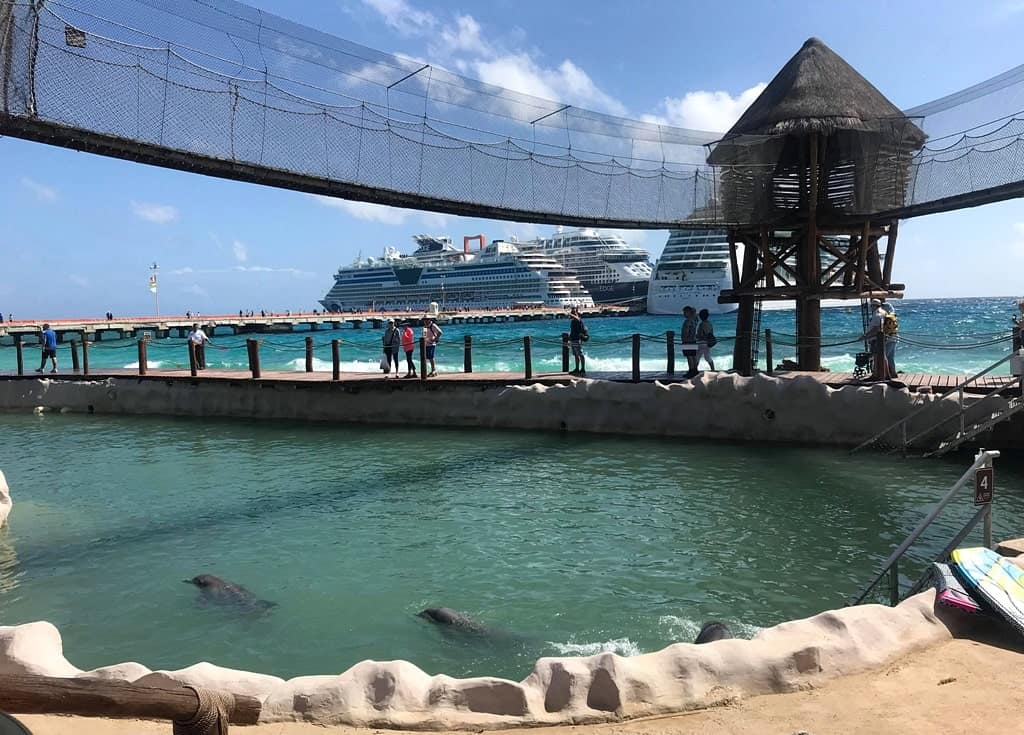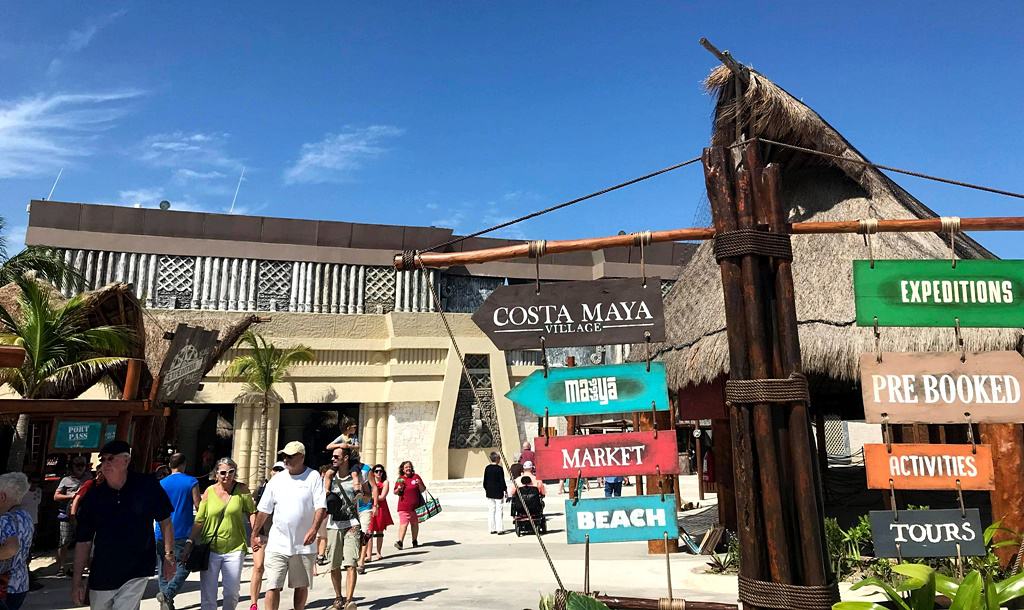 The port complex features a wide range of facilities:
Craft market where you can buy authentic handicrafts and souvenirs; duty-free shops and internationally recognized brands including Diamonds International, Tanzanite International, Carpet Emporium, Del Sol, Havana Club offering premium quality cigars at affordable prices, Tequileria International with hundreds of tequila brands, and a few others.
Poolside restaurants, beach bars, and cafes (seafood, fish and local specialties, grill) with live entertainment and amazing sea views.
ATM (USD only)
A massage center offering spa rituals and wellness treatments inspired by the Mayan civilization.
Three swimming pools filled with saltwater free of charge for the visitors to enjoy, with pool bars.
Beach chairs and loungers are available on a first-come-first-serve basis, and also restrooms, showers, changing rooms around the pool area.
Dolphin Discovery Center offering dolphin interaction programs and shows is also located within the cruise port complex; a last-minute tour desk is located near the tour meeting location.
Suggested article:
What to Pack for a Caribbean Cruise: Top 40 Must-Have Items
Outside of the cruise terminal area, you will find a large taxi rank, golf carts, bike/car/ATV rentals, local tour vendors, Jade Maya Museum, a replica of a Mayan pyramid, and a few more facilities/places of interest.
Check out Costa Maya ATV tours
Local Transportation
Once you exit the cruise terminal area (there are two exits), you'll see the taxi station right outside the cruise port complex. There is also a tour booth where you can get a shuttle bus to Mahahual village for $3 per person each way, and the ride takes no more than 5 – 7 minutes. An alternative is to take a 30-minute walk from the cruise port to Mahahual.
At the kiosk, you can also book tours, taxis/golf carts per hour, and various beach packages. Taxis will also offer private tours to the main tourist locations, but make sure you agree to the price beforehand to avoid any confusion and disappointment.
Public transportation is available, but I do not think it is a good idea to experiment with the service due to the limited time in port and especially if you do not speak Spanish.
Car rentals are also available inside the cruise port complex.
Currency
The official currency is the Mexican Peso (MXN) and 1 US dollar equals approximately 20 pesos. I strongly suggest that you have small bill denominations for taxis and souvenir purchases and reconfirm in advance that your change will be given in USD as cruise lines do not offer exchange service for this currency. For larger purchases, you can use your credit card but bear in mind that some establishments will charge an extra 5% for using your credit card. Use Xe Currency Converter
Language
Spanish is the main language in Mexico, however, like in any major tourist cruise port, English is widely spoken.
7 Amazing Things to Do in Costa Maya Cruise Port
For insider, exclusive shore excursion tips, grab my FREE Shore Excursions Guide by signing up below!
1. Mahahual Beach & Village
This beautiful beach is located in the lively fishing village of Mahahual and is the closest one to the cruise port. White powdery sands and a barrier reef make it ideal for swimming and snorkeling as the water is calm and crystal clear, so make sure you get your camera ready for turtles, stingrays, stunning tropical fish, and a spectacular coral reef!
Suggested article:
What to Pack for a Caribbean Cruise: Top 40 Must-Have Items
Along the beach, you will encounter local restaurants, bars, and beach clubs offering beach chairs, umbrellas, watersports, and fantastic service. Most of the beach clubs have either a minimum spend or an open bar, and you should definitely check out Yaya Beach, Blue Kay, Ibiza Sunset, Pitaya Beach Club, and Pez Quadro. Local vendors and beach massage areas are also available, as well as other facilities including showers, changing rooms, and restrooms.
TOP-RATED TOUR: Mexican cooking class in Mahahual
Besides the gorgeous sandy beach, Mahahual has several other spots of interest, such as Faro de Mahahual – a lighthouse, where Mahahual boulevard filled with countless shops, supermarkets, restaurants, and bars starts.
Mahahual village is very safe and the beach is ideal for families and people of all ages.
Transfers and taxis from the Costa Maya cruise port to the beach cost around $2 – $3 USD per person each way.
Check the best hotels in Mahahual
2. Get a Cruise Port Pass
If you decide to stay around the port area, you can take advantage of this pass that gives you access to 3 port attractions:
Aviarius (the Aviary): Located within the cruise terminal area, the Aviary offers a unique opportunity to meet and feed the most beautiful and exotic birds in the Caribbean. This family-friendly experience offers amazing photo opportunities so get your camera and smiles ready!
The Kakaw: Learn all about the chocolate importance to the Mayans and tour around the chocolate factory – a great adventure full of flavors that you cannot miss!
Tequila Museum: Learn the process of production of the famous Mexican tequila before tasting some of the best brand Tequilas.
Cruise port pass tickets can be obtained through the cruise line or at the tour desk on the pier.
The port pass also includes 3 complimentary drinks at one of the bars located close to the port pools, which are free for you to enjoy.
3. Lost Mayan Kingdom Waterpark
Located only a few minutes drive from Costa Maya cruise port, this amazing theme park inspired by the ancient Mayan culture of Mexico offers plenty of adventure for the whole family!
Those in search of some adrenaline rush can enjoy the crazy water slide rides and hit the thrilling zip lines across the jungle, while those looking for some relaxation can go floating on a river rube through the jungle-lined lazy river or relax on a hammock by the pool. Children can have fun at pint-sized slides and mini pools at the Monkey's Island kids area.
The park has restrooms, changing rooms, showers, lockers (extra cost), a snack bar, and a souvenir shop and offers convenient transport back to the port every 30 minutes.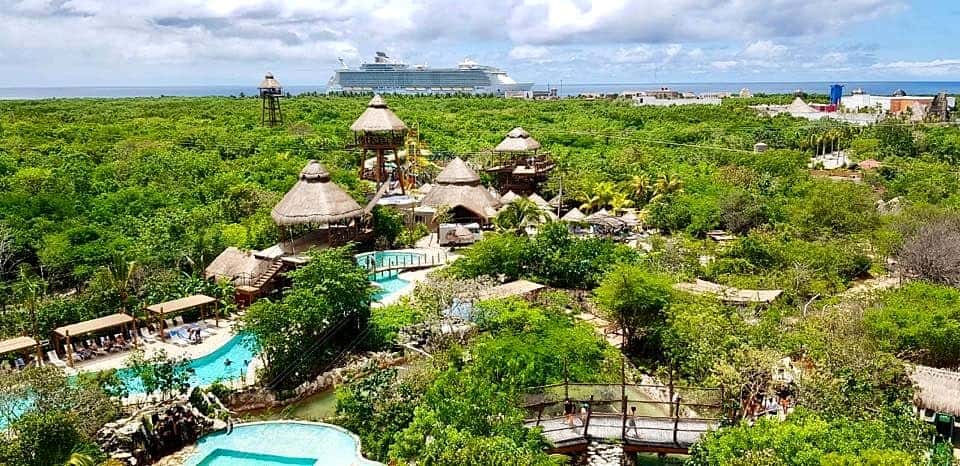 Tickets for the Mayan Lost Kingdom can be purchased through the cruise line, last-minute tour desk on the pier, or directly at the entrance of the park.
Some of the activities are not suitable for guests with disabilities or special needs. Learn more about the park on the Lost Mayan Kingdom Waterpark website
4. Chacchoben Ruins
Located in the south of Quintana Roo state, approximately 70 km (43 mi)/50-minute drive from Costa Maya, Chacchoben Ruins are the most popular ancient ruins in the Costa Maya region. Also known as the Land of the Red Corn, this 3.000-year-old site was once an important pilgrimage place for the ancient Mayans. Learn about the rich history, the importance of this site and admire the big ceremonial temple named Gran Basamento.
Taxis from Costa Maya cruise port will charge around $50 per person for a round-trip transfer, including the guided portion of a tour as the taxi drivers also offer guide services. The ride takes between 50-60 minutes, subject to traffic.
The entrance fee is $3.50 per person. Visitors using home video cameras will be charged a government fee of approximately $5 -$8 payable in cash on the site.
Chacchoben ruins are probably one of the few accessible Mayan ruins in Mexico.
Check out Chacchoben Ruins tours and activities
5. Dzibanche and Kohunlich Mayan Ruins
Do not miss the opportunity to visit the ruins of these two Mayan civilizations lost in the jungle close to the Belize border. There are two archeological zones within the same area: the Archeological Zone Dzibanché – Kinichná, and the Archaeological Zone of Kohunlich.
Archeological Zone Dzibanché – Kinichná
Dzibanche is said to be the first capital of the Kaan Dynasty, also known as the Snake Dynasty, and the center of social and economic activities for the local population. Within the same archeological zone, in the heart of the jungle, you can also visit Kinichná ruins located approximately 4 km (2.5 miles) from Dzibanche. The complex is dominated by a huge two-level pyramid that you can climb and admire the spectacular views of the lush rainforest and surrounding pyramids. There are usually no crowds as the place is off the beaten track.
Both Dzibanche and Kinichná belong to the same archeological zone and the entrance fee is $3.50 per person. The admission ticket includes access to both sites. Children under 12 years old and elderly visitors do not pay. For those of you who wish to use a video camera, there is an additional $5 – $8 charge.
Check out ancient Dzibanche and Kinichna tours 
Archaeological Zone of Kohunlich
Kohunlich archeological complex is the largest Costa Maya ruins that consist of mainly residential buildings and palaces. The archeological site is impressive and is known for the beautiful stucco masks of the Sun God that decorates the central staircase of the Temple of the Masks. If you wish, climb the 27 steps up to the top of the acropolis for great views over the jungle or walk through the ceremonial plazas, the ball court, and another structural group.
Kohunlich archeological site is larger and it takes at least 1 hour to visit it and walk around. The area is beautifully preserved, with tall palm trees and monkeys that you can spot high up on the trees.
The entrance fee to Kohunlich is $4.50 per person. Free for children under 12 and senior citizens. There is also an additional $5 – $8 charge for video cameras.
Explore Kohunlich archeological site tours
Useful tips if you are visiting Mayan ruins
It is recommended to visit both archeological zones (Archeological Zone Dzibanché – Kinichná and Kohunlich archeological zone) on the same day, as they are located 45 minutes drive from each other. Both of these archeological sites are located around 2.5 hours from the Costa Maya cruise port.
There is no cell phone signal, and the roads are really bad, so be mindful of that in case you decide to come on your own. Make sure you bring insect repellent as there are many mosquitos, as well as water, snacks, and comfortable shoes. It can also be very hot, so bring your hat and sunglasses.
Suggested articles:
25 Top Shore Excursion Packing List Items 
What to Pack for a Cruise (2022) – Top 50 Cruise Essentials
Due to the distance, the best way to explore both is through an organized shore excursion from the cruise line that includes entrance fees and normally provides a packed lunch box so you can maximize your time at these amazing ruins.
If you choose to take a taxi, you should agree on the price with the driver in advance, as it all depends on the number of people at your party. Taxi drivers normally offer private tours and expect to pay around $80 per person for a round-trip transfer (they won't take you for a one-way ride). A good alternative might be to rent a car, however, be careful because the roads are in extremely poor condition.
6. Bacalar Lagoon
Take a trip over to Bacalar village and cruise through "The Lake of the Seven Colors", the second-largest natural body of freshwater in Mexico. This multicolor freshwater lake is fed by underground sinkholes or ¨cenotes¨ and white sandy bottom that gives the effects of the different hues of blue. A truly fantastic place to visit a great location for snorkeling, swimming, and other water activities.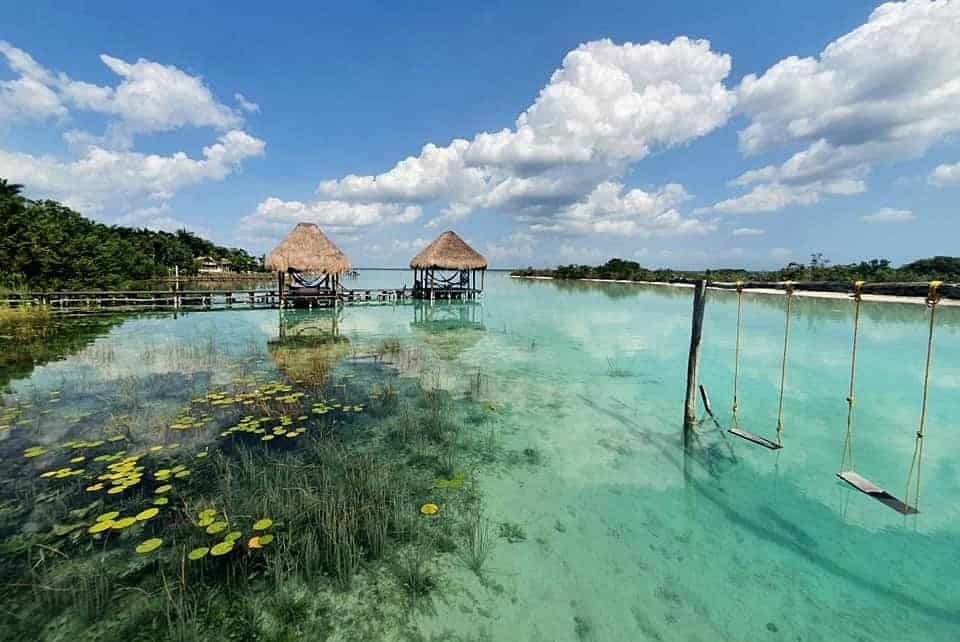 Bacalar is located approximately 91 km (56 mi) or a 1-hour 15 minutes drive from Costa Maya.
A taxi from the cruise port to Bacalar will cost around $50 per person each way and does not include any boat tour or other activity in the lagoon.
The best way to get here is through an organized Shore Excursion from the cruise ship. However, if you are more of an "on your own" person, then my suggestion is to check with the tourist information center for reliable tour companies and packages to this amazing place.
If you are traveling on a small or large group, check with the Shorex Team onboard for private customized trips.
See the best hotels in Bacalar 
Explore Bacalar Lagoon tours from Costa Maya Cruise Port
7. Snorkeling and Scuba Diving
Costa Maya is known for its second-largest coral reef in the world which makes it a perfect destination for snorkeling and scuba diving. Banco Chinchorro, an unspoilt reef atoll, is part of the Mesoamerican Barrier Reef and boasts incredible diving and snorkeling. It is facing Mahahual beach and is home to turtles, crocodiles, catsharks, pink snails, and rich marine flora and fauna. This is the only place in the world where you can swim with crocodiles in the wild, so make sure you bring your best waterproof camera as you will want to capture this moment of your lifetime!
In case you book a tour, the snorkeling gear is normally included, but if you want to snorkel on your own, make sure you check out my article: Snorkel Gear and Scuba Diving Equipment -Tips by a Pro!
Certified divers should go for scuba diving, as the beauty of the reef and its rich wildlife is unmatched!
Explore Costa Maya snorkeling tours and activities
Check out Costa Maya scuba diving tours
Final Words
Costa Maya is an incredible place so make sure you plan your stay to get the most of this amazing port of call. If you wish to read about Cozumel, make sure you check out my Complete Guide to Cozumel Cruise Port (+ Port Highlights & Best Shore Excursions)!
Enjoy Mexico!
---
This article may contain affiliate / compensated links. For full information, please see my disclaimer here.
You May Also Like:
Do You Need a Reliable Travel Insurance? Get a Quote!