Wondering what to pack for a Caribbean cruise, particularly now that the Covid-19 pandemic has had a huge impact on the cruise industry? Cruises are back, however, the cruise industry has changed and rules and regulations have become somewhat more strict than before. No matter if you are going on a Caribbean cruise as a crew or a passenger, there are some must-have items that you should always think of!
Suggested:
Caribbean Cruise Port Guides (Ultimate Cruise Guides to the Major Caribbean Ports of Call)
Adventour Begins is a participant in the Amazon Services LLC Associates Program, an affiliate program designed to provide a means for sites to earn advertising fees by advertising and linking to Amazon.com. When you click on and/or make a purchase through a link to an Amazon affiliate link placed on our website, we may receive a small commission at no additional cost to you.
Here's my list of 40 must-have cruise essentials to bring on a Caribbean cruise!
1. Travel Documents
It is essential that you bring your passport, visas, ID and all other travel documents required for your cruise. Make sure to check this with your travel agent or cruise company, and keep an eye on your email in case you get notified last minute on the latest updates.
To keep your documents organized and in one place, I suggest you get a money belt as it's ideal to keep your cash, credit cards, passport, smartphone and other documents organized and safe.
Also, don't forget to store your documents in a carry-on bag that you can keep with you at all times.
Recommended:
Useful tip: Always bring with you a copy of your passport, as you might need it to pass through the security gates on your way back to the ship. Some port authorities such as in Nassau (The Bahamas) require cruise passengers to have an original photo ID on them (driver's license, or so), but you will be notified of that in your cruise planner.
2. Covid-19 Vaccination Record Card/Test Results
The majority of cruise lines require their passengers to have proof of vaccination and negative PCR test results upon embarking on a cruise ship. Make sure to check updates with your travel agent or cruise company regularly, as the rules change frequently (sometimes even last minute!).
To keep your vaccine record card safe and protected, consider having this useful 5 psc pack vaccine card protector.
3. Travel Insurance
In these challenging times, it is extremely important to have reliable travel insurance no matter where you travel. My top pick is World Nomads travel insurance, as they cover your lost luggage, gear damages, medical costs, trip cancellations, and provide 24/7 emergency assistance.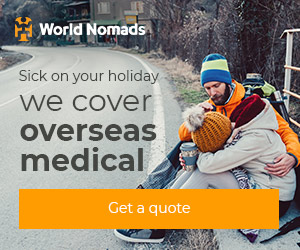 4. Disposable Masks
Wearing masks onboard cruise ships is mandatory for all crew at the moment of writing this article, and masks are provided by their cruise line. If you are cruising as a guest, a pair of disposable masks is normally provided in your stateroom.
However, ports of call worldwide have different rules and masks are still required in most places you go. I suggest you always bring some extra masks with you, just to be on the safe side.
Recommended:
Black Disposable Face Masks, 100 Pack Black Face Masks 3 Ply Filter Protection
5. Hand Sanitizer Wipes
Antibacterial hand wipes are a must and you should have a pack or two every time you go out in port. Ship staterooms and public surfaces are usually being cleaned several times per day (especially now due to the pandemic), however, it's always highly recommended to have your own antibacterial wipes at all times.
For your stateroom, I suggest you get a bigger package such as these Lysol Disinfectant Handi-Pack Wipes that you can use to wipe the larger surfaces, and if you go outside, consider having a smaller pack (check out Wet Ones Antibacterial Hand Wipes on Amazon!) that can easily fit in your bag.
Recommended:
6. Lanyard
A lanyard is something you'll always want to carry around your neck as it's the most practical way to hold your cruise ship ID card with you all the time. While onboard, on sea days, you won't need your wallet or any other document to carry with you, as you make all purchases and payments with your cruise ID card.
At the same time, a cruise ID card is your stateroom key and can often get demagnetized if you hold it together with your smartphone. To avoid it, a lanyard is a perfect way to keep it in a safe place and separate from your phone.
Recommended:
Cruise Lanyards, Adjustable Lanyard with Retractable Reel, Waterproof ID Badge Holder for All Cruises Ships Key Cards, 2pack
7. Casual Clothing
If you are wondering what to pack for a Caribbean cruise, I would suggest you bring light casual clothes. You will probably be taking your cruise in wintertime and the weather at that time of year in the Caribbean is usually warm, yet unpredictable. A wind, clouds and showers are frequent, so make sure you bring suitable clothing.
Women should think of bringing several pairs of shorts, skirts, sundresses, t-shirts/tank tops, light blouses, capri pants, jeans, casual pants for the evening, shawl or pashmina… Evenings on outer decks when the ship is sailing can be breezy and cool, so make sure you bring a lightweight jacket, a cardigan, or a light sweatshirt.
Suggested article: Women's Cruise Wear – Top Cruise Essentials for Ladies
Recommended:
Gentlemen should think of packing a few pairs of shorts, shirts, t-shirts, jeans, polos, buttoned shirts, khakis, a light sweatshirt/sweater, a belt.
Recommended:
Also, if you are thinking of booking a shore excursion (whether you are joining an activity or going sightseeing), make sure you bring the appropriate clothes. If you are not sure what to bring, you can ask the staff at the Shore Excursions desk and they will advise you accordingly.
Suggested article: 25 Top Shore Excursion Packing List Items
Subscribe below and get my exclusive, insider Shore Excursions Guide for FREE! 
8. Formal Wear
Depending on how many days your cruise lasts, you'll have at least one or two formal nights, which means that you should dress up accordingly.
Ladies should wear elegant dresses, however, if you don't feel comfortable in them, you can opt for elegant long pants and a shirt/jacket. Gentleman should pack a suit and elegant shoes.
On all other nights, you can either opt for casual clothes or, if you are having dinner in a dining room, you can go for casual evening wear.
Recommended:
9. Swimsuit/Bathing Suit Cover-Up
Whether you decide to spend your time on a pool deck or the beach, a swimsuit is a must! Ladies can choose between bikinis and one-piece bathing suits, whereas gentlemen can go for quick dry Barracuda swim trunks.
Recommended:
Also, ladies should have at least one or two bathing suit cover-ups as they are very practical to wear while walking around inside areas of the ship.
10. Footwear
As for the footwear that you should pack for your Caribbean cruise, the following items are a must:
11. Raincoat/Poncho
The weather in the Caribbean can be tricky and unpredictable, so I definitely recommend you bring a raincoat/poncho or a lightweight waterproof jacket.
Recommended:
12. Windproof Travel Umbrella
When thinking of what to pack for a Caribbean cruise, don't forget to bring a light, compact windproof travel umbrella that can easily fit in your bag. As I mentioned earlier, I've experienced rain in the Caribbean countless times, so a raincoat or/and travel umbrella is a must!
Recommended:
Compact Windproof Lightweight Travel Umbrella, Unbreakable 
13. Water Shoes
Water shoes come in handy if you plan to join some water-related activities or go to the beach.
Recommended:
VIFUUR Water Sports Unisex Shoes Black – 11-12 W US / 9.5-10.5 M US (42-43)
14. Waterproof Backpack/Dry Bag
You will most probably get involved in water-related activities in the Caribbean, such as boating, fishing, kayaking, snorkeling, or simply hanging out on the beach. And even if you don't – you will still need a quality backpack for your day outside in the port.
I suggest you pack a waterproof backpack or a simple dry bag where you can put your wet towels after a fun-packed day in one of the amazing Caribbean ports of call.
Recommended:
15. Sunscreen/Lip Balm/After-Sun Lotion
Another Caribbean cruise packing list must-have is a sunscreen with high SPF. Make sure it's oil-free, water-resistant and reef-friendly, with high UVA/UVB protection.
Recommended:
Sun Bum Original SPF 50 Sunscreen Lotion | Vegan and Reef Friendly
Along with sunscreen, make sure you always have on you an SPF lip balm with Aloe and vitamin E for moisturized lips at all times. A lip balm will nourish and protect your lips from the sun, heal the sunburnt lips and provide everyday lip protection.
Last but not least, a must-have item is a cool down Aloe after-sun lotion to soothe and hydrate your skin after the tanning. If you get sunburnt, the lotion will calm your skin, treat your sunburn and prevent peeling of sun-damaged skin.
16. Sunhat/Cap
Make sure to bring a sunhat or a cap for sunny, warm Caribbean days! I personally prefer those that can easily fit in my bag.
Recommended:
17. Snorkel Gear
If you plan to book a snorkel trip or a shore excursion that involves snorkeling/diving, I highly suggest you bring your own basic snorkel gear that includes a mask and a snorkel. These are normally included in the tour price when you book it, but nowadays due to the pandemic, I personally think it's wiser to have your own equipment.
Aqua Lung is the brand I personally love and recommend.
Suggested article: Snorkel Gear and Scuba Diving Equipment – Tips by a Pro!
Recommended:
Also, to avoid getting sunburn, make sure to pack a quality rashguard with 50+ UPF sun protection. 
18. Insect Repellent
Whether you are joining a shore excursion or doing your own thing in the Caribbean ports of call, it's important that you have insect repellent in your bag. Caribbean islands' nature is diverse, beautiful and worth exploring, and there are many tours that involve outdoor activities such as hiking, off-road rides, nature walks, horseback rides, and others.
However, to be fully prepared for the Caribbean's rich flora and fauna, make sure to pack a bug spray that will provide you with hours-long protection against annoying creatures such as mosquitos, flies and other bugs.
Recommended:
19. Reusable Water Bottle
A reusable water bottle is something that I highly recommend to all cruisers, especially now that the world of cruising has changed due to the Covid-19 pandemic. It's important more than ever to take care of our health, and even though the hygiene onboard cruise ships is at a high level, I simply prefer to use my own drinking bottle.
Recommended:
20. First Aid Kit/Medication
Before going on a cruise, double-check if you packed your prescriptions, medication, vitamins. I highly recommend you pack a small first aid kit with essentials to keep you prepared and ready for any potential emergency.
These normally consist of bandages, alcohol wipes, Ibuprofen tablets, aspirins, tweezers, scissors and other necessary items for emergency assistance. If (God forbids) you suffer from an accident while on a cruise, medical assistance will be provided onboard by a medical team.
Recommended:
To keep your medication organized, I suggest you get this super handy 7-day pill organizer!
21. Motion Sickness Pills
When I think of the Cozumel ferry to Mexico's mainland, I always remember the rough seas and a lot of passengers getting seasick. Whether you are prone to motion sickness or not, I highly recommend having a pack of Dramamine motion sickness pills with you, as they treat the symptoms on spot!
Recommended:
22. Beach Bag
Make sure to bring a suitable beach bag where you can pack the essentials for the beach and pool. I personally prefer tote bags with several compartments and zippers, preferably with a cooler to store cool drinks.
Recommended:
23. Sandproof Beach Blanket
If you are planning to spend time at the beach, it's handy to have an oversized beach blanket that is sand-free and windproof, made of water-resistant material that dries quickly.
Recommended:
24. Microfiber Beach Towel
Towels are normally provided by the cruise ship, however, it takes time for them to dry and they are quite heavy and large. My top pick is a microfiber beach towel – quick dry, sand-free and perfectly fits in a beach bag/backpack!
Recommended:
25. Beach Towel Clips
You will also need beach towel clips to keep your towels secured from blowing away. They are multi-purpose and practical, so you can also use them to hand towels, wet swimsuits, blankets and such!
26. Go Pro Camera
I regret not having a waterproof GoPro camera while I was exploring the incredible depths of the Caribbean Sea. If you plan to snorkel, dive or join some outdoor adrenaline activities such as zipline, off-road rides or so – a GoPro is a must!
Recommended:
27. Waterproof Watch
To keep track of time, make sure to bring a waterproof digital watch with a large screen. Ship time and local time may be different sometimes (you will be notified on this onboard) and a casual digital watch is a practical solution to keep an eye on the time while on a cruise vacation.
Recommended:
28. Waterproof Phone Case/Dry Pouch
A waterproof pouch or phone case are great picks if you plan to involve in water-related activities. They can keep your phone, cards, cash and valuables safe and dry and are perfect for kayaking, snorkeling, fishing, rafting or simply hanging by the pool.
Recommended:
29. Portable Lock Box Safe
Make sure to get a portable lockbox safe to keep your valuables secured and safe while at the beach or on a pool deck.
Recommended:
30. Portable Fan
It can get quite hot in cruise ship staterooms, particularly inside ones, so a small, portable fan can come in handy to improve the air circulation in a room!
Recommended:
31. Cruise Approved Power Bar
When thinking of what to pack for a Caribbean cruise, don't forget to bring a cruise-approved power bar (non-surge protected) with multiple USB ports so you can charge several of your devices simultaneously.
It's important that it's a non-surge protected power strip without extension cords because otherwise it will get confiscated upon embarking on a ship. Make sure a power bar is "cruise approved" upon buying it.
Recommended:
Cruise Power Strip No Surge Protector with USB Outlets – Ship Approved (Non Surge Protection) Cruise Essentials
32. Portable Charger
One of the most annoying things that can happen while on a cruise is to run out of phone batteries when you most need them! It happened to me several times while I was on shore excursions, so I needed to chase other people to take photos of me and send them by email.
That's why you should always bring a compact portable charger, so you always capture spectacular and unforgettable moments of your cruise!
Recommended:
33. Ziplock Bags
These super handy bags are ideal to store sandwiches and snacks for your shore excursion or independent exploration of a port!
Recommended:
34. Packing Cubes
They are perfect travel luggage organizers that can help you sort and organize your things in a practical and handy way. Packing cubes are made of waterproof fabric which prevents your clothes and things from getting wet and they reduce clothing wrinkles by preventing movement inside the suitcase.
Recommended:
35. Hanging Cabin Organizer
Whether you are on a cruise as a crew or a guest, an over-the-door cabin organizer is a must! We all know how the space inside staterooms and cabins onboard a cruise ship can be limited, so a hanging cabin organizer is a true lifesaver!
Suggested article: Life onboard a Cruise Ship: 18 Crew Cabins Must-Haves
Recommended:
36. Toiletry Bag
A travel-friendly toiletry bag with a hanging hook is a perfect organizer for accessories, make-up, cosmetics and other travel essentials.
Recommended:
37. Mesh Laundry Bag
Make sure to pack a mesh laundry bag for your dirty clothes, as you won't be able to wash your clothes onboard (unless you pay for it). I personally find mesh popup laundry hamper extremely useful for the cruise ship crew as it's collapsible and helps them organize their cabin better.
Recommended:
38. Magnetic Hooks/Magnet Clips
Cruise ship cabin walls are made of metal, so you can use magnetic hooks to hang clothes, towels and other items on them. They are perfect for saving space and organizing your cabin in the way you want it!
Recommended:
Alternatively, to hang items such as cruise planners, post-its, notes on the wall – you can use magnet clips as well!
39. Wrinkle Release Spray
Ironing onboard a cruise ship is strictly prohibited due to the risk of fire, so if you want to have your clothes ironed, you need to pay for it. To save money on washing and ironing (which can be quite expensive), I suggest you get a wrinkle releaser fabric spray, a perfect odor eliminator, fabric refresher and ironing aid!
Recommended:
40. Pou-Pourri
When you think of the Caribbean cruise, you think of wonderful beaches, blue skies, and stunning ocean views. However, the important thing is to feel at ease both outside in port and inside your living space. Therefore, I always recommend having a Pou-Pourri to keep your stateroom fresh and scented!
Recommended:
---
Adventour Begins is a participant in the Amazon Services LLC Associates Program, an affiliate program designed to provide a means for sites to earn advertising fees by advertising and linking to Amazon.com. When you click on and/or make a purchase through a link to an Amazon affiliate link placed on our website, we may receive a small commission at no additional cost to you. You can read my full disclosure here. 
What to Pack for a Caribbean Cruise – Ultimate Packing List
Travel documents
Covid-19 vaccination card/test results
Travel insurance
Disposable masks
Hand sanitizer wipes
Lanyard
Casual clothing
Formal wear
Swimsuit/bathing suit cover-up
Footwear
Raincoat/poncho
Windproof travel umbrella
Water shoes
Waterproof backpack/dry bag
Sunscreen/lip balm/after-sun lotion
Sunhat/cap
Snorkel gear
Insect repellent
Reusable water bottle
First-aid kit/medication
Motion sickness pills
Beach bag
Sandproof beach blanket
Microfiber beach towel
Towel clips
GoPro camera
Waterproof watch
Waterproof phone case/dry pouch
Portable lock box safe
Portable fan
Cruise approved power bar
Portable charger
Ziplock bags
Packing cubes
Hanging door organizer
Toiletry bag
Mesh laundry bag
Magnetic hooks/magnet clips
Wrinkle release spray
Pou-Pourri
Subscribe below and get my exclusive, insider SHORE EXCURSIONS GUIDE FOR FREE!
You May Also Like:
25 Top Shore Excursion Packing List Items
What to Pack for a Cruise in 2022 – 50 Top Cruise Essentials
Women's Cruise Wear – Top Cruise Essentials for Ladies
Snorkel Gear and Scuba Diving Equipment – Tips by a Pro!