Welcome to Tauranga cruise port, one of the most spectacular New Zealand ports and a frequent stop in the New Zealand cruise itineraries!
New Zealand comprises two main islands, North Island (the ports of Wellington, Auckland, Napier, Bay of Islands) and South Island. The entire North Island includes twelve main urban areas, half of them officially cities. Tauranga city is part of the North Island, officially named Te-Ika-a Maui. The population of Tauranga is 151. 300 which means approximately 3.9% of the island.
In this article, read about:
Tauranga cruise port 
11 best things to do in Tauranga cruise port
Read about the ports in New Zealand: Milford Sound, Auckland, Bay of Islands, Napier, Wellington, Dunedin, Picton, Akaroa
Check out today's cruise deals from Cruise Critic!
Tauranga Cruise Port
Cruise ships dock at the port of Tauranga, located in the town of Mount Maunganui overlooking the vast Bay of Plenty.
See the Tauranga cruise port on Google maps
The city of Tauranga is located approximately 20 minutes drive from the cruise port but is easily accessible via shuttle buses often provided by the cruise lines.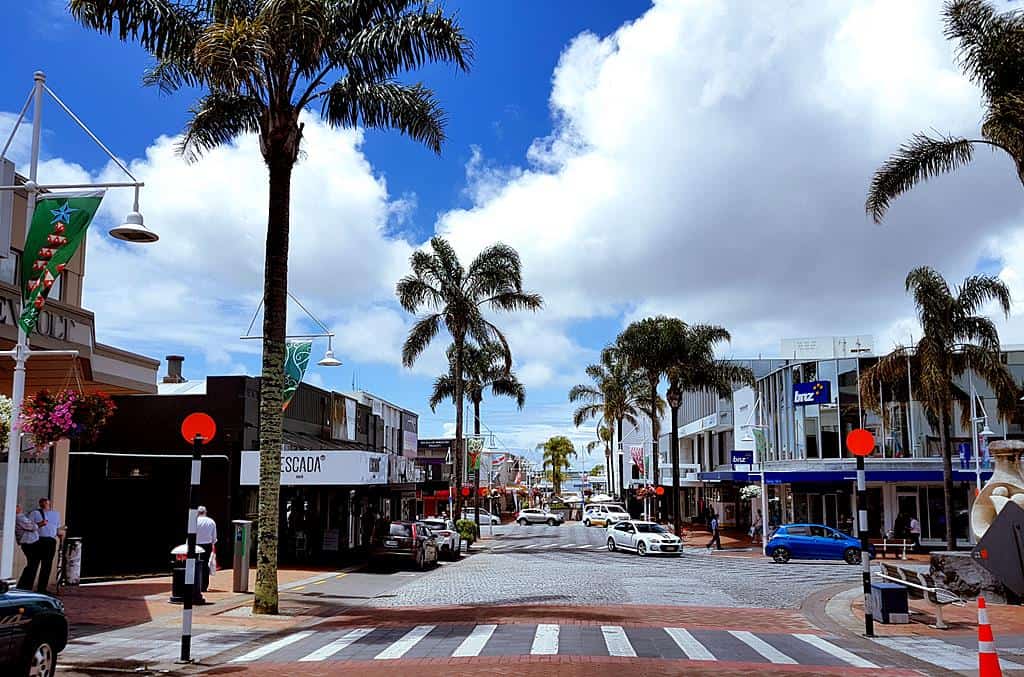 The port of Tauranga is conveniently located within a short walking distance from Mount Maunganui town center where you can find several shops, eateries, beaches, and places of interest. There is a tourist information booth at the end of the pier where you can pick up some maps, brochures, and book excursions. Normally there are no more than two passenger cruise ships in port, so the place doesn't get too busy.
Within Walking Distance from the Port
The main street is Maunganui Road situated at the stone's throw from the cruise port, and here you can find several cafes, restaurants, and shops.
Check out Mount Maunganui hotels
Mount Maunganui's Main Beach located a 10-minute walk from the cruise terminal ranks among the best beaches in New Zealand and is known for great surfing due to the high waves. This ocean beach is long and offers a variety of water sport activities ideal for adventure seekers and swimmers.
However, if you are looking for calmer waters, head over to Pilot Bay Beach that you'll spot right in front of your ship, only a few minutes' walk from the pier. This harbor beach is amazing for small kids and families as the waters are calm and there are no waves. There are no facilities on the beach except for the public toilets near the parking. Pilot Bay Beach offers unique views of Mount Maunganui and a picturesque bay filled with small fishing and recreational boats.
Currency in New Zealand
New Zealand's official currency is the New Zealand dollar (NZD; or NZ$) and 1 NZ$ equals 0.713 US dollars. Foreign currency is mostly not accepted, so make sure you have a local currency. Credit cards are widely accepted. Currency converter 
Local Transportation
Cruise lines or local tour operators normally offer shuttle bus transportation to Tauranga city center and the round-trip costs around $10 per person. The ride to Tauranga lasts approximately 20 minutes.
Taxis are available on the pier but usually in the morning, as well as a good public transport that connects Mount Maunganui with Tauranga. The nearest bus station is Salisbury Avenue located a few minutes' walk from the pier. Check the timetables and fares on the New Zealand public transportation official website: https://www.baybus.co.nz/
11 Best Things to Do in Tauranga Cruise Port
Before I share with you 11 bucket-list things to do in the Tauranga cruise port, I invite you to sign up below and get my FREE Shore Excursion Guide for exclusive, insider excursions tips!

1. Mount Maunganui
Just in front of the ship you will spot Mount Maunganui, a gorgeous hill reachable within a walking distance from the dock. Also known as Mauao ("The Mount" in the Maori language), Mount Maunganui is an extinct, 232-meter (761 ft) high volcano whose hiking trails lead you to the summit where you can enjoy spectacular panoramic views of the Bay of Plenty.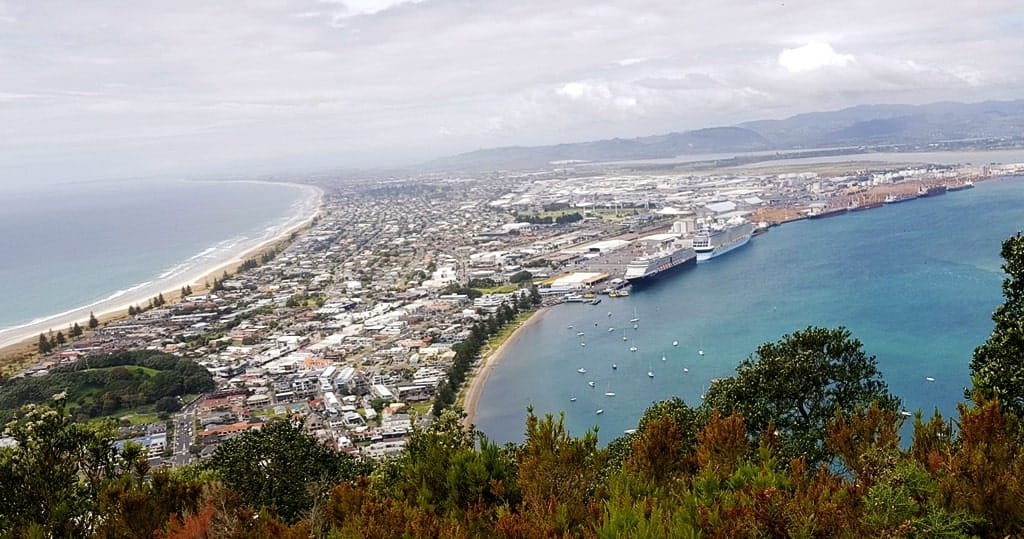 There are a couple of hiking trails, including the easy one which is flat and easily manageable, and the more strenuous one that takes you to the summit.
You can reach the base of Mount Maunganui if you follow an oceanfront boardwalk in the direction of Pilot Bay Beach, or take a walk through the main street Maunganui Road all the way to the base of the hill.
The entire hike to the summit and back takes around 1 hour 30 minutes, depending on how many photo stops you make. Make sure you follow the signs along the trails for safety reasons.
It is recommended to bring water, sunscreen, and wear close-toe shoes. There are no facilities or shops available along the way.
Suggested articles:
What to Pack for a Cruise – Top 50 Cruise Essentials 
25 Top Shore Excursion Packing List Items
At the foot of Mount Maunganui, there is another great attraction awaiting you – Mount Hot Pools, a heated saltwater pool area with natural pools and facilities including free wi-fi, changing room, showers, spa services, snacks and drinks. The general admission ticket is $18 for adults and $11.50 for children aged 3-15. There are discounts for families and senior citizens. Check out Mount Hot Pools website for more info.
Check out Mount Maunganui tours and activities on Tripadvisor and Viator
2. Hobbiton Movie Set
The absolute highlight of every Tauranga cruise is a visit to the enchanting village of Hobbiton Movie Set, where some major scenes from Tolkien's iconic trilogies of Lord of the Rings and the Hobbit were shot.
Back in 1998, Peter Jackson's team was in search of the perfect setting for the legendary hobbit village of the Shire, a fictional Middle-earth village inhabited by hobbits, peaceful, brave halflings with hairy feet. A thorough aerial search let them to the Alexander farm, an idyllic area nestled in the heart of the Waikato region, boasting rolling hills, lush green pastures, a mirror lake, and untouched nature.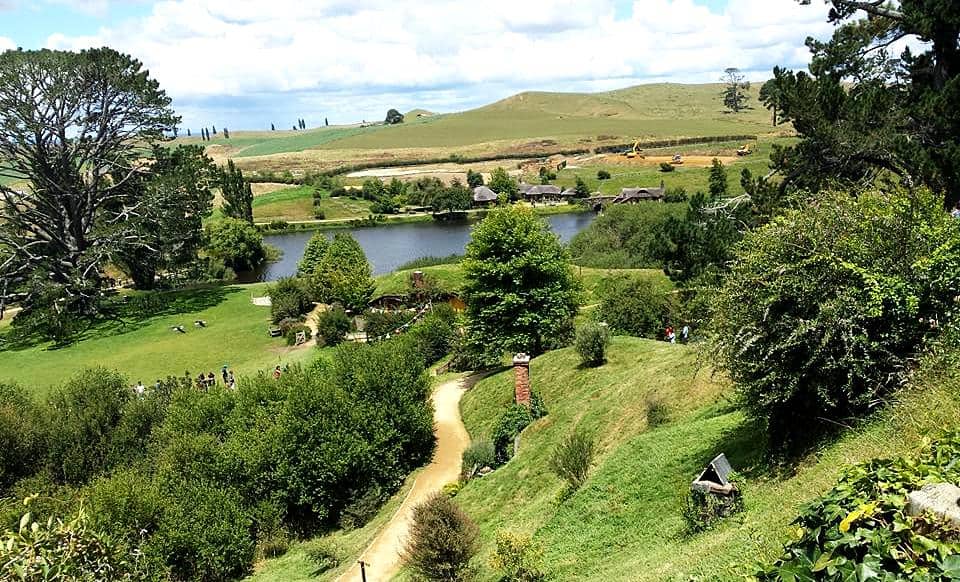 It took the movie crew nine months to transform the farm into the Shire… and it was well worth the effort! Nowadays, the Hobbiton Movie Set is one of the most visited attractions in New Zealand allowing visitors to stroll through the Shire and admire 44 permanently reconstructed Hobbit holes (exterior visit only, except from one hole that you can visit inside).
You can take a photo in front of Bilbo Baggins' Hobbiton Hole, get a complimentary drink at The Green Dragon and admire the stunning views of the Kaimai Mountains that create movie magic and are totally impressive in reality.
You can visit Hobbiton Movie Set on a 2-hour guided walking tour only, and all tours depart from the Shire's Rest. The price for adults (17+) is $89, for children 9-16 is $44, and it's free for kids 0-8. A family pass (2 adults, 2 kids) is $225. For more information, check out Hobbiton Movie Set official website
Useful Tips:
It takes approximately 1 hour 15 minutes drive to reach Hobbiton Movie Set from the Tauranga cruise port. If you are coming from the city of Tauranga, it takes a 45-minute drive to get to the location.
Hobbiton Movie Set is wheelchair friendly (for collapsible wheelchairs) as it is grass but only partially (if the guests decide to go at their own leisure, independently from the cruise line, the buses may not be able to accommodate devices. No ramp is provided, and it's at guests' own responsibility to manage between 3 to 5 steps to board the bus. As per New Zealand regulations, it is every individual's responsibility to manage to board the bus without the help of the staff/bus driver.
Hobbiton is a popular, busy, and crowded site, so make sure you plan your trip according to the cruise ship's schedule.
It is recommended to travel light and not carry valuables with you. Closed-toe shoes are suggested, and it's not permitted to wear flip-flops at the site.
Cash and credit cards are accepted.
Facilities are available at the Shire's Rest (toilets, gift shop, food/drinks). If you are coming with a cruise line-sponsored shore excursion, double-check if the toilets in the bus are available as the drive takes 1 hour 15 minutes each way.
Check out Hobbiton Movie Set tours and activities from Tauranga on Tripadvisor and Viator
3. Rotorua Geothermal Parks
Situated on the southern shores of Lake Rotorua, in the Bay of Plenty region, the city of Rotorua is known for its world-famous Geothermal Parks, featuring geysers and bubbling mud pools. It is located around a 1 hour 15 minutes drive from the port of Tauranga.
Rotorua offers a wide variety of things to do: adventure activities such as zip lines, jungle bridges, jet boats, paragliding, off-road tours, cycling, biking, etc.; cultural tours where you get to discover the traditional customs, practices, and beliefs of indigenous Māori people; spa & wellness facilities, water sport activities and activities that take place around a few of 17 beautiful lakes and three major rivers in Rotorua (paddle boarding, swimming, fishing, secluded thermal hot water beaches, boat rides, and many more.
However, most of the activities take place at Rotorua Geothermal Parks, scattered in and around the city, boasting awe-inspiring natural wonders and surreal landscapes. The whole area sits within the Pacific Rim of Fire and is known as one of the most active New Zealand volcanic areas (Mount Tarawera volcano). Here you will find the world's most active geothermal fields featuring spectacular hot mud pools, impressive geysers, steaming vents, and boiling lakes.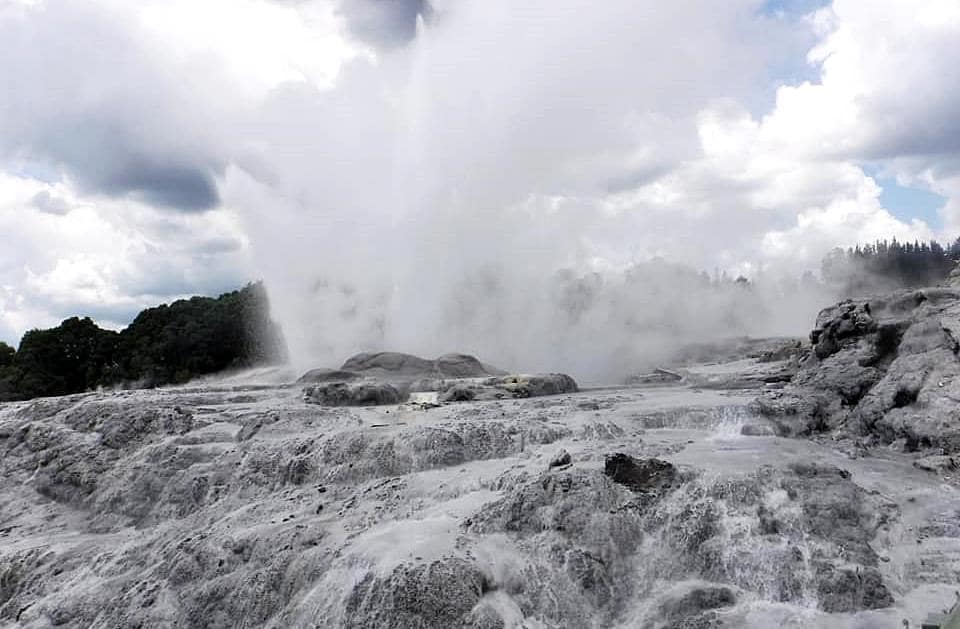 Te Puia
One of the best geothermal attractions to visit is the Geothermal Valley of Te Puia, located a 5-minute drive from the city center, featuring dramatic geysers including Pohutu Geyser, the largest active geyser in the Southern Hemisphere! It erupts up to 20 times per day and you can admire it from the viewing decks, allowing you to take some incredible shots!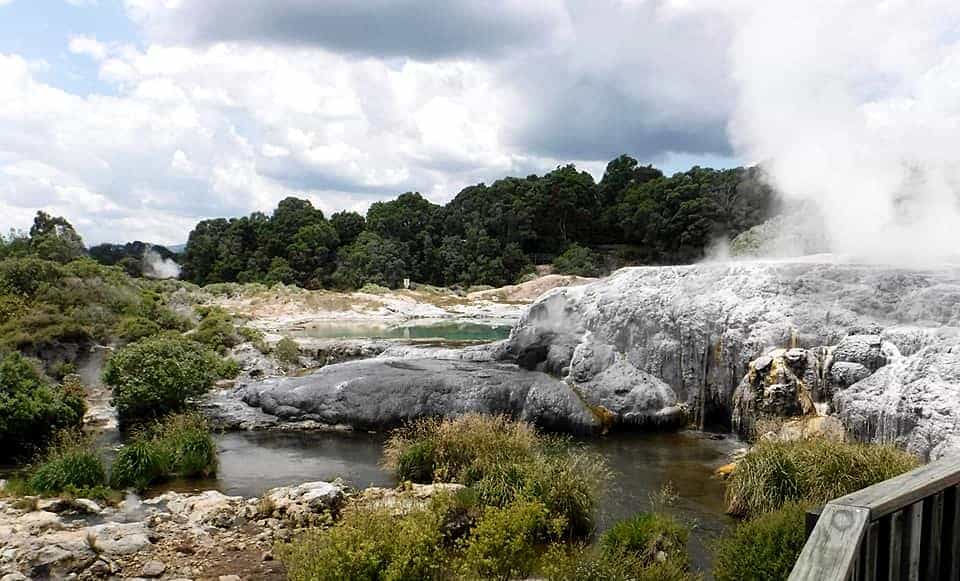 Te Puia is part of the Whakarewarewa Valley and Thermal reserve, where you can also experience a cultural immersion as you get to experience a warm Maori welcome, cultural show, folkloric dancing, and learn about the language and tradition of Maori people.
You can visit New Zealand Māori Arts and Crafts Institute, see the works of Māori carvers and taste the traditional Hāngī meal.
The admission fee for Te Puia is $39/adult, $20/child aged 15 and under. For more information, visit Te Puia official webpage
Useful Tips: Closed-toe shoes are highly recommended. If you have food allergies, make sure you check in advance the food provided for this specific experience. Also, make sure you get clear instructions for your returning time (the bus number, location, time that your watch shows according to what your guide will advise you) so you don't miss your departure time as it's very far from the pier. Taxis are limited and very expensive.
See the list of Rotorua and Te Puia shore excursions on Tripadvisor and Viator
4. Wai-O-Tapu Thermal Wonderland 
Another impressive attraction is Wai-O-Tapu (in the Maori language, Wai-O-Tapu means "Sacred Waters") geothermal wonderland, set approximately 30 km (18.5 mi) from Rotorua town, around 1 hour 45 minutes from the port of Tauranga.
Wai-O-Tapu is one of the most colorful and diverse geothermal sites boasting spectacular landscapes and geological formations, stunning vistas, surreal colors, and gigantic volcanic craters. This is the site where you get to see the world-famous Champagne Pool, the largest hot spring in New Zealand measuring 65m diameter and 62m deep, with a surface temperature of 74°C. The Lady Knox Geyser and the largest Mud Pool in New Zealand are other two locations not to be missed.
There is also a visitor center with a cafe, gift shop, and facilities.
Some tours to Wai-O-Tapu include the Lakeland Queen cruise on Lake Rotorua and guided walking tours through the forest of Whakarewarewa nature reserve where you can visit Te Puia and see the local cultural performances.
Useful Tips: Ensure you travel light and have clear instructions on your meeting location and meeting time for your departure.
Check out Wai-O-Tapu Thermal Wonderland tours on Tripadvisor and Viator
5. Highlights of Rotorua Town
Besides geothermal parks, the town of Rotorua boasts historic landmarks, botanical gardens, cultural institutions, and a variety of restaurants, cafes, and shops. If you would like to explore the town's surroundings and history, make sure you visit some of these city highlights:
Government Gardens – Set in beautiful scenery close to Lake Rotorua, this public park features a former geothermal bathhouse housing the Rotorua Museum of Art and History built in Tudor architectural style. There are sports facilities within the park, including Blue Baths swimming pool housed in an elegant Art Deco building.
Rotorua Museum of Art and History (Te Whare Taonga o Te Arawa) – Housed in the former bathhouse, the exterior of the timber-framed Rotorua Museum is eye-catching and remarkable. Both museum and art gallery, here you can learn about the history of the place and admire local fine arts, photography, and Taonga objects from the Māori culture. Guided tours are available.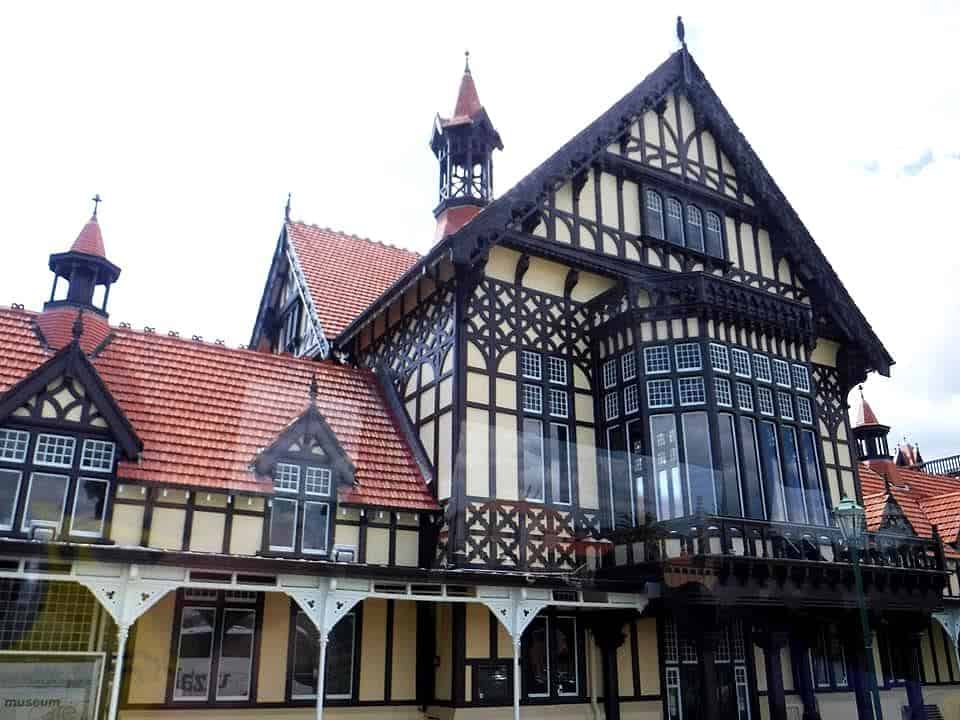 Kiwi Conservation Center – Right by the Te Puia Geothermal site entrance, you can visit the new facility housing New Zealand's national bird, a nocturnal flightless bird – kiwi! Get up-close and personal with kiwi birds in the special nocturnal enclosure and learn how the sanctuary is working to protect them. The site has free wi-fi and a huge souvenir shop, facilities, and light snacks available for purchase (cash or credit card).
Check out Rotorua highlights tours and activities from the port of Tauranga
6. The Elms | Te Papa Tauranga Mission Station
Within a 10-15 minute drive from the port of Tauranga, you can visit The Elms | Te Papa Tauranga historic site where you can learn about the rich cultural and historical heritage of New Zealand. This site, established by the missionary Alfred Brown, played an important role in spreading Christianity to the Māori people in New Zealand in the early 19th century.
You can take a guided tour through the mission house and library that usually lasts around 30 minutes, and visit its wonderful gardens and impeccably maintained grounds.
The admission fee for international visitors is $15 for adults and $7.50 for children 5-16 years old. There are discounts for Tauranga and New Zealand residents and families (a Family Pass is $37.50). Check more information on The Elms official website.
To get to The Elms, take a bus from the port of Tauranga to Tauranga city center. The main bus stop in Tauranga is at the iSite Visitor Information Centre on Willow Street, and from there you can take a short walk to The Elms | Te Papa Tauranga.
7. Kiwifruit Country
If you want to learn about kiwi farming, you should visit Kiwifruit Country located in the Bay of Plenty, approximately 30 minutes' driving distance from Tauranga port (31 km; 19 mi). On this unique trip, you get to visit a working kiwifruit orchard and learn about 'the story of kiwifruit', considered one of the world's healthiest fruits.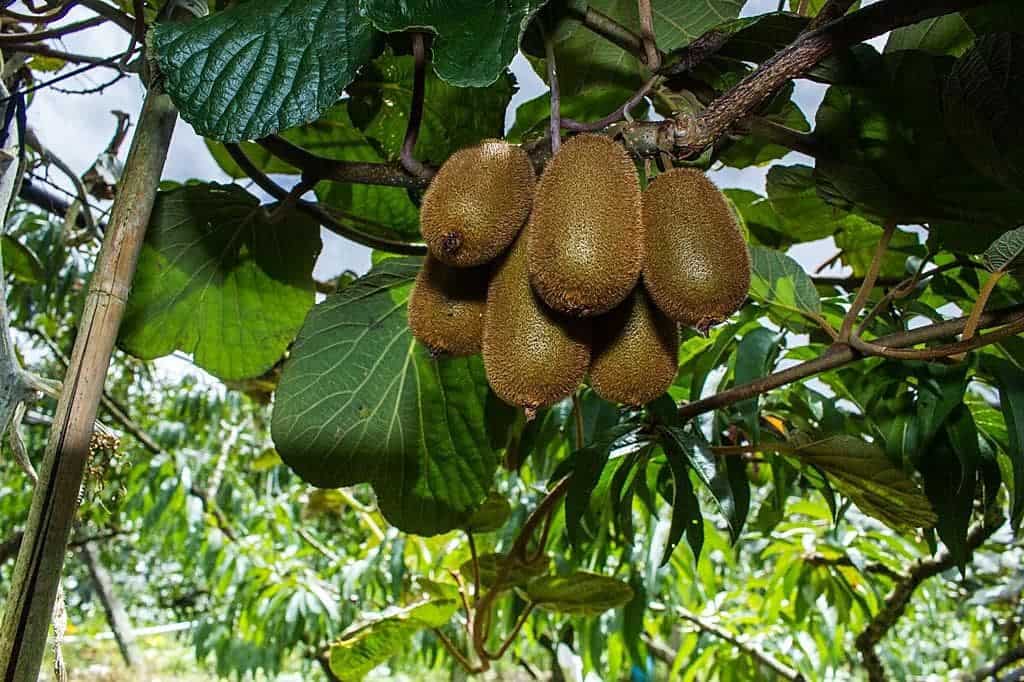 You get to see the different varieties of kiwi (Green Kiwi, Red Kiwi, Gold Kiwi, etc.), learn about their origin, how they are grown, picked, and sold, mostly abroad. You also get to sample this delicious fruit and there is a store where you can buy the products manufactured from kiwi fruit including honey, jam, ice cream, and smoothies.
The admission fee is $20 for adults and $6 for children aged 5-15. There are discounts for seniors and students, and the Family Pass (2 adults+2 children) costs $46. Find more information on Kiwifruit Country's official webpage.
Check out Kiwifruit Country tours and activities
8. Tamaki Maori Village
If you are a history buff and would like to learn more about the Maori culture that Rotorua has to offer, you can visit Rotorua Maori Village, located 15 minutes drive from Rotorua town and 1 hour 45 minutes from the port of Tauranga.
Tamaki Maori Village is an award-winning cultural attraction in New Zealand featuring a recreated Maori village where you can take part in cultural performances, ceremonies, interactive activities, taste authentic Maori cuisine, storytelling, and so much more!
Find more information on Tamaki Maori Village official webpage
Explore Tamaki Maori Village shore excursions on Tripadvisor and Viator
9. White-Water Rafting
Tauranga cruise port offers incredible adrenaline and adventure activities for nature lovers, and rafting is one of them!
Wairoa River with Kaituna Cascades offers incredible white water action that you'll remember for a lifetime! Experience three rapids, a 10-meter high waterfall, and gorgeous natural sceneries on this unique adrenaline-pumped ride! The rafting itself lasts around 1 hour and it's one of the most intense activities you'll ever experience!
The starting point is located approximately a 1-hour drive from the pier, and numerous companies are offering the rafting experience (including the cruise lines).
Useful Tips:
Once you arrive at a site, you will receive a full safety briefing and gear, and complete a mandatory waiver.
The activity is extremely strenuous and it's not recommended for tourists with back problems or surgeries.
A site has a changing room and facilities that you can use before boarding the raft.
The raft can hold between 4 to 5 passengers at a time depending on how each instructor organizes the group. Weight and age restrictions apply before booking this tour. Kids are not allowed without a parent/guardian.
While you are in the raft, spontaneous photos will be taken and you can purchase them at the end of the tour. Make sure you bring a towel.
Suggested articles:
What to Pack for a Cruise – Top 50 Cruise Essentials 
25 Top Shore Excursion Packing List Items
Check out White Water Rafting tours and activities on Tripadvisor and Viator
10. Waitomo Glowworm Caves
Glowworms are native creatures that can be found all over New Zealand, and there are dozens of caves where you can spot them. Waitomo caves are a renowned natural attraction offering a wide variety of activities, including a boat ride through the Glowworm Grotto where you'll see thousands of these tiny luminescent creatures.
The rock formations are incredible and you'll enjoy its magnificent chambers and stream passages. Waitomo caves are located around 2 hours drive from Tauranga port each way, and you can find more information on Waitomo caves' official webpage.
See the list of the top-rated Waitomo Glowworm Caves shore excursions on Tripadvisor and Viator
There are other ways to see glowworms as well. You can book a kayak adventure trip to Lake Rotoiti which is located about 1 hour from the dock that will take you to remote caves where you can see these magical creatures.
If you opt for a kayak activity offered by your cruise line, check in advance if you need a single kayak or double to ensure availability as the tours are organized in small groups. Facilities are available and a change of clothes is optional. By the end of your trip, you will paddle to Manupirua beach and get some time off to relax in thermal pools. Make sure you bring a towel with you; no flip-flops are permitted.
Check out glowworm caves tours and activities
11. Speedboat Ride to Rotorua
If you would like to experience the beauty of New Zealand by sea, you can embark on a jet boat ride to Rotorua that takes approximately 1 hour 30 minutes each way.
You will travel to Hell's Gate (Tikitere), Rotorua's most active geothermal area where you will receive about 1-hour of free time. Here you will see bubbling mud pools, spectacular thermal basins formed by the area's volcanic activity, steaming lakes, and other breathtaking formations.
Useful Tips: You will be required to sign a medical waiver before joining the ride. It is recommended to wear closed-toe shoes, sunglasses and avoid bringing valuables. It is mandatory to wear a life jacket during the entire ride.
To Wrap Up
If you are planning a trip to cruise to Tauranga port, make sure you plan your day ahead as there's so much to see and do! From cultural immersion, extraordinary natural sights to thrilling adventures, Tauranga cruise port offers something for everyone.
If you want to read about other ports of New Zealand, check out my articles on Milford Sound, Auckland, Bay of Islands, Napier, Wellington, Dunedin, Picton, Akaroa
---
This article may contain affiliate / compensated links. For full information, please see my disclaimer here.
You May Also Like:
Do You Need a Reliable Travel Insurance?