5-Day Istanbul Itinerary (+ Istanbul Travel Tips)
Are you visiting Istanbul for the first time and wondering how to organize your stay? In this article, I share with you my suggestion for the 5-day Istanbul itinerary that covers all major city highlights and most visited attractions.
To organize your stay efficiently, I recommend you open Google maps and take a look at the map of Istanbul. Also referred to as the crossroad between Europe and Asia, Istanbul lies on the mighty Bosphorus Strait and expands on both continents.
The European side of Istanbul is where all the major attractions are located. It is divided by the Golden Horn, an estuary and the inlet of the Bosphorus Strait that divides the European side into two parts: the old city with its centuries-old mosques (Hagia Sophia, Blue Mosque, Suleymaniye Mosque) and the modern part of the city with its bustling Istiklal Street and Taksim Square. Below is the map that will help you understand the city's layout:
I visited Istanbul for the first time in May 2022. My friends and I stayed for 5 nights/6 days, which was enough time to cover the main Istanbul highlights. Before you take a look at the itinerary we did, I highly suggest you read my article Top 20 Things to Do in Istanbul for First-Time Visitors (+Travel Tips)! Here, you'll find detailed practical information on how to get around Istanbul, where to stay, how to use public transport in Istanbul, and so much more!
5-Day Istanbul Itinerary
Day 1: Galata Bridge – Hagia Sophia – Blue Mosque – Kapalıçarşı
Golden Street Hotel where we stayed was located on Istiklal Street, the main shopping street and the major tourist hub in Istanbul. We liked the central location of this hotel because it was easy to navigate to other parts of the city from that point.
On the first day, we planned to start a walking tour to the Galata Tower, cross the Galata Bridge on foot, visit Hagia Sophia and Blue Mosque, and finish the day at Kapalıçarşı (aka the Grand Bazaar). Before you start your walking tour of the city, remember that Istanbul was built on seven hills so it's quite hilly, with many steep streets which may be challenging for people with walking difficulties.
Istiklal Street is a modern, urban street 1.4 km/0.86 miles long, with countless designer stores, shops, bakeries, chocolateries, souvenir shops, restaurants and cafes, and more. It is a tourist hub of Istanbul and a perfect starting point to explore the city.
We started the walk from our hotel along Istiklal Street to the Galata Tower that we planned to see only from the exterior. It took us only a 10-15-minute walk with occasional stops to get there. The tower is impressive and it's possible to climb to its observation deck on the top to take in the panoramic views of Istanbul (which we did on the last day of our visit). On the first day, we only wanted to take a photo of the tower, so we went to the surrounding streets for the best shots!
After some time spent around the Galata Tower, we continued to walk down to the Galata Bridge. The streets are very steep, so comfortable shoes are recommended. The walk to the bridge lasted less than 10 minutes, and once we were there, we could enjoy the breathtaking views of the Golden Horn and Bosphorus Strait. The Galata Bridge is 490 m (1.610 ft) long and has a dedicated walkway for pedestrians. We stayed here for a while, enjoyed the sweeping views and also went down the staircase for more photo ops!
It was time to visit the iconic Hagia Sophia, the symbol of Istanbul and the world's largest place of worship, built in the 6th century by the Byzantine Emperor Justinian I as a Christian Orthodox church. After the Fall of Constantinople in the 15th century, the church was converted into a mosque by Mehmed the Conqueror. It remained the main mosque of Istanbul until 1616 when the Blue Mosque was constructed. Hagia Sophia was a museum from 1935 to 2020, and nowadays is officially a mosque open to the public. There is no entrance fee and it's mandatory to remove the shoes upon entering. Ladies should wear scarves covering their heads.
Hagia Sophia is located in the Sultanahmet district, also known as Istanbul's old town. After we crossed the Galata Bridge, it took us around 20 minutes' walk to reach Hagia Sophia. As we were already a bit tired of walking, we took a break at one of the street cafes and tried the freshly squeezed smoothy that you'll find at every corner.
Check out Hagia Sophia guided tours and activities
After a 30-minute visit to Hagia Sophia, we headed toward the Blue Mosque, separated from Hagia Sophia by an expansive, beautiful Sultan Ahmet Park with its lavish fountain and green spaces. Officially called Sultan Ahmed Mosque, the Blue Mosque was constructed between 1609 and 1616 during the rule of Sultan Ahmed I. The mosque is a UNESCO World Heritage Site and is known for 20.000 handmade blue Iznik tiles decorating its interior.
We spent some time in the Sultanahmet district, took some beautiful pictures and then continued to our last stop for the day – the legendary Grand Bazaar (Kapalıçarşı), one of the largest and oldest markets in the world with over 5.000 shops. It takes less than a 15-minute walk to reach the Grand Bazaar from Sultanahmet Park.
Well… what can I say about the Grand Bazaar? We bargained, bargained, and bargained some more… We bought a bunch of things and we stayed there for 3-4 hours. We also visited the Spice Bazaar (Egyptian Bazaar) and bought Turkish delights and some homemade tea. As we got lost in the maze of shops and finally found the way out (we got out at the Eminönü waterfront area), we took a taxi back to the hotel as we were exhausted. The taxi cost us around 100 TL. I wrote in detail about public transport and how to get around in Istanbul in my article: Top 20 Things to Do in Istanbul for First-Time Visitors (+ Travel Tips)
Check out the most popular Istanbul tours and activities
Day 2: Taksim Square – Bosphorus Cruise – Suleymaniye Mosque – Sefa-i Hürrem Cafe & Restaurant
On the next day after breakfast, we first headed to Taksim Square. Our plan was to take an F1 Taksim–Kabataş funicular line and then change to T1 Bağcılar- Kabataş tram line and get off at Eminönü stop, where we would embark on a Bosphorus cruise.
Note: For detailed practical info on how to use the Istanbulkart and public transport in Istanbul, check out my article Top 20 Things to Do in Istanbul for First-Time Visitors (+ Travel Tips)
The public transport in Istanbul is very quick and quite efficient, so we reached the Eminönü ferry terminal in about 20 minutes. Then, we started looking for Bosphorus tours. You'll see many tour operators offering all kinds of tours and prices may significantly vary. As one ferry boat was just departing, we embarked last minute on a 2-hour Bosphorus tour for a shockingly low price – only 60 TL per person (around 3.40€)! So, if you want to save some money, maybe you can try waiting for last-minute departures as they may lower the prices to fill up the boats.
Our cruise was amazing and relaxing! The boat wasn't crowded so we had plenty of space and the weather was just perfect, not too windy. During our 2-hour cruise, we could see many Istanbul landmarks from an entirely different perspective. Some of these were Dolmabahce Palace, Ortaköy Mosque, Bosphorus Bridge, Rumeli Fortress and others.
Explore Bosphorus tours and activities
After we finished our cruise, we headed toward Suleymaniye Mosque, located on the hill overlooking the Golden Horn. The walk was partly uphill and we walked for about 20 minutes.
It is believed that Suleymaniye Mosque is the most beautiful mosque in Istanbul and I would confirm it without a doubt. This awe-inspiring mosque was commissioned by the powerful Suleiman the Magnificent in the 16th century and designed by the renowned imperial architect Mimar Sinan. With massive dimensions and lavishly decorated, the mosque is absolutely stunning and is a must-see when in Istanbul. The mosque was built on the hill, so get ready for breathtaking views of the city!
Check out Suleymaniye Mosque guided tours and activities
Suleymaniye Mosque offers incredible photo ops so we stayed here for over an hour. It takes time to enjoy all that beauty! As we were getting hungry, we decided to go for lunch at one of the restaurants surrounding the mosque. It was an excellent idea, as we soon discovered that these restaurants offer outstanding panoramic views of the city. Our choice was Sefa-i Hürrem Cafe & Restaurant (Instagram @sefaihurremcafe), located only a few minutes walk from Suleymaniye Mosque. The food and service were great, as well as the prices which were more than reasonable for such a location.
So, after topping off our lunch with traditional Turkish coffee and desserts, we recharged our batteries and decided to walk back to the hotel, which took us around 45 minutes walk (we needed to burn those calories somehow).
We spent the evening strolling around and shopping in Istiklal street, bustling with people and busy at all times of the day.
Day 3: Seven Hills Restaurant – Topkapi Palace – Balat
The third day started with a traditional Turkish breakfast at the Seven Hills Restaurant (@sevenhillsrestaurant), one of the restaurants known for spectacular views of Hagia Sophia and the Blue Mosque.
Seven Hills Restaurant is located a couple of minutes' walk from Sultan Ahmet park (right behind a 16th-century Hurrem Sultan Hammam overlooking the fountain). To get there, we simply took the T1 tram line and got off at the Sultanahmet stop. The breakfast cost us 250 TL per person (prices from May 2022) and it was well worth it. Our bellies full, we went upstairs to take unique pictures of feeding the seagulls, another attraction of this restaurant. The food leftovers are available on the open-top floor and the visitors can feed them and make memorable photos of this one-a-kind experience! You may encounter lines here.
Our next stop was the magnificent Topkapi Palace, located right behind Hagia Sophia. Topkapi Palace is a UNESCO World Heritage Site that served as the main residence and administrative headquarters of the Ottoman sultans from the 15th to 19th centuries. This stunning palace complex was built in a beautiful location overlooking the Bosphorus Strait and consists of four main courtyards and numerous small buildings, including the Harem where female members of Sultan's family used to live. You can visit the palace for 320 TL (+ an additional 100 TL for the Harem section), with a free audio guide included in the price.
Explore Topkapi Palace tours and activities
We stayed in the palace complex for about 2 hours and after a short break, we headed toward the Balat district, our final stop for the day. We went down to the Eminönü bus station located next to the ferry terminal and took bus 99 to Balat/Fener neighborhoods. However, we soon realized that taking a bus was a mistake because Balat was only 3 or 4 bus stops away, so we could have easily taken a taxi (it would have cost us less, as well).
Balat is a historic quarter of Istanbul that was home to a large Jewish population in the late 15th century and a center for Jewish, Greek and Armenian communities. This quarter is filled with narrow, cobblestone streets, colored terraced houses, quaint cafes, art galleries, an authentic vibe… It is also home to some historic landmarks that include the Greek Ecumenical Patriarchate basilica, Phanar Greek Orthodox College, Church of St Stephen of the Bulgars and The Chora Museum with its extraordinary golden mosaics and frescoes.
We spent the entire afternoon in Balat and went for a coffee/lunch at İncir Ağacı Kahvesi cafe and Balat Antik cafe, the two most picturesque cafes we saw. The prices in Balat are cheaper than in central Istanbul, so if you plan to go for lunch, one of these cozy restaurants may be an excellent choice! So, after a nice lunch and a couple of hours spent here, we took a taxi back to the hotel for around 100 TL.
Check out Balat tours and activities
Day 4: Dolmabahçe Palace – Ortaköy Neighborhood
As we were already getting a bit tired with our hectic schedule in an attempt to cover all major Istanbul highlights, the last two days we saved for some more relaxed time.
Dolmabahçe Palace is another must-see place in Istanbul located in the modern part of the city, in the Beşiktaş district, relatively near Taksim Square and Istiklal Street. To avoid walking, we took an F1 Taksim–Kabataş funicular line from Taksim Square down to the port area (Kabataş district) where the T1 tram line terminus is located. From the terminus, it takes only a 5-minute walk to reach Dolmabahce Palace (you can the entrance from the distance).
In 1856, the Ottoman sultan Abdülmecid I decided to move the court from Topkapi Palace to the new, more impressive Dolmabahçe Palace. From the architectural perspective, the palace is a blend of the Turkish traditional style and Baroque, Rococo and Neoclassical elements. It is similar to the European palaces of that time, which is the result of the westernization of the Ottoman Empire in the 19th century.
Nestled along the coast of the Bosphorus Strait, Dolmabahce Palace is grandiose and lavishly decorated, with 285 rooms, 46 halls, 6 baths (hamams) and 68 toilets. As of May 2022, the entrance fee is 300 TL and this ticket includes the Main Building, the Harem Rooms and the Palace Collections sections of the palace. It took us nearly 1.5 hours to visit the palace, after which we relaxed in a lovely waterfront cafe situated next to the palace's entrance.
Explore Dolmabahçe Palace tours and activities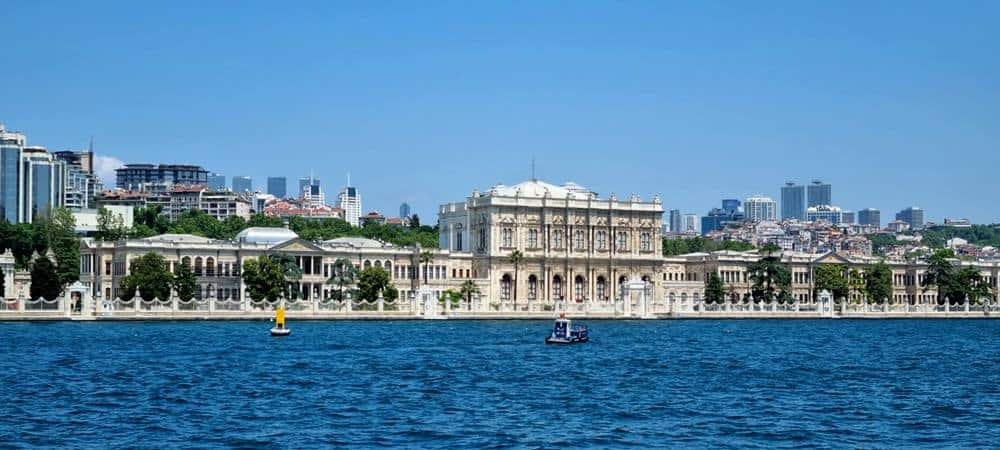 As it was located in the same part of the city as Dolmabahce Palace, the next place we wanted to visit was Ortaköy, a lively area centered around the waterfront square overlooking the Bosphorus. We took a taxi in front of Dolmabahce Palace to get to Ortakoy, and it cost us only 100 TL (the ride lasted around 10 minutes).
The neighborhood is famous for its picturesque Ortaköy Mosque dating from the 19th century, situated at the waterside of the Ortaköy pier square. Besides this elegant mosque, the area is known for alleys filled with authentic shops and Turkish delicacies such as waffles and "kumpir", baked potatoes stuffed with all kinds of vegetables. We had lunch here and stayed for a couple of hours before returning to our hotel.
In the evening, we decided to go to Sefa-i Hürrem Cafe & Restaurant again as we wanted to see the city illuminated. The evening was magical and Istanbul by night experience should be on your bucket list!
Day 5: Galata Tower – Kadıköy Neighborhood
The last day of our visit was reserved for Kadıköy, an urban district located on the Asian side of Istanbul. The plan was to first climb the Galata Tower for some amazing panoramic views of the city, and then take a ferry to the Asian side.
Galata Tower is located a 5-minute walk from the southern end of Istiklal Street, so we went there on foot. The lines in front of the tower's entrance start to form already around 10:00, and this is why we decided to climb the tower first thing in the morning. The entrance fee was 130 TL and we waited for less than 10 minutes to enter.
Galata Tower dates back to the Genoese presence in Constantinople in the 14th century and is nowadays the symbol of Istanbul offering spectacular views from its 40 m (131 ft) high observation deck. The tower also hosts a modern museum with exhibitions where visitors can learn all about its history. There is an elevator to the top and two more floors to climb on foot. Galata Tower is the only place that gives you a 360° panorama of Istanbul, so it should definitely be on your bucket list!
Check out Galata Tower tours and activities
After a 1-hour visit to Galata Tower, we went down to Karaköy Pier (at the foot of Galata Bridge, across from Eminönü ferry terminal) where we took a ferry to Kadıköy on the Asian side. The ferry ride lasts around 20 minutes and ferries run roughly every 15-20 minutes. Ferries in Istanbul are part of the public transport system, so you can use Istanbulkart (read more about public transport in my article Top 20 Things to Do in Istanbul for First-Time Visitors (+ Travel Tips)). Alternatively, you can buy the ferry tickets directly at the pier for about 15 TL per person one-way.
Kadıköy is an urban, residential district renowned for its bustling Kadıköy Market (Kallavi Kadiköy) offering fish, Turkish pizza, cheese, meze, olives, stuffed mussels, and more. We wandered around the port area, explored the famous Moda street and relaxed at Moda Coastal Park, a wide recreational area with beautiful city views.
We stayed in Kadıköy for about 3 hours as we didn't plan to do anything special like shopping, etc. Visiting the Asian side was on our bucket list and we were happy to spend some time here as well.
5-Day Istanbul Itinerary – Wrapping Up
I truly hope that my 5-day Istanbul itinerary inspired you and gave you an idea on how to organize your stay in this unique city. Although Istanbul is huge and it's impossible to visit all at once, this itinerary includes all the major attractions to visit by first-time visitors.
Enjoy your stay in Istanbul and don't forget to check for more information in my article: Top 20 Things to Do in Istanbul for First-Time Visitors (+ Travel Tips))
---
You May Also Like:
What to Pack for a Cruise – Top 50 Cruise Essentials 
Women's Cruise Wear – Top Cruise Essentials for Ladies
Cruise Guides for Mediterranean Ports of Call
Subscribe below and get my exclusive SHORE EXCURSION GUIDE FOR FREE!
This article may contain affiliate / compensated links. For full information, please see my disclaimer here.