Also known as the City on the Seven Hills, Istanbul is a crossroad between Europe and Asia and a city of colors and contrasts that you'll fall in love with the moment you see it.
Formerly known as Constantinople, Turkey's largest city is huge – It counts over 15 million inhabitants and has a rich cultural and historic heritage that dates back to the 7th century BCE.
I visited Istanbul for the first time in May 2022 and I would say it was perfect timing as it wasn't as hot as it gets in the summer months. In this article, I share with you useful Istanbul travel tips, and practical information as well as a list of the top 20 things to do in Istanbul for first-time visitors.
Suggested article: 5-Day Istanbul Itinerary for First-Time Visitors
Getting Around Istanbul – Useful Info
Before we start, I want to share with you useful practical information that will help you plan your stay.
Built on the seven hills, Istanbul expands on two continents: the European and Asian sides. All major attractions are located on the European side. You can use a ferry boat to go to the Asian side if you wish so (more info below) but keep in mind that all city highlights are located on the European side which is also slightly more expensive.
The European side of Istanbul is divided into two parts by the Golden Horn, an estuary and the primary inlet of the Bosphorus Strait which divides the European and Asian sides.
Currency in Turkey
The currency in Turkey is the Turkish Lira (TRY or TL; sign: ₺). 1 EUR equals 17.40 TL. Check the currency exchange rate before you travel to Turkey. Don't change the money at the airport! This is my friendly advice. I did it when we first landed and I got only 600 TL for 45€, which was a rip-off! I lost around 183 TL (10€), which is not a small amount, so I advise you to wait until you get to the city where you'll get a normal rate. From what I saw, the exchange rate was the best around Istiklal Street and Taksim, while it was lower in the Sultanahmet area. Credit cards are also accepted almost everywhere, including the Grand Bazaar. See the currency converter
Where to Stay in Istanbul
If you are visiting Istanbul as a tourist, the best part of the city to book accommodation is in the area around Taksim Square and Istiklal street, the main shopping street of the city. This is the modern tourist hub of Istanbul with all major happenings. This part of the city is well connected to all other parts and if you decide to walk to the opposite side of the Golden Horn where the old town is located (with Hagia Sophia, Blue Mosque, Grand Bazaar), you can either take a tram or walk for about 45 minutes.
My friends and I stayed in the Golden Street Hotel, located right in the heart of Istiklal Street. This family-owned hotel is cozy, with basic facilities and a small restaurant on top of the building with an outstanding view of Istiklal Street. The hotel was reasonably priced (I think it was around 75-80€ per double standard room/night) given the location, however, it was too noisy because the street is lively and full of people at all times a day. Check out Istanbul hotels and accommodation
Public Transport
The public transport in the city is quite organized, quick and efficient. T1 (Bağcılar- Kabataş) tram is the line that you'll mostly use as it connects the Taksim area and Sultanahmet district (the old town) where Hagia Sophia, Blue Mosque and other attractions are located.
To move around by public transport (tram, bus, metro, funicular, ferry), you will need Istanbulkart which you can purchase on yellow cash machines you'll find at every station. I suggest you get it at the airport or the main transit stops such as Sultanahmet or Eminönü stops. Istanbulkart is red, it costs around 25 TL (equal to 1.40€) and if you travel with up to 5 people, you can use one Istanbulkart for all of you! There are different types of Istanbulkart, but you should look for a red, anonymous (anonim) card that comes without a picture, the most convenient option for tourists. You need to load your card each time you want to use public transport, and one ride costs 7.67 TL (0.44€).
For example, to go from Istiklal Street to Hagia Sophia by public transport, you need to go to Taksim Square (a 10-15 minute walk), catch an F1 Taksim–Kabataş funicular line and then change to T1 Bağcılar- Kabataş tram line that goes directly to Sultanahmet district where Hagia Sophia and Blue Mosque are located. You need 20-30 minutes in total, so it's pretty quick considering the size of the city and the distance between places. So, the overall cost for 1 person for a round-trip ride from Istiklal Street to Sultanahmet costs 30.68 TL which equals 1.76€. This is how we used to get around the city during our stay.
Alternatively, I highly recommend you use taxis in Istanbul. They are all yellow and really cheap, however, be aware because taxi drivers may try to rip you off if they see you are a tourist. And always negotiate the price! If possible, ask a taxi driver to turn the taximeter on because in that case, your ride will cost pennies! For example, the ride from our hotel in Istiklal Street to Kapalı Çarşı (Grand Bazaar) cost us only 100 TL (5.74€), while another taxi driver tried to charge us 200 TL, so as you can see, it all depends on your negotiation skills and taxi driver you bump into! As we were 4, my friends and I used trams for the first couple of days but then realized it would be more convenient and affordable to use taxis until the end of our 6-day stay.
Buses in Istanbul are frequent and run on time. They are convenient if you want to travel to more remote parts of the city, however, I wouldn't recommend them to first-time visitors. The main bus station (Eminönü Bus Station) is located right by the Galata Bridge next to the Eminönü ferry terminal and all bus numbers are clearly indicated.
Next to the bus station, you'll also find the Eminönü ferry terminal where you can catch a ferry to the Kadıköy district on the Asian side. You can also catch a ferry to Kadıköy at the Karaköy ferry terminal located on the opposite side of the Galata Bridge, in the Karaköy neighborhood. To catch a ferry, all you need is a loaded Istanbulkart. However, in case you are buying a ticket directly at the terminal, you will pay 15 TL for a one-way ride (this happened to us, as we didn't have enough money on Istanbulkart so we paid more at the terminal).
Airports in Istanbul
Istanbul has two international airports. Istanbul Airport (İstanbul Havalimanı) is located on the European side, approximately 40 km/25 miles (a 45-minute drive) from Istanbul city center (Taksim Square), while Sabiha Gokcen International Airport (Sabiha Gökçen Uluslararası Havalimanı) is located on the Asian side, 42 km/26 miles (a 1-hour 20-minute drive) from Taksim Square.
The taxi prices from the airports to Istanbul city vary. Taxi drivers accept both euros and Turkish liras, so don't rush to change money to liras as the exchange rate might be really bad at the airport. When my friends and I landed at Istanbul Airport, we paid 35€ for a one-way ride to our hotel, which was a good price for a 45-minute ride. However, on the way back to the airport, we paid only around 300 TL (17€) per ride because our taxi driver turned the taximeter on. Our friend who was flying from Sabiha Gokcen airport paid for her ride around 50€ one-way due to the longer driving distance.
Top 20 Things to Do in Istanbul for First-Time Visitors
We stayed in Istanbul for 6 days and we had 5 full days to explore the city. As I've already mentioned, our hotel was located on Istiklal Street, which is the tourist heart of the city and a perfect starting point to explore the city. Below, I share with you 20 things to do and see in Istanbul if you are visiting the city for the first time!
Also, check out my  5-Day Istanbul Itinerary for First-Time Visitors
1. Istiklal Street
Istiklal Caddesi (Caddesi means "the street" in Turkish) is the most popular avenue in Istanbul. It is located in the Beyoğlu district and is 1.4 km/0.86 miles long. It starts near Galata Tower and ends at Taksim Square, and it takes around 20 minutes' walk to cross this distance.
Istiklal Street is a shopping paradise… Here, you'll find designer stores, boutiques, souvenir shops, countless restaurants, cafes, chocolateries, shops selling sweets, Turkish delights, and so much more! It is a vibrant, crowded and lively place where you can enjoy live music until the early morning hours.
Istiklal Avenue is lined with beautiful modern buildings dating from the 19th and early 20th centuries, featuring different architectural styles including  Neo-Classical, Neo-Gothic, Renaissance Revival, Beaux-Arts, Art Nouveau and First Turkish National Architecture.
The prices in Istiklal Street are more than reasonable, and the main tourist attraction is the Istanbul nostalgic tram, a red heritage tram that runs from Taksim Square along the avenue, ending near the Tünel (1875) which is the world's second-oldest subway line. You can take a ride if you wish so, and the price is like a regular tram, only 7.67 TL one-way.
Check out Istiklal Caddesi tours and activities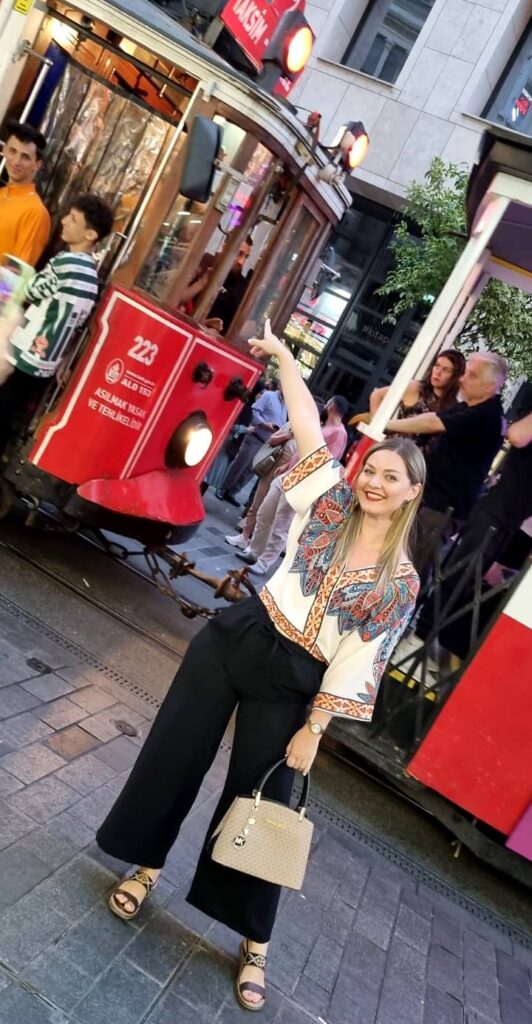 2. Taksim Square
Taksim Square (Taksim Meydanı) is the main square of Istanbul and the central station of the Istanbul Metro network (M2 metro line and F1 funicular line). This immense square is dominated by the newly built Taksim Mosque (Taksim Camii) whose construction started in 2017 and finished in 2021. The imposing mosque was built in Art Deco style and is illuminated in the evening, which makes the whole square even more impressive.
The central part of the square is the location of the Republic Monument, built in 1928 to commemorate the formation of the Turkish Republic in 1923. Taksim Square is always bustling with people and is surrounded by numerous restaurants, cafes, hotels, fast-food chains and other buildings including Atatürk Cultural Center.
Explore Taksim Square tours and activities
3. Galata Tower
The iconic Galata Tower (Galata Kulesi) is located a 5-minute walk from the southern end of Istiklal Street. The famous tower dominates the city's skyline and dates back to the Genoese presence in Constantinople in the 14th century. Originally built as a watchtower under Emperor Justinian's rule, the Galata Tower of today was built in 1348 in the Romanesque style and restored multiple times throughout the centuries.
Nowadays, Galata Tower hosts a modern exhibition space and a museum, and you can climb to its 40 m (131 ft) top floor to admire the 360° panorama of Istanbul. There is an elevator to the top, and two more levels to climb on foot. The entrance fee to Galata Tower is 130 TL, and it's recommended to go earlier in the morning as it can get crowded later in the day.
Check out Galata Tower tours and activities
4. Hagia Sophia
Officially known as Hagia Sophia Grand Mosque, the world-famous Hagia Sophia (Ayasofya) is the symbol of Istanbul and the city's most important landmark. Hagia Sophia is the world's largest place of worship built between 532 and 537 by Byzantine Emperor Justinian I originally as a Christian Orthodox church.
Dedicated to the Holy Wisdom (thus the name "Aya Sofya"), Hagia Sophia was the religious and spiritual center of the Eastern Orthodox Church for nearly one thousand years. After the Fall of Constantinople to the Ottoman Empire in 1453, the church was converted into a mosque by Mehmed the Conqueror and became the principal mosque of Istanbul until 1616 when Sultan Ahmed Mosque (known as Blue Mosque) was constructed. Upon its conversion, all Christian symbols including an iconostasis, bells, altar, icons and frescoes were removed and four minarets and other Islamic architectural additions were added.
Under the secular Republic of Turkey, Hagia Sophia was re-opened as a museum in 1935, only to be reclassified as a mosque in 2020. Nowadays, the mosque is open to the public and there is no entrance fee. You need to remove your shoes upon entering the mosque, and ladies should wear overhead scarves as a sign of respect.
Hagia Sophia is located in the Sultanahmet district, known also as the Old Town of Istanbul. To get to Hagia Sophia, you can catch T1 Bağcılar- Kabataş tram and get off at the Sultanahmet stop.
Explore Hagia Sophia tours and activities
5. Blue Mosque
Blue Mosque is located across from Hagia Sophia, on the opposite side of Sultan Ahmet park. Officially known as Sultan Ahmed Mosque (Sultanahmet Camii), it was constructed between 1609 and 1616 during the rule of Sultan Ahmed I.
Blue Mosque is a UNESCO World Heritage Site known as the second mosque in the world built with six minarets, (after the mosque of the Ka'aba in Mecca) which provoked hostility back in time. According to one of the legends, this was a result of a misunderstanding between the sultan and the architect. Blue Mosque is famous for more than 20.000 handmade blue Iznik tiles decorating its interior and is a truly impressive site to visit.
The entrance to the mosque is free. The removal of shoes and wearing of scarves for women are mandatory. Blue Mosque is located only a few minutes' walk from Hagia Sophia, so you can visit both landmarks on the same day.
Also check out my 5-Day Istanbul Itinerary for First-Time Visitors
Check out Blue Mosque tours and activities
6. Seven Hills Restaurant
To enjoy the most beautiful view of the Blue Mosque and Hagia Sophia, head over to Seven Hills Restaurant located right behind Hurrem Sultan Hammam, a 16th-century Ottoman hammam overlooking a huge, round fountain in Sultan Ahmet park. The restaurant is clearly marked on Google maps and they have an Instagram page @sevenhillsrestaurant where you can make a reservation.
Besides a variety of international and traditional Turkish dishes, the restaurant is renowned for its traditional Turkish breakfast that you can try for 250 TL per person (price updated in May 2022). Another attraction is the open-top floor where you can feed the seagulls. You may face crowds and lines, but the experience is one-of-a-kind!
7. Hippodrome (Sultanahmet Square)
Parallel to Sultan Ahmet park and the Blue Mosque, there is another large public square known as Sultanahmet Square (Sultanahmet Meydanı) or the Hippodrome of Constantinople. The Hippodrome was built in the 3rd century as a circus, a large open-air space that was the sporting and social center of Constantinople, capital of the Byzantine Empire.
Horse racing and chariot racing were among the most popular activities in the ancient world, and nowadays this area is home to some important landmarks including the Walled Obelisk, Serpent Column and the iconic Obelisk of Theodosius, the Ancient Egyptian obelisk of Pharaoh Thutmose III re-erected in the Hippodrome by the Roman emperor Theodosius I in the 4th century AD.
Check out the Hippodrome tours and activities
8. Galata Bridge
The bustling Galata Bridge (Galata Köprüsü) represents the main link between the old city of Istanbul (a side where Hagia Sophia, Suleymaniye Mosque and Blue Mosque are located) and the modern districts of Beyoğlu (Istiklal Street, Taksim Square, Galata Tower are located in this modern part of the city).
The bridge stretches across the Golden Horn and originally dates from the 19th century, however, the current structure was constructed in 1994. It is 490 m (1.610 ft) long and has pedestrian walkways where you can see dozens of fishermen trying to haul in their daily catch. Under the bridge, there are numerous fish restaurants and nargile bars with magnificent views of the Golden Horn and the Bosphorus strait.
Check out Galata Bridge tours and activities
9. Topkapi Palace
This marvelous palace is a UNESCO World Heritage Site and is located right behind Hagia Sophia, in the Sultanahmet district of Istanbul. The construction of Topkapi Palace (Topkapı Sarayı) started in 1459, six years after the conquest of Constantinople, and lasted for 16 years.
The immense, opulent palace served as the main residence and administrative headquarters of the Ottoman sultans until 1856 when Sultan Abdulmejid I decided to move the court to the newly built Dolmabahçe Palace. The complex of Topkapi Palace consists of four main courtyards and many smaller buildings that you can visit on a tour, as the palace nowadays is a museum open to the public.
The whole place is impressive and gives an incredible insight into more than 400 years of Turkish history. The visit itself takes at least 2 hours and I also recommend you to visit the Harem where female members of Sultan's family used to live. My friends and I spent around 3 hours in the palace complex and enjoyed every moment of it!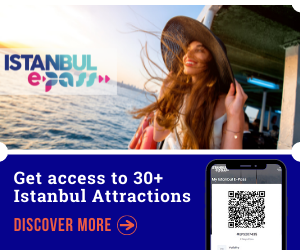 The entrance fee to Topkapi Palace is 320 TL. This is the basic price that includes the main parts of the palace including the courtyards and Hagia Irene Church. If you want to visit the Harem section, you need to pay 100 TL extra. In case you are planning to visit more museums in Istanbul, you can purchase Istanbul Museum Pass which costs 550 TL and is valid for five days. Museum Pass covers the entrance to all sections of Topkapi Palace. The free audio guide is included in the price. Topkapi Palace is a crowded place during the high season, so you may encounter lines upon entering (I queued for about 20 minutes).
Explore Topkapi Palace tours and activities
10. Suleymanye Mosque
Süleymaniye Mosque (Süleymaniye Camii) is a UNESCO World Heritage Site and an awe-inspiring Imperial mosque built in 1557 on the third hill of Istanbul, overlooking the Golden Horn. The mosque was commissioned by Suleiman the Magnificent and designed by the famous imperial architect Mimar Sinan who, besides this mosque, designed more than two hundred buildings in the city.
Süleymaniye Mosque was built to show the power and grandeur of the Ottoman Empire and today it is the most beautiful mosque in Istanbul. It is absolutely breathtaking and it's a must-see place if you are a first-time visitor! Within the complex, you can also visit the octagonal mausoleums of Suleiman the Magnificent and his wife Hurrem Sultan.
The entrance to Süleymaniye Mosque is free. Ladies are required to cover their heads and the removal of shoes is mandatory upon entering. To get to Süleymaniye Mosque, you can take the T1 tram line and get off at the Eminönü stop. Then, you need to walk partly uphill for about 15 minutes. Even though it may seem challenging, trust me, it's absolutely worth it!
Check out Süleymaniye Mosque tours and activities
11. Sefa-i Hürrem Cafe & Restaurant
If you want to enjoy the most incredible views of the Golden Horn and the city, go for a Turkish coffee or lunch in one of the restaurants surrounding the Suleymaniye Mosque. As the mosque is located on the hill, these restaurants offer unmatched views of the city. Some of them are Kubbe-i Aşk, HUQQAM Lounge Terrace, Giriftar Cafe and others.
Our choice was Sefa-i Hürrem Cafe & Restaurant (Instagram @sefaihurremcafe), located only a couple of minutes' walk from Suleymaniye Mosque. The restaurant has great food, amazing service and very affordable prices (in the evening, we paid an extra 30% service fee, so be aware of that). Plus, you can feed the seagulls, too! We came here twice, once in the daytime and once in the evening to enjoy the illuminated Istanbul and it was well worth it!
12. Kapalı Çarşı (Grand Bazaar)
Also known as Grand Bazaar, Kapalıçarşı is one of the oldest and largest covered markets in the world, located in Istanbul's old town (Fatih district), only a 10-minute walk from Hagia Sophia and Blue Mosque. The Grand Bazaar is an incredible labyrinth that covers a total area of 30.700 square meters and has more than 5.000 shops. You can find all sorts of goods here, including leather goods, carpets, gold and silver jewelry, multicolored lanterns, ceramics, all kinds of clothes, traditional Turkish delights, and so much more!
The Grand Bazaar is located inside the Walled city of Istanbul and be ready to get lost in this endless maze of alleys and shops. My friends and I visited Kapalıçarşı one afternoon and shopped for leather belts, jackets, women's purses, shoes… It's a common thing to bargain here, so I got my leather belt for 12€! However, the experience was quite exhausting as once you get in – it's hard to find the way out. The Grand Bazaar is definitely a must when you come to Istanbul, as it reflects the authentic spirit of the city. Credit cards are accepted in the majority of shops, however, I would recommend you bring local currency as well.
Check out the Grand Bazaar tours and activities
13. Egyptian Bazaar (Spice Bazaar)
Also known as Spice Bazaar, Egyptian Bazaar (Mısır Çarşısı) is adjacent to Kapalıçarşı so we didn't really notice when we entered this colorful spice, tea and Turkish delights paradise! Spice Bazaar consists of around 85 selling places in total, and here you can find numerous picturesque shops and stalls selling exotic spices, all kinds of tea, sweets, dried fruits, nuts, and souvenirs. Beware though, because the prices here can be higher than in other places in Istanbul!
You can access this historic market right across the street from the Eminönü tram stop. Credit cards are accepted, but make sure you bring local currency as well.
Check out Spice Bazaar tours and activities
14. Bosphorus Cruise
Bosphorus tours depart from Eminönü station (you will see the boat terminal) right at the foot of Galata Bridge and there are many cruises departing hourly operated by different tour operators. Some tour operators will offer it for 10€, some for 3.50€, it really depends on who you bump into – and, of course, you can bargain, too!
We paid for our 2-hour Bosphorus cruise 60 TL per person (3.40€) which was extremely cheap and we enjoyed it so much. We embarked last minute, so maybe that was the reason why we got so cheap tickets. So, I suggest you explore more options before booking a cruise.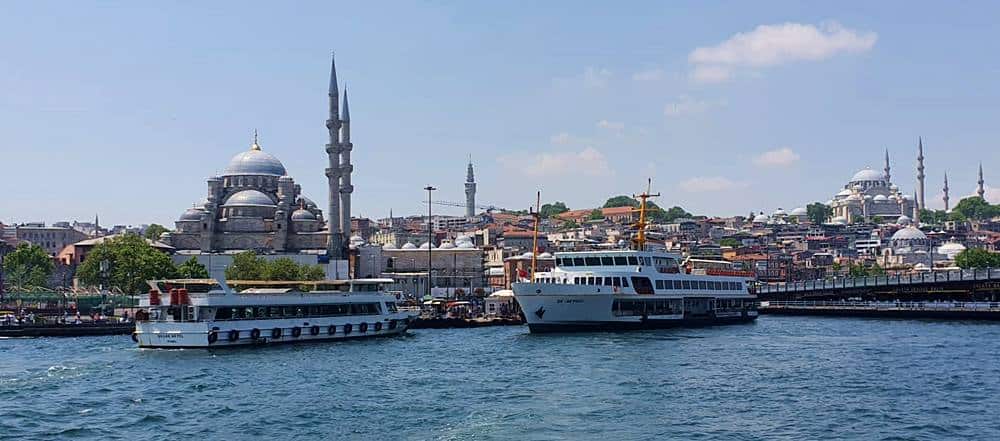 In any case, it's really worth it as you'll get the unique chance to see Istanbul from the water, along with some historic landmarks and attractions. Depending on the duration of your cruise, you'll see some of these city attractions:
Dolmabahce Palace
Galatasaray University
Ortaköy Mosque
15 July Martyrs Bridge (Bosphorus Bridge)
Rumeli Fortress
Anatolian Fortress
Fatih Sultan Mehmet Bridge
Küçüksu Kasrı
There are also evening/night cruises available, with traditional Turkish dance and food options, and I suggest you book these in advance. Whatever option you choose – the Bosphorus cruise is a must and you'll love it!
Explore the Bosphorus tours and tickets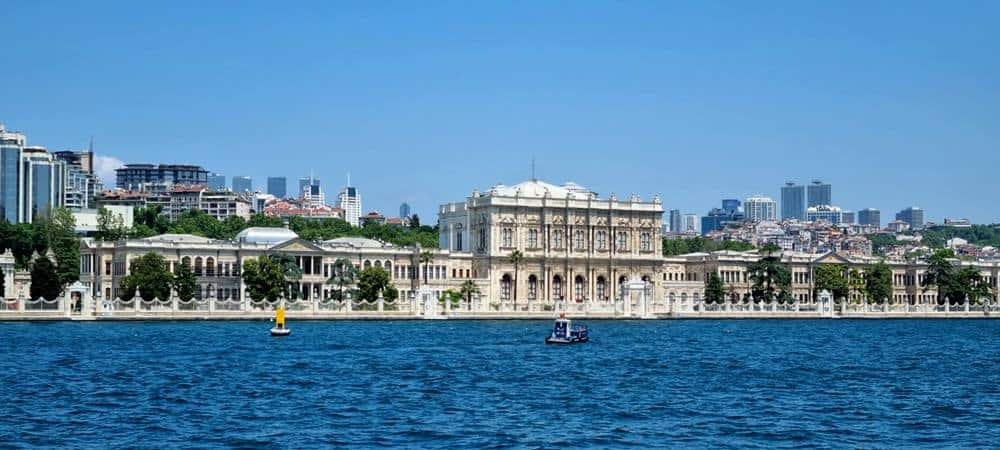 15. Dolmabahçe Palace
The sumptuous palace is located in the Beşiktaş district of Istanbul and overlooks the beautiful Bosphorus Strait. The palace was commissioned by the Empire's 31st Sultan, Abdülmecid I who decided to move the court from Topkapi Palace to the new, more grandiose Dolmabahçe Palace in 1856.
Dolmabahçe Palace (Dolmabahçe Sarayı) is impressive and looks similar to European palaces due to the westernization of the Ottoman Empire in the 19th century. The palace combines elements from the Baroque, Rococo and Neoclassical styles, blended with traditional Ottoman architecture. It is the largest palace in Turkey by size: it covers an area of 11.1 acres and contains 285 rooms, 46 halls, 6 baths (hamams) and 68 toilets.
To get to Dolmabahçe Palace, you can get off the T1 train at the terminus (Kabataş) and walk for 5 minutes to the entrance. The entrance fee is 300 TL as of May 2022 and this ticket includes the Main Building, the Harem Rooms and the Palace Collections sections of the palace. Istanbul Museum Pass doesn't cover the entrance to the palace. It is forbidden to take photos inside of the Dolmabahçe Palace. You may experience some queueing but less than in Topkapi Palace.
Explore Dolmabahçe palace tours and activities
16. Balat
If you want your stay in Istanbul to be truly memorable, don't miss out to explore the narrow cobbled streets of the historic Balat neighborhood, located next to the Fener district on the western shore of the Golden Horn. When I first planned my visit here, I had the impression that Balat was far away, but the truth is – it's only 3 bus stops away from Eminönü bus station.
Historically, Balat was home to a large Jewish population in the late 15th century and it was a center for Jewish, Greek and Armenian communities. Nowadays, Balat is a picturesque neighborhood with colorful terraced houses, hip cafes, art galleries, and historic landmarks that include the Greek Ecumenical Patriarchate basilica, Phanar Greek Orthodox College, Church of St Stephen of the Bulgars and The Chora Museum with its extraordinary golden mosaics and frescoes.
You can take a coffee at İncir Ağacı Kahvesi cafe (@inciragaci_kahvesi), known for its rainbow staircases (great photo ops!), or go for some nice food at Balat Antik cafe (@balatantikcafe), with its authentic setting and colorful umbrellas. The prices in Balat are cheaper than in central Istanbul.
I highly suggest you take a taxi to Balat, especially if you are sharing with friends. Alternatively, you can take bus lines 99, 99A, 36CE, 28E and 44B which will take you there in less than a 15-minute ride.
Check out Balat tours and activities
17. Ortaköy
Ortaköy is a lively neighborhood in the Beşiktaş district, centered around its beautiful waterfront square overlooking the Bosphorus Strait. This is a relaxed area filled with alleys with authentic souvenir shops, cafes serving mouth-watering waffles and stands selling the delicious "kumpir".
One of the highlights is the beautiful Ortaköy Mosque (Ortaköy Camii) which sits at the water's edge in the shadow of the Bosphorus Bridge (aka 15 July Martyrs Bridge).
To get to the Ortaköy neighborhood, I suggest you take a taxi. We took a taxi in front of Dolmabahce Palace and he charged us around 100 TL to Ortaköy. On the way back, a taxi driver charged us 50 TL to take us to Taksim Square, so as you can see – prices drastically vary, depending on your bargaining abilities and a taxi driver you bump into.
Explore Ortaköy tours and activities
18. Gülhane Park
If you are seeking a quiet place to take a break in your busy itinerary, Gülhane Park is a great choice. The park is the oldest and largest public park in Istanbul and is located in the heart of the old city, right next to Topkapi Palace. This green oasis is a perfect getaway from the bustling city and features gardens, paths, a creek and the Museum of The History of Science and Technology in Islam.
Explore Gülhane Parki tours and activities
19. Kadıköy Neighborhood
If you want to visit the Asian side during your stay in Istanbul, you can catch a ferry at Eminönü or Karaköy ferry terminals located next to Galata Bridge. Kadıköy is a residential district renowned for its bustling Kadıköy Market (Kallavi Kadiköy) offering fish, Turkish pizza, cheese, meze, olives, stuffed mussels, and more.
Moda Street is one of the main streets where you can find all sorts of cafes, restaurants, bakeries, shops and it stretches all the way to Moda Coastal Park, a seafront area with cycling and walking paths, picnic areas and beautiful city views.
The Asian side is interesting to see, very lively and the prices here are cheaper than in the rest of Istanbul.
20. Turkish Delights and Traditional Cuisine
If you are on a special restriction diet – you'll have to stop it for a while, because Turkey has the best sweets in the world! At every corner, you'll find mouth-watering baklavas, lokums, cakes, waffles, nuts, dried fruit and not to mention a great selection of bread, meat, fish and vegetable dishes. You must try Turkish kebab, fresh fish, traditionally cooked meals and the legendary Turkish breakfast that consists of small portions of various ingredients.
And of course, Turkish coffee and traditional tea are a must, served in tiny cups to top off your foodie experience! One of the shops we loved is Hafiz Mustafa dating from 1864, serving incredibly delicious and premium quality Turkish sweets. Every shop is also a cafe-restaurant and there are many of them on Istiklal street and all around the city.
Check out Istanbul food tours and activities
Wrapping Up
My friends and I stayed 6 days in Istanbul and we managed to visit all these places during our stay. With a well-organized itinerary, you can visit the highlights of Istanbul and take in this amazing city to the fullest!
I hope you like my list and enjoy your stay in Turkey's capital!
If you want to read the full 5-day Istanbul itinerary with maps and explanations, check out my article 5-Day Istanbul Itinerary for First-Time Visitors
---
Top 20 Things to Do in Istanbul for First-Time Visitors
Istiklal Street
Taksim Square
Galata Tower
Hagia Sophia
Blue Mosque
Seven Hills Restaurant
The Hippodrome of Constantinople
Galata Bridge
Topkapi Palace
Suleymaniye Mosque
Sefa-i Hürrem Cafe & Restaurant
Kapalıçarşı (The Grand Bazaar)
Egyptian Bazaar (Spice Bazaar)
Bosphorus Cruise
Dolmabahçe Palace
Balat
Ortaköy
Gülhane Park
Kadıköy neighborhood
Turkish Delights and Traditional Cuisine
You May Also Like:
What to Pack for a Cruise – Top 50 Cruise Essentials 
Women's Cruise Wear – Top Cruise Essentials for Ladies
Cruise Guides for Mediterranean Ports of Call
Subscribe below and get my exclusive SHORE EXCURSION GUIDE FOR FREE!
This article may contain affiliate / compensated links. For full information, please see my disclaimer here.