All You Need to Know about Crew Life onboard a Cruise Ship: Ship Life & Crew Areas
Before I joined a cruise ship for the first time as a Shore excursions staff, I couldn't imagine how the life onboard cruise ships actually looked like. All I knew was that I was going to spend seven months at sea, with people I didn't know and doing a job that I didn't know much about.
The first few days on a cruise ship were confusing, both fun and challenging… On the first day, I didn't manage to find my cabin for 45 minutes. I was literally wandering around corridors trying to figure out the ship's layout. The first days were stuffed with trainings, familiarization with the crew areas, rules, regulations, ship in general, and learning about the job itself, of course.
Whether you are joining a ship as a new hire, or you are just curious to see how the crew life onboard a cruise ship looks like, in this article, I share with you useful insider information and an insight into the crew areas and how we spend our days at sea.
Cruise Ship Crew Life – What to Expect
One of the things you will often hear people saying is that once you experience life at sea, the life on land will never be the same – and I couldn't agree more.
Living and working on a cruise ship is one of the most rewarding experiences you can get for a lifetime. It involves not only getting paid for what you do but also traveling and seeing the world, interacting with people from different social backgrounds, meeting new cultures and traditions. Working on cruise ships is more of a lifestyle than a simple job where you get to earn money for what you do.
Depending on the ship's size, you will be sharing your living space with hundreds and thousands of people from all around the world. You will be eating, sleeping, working, hanging out, partying, and spending time together. You will make new friends, relationships, experience break-ups, tough times with your coworkers, go through ups and downs.
Be prepared for hard work! Your free time will mainly depend on your job position, as well as your "privileges" and rights. However, whatever your job position is, we all get the same chance to enjoy the ship life and the opportunities offered.
Suggested articles:
10 Things to Know Before You Apply for a Cruise Ship Job
11 Things You Would Never Expect to Be Part of Your Cruise Ship Job
In the sections below, I want to share with you some basic things you need to know about the organization of crew life on a cruise ship and walk you through the crew areas where the crew spends most of their free time.
Disclaimer: Keep in mind that many things have changed due to the Covid-19 pandemic and that rules, regulations, and ship life organization mainly depend on current cruise line policies and health protocols. 
Crew Areas
Given the fact that crew members' contracts vary from 2 to 9 months, crew life is organized in a way to facilitate the crew members' life onboard. Accommodation, food, and the use of crew areas are free for all crew members during the whole duration of their contract, which allows us to save money and not spend it on basic life needs.
The majority of crew areas are located on decks zero, 1, 2, or 3, however, this varies by ship size and layout. Read below about the main crew areas onboard cruise ships.
1. Crew Cabins
Most people and new hires are curious to know how our crew cabins look like. First of all, there are two types of crew cabins – single-shared and double-shared cabins, meaning that most of us need to share a cabin with a roommate, usually from the same or similar department.
They are normally located on decks zero, 1, and 2, whereas Bridge officers have their cabins on higher decks closer to the bridge.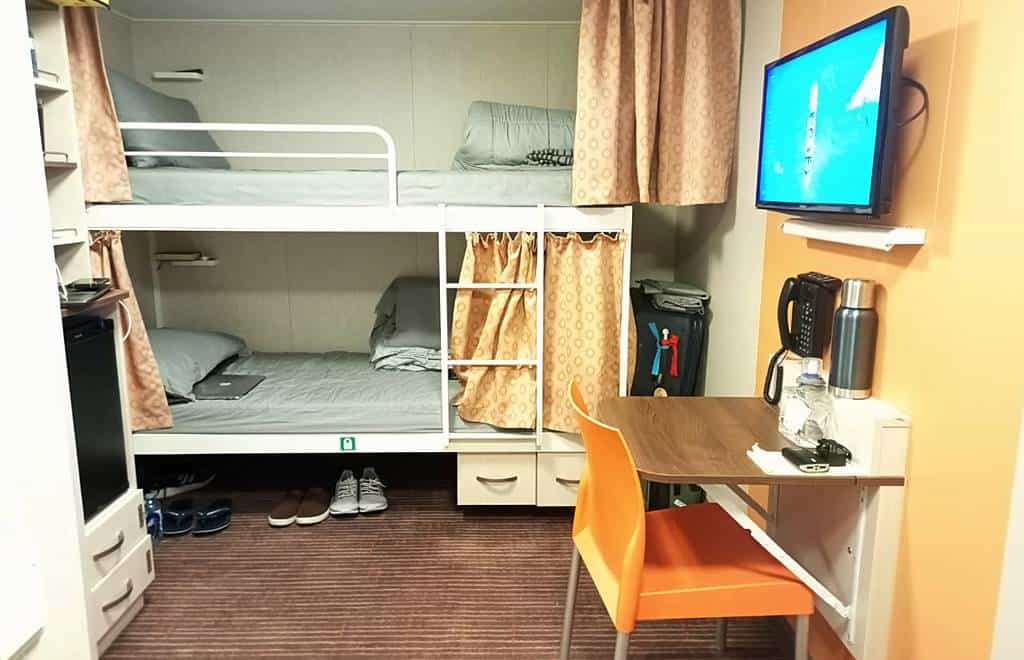 Crew cabins are tiny and usually consist of a bunk bed, a closet (with drawers and shelves), a mini-fridge, a TV, a small desk, a chair or two, and a bathroom. Each cabin has its own bathroom, which is good because you share it with only one person.
Depending on your job position and title, you may be assigned a single cabin, meaning that you will have your own privacy and most probably housekeeping service.
If you want to read an in-depth review of crew cabins, I suggest you read my article Inside Cruise Ship Crew Cabins Full Review (2021)
2. Main Crew Corridor
Known as I-95 onboard Royal Caribbean cruise ships (named after the famous highway in the USA), every cruise ship has the main crew corridor that runs from the aft (the back of the ship) to the forward of the ship on deck 1.
The majority of the crew cabins are located around this main corridor, which can get extremely busy during the embarkation/debarkation times.
On the surrounding walls, you will find numerous boards filled with important ship rules, regulations, announcements, trainings, activities, and all relevant information for the crew.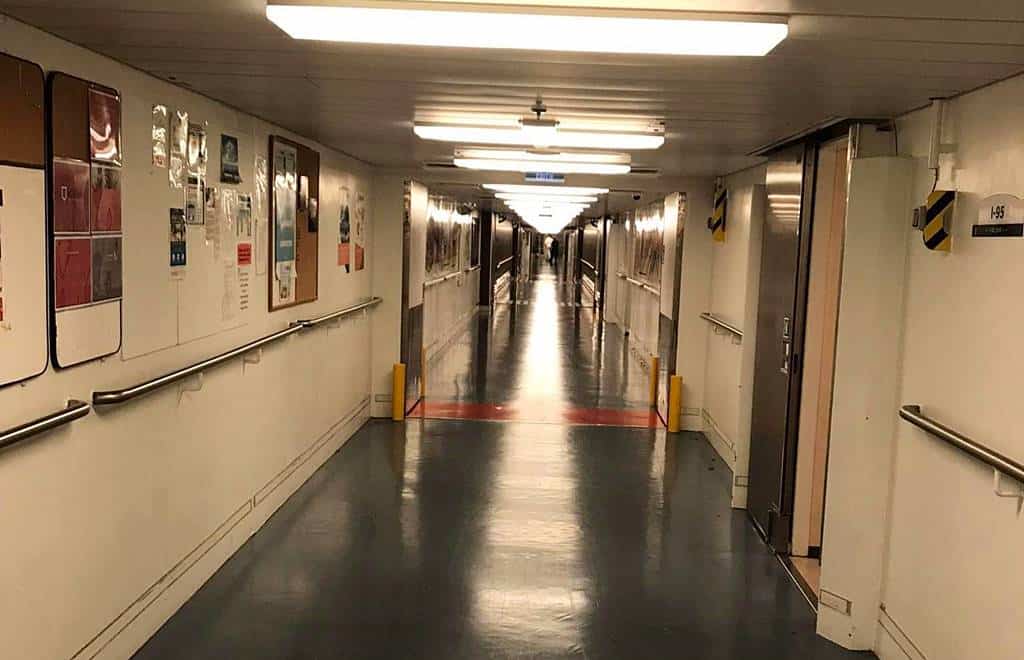 While walking down the i-95 corridor, make sure you wear appropriate footwear as it can be very slippery and busy with trolleys and working crew.
Suggested article: Life Onboard a Cruise Ship: 18 Crew Cabins Must-Haves
3. Crew Mess
Crew members onboard cruise ships have their own places to eat, known as "crew mess" and "staff mess". These are practically buffet-style canteens offering various food choices, from Asian to international cuisine. Depending on the ship size and the number of crew members, there might be a couple of these, two or more, onboard each ship.
Accommodation and food are free for all crew members. Besides the three main meals (breakfast, lunch, dinner), there are snacks in between and you can always go for filtered coffee, tea, or water in a crew mess. If you want to drink a cappuccino or more quality coffee options, you can order it in a crew bar for an extra fee.
Water on cruise ships is usually potable, however, it is strongly recommended to use bottled water that you can buy in a crew shop for a reasonable fee. You can always buy a case of water and store them in your cabin.
Now, the canteens for crew members are known as crew mess and staff mess.
"Crew mess" is normally dedicated to crew members without stripes, and the food served here is usually Asian cuisine, as the majority of crew members come from the Philipines, India, and other Asian countries.
"Staff mess" usually offers international cuisine and is dedicated to staff and officers.
However, there is usually no difference and everyone is allowed to eat whenever they want.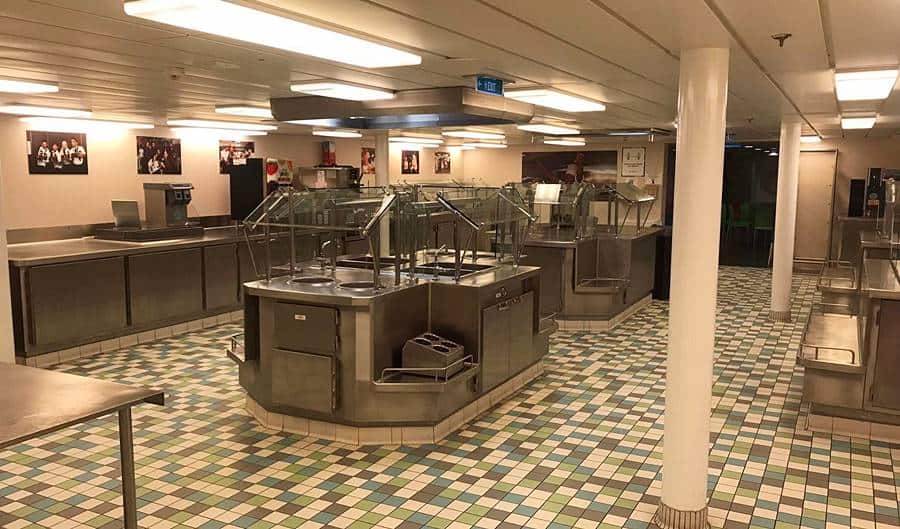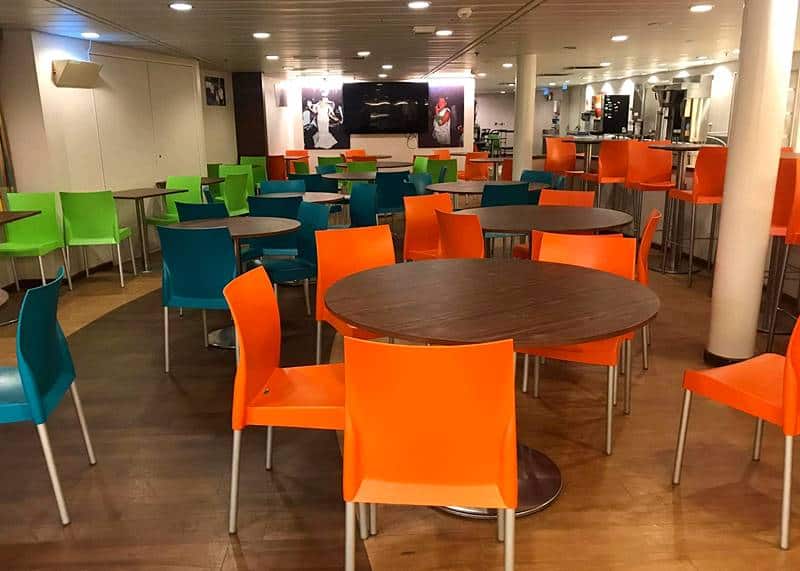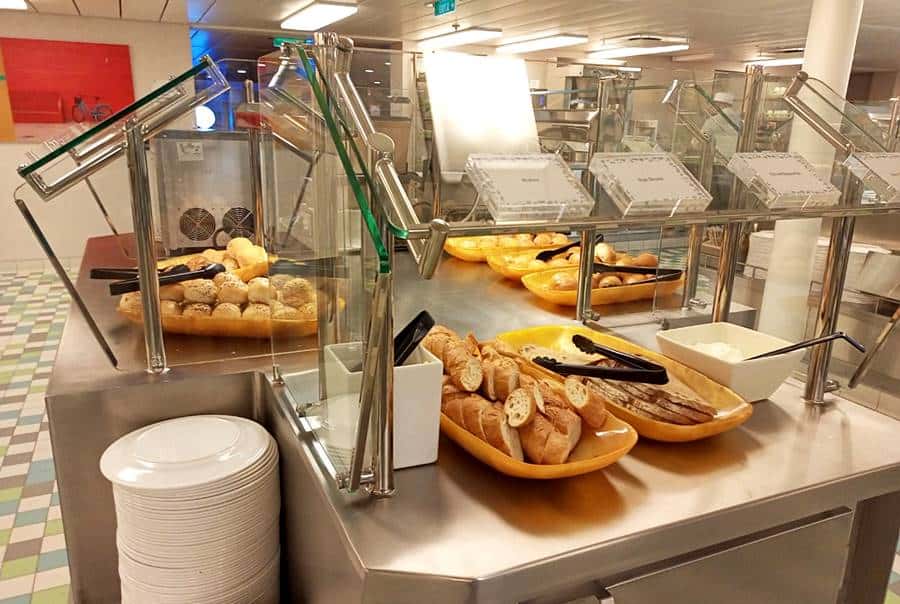 Based on your rank or title, you may be allowed to eat in guest areas and restaurants in the evening, and this applies only to staff members and higher positions. You may also be allowed to have dinner at specialty restaurants for an extra fee with discounts applied.
Bridge officers and higher management positions are welcome to eat in guest restaurants whenever they want.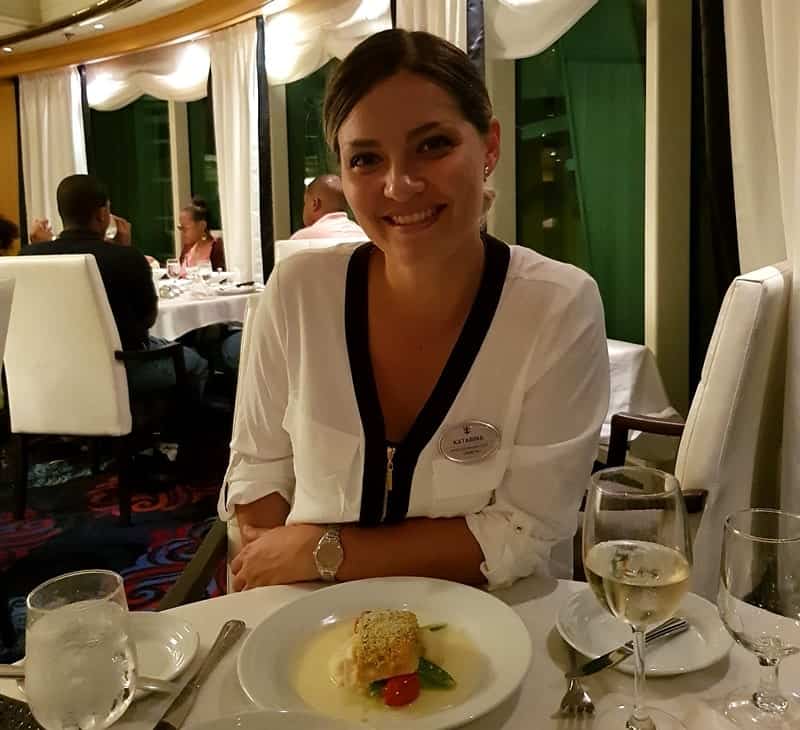 4. Crew Bar
Crew bar is one of the most lively areas on a cruise ship. Based on the size of the ship, there might be one or more crew bars on each ship.
It normally consists of an inside area and so-called "back deck", an open deck where smoking is allowed and where parties and crew events take place. You need to pay for the drinks in a crew bar (starting at $2 per drink), except when the HR department throws theme or "all crew parties" where they offer free soft drinks and beers for all crew members.
There are various events organized on a weekly level, including bingo, raffle, music and food events (wine and cheese, fish and chips nights, etc.), movie nights, and more. These are announced on an information board that you will find in crew areas hanging on the wall.
However, keep in mind that due to the new regulations following the Covid-19 pandemic these might be limited, and vary by companies' and ships' management.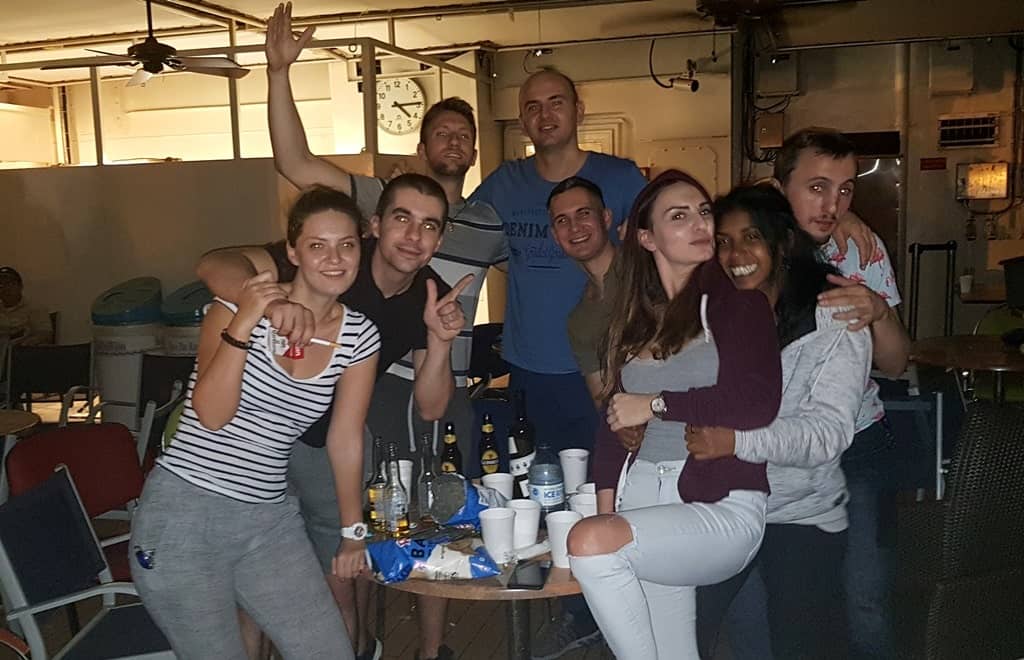 5. Crew Laundry Area
Crew members have their own dedicated laundry area that consists of a multitude of washing and dryer machines that are operational 24/7.
The laundry service is free and every crew member is responsible for washing their own clothes and uniforms (although there is an option to have your uniforms washed by the laundry department, however, this takes a few days and I always used to wash uniforms on my own).
You need to use your own washing products that you can purchase in a crew shop known as "slop chest". Inside the laundry area, you will find ironing boards where you can iron your stuff as ironing inside the crew cabins is not allowed.
As for your cabin sheets, pillowcases and towels, you don't need to wash these – You can simply discharge the dirty items in the main laundry room and ask the laundry crew to get you the clean ones. Here, you can also grab toilet paper and cleaning products for your bathroom.
Useful tip: I mentioned that the laundry is operational 24/7, however, it usually gets busy during specific peak hours when the majority of crew members have their break. If you are planning to wash your stuff, make sure you avoid these hours.
6. Slop Chest
Every cruise ship has its own slop chest, which is basically a store where the crew can buy snacks, water, soft drinks, hygiene products, cleaning items, and more.
Prices here may be higher than if you buy the products outside in port, so I suggest you buy all you need in a supermarket/shops outside the ship if you find any because that will most probably save you some money.
7. Crew Gym
Every cruise ship has a dedicated gym for its crew members. The size of a gym varies by the ship size and the number of crew members, and these are free, fully equipped, and open 24/7.
Some job positions (staff members, stripe officers) are allowed to use the guest gym at specific time slots (mostly in the evening) however this is now vastly limited and is nowadays based on the Covid-19 regulations.
8. Internet Cafe
Cruise ships feature an internet cafe where crew members can surf and chat with their friends and family back home. This room is equipped with a multitude of computers that crew members can also use to do their job duties, more specifically the company-assigned tasks and trainings, and other online and IT-related jobs.
Some programs and websites can be accessed for free (if it's for business purposes), however, you need to pay for the internet you use.
Wi-fi internet can be quite expensive and there are several packages you can opt for (daily, weekly, monthly packages). During the Covid-19 pandemic, many companies have provided their crew with an hour or more of free internet.
9. Playroom/Crew Lounge
Besides the crew bar and a coffee shop, there is normally a dedicated area for the crew who wants to play pool table games, table tennis, table football, darts, and other social games.
There is also a library filled with books that the crew members can borrow for free.
10. Incinerator Room
You have probably been wondering where the crew members throw their garbage. Saving and taking care of the environment is a high priority for cruise lines, and there are numerous programs applied to maintain and save the ocean and the environment in general.
Recycling is widely promoted among the crew members and there is a multitude of trainings that enforce us to take the whole save-the-environment concept very seriously.
All crew members collect the garbage inside their crew cabins (bins are available) and once it's full, the trash needs to be taken to the incinerator room where the items are sorted into differently designated bins. There are bins for glass, paper, plastic, electronics, cans, and there are a couple of incinerators where the rest of the trash is burnt under the supervision of trained staff working in that division.
The incinerator room is normally smelly and can be very slippery, so it's very important to wear comfortable shoes while walking around (avoid flip-flops, slippers, etc.).
The incinerator crew is always there to assist you to separate the trash in case you need it.
Suggested article: Life Onboard a Cruise Ship: 18 Crew Cabins Must-Haves
11. Medical Facility
Guests' and crew members' health is a top priority for cruise lines and there is a dedicated medical facility onboard each cruise ship for both guests and crew. This medical facility is usually located on deck 1 and is shared, however, there are separate entrances for guests and crew.
All crew members are provided with health insurance and medical care free of charge during the whole duration of their contract. Depending on a cruise ship size, there are a couple of doctors and nurses in charge of the Medical department that you can always address to.
Crew Life
Besides performing their job duties, crew members spend most of their free time outside in ports when available, or inside the crew areas that I mentioned above.
The crew life is organized in a way to make life easier and fun for all crew members, and the department in charge of this is the crew HR department.
Crew HR Department
Every cruise ship has a dedicated HR department that takes care of crew members' needs, paperwork, payments, crew activities, and everything related to the crew members in general.
This is the first place where you'll go once you join the cruise ship, regardless of whether you are a new hire or a returning crew member.
The HR department will assign you a cabin based on your job position and vacancies available; they will issue you a cabin key, an ID card that you'll use for payments onboard the ship, exiting/entering the ship, etc., an emergency card…
If you have some special requests, or you want to complain about something, you can head to the HR team who will help you resolve your issues.
The HR department is also responsible for organizing all crew-related activities, including parties, bingo, raffle, movie nights, and more. These can widely depend on the HR team and HR manager themselves, so the organization of the crew life is not the same on all the ships.
Crew ATM
There are usually a couple of crew ATMs onboard each ship and they are located within crew areas. They allow you to withdraw your money in dollars and there is a small fee to pay for each withdrawal transaction (around $2 per transaction). In case that these don't work, you can go to the HR department who will assist you.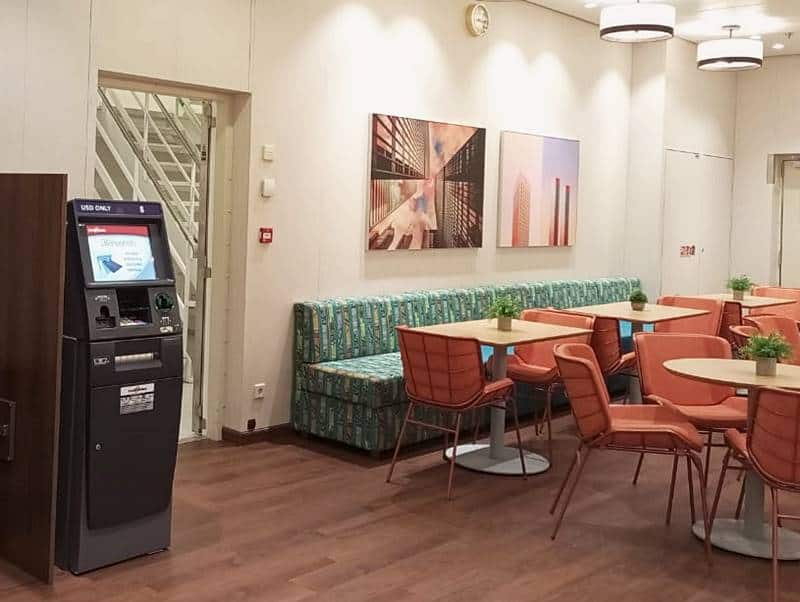 Crew Drills
Safety and security are the top priorities for all crew members working onboard a cruise ship. There are drills organized every cruise, and each crew member is assigned an emergency function and muster station during the whole duration of their contract.
All crew members must be familiarized with the ship's layout, fire zones, main crew/guest areas, emergency stations, and all relevant to the ship's safety and how to manage emergency situations.
There are many trainings that all crew members need to go through, both online and onboard, and these are constantly updated.
Trainings
Whether you are joining a ship as a new hire or a returning crew member, there will be a lot of trainings that you need to do, both online before joining a ship and onboard.
The trainings are organized on various topics, including environmental topics, zero tolerance, safety and security topics, crowd management, and many others.
You will be advised which trainings to do by your direct supervisor or a dedicated app.
To Wrap Up
In this article, I did my best to give you a simple overview of our crew life and areas where we spend our time when working on a cruise ship.
However, bear in mind that many rules and regulations have changed due to the Covid-19 pandemic and these widely depend on the cruise companies' health protocols and policies.
If you want to read more about crew life, I suggest you take a look at my articles:
Working on Cruise Ships: How to Apply for a Cruise Ship Job?
Inside Crew Cabins on Cruise Ships – Full Review 2021
Food and Beverage Department – Working as a Cruise Ship Waiter?
10 Things to Know before Applying for Cruise Ship Job
Security Jobs onboard Cruise Ships – What You Need to Know
11 Things You Would Never Expect to Be Part of Your Cruise Ship Job
New Hire? This is How Your First Day on a Cruise Ship Looks Like
Life Onboard a Cruise Ship: 18 Crew Cabins Must-Haves
Life of a Cruise Ship Photographer – Crew Member's Story
Working as a Guest Services Representative on a Cruise Ship
---
This article may contain Amazon affiliate / compensated links. For full information, please see my disclaimer here.