Preparing for a cruise and choosing the right women's cruise wear can be time-consuming and exhausting, especially if you are not the type of person who enjoys packing (like me!).
I've been working in the cruise industry for years and have been traveling ever since, so I learned to pack light and in an organized way.
In this post, I want to share with you the essential women's cruise wear and give you useful tips and advice on how you should pack for your cruise vacation.
How to Pack for a Cruise?
There are a few things to consider when packing for a cruise:
What type of person you are?
The length of your cruise
The destination
The weather forecast
Sea days/port days
Your Personality
According to my opinion, this is one of the most important things to keep in mind when packing for a cruise. Cruising should be a fun, exciting and memorable experience, and you should plan it the way that it makes you feel comfortable, happy and fulfilled!
Keep it simple and be practical! If you prefer casual clothes, then bring only casual items, if you are a gym person – make sure you bring gym wear, if you don't intend to swim in a pool – don't bring bathing suits… The goal is for you to feel at ease and not stress over trivial things such as how to dress up on a cruise or how many suitcases to pack.
Nothing is mandatory! There is a general dress code on a cruise, however, it is not mandatory to stick to it 100%. For example, if you don't like dresses – don't bring them! Nobody will judge you if you don't wear a dress on a formal night.
On the other hand, if you prefer to be glamourous – go crazy! Bring as many clothes as you wish, as long as it makes you excited and keeps you in high spirits.
The main point is – cruising should be all about fun and spending a dream vacation with your loved ones, and that being said – packing is among the last things to stress about.
The Length of Your Cruise
The amount of clothes to pack widely depends on the duration of your cruise. There is a significant difference between a 2-day, 7-day or a 2-week cruise, and you should plan what and how many items to bring accordingly.
The Destination
Choosing the right clothes to wear on a cruise also varies by cruise destination. You will pack differently on an Alaskan, Caribbean and New Zealand cruise, for instance. You should also have a general idea of the country you will be visiting, as some places require a certain dress code (if the country is too conservative, etc.).
If you are joining a shore excursion, make sure you get familiarized with the tour itinerary and program, as you might be visiting some religious places that require a dress code, or joining adrenaline activities that require you to wear closed-toe shoes, long pants, etc.
I suggest you take a look at my article 25 Top Shore Excursion Packing List Items, where you'll find useful, insider information on what to bring on a shore excursion.
Weather Forecast
This is an important thing to consider, as some destinations are known for heavy rains, humidity, extremely hot days, low/high temperatures… I advise you to take a look at the weather forecast for each port before packing, that might help you plan whether to bring pieces such as rain jackets, hats, sunglasses, and others.
Sea Days/Port Days
Sea days are the days when your ship sails and port days are when your ship is docked/anchored in a particular port of call.
On sea days, you spend most of your time exploring and enjoying ship venues and activities. You will be familiarized with cruise venues, activities and events in advance, however, I warmly suggest you explore and read the information on your ship before your cruise. You can see what shows they offer, what restaurants the ship has, what venues and guest areas you can enjoy (gym, solarium, pools, sports areas, theater shows, etc.). You should plan how to dress up based on how and where you want to spend your time on sea days.
On port days, you will be going out in ports of call. As mentioned earlier, make sure you get familiarized with the destinations' weather forecasts or at least get a basic idea of what to expect in each port of call.
Sign up below and get my exclusive Shore Excursion Guide for FREE to help you!
Women's Cruise Wear Essentials
Taking into consideration all the things I mentioned above, your packing list will depend on your personal outfit preferences, the destination you will be visiting, your cruise duration, and the way you want to spend your vacation. In the list below, I will give you an overview of the items you should consider packing for a cruise.
Cruise Clothing for Women
1. Casual/formal dress
Dresses are a must-have women's cruise wear, and you should bring a couple of these on your cruise. Upon choosing the right dress, the most important thing is that you feel comfortable in it.
Consider bringing a few light casual dresses that you can wear on both sea and port days. These dresses usually don't take up a lot of space in your suitcase and they are practical, so you can wear them on numerous occasions.
Based on your personal preferences, you can choose between different patterns (I prefer floral ones) and styles, including sundresses, maxi dresses, long/short sleeves (or sleeveless), spaghetti strap dresses, tight cocktail dresses, loose ones, and many others.
Cruises normally include at least one or two formal nights, meaning that you should (however it's not mandatory) wear formal clothing, so I would recommend you pack at least one formal dress or outfit for that night (I am a fan of mid-length pencil dresses, they fit so perfectly and make your figure stand out!).
On other evenings you can wear smart casual dresses, especially if you plan on eating in a dining room or specialty restaurant.
Recommended:
Women's Summer Maxi Dress Casual Loose Beach Long Tank Dress Split with Pockets A19shuye-L
STYLEWORD Women's V Neck Summer Dress Floral Sundress with Pocket
POSESHE Women's Solid V-Neck 3/4 Sleeve Plus Size Evening Party Maxi Dress Black XX-Large
GUBERRY Wrap Burgundy Red Long Sleeve Velour Christmas Party Bodycon Cocktail Dresses for Women(X-Large,Wine)
WOOSEA Women Sleeveless V Neck Split Evening Cocktail Long Dress Red
Adventour Begins is a participant in the Amazon Services LLC Associates Program, an affiliate program designed to provide a means for sites to earn advertising fees by advertising and linking to Amazon.com. When you click on and/or make a purchase through a link to an Amazon affiliate link placed on our website, we may receive a small commission at no additional cost to you.
2. Shorts/Pants/Jeans
Depending on your personal preferences, always plan to bring a couple of pairs of shorts, casual trousers and jeans, as you can combine these with nice tops and shirts. Your priority should be to feel comfortable on your cruise vacation, and cozy pants always fit perfectly.
If you are planning to book a shore excursion that includes hiking, off-road trips, or any other activity, make sure you bring a pair of sweatpants as well!
Recommended:
Hanes Women's Petite EcoSmart Open Bottom Leg Sweatpants, Ebony, Medium
KISSMODA Womens Casual Short Pants Drawstring Elastic Waist Summer Shorts with Pockets M
Lee Women's Plus Size Flex Motion Regular Fit Trouser Pant, Indigo Rinse, 22W Medium
LEE Women's Sculpting Slim Fit Skinny Leg Jean, 12, Nightingale
Lee Women's Missy Relaxed Fit Austyn Knit Waist Cargo Capri Pant, Frost Gray, 16
3. Skirts
I am a huge fan of skirts and dresses and every time I go out in port – I tend to wear them (weather permitting). You can choose the pattern, the length, the width based on the occasion you need them for. I like both casual and formal skirts, however, I feel most comfortable in long floral skirts.
And not to mention how beautiful you will look in photos!
Recommended:
JACK SMITH Black Short Knitting Skirts for Women Elastic Waist Plus Size (XL,Black)
NASHALYLY Women's Chiffon Elastic High Waist Pleated A-Line Flared Maxi Skirts(White,M
Floerns Women's Plaid High Waist Bodycon Mini Skirt Grey Orange XL
Womens Premium Nylon Ponte Stretch Office Pencil Skirt Made Below Knee KSK45002 1073T RED M
4. Top
Whatever cruise you book, make sure you pack several pieces of t-shirts and blouses that you can wear on both sea and port days.
For everyday onboard life, I advise you to bring casual short sleeve and long sleeve tops, as well as a sophisticated shirt that you can match with elegant trousers (this is an alternative option for a formal night).
If you are a sports type of person, then wearing a laid-back t-shirt on daily basis will do the work.
Personally, I like to combine tops with some fancy trousers, capri pants, shorts or skirts as it looks casual and very feminine at the same time.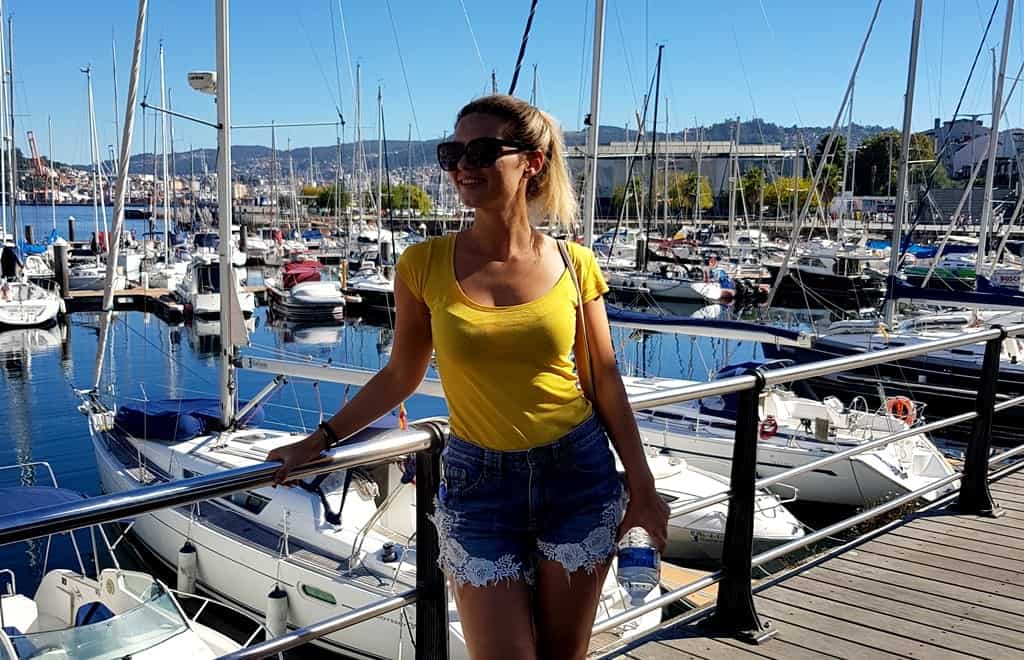 If you are joining a cruise in the colder places on the globe (say, Alaska), then pullovers, sweatshirts and hoodies are a must!
Recommended:
Asvivid Sexy Off The Shoulder Tops for Women Summer 3 4 Flared Bell Sleeve Casual Floral Blouses Tie Knot T-Shirt S Blue
Riders by Lee Indigo Women's Plus-Size Bella Easy Care 3/4 Sleeve Woven Shirt, Arctic White, 1X
Amazon Essentials Women's 2-Pack Slim-Fit Short-Sleeve Crewneck T-Shirt, Black/White, Small
Amazon Essentials Women's Classic-Fit Long Sleeve Button Down Poplin Shirt, Navy Dot, XL
Century Star Womens Fuzzy Hoodies Pullover Sport Hoodie Cozy Oversized Pockets Hooded Sweatshirt Athletic Fleece Hoodies Grey Large
4. Elegant Jacket/Blazer
I personally love elegant jackets and blazers and most often I combine them with simple plain shirts as they look fantastic for every occasion. They are a perfect fit for both casual and formal nights.
Recommended:
Cicy Bell Womens Casual Blazers Open Front Long Sleeve Work Office Jackets Blazer Dark Grey
5. Cardigan
No matter how warm your cruise destinations are, cardigans are a must as it's always breezy on cruise ships' outer decks. Make sure you bring a comfortable cardigan to keep you warm and cozy!
Recommended:
Sidefeel Women Hooded Knit Cardigans Button Cable Sweater Coat Large Grey
6. Warm Jacket/Coat
No matter where you go, bringing a jacket is advisable as the weather on a cruise can be very unpredictable and changeable.
You can simply pack a light jacket or a warm winter jacket based on the destination your ship is heading to.
Based on my experience, the weather can be very rainy in most ports of call (the Caribbean, New Zealand, Western and Northern Europe, etc.), so I strongly advise you to bring a light waterproof raincoat/poncho and a compact travel umbrella every time you go out in port.
Recommended:
Amazon Essentials Women's Lightweight Long-Sleeve Full-Zip Water-Resistant Packable Hooded Puffer Jacket, Pumice, Medium
Little Donkey Andy Women's Waterproof Rain Jacket Lightweight Outdoor Windbreaker Rain Coat Shell for Hiking, Travel Rose M
SY Compact Travel Umbrella Auto Open Close Windproof LightWeight Unbreakable Umbrellas
7. Gym Outfit
If you are a gym type, you can take advantage of the cruise ship's spacious and beautiful gym equipped with modern workout equipment and machines. Towels are always provided onboard the ship, however, you will need to bring your own workout outfit.
Make sure you pack at least a pair of workout tops, leggings/sweatpants, and a sports bra that dries quickly and provides you with comfort.
Recommended:
CRZ YOGA Women's Naked Feeling Workout Leggings 25 Inches – 7/8 High Waist Yoga Tight Pants Buttery Soft Black Medium
Dragon Fit Sports Bra for Women Longline Padded Bra Yoga Crop Tank Tops Fitness Workout Running Top (Small, Black&Grey Camo)
RBX Active Women's Plus Size Fashion Flowy Yoga Workout Tank Top Tunic S21 Charcoal 1X
8. Bathing Suits
If you are planning to spend time at a cruise ship's pool deck or at a beach in port, make sure you bring at least two pairs of bathing suits (so you can swap the wet one for a dry one).
You can choose between one-piece and bikini swimsuits – I prefer a two-piece as I like my belly to breathe, however, I saw so many ladies on cruise ships wearing one-piece bathing suits.
Recommended:
CUPSHE Women's V Neck One Piece Swimsuit Ruffled Lace Up Monokini Green
CUPSHE Women's Red Floral Print Knot Adjustable Bikini Sets, M
SouqFone Womans Plus Size Bathing Suit Black Swimsuits – XXX-Large, Black Leopard
9. Bathing Suit Cover-Ups
If you plan any water-related activities, don't forget to pack bathing suit cover-ups. You might not need them outside in port at the beach, but you will certainly need them on a pool deck or when walking around the ship in your swimsuit.
Ekouaer Swimsuit Cover Up Henley Shirts Beachwear for Women Black
Ekouaer Womens Beach Short Sarong Sheer Chiffon Cover up Soild Color Swimwear Wrap,Black,Large
10. Shoes
When it comes to shoes, you should think of bringing these:
Recommended:
SODA Womens Topic Espadrille Sandal Shoes Natural Nubuck 8
New Balance Women's FuelCore Nergize V1 Sneaker, Black/Magnet, 7.5
Crocs Unisex Crocband Flip Flops | Sandals for Women, Ice Blue, 7 US
isotoner Women's Terry Slip On Clog Slipper with Memory Foam for Indoor/Outdoor Comfort, Heather Grey Rounded, 7.5-8
Skechers womens On-the-go 600 – Brilliancy Sport Sandal, Black, 10 US
DREAM PAIRS Women's Black Nubuck High Heel Pump Shoes – 7 M US
DREAM PAIRS Sole Classic Women's Casual Pointed Toe Ballet Comfort Soft Slip On Flats Shoes Gold Glitter Size 9.5
11. Accessories (Shawls, Scarves, Sunhats, Bags, Sunglasses)
If you like to dress up in the evening, make sure you bring a couple of shawls and scarves as they match perfectly with dresses and formal outfits.
The sunsets and evenings spent on outer decks are the most romantic and memorable moments that you'll want to remember, and feeling comfortable and warm will add up to the overall impression.
Recommended:
Women's Pashmina Blanket Scarf Shawl Wrap Cashmere Feel Scarves Bridal Christmas Gift (One Size, Z-Sliver Grey)
If you are going to warm places, don't forget to pack a pair of sunglasses and sunhats!
Ray-Ban RB3025 Classic Aviator Sunglasses, Gold/Green Polarized, 58 mm
FURTALK Womens Beach Sun Straw Hat UV UPF50 Travel Foldable Brim Summer UV Hat (Aa-Mixed Beige, Medium)
As for the bags, you will need a few of them. Keep in mind that the only thing you will constantly need to carry around you on the ship is your ship ID card, and here I suggest you get a lanyard as it's very handy.
In case you need more space to store a cell phone, lipstick and other small items, bring a clutch or evening purse. I used to have a plain black purse that I could carry on both formal and informal occasions, and it was very useful.
For the pool or a beach, bring a large tote bag where you can store everything you possibly might need, from a towel, a bottle of water (I suggest a collapsible water bottle), an extra swimsuit, cruise card, sunglasses, etc. I prefer the ones that contain several compartments and a zipper.
If you are joining a shore excursion in nature, bring insect repellent.
Wrapping Up
Whatever you decide to pack for your cruise – don't stress over it! Always remember – cruising is all about taking it easy, and you shouldn't be overwhelmed by things such as packing.
I hope my post helped you plan your cruise holiday!
Adventour Begins is a participant in the Amazon Services LLC Associates Program, an affiliate program designed to provide a means for sites to earn advertising fees by advertising and linking to Amazon.com. When you click on and/or make a purchase through a link to an Amazon affiliate link placed on our website, we may receive a small commission at no additional cost to you. Read my full disclosure policy here.