From La Spezia port, you can easily take a trip to Cinque Terre and Portovenere, the most beautiful and picturesque parts of the Italian Riviera. Located in the northwestern part of Italy in the province of La Spezia, part of the Liguria region, these breathtaking sites were included on a World Heritage Site list by UNESCO in 1997 and today represent a must-see attraction for all visitors coming to Liguria.
Cinque Terre are made up of five medieval villages of Riomaggiore, Manarola, Corniglia, Vernazza and Monterosso al Mare, hanging on the cliffs of famous Golfo della Spezia or Golfo dei Poeti – The Gulf of Poets.
Portovenere, a medieval town located in the most beautiful part of the Gulf of Poets is often considered as the "sixth" Cinque Terre jewel due to its charm and beauty.
See the distance between La Spezia port and Cinque Terre on Google maps
Day Trip to Cinque Terre & Portovenere from La Spezia Port
Cinque Terre and Portovenere are well connected to the cities of Florence, Pisa, Genoa, and their airports, as well as to the port of La Spezia where cruise ships dock.
The whole province is full of natural and historic sites of stunning beauty and it would take days if you decide to pay a visit to each of them. But if you are limited with time (like I was), you can book an organized cruise excursion from La Spezia cruise port that covers the highlights of Cinque Terre!
I had the opportunity to enjoy Cinque Terre villages on a boat tour, and I want to share with you some useful tips and the tour flow!
If you want to read the full La Spezia cruise port guide, check my article: Port of La Spezia Guide & Best Shore Excursions
How to Get to Cinque Terre and Portovenere?
Based on your preferences and the time you have, the best ways to visit Cinque Terre are:
1)  On foot / by hiking – There are many walking and hiking trails connecting villages, so nature and adventure lovers can at the same time do some sports while exploring the region.
2)  By train – There is a very good connection between villages, the ride is only several minutes from one village to another and trains depart every few minutes.
3)  By boat – The best way to explore Cinque Terre for photograph lovers and those who want to take a glimpse of the villages in a relatively short time.
It's also possible to reach places by car or bus, but bear in mind you might have difficulty getting around as villages are tiny, medieval, and usually packed with tourists.
For detailed information on how to get to Cinque Terre from La Spezia cruise port (schedules, timetables, prices), check out my Guide to La Spezia Port & Best Shore Excursions
Stroll through Portovenere
Our full-day tour started in the medieval fishermen's town of Portovenere, famous for its rich history, stunning viewpoints overlooking the Bay of Poets, and romantic myths and legends. The first glimpse of the colorful harbor and narrow old town streets made me fall in love with it immediately.
Our stroll began at the old town's main street – Via Capellini, hidden behind picturesque facades of buildings lining the harbor. The street itself is very lively and full of touristy shops and artisanal stores, bakeries offering local delicacies and inevitable "gelato" ice cream, a must-try Italian dessert. If you are looking for some souvenirs, this is the place where you should search as Portovenere is slightly cheaper than Cinque Terre villages.
If you have enough time, you can make your way up to the Castello Doria, medieval castle, or head toward the end of Via Capellini. Once you reach the end, you can walk up to the fortified promontory where at the highest point stands the Church of St. Peter – definitely the most beautiful landmark of the town.
Although it looks like a fortified castle from the distance, once you step into the church you'll be amazed by its simplicity and medieval interior. Name of Portovenere – Portus Veneris, refers to a temple to the goddess Venus that once used to stand at the place where the church is. Take your time to explore the area and get your camera ready, as there are so many landscape photos to be taken.
Next to the church, in the same area is located Lord Byron's cave – Byron's Grotto, one of the most beautiful sea caves where 19th century English poet found his inspiration. There is a stone wall surrounding it and if you take rocky steps down you will reach glimmering green waters where many tourists decide to go for a swim.
As I didn't have much time, I headed back to the harbor where I took a coffee and chocolate waffle (chocolate addict, by the way!) in one of the restaurants lining the coast. Restaurants offer typically Mediterranean and Italian cuisine, so you can indulge in some pesto, pasta, or delicious seafood time permitting. Right below the restaurant area, there is a small beach, usually packed with people in the summertime.
Cinque Terre Boat Tour
After nearly 2 hours spent in Portovenere, it was time to leave this fairytale place and embark on a ferry taking us to Monterosso al Mare, last in the line of the Cinque Terre villages.
There are few boat companies offering transfers to villages with departures several times daily. Tickets can be bought straight at the pier or if you are traveling on a ship excursion or tour agency, a tour guide will provide it for the whole group. There's also the possibility of renting a private boat for those who want to make the whole experience more special.
A boat ride is the best option if you don't have much time and still want to see all villages. It lasts up to 1 hour, as the boat stops at each village to drop off and pick up passengers. It is usually commentated, which makes it dynamic and you get to learn things about each village.
Our ferry boat was a double-decker, and I advise you to go to the upper deck if yours one is too, because the view is fantastic. Be careful, though – If the sun is strong and you don't have any sunscreen or hat, you might get sunburnt as boats normally don't have any cover or shade.
Suggested article: 25 Top Shore Excursions Packing List Items
And one more piece of advice – Make sure you take up a seat on the starboard side of the boat, so you can admire Cinque Terre villages up close.
Check out Cinque Terre boat tours from La Spezia
As the boat ride begins, get your camera ready because you're about to witness the beauty of nature and architecture blend in all their glory! Starting from Portovenere, you will be approaching villages in the following order:
1. Riomaggiore
The village is unique for its colorful facades and stone houses climbing up along the ridges with an amazing sea view. It's a perfect place for those in search of breathtaking sunsets and romantic moments. The name of the main street tells a lot about the atmosphere in the village itself – Via dell' Amore – Lover's Lane.
2. Manarola
It's the oldest and second-smallest of all villages. Built on a rock 70 meters above sea level, it boasts the 14th century Church of San Lorenzo and a tiny square filled with seafood restaurants. There is a walking trail connecting Manarola and Riomaggiore and it takes up to 20 minutes to walk from one village to another.
3. Corniglia
This is the only Cinque Terre village that cannot be accessed from the sea, so I had the opportunity to only see it from distance. It's built on the top of the promontory 100 meters above sea level and surrounded on three sides by vineyards and terraces. It's got a long wine-growing tradition and rich history, as ancient Romans were the first ones to build their settlement here. The village is well connected to other places by train and walking paths and is worth visiting. Even famous Boccaccio wrote about Corniglia in his Decameron.
4. Vernazza
This is the village that I admired the most once we approached it. It's got a beautiful beach and restaurants overlooking the sea. It's dominated by the 11th century Belfort Tower built on the top of promontory and boasts few churches, out of which the Church of St. Margaret of Antioch dominates the town landscape.
5. Monterosso al Mare
This village was our last stop where we stayed for 1 hour. Read below what you can visit in Monterosso al Mare.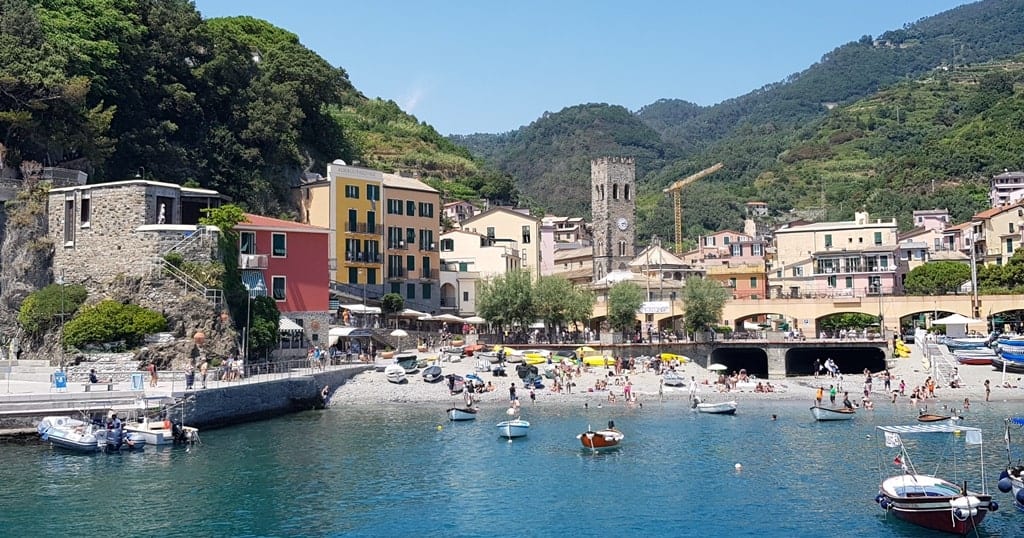 Best Things to Do in Monterosso al Mare
The last of five Cinque Terre villages is the largest of all of them. It's a very touristy place packed with visitors, especially in summer because it has a long stretch of beach popular for both locals and tourists.  It has a lot of hotels, souvenir shops, restaurants, bars, "gelaterias" but also historical monuments.
One of them is 13th century gothic Church of St. John the Baptist, which I definitely recommend you to take a peek at, or the baroque Chapel of Mortis et Orationis located right next to it. You cannot miss these two as they are the most outstanding buildings in the village and full of visitors at all times.
The place also has a very long beach where you can rent sunbeds and umbrellas but these can be quite expensive so ask for the price first! There are few bars and restaurants there, as well as a long stretch of shops where you can buy local stuff and a train station is just a stone's throw away from there!
Our group had an organized wine tasting in one of the stores, so I had the opportunity to delight in local Italian wine. And I recommend it, as local wines are extraordinary! There are many wine cellars in the town and in the whole region which makes wine tasting the inevitable part of the authentic local experience.
And, of course, I couldn't stop myself from indulging in delicious Italian gelato. A perfect dessert for the perfect end of my Cinque Terre day trip. After an hour spent in Monterosso al Mare, we took a train to Levanto and then switched to the bus waiting for us at the parking.
Where to Stay in Cinque Terre?
If you decide to come and stay longer than one day, residents suggest finding accommodation in the nearby town of Levanto, as it's much cheaper than in Cinque Terre and the offer is various. You can also choose to stay in La Spezia port. Both places are well connected to Cinque Terre and trains depart every few minutes. Genoa, Lucca, Pisa, and Florence are also relatively near, so if you are planning to spend several days in this part of Italy, don't forget to visit these marvelous cities as well.
Check the best hotels in Levanto
Read my detailed Guide to La Spezia Cruise Port (+ Best Shore Excursions/Day Trips)
Check out today's cruise deals from Cruise Critic!
---
This article may contain affiliate / compensated links. For full information, please see my disclaimer here.
You May Also Like:
Need a Reliable Travel Insurance? Get a Quote!