Welcome to the port of Adelaide!
Adelaide is the capital city of South Australia and the fifth largest city in Australia after Sydney, Melbourne, Brisbane and Perth. The city is located on the Adelaide Plains on Australia's southern coast, north of the Fleurieu Peninsula, between St Vincent Gulf in the west and Mount Lofty Ranges in the east. Known for its rich history, arts festivals, multicultural communities and beautiful rural landscapes, Adelaide is a frequent stop on Australia cruise itineraries.
In this article, read about:
Port of Adelaide (Adelaide cruise terminal, getting around)
Top 10 things to do in Adelaide port and the best Adelaide shore excursions
Also visit our cruise port guides to Sydney, Melbourne, Brisbane, Esperance, Darwin, Cairns, and New Zealand cruise ports
Port of Adelaide Info
Cruise ships dock at Port Adelaide Passenger Terminal, located in the industrial suburb of Outer Harbour on Lefevre Peninsula, 29 km/18 miles (a 35-minute drive) northwest of Adelaide city center, also known as Adelaide central business district (Adelaide CBD). Port Adelaide is the seaport suburb of Adelaide and the main cruise and ferry port for the city of Adelaide, owned and operated by Flinders Ports company.
The Outer Harbour consists of eight berths, out of which the Berth 2 (located on Oliver Rogers Road) accommodates Port Adelaide Passenger Terminal which is used for large cruise vessels. The cruise terminal building offers modern facilities including a tourist information center where you can pick up city maps, free wi-fi, a few souvenir shops, a luggage area, an ATM, and toilets.
Useful info:
The currency in Australia is the Australian Dollar (AUD). 1 AUD equals approx. 0.70 USD. Credit cards are widely accepted. See the

currency converter

Adelaide cruise terminal is well connected to Adelaide CBD (downtown) by train. Outer Harbor Railway Station is located right across the street from the terminal building and trains run every 30 minutes. The train ride to Adelaide Railway Station lasts 40 minutes. You can find the timetables and information on metroCARD, fares and MetroTickets on the official Adelaide Metro page

https://www.adelaidemetro.com.au/

Uber and taxis are available in this area. You'll find numerous taxis in front of the terminal building, as well as parking for tour buses. Taxis are metered and the ride takes around 25-30 minutes one way. Expect to pay around $60 per vehicle. The majority of taxis take credit cards (confirm with the driver in advance).
Shuttle buses may be provided by your cruise line to take you to Adelaide CBD (check this information in your daily cruise planner). They may have an additional charge. The shuttle bus pick-up/drop-off point is normally at Rundle Mall, situated in the heart of Adelaide CBD. The shuttle bus ride takes 30-40 minutes each way.
A public bus is available on Oliver Rogers Rd, however, there is no direct link with Adelaide CBD.
There are free City Connector buses that operate in Adelaide CBD, linking its most popular tourist attractions. The service operates on two loops: a smaller inner city loop (buses 99A and 99C) as well as an extended city loop around the city and North Adelaide (98A and 98C). If you are planning to move around the city center, the best solution is to use 99 City Connector (inner city loop) that will take you to Rundle Mall, Parliament House, the South Australian Museum and MOD Science Museum, the Art Gallery of South Australia, East End, Hutt Street, Central Market and Chinatown. Find more information on

https://www.adelaidemetro.com.au/

Port Adelaide Passenger Terminal is quite remote so you won't find any shops or supermarkets nearby (except for a few souvenir shops inside the terminal building). The nearest shopping you can find is at Port Adelaide (the town), located around a 15-minute drive from the cruise terminal. In Port Adelaide, you can also visit the South Australian Maritime Museum, the National Railway Museum, and South Australian Aviation Museum.
Adelaide International Airport is located close to the city, approximately 22 km/14 miles (a 30-35 minute drive) southeast of the port of Adelaide.
Adelaide is an easy city to navigate by car. You can

rent a car

or

book a private transfer here

Port authorities' official webpage is

https://www.flindersports.com.au/

Check out the top-rated hotels in

Port Adelaide

and

Adelaide CBD

The city of Adelaide has hot, dry summers and cool winters with moderate rainfall.
Suggested article:

What to Pack for a Cruise – Top 50 Cruise Essentials
Top 10 Things to Do in the Port of Adelaide
The best way to get around Adelaide CBD is on foot. Alternatively, you can circle around the main Adelaide sights on the free city buses (99 City Connector) that have clockwise and anticlockwise routes that include numerous stops at main city attractions, beginning at Victoria Square and including Adelaide Railway Station. These buses feature ground-level access ramps so they can accommodate wheelchair users.
Adelaide's central business district is centered around Victoria square, a large green city park with fountains, statues, a promenade and many places to enjoy. Here, you'll find the Adelaide Town Hall and King William Street, one of the main tourist and shopping hubs in the city. Only a 10-minute walk north of Victoria Square, you'll come across the Rundle Street and Rundle Mall shopping district that is entirely pedestrianized. It is the shopping core of the city where you'll find the city's top stores, specialty shops, cafes and pubs.
Parallel to Rundle Street, North Terrace street is lined with numerous governmental, financial and cultural institutions. Also known as the cultural boulevard, here you'll find the University of Adelaide, Art Gallery of South Australia, South Australian Museum, Adelaide Convention and Festival centers, Adelaide Botanic Gardens, a hospital, cultural landmarks, Adelaide railway station and many more.
Adelaide Central Market is the food hub of the city located at a stone's throw from Victoria Square. This indoor gourmet heaven was established in 1869 and features over 70 traders offering fresh produce including organic fruits, vegetables, premium quality meat, cheeses, fish, chocolate, honey, wines and other goods. Right next to it, Chinatown is diverse, offering a unique blend of food courts, upscale restaurants, wine bars, pubs and cafes.
Adelaide city is also known for its beautiful beaches. Glenelg Beach is located 12 km/7.5 miles (a 20-minute drive) southwest of Adelaide CBD and is known for its sandy beach, green spaces, nature reserve and picturesque marina. Further in the north, Henley Beach is another popular spot famous for its parks, excellent seafood restaurants, bustling town square and a boardwalk pier with a waterfront plaza. This beach is also located a 20-minute drive west of Adelaide CBD.
1. Adelaide Zoo
Adelaide Zoo is a green oasis and one of the city's main attractions located only 2 km/1.2 miles (a 25-minute walk or less than a 10-minute drive) north of Adelaide CBD. The iconic zoo is home to Australia's two only giant pandas and thousands of native and exotic animal species.
Adelaide Zoo is adjacent to Adelaide Botanic Garden and features interactive animal experiences and animal shows such as a meerkat encounter, giraffe and penguin feeding, a yellow-footed Rock-wallaby encounter and many more! Make sure you visit Envirodome, an interactive visitor center with a vertical garden and terrarium where you can get up close to fascinating reptiles, amphibians, fish and invertebrates. Find more information about animals, experiences, opening hours and prices on https://www.adelaidezoo.com.au/
Check out Adelaide Zoo tours and tickets
2. Adelaide Botanic Garden
Adelaide Botanic Garden is located at the eastern end of North Terrace street, next to the Adelaide Zoo and only a 20-minute walk from Victoria Square and the city center. This verdant oasis expands on 124 acres (50 hectares) and features tree-lined walkways, old and rare plants such as Wollemi pine, water lily and lotus ponds, flower gardens and magnificent architecture.
The Adelaide Botanic Garden is part of the Botanic Gardens of South Australia, together with the adjacent State Herbarium of South Australia, Wittunga Botanic Garden and Mount Lofty Botanic Garden.
Admire the architecture of the Palm House (aka Tropical House), a Victorian-era glasshouse, visit the Museum of Economic Botany, enjoy some fine food or take a coffee break among some of Australia's finest plant collections. The garden is open every day and the entrance is free. Find more information on https://www.botanicgardens.sa.gov.au/
Explore Adelaide Botanic Garden tours and activities
3. Art Gallery of South Australia
Housed in an elegant, colonnaded Victorian building dating from the second half of the 19th century, the Art Gallery of South Australia (AGSA) features one of Australia's largest and finest art museum collections from its colonial days to the present. It is located on the North Terrace boulevard, next to the University of Adelaide and Adelaide Botanic Garden.
This impressive gallery contains more than 47,000 works of art spanning 2000 years, including paintings, sculpture, prints and drawings, photographs and videos, textiles and clothing, ceramics, glass, metalwork, jewelry and furniture. Besides fascinating collections from all over the world, the gallery also offers cultural and educational programs, guided tours and venues to hire. The general entry is free, however, a fee may be applied to some exhibitions. Get more info on https://www.agsa.sa.gov.au/
Check out the Art Gallery of South Adelaide tours and activities
4. South Australian Museum
The South Australian Museum is situated in the heart of Adelaide's cultural precinct, right next to the Art Gallery of South Australia and the University of Adelaide. Housed in a historic, 5-level building, the museum holds the world's largest and most impressive collection of more than 30,000 Australian Aboriginal cultural items.
It contains a wide range of collections including the Australian Polar collections, biological sciences collections, paleontology collections, mineral sciences collections, humanities collections and library collections. The museum also features temporary exhibitions and houses a research center that is a global leader in opal and copper research. The general entry is free. Find more information on https://www.samuseum.sa.gov.au/
Check out the South Australian Museum tours and tickets
5. Cleland Wildlife Park
Located in the Adelaide Hills, only 18 km/11 miles (a 25-minute drive) southeast of Adelaide CBD, Cleland Wildlife Park is a major tourist attraction and a protected area where you can get close to the native animals in their natural environment.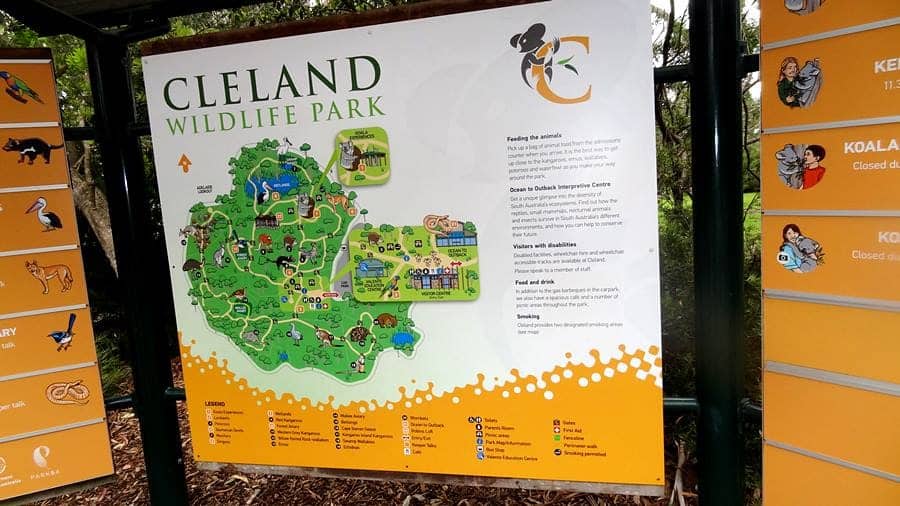 This amazing wildlife park offers experiences such as hand-feeding kangaroos, wallabies, and emus, holding reptiles, or up-close encounters with koalas, wombats, and other native fauna. The park is home to other native animals such as Tasmanian devils, southern hairy-nosed wombats, western pygmy possums, bilbies, yellow-footed rock wallabies, dingoes, and a variety of native and exotic birds and reptiles! Fun, educational and interactive experiences await you in this fantastic 35-hectare wildlife conservation park. Get more information on https://www.clelandwildlifepark.sa.gov.au/
Cleland Wildlife Park is adjacent to Mount Lofty Summit. Some guided excursions include a stop at Mount Lofty Summit to enjoy the magnificent panorama over Adelaide and St Vincent Gulf. If you are traveling to Cleland Wildlife Park directly from the cruise terminal, the driving distance is 50 minutes.
Explore Cleland Wildlife Park tours and activities
6. Penfolds Magill Estate
Adelaide is considered the wine capital of Australia and the Adelaide Hills region is renowned for its exquisite and premium quality wines. There are more than 60 wineries in the region and one of them is Penfolds Magill Estate, situated 34 km/21 miles (a 40-minute drive) southeast of Adelaide cruise terminal and 8 km/5 miles (a 15-minute drive) east of Adelaide CBD.
Established in 1844, Penfolds is one of Australia's oldest, iconic wineries, home of Penfolds wines and Australia's most prized wine, Penfolds Grange. Magill Estate offers amazing wine experiences that include the exploration of vineyards and underground cellars, the learning of the winemaking process, storytelling, wine tasting and dining. Get more information on the Penfolds' official webpage https://www.penfolds.com/
Check out Penfolds Magill Estate tours and activities
7. Barossa Valley
Located 75 km/47 miles (a 50-minute drive) northeast of Adelaide port and Adelaide CBD, the Barossa Valley is an Australian award-winning wine region and home to big-name wineries such as Penfolds, Wolf Blass, and Jacob's Creek.
Besides more than 150 wineries and 80 cellar doors, Barossa Valley encompasses three major towns: Tanunda, Angaston and Nuriootpa, located within a short driving distance from each other. The Barossa Valley is home to over 40 wine grape varieties and is primarily known for its Barossa Shiraz, a grape variety used to produce red wine, among which Penfolds Grange and Henschke Hill of Grace are the most famous ones.
The Barossa Valley is also renowned for its local cuisine and thriving food culture influenced by several generations of German and English settlers who arrived to the area in the 1840s. The region boasts numerous bakeries producing traditional German pastries, butchers who produce German-style meat products, and artisan cheesemakers. The Farmers' Market is a marketplace where the local food sellers sell their fresh produce once a week. Read more about Barossa's wineries and offer at https://www.barossa.com/
Explore Barossa Valley tours and activities
8. Hahndorf 
Hahndorf is a small charming town nestled 55 km/34 miles (a 55-minute drive) southeast of Adelaide cruise port and 25 km/15.5 miles (a 25-minute drive) southeast of Adelaide CBD. Tucked away in the Adelaide Hills, the town was founded by German settlers in the early 19th century and is Australia's oldest surviving German settlement.
The town and its residents are proud of their German heritage embodied in the town's cuisine, architecture and historic landmarks such as St Michael's Lutheran Church, St Paul's Church, and Hahndorf Academy which houses the German Migration Museum. With its lovely shops, galleries, bakeries, pubs, restaurants and smallgood outlets, Hahndorf has become a tourist hotspot in recent years and is a great day trip from Adelaide.
Hahndorf is also famous for its wineries, among which the Hahndorf Hill Winery, the Lane Vineyard, Somerled Wines, and Sidewood Estate are the popular ones.
Explore Hahndorf tours and activities
9. Jacob's Creek Cellar Door
Jacob's Creek is Australia's leading wine brand whose origins date back to 1847 when Johann Gramp planted his first vineyard along the banks of Jacob's Creek in the Barossa Valley.
Set in the heart of the valley, Jacob's Creek Cellar Door offers a wide range of immersive wine experiences and facilities that you can enjoy, including the walking trail along the banks of the creek. Find more information on https://www.jacobscreek.com/
Check out Jacob's Creek tours and activities
10. McLaren Vale
McLaren Vale is a town situated 61 km/38 miles (a 1-hour drive) south of the port of Adelaide and 41 km/26 miles (a 40-minute drive) south of Adelaide CBD. Nestled between the rolling Mount Lofty Ranges and Gulf St Vincent beaches, the picturesque town is home to some of the world's oldest grape vines.
Mc Laren Vale is not only known for hundreds of vineyards and cellar doors, but also for its scenic beaches, local wildlife, and rich culinary and art scene. While there, do not miss out on visiting d'Arenberg Winery, one of the most authentic wineries known for The Cube, an avant-garde structure with its top-floor tasting room. Read more on https://www.darenberg.com.au/
Explore McLaren Vale tours and activities
Wrapping Up
Whether you decide to explore the city's museums and galleries, go shopping, take a beach break or go for a wine tasting, the port of Adelaide offers many choices for everyone's taste! Make sure you plan your day ahead to get the most out of this great port of call!
Also visit our cruise port guides to Sydney, Melbourne, Brisbane, Esperance, Darwin, Cairns, and New Zealand cruise ports
---
You May Also Like:
25 Top Shore Excursion Packing List Items
What to Pack for a Cruise – Top 50 Cruise Essentials
Women's Cruise Wear – Top Cruise Essentials for Ladies
Australia & New Zealand Cruise Port Guides
This article may contain affiliate / compensated links. For full information, please see my disclaimer here.