Shore Excursions Staff is a position onboard cruise ships whose main duties consist of promoting, selling, and dispatching shore excursions in various ports of call worldwide. It is part of the Shore Excursions Department whose direct supervisor is Shore Excursions Manager, assisted by Assistant Shore Excursions Manager.
In this article, I want to give you a quick overview of why I love my cruise ship job of Shore Excursions staff!
If you want to read a detailed article about my job, check out: Life of Shore Excursions Staff onboard a Cruise Ship: Job Description & Daily Duties
Also, if you consider applying for a cruise ship job, you might want to have a look at the following posts:
Working on a Cruise Ship: How to Apply for Cruise Ship Jobs?
10 Things to Know before Applying for a Cruise Ship Job
New Hire? This is How your First Day on a Cruise Ship Looks Like
So, back to the topic! Read below the 3 reasons why I love my cruise ship job!
1. Going on Tours for Free as Part of Job
Have you ever imagined having a job whose part of the description is swimming with dolphins in Jamaica, driving ATV through the Mexican jungle, or going volcano trekking in the Canary Islands? All that in just a few days? FOR FREE? 
Welcome to the everyday life of Shore Excursions Staff! 
When I officially got employed by Royal Caribbean International and started preparing myself for becoming part of the Shore Excursions team, one of my main concerns was how I was going to absorb all information regarding excursions that I was supposed to sell.  
When ship docks in a port, there are sometimes more than 40 excursions offered to guests. So, how do they expect me to answer all guests' inquiries about the tours if I've never been on any?
Being a perfectionist, I put myself under pressure and started studying all the tour descriptions I found on the company's website. And, guess what? It turned out to be completely useless once I stepped on a gangway the very first day of my 7-month long journey! 
Long story short, as time was passing by I got to realize one thing! Shore Excursions Staff was actually "required" to go on as many tours as possible and get the same treatment and experience as guests! FOR FREE! 
On one hand, it was logical and I knew Shore Excursions Staff normally went on some tours. As their job is to promote and sell a tour, they need to experience the exact tour flow so they can explain and sell it to the guests.
But, come on! Some of those excursions cost a fortune and guests pay a lot of money to go on them! Helicopter ride over Grand Cayman? Or Royal Dolphin Swimming (with TWO dolphins?!) It sounded unbelievable! That was the moment I realized how lucky I was to join this amazing department.
Not always it's possible to go on tours, though. Sometimes it depends on business needs and also management. Sometimes it depends on a tour operator the company has a contract with. But most of the time all Shorex team members get to go and enjoy the tours they prefer!
 That's why if you ask anyone working on the ship who's got "best life" or "easy life" onboard, a lot of crew members will reply "Shorex". Not always easy for sure, but beautiful!
2. Working in a Small Team
One of the advantages of working as Shore Excursions Staff is that the team you are part of is relatively small, usually counts 7-15 team members, depending on the ship capacity. 
Working on a big ship means long working hours EVERY DAY (no day off) and very often dealing with challenging management. Non written business rule is that management is more careless and difficult to work with if the department is larger. Housekeeping Department or Restaurant Department onboard cruise ships can count more than 200 team members each, which makes it quite challenging as a working environment.
Onboard a cruise ship more than 60 nationalities work together and sometimes it's extremely difficult to find a common language with crew members. 
Luckily for me, that's the issue I've never had as Shore Excursions Staff! Of course, I witnessed many times my colleagues' arguments, but it's much easier to sort things out when your manager or assistant manager is focused on resolving an issue in a team of 8 people rather than 150.  
Not to mention that you get to know your team members as you spend most of your day with them. You go to events together, dinners, crew parties, team buildings, and fam trips (familiarization trips or tours you go on together as a team, to get to know the content of a tour). You share a large amount of time daily and sometimes stay in the office until late hours – just because it's fun to hang out with your team!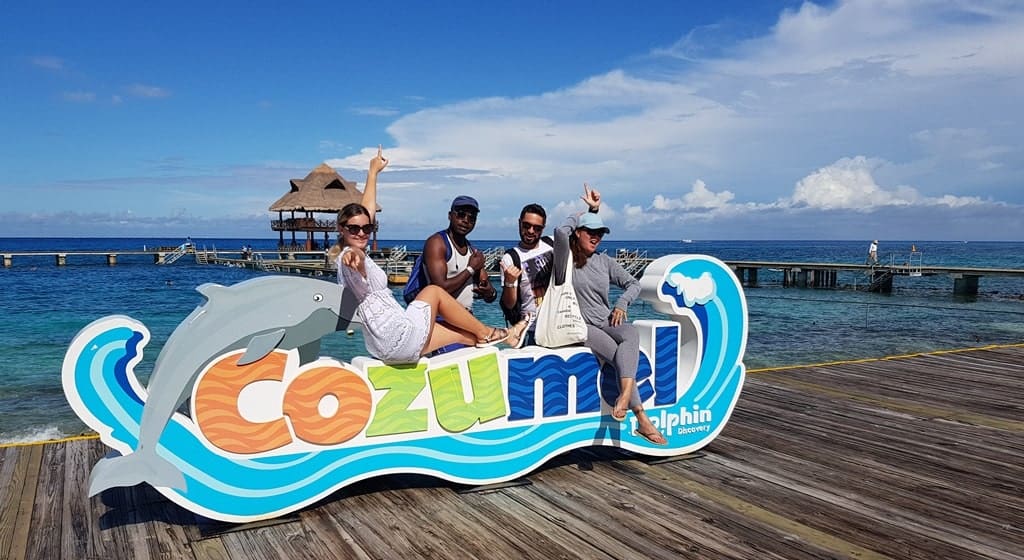 Besides, communication gets much better in a group of 8 or 10 people (it's easier to work on it, at least), both communication with management and among other Shore Excursions Staff. You get to organize things properly on time and split the duties if required. 
3. Decent Salary, Plus Commissions
Salaries onboard cruise ships largely depend on the position you perform. They can vary from 800 USD (or even less) up to more than 15 000 USD (Marine Department). 
Some departments, like the Food and Beverage Department or Housekeeping Department, rely on the tips they get from guests. Some other departments, like Marine Department (engineers, electricians, blue boys, Staff Captain, Captain…) have fixed salaries, while most of the departments (including Shore Excursions) have fixed salaries followed by commissions. The amount of commission depends on whether the team reached the target set by the head office at the beginning of each cruise. 
The salary of Shore Excursions Staff can vary and sometimes depends on how many contracts you've done with the company. It can vary from 1500 USD, depending on the company, while Shore Excursions Manager has a higher salary, up to 5000 USD, but also a much wider range of responsibilities (and doesn't get to go on tours often!). Of course, these numbers are not official and vary from company to company, but it's good to have at least an idea if you decide to apply for this job. 
Commissions
In regards to commissions, those can vary, too. The Head office normally calculates the shore excursion revenue required to earn each cruise and sets specific targets. Your commission depends on whether you hit the target or not. Commissions can be lower or higher, from 0 USD to 400 USD per cruise (rarely, but I hit more than 400 USD commission on a 5-day Christmas cruise! – Holiday time, so guests were extremely generous). Sometimes you work your ass off for nothing. Sometimes you get more than you expected. The rule doesn't exist and different companies have different commission policies. Truth is that one shouldn't set high expectations when it comes to commissions. Less is sometimes more, remember? 
The point is – you can earn decently onboard a cruise ship as you don't have to worry about paying bills, food, or accommodation. If you know how to save money, you can do so, but if you don't – then traveling and work experience are the most you can get of it. 
As for myself, I'll just say that my last contract started in June and we were doing Spanish and Italy cruise itineraries. July and August were fatal to my budget – discounts everywhere (or "ventas" in Spanish) !!!  
To Conclude
We all know there are pros and cons for every single job position, and the same goes for Shore Excursions Staff. Being part of the Shore Excursions Team can bring you enormous experience related to customer service and organizational skills, but also includes many side duties and negative aspects. 
You can read about typical day-by-day cruise flow in the life of Shore Excursion Staff in the article: Life Of Shore Excursions Staff Onboard A Cruise Ship – Job Description And Daily Duties
Until then, stay tuned!
---
You May Also Like: