Planning your Alaska cruise and wondering about the best things to do in Skagway cruise port?
Lying in the northernmost point of the Inside Passage in Southeast Alaska, 167 km (104 mi) north of Juneau and 176 km (110 mi)  south of Whitehorse, the capital of Yukon (Canada), Skagway is one of the most popular Alaskan ports offering stunning landscapes and a wide variety of activities.
The same cruise itinerary normally includes stops at both Juneau and Skagway cruise ports and then from Skagway, there is a ferry available over to Haines, another incredible city of Alaska.
In this article, I share with you:
Skagway cruise port info (cruise terminals, getting around the port)
10 awesome things to do in Skagway port of call
Skagway Cruise Port
The port of Skagway consists of three cruise terminals or docks: Broadway dock (situated at the end of Broadway), Ore dock (located at the end of the Main Street), and Railroad Dock (at the southern edge of the town). At the end of Broadway, there is also a ferry dock that can accommodate smaller ships. All the docks are located within a short walking distance from Skagway downtown.
See the map of Skagway cruise port on Google maps
The main Broadway dock can accommodate up to 3 large cruise ships simultaneously. In that case, if your ship docked the last, please consider a minimum of 10 minutes walking to reach the end of the pier where the entrance to the port is located. The pier is long and flat with nothing except for small cars offering free transportation (mainly for people with mobility issues) to the end of the pier based on a schedule with limited availability. Each car can accommodate between 2-4 passengers at a time.
Skagway is a small town with only 1100 inhabitants. The pier and downtown area are flat, suitable for any type of device and wheelchair accessible (including full-time wheelchair users).
There is no taxi service in Skagway, as everything is within walking distance. If you are into sightseeing, you can take the Street Car Tour which runs from a pier a few times daily for extra fee cash only. Make sure you use closed-toe shoes and consider 3 to 5 steps to join the car, with NO assistance, in case you're planning sightseeing independently.
There are also public S.M.A.R.T. shuttle buses available at the end of the pier and they run on a specific schedule. They are white and blue, and you will find their bus stops all over town at the blue and white poles. The ticket costs $2 per person one-way, or $5 for a day pass. These shuttle buses run in a loop every 20-30 minutes and include stops around the town, including Gold Rush Cemetery and Jewell Gardens. Wheelchair-accessible buses are available (with a ramp).
Keep in mind that the weather in Skagway may change so bring suitable clothing and be prepared for showers during the day.
Suggested article: 25 Top Shore Excursion Packing List Items
A red booth is available at the end of the pier – this is the main tour booth for all cruise ships in port on that day. All guests from the cruise ship with a tour prepaid or booked onboard normally have their meeting time by the booth or at the end of the pier/entrance in the port (however, always double-check the tour's meeting location/time indicated on your tour ticket).
Next to the red booth, one small shop sells souvenirs and a great Alaskan coffee not to be missed. There are no toilets available on the pier (they are only available downtown for an extra fee), and no free wi-fi available unless you purchase an item in specific locations downtown where you will receive code access.
The tourist information office that provides local maps is located at downtown's main street, within a short walking distance from the end of the pier.
A few minutes' walk from the end of the pier, you will spot White Pass & Yukon Route Railroad train station, offering the most incredible sightseeing train ride in the world. In case you book this tour on board, follow the instructions on your ticket as the train normally picks you up in front of the ship (so you don't need to walk to the train station). 
10 Awesome Things to Do in Skagway Cruise Port
1. Explore Skagway Downtown
The downtown has one main street where you can find numerous souvenir shops, authentic handicrafts, jewelry stores (Tanzanite International, Effy Jewelry, Diamonds International..), liquor stores, shops selling winter outfits with brands like North Face, Colombia, and a few others.
Also, Skagway port is one of the best ports for dining ashore, so if you love seafood this is the perfect place for you! Downtown, you'll find a variety of bars, restaurants, and takeout places offering delicious grilled salmon, King Crab legs, and other local dishes.
Coming to highlights of Skagway downtown, the most photographed building is located in the main street: Arctic Brotherhood Hall (A.B.Hall), a historic, unusual-looking building that housed a club formed in 1899 by a group of gold prospectors who arrived in Skagway to set off for the Klondike gold fields seeking fortune. The building is now home to Skagway Convention and Visitors Bureau.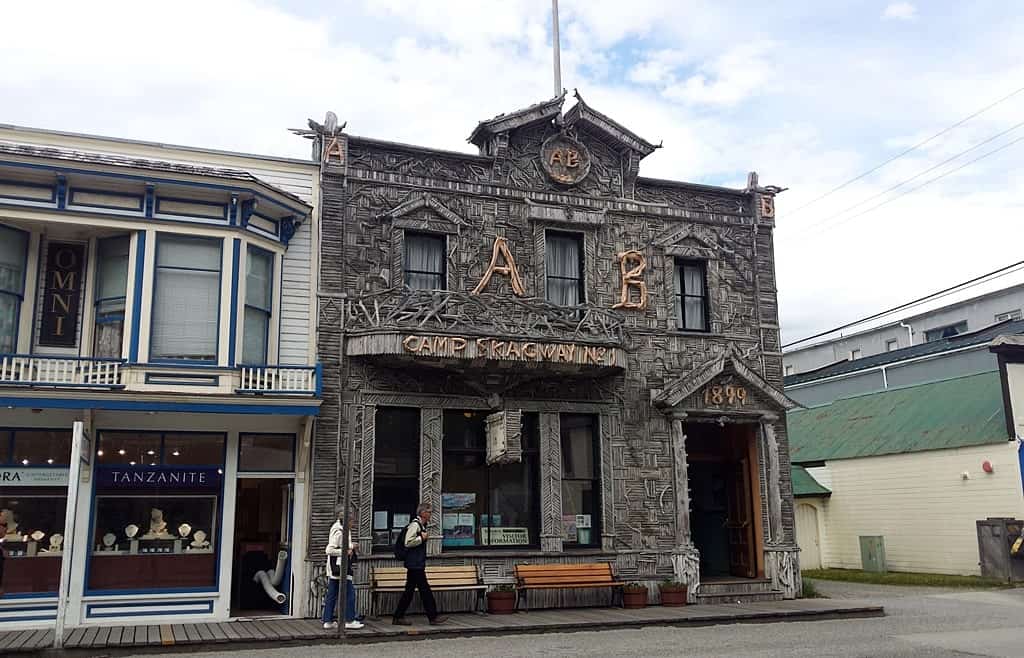 There are also a few other museums, such as the Trail of '98 Museum (Skagway Museum), a small museum housed in 1898 building featuring a great collection of artifacts showcasing the history of Skagway and the everyday life of its first settlers. There is an admission fee of $2 per person.
Housed in a historic Golden North Hotel, Corrington's Alaskan Ivory Museum is another museum worth your attention, as it contains one of Alaska's best collections of ivory art. The entrance is free of charge.
Another popular downtown attraction is a very famous excursion called Ghost & Goodtime Girls, a historic walking tour of the downtown guided by professional actresses dressed up in Klondike-style clothing. The tour normally starts at the end of the pier and finishes at Red Onion Brothel Museum, with a champagne toast and visits to the rooms of the ancient brothel. The tour guides are very informative and you get to learn about the history of the Gold Rush and how the Goodtime girls survived during the late 1890s. Get more information on the Red Onion Saloon website
2. Gold Panning at Alaska 360
Alaska 360, known as Dredge Town, is one of the most popular attractions near Skagway downtown located approximately 15 minutes drive from the end of the port Skagway. This incredible place surrounded by mountains allows you to immerse yourself in the Klondike Gold Rush era, and learn the history of mining from the days of the Gold Rush up to the present day. You get to learn about modern sled dog racing, see Iditarod sled dogs and learn what it's like to be a musher!
Visitors can experience the chill of being on the Iditarod trail in 40-below temperatures in the Museum below 40, see the Northern Lights simulation, and learn the art of gold panning after which you get a chance to pan for gold and keep everything you find (what a souvenir!).
You will tour the authentic gold dredge weighing 350 tons used for placer gold mining in the Yukon, and to top off your day, enjoy lunch and beer at the onsite restaurant and brewery.
The staff are dressed up in traditional costumes which makes the whole experience unique and unforgettable! Get more information on Alaska 360 website
Check out gold panning tours in Skagway downtown
3. Jewell Gardens
Jewell Gardens are located 10 minutes driving distance from the Skagway cruise port, on Klondike Highway, a little bit outside the downtown area.
The gardens boast an impressive selection of vegetables, blooming wildflowers, and inspiring glass garden installations. You can tour the garden on your own or on a guided tour, and to top off your day you can enjoy lunch and tea in the restaurant where the food is prepared fresh using organic ingredients from the garden! Find more information on Jewell Gardens website
Check out Jewell Gardens tours and activities on Tripadvisor and Viator
4. Klondike Gold Rush National Park
Skagway is known as the gateway to the Klondike, a region of the Yukon in northwest Canada lying east of the Alaskan border, a symbol of 1890's gold rush days when over 100.000 fortune seekers came to pan for gold in Klondike Gold Fields. Tucked between the mountains and the sea, Skagway became an entry port and home to over 20.000 prospectors who made Skagway their home in the following years.
Klondike Gold Rush National Historical Park covers a large area that protects the memory of these days, preserving the trails (a 33-mile long Chilkoot Trail, known as the "meanest" one, is among the most popular ones), towns (Skagway, Dawson City), and buildings of the gold rush era.
There are two ways to reach the White Pass Summit (aka Klondike Summit): by train and by motorcoach.
If you choose to go by motorcoach/car, you get to ride along Klondike Highway that runs parallel to the "White Pass and Yukon Route Rail Road" up to the 3,290 feet high White Pass Summit in St. Elias Range. Along the way, you will take in awe-inspiring sceneries of snow-capped mountains and glaciers, scenic vistas, and incredible sights including Dead Horse Trail, the old Brackett Wagon Road, Pitchfork Falls, and Moore Bridge. You'll make stops at stunning viewpoints allowing you to take unique pictures, while your tour guide tells you about the history of the region and the Klondike gold rush era.
To reach Klondike Summit it will take approximately 90 minutes driving each way, and an original passport it s required as you'll be crossing into Canada. This experience is not wheelchair friendly; it is considered moderate to strenuous, and walking shoes and a wind/water-resistant jacket are recommended.
Suggested article: 25 Top Shore Excursion Packing List Items
Explore Klondike Gold Rush National Historical Park tours and activities on Tripadvisor and Viator
5. White Pass and Yukon Route Scenic Railway
The epic train ride is a must-do for those coming to Skagway for the first time! This spectacular journey combines history and nature, as you get to discover Alaska's stunning sceneries while learning about the Klondike gold rush that took place here on the border of Canada and the United States at the end of the 19th century.
In 1898, one year after the gold was found in Yukon, the investors started the construction of the narrow-gauge railroad to build the route from Skagway to Yukon's goldfields. Built within three years, the iron trail was an engineering marvel as the route led through the region's dramatic, rugged mountainous terrain.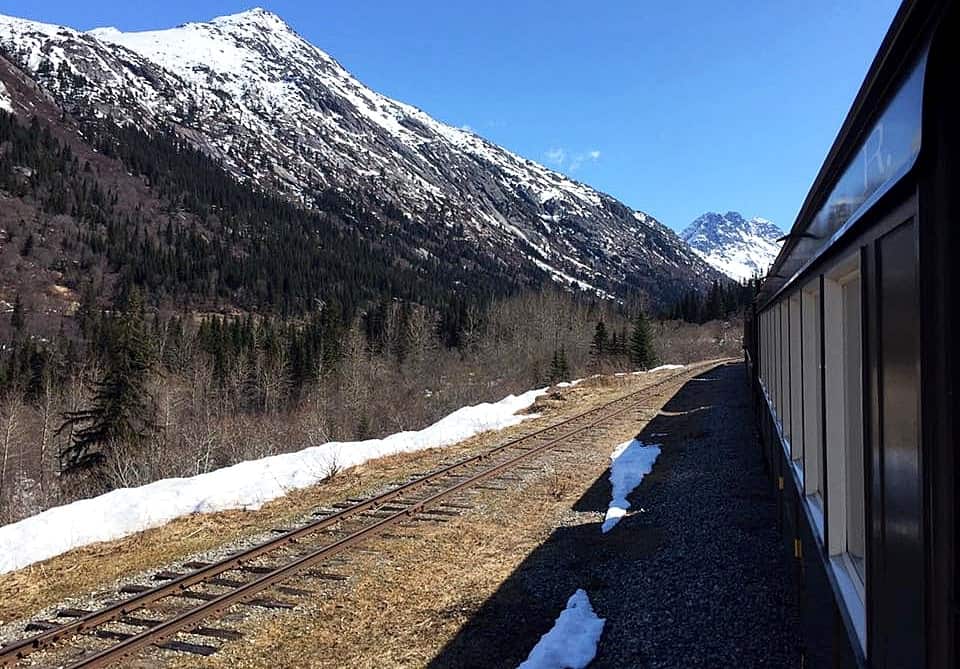 Today, visitors can travel back in time by taking a train ride up to the 3,290 feet high White Pass Summit and admire the fascinating glaciers, waterfalls, mountains, suspension bridges, rivers, lakes, and wildlife sightings.
The train ride lasts around 1 hour and 45 minutes and depending on the tour you choose, you get to see famous attractions such as the breathtaking Bridal Veil Falls, the Gold Rush Cemetery, Tormented Valley, the Skagway Scenic Overlook, and Yukon Suspension Bridge.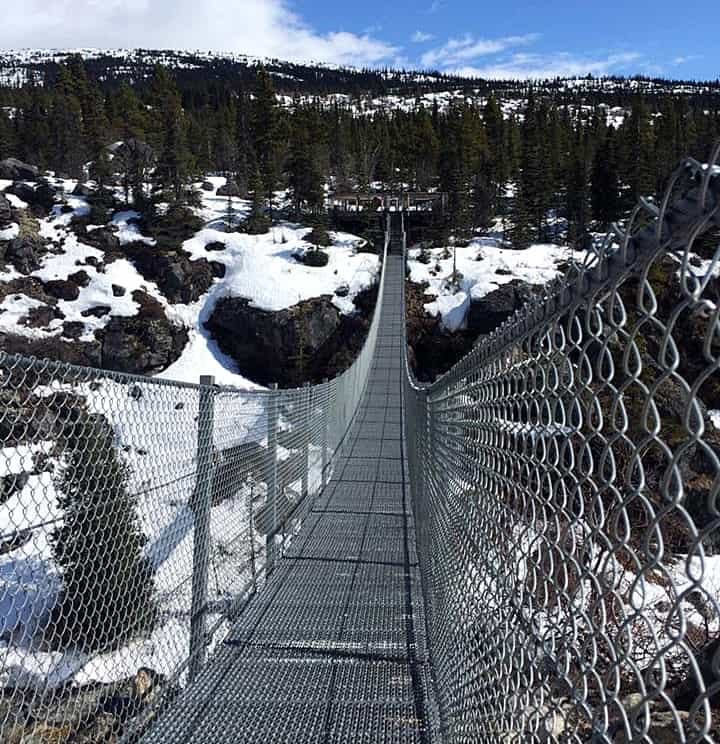 There is minimum walking involved including 3 steps to get into the train. The train ride is suitable for guests using a wheelchair, walker, or motorized scooter.  There are restrooms available onboard the train.
For this excursion, the original passport is required as the tour crosses into Canada and back into the U.S.
See the list of White Pass & Yukon Route Railway tours and activities on Tripadvisor and Viator
6. Musher's Camp and Dog Sledding Adventure
Dog Sledding is one of the most unique experiences that you can get in Alaska! You can choose between a land excursion that normally goes to one of the musher's camps in either Yukon or the historic town of Dyea, or you can choose a dog sledding experience by flight to Denver/Norris Glacier.
If you opt for a land dog sledding experience, you will join a ride through the beautiful Alaskan goldfields, countryside, and forests before heading to Musher's Camp where a professional Musher teaches you about the history of this famous Alaskan sport and dogsledding techniques. At the end of the experience, you get to cuddle adorable huskies willing to pose for a photo with you!
The dogs sledding tours normally have weight restrictions (over 113 kg/250 ib there is a surcharge fee of 100$). Children are welcome to join the activity only if they are accompanied by a parent or legal guardian. This activity is moderate, and it's not suitable for tourists with limited mobility or using a device.
Bags of any kind, including purses, backpacks, cameras, or any other items are not allowed on a dog sledding part of the tour. Lockers are available for an extra fee (cash only, between $10-20) and the facilities that you can use at the location.
Explore Musher's Camp and Dog Sledding tours and activities on Tripadvisor and Viator
7. Dog Sledding and Denver Glacier Flightseeing
If your budget allows you, get ready for the spectacular helicopter ride across endless snow-blanketed fields, ice-capped mountain peaks, dense Alaskan forests, and breathtaking glaciers!
After a 20-minute flight, you will visit Dog Sled Camp, standing atop Denver Glacier, where you'll be welcomed by professional Iditarod Dog Racing mushers and the beautiful huskies waiting to take you on a thrilling ride across the snowfields surrounded by mountains and glaciers of stunning beauty.
You will have a briefing and after you get your equipment, you will hop aboard your sleds (you have the option to stand on a sled or ride in it) and start a ride of your lifetime! Make sure you have your camera on you, as you will want to capture this unique moment.
The base for the flight is located approximately 5 to 7 minutes walk from the end of the pier. The flight can accommodate a maximum of 4 passengers at a time depending on their weight, one person may stay in the middle back seat. Wear closed-toe shoes, a warm rain jacket and bring binoculars. No bags are allowed on a ride (there are lockers available).
Check out Skagway helicopter tours
8. Grizzly Falls Zipline
Located around 35 minutes drive from Skagway port each way, in the town of Dyea, this fantastic adventure park offers thrilling rides, unforgettable fun, and spectacular views!
Upon arriving at a base camp, you'll board a shuttle truck that will take you on a bumpy ride to the zipline starting point. After you receive a briefing and safety gear, you'll start your race through gigantic spruce and cedars of the Alaskan rainforest, while admiring the awe-inspiring views of the Tongass National Forest, glacially-fed waterfalls, mountain peaks, and surrounding wilderness.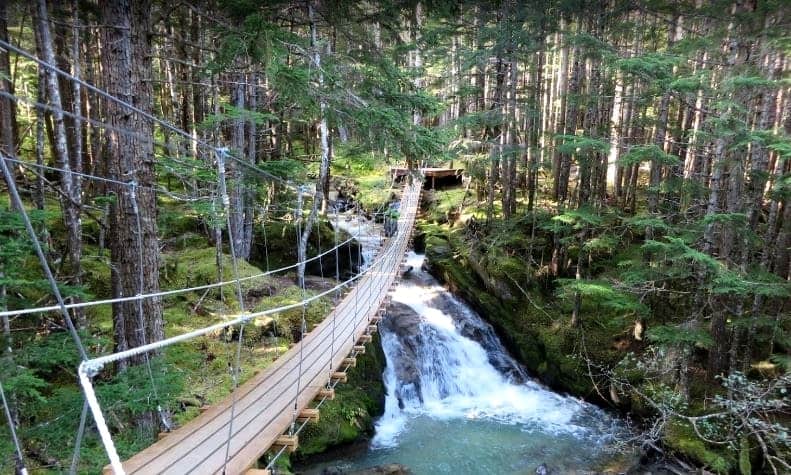 Walk on raised balance beams, enjoy eleven ziplines across waterfalls, and cross four suspension bridges on this adrenaline-packed outdoor activity.
Tips: Make sure you check the availability and specific requirements before booking, as weight restrictions apply. Lockers are available for an extra fee (cash only). The helmet and all the equipment will be provided, however, make sure you dress comfortably and bring bug repellent.
Explore Grizzly Falls Zipline tours and activities on Tripadvisor and Viator
9. Kroschel Wildlife Refuge
This fascinating wildlife refuge is located approximately a 1-hour drive from Heines, known for its breathtaking natural sceneries, wildlife, and a wide variety of outdoor activities.
To get to the Kroschel Wildlife Refuge, you need to catch an early morning ferry from Skagway to Haines and ride approximately 45 minutes each way. Once in Haines, tourists will board an organized bus for their tour and ride approximately 1 hour each way to Kroschel Park.
The refuge offers unique and incredible opportunities for up-close and personal experiences with over 15 species of Alaskan wildlife, including moose, grizzly bear, wolf, lynx, fox, reindeer, porcupine, snowy owl, wolverine, and more! The tours of the refuge are guided and the visit usually lasts up to two hours. You get the chance to touch animals, kiss a moose or watch a Kodiak bear play in her pool. The location has facilities and a souvenir shop.
If you are visiting the refuge independently, make sure you make the reservation in advance, but if you are coming on a tour, everything (including transfer) is normally organized for you. Read more about the refuge on the Kroschel Wildlife Refuge website.
This is a moderate activity and it's not wheelchair friendly. Closed-toe shoes are recommended, as well as warm or waterproof jackets.
Suggested article: 25 Top Shore Excursion Packing List Items
Check out Kroschel Refuge tours and activities
10. Ocean Raft & Wildlife Sightings
Get ready for a beautiful, scenic boat ride through the 90-mile long Lynn Canal, the deepest fjord in North America and one of the longest fjords in the world. On this spectacular journey, you'll be able to see waterfalls, secluded coves, rocky beaches, eagles, harbor seals, maybe even whales, and other Alaskan wildlife! 
Of course, you need to consider your medical background for this activity, and no pregnant women are allowed to participate as it is a speed boat and it could be partially bumpy. This activity is running in small groups and has very limited availability, so make sure you book a tour in advance. 
 Keep in mind that the weather changes a lot, so make sure you bring warm clothes or a rain jacket.
Explore Skagway ocean raft and boat tours on Tripadvisor and Viator
To Wrap Up
Skagway cruise port definitely offers unlimited options, and you should carefully plan your day in this magnificent port of call. If your cruise ship includes Juneau, make sure you check out my article: 10 Spectacular Things to do in Juneau Cruise Port (+ Insider Port Guide).
---
This article may contain affiliate / compensated links. For full information, please see my disclaimer here.
You May Also Like: