Welcome to St Thomas cruise port!
Nestled in the northeast Caribbean Sea and home to some of the world's most beautiful beaches, prime snorkeling spots, and duty-free paradise, the island of St Thomas is the most popular U.S Virgin Islands cruise port and a frequent stop in the Caribbean cruise itineraries.
In this article, I share with you:
St Thomas cruise port info (cruise terminal, getting around the port)
Top 15 things to do in the port of St Thomas and best St Thomas shore excursions
Visit also our cruise guides to Aruba, Curacao, Bonaire, Falmouth, Cozumel, Costa Maya, Grand Cayman, Perfect Day at CocoCay, Labadee, St Maarten, St Kitts, St Lucia, Barbados
St Thomas Cruise Port
St Thomas port consists of 2 cruise ship terminals (Havensight cruise terminal and Crown Bay Marina) located in Charlotte Amalie, the island's historic capital located in the south of St Thomas.
Havensight Cruise Terminal
Havensight cruise terminal is the primary port and it is the closest to the city center, approximately 2 km/1.2 miles, or a 20-25 minute walking distance. It has 3 berths and a pier is around 1 km/0.6 miles long. Right by the exit of the port, you will find Havensight Mall, a large area filled with duty-free shops, souvenir and jewelry stores, a tourist information center (make sure you pick up maps, brochures, and guides to St Thomas), tour operator booths, ATMs (the currency is US dollar), and a variety of other amenities.
See the location of Havensight cruise terminal on Google maps
Havensight cruise terminal useful info:
The port area is flat and suitable for people with walking difficulties/wheelchair users.
Havensight Mall consists of dozens of shops housed in one-story buildings, and some of the brands you'll find are Diamonds International, Colombian Emeralds, Little Switzerland, Pandora, Effy, Boolchand's (electronics), Harley Davidson, and numerous clothing and souvenir stores. There are also a variety of bars and restaurants offering international and Caribbean cuisine, such as Cravin' Crabs, Wendy's, The Smoking Rooster, Barefoot Buddha, Beni Iguana's Sushi Bar & Restaurant, China King, Subway, Dog House Pub, Pizza Amore, Great Wall (Chinese restaurant), and many others.
The bus parking and a large taxi rank are available right outside the cruise terminal gates. This is where you normally meet your tour guides for your shore excursions (however, make sure you double-check your meeting time and location indicated on your tour ticket).
Upon exiting the ship, in the northern part of the Havensight dock, you will spot Yacht Haven Grande, a beautiful marina filled with luxury yachts and recreational boats. This is where you will find some high-end stores including the renowned Louis Vuitton. Here, you will also find several upscale cocktail bars and restaurants, as well as tour operator booths offering tours and car rentals. Yacht Haven Grande is located only a 10-15 minute walk from Havensight cruise terminal.
To get to Charlotte Amalie downtown, you can take an easy 20-25 minute walk through the Yacht Haven Grande Marina, passing by Bluebeard's Castle, one of the historic landmarks of the city. The alternative is to take a taxi that you can easily find at a designated taxi station right by the exit gates of the port.
The majority of taxis in St Thomas are open-air taxis and shared (minivan style), so prices are per person. Rates are regulated so there is no chance to bargain. From the Havensight pier to Charlotte Amalie downtown, a taxi rate is approximately $5 per person each way. There are also wheelchair-accessible taxis

in St Thomas, however, they are very limited.

As for public transport, it is available but not very reliable, so it's not recommended to use it especially due to the limited time in port.
Some of the attractions near the Havensight cruise terminal are Skyride to Paradise Point (the view in the picture above), and Pirates Treasure Museum.
---
IMPORTANT INFO: Cruise ship passengers in St. Thomas are required to have both the ship card and a valid photo ID to re-enter the pier. There might be delays in getting off the ship/tour departures as St Thomas is a U.S. cruise port, and the immigration process takes place upon coming to the port.
---
Crown Bay Marina Cruise Terminal
Inaugurated in 2007, Crown Bay Marina is the newest pier located in the western part of Charlotte Amalie's bay (on the opposite side of Havensight cruise terminal), approximately 2.6 km/1.6 miles from downtown. Crown Bay pier consists of 2 berths and offers a variety of amenities.
Right by the exit of the security gates, there is a Crown Bay Center shopping mall where you can find a tourist information desk, ATMs, restrooms, duty-free shops, souvenir stores, tour operator booths, bars, restaurants, and free wi-fi (close to the bank). Some of the brands that you will find include Diamonds International, Cariloha, Del Sol, Effy, Cardow, Little Switzerland, Milano Diamond Gallery, Royal Caribbean Shop, and a few others. The shore excursion meeting place is usually here, in front of the terminal gates, however, always double-check the information on your tour ticket.
See Crown Bay Marina cruise terminal on Google maps
To get to Charlotte Amalie downtown, you can walk which I wouldn't recommend, as it's too long and not very scenic (30-40 minutes walking distance). The best way to get into the town is by taxi. A taxi rank is outside the pier, the rates are displayed and taxis are shared; it costs $5 per person one-way to go to the city center.
There are no attractions close to the Crown Bay cruise terminal, however, you can take a taxi to some of the nearby beaches. The most popular and beautiful ones are Lindberg Bay Beach (a 20-minute walk, or less than a 5-minute drive), and Brewers Bay Beach (a 5-minute drive or 40 minutes walk).
Useful info:
The official currency in St Thomas is the U.S. dollar (USD), as the island is a U.S. territory. Credit cards are accepted in the majority of shops and restaurants. ATMs and banks are available in town. See the

currency converter

St Thomas is a duty-free shopping paradise. You'll find hundreds of duty-free shops in Charlotte Amalie and Havensight cruise terminal.
The peak tourist season in Saint Thomas lasts from December to April, so you may expect crowds during this period. The weather in St Thomas is warm all year round, with breezy nights and very little rainfall during the high season. The rainiest months are August, September, October and November, and this is when tropical storms/hurricanes may occur. To get useful packing tips for your St Thomas cruise, check out my article

What to Pack for a Cruise – Top 50 Cruise Essentials

Cyril E. King Airport is St Thomas' international airport and is located 7 km/4.5 miles (a 15-minute drive) west of Havensight Cruise Pier and less than 2.5 km/1.5 miles (a 5-minute drive) west of Crown Bay Marina.
Top 15 Things to Do in St Thomas Cruise Port
St Thomas island offers lush nature, beautiful sceneries, and a variety of activities for visitors of all ages. Before I share with you the best things to do in the port of St Thomas, I invite you to sign up below and get my FREE SHORE EXCURSION GUIDE!
1. Historic Charlotte Amalie
Start your day learning about the history of the largest capital city in the United States Virgin Islands. Founded in 1666 as Thapus, the city was renamed in 1691 as Charlotte Amalie in honor of the Danish Queen. Stroll through the narrow cobblestone alleys and admire the beautiful Danish colonial architecture. The main city attractions are located within a short walking distance, so you can visit the majority of them in a few hours. Below is the list of Charlotte Amalie's highlights:
St Thomas Synagogue – The second oldest synagogue operating in the Western Hemisphere, offering guided tours and known for its floor covered by sand.
Fort Christian – A remarkable Dano-Norwegian fortification originally dating from the 1600s. Built for defense purposes, it is the oldest standing structure in the Virgin Islands and overlooks the harbor.
Blackbeard's Castle and 99 steps – One of the major highlights of St Thomas's capital, Blackbeard's Castle is a circular hilltop watchtower located in the heart of the city's historic district. This famous tower is one of the five National Historic Landmarks in the U.S. Virgin Islands built in 1679 as a military watchtower by Danish colonists. It was called Sky Tower, however, the story tells that was used by Blackbeard as a lookout point for his piracy purposes. The castle features a 14-foot-tall Blackbeard statue and its lookout point offers stunning views of the capital and its bay. The easiest way to get to the castle is to take a taxi downtown and then walk around 5 minutes to get to the bottom of the 99 steps, a long, brick staircase surrounded by lush nature and colorful flowers. The staircase will lead you to the castle. The entrance fee is around $15 and tickets can be purchased in advance.
Emancipation Garden – A beautiful park and a small plaza with a pavilion, built to commemorate the abolition of slavery.
Franklin D. Roosevelt Memorial Park – At a stone's throw from Emancipation Garden, this memorial park is a shaded relaxing area featuring a playground for kids, an ideal place for families and those in search of a peaceful oasis in the heart of the city.
Three Queens Statue – Built in 2005, the beautiful statue was erected to commemorate the three ladies who led the Fireburn Revolt against the Danish Government to improve the working and living conditions of plantation workers after slavery was abolished.
Check out Charlotte Amalie tours and activities
2. Magens Bay Beach
St Thomas has over 40 beaches boasting gorgeous white sand and crystal clear turquoise waters. Surrounded by abundant vegetation and known for its sugar-white powdery sands and calm waters, a mile-long Magens Bay is a true tropical gem ranked among the most beautiful beaches in the world!
Magens Bay is located in the north of St Thomas, approximately 6 km/3.7 miles from Charlotte Amalie and the cruise ports. This stunning beach is suitable for people of all ages (very family-friendly) and features facilities such as a bar-restaurant, sunbeds/umbrella rentals, as well as rentals of snorkel gear, kayaks, floats, paddleboats, and other equipment.
Magens Bay is an ideal beach for swimming and is most recommended when traveling with kids because of its calm waters. Snorkeling is also possible, however, the marine life right there is not the best due to the beach's sandy bottom. There is an entrance fee to the beach of $5 for adults and free for children under 13 years old.
If you seek awe-inspiring sceneries, go for an uphill hike to enjoy some great scenic views of the bay, and on your way back, check out the Mountain Top, an observation deck offering spectacular views of the Magens Bay. A taxi from either of the cruise ports to Magens Bay costs around $10 – $15 per person one-way and the ride takes approximately 20-25 minutes.
Check out Magens Bay tours and activities
3. Mountain Top
Visit the highest point in St Thomas to get breathtaking views of Magens Bay and neighboring islands while sipping their world-famous Banana Daiquiri. Rising 1,500 ft above sea level, Mountain Top offers not only spectacular views but also features a large duty-free shop where you can find authentic souvenirs, spirits, clothing, and much more! There is also a bar so you can enjoy cocktails and the renowned liquor while taking in the best view in St Thomas!
Many tours include a stop at Mountain Top, but if you decide to come on your own, a taxi is the best option. Taxi rates are approximately $8 – $10 per person from both cruise ports, and the ride takes approximately 15 minutes.
Explore Mountain Top tours and activities
4. Coral World Ocean Park
One of the best family-friendly places in St Thomas, this incredible park offers marine interactive experiences, a nature trail, Aquarium, an underwater observatory, and a glass-enclosed coral reef tank. Get up close with sea lions, turtles, dolphins, stingrays, and even sharks!
The admission fee to the park is $23.50 per adult and $13 for children and includes a souvenir map, access to the undersea observatory tower, and unlimited access to the park and beach. Other water activities and animal encounters are also available for an extra fee. Due to the popularity of the site, it is recommended to make your reservations in advance. Find more information on the Coral World website.
The Coral World Ocean Park is located approximately 10 km/6.5 miles or a 25-minute drive from both St Thomas cruise terminals. The easiest way to get there is by taxi and the cost varies between $9 – $10 per person each way.
See the list of Coral World Ocean Park tours and activities
5. St John Island
If you are familiar with St Thomas, I suggest taking a scenic ferry ride over to St John, the smallest of the three Virgin Islands located four miles east of St. Thomas. The island boasts incredible nature and a large part of it is covered by a nature reserve. St John is known as a great snorkeling and diving spot and has breathtaking beaches, among which Trunk Bay and Honeymoon beach are the most popular ones.
You can take an open-air taxi and tour around the Virgin Islands National Park's coastal swamplands and sugar plantation ruins, or relax and snorkel at one of the beautiful beaches. The capital Cruz Bay offers visitors a wide range of restaurants, bars, and locally handmade items, so you can take a break at one of the charming cafes overlooking the picturesque harbour.
The only way to get to St John's is to take a taxi from St Thomas to Red Hook Ferry Station, located around 12 km/7.5 miles from Charlotte Amalie. The rate is around $20- $30 per taxi and the ride takes approximately 15 minutes. Ferry rides over Cruz Bay take 20 minutes and cost between $6 – $8.50 one-way. Round-trip ticket cost varies between $12 – $16.30 per person. The ferry runs hourly from 6:00 am to midnight.
See the list of St John island tours and activities
6. Snorkel at Trunk Bay (St John)
Nestled in the north of St John, Trunk Bay Beach is the most popular beach listed as one of the top 10 beaches in the world. Trunk Bay and its beach are known for incredible hiking and snorkeling opportunities as two-thirds of the island is part of the Virgin Islands National Park.
Those who seek peace and silence of nature can relax, swim or sunbathe at the beach, but those in search of an active holiday are welcome to discover tropical fish and colorful corals on the Underwater Snorkeling Trail, offering ideal snorkeling for first-timers, kids, and adults! This 225-yard-long trail lies just 30 yards off the beach and allows visitors to enjoy an up-close encounter with St John's vibrant marine life featuring corals, parrotfish, yellowtails, and turtles. There are underwater signs giving you an insight into the abundant sea life, which makes the whole experience unique and educational.
Make sure you don't step on the corals as they are very fragile, and use reef-friendly sunscreen because the area is part of the protected nature reserve.
There is a $5 entrance fee to Trunk Bay payable at the entrance of the park. Beach chairs, umbrellas, and snorkeling gear are available for rental, and other amenities include showers, restrooms, and places to buy food and drinks. Your cruise line often offers organized snorkeling trips to Trunk Bay with transportation and entrance fees included, but if you decide to make your way to Trunk Bay on your own, a taxi from Cruz Bay ferry station will cost around $8 per person and the ride takes approximately 12 minutes.
Explore Trunk Bay tours and activities
7. Honeymoon Beach
Only 5 minutes driving distance from St John's capital Cruz Bay, this picturesque piece of heaven offers a perfect retreat from the bustling St Thomas. Here, you can unwind and soak up the Caribbean sun with a glass of cocktail in your hand, or go for activities such as hiking, snorkeling, paddle boarding, or kayaking. The beach boasts powdery sands and crystal clear turquoise waters and offers great snorkeling with sea turtles and other incredible marine life.
To get to the beach on your own, you need to take a golf cart that will cost you $5 per person one-way. There are also many tours that include Honeymoon Beach, and the best way to reach it is by boat as you get to take in the stunning views of St John's coastline. The umbrellas and chairs are available for rental (expect to pay $15 per chair), as well as food and drinks that you can purchase on the beach. The prices are not the cheapest ones, but the place itself is beautiful and well worth the trip.
If you seek a more secluded beach, Solomon beach located next to Honeymoon Beach might be just a perfect pick for you! It is accessible via hiking trails, has no amenities, and offers amazing swimming and snorkeling.
Explore Honeymoon Beach tours and activities
8. Boss Underwater Adventure
This is the perfect opportunity to discover St. Thomas's underwater world from a different perspective. This unique underwater scooter is custom-built with an oversized helmet that allows you to breathe normally while enjoying great views of tropical reefs and colorful fish. There is no previous diving experience required for this underwater exploration.
Guests wishing to participate in this tour should take into consideration their fitness level and medical conditions. You will be required to complete and sign a liability release form before starting the tour. This is a very popular tour and is mostly reserved for cruise lines when the ship is in port. I suggest you make your reservation in advance through your cruise line and do not forget to read carefully the restrictions before booking to avoid disappointment.
9. Buck Island
Embark on a sailing adventure to Buck Island, the National Wildlife Refuge located only 2 miles south of St Thomas. This little island is known for its rugged coastline, colorful coral reefs, and an old, hilltop lighthouse offering breathtaking ocean views. Turtle Cove is the most popular spot on the island, as it's home to Green Sea Turtles that you can often spot swimming in the blue azure, crystal clear waters.
Besides the turtles, you can snorkel/scuba dive around a fascinating coral reef teeming with abundant marine life including surgeonfish, squirrelfish, snapper, and other tropical sea creatures. Another popular snorkeling and scuba diving location is a wartime-era shipwreck, lying at the depth of around 40 ft (12 meters). Buck Island is a blast and easily accessible by catamaran, speedboat, or sailboat on a guided tour.
Note: There are two Buck Islands; the little one I mentioned lies a couple of miles south of St Thomas, whereas the other Buck Island is a protected area and part of the Reef National Monument, located 1.5 miles north of St Croix island (U.S. Virgin Islands).
Explore Buck Island tours and activities
10.  Sapphire Beach
This beautiful beach is located on the east end of St Thomas and is a great place for swimming, snorkeling, and water activities (jet skis, kayaks, parasailing). Beach chairs, umbrellas, and snorkeling equipment are available for rental, and you can also purchase food and drinks at a small open-air grill nearby. Sapphire Beach Resort, Condos, and Marina are also within walking distance from the beach.
There is a $4 entrance fee to access the beach. The distance between Charlotte Amalie and Sapphire Beach is around 11 km/6.5 miles, and a taxi from either cruise port is between $10 – $13 per person each way. The trip takes around 20 – 30 minutes depending on where your ship is docked.
Check out Sapphire Beach tours and activities
11. Cas Cay Mangrove Lagoon Marine Reserve
Tucked in the southwest of St Thomas, approximately 20 minutes drive from St Thomas cruise port, this beautiful mangrove lagoon is a protected area spread across a multitude of tiny islands fringed with red mangroves covering an area of 680 acres. The lagoon is home to rare birds and fish species, mangrove forests, and Marine Sanctuary that you can explore accompanied by a tour guide in kayaks, or by snorkeling and hiking. One of the points of interest is Red Point Blow Hole, an impressive geyser-like formation where you get to witness the wild side of nature!
Explore Cas Cay Mangrove Lagoon tours and activities
12. Secret Harbor Beach
This beautiful Eco Park Beach is tucked in Nazareth Bay located on the east end of St Thomas, on the opposite side of the Mangrove Reserve. Home to the Secret Harbor Beach Resort, this beach is popular for its light pink sand and calm waters and is a great choice for families with small children and couples. You can swim, relax, snorkel, or walk along the rustic lagoon and admire the ecological preservation of marine life and birds.
There is natural shade but umbrellas, chairs, and other amenities are available for rental. There is a nice waterfront beach bar and restaurant too. A taxi from either cruise port costs between $10 – $13 per person each way and the trip takes around 30 minutes depending on where your ship is docked and subject to traffic conditions.
Check out Secret Harbour Beach tours and activities
13. Lindberg Bay Beach
Located a stone's throw from Charlotte Amalie, this is the closest beach if your ship docks at Crown Bay Marina cruise terminal. Lindberg Beach is a great beach for swimming offering a front beach bar, restaurants, and water activities for rental, however, don't expect snorkeling to be good here. There is also a small playground for families traveling with kids.
Lindbergh beach can be accessed by a short taxi ride from the port or about 20 minutes walking distance from Crown Bay Marina. I've been to this beach a couple of times and I absolutely loved it!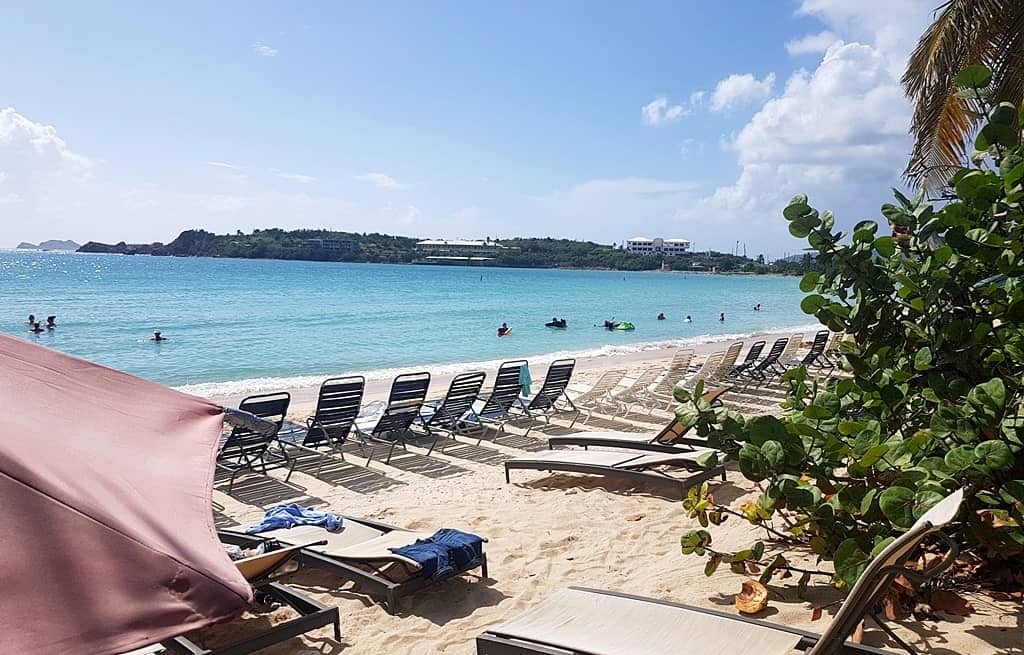 14. Skyride to Paradise Point
If you look for unforgettable views and sceneries, hop aboard a tram that will take you to Paradise Point, rising 700 ft. above the town of Charlotte Amalie. The trams can accommodate 8-12 people each, and the ride takes 5 minutes one-way. Get your camera ready, as the views are truly breathtaking (check out the picture at the beginning of the article – that's the view from Paradise Point)!
Once you arrive at the top, you can enjoy Paradise Point amenities including a bar restaurant, shopping deck, sun deck, patio, harbor terrace, and free wi-fi! The base station is located a few minutes' walk from Havensight cruise port, near Havensight Mall. The admission ticket for adults is $24.95, and for children (aged 5-12) is $16.95. For children under 5 is free of charge. For more information, check out Paradise Point's official website
15. Enjoy Duty-Free Shopping
St. Thomas has a long history of trading and commerce as the first duty-free port ever since 1724. Considered the duty-free capital of the Caribbean, St Thomas cruise port offers a wide variety of luxury items, diamonds, liquors, perfumes, watches, cameras, and leather goods. Nearly all shopping areas are located in Charlotte Amalie downtown and Havensight mall, but at some places of interest and tourist attractions, you will also be able to shop.
If shopping is on your list during your holidays, make sure to stop by the shopping guide desk onboard your cruise ship to get all information about recommended and reliable stores that offer extra discounts and most importantly – a guarantee!
Wrapping Up
The most popular island in U.S. Virgin Islands, St Thomas has a lot to offer and it's recommended to plan your day ahead in order to get the most out of this beautiful port of call.
Visit also our cruise guides to Aruba, Curacao, Bonaire, Falmouth, Cozumel, Costa Maya, Grand Cayman, Perfect Day at CocoCay, Labadee, St Maarten, St Kitts, St Lucia, Barbados
---
You May Also Like:
25 Top Shore Excursion Packing List Items
What to Pack for a Cruise – Top 50 Cruise Essentials
Snorkel Gear and Scuba Diving Equipment – Tips by a Pro!
Don't forget to subscribe below and get my exclusive SHORE EXCURSION GUIDE FOR FREE!
This article may contain affiliate / compensated links. For full information, please see my disclaimer here.