You are planning to spend your vacation in Tanzania and wondering about the best Zanzibar tours and island highlights? In this article, I share with you practical details and tips on how to organize your trip and what things to do in Zanzibar.
Tanzania's most famous island and travel destination, Zanzibar is located on the western coast of Africa, in the heart of the Indian Ocean. In February 2019, I decided to visit the island that seemed like a perfect 10-day getaway from the hustle and bustle of my native city of Belgrade and cruise ships where I spend several months per year working as Shore excursions staff.
See Zanzibar map on Google maps
My friend and I did some research on Zanzibar holiday packages and were told by agency representatives that the best time to visit Zanzibar is in January or February due to less rain and more favorable weather conditions. Also, there are no mosquitos during that period of the year (mosquito season starts in summer). As we wanted to get the most of our journey, we decided to follow their advice and booked a trip for February.
Today's Amazing Flight Deals. Book Now at Expedia.com
How to Get to Zanzibar?
We booked low-cost round-trip tickets through our tour agency (We flew with Fly Dubai – Belgrade – Dubai – Zanzibar) and arrived in Zanzibar in less than a day. The plane landed at Karume International Airport, the only airport in Zanzibar, located 5 kilometers south of Zanzibar City, the island's capital.
Upon disembarking the plane, I started sweating immediately: the weather was very heavy – hot and humid, which was kind of shock for my organism as I came from rainy and cold Belgrade.
Our group was directed to the customs and passport control where we filled out the documentation (just basic information regarding our stay in Zanzibar) and obtained a Visa that we paid for on-site (nowadays, you can get it online and it costs around $50).
I was surprised to see how the airport terminal building looked different compared to other airports – it seemed very rural, and neglected. Anyway, after filling out all the necessary paperwork everyone got their Visa and we were good to go.
NOTE: If you plan to travel to Zanzibar during the Covid-19 pandemic, make sure you double-check the information and travel requirements with relevant health institutions, or with your Embassy as it may vary from country to country and changes on daily basis.
As for a regular vaccine against Malaria – it WASN'T required at the time I visited Zanzibar (it was required only if you were going to Tanzania mainland, but not for Zanzibar island). Just to be on the safe side, make sure you double-check all this information with the health facility of your country because things might have changed due to coronavirus.
Once we were done with airport procedures, a tour agency representative helped us embark on the bus that waited for our group outside the terminal. And, that's where the adventure started!
8 Coolest Zanzibar Tours & Things to Do in Zanzibar
Situated on the southeast coast of Zanzibar, Jambiani is one of the oldest traditional fishing villages.  The distance between Karume International Airport and Jambiani is 56 kilometers or a 1-hour 15-minute drive. Numerous guest houses, bungalows, and a few hotel resorts are located along its coastline, including our accommodation: Uhuru Beach bungalows.
The moment I saw the place – I fell in love with it! The bungalows are very authentic and unique, the hosts friendly and helpful, the food delicious (in the picture below is the view from the restaurant). Throughout the day, we could interact with kids and locals from the village we feel welcome and special.
Find the best Jambiani hotels and deals on Booking.com, Expedia.com, Hotels.com, Agoda.com
The village is very authentic and if you want to experience Zanzibar's everyday life, traditions, culture, and get in touch with locals, you can choose one of the Jambiani village tours.
The tour normally lasts from two to three hours, depending on the tour agency you book the tour with. It includes a walking part through the village where you'll hear stories about a long seaweed farming tradition of the Jambiani natives, as well as learn about the customs and habits of local people.
Then you'll visit an elementary school where you get to sing and play with kids, talk with their teachers, and learn about education in Zanzibar.
It was such an amazing experience to spend actual time in school classrooms, laugh, and share hugs with local kids. I could see how genuinely happy they were to have us visit them.
The environment they grow in is quite poor, so if you are willing to donate to a school, you are welcome to do so! Also, if you want, you can bring pencils, books or notebooks to the kids, or some sweets and candies (kids would definitely prefer that!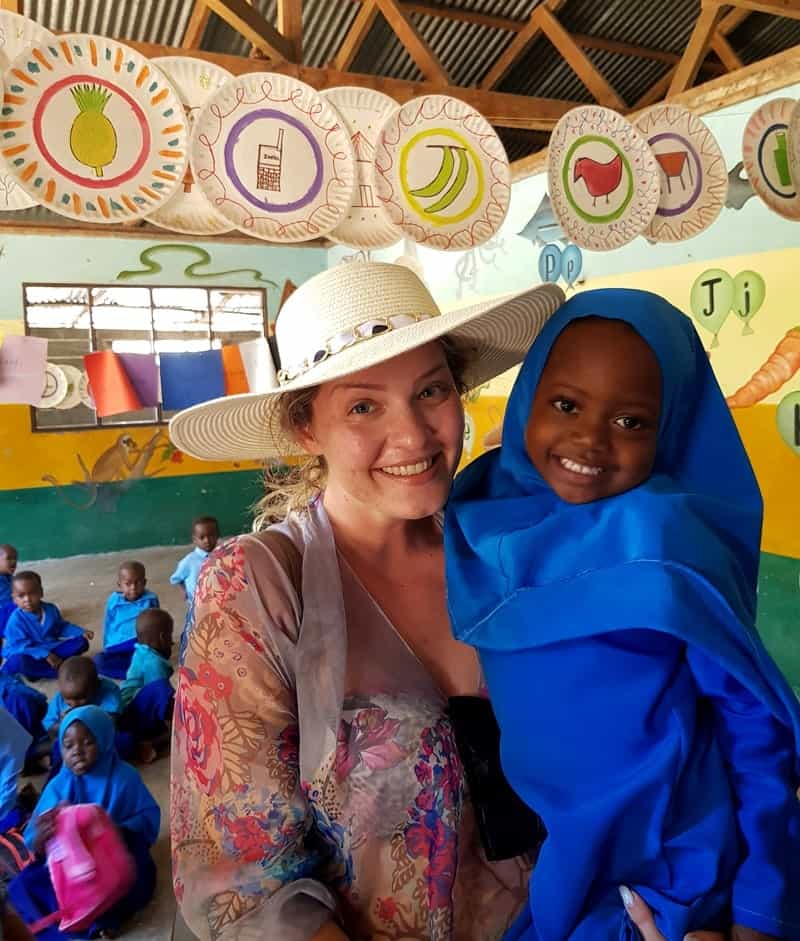 Besides school, the Jambiani village tour usually includes a visit to a local hospital and maternity, where you get to meet a local doctor and learn about the health system on the island, including how they treat typically African diseases such as Malaria.
Overall, this tour is a one-of-a-kind opportunity to interact with locals and experience the authentic Zanzibar lifestyle.
Explore Jambiani village tours
Jozani forest is located 35 kilometers away from Zanzibar City, 37 kilometers from Karume International Airport, only 19 kilometers from Jambiani, and 76 kilometers from Nungwi – another popular tourist resort in Zanzibar (situated in the north).
See the list of the best hotels in Nungwi 
Jozani Chwaka Bay National Park the only national park in Zanzibar, home to the endemic species of Red Colobus Monkey and other rare flora and fauna. There are only about 1000 monkeys in the forest and you can spot them hanging on the trees and even crossing your road.
A Jozani Forest tour usually lasts 2-3 hours, and consists of an easy guided walk through the forest, followed by a stop at the mangrove swamps where a local guide shares stories about the rich eco-system of the Jozani National Park.
Jozani Forest entrance fee is normally not included in the tour price: you can buy a ticket at the entrance of the park at the price of around $9 (they probably accept cards, but I highly recommend you to bring cash as the safest option). This tour is a great option for nature walk lovers and is family-friendly as well.
If you book the tour with a tour agency, you'll have transport organized, but on the other hand, if you decide to rent a car, I suggest you do it with a reliable car company. Don't jump into the first car you find! – make sure your option is safe and you have adequate insurance.
Check out Jozani forest tours and activities
Another name for Zanzibar is the "spice island", as many exotic spices grow on the spice plantations spread across the island.
Our Spice tour included a visit to a spice farm located in the area of Bububu village, located only 16 kilometers from Zanzibar City and 63 kilometers from Jambiani.
It consists of a guided walk through the plantations which lasts up to 2 hours. The local guides point you out the most exotic plants such as cinnamon, clove, vanilla, and nutmeg, that you get the chance to touch, feel, and smell.
It also includes the tropical fruits tasting accompanied with a presentation of each fruit, and some free time to shop for spices and souvenirs: I recommend you try Zanzibar cinnamon coffee with vanilla, Zanzibar vanilla tea, and Zanzibar mango tea.
Locals are also very friendly and approachable – for everyone in the group they made palm tree hats and offered us a very special drink – fresh coconut they picked from the palm trees along the way.
This Spice tour is a true blast for the senses and I highly recommend you experience it while in Zanzibar.
Check out Zanzibar Spice tours
Although Zanzibar has many beautiful beaches, there was one thing that negatively affected my overall Zanzibar experience: extremely low tides during several hours per day make it practically impossible to swim in the sea (and I am a beach person!)
However, Paje beach, located only 7 kilometers away from Jambiani (up to a 10-minute drive) and 50 kilometers away from Zanzibar City, is a very nice beach where I had a truly enjoyable experience (where I could actually swim – during a high tide!). It is a peaceful place with a lot of natural shade, with a few restaurants and bars, not very crowded.
If you want to take a walk along the coast, you can do so as well, and you'll find some very unusual scenes along the way (in the picture below).
The stay at the beach is usually combined with a visit to The Rock Restaurant, featured in almost every Zanzibar postcard and famous for its unique location – it stands on top of a rock in the middle of the sea.
The Rock Restaurant is located near Pingwe beach, on the Michamvi peninsula, only 13 kilometers away from Paje beach. It is situated on the opposite side of Zanzibar City (the Rock is on the eastern and the capital is on the western coast), and the distance between them is around 62 kilometers.
Once you come to the beach, you'll quickly spot the restaurant and you'll need to either walk to it (if the tide is low) or get a boat (in case of a high tide). When I was there, we walked to it (be ready to get wet!), but on the way back we took a boat as the water level increased drastically.
I highly recommend you book a restaurant in advance, individually or as part of a tour, as it is always fully crowded, and won't find any place if you just show up without a reservation.
The Rock Restaurant prices are somewhat more expensive than in the rest of the island, but the food and overall experience are great and it's worth it.
The Rock restaurant menu features exceptional seafood, such as fresh lobster, calamari, shrimps, octopus, crabs, and a catch of the day, as well as homemade spaghetti, ravioli, tagliatelle, and local vegetarian meals – all flavored with local Zanzibar spices.
The restaurant has a nice balcony where you can relax with a glass of wine or a cocktail – just a perfect way to end your day!
The Rock Restaurant website – Check the opening hours, menu, and prices
Check out The Rock Restaurant tours and activities 
Stone town is the historical and cultural heart of Zanzibar, and the only city on the entire island (Stone Town is the old part of Zanzibar City)! Its unique, 19th-century architecture represents a blend of Arab, Persian, Indian, and European elements, and the city hasn't changed its look for almost 200 years.
Once you are in town, you feel as if you were taken back through the past, back to the age of the Zanzibar Sultanate, slavery, and spice trade.
The Stone Town tour usually consists of a walking part where you get to explore the winding, narrow streets of the Old Town and the city's main landmarks.
Darajani fish market is the main bazaar in Stone Town and the largest one on the whole island. I would like to be able to say that a visit was an enjoyable experience for me, but it wasn't – the place smelled horrible and was extremely dirty. There were animal carcasses all around and everyone was squeezed as it was extremely crowded. Although I didn't enjoy it myself, I find the Darajani market very local and authentic, and if you are planning to visit Stone Town – consider it a must-see place.
Another place of interest is the Stone Town Old Fort – the 18th-century fortress built by Arabs to defend the town from Portuguese siege, as well as Anglican Cathedral, built in the 19th century in the center of the old town, at the place where Stone Town slave market used to be.  The cathedral represents a symbol of the end of slavery, and nowadays it's the location of a museum and a monument dedicated to the slaves of Zanzibar.
Along your walk, you'll learn about the island's dark and sad history, and hear anecdotes about its most famous resident – a rockstar and Queen legend Freddy Mercury, whose house is located in the historical heart of the Old Town.
Another place of interest is the House of Wonder, the tallest and largest structure in Stone Town, facing the Forodhani Park and the Old Town's seafront. It is one of the most famous palaces in the city, built by the second Sultan of Zanzibar in the 19th century nowadays housing a part of the Swahili museum.
Our tour ended at Forodhani Garden (or Forodhani Park), where we enjoyed local specialties of Zanzibar and Swahili cuisines such as grilled seafood (I particularly enjoyed fresh tuna), samosas, sweet potatoes, Zanzibar pancakes, and much more!
The place becomes especially busy after sunset, and that's definitely the best time to visit this place.
Overall, a visit the Stone Town is a must!
See the list of Stone Town tours and activities
A trip to Prison Island (or Changuu island) is normally offered as a combo with Stone Town tour, as the small island is located only a 30-minute boat ride from Stone Town (5.6 kilometers away from the capital).
Suggested article: Snorkeling Gear and Scuba Diving Equipment – Tips by a Pro!
The island was named after its original purpose: to serve as a prison for rebellious slaves in the 19th century, but instead, it became a quarantine station for yellow fever cases.
Nowadays, Prison Island is owned by a government and is home to endangered species of Aldabra giant tortoises, which were brought to Zanzibar as a gift from the British governor of Seychelles in 1919.
There is a $4 entry fee to pay if you want to see the turtles which are being kept in a sheltered, isolated area of the island. The experience is absolutely worth it as you get to interact with turtles, feed, and pet them.
The tour is very family-friendly and a truly memorable experience!
Most of the guided Prison Island tours include some free time on the island as well, so you can enjoy some beach time and swim in crystal clear Zanzibar waters.
Zanzibar Dolphin Tour normally starts at Kizimkazi, an old fishing village located in the south of the island, 60 kilometers away from Stone Town, and 26 kilometers away from Jambiani. This tour is an amazing opportunity to observe and swim with dolphins in their natural habitat.
The dolphin tour usually starts very early because it's the best time to spot dolphins, and the starting point is the village of Kizimkazi, where you get all the necessary equipment consisting of snorkeling gear: mask, life jacket, and flippers.
It is not possible to bring any devices with you (camera, etc.), but don't worry – you'll be provided with a free locker on land where you can leave all your things.
Once you embark on your small boat, the captain/professional guide takes you to the area where it's most likely to spot the bottle-nosed and Humpback dolphins. In most cases, you get to see them, and sometimes they get really close to you.
Before I went on that tour, I had already experienced dolphin interaction so I wasn't particularly excited. However, I enjoyed watching them swimming in their natural habitat, even though they were quite far from our boat.
I disliked one thing, though. The water of the ocean was very dark and obviously full of planktons (?!) because my body would itch so bad every time I jumped into the water (full of hope that the dolphins would come to me).
The overall tour was nice, but nothing spectacular. I recommend it for people who have never experienced a dolphin watch before.
Check out Zanzibar dolphin tours
8. Zanzibar Beaches
Last but not least, I have to mention Zanzibar beaches, although they might not be considered as an actual "tour".
I'll give you a list of the best Zanzibar beaches that I consider as must-see places that you should definitely take a glimpse of during your stay on the island:
Nungwi – One of the most popular beaches in the north of the island is Nungwi beach, located 95 kilometers away from Jambiani (a 1-hour 45-minute drive) and 65 kilometers from Stone Town (a 1-hour 25-minute drive). You can get to this beach by taking a local dala-dala public bus,

book a tour

, or rent a car (which might be the best option).
Nungwi is one of the most visited tourist resorts in Zanzibar, packed with hotels, shops, bars, and restaurants. Nungwi beach is a great place to swim, as there is no large difference between the tides. Snorkeling, jet skiing, paragliding are some of the activities you can enjoy at the beach. This is a great place to find accommodation as well – depending on your budget, you can choose to stay in modest, yet decent guest houses, hostels, or luxurious hotels. Check out hotels in Nungwi
Kendwa – Around 4 kilometers away from Nungwi is Kendwa beach – another gorgeous beach where you can take in the crystal clear waters of the Indian ocean and enjoy tropical cocktails in one of the great bars with an amazing sea view. In Kendwa you can find very affordable accommodation and restaurants, offering both local Swahili and international menu (I ate at Kendwa Rocks restaurant, and the food was delicious!). Check out hotels in Kendwa
Kiwengwa – Kiwengwa beach is located in the northeastern part of Zanzibar, 68 kilometers away from Jambiani, and 40 kilometers from Stone Town. Kiwengwa beach resort is often compared to the Maldives, due to its blue azure color of water, luxurious hotels, and beach clubs.
Paje Beach
Kimizkazi
Jambiani
Pingwe
Michamvi Kae
Dongwe
Are You Ready For Your Zanzibar Holiday?
I hope my overview of the 8 coolest Zanzibar tours inspired you to visit this beautiful island, especially in wintertime, as the weather is great and you can find some great deals.
Zanzibar is an island of diversities, and you'll be amazed by its contrasting colors, tastes, traditions, and above all, its people. Feel free to comment below on your favorite places in Zanzibar (in case you've already been).
Stay tuned until the next tropical adventure!
PS. And don't forget to bring candies for the kids!
---
This article may contain affiliate / compensated links. For full information, please see my disclaimer here.
You May Also Like: