Whether you are a cruise addict or have never cruised before, my list of 10 things that can negatively impact your cruise might help you become aware of what can occur on your long-planned cruise vacation.
In this article, I will share my own experience as a Shore excursion staff and tell you about the situations that occurred during a couple of years I worked on a cruise ship in Europe and in the Caribbean.
Please, note that the list below does not include the new protocols and measures that will become effective onboard due to Covid-19 once the cruising gets back to normal. The list below is entirely based on my own experience as a crew member and refers to the situations I personally encountered during my contracts in the Caribbean and Europe.
1. Cruise Port Cancellations
Cruise port cancellations are a common thing to happen on any cruise you book. They can happen before your embarkation day, and in that case, cruise companies offer different alternatives: you can get a full or partial refund, or rebook your cruise – options are various and depend on the companies' policies.
The other thing that can happen is the port of call cancellation during the cruise.
This is an unpleasant experience for both cruise passengers and crew members, as we all need to adapt to the last-minute change. Cruise guests still need to try to get the most of their day, while crew members have to do their best to make the whole situation less frustrating.
Ports of call may be canceled due to various unpredictable reasons: bad weather, a cruise ship not being able to dock safely, accidents/incidents at the pier, mechanical issues, medical emergencies on board, etc.
While I worked in the Caribbean, cruise port cancellations were very frequent and it significantly affected cruise ship passengers. Imagine that you book a cruise only to go to Antigua, and you get notified at the last minute you won't be able to do so.
Unfortunately, these things happen and it is up to the Captain and officers to make the final decision. The safety of the cruise passengers and crew members always comes first, so if they estimate that the situation is unsafe, they won't put anyone at risk.
In the Caribbean in wintertime, weather can be challenging: a strong wind, excessive rains, storms can affect the ship's ability to dock, which is why the onboard management prefers to cancel the port than to take responsibility for potential hazards.
If a port of call is canceled during a cruise, the passengers are normally informed ahead (if the cancellation happens a few days or a day before); the officers make repetitive announcements, guests have letters delivered to their rooms, and the onboard management does their best to change a port of call or organize alternative activities onboard in case the ship stays at sea. The shore excursions booked through the cruise line and other port fees associated with the canceled port of call are automatically refunded, so guests don't need to worry about that.
On the other hand, the port of call might be canceled at the very last minute (an hour before docking or less), which makes the whole situation more difficult to handle. In that case, shipboard officers and crew members do their best to calm guests down and offer them alternative options. It is an extremely stressful situation for onboard management, as they need to make quick decisions and improvise in order to make guests happy.
For the paying guests, it is frustrating: some guests who were really looking forward to a canceled port of call freak out, while some accept the fact they "lost" a port and find another option to fulfill their day.
In both cases, it is extremely unpleasant for both sides, but unfortunately, it happens as part of the world of cruising. Mutual understanding and positive thoughts are the only solutions in that case.
2. Cruise Ship Itinerary Changes
This is another unpleasant thing that can happen on a cruise. In case of the cancellation of a port of call for the reasons I've mentioned above, the company can make the last-minute decision to alter the itinerary.
While I was working on a cruise ship, it happened numerous times that a technical issue or emergency we had onboard affected the whole cruise itinerary, as the ship due to delay couldn't dock in the particular port on time. In that case, it is up to the ship's management to decide on the itinerary change, and the guests are informed beforehand.
Unfortunately, these situations cannot be controlled. The guests' and crew members' health and safety always come first, and it is the responsibility of the onboard management to make decisions in the cruise passengers' best interest.
Guests' reactions can vary. Some of them get extremely angry as we "ruined their vacation", while others prefer to get the most of the new destinations and find ways to still enjoy their trip.
Crew members try to stay positive and do their best to ensure the guests are happy, by providing high-quality service and an experience above guests' expectations.
While I was working in the Caribbean, the itinerary used to change a lot due to the poor weather conditions. Even though I understood how frustrating it was for the passengers, I always tried to convince them to look on the bright side and fully enjoy the alternative destinations waiting to be explored.
3. Shore Excursion Cancelled
One of the best parts of the cruise is the exploration of unique destinations and their top attractions, discovering new cultures, and embracing new adventures. The best way to do so is by booking a shore excursion through the cruise company or an independent tour agency, depending on your preferences.
Unfortunately, shore excursions can be canceled as well. The tour operator on land keeps the right to cancel the tour and in that case, the guests get a full refund.
Tour cancellations can happen due to various reasons: poor weather conditions, closed venues, broken equipment, mechanical issues, lack of tour guides, etc.
In the Caribbean, snorkeling/diving/kayaking/sailing activities usually get canceled due to the strong winds; In Europe, it once happened to me that a tour was canceled because the tour operator was unable to provide a licensed tour guide.
Suggested article: Pros and Cons of Booking Cruise Ship Shore Excursions
All these situations can occur and guests should not be surprised when they happen. I work in the Shore excursions department and my advice would be to always reconsider alternative options in case your shore excursion gets canceled. You should always do research about a particular port of call and have a list of two, or three things to do/visit; in that case, you'll avoid disappointment in case of cancellation and still get the chance to get the most of the destination!
Check out my cruise ports page
4. Onboard Venues Fully Booked
If you have already been on a few cruises, you must be familiar with how exciting the life onboard is: endless activities, venues, events, people from different backgrounds – everything bustling with life and positive vibes!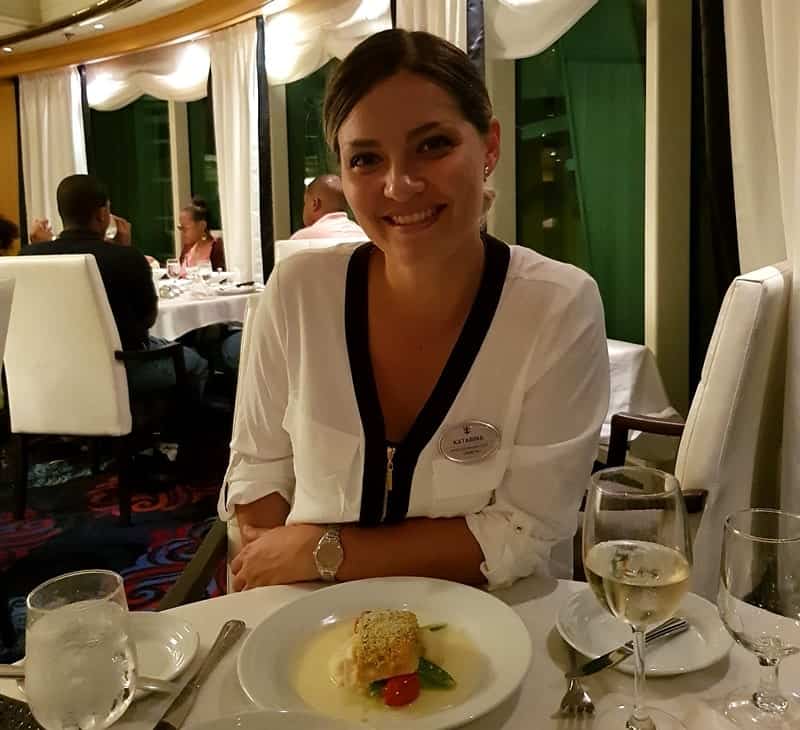 But, what happens if you plan to celebrate your birthday or anniversary at your favorite specialty restaurant, only to find out last minute that it is fully booked on that particular day?
Well, this happens too. On busy cruises, such as holiday cruises (Christmas cruise, New Year cruise, etc.), a lot of onboard venues are fully booked, and in order to avoid this unpleasant situation, make sure you pre-book your favorite restaurant/shore excursion/activity online (before your cruise starts).
That way you'll ensure your spot and probably pay a lower price, as the prices are normally lower when you pre-book.
5. Shore Excursions Fully Booked
As a Shore excursions staff, I can assure you this happens a LOT. No matter if the cruise is busy or not, the Shore excursions department always has a limited number of spots for each tour. The allotments are provided by a tour operator, and the Shore excursions department can't do much in case they run out of spaces for a particular tour.
You can avoid this by booking your tour before your cruise starts if it is available. That way you'll probably pay for it cheaper, and you'll ensure your spot on a tour.
On the other hand, upon arrival on your ship, you can always swap for another tour in case you change your mind (*this depends on the cruise company, but in most cases, you can). Just make sure you do it on embarkation day, or at least two days before the port of call where the shore excursion takes place, as the cruise companies have different cancellation policies.
I'll share with you an insider's shore excursions tip: the tours that involve activities such as ziplines, jeep & ATV rides, horseback riding, snorkeling, and diving, are always the first ones to run out of space!
6. Onboard Prices Go Up!
During the busy cruises, and by this I mean holiday time – onboard prices can go way up! You probably know that already, but those of you who don't – expect to pay more for specialty restaurant dinners, spa treatments, onboard activities, shop items, artwork, and shore excursions! December is the busiest month of the year and the most profitable one for cruise companies and their workers, so you should be aware of this.
You can get a lot of discounts, though, and prices are lower if you pre-book. It's always the safest way to go.
7. Crowded Cruise Port Terminals
A common thing is that several cruise ships dock at the same pier in the same port of call on the same day, which can create confusion and crowd at the cruise terminal. Normally, this depends on the port of call itself and on the port authorities.
In large European cities such as Barcelona or Rome (the port of call is Civitavecchia), the cruise ships are lined up and have different cruise terminals, which makes it a lot easier and simpler for cruise passengers.
On the other hand, in some ports of call in the Caribbean, the same cruise terminal is shared between several ships, which creates chaos resulting in guests missing their shore excursions or getting lost.
Check out my Caribbean cruise ports page
Grand Cayman, for example, is one of the busiest cruise terminals. It is a tendering port, which means that ships use tender boats to transfer cruise guests ashore (the cruise ship is anchored in the middle of the sea). Once ashore, cruise passengers from different ships get mixed up and many of them fail to find their shore excursion meeting place. On the way back to the ship, there are endless lines and it takes more than 45 minutes to reach the ship. In the Caribbean, a lot of cruise terminals are busy, so make sure you prepare yourself for delays and queuing.
8. You Can Get Harassed by Local Vendors
I want to mention this, as I used to get complaints from guests regarding local people being too pushy when trying to sell their products. In large European ports, this might not be the case, but in the Caribbean, this happens a lot.
The main source of income for the Caribbean ports of call are cruise ships, and here I mainly refer to the smaller islands which rely on cruise ship passengers and crew members' wallets.
Many of them don't have any particular industry developed, and cruise ships are their basic source of profit.
Don't be surprised if you find many local vendors in front of the cruise terminals trying to sell you various things such as tours, local crafts, clothes, etc.
Although it can be annoying, try to understand these people, and give them a chance: you might find some authentic products at a reasonable price (always bargain first, as normally the prices are higher than in the rest of the place!)
9. High Prices at Cruise Terminals/Ports of Call
This is kind of logical, so don't be shocked by the prices at the cruise terminals and generally in ports of call. As I mentioned above, many Caribbean ports of call's profit depends on the cruise ships and the prices in the area surrounding the cruise terminal can reach extremely high numbers.
I remember my first time in Nassau (Bahamas): I was speechless when I saw the prices of simple hoodies imprinted with "Bahamas" – their cost was exceeding $50-6$ each!!! The same one you can find online for a much more reasonable price, such as the one below!
The food is also expensive, and taxes are very high, so don't expect the Caribbean to be cheaper compared to Europe and the US (like I thought before I first went there!).
In Europe, the prices at cruise terminal buildings are also higher than the ones you can find in the city center, but less compared to the Caribbean (depending on the destination).
Suggested article: 25 Top Shore Excursion Packing List Items
10. Long Distance Between Cruise Terminals and Cities
This is another thing that can affect your stay in a particular port of call. If you are looking forward to visiting Rome or Florence, bear in mind that you'll need at least an hour or two to reach the cities, as your ship docks at the ports of Civitavecchia or La Spezia, located an hour and a half from these two cities.
Normally, when the cities are extremely far, the cruise companies don't provide shuttle buses, so your only chance to visit the cities is by booking a shore excursion or making a private arrangement.
You can always use public transportation (if there is any), but I would never recommend this because you can easily miss your ship due to delays and unforeseen situations.
A lot of guests find this annoying because it requires an extra cost for their pocket, but it is what it is. You can avoid this by booking a shore excursion earlier (before the embarkation date) at a lower price, through a cruise line or an independent tour operator.
The worst situation that can happen is to miss an opportunity to go to the city in case that excursions are fully booked (this happens A LOT), and then you are left on your own.
Last but not least, I would like to mention another frustrating situation that mostly refers to the guests with walking difficulty. The cruise terminals can also be very long and it takes up to a 15-minute walk to reach the exit. Lisbon, for example, is one of those ports. When we organize a dispatch for shore excursions in such cruise terminals, we usually have escorts in charge of accompanying guests with walking difficulty ahead, so that the whole group doesn't wait for them a long time.
I witnessed numerous times the guests' frustrations, so I wanted to mention them as well.
Final Words
A cruise vacation is a very special type of vacation and one easily gets addicted to it. Both cruise passengers and crew members are hooked on it the very first time they come on board, and once you experience life at sea, life on land is never the same (this is the crew members' motto!).
Check out today's cruise deals from Cruise Critic!
Of course, life at sea sometimes has its negative consequences, and I hope this article helped you become aware of what can happen to you on your cruise vacation. Feel free to share your own opinion and experiences you encountered in the comments below, as I would like to hear from you!
For my fellow crew members, and those who would like to join us at sea, check out my article on 10 Things To Know Before Applying For A Cruise Ship Job.
---
This article may contain affiliate / compensated links. For full information, please see my disclaimer here.
You May Also Like: