7 Great Rhodes Restaurants That I Highly Recommend
Rhodes, the largest of the Dodecanese group of islands and one of the most beautiful Greek travel destinations, boasts not only rich history and wonderful beaches but also amazing cuisine!
I've recently come back from my vacation and in this article, I want to share with you my review on 7 restaurants in Rhodes town that I truly enjoyed and highly recommend!
If you are interested in reading more about Rhodes, I suggest you check out these articles:
20 Best Things to Do in Rhodes, Greece
Rhodes Car Rental: 3-Day Itinerary, Maps, Explanations
Port of Rhodes Cruise Guide, Things to Do, Shore Excursions
Disclaimer: I haven't been compensated in any way to write about these Rhodes restaurants. This is my genuine recommendation as I spent my vacation on Rhodes and want to share my honest opinion 🙂
1. Mama Sofia
Mama Sofia ranks among the best Rhodes restaurants and before I came to visit, I'd read some great reviews on it and all of them were absolutely true!
If you want to experience the authentic Greek atmosphere, homemade, fresh food, exquisite wines and various food options, Mama Sofia is the place to go! Located in the heart of the medieval Old Town, right behind Suleymaniye Mosque and Roloi Tower (known as "Clock Tower"), this restaurant offers not only amazing food but a friendly, local ambiance that will make you feel at home.
Mama Sofia is a family-run restaurant that dates back to 1967 and whose remarkable reputation is known all across Rhodes island and further.
My friends and I had dinner here twice and everything was perfect, from the friendly, welcoming staff, fantastic service to mouth-watering food and relaxed atmosphere that made us feel like part of Mama Sofia's family.
Being the seafood addict, I tried stuffed squid the first time and the grilled shrimps the second time and they were by far the best meals I had in Rhodes.
The prices in this restaurant are slightly higher than in other restaurants due to its location and decades-old reputation, but it's worth every cent! The staff speaks perfect English and food options include gluten-free and vegetarian options.
Mama Sofia is almost always packed, so if you are coming during the high season, I highly suggest you book a table in advance (especially at dinner time).
Address: 28 Orfeos Street, Old Town, Rhodes 85 100
Opening Hours: every day 9:00 AM – 23:30 PM
Email: contact@mamasofia.gr
Phone: +(30) 22410 24469
Website: https://www.mamasofia.gr/
2. Archipelagos
Located on Hippocrates Square, the most famous square in Rhodes Old Town, Archipelagos restaurant offers delicious food and the most beautiful view of the medieval city walls and bustling center.
Here you will find a wide range of food options including vegan, vegetarian, and gluten-free options, as well as both traditional and international cuisine.
Have I mentioned that I am a fan of seafood? Well, here I had the most delicious Mediterranean salad made of smoked salmon, shrimps, honey, lettuce and several other fresh and tasty ingredients. My friends had traditional Greek meals, souvlaki and Greek salad, and they absolutely loved it!
The restaurant staff is welcoming and very professional, so expect an outstanding and quality service. The prices are a little bit higher than in other parts of Rhodes town, but the experience is well worth it!
Archipelagos can be busy so I suggest you book your spot in advance!
Address: Platia Ippokratous 18, Rhodes Town 851 00
Phone: +30 2241 022322
Get the Archipelagos restaurant menu here
3. Barbarossa Seaside
If you search for gorgeous sea views, a relaxed atmosphere and great food, head out to Barbarossa Seaside restaurant, located on Akti Miaouli beach on the western coast of Rhodes town. Compared to Elli beach situated on the east coast of the town, Akti Miaouli is usually windy which is why it's also known as a "windy beach".
However, don't let the wind discourage you! This part of the town boasts the most stunning sunset on the island and numerous hotel resorts and beach clubs offering great service.
One of the restaurants I truly enjoyed was Barbarossa Seaside and I went there for sunset…. and it was WOW! Now imagine the burning sky, tasty grilled salmon and delicious local wine mixed with lounge music beats and laid-back atmosphere… sounds like paradise, right? And it really was.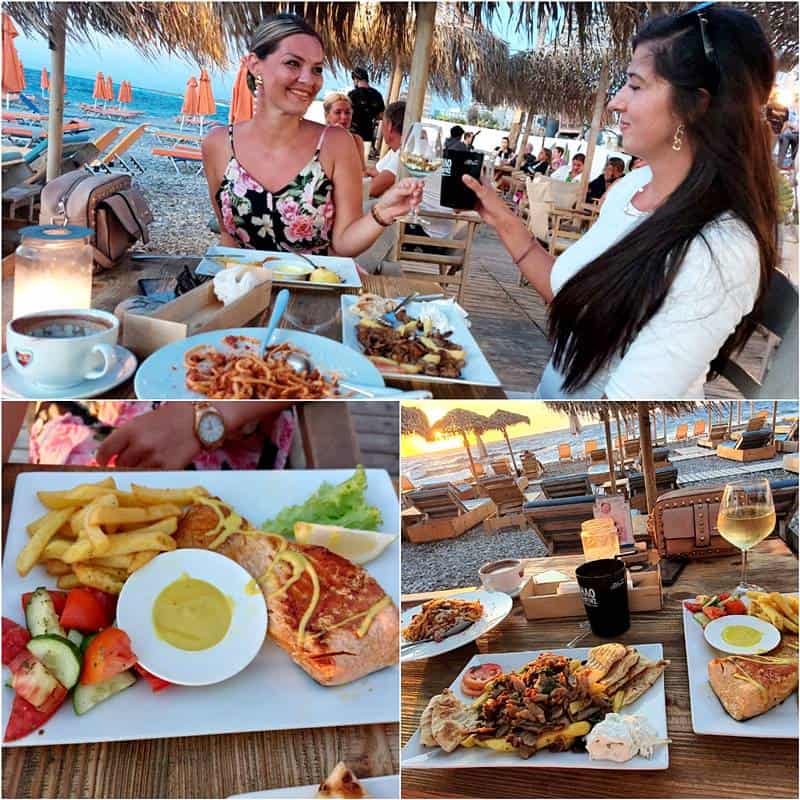 The prices in Barbarossa Seaside were decent and slightly lower than in Rhodes Old Town. The guy who served us was super friendly and we even got treated with a round of limoncello shots which was really nice of him.
I highly recommend this place and advise you to come there for sunset to get a unique and memorable experience!
Address: Akti Miaouli, Rhodes Town 85100
Phone: +30 694 258 8618
4. Nikos Fish Taverna
Nikos is a wonderful traditional Greek restaurant situated outside the medieval city walls, in the modern part of the town. This family-run restaurant specializes in fresh seafood and this is where I tried the best squid on the whole island!
What I particularly liked was the traditional setting and a wide variety of fresh seafood and fish options. The staff was friendly and when they brought me squid, a little boy (I guess he is the son of the owner) put up a short live show where he cut and served my squid, which was so fun and authentic!
My friend had bean soup and a Greek salad that she enjoyed very much. Overall experience was great, and after we finished our meal we were treated with shots of traditional Ouzo Greek brandy and fresh fruit.
The prices in Nikos are decent and the quality of the food will exceed your expectations. I highly recommend this place if you seek a great fish restaurant!
Address: Ionos Dragoumi Street 38, Rhodes Town 851 00
Phone: +30 2241 039043
Opening Hours: 11:00 AM – 01:00 AM
5. The Star Restaurant Bar Pizzeria
A stone's throw from Rhodes Casino, Elli Beach and Mandraki Harbour, this family bar-restaurant offers various food options and fantastic service!
The Star Bar & Grill overlooks Georgiou Papanikolaou street where you can find dozens of restaurants where you can eat and drink for less money than in, for example, Rhodes Old Town or Mandraki marina.
I went twice to The Star Bar & Grill restaurant where I had the most amazing pizza (so delicious that it can compete with Napoli pizza!), Mythos craft beer and cocktails. The staff is super friendly and they do their best to make your dining experience pleasant and unforgettable!
If you search for a casual dining experience and value for money, The Star Bar & Grill is a great option to go for!
Address: 121 Amerikis, Rhodes Town 851 00
Phone: +30 6947 756 180
6. Jay's Burger House
Located in the modern part of the Rhodes town, surrounded by hotels and streets filled with shops and restaurants, Jay's Burger House offers amazing food choices and great service!
I ate gyros, the traditional Greek dish, only once during my vacation in Rhodes, and it was here! What I particularly liked was that this restaurant offers set menus where you can get a gyros plate, Greek salad, and a cup of coffee/ice cream for around 11 € per menu. They have everything, from burgers, traditional dishes, pizza, pasta, to mouth-watering desserts and a great selection of cocktails.
This restaurant boasts a casual atmosphere and was packed both times I went there. I recommend it for a burger and meat lovers and those who search for a laid-back ambiance and lively atmosphere!
Address: Str. Griva 68, Ródos Town 85100
Phone: +30 2241 031874
7. Cook Book
Cook Book is another family restaurant with excellent service and a friendly atmosphere. Situated in the modern part of Rhodes town, in a lively Nikiforou Mandilara street, this cozy restaurant offers traditional Greek food, salads, fish specialties and international dishes.
I tried fried calamari here and it was fresh and tasty, just the way I like it. The prices are decent and the wine is excellent, so if you opt for a pleasant dinner away from the hustle and bustle of the Old Town, Cook Book is a great place to go!
Address: Nikiforou Mandilara 22B, Ródos Town 85100
Phone: +30 2241 031466
8. Hans & Gretel
If you like sweets and fairytales, this dreamy place will leave you speechless! This is not a restaurant, but to top off your stay in Rhodes I definitely suggest you try their amazing artisanal gelato, donuts, chimney cakes, bubble waffles, chocolates and countless candies that you will find in their store on Hippocrates Square in Rhodes Old Town.
Hans & Gretel is a Greek brand with stores all over Greece (Cyprus, Athens, Crete, Corfu) that offers a unique experience from the moment you step into a store!
I highly suggest you visit their store and experience a unique vibe and magical atmosphere!
Address: Hippocrates Square, Rhodes Old Town
Website: https://hansgretel.com/
To Wrap Up
The entire Rhodes island, as well as Rhodes town, boast hundreds of fantastic restaurants and places to eat and drink. It is really hard to list the best restaurants as the majority of them offer outstanding service, amazing food choices and hosts make a great effort to make your dining experience pleasant and memorable.
This is my honest review of Rhodes restaurants where I ate and that left a great impression on me. Hopefully, I will soon visit my favorite Greek island again and try out a few more!
Stay tuned and feel free to let me know your restaurant suggestions and recommendations in the comments!
---
You May Also Like:
20 Best Things to Do in Rhodes, Greece
Rhodes Car Rental: 3-Day Itinerary, Maps, Explanations
Port of Rhodes Cruise Guide, Things to Do, Shore Excursions
Santorini Port Guide, Things to Do, Shore Excursions
Port of Athens (Piraeus) – The Ultimate Guide for Cruisers 
---
This article may contain affiliate / compensated links. For full information, please see my disclaimer here.