Rhodes Car Rental 3-Day Itinerary
The beautiful Greek island of Rhodes is the largest Dodecanese island and a popular travel destination known for its wonderful beaches, impressive history, archeological sites and great tourist offer. Whether you're a history buff, beach lover or you search for bustling nightlife and breathtaking panoramas – Rhodes has it all!
A medieval Old Town of the city of Rhodes is a UNESCO World Heritage Site and one of the best-preserved medieval cities in Europe. It is packed with monuments, museums, ancient walls, fortifications, and a maze of cobbled streets filled with restaurants, cafes, bars, and unique shops.
Suggested article: 7 Great Rhodes Restaurants That I Highly Recommend
The city of Rhodes also boasts a new, modern part of the town that encompasses Mandraki port, one of the most beautiful harbours in the Eastern Mediterranean filled with yachts, pleasure boats, historic landmarks, tavernas and cafes. Right next to the port, a long public Elli beach awaits tourists with a variety of beach clubs and crystal clear waters.
I've recently spent 12 days in Rhodes and did my best to get the most of it. Besides the impressive Rhodes town, my friends and I decided to rent a car for 3 days and visit the main attractions of the island. We found Rhodes car rental office next to our Esperia City hotel whose owner gave us an amazing price – only 100 € for three days as it was September and not too busy. Rhodes car rental prices can be very high in July and August (around 60-70 € per day) so we were lucky to get a car at a very affordable price.
Rhodes is a relatively small island: 79.7 km (49.5 mi) long and 38 km (24 mi) wide. Rhodes town lies at the northern tip of the island and Rhodes-Diagoras International Airport is located at 15.5 km/9.6 miles southwest of the capital. The roads on Rhodes island are well maintained and clearly marked, however, I do recommend you get navigation once you start driving around the island.
In this article, I want to share with you my Rhodes itinerary for 3 days – the maps, places we visited, the driving distances, and all information you might need.
---
Note: I won't describe the places we visited in detail in this article. If you want to read more about the attractions we visited by car, check out my article 20 Best Things to Do in Rhodes, Greece
Check out Rhodes rent a car prices and availability
Rhodes Car Rental – Day 1
Itinerary: Rhodes Town – Kallithea Springs – Ladiko Bay/Antony Quinn Beach – Lindos
Distances:
Rhodes Town – Kallithea Springs = 11 km/7 miles (a 20-minute drive)
Kallithea Springs – Ladiko Bay/Antony Quinn Beach = 9 km/5.6 miles (a 15-minute drive)
Antony Quinn Beach – Lindos = 35 km/22 miles (40 minutes drive)
Lindos – Rhodes Town = 49 km/30 miles (a 1-hour drive)
Kallithea Springs
On the first day, after we filled out paperwork (all you need is your driver's license – no need for an international license), we picked up our car around 9:30 AM and started driving toward our first stop – Kallithea Springs.
Kallithea Springs is a beautiful ancient thermal spa complex and a beach located only 20 minutes drive from Rhodes town.
Kallithea Springs is easy to find as the road is well marked. You will see several signs on the way there, and the place itself has large free parking where you can leave your car.
The entrance ticket to Kallithea Springs is 3 €, and our visit lasted around 1 hour. We took time to wander around a thermal complex consisting of a small beach, restaurant and a building housing a photo exhibition on the history of the place and a popular venue for weddings/events.
Behind the lavish white building, you'll see a cliff where you can climb and take some fantastic photos of the springs and the coastline. We also watched a short video about the Kallithea Springs and explored the surrounding area as it's truly breathtaking!
Antony Quinn Beach and Ladiko Bay
Our next stop was Antony Quinn beach, one of the most popular beaches and a must-see Rhodes attraction. A ride from Kallithea Springs to Antony Quinn beach took us around 15 minutes. There is a clearly indicated turn to the left, and it's very easy to find. There is a large free parking at the beach but in the summer months, it can be really packed so you might have difficulty in finding an empty spot.
---
Board on two traditional boats "Romantika" or "Romantika Dreams", for an unforgettable cruise along Rhodes' scenic coast! Get comfortable and enjoy the sea at the 3 most amazing bays diving off the deck or snorkeling. Taste a Greek cuisine buffet while the amazing crew will keep filling up your glass during the whole cruise! Check out Romantika day cruises here.
---
The road to the parking is narrow at some parts, and on the way there you'll be able to spot another beautiful bay – Ladiko Bay, which you will recognize by a bar-restaurant of the same name.
Ladiko beach has its own small parking, but you can also park at parking above Antony Quinn beach and then walk to Ladiko beach (that's how we did). Both Ladiko beach and Antony Quinn beach are beautiful and only 5 minutes walk from each other.
We stayed there for a couple of hours and enjoyed the emerald crystal clear waters of these two stunning beaches.
Lindos
After a few hours spent at Ladiko beach and Antony Quinn beach, we headed toward Lindos – our final stop for that day! Lindos is an important archeological site and one of the most fascinating places on the island.
Before our trip, I read that we should allow at least half-day or one full day for Lindos and that the best time to go there is in the afternoon because in the morning it can be incredibly hot. So, our plan was to get there around 3 PM and stay until the evening.
The ride from Antony Quinn beach to Lindos took us around 40 minutes. The best panoramas of Lindos are admired from the road, so once you approach this stunning village, I suggest you get your camera ready and stop at one of the road extensions from where you can enjoy panoramic views of Lindos and its Acropolis.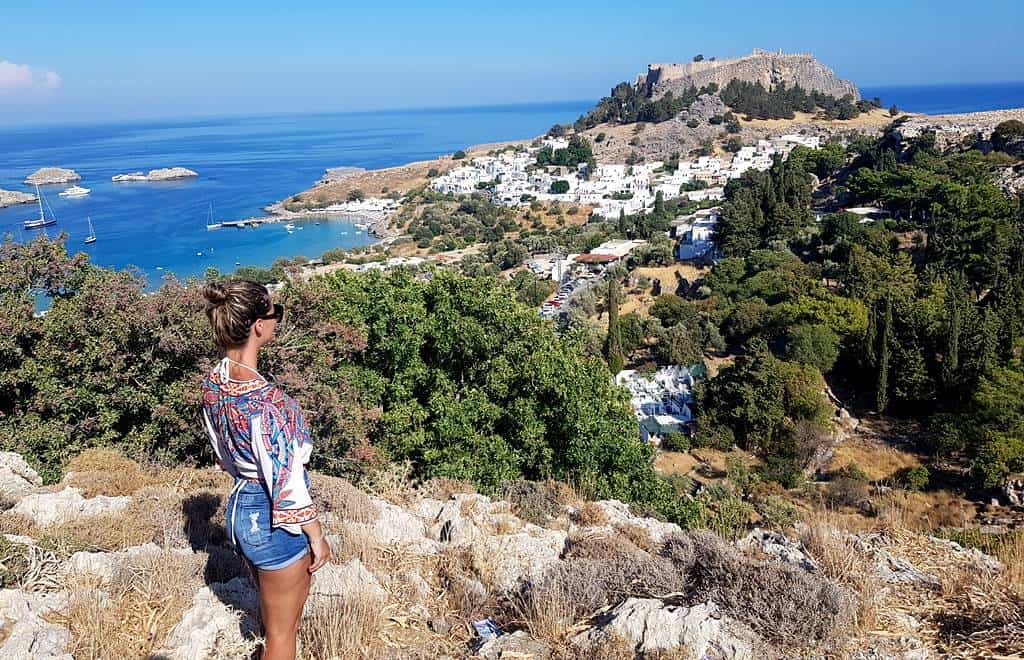 Lindos is a whitewashed historic village on top of which stands an ancient Acropolis dominated by the Doric temple of Lindia Athena and a few other ruins and ancient buildings. I visited the Acropolis at dusk and it was truly breathtaking. It takes at least 10 minutes to climb to it, and you can also hop on a donkey which I don't recommend because these poor animals look sad and abused.
The entrance fee to the Lindos Acropolis is 12 € and cards are accepted too. A visit to the Acropolis is self-guided and lasted around 40 minutes in my case. After that, my friends and I strolled through the streets of the village, shopped, and tried the delicious pancakes with gelato. Unfortunately, we didn't have time to go to the beach as we were a little bit tired and wanted to be back in Rhodes town on time for dinner.
A ride back to Rhodes town from Lindos took us around 1 hour and we arrived around 9 PM. It was hard to find free parking in Rhodes town (especially in the late evening), so we left our car near Mandraki port as over there some sections of the parking were free of charge.
Read more about Kallithea Springs, Antony Quinn Bay, Ladiko Bay and Lindos in my article: 20 Best Things to Do in Rhodes, Greece
Rhodes Car Rental – Day 2
Itinerary: Rhodes Town – Butterfly Valley – Archangelos – Tsambika Beach – Tsambika Monastery 
Distances:
Rhodes Town – Butterfly Valley = 25 km/15.5 miles (a 40-minute drive)
Butterfly Valley – Archangelos = 26 km/16 miles (a 35-minute drive)
Archangelos – Tsambika Beach = 6 km/3.7 miles (10 minutes drive)
Tsambika Beach – Tsambika Monastery = 2.5 km/1.5 miles (5 minutes drive + hike to the monastery)
Tsambika Monastery – Rhodes town (Mandraki marina) = 26 km/16 miles (35 minutes drive)
Butterfly Valley
On the next day, we started our journey toward Butterfly Valley, a nature reserve and one of the most visited places in Rhodes located around 40 minutes drive from Rhodes town.
We started driving along the island's west coast and near the village of Damatria, we turned left toward the valley. There were signs along the way, however, we were using navigation that helped us A LOT (as the orientation is not my strongest point).
There were several free parking lots along the road and you can park wherever you want. Butterfly Valley consists of the Lower part and Upper parts of the valley, and obviously, we parked at the Lower part which we realized later. The entrance fee was around 5 € and our visit lasted…. hmmm, too long!
Butterfly Valley is an idyllic place known as the breeding place for rare species of butterflies including Panaxia Quadripunctaria (Jersey tiger moth) species that can be seen all over the trees in the valley.
The visit consists of around a 1-mile walk (1.5 km) through the lush greenery and nature reserve filled with romantic bridges, ponds, small lakes, and narrow paths.
Facilities, a gift shop, and a snack bar are available on spot, and on top of the upper part of the Valley, there is The Holy Monastery of Kalopetra that you can visit.
What we didn't realize is that once we reached the Kalopetra Monastery on the top, we needed to go all the way back to our car! Through the valley, again! To be honest, I was frustrated because it took us a long time to climb and then go back again. Overall, the visit to the Butterfly Valley lasted over 2.5 hours. It was nice, but I wasn't that impressed as we were there at the beginning of September that was already the end of the breeding season for the butterflies so we didn't see many of them.
There is a map at the entrance of the Butterfly Valley, so I suggest you can carefully plan your visit if you decide to go. Again, it's a nice place to see but I wouldn't recommend visiting if you stay for a limited time in Rhodes or unless you are a genuine nature lover!
Archangelos Village
Our next stop was Archangelos village. I read about this lovely village so I wanted to stop by as it was on our way to Tsambika beach.
Archangelos village is a picturesque, small village dotted with whitewashed houses and a beautiful Church of the Archangel Michael with its striking 19th-century bell tower. It is a traditional village and the largest one on Rhodes island with around 6000 inhabitants. As we got there in the middle of the day, there weren't that many people on the streets.
The church was closed so we wandered around the peaceful streets and went for a coffee and ice cream at one of the cafes on the main street. We also went to the supermarket to buy some refreshments and snacks, and found out that the prices were significantly lower than in any other place in Rhodes!
We paid around 1 € for a large scoop of ice cream, and around 1.40 € for Freddo Cappucino. It was a short visit because the beach was calling us!
Time-permitting, you can also climb to the castle of Saint John dominating the village. The castle was built by the Knights of Saint John and it takes around 15 minutes to get to the top.
Tsambika Beach
Tsambika beach ranks among the most beautiful beaches on the island and it was our next stop! It is located only 10 minutes drive from Archangelos village and there is clearly marked sign on the main road pointing to the beach.
It is one of the most visited beaches in Rhodes. It's popular for both families due to its shallow clear waters and soft golden sands, and younger crowd due to numerous beach clubs, facilities, and water sports.
There is huge free parking right in front of the beach, and the scenery is dominated by the tiny white chapel on top of the hill overlooking the beach – Tsambika Monastery that we were supposed to visit later.
We stayed at Tsambika beach for about 4 hours. We brought our own towels, but you can also rent a set (umbrella/two chairs) for around 20 €. I also saw that you can rent only one sunbed if you like, at a price of around 6 € per bed. These prices may vary based on the season (I suppose they are more expensive in July/August) and availability.
Tsambika Monastery
After relaxing time spent on the beach, we went for a hike to the Tsambika Monastery. We returned to the main road, and after a few minutes' drive we saw the sign pointing right to the Tsambika Monastery.
From there, you need to keep driving (even though it seems steep) for a couple of minutes and you'll reach small parking where you can leave your car. If you keep driving a bit further, you will get to the second parking, closer to the Monastery, from where you can climb your way up.
We left our car at the first parking as the road seemed very steep and I wasn't sure if our car would make it to the second parking. From the place we left our car, we climbed 298 concrete steps to the Tsambika Monastery barefooted, as the tradition says.
Tsambika Monastery is an incredible place that blew my mind away! It filled me with incredible energy, faith, and spirituality. The monastery is centuries-old and is dedicated to the Virgin Mary. The legend says that women who have difficulty in conceiving should climb to the monastery barefooted and the Virgin Mary would help them get pregnant.
Once you reach the top, you can enter the small white chapel, make offerings if you wish, and admire the most breathtaking view of Tsambika and surrounding beaches.
After the visit to the monastery, we drove back to Rhodes town for about 30 minutes and parked our car at Mandraki port, in front of the Governor's palace.
Read more about the Valley of Butterflies, Tsambika Monastery and Tsambika Beach in my article 20 Best Things to Do in Rhodes, Greece
Rhodes Car Rental – Day 3
Itinerary: Rhodes Town – Kamiros Archeological Site – Kritinia Castle – Monolithos Castle – Prasonisi
Distances:
Rhodes Town – Kamiros Archeological Site = 34 km/21 miles (50 minutes drive)
Kamiros Archeological Site – Kritinia Castle = 23.5 km/14.5 miles (30 minutes drive)
Kritinia Castle – Monolithos Castle = 28 km/17.5 miles (40 minutes drive)
Monolithos Castle – Prasonisi Beach = 39 km/25 miles (40 minutes drive)
Prasonisi Beach – Rhodes Town = 89 km/55 miles (1 hour 30 minutes drive)
Archeological Site of Kamiros
Ancient Kamiros (Kameiros) is one of the three Doric cities that together with Lindos and Ialysos used to create the city-state of Rhodes in the 5th century BC. Nestled on the northwest coast of the island, the ruins of this ancient city were the first place to visit on our bucket list for that day.
Rhodes' west coast overlooks Turkey and throughout history was subject to numerous attacks from different enemies. It is windy, so it doesn't have many nice beaches like the east coast.
The west coast boasts several ruins and fortresses strategically built on hilltops overlooking the sea. Being a history buff and a fan of panoramic views, I suggested to my friends to visit three of them: Ancient Kamiros, Kritinia Castle and Monolithos Castle, before we head to the Prasonisi beach situated on the southernmost tip of the island.
It took us around 45 minutes to get to our first stop – Kamiros Archeological Site. The road is well marked and all you have to do is drive along the scenic west coast until you reach the sign that indicates to turn left to Kamiros. There is free parking in front of the site and it's not crowded so you won't have trouble finding the parking space.
The entrance fee to Kamiros is 6 € and the visit takes around 45 minutes – 1 hour. You can walk through the ruins where you'll discover the remains of temples, public squares, residential houses, ancient baths, altars… There are explanations everywhere so if you are into history, you can take your time and learn in-depth about this ancient site.
The facilities and a small cafe are available on site. After the visit, we continued our drive to Kritinia Castle, our next stop.
Kritinia Castle
After a 20-minute drive, we reached the village of Kritinia dominated by the medieval castle of Kritinia also known as Kastello. This impressive Venetian castle was built in the 16th century by the Knights of Saint John (aka Knights Hospitaliers) for defense purposes.
We left our car on a free parking lot in front of the castle and started climbing toward the entrance. There is no entrance fee to get inside. The climbing itself is not that strenuous, however, the path leading to the entrance is not suitable for people with walking difficulties.
Once inside, you can walk through the ruins and admire the spectacular panoramic views of the Aegean Sea, the island of Chalki, and the small islets of Strogyli, Makri, Alimia and a couple of others.
We stayed there for around 20 minutes. The castle is not really that big so 20 minutes is more than enough.
Our next stop was another breathtaking castle – Monolithos Castle.
Monolithos Castle
The scenery on the way from Kritinia Castle to Monolithos changed a bit. We weren't driving along the coast anymore – instead, we took a curvy road past Mount Attavyros, the highest mountain on Rhodes island known for challenging hiking trails and gorgeous views of the island from its peak.
The temperature dropped by at least 5 °C and we were driving through pine forests and mountain vegetation. I was truly impressed to see how the scenery completely changed… even the sun was hiding behind the clouds the entire way!
On our left side, we saw a turning to Embonas – a hillside village known as the center of wine production on Rhodes, with several wineries offering wine tasting and cellar tours. We saw a couple of these wineries along the way, but unfortunately, we didn't have time to go for a tasting (plus, it wouldn't be smart for me, the driver, to get near those wines lol).
In about 45 minutes, we reached the ruins of Monolithos Castle, named after the solitary 300 feet high rock ("Monolithos" means "Lonely Rock") on top of which it was built. The castle dates from the 15th century and was built by the Knights of St John. It is widely ruined today, but it's absolutely worth visiting due to magnificent views of the coast and a picturesque white chapel (The Chapel of Agios Panteleimon) still preserved inside of the castle walls.
There is small free parking at the foot of the rock, and it's possible to park along the road as well. To access the castle, you need to climb a staircase cut into the rock for about 5-10 minutes, depending on your speed and physical shape. It's not really strenuous, but the staircase can be slippery so make sure you wear comfortable footwear.
There is no admission fee to Monolithos Castle. You can make donations to the chapel if you wish, but it's not mandatory. We stayed there for around 40 minutes as we couldn't get enough of the views… It's such a breathtaking place that no words can describe it!
When we finished the tour of the castle, we continued to drive toward Prasonisi beach, one of the most picturesque beaches on Rhodes island!
Prasonisi Beach
We left the mountain behind us, and now the road was taking us through Apolakkia village and partly along the coast toward the southernmost tip of the island – Prasonisi peninsula, connected to the rest of Rhodes island by a strip of sand at low tide.
Prasonisi beach is popular for windsurfing and kiteboarding, and once you approach the beach you'll see dozens of colorful kites and surfers on the beach. The whole area has huge parking and several laid-back surfer bars and rustic tavernas.
The strip of sand at low tide forms two beaches – the one on the western side is windy, so it's ideal for windsurfing, while the eastern side is calmer and perfect for kiteboarding and swimming.
Waters are clear and shallow, however, it's recommended to swim only in designated areas to avoid getting hit by a kiteboard.
We stayed on the beach for a couple of hours, after which we headed back to Rhodes town. It took us 1 hour 30 minutes to reach the town and we drove along the east coast, so practically we made a circle around the entire island in one day.
Read more about Kamiros Archeological Site, Kritinia Castle, Monolithos Castle and Prasonisi Beach in my article 20 Best Things to Do in Rhodes, Greece
To Wrap Up
As you can see, the island of Rhodes is perfectly sized and its main attractions can be visited in three days or less, depending on how you plan your itinerary and what you want to see.
The itinerary we did is perfectly manageable and really beautiful as you get to see different sceneries, landscapes, and to truly get to know the soul of Rhodes island.
Check out Rhodes tours and activities
Explore Rhodes Car Rental prices and availability
---
Rhodes Car Rental 3-Day Itinerary from Rhodes Town
Day 1
Kallithea Springs
Antony Quinn Beach/Ladiko Bay
Lindos
Day 2
Valley of the Butterflies
Archangelos Village
Tsambika Beach
Tsambika Monastery
Day 3
Kamiros Archeological Site
Kritinia Castle
Monolithos Castle
Prasonisi Beach
---
This article may contain affiliate / compensated links. For full information, please see my disclaimer here.
You May Also Like:
Port of Rhodes Cruise Guide, Things to Do, Shore Excursions
20 Best Things to Do in Rhodes, Greece
7 Great Rhodes Restaurants That I Highly Recommend
Santorini Cruise Port Guide, Things to Do, Highlights