Private islands in the Caribbean are a dream not only for travel addicts but all those people who enjoy exotic travel destinations and summer vibes. And when you think of your ideal vacation featuring white sandy beaches, warm tropical sun, sunset cocktails, and exotic music, what is the first name that comes to your mind?
I'll tell you.
The Caribbean!
For those of you who haven't had the chance to visit the Caribbean, I'll share a few words on it:
The Caribbean islands are an archipelago consisting of more than 700 islands, islets, reefs, and cays, primarily located between North and South America. They are subdivided into several different regions: the Lucayan archipelago, the Greater Antilles, the Lesser Antilles, and the ABC Islands.
Some of the islands are the independent, sovereign states, such as Cuba, Jamaica, Dominican Republic, Haiti, Barbados, The Bahamas, etc. whereas most of the islands are dependent territories, such as ABC Islands (Aruba, Bonaire, Curacao), Cayman Islands, US Virgin Islands, Guadeloupe, Martinique, and others.
I've had the chance to visit and admire the beauty of several Caribbean islands known worldwide (Jamaica, The Bahamas, ABC Islands, Cayman Islands…), but what I was absolutely impressed by were the small, unknown, private islands, true hidden gems of the Caribbean Sea.
I had the chance to visit these islands while working as a Shore Excursion staff onboard beautiful cruise lines and I'd love to share with you information on 7 private islands in the Caribbean to visit on a cruise!
1. Amiga Island, Haiti
If you imagine a paradise on the Earth, it has the form and shape of Amiga Island, located a 20-minute boat ride off the coast of Labadee, Haiti.
The island is small – if you start walking around, it will take you 10 minutes to make a circle. It has a lot of greenery and natural shade and it is surrounded by coral formations and reefs where you can snorkel if you wish.
Suggested article: Snorkel Gear and Scuba Diving Equipment – Tips by a Pro!
What makes this island perfect for those in search of silence and peace of untouched nature, is that there is nothing on the island, except for a small toilet, a cash bar, and the beach amenities such as hammocks, sunbeds, and lounge chairs.
You can buy only drinks for an affordable price (no food available), and rarely you can find a few local people selling souvenirs. It is a true paradise place for those who want to spend a few hours just relaxing on the pristine white sand and swim in crystal-clear waters, cut out of the world and hustle and bustle of everyday life.
How to Get to Amiga Island
You can visit Amiga island either through a Royal Caribbean shore excursion (if your cruise itinerary includes Labadee) or through a tour agency if you are staying in Cap Haitien (a region located on the north coast of Haiti).
If you are cruising with Royal Caribbean and you stop in Labadee, the company's private beach resort, you should definitely consider taking a tour to Amiga island as it is only a 20-minute boat ride from there. You can either pre-book the tour on the Royal Caribbean's website (which I suggest, as it has limited capacity) or book it onboard.
Normally, the visit to Amiga island lasts up to 3 hours and includes the boat ride, a complimentary Amiga island signature rum punch, and free of charge use of beach chairs, sunbeds, and hammocks on the island.
I would say the island is perfect for everyone, except for people prone to motion sickness, as the boat ride to and from Amiga island can be quite rough sometimes!
Suggested article: 25 Top Shore Excursion Packing List Items
Also, if you are traveling with kids who prefer to have more active beach time, then consider staying in Labadee, as Amiga island doesn't offer any water-related activities (only snorkeling that didn't impress me, to be honest).
Nevertheless, Amiga island is one of my favorite Caribbean private islands that should definitely be on your bucket list if you are visiting Labadee or Cap Haitien.
Royal Caribbean Deals at Cruise Critic
Amiga Island Tour from Cap Haitien
2. The Starfish Island, Belize
Starfish Island is a small private island located in the north of Belize, and 9 miles southeast of Belize City, the largest city and former capital of this Caribbean country.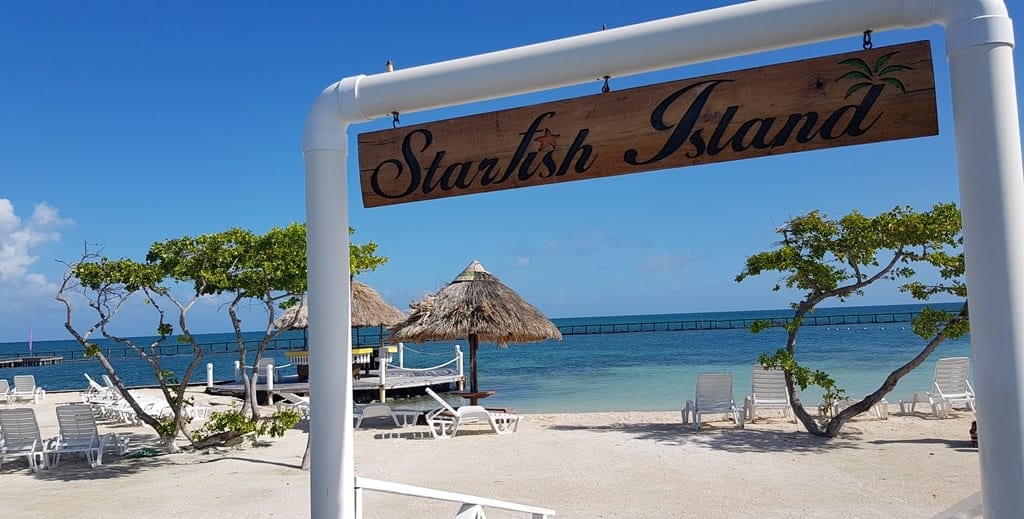 It's called Starfish island due to the many starfish and conch crabs you can find around the island, and there is even a starfish pond where a trained island staff will let you hold it! I thought of it as a unique experience so I held one: it felt so cool to feel it moving on my palm!
If you want to swim in the sea, I highly recommend you bring water shoes (which, of course, I didn't do) as it's quite rocky when you step into the water.
There is a restaurant on the island, a very local one, serving traditional Caribbean food (grilled chicken, rice, beans, macaroni salad, etc.) for very reasonable prices. If you are coming with a cruise ship, you can book a tour where lunch is included, so you don't have to worry about the food. There is a bar on the island as well (prices can vary, I think I paid 5$ for a coconut), a souvenir shop (the glasses I wear in the pictures I paid 15$ in that shop) and if you want, you can rent snorkeling equipment, or go for a waterpark or kayaking for an extra fee.
For cruise guests normally the sunbeds and chairs are included (always check what tour includes, though), but otherwise are available for rent. There are toilets and changing rooms available, too.
The beach itself is nice, but the only thing I disliked was that the beach space was quite limited and in many areas of the island it's restricted to swim due to corals.
How to Get to Starfish Island?
Cruise companies usually offer Starfish island as one of the shore excursions that you can book onboard or you can book it through local tour agencies in Belize.
If you are coming on a cruise ship and you book a tour, the tender boat will pick you up and take you to Starfish island. The ride lasts shortly, up to 15 minutes and upon arrival, you can enjoy the amenities that Starfish island has to offer.
Even though I prefer the open sea, I have to say I truly enjoyed the island because it has everything for everyone's taste, especially for families with kids!
3. Pearl Island, The Bahamas
If you are staying in Nassau, Bahamas, don't miss the chance to join one of the tours taking you to a small, private island – Pearl Island, located a 15-minute boat ride from Nassau (8 miles away), the capital and the largest city of the Bahamas.
Pearl Island is a true Caribbean pearl: it boasts a gorgeous, white-sandy beach and the main landmark is a white lighthouse that you can climb and admire postcard-perfect views on the island's surroundings.
Suggested article: Nassau Cruise Port, Things to Do & Top 10 Nassau Excursions
There are many Independent Tour Companies offering Pearl Island tours, but if you are cruising with a ship you can book a tour onboard; usually, the tour includes a lunch and complimentary rum punch as well, but you can check that with your cruise company upon booking the tour.
On the island, you can find a restaurant serving simple, yet delicious typical Caribbean food (I remember I tasted a fish which was delicious) and a bar serving drinks. There are toilets and changing rooms available as well.
For those who like water activities, you can join 20-minute snorkeling guided by an instructor (sometimes included in the tour price, and sometimes not) with all snorkeling equipment provided, or you can just relax in the sun and swim in crystal-clear waters. Apart from sunbeds, you can also rent beach cabanas, to maximize your stay on Pearl Island.
Pearl Island remains one of my favorite Caribbean islands and I highly recommend you to visit it!
Explore the Pearl Island tours
4. Blue Lagoon Island, The Bahamas
Blue Lagoon Island in the Bahamas is just a stone's throw from Pearl Island. It takes around a 20-minute scenic boat ride from Nassau to reach the island. The island is owned by a local family, has a very long and interesting history, and is a natural habitat of dolphins and sea lions, which makes it perfect for visitors of all ages.
There are many Blue Lagoon Island tours from Nassau, including cruise ship shore excursions, offering various programs on the island. You can opt for educational programs such as Dolphin Encounter, Sea Lion Encounter, Dolphin Swimming, and many others, or you can join activities such as Segway, Eco-Nature walking tour, or watersports activities. If you want to spend some relaxing time, you can either relax soaking up the sun or enjoy a variety of delicious local and international food served in a large local buffet-style restaurant.
Suggested article: Nassau Cruise Port, Things to Do & Top 10 Nassau Excursions
Hosts and staff on Blue Lagoon island are friendly and helpful, so you won't have any difficulty getting around. There are also VIP beach packages, where you can enjoy all-inclusive service, plus a private beach area reserved only for guests with a VIP package.
I've been on Blue Lagoon island twice: the first time I enjoyed the VIP service (buffet-style served food only for a few of us and private beach area with beach cabana included), and the second time I had an encounter and swam with a dolphin named Andy – an incredible experience I'll remember for a lifetime!
Blue Lagoon Island is larger than the first three islands I wrote about and therefore has so many things to offer for all visitors. I fully enjoyed it, and I can't wait to go back!
Check out Blue Lagoon Island tours from Nassau
5. Balmoral Island, The Bahamas
Before I tell you few words about Balmoral island, I must say I personally haven't been on this island, but my colleagues have and they shared some very great feedback on it.
Balmoral Island is another private island in the Bahamas located off the northern coast of Nassau and offers similar concepts like Pearl island and Blue Lagoon Island.
Besides white sandy beaches, crystal-clear turquoise water, and beach bars equipped with cabanas, sunbeds, and umbrellas, serving fresh tasty food, the island offers animal interaction programs, featuring dolphin and stingray encounters.
My colleagues enjoyed the island and they said they did some snorkeling as well, which might be a good idea for all lovers of underwater activities. There are ferry boats running regularly on daily basis from Nassau to Balmoral island, or if you are cruising with a ship, you can book shore excursions on board as most of the large cruise companies offer Balmoral island as an excursion, too.
Suggested article: Nassau Cruise Port, Things to Do & Top 10 Nassau Excursions
Anyway, be sure that whichever island you choose – you'll have a great and unforgettable time!
Check out Balmoral Island tours from Nassau
6. Klein Bonaire, Bonaire
Klein Bonaire ("Klein" meaning "little") is a small uninhabited island located about half a mile off the coast of Bonaire. Klein Bonaire is not a private island; it is a part of Bonaire, one of three ABC Islands (Aruba, Bonaire, Curacao) which are part of the Kingdom of Netherlands. They are located in the Leeward Antilles, one of the Caribbean regions, 80 kilometers off the coast of Venezuela, Bonaire being the smallest of all three islands.
The reason I wanted to mention Klein Bonaire is that the island is part of a protected area of Bonaire National Marine Park, a breathtaking marine national park where I had an amazing chance to go snorkeling – one of the best snorkeling I've ever done!
Suggested article: Snorkel Gear and Scuba Diving Equipment – Tips by a Pro!
Klein Bonaire is home to turtle nesting grounds and very rich flora and fauna. You'll be impressed by what you can see under the water – for me it was even better than on the Discovery channel! Unfortunately, I didn't have a Go-pro camera to film under the water, but I asked my colleague diver to share some pictures with me, so we can admire the underwater beauty of Klein Bonaire together!
It is important to mention that Klein Bonaire is 6 square kilometers large and extremely flat. There are no toilets or any other facilities on the island. It's a purely natural area without any human impact and you won't even find shade on the island!
On the other hand, the island is very easy to reach. There are water taxis available on the island of Bonaire and they charge a transfer fee to take you to Klein Bonaire (I can't remember exactly how much, but it wasn't a lot, and they offer round-trip tickets).
Suggested article: The Complete Guide to Bonaire Cruise Port (+ 6 Best Bonaire Shore Excursions)
If you are coming on a cruise ship, right in front of a ship you'll find many local vendors offering different kinds of tours but also transportation to Klein Bonaire and back, so if you exclusively want to go to Klein Bonaire, you can easily find a water taxi.
There are also several shore excursions offered by a cruise company including not only the snorkeling in Klein Bonaire but also smaller boat/catamaran cruises around Bonaire and some island sightseeing tours. When I visited Klein Bonaire it was on a Samur Siamese junk so I truly had a unique and authentic experience, which I absolutely recommend to everyone!
7. Renaissance Island, Aruba
When people ask me which Caribbean island I prefer, I usually avoid the answer as there are so many beautiful islands and places to visit! And when they start to insist, I always mention Aruba as definitely one of my top three favorite islands. I wrote an article about how to visit the highlights of Aruba in a day, but here I want to mention a beautiful Renaissance island that I haven't been to but is definitely worth mentioning.
Suggested article: Aruba Cruise Port Guide (+ Top 10 Aruba Shore Excursions)
Renaissance Island is available only for guests of Renaissance Aruba Resort & Casino between 7 a.m. to 7 p.m. daily, with complimentary water taxis leaving every 15 minutes to and from Renaissance private island.
It is a luxury tropical oasis, boasting incredible sandy beaches and fancy beach bars (Mangrove Beach Bar and Papagayo Bar & Grill), while the greatest attraction is wild, pink flamingoes which roam freely on the Flamingo beach, available for adults only.
You can freely pose for a picture next to the flamingoes, and make some postcard-perfect pictures unique in the world!
An interesting fact is that Renaissance island beaches are the only private beaches in Aruba – all the rest of the beaches are public, and I warmly recommend you to check out Eagle Beach, Palm Beach, Baby Beach, Arashi beach… Check out my article Aruba Highlights in a Day for a detailed Aruba travel planner. Aruba is absolutely gorgeous and wherever you go, its beauty will leave you speechless.
Suggested article: Aruba Cruise Port Guide (+ Top 10 Aruba Shore Excursions)
To Wrap Up
The Caribbean is all about summer vibes, colors, breathtaking sandy beaches, exotic sounds, and an easy-going lifestyle.
If you haven't cruised to the Caribbean yet, definitely include it on your bucket list travel destination, but if you have and you want to explore some new places, these private islands might give you an idea!
Thanks for a read and stay tuned until our next Caribbean adventure!
Check out today's cruise deals from Cruise Critic!
---
This article may contain affiliate / compensated links. For full information, please see my disclaimer here.
You May Also Like:
Do You Need a Reliable Travel Insurance? Get a Quote!