Welcome to Nassau cruise port!
Nassau, the capital of the Bahamas, is conveniently located on the northern coast of the tiny island of New Providence and represents the cultural, economic and administrative center of The Bahamas. Due to its proximity to the coast of Florida, which lies only 180 miles away from New Providence, Nassau is one of the most visited and popular cruise ports in the Caribbean cruise itineraries. In this article, read about:
Nassau cruise port (Nassau cruise terminal info, getting around, helpful tips)
Top 10 things to do in Nassau port and best shore excursions
Visit also our cruise guides to Freeport, Aruba, Curacao, Bonaire, San Juan, Falmouth, Cozumel, Costa Maya, Grand Cayman, Perfect Day at CocoCay, Labadee, St Maarten, St Thomas, Bermuda, Barbados
Nassau Cruise Port
Nassau cruise ship terminal is located in Nassau downtown, within easy walking distance from its main historic landmarks, shops, restaurants, and bars.
Cruise ships dock at Prince George Wharf cruise terminal, which consists of three long piers with berthing spaces built to accommodate up to eight cruise ships, depending on their size. Despite a large number of docks, the distance between them is short and you don't need more than 5-10 minutes to exit the terminal, regardless of where your cruise ship docks. Due to the closeness of the berths, the terminal area is constantly packed with cruise passengers and seems quite chaotic, so it's good to be prepared ahead and keep your party together in case you travel with friends or family.
See the Nassau cruise port map on Google
There is only one cruise terminal building, known as Festival Place, and all cruise passengers need to pass through it upon exiting/coming back to their ships. At Festival Place, you'll find a tourist information desk where you can pick up Nassau maps and brochures, and get information regarding local transportation, ferry boats, and tours. You'll find tour booths (where you can rent a car or book a tour with local tour operators), ATMs, a post office and phone booths, restrooms, a food area, and duty-free shops.
Useful info:
The port area is flat and suitable for wheelchair users/people with walking difficulties.
Outside the terminal, you'll find an array of shops, souvenir stores, eateries, and internationally recognized brands such as Harley Davidson (opposite the Festival Place), Starbucks, Burger King, Hard Rock café, Senor Frogs, and many others. Get ready to be harassed as well, as you'll come across countless local vendors offering car/scooter/off-road vehicle rentals, excursions, walking tours, day passes to famous local attractions, and ferry, boat, or taxi rides.
Taxis are available outside of the terminal. I advise you to pay in cash (US dollars are widely accepted) for the taxis and everything else you purchase because Nassau is not the safest place when it comes to money. Always make sure you keep an eye on your belongings as it's hard to spot pickpockets in large crowds.
Whether you book the shore excursion with the independent tour operator or your cruise line, it is very important that you follow the instructions written on your tour ticket/booking confirmation sheet. Nassau port is an extremely busy place, and people easily get lost or confused with their tour meeting place.
The majority of cruise line-sponsored shore excursions will have a meeting place on the pier, right outside of the ship (Note: Some shore excursions may have a meeting place inside the ship, so make sure you read the instructions on your tour ticket). Normally, you will be assigned the number of a station where you'll meet your tour guides. The stations are located right by your ship and visually indicated, so there's no need to get outside the terminal area to look for them. The tour guides will hold the sign with the tour name on it, so you'll easily spot them. Make sure you have your tickets in hand because there will be cruise passengers from another ship as well, and you don't want to join the wrong tour with a similar name.
Sometimes, tour guides show up at the last minute, so don't panic if you showed up at the meeting place on time and they are not there. Tour guides are often late as they manage tours for other ships in port as well. Shore excursion staff will be there to assist you and inform you of potential delays.
Upon coming back to the terminal, both the Ship Card (SeaPass card) and a physical photo ID will be required to show to the security staff. Copies of ID documents are not accepted, so make sure you bring a physical ID document with your photo on it to avoid inconvenience.
Junkanoo Beach is the nearest beach to Nassau cruise port (a 20-minute walk from the port).
The currency in the Bahamas is the Bahamian Dollar (BSD). 1 USD equals 1 BSD. US dollars and credit cards are widely accepted. ATMs are available in town. See the

currency converter

The high season in Nassau lasts from mid-December to mid-April, with warm, dry weather and pleasant temperatures. Nassau lies within the hurricane belt, so hurricanes and heavy rains may occur from June to November. For helpful packing tips, read my article

What to Pack for a Cruise – Top 50 Cruise Essentials

Lynden Pindling International Airport is the main international Nassau Airport and is located 16 km/10 miles southwest of Nassau cruise port.
Top 10 Things to Do in Nassau Cruise Port
Before I share with you the best things to do in Nassau, I invite you to sign up below and get my insider, exclusive SHORE EXCURSION GUIDE for FREE!
1. Nassau Downtown and Beaches
If you decide to skip an excursion and stay in Nassau's vibrant capital, there are numerous things you can do and see. Here is the list of the top-rated attractions:
Queen's Staircase and Fort Fincastle – Carved out of limestone by hundreds of slaves in 1793 as an escape route from Fort Fincastle, Queen's Staircase represents one of the major landmarks in Nassau. The staircase was constructed as a shortcut to Fort Fincastle, a defense fort built in the 18th century to protect Nassau from pirates. Both landmarks are located within a 10-15 minute walking distance from the Nassau cruise terminal and are well worth visiting if you want to soak up some local history. A staircase consists of 65 steps that will lead you to the fort from where you can admire beautiful panoramic views of the harbor and city.
Woodes Rodgers Walk – This is the street parallel to the harbor, and you'll spot it upon exiting the terminal. It is filled with cafes, bars, restaurants, souvenir shops, and numerous local vendors. On the waterfront boardwalk, you'll come across the ferry terminal where you can catch a ferry to Paradise Island.
Bay Street – This is the main street in Nassau where you will find the majority of shops, restaurants, bars, and tourist attractions. It is located parallel to the Woodes Rodgers Walk, a 5-minute walking distance from the pier. The street is home to several historic landmarks, including Pompey Museum, Rawson Square, and Parliament Square.
Pompey Museum – Located only a 10-minute walk from the port, on Bay Street, Pompey Museum is a museum of slavery built on the site of the 18th-century slave auctions. Housed in an old, brightly colored pink building, it is a simple and small museum with an impressive story where you can learn about this dark period of Bahamian history.
Pirates of Nassau – At a stone's throw from Pompey Museum, the fascinating Pirates museum reveals the 18th-century history of the city when Nassau served as a pirate base. You'll see fantastic artifacts, a replica of a pirate ship, and exhibits that will throw you back to the era of pirates.
Nassau Straw Market – Situated alongside Woodes Rodgers Walk, the Straw Market is a bustling market where you can buy traditional Bahamian handicrafts, authentic gifts and souvenirs, clothes, wooden toys, and much more. Bring cash and don't forget to bargain, as you can get some amazing deals and quality stuff here.
Fort Charlotte – Located a 30-minute walk or less than 10 minutes drive from Nassau cruise port, Fort Charlotte is a 100-acre limestone fort with dungeons and moats constructed in the 18th century. Surrounded by lush vegetation and botanical gardens, the place boasts an interesting history and offers exceptional views of the city and harbor. It takes about 1 hour to tour the whole place and you need to be able to walk uphill to reach it.
Christ Church Anglican Cathedral – Right between the Pirates of Nassau and Pompey Museum, in King Street, the impressive Anglican church dates from the 19th century and was built in an exceptional Gothic style. It is the oldest and largest church in Nassau with astonishing stained-glass windows and wonderful acoustics.
Government House – Only a 10-minute walk from the cruise dock, you'll come across a 19th-century residence of the British Governor-General housed in a well-preserved pink and white colonial mansion. It sits on a hill overlooking the harbor and boasts beautiful gardens ideal for a leisurely stroll.
National Art Gallery of the Bahamas – If you appreciate art and would love to learn about the local culture, head over to the Art Gallery showcasing Bahamian artworks and history. It is situated near the Government House, 15 minutes walk from the Nassau cruise port. It's not a touristy place which makes it even more appealing to those in search of an authentic, local experience.
The Bahamas Rum Cake Factory – Located a 10-minute walk from the Nassau cruise port, this is the place where you can get the best rum cake in the Bahamas! The factory produces several mouth-watering flavors of rum cakes including pina colada, banana, and chocolate.
Junkanoo Beach – When it comes to the Nassau beaches, the nearest one to the cruise terminal is Junkanoo Beach, located within a 20-minute walking distance from the port. It is a nice beach to spend your day at if you want to keep a low budget and still have a fun day. Of course, you'll find the best beaches on the private islands and Paradise Island, but Junkanoo beach is a great alternative as it's free and offers a variety of facilities to enjoy your day. It is a sandy beach with clear water and great swimming opportunities. Right next to it is Western Esplanade Beach, where you can find bar restaurants and sometimes there are live performances. These are the public beaches and expect a lot of crowds and noise.
Saunders beach – You can reach this beautiful beach within less than a 10-minute driving distance from the port of Nassau. It is a quiet stretch of white sand with crystal clear water where you can

snorkel

right off the beach. It's not crowded and you can spend some enjoyable time with your family and friends away from the hustle and bustle of the city. If you get hungry or thirsty, you'll find several food chains and shops across the street. Restrooms and changing rooms are available too.
Cable Beach – This beach is located near Saunders beach, a 15-minute drive from Nassau cruise port. It is a small piece of heaven lined with hotel resorts, boasting crystal clear turquoise waters and white sands where you can swim, snorkel or simply sunbathe under the palm trees. Bars, restaurants and watersports are available. It is considered one of the best beaches in Nassau.
Paradise Island – On the Woodes Rodgers Walk waterfront promenade, you'll come across the ferry terminal where you can catch ferry boats to Paradise island where the famous Atlantis resort is located. You'll see the sign and a small blue kiosk where you can buy tickets. The ferry runs every 30 minutes and costs around $4 one-way, and $8 round-trip. Bring cash, as credit cards are not accepted.
The Paradise Island ferry terminal is located under the two bridges connecting Nassau and Paradise Island, and from there you can walk to Atlantis resort. Keep in mind that it can be very crowded on the way back (as most of the cruise ship passengers go to the island by ferry), so always save at least 1 hour for the transfer back to the ship. An alternative option is to take a taxi to Paradise island which will cost you approximately $5 per person one-way.
Besides the Atlantis Resort, Paradise Island has stunning beaches, such as Paradise beach, Cabbage beach, Cove Beach, Smugglers beach, Arawak beach, and others. The beaches are public, so you can freely come and enjoy the Caribbean vibes on some of the world's most beautiful beaches.
Explore Nassau sightseeing tours and activities
2. Pearl Island
This gorgeous tiny island is definitely my favorite when it comes to the Bahamas. It is nestled around 8 miles off the coast of New Providence and a 15-minute boat ride from Nassau. If you seek peace, sugar-white beaches, snorkeling, and delicious Bahamian cuisine far from the bustling city and tourist resorts, you are in the right spot!
The island is private and therefore it's not crowded. You can take a dip in the crystal clear blue waters, enjoy frozen cocktails at the bar, relax in the loungers or climb the white lighthouse (the symbol of Pearl Island) for spectacular 360-degree views of the island. Island personnel is friendly and helpful, and will do their best to make your stay pleasant and enjoyable!
See the list of Pearl island tours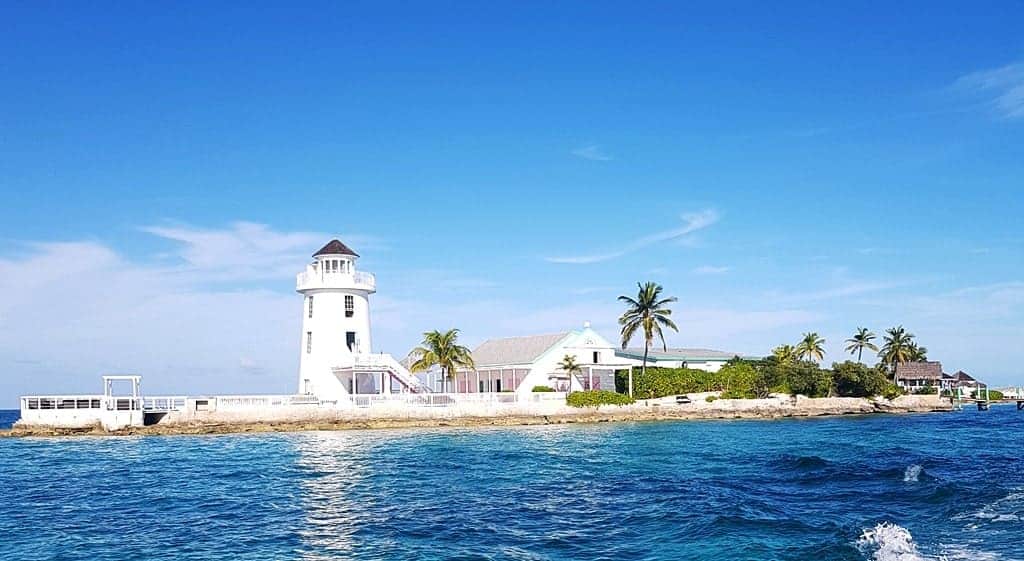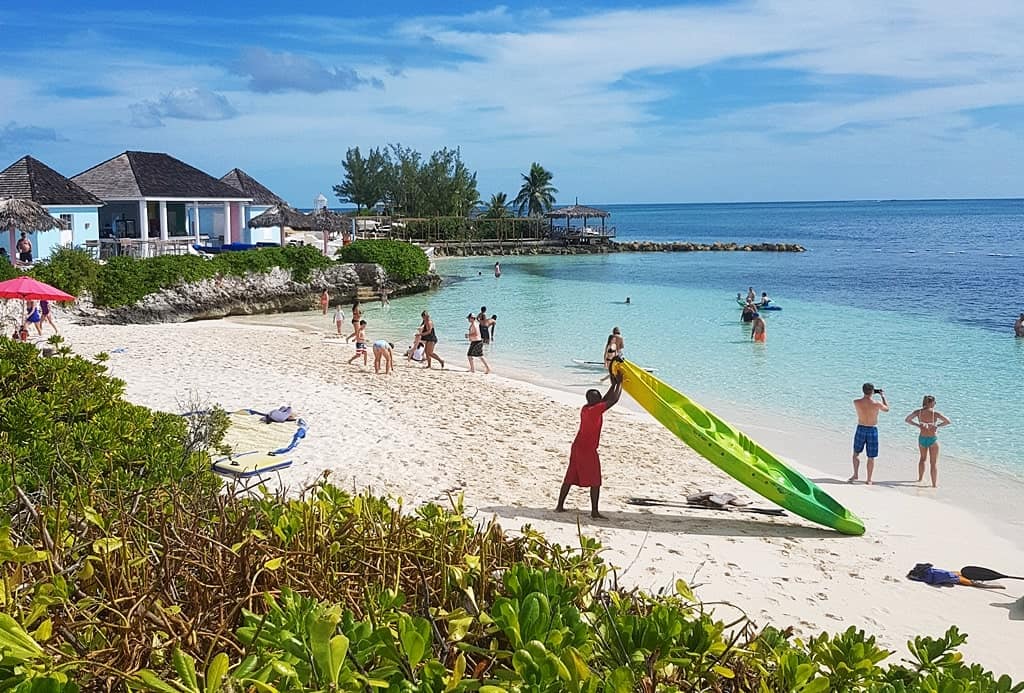 3. Blue Lagoon Island
I've been to Blue Lagoon island twice and both times I had a fantastic time. Blue Lagoon is located a 20-minute scenic boat ride from Nassau and is larger in size than Pearl island. You'll recognize it by the concrete tower that guards the entrance to the hidden lagoon and the incredible turquoise water surrounding the island.
On the island, you can meet dolphins and sea lions in their natural habitat, join eco-walking tours and segway rides around the island, indulge in grilled Bahamian specialties, kayak, snorkel, or swim in a secluded sugar-white beach known as Salt Cay. VIP packages are also offered.
Insider tip: Guests often don't know the difference between Pearl Island and Blue Lagoon, and are wondering which island is more suitable for them. Pearl Island is very small and is a better choice for those who look for peace and quiet. Snorkeling and kayaking are the only activities offered. Blue Lagoon is larger and more crowded. It's more suitable for families with kids because of the animal programs, an aqua park, and more family-friendly activities. You can read more about each island and the differences between them in my article 7 Private Caribbean Islands to Visit on a Cruise
Explore Blue Lagoon excursions 
4. Balmoral Island
Another gorgeous island awaits you just off the northern coast of Nassau. Besides powdery sands and aquamarine water, Balmoral island offers animal interaction programs (dolphin and stingray encounters), great snorkeling, delicious food, and a stunning beach where you can relax in the cabanas or sunbathe under the hot Caribbean sun.
Ferries run regularly between Nassau downtown and Balmoral island, so you can come here on your own too.
5. Atlantis Resort
The world's largest open-air marine habitat, breathtaking beaches, oceanfront golf course, Aquaventure water park, Atlantis casino, and hotel resort facilities await you on this incredible adventure to one of the most famous resorts in the world!
The resort boasts numerous facilities and offers a wide range of activities and unique experiences such as:
Dolphin Cay – One of the largest marine-mammal habitats in the world where you can swim and snorkel in a deep-water lagoon alongside sleek bottlenose dolphins, play with sea lions, or kayak and paddleboard while adorable mammals swim alongside. You can also sign up for one of the dolphin educational programs, or relax at the private beach while the dolphins cheerfully jump and play a few feet away.
Aquaventure Water Park – A unique, 141-acre water park, home to thrilling water slides (The Abyss, Leap of Faith, The Falls, Jungle Slide, The Surge….), a mile-long river with through tunnels, rapids, and waves, a magnificent water-play fort, eleven stunning swimming pools, and twenty swimming areas. Set in a lush tropical environment, this water park is a spectacular attraction equally enjoyable for both kids and adults.
Marine Habitat – You can explore 14 lagoons with over 50,000 sea animals representing over 250 marine species.
Snorkeling, snuba, scuba diving, walking with sharks, golf and tennis courts, a spa, the largest casino in the Bahamas and extraordinary shopping are only some of the things you can experience in Atlantis… the list is endless! Atlantis also offers access to five miles of gorgeous white sandy beaches to top off your day: Cove Beach, Atlantis Beach, and Paradise Beach.
This place is incredible and should be on everyone's Nassau bucket list! There are different day passes and packages, so based on your preferences and wishes, you can choose the one that suits you the best. Cruise lines offer shore excursions to Atlantis, but you can also book on your own. Check the prices on Atlantis Resort's official website
Explore Atlantis Resort tours and activities
6. Nassau Off-Road Adventure
If you want to explore Nassau in a thrilling and adrenaline-packed way, go for an off-road tour around the city and the island of New Providence. You'll stop at famous attractions and landmarks such as the Bahamas Rum Cake Factory (you'll taste them and see the rum cakes-making process), Fort Fincastle and Queen's Staircase, Fort Charlotte, Clifton Heritage National Park, plantations, historical villages, rum distillery, and many more.
Get ready to get dusty and dirty as you drive through Nassau's rugged terrain and explore the hidden gems of New Providence island. Make sure you bring a driver's license if you are a driver (but before that, check the tour operator's age requirements!)
See the list of Nassau ATV tours
Explore Nassau jeep/buggy tours
7. Snorkeling and Scuba Diving
If you are a fan of underwater activities, you should know that the Bahamas offer some spectacular snorkeling and scuba diving sites. You can opt to snorkel from the beach on your own (Cable Beach and Cabbage Beach are great choices), and in that case, make sure you bring your own snorkel gear.
However, if you want to explore the depths of Bahamian waters, you should book a boat trip to Nassau's beautiful coral reefs hiding an abundance of incredible aquatic life. The tours will usually take you to the Rose Island Reef, located only three miles east of Paradise Island, an exceptional snorkeling and scuba diving location. Besides beautiful marine life, you'll also find two shipwrecks that make this place even more attractive to snorkelers and divers.
Goulding Cay Reef is another fascinating reef located at the western end of New Providence that is said to be one of the best shallow-water snorkeling sites in the world. It attracts both experienced snorkelers and beginners and is suitable for people of all ages.
However, if you prefer to stay dry and would like to observe the aquatic wildlife from a safe distance, you can go for a glass-bottom boat trip, Seaworld Explorer (semi-submersible), or simply stay on board a luxury catamaran while the rest of the group snorkels.
See the list of Nassau snorkeling and boat tours
8. Swimming with Pigs
Swimming Pigs is one of the major attractions in the Bahamas! It's a fun and unique experience where you get to meet these friendly guys living the Bahamian dream! There are several locations where you can swim and play with pigs, the two most popular ones being Rose Island (Sandy Toes) and Exumas island (Pig Beach), both located up to 1-hour boat ride from Nassau cruise port.
Not only will you have the chance to swim and interact with sociable pigs, but you will also get the opportunity to enjoy the sapphire-blue waters, secluded beaches, deserted cays, snorkeling with sharks, and an array of fun activities.
See the list of Swimming with pigs tours and activities
9. Nassau Food Tasting and Cultural Experiences
Besides awe-inspiring beaches and fancy resorts, Nassau boasts a rich historical and cultural heritage that you can explore on one of the historic or cultural tours and experiences. While there, make sure to taste the Bahamas' handcrafted rum cocktails, delicious seafood, traditional mac 'n' cheese and a variety of authentic specialties, which are an important part of Bahamian culture.
You can book one of the food and cultural tours, or explore on your own. Some of the must-see places are the Bahamas Rum Cake Factory, Graycliff Chocolate Factory and John Watling's Distillery.
Explore Nassau food and cultural tours and activities
10. Book a Private Charter
As Nassau has so many attractions and activities to offer, sometimes it's difficult to decide on how to spend a day in the Nassau cruise port. Booking a private charter in Nassau allows you to design your own itinerary and enjoy an exclusive sailing experience along the vibrant coast of New Providence and Paradise Islands.
Away from crowded touristy places, you can spend your day deep-sea or near-shore fishing, snorkeling, relaxing at a secluded beach, or sunbathing on your own private yacht! Enjoy a fully private tour and let your captain show you the best of Nassau on a customized half-day or full-day yacht trip along the mesmerizing Bahamian islands.
Book a private charter in Nassau
To Wrap Up
Whether you decide to explore Nassau's spectacular beaches, spend a day at Atlantis Resort, or go for a snorkeling or sightseeing trip, make sure to plan your day ahead to fully enjoy Nassau port!
Visit also our cruise guides to Freeport, Aruba, Curacao, Bonaire, San Juan, Falmouth, Cozumel, Costa Maya, Grand Cayman, Perfect Day at CocoCay, Labadee, St Maarten, St Thomas, Bermuda, Barbados
---
You May Also Like:
25 Top Shore Excursion Packing List Items
What to Pack for a Cruise – Top 50 Cruise Essentials
Snorkel Gear and Scuba Diving Equipment – Tips by a Pro!
Don't forget to subscribe below and get my exclusive SHORE EXCURSION GUIDE FOR FREE!
This article may contain affiliate / compensated links. For full information, please see my disclaimer here.