Whether you are taking a Normandy cruise, or you are planning a trip to this wonderful French region, make sure you plan your stay ahead as Normandy has so much to offer!
Normandy brings back so many memories, as I had numerous opportunities to visit it and enjoy its endless charm and beauty. Each time I came to visit, I felt as I was transported back to the time of Joan of Arc, mighty Vikings, Richard the Lion Heart, Claude Monet, World War II…
A piece of history is engraved in every single house in Normandy, and you can feel the spirit of old times present in the air, roaming the streets of this medieval French region.
I was lucky to visit Normandy many times while I was working as a concierge for Viking River Cruises in France (I did the Seine river cruise), and then as a shore excursions staff onboard Royal Caribbean cruise ships.
In both positions I've had a chance to visit the highlights of Normandy, so read below my list of must-see places in Normandy, whether you are coming by a cruise ship or visiting on your own.
Where is Normandy?
Before we start, for those of you who are not sure where Normandy exactly is, Normandy is one of the 18 regions of France, located in the northwesternmost part of the country. The capital of Normandy is Rouen, a beautiful medieval city, situated less than a 2-hour drive from Paris. Normandy is one of the favorite vacation places for Parisians, but also for international tourists due to its great location and closeness to Paris.
See Normandy map on Google maps
12 Gorgeous Places to Visit on a Normandy Cruise
1. Giverny
I would like to start with Giverny, a town located a 1-hour drive from Paris and one of the favorite day trip destinations for Parisians. The town is famous for Claude Monet's house and gardens where the painter resided from 1883 until his death in 1926.
The charming farmhouse was transformed into a museum and is today open to the public. You can visit the rooms and his studio where he created some of his masterpieces, such as his world-famous "Water Lilies", a series of 250 oil paintings that are today being kept in the Orangerie museum in Paris.
The inspiration for his Water Lilies, as well as his wisteria, azaleas, and famous Japanese bridge, Monet found in his own water garden that he carefully planted and cultivated until the end of his days. Today it's possible to visit the gardens from spring to fall and admire the Japanese bridge and Monet's water lilies up-close.
How to Get to Giverny on a Cruise?
Giverny is one of the towns included in the Seine river cruise itinerary: normally, the ship docks in a picturesque village of La Roche Guyon (or the village of Vernon, I'm not really sure because I remember both villages), and from there the tour to Giverny is organized by the river cruise company. It takes less than 15 minutes by bus to reach Giverny, and the tour includes a visit to the house and gardens, after which you will be transferred back to your ship.
If you are coming on a cruise ship from the port of Le Havre, the trip to Giverny will take approximately 1 hour 45 minutes (153 km; 95 mi). The cruise lines rarely organize shore excursions to Giverny, so the private transfer might be the best option for you.
Find private transfer from Le Havre to Giverny 
Check out Giverny tours and activities
2. Rouen
The medieval capital of Normandy, Rouen, is one of the most picturesque and charming cities I've ever visited. The city is a mixture of traditional and modern and has got everything for everyone's taste.
The city is more than 2000 years old. It was originally settled by Vikings ("Northmen", therefore the name Normandy) and by the 10th century developed into the capital of the region and became one of the richest and largest cities in medieval Europe, the second one to Paris.
The Dukes of Normandy, its rulers, contributed to the glory of Rouen and founded an Anglo-French dynasty that ruled both Normandy and England from the 11th to the 15th centuries.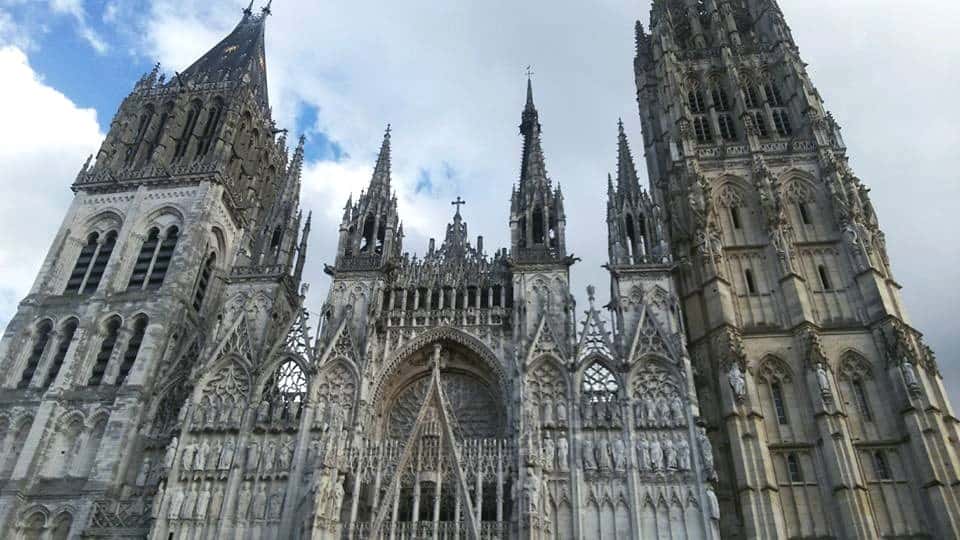 Things to Do in Rouen
The city of Rouen had a very turbulent history. Joan of Arc, a French heroine, was burned at the stake in Rouen in 1431 during the Hundred Years' War at the Old Market Square (Place Du Vieux Marché). Today, at the place where she burnt, stands the Church of St Joan of Arc, built to commemorate her.
Nearby you can see the 14-century courthouse where she was sentenced to death, and there is also a museum where you can learn in-depth about the life and historic role of Joan of Arc.
Another must-see place is the spectacular Gothic Notre Dame Cathedral, the iconic landmark of Rouen that dominates the city landscape. The breathtaking cathedral is located in the historic heart of the city. It took over 400 years to build and with its 151 meters tall spires, it used to be the tallest building in the world. Claude Monet was impressed by the cathedral, so he produced a series of paintings of the building at different times of day, and in different light and weather conditions. Inside the cathedral is the burial place of many important French and English historical figures, the main one being Richard the Lionheart, who ruled both as King of England and Duke of Normandy in the 12th century.
Another highlight of the city is Le Gros-Horloge, a 14th-century astronomical clock tower, easily recognizable and one of the most photographed landmarks of Rouen.
How to Get to Rouen on a Cruise?
If you are on the Seine river cruise, you are very lucky! Rouen is one of the stops, and the ship normally docks in the city center, only a 10-minute walk from the Cathedral. Sometimes, the ship stays overnight, which allows you to fully enjoy what the city has to offer. You can visit the city's landmarks, roam its narrow medieval streets, admire its half-timbered storybook buildings or go shopping: Rouen has so much to offer for everyone!
On the other hand, if you are coming by an ocean cruise ship and your ship docks at Le Havre, you might get the opportunity to visit Rouen as well, as many cruise companies sometimes offer tours to both Rouen and Giverny. The distance between the port of Le Havre and Rouen is 90 km (56 mi), and the ride takes approximately 1 hour 15 minutes each way. If your ship docks in Cherbourg, the trip will take 2 hours 30 minutes one way (218 km; 135 mi).
For more information on the ports of Le Havre and Cherbourg, check out my articles:
Le Havre Cruise Port Guide (France), Things to Do, Shore Excursions
Port of Cherbourg Cruise Guide, Things to Do, Shore Excursions
See the list of shore excursions from Le Havre to Rouen 
3. Normandy Beaches
Normandy beaches refer to the area that played an important historical role in the events that took place in 1944 when the Allied powers invaded Normandy (occupied at that time by the Nazis) in order to drive Nazis out of France during the World War II.
The beaches where the Allied forces disembarked are known as D-Day landing beaches, and the whole area today consists of numerous monuments, museums, memorial complexes and military remnants spread across more than 80 kilometers along the coast of Normandy.
To visit Normandy beaches, you have to plan at least one full day to explore some of the sites. My recommendation is to take a tour, either the one offered by your cruise ship, or by an independent tour operator.
A good option is also to take a private local tour guide who would provide you with priceless insider information and give you a personalized tour of the sites you wish to visit! Tour guides of the area are very knowledgeable and they can offer you an in-depth historical insight into the D-Day events.
How to Visit the Normandy Beaches?
Normandy beaches consist of many important historical sites, and to visit them, you carefully need to plan your itinerary. These are the places you should definitely include on your bucket list:
The Landing Beaches: Utah beach, Omaha beach, Gold beach, Juno beach, Sword beach. These are the five landing beaches that played the D-Day key historical role. There are many memorial sites you can visit on each of the beaches, and the driving distance between them can be up to 2 hours 30 minutes! That's why it's important to plan your trip in detail, so you visit the key places on each of them!
Arromanches-Les-Bains: Arromanches is in the center of the Gold Beach landing area. It is a place where Allied troops established an artificial temporary harbor that allowed them to disembark over 2.5 million men, and several million tons of supplies before permanent harbors could be repaired in Cherbourg, Anvers, and Le Havre. Arromanches Debarkment D-Day Museum (Musée du Débarquement) displays artifacts, models, photographs, and films related to Normandy Invasion and is one of the main places of interest to visit. In Arromanches, you can also visit the remnants of the pontoons and military machinery that Allied forces used during the invasion.
Normandy American Cemetery and Memorial: This is an impressive cemetery that spreads across 172.5 acres located in Colleville-Sur-Mer, near the battle site at Omaha beach. The cemetery honors American troops who died in Europe during World War II and contains 9.388 tombs of American soldiers. The cemetery is administrated and maintained by the US, and it is the first American cemetery on European soil in WWII. Right outside of the cemetery there is a museum, and if you are traveling with Viking on a river cruise, a small ceremony for the veterans onboard may be organized. I attended the ceremony when I went on a tour, and it was one of the highlights of the whole journey!
Pointe-du-Hoc Ranger Monument: Located on a cliff overlooking Omaha Beach, eight miles west of Normandy American Cemetery, Pointe-du-Hoc is an important strategic site where Army Rangers scaled high cliffs to silence German artillery. Today, there are many remnants of bunkers and holes in the ground due to the heavy bombings that the place endured: stories of the Rangers are equally impressive, so this place is definitely worth visiting!
Overlord Museum: The museum is located at a short distance from Omaha beach and has an impressive collection tracing the period from the Allied landing until the liberation of Paris.
German Battery of Longues-Sur-Mer: It is a German artillery battery constructed near the village of Longues-Sur-Mer, located on a cliff overlooking the English Channel. The battery formed a part of German's Atlantic Wall coastal fortifications and played an important strategic role during the Normandy Landings on June 6th, 1944.
The Memorial Pegasus: This museum is dedicated to the men of the 6th British Airborne Division, "the Red Berets". The museum houses the famous Pegasus Bridge, which was captured by British forces on the night of 5-6th June 1944.
Check out Normandy beaches tours and activities
4. Bayeux
Located only 10 kilometers from Arromanches, Bayeux is one of the prettiest towns in the Normandy region. It managed to preserve its original charm and beauty, as it wasn't much affected by the bombing during WWII.
The Notre Dame Cathedral is the main historic structure in Bayeux. Situated in the very heart of the medieval town, it features a blend of Gothic and Romanesque architectural styles. It was consecrated in 1077 in the presence of William the Conqueror and originally housed the famous Bayeux Tapestry (from the 11th to the 18th centuries).
Another landmark of the town is the remarkable Bayeux Tapestry, the key work of the Middle Ages, listed UNESCO World Heritage Site in 2007. It is a 70-meter-long embroidery depicting the Norman Conquest of England in 1066 by William the Conqueror, Duke of Normandy. It is said to have been created in the 11th century, only a few years after the Battle of Hastings, the culminating event of the conquest. The Tapestry has been divided into thirteen sections, and within each section, there are a number of scenes depicting different moments in the history of events. It comprises a total of fifty to seventy-five scenes with Latin inscriptions (tituli) and is an exceptional piece of art well worth visiting while in Normandy!
How to Get to Bayeux on a Cruise?
If you are coming by an ocean cruise liner, visit the Shore excursions department to get more information on tours. Some of the tours go to Bayeux but include the visit to the British cemetery (the largest British cemetery where more than 4000 Commonwealth soldiers were buried), and not to the Tapestry, so you might want to double-check that.
If there are no tours organized by your cruise company, you might consider getting a private tour to Bayeux: the distance from Cherbourg to Bayeux is around 95 km (60 mi), or a 1 hour 15 minutes drive, and between Le Havre and Bayeux is 125 km (78 mi), or a 1 hour 30 minutes drive.
If you are on the Seine river cruise, usually the visit to the Tapestry is included in the cruise itinerary, so everything will be organized for you!
Check out the private transfer from Le Havre to Bayeux
Check out the private transfer from Cherbourg to Bayeux
5. Les Andelys
Les Andelys is a small town lying along the Seine river, a birthplace of the famous French Baroque painter Nicolas Poussin and home to the ruins of the 12th-century medieval castle Château Gaillard. The town is located 93 km (58 mi) from Paris and 42 km (26 mi) from Rouen, which makes it a perfect day trip destination.
Its main landmark, Château Gaillard, was constructed by Richard the Lionheart in 1197.  The castle was constructed within one year as Richard's stronghold that he was particularly fond of: it is said he spent a huge amount of money on the castle's construction and over 6000 workers had to work relentlessly to finish the construction in one year time.
Throughout history, the castle had been sieged many times until it was finally demolished at the end of the 16th century.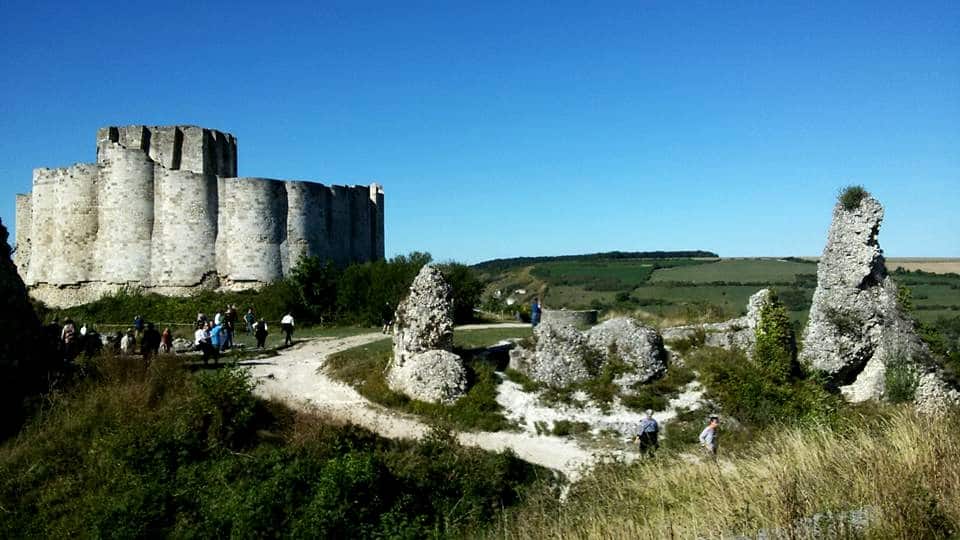 Nowadays, the castle is a ruin worth visiting due to its breathtaking view over the Seine river and the town of Les Andelys, as well as its historical and strategic value.
The castle is open to the public for a fee (around 3 €) and the grounds surrounding the castle can be visited for free.
How to Get to Les Andelys on a Cruise?
If you take the Seine river cruise, the visit to the Château Gaillard is included in the itinerary. The ship docks in Les Andelys and walking tours to the castle are normally organized by the cruise company. It takes around 15-20 minutes walking to climb to the castle, which can be challenging for people with walking difficulties. However, it's absolutely worth the effort as the view is amazing!
If you are coming by a cruise ship, usually there are no tours organized to Les Andelys. In that case, your only option is to take a private tour/private transfer.
The distance between Les Andelys and Le Havre is 125 km (78 mi), or a 1-hour 30-minute drive. Check out the private transfer from Le Havre.
The distance between Cherbourg and Les Andelys is 284 km (176 mi), or a 3-hour drive. Check out the private transfer from Cherbourg.
6. Mont Saint-Michel
A UNESCO World Heritage Site and one of the most spectacular places in the world, Mont Saint-Michel is a pride of France and the French nation!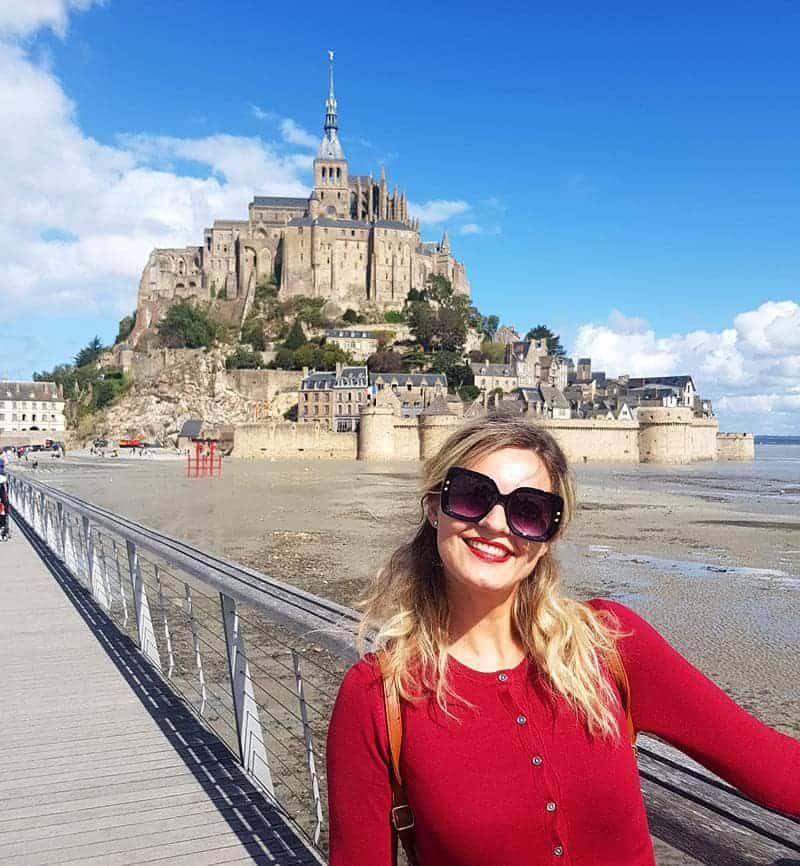 Mont Saint-Michel lies in a stunning bay tucked in between Normandy and Brittany. It is a tidal island, meaning that it's exposed at low tide and submerged at high tide, connected to the mainland by a man-made causeway.
Due to the mystical surroundings of tidal islands, Mont Saint-Michel has been the site of religious worship since its foundation: the first building constructed on top of it was a small chapel built by St. Aubert, bishop of Avranches, in the 8th century.
Today, you can visit the abbey, walk along the ramparts, enjoy breathtaking views of the bay, or stroll around the streets of the village where you can find numerous restaurants, cafes, and hotels.
If you need a detailed guide to Mont Saint-Michel (how to get to Mont Saint-Michel, how to plan your visit, what to visit in Mont Saint-Michel), check out my article: How to Get to Mont Saint Michel on a Cruise (from Le Havre or Cherbourg)?
Check out the best Mont Saint Michel tours and activities
7. Cap de la Hague
Cap de la Hague is a cape at the tip of the Cotentin peninsula, boasting breathtaking landscapes, granite cliffs, pebbled beaches, and a rocky coastline of stunning beauty. This is a perfect area for those who want to explore the intact nature of the French countryside, enjoy the fresh air and take a walk in authentic French villages.
Nez de Jobourg is one of the places you should definitely visit. Jobourg is a granite cliff made of the oldest rocks in France, located 128 meters above sea level from which a visitor can enjoy spectacular coastal views. This idyllic area is ideal for a walk, but keep in mind it can be very windy, so warmer clothes can come in handy even in the summertime.
Suggested articles:
What to Pack for a Cruise – Top 50 Cruise Essentials
25 Top Shore Excursion Packing List Items 
Another place is the lighthouse of Goury, located in the tiny harbor of Goury. The lighthouse is not accessible as it's located on the rock in the middle of La Manche, "at the very end of the world", but beautiful panorama pictures can be taken in clear weather.
Port Racine is the third location I would recommend. It's the smallest port in France and one of the most photographed ones in Normandy!
How to Get to Cap de la Hague on a Cruise?
If you are on a cruise in France, the best way to visit Cap de la Hague is on the shore excursion organized by your cruise company.
This is only possible if your ship is docked in the port of Cherbourg, as from Cherbourg it takes only a 35-minute drive to reach Cap de la Hague. Check out the private transfers.
If by any chance your ship is docked in Le Havre or you are on the Seine river cruise, it would take at least a 3-hour drive to reach Cap de la Hague which can be challenging if your ship is staying in port only one day.
8. Cherbourg
Located on the tip of the Cotentin peninsula, Cherbourg-Octeville is a port town with a turbulent past and long, impressive seafaring history. Besides Le Havre, Cherbourg is another port where passenger cruise ships usually dock. It has an ideal location, as from there you can explore D-Day Beaches, Mont Saint-Michel, Cap de la Hague, and other popular sites in Normandy.
However, if you decide to stay in Cherbourg, you'll be amazed by the charm and beauty of this unique Norman city. From the place where your ship is docked, you can walk into the downtown area which would take you 15 minutes, or you can use the shuttle bus service usually provided for all cruise ship guests either for free or for a small fee.
The city has a very nice pedestrian walking area where you'll find many shops, cafes, and restaurants where you can try typical Norman dishes: I tried a seafood salad for a very affordable price, and I can still remember the taste of it – it was delicious!
What to Visit in Cherbourg?
Cherbourg has many places of interest, such as The Cherbourg Theatre constructed in the 19th century, or La Cité de la Mer maritime museum, an impressive 240-meter long Art Deco building located right across the cruise ship dock, in the harbor's former Transatlantic maritime terminal. One part of the museum is dedicated to the Titanic, as Cherbourg was one of the ports of call before the Titanic's crossing. It is also home to the world's largest submarine open to visitors (La Redoutable) and an aquarium with 17 tanks holding 4.000 marine creatures.
For a detailed review, check out Cherbourg Cruise Port Guide, Things to Do, Shore Excursions
9. Le Havre
Le Havre is the second largest port in France after Marseille and the main port where passenger cruise ships dock. Le Havre was heavily bombed by the Allies during World War II and therefore not much of the original historic architecture has remained.
The city had to be completely rebuilt after the war. The architect Auguste Perret adopted new styles in design and instead of trying to bring back the original look of the city, he reconstructed it radically by using concrete, creating a city with bold, block-like towers. Due to its unique modern architecture, the city center of Le Havre has been declared a UNESCO World Heritage Site.
What to Visit in Le Havre on a Cruise?
The city has many landmarks worth visiting. André Malraux Museum of Modern Art has the second most important collection of Impressionist paintings after the Musée d'Orsay in Paris.
Saint Joseph's Church with its tower reaching a height of 110 meters dominates the city landscape. The church is dedicated to the memory of the victims of the bombing and symbolizes the rebuilding of post-war Europe.
Due to its architectural value, the arts center Le Volcan is equally worth visiting. The city has a long public beach, many museums, monuments, parks, a vibrant downtown area and many events taking place, so if you decide to spend a day in the city, you'll definitely have a long list of things to do.
Check out Le Havre tours and activities
How to Get to Le Havre on a Cruise?
Le Havre is well connected to the towns of Honfleur (25 km), Deauville (45 km), Rouen (90 km) and Paris (195 km). If you are traveling by cruise ship, and you are docked in Le Havre, you can either choose to go on one of the tours to Mont Saint-Michel, Paris, Honfleur, Deauville, Rouen or explore the city (usually, the round trip shuttle transfers are organized for cruise ship passengers). Whatever you choose, be sure you'll have the ultimate fun as there are so many things to discover in this urban city!
Suggested articles:
Le Havre Cruise Port Guide, Things to Do, Shore Excursions
Paris in a Day: How to Plan your Perfect Day Trip to Paris?
10. Honfleur
Honfleur is one of the prettiest towns in France that I've ever visited. It is a picturesque old port town located in the Calvados department, located on the Seine estuary just south of Le Havre, easily accessible by the new bridge the "Pont de Normandie".
Honfleur wasn't affected by the bombing of WWII, so the town preserved its original charm and beauty.
It is a truly enjoyable experience to walk the town's narrow cobblestone streets, admire colorful facades, take pictures in front of countless moored sailboats, or visit authentic shops and try some Norman local delicacies.
The town is home to the largest wooden church in France and dates all the way back to the 11th century. Like other port towns, it has a long maritime history, and for centuries it has been an inspiration for artists, Impressionists in particular, who used to come here and paint the colors of Honfleur in different periods of the day and in different weather conditions.
What to See in Honfleur?
The town has many sites to explore, such as Le Vieux Bassin, or the Old harbor, the center of Honfleur lined with shops and houses and full of colorful sailboats; The Church of St. Catherine, a half-timbered church which is the largest wooden church in France; The Church of Saint Etienne, with its 15th-century wooden spire is the oldest church in Honfleur and today houses the town's Maritime Museum; the 17th-century "Greniers à sel", the town's famous salt storage buildings; and many other places of interest.
It is a vibrant picture-perfect town where you won't feel the time passing by and you'll want to return to Honfleur again!
How to Get to Honfleur on a Cruise?
If you are traveling on a cruise liner, from Le Havre port there are tours organized to Honfleur and Deauville (it takes 30 minutes to reach Honfleur from Le Havre). From Cherbourg, it takes at least 2 hours drive to get to Honfleur, so I'm not quite sure if cruise companies run the tours from there.
If you are on the Seine river cruise, as far as I know, there are no tours organized by the cruise companies, but as it's only a 1-hour drive from Rouen, you can always book a private arrangement and visit this lovely town.
Explore Honfleur tours and activities
11. Deauville
Deauville is located a stone's throw from Honfleur (20 minutes drive). This glamorous seaside resort is one of the best beach destinations in France, often visited by the wealthy Parisians (Paris is only a 1-hour ride by train).
The whole place is very chic, it has a large number of boutique stores and luxurious casinos. It is a vibrant popular vacation resort since the 1800s, definitely worth visiting and spending several days there. It is pricey, though, so if you are staying a few days in the area, you should better find accommodation in one of the nearby towns.
Explore Deauville tours and activities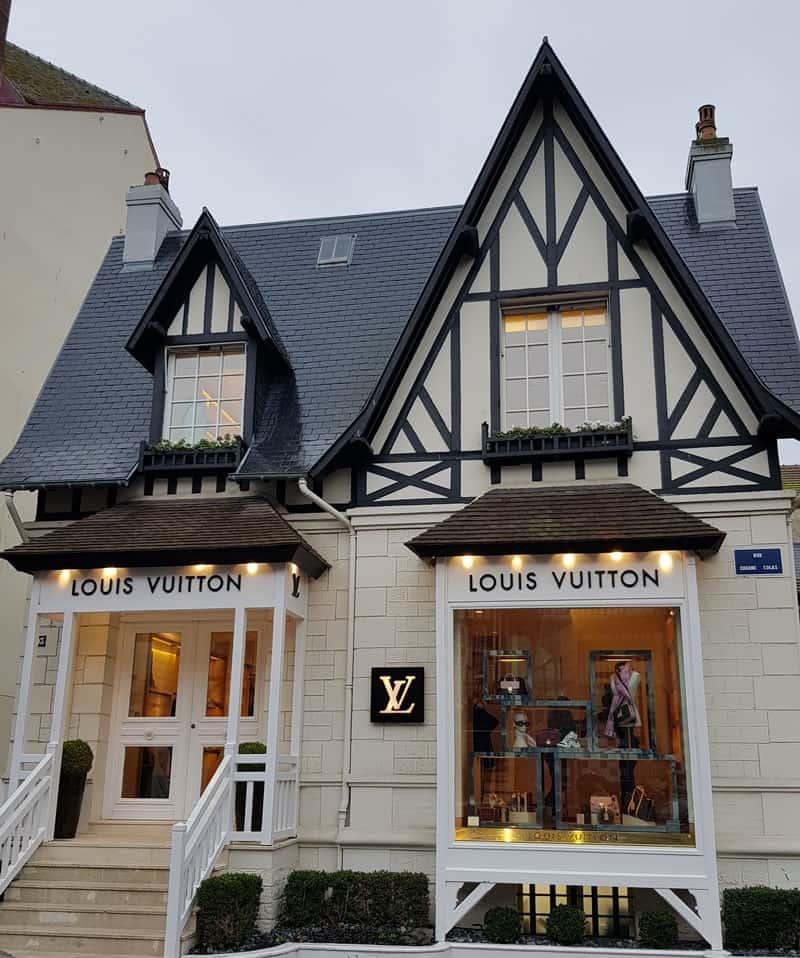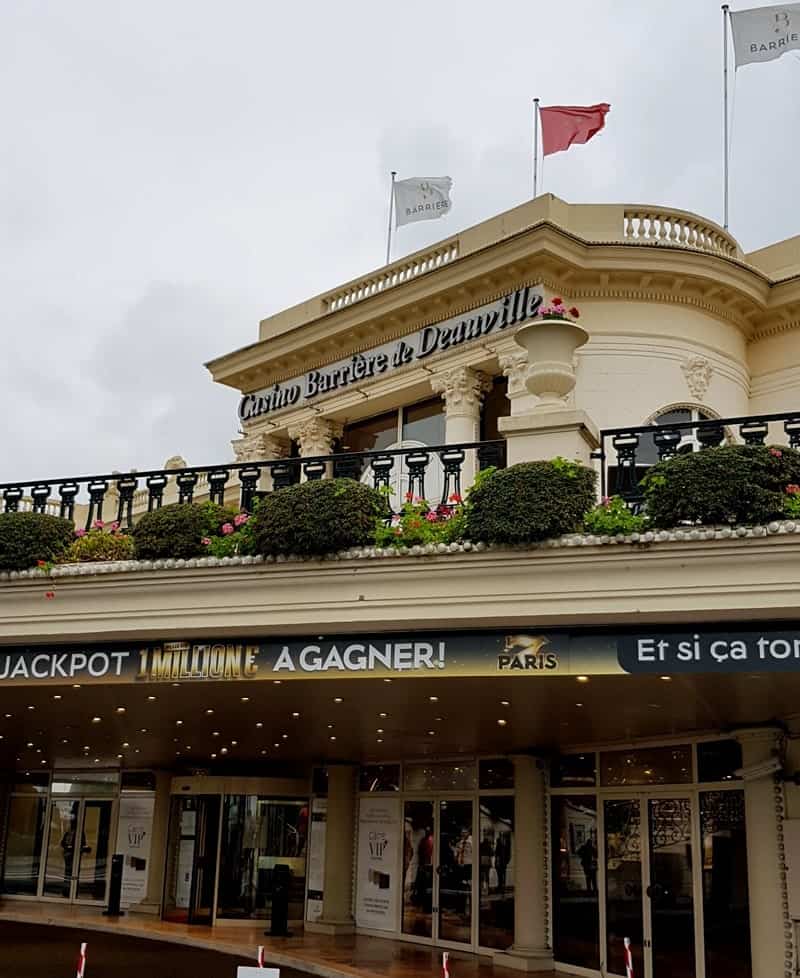 12. Étretat
Located about 32 km northeast of Le Havre, Étretat is a seaside resort that owes its popularity to its grandiose scenery.
The town is best known for its white chalk cliffs, including three natural arches and a pointed formation called L'Aiguille or the Needle, which rises 70 meters above sea level. The landscape is so extraordinary that it has been for centuries an inspiration for writers, filmmakers, and artists such as Claude Monet, Eugène Boudin, Gustave Courbet, Maupassant, Maurice Leblanc.
It is possible to climb the cliffs and admire the spectacular views of the dramatic coastline. The 18-hole golf course is located on one cliff, offering exceptional views over the Aiguille, while the walk to the east side of Étretat brings you to the Gardens of Étretat, from where visitors can soak in stunning views over the town and its bay.
The town of Étretat is equally beautiful. It is a picturesque place full of restaurants, shops, and a beautiful pebble beach, where you can take a nice walk at the sunset and admire the cliffs.
How to Get to Étretat on a Cruise?
Although located only a 30-minute drive from Le Havre and 88 km from Rouen, the cruise companies normally do not offer tours to Étretat. That being said, the best option would be to organize a private arrangement either through your cruise company or a local tour agency.
Check out private transfer to Etretat
A La Prochaine, Beautiful Normandy!
Normandy is such an amazing place, rich in history, breathtaking natural landscapes, exquisite cuisine, and a vibrant atmosphere. It takes at least several days to move around and explore the hidden beauty of this charming French region.
However, if you are coming on a cruise and you are limited with time, I hope my list would give you an idea of where to start. Personally, I truly enjoyed Normandy and hope to go back there soon, as there are so many undiscovered treasures to be explored.
---
You May Also Like:
Subscribe below and get my exclusive, insider SHORE EXCURSION GUIDE FOR FREE!
This article may contain affiliate / compensated links. For full information, please see my disclaimer here.