How the Covid-19 pandemic has affected cruise ship crew members
The year 2020 has probably been the most challenging one for many of us. In the world of tourism, the cruise industry has suffered the most severe impact due to the Covid-19 pandemic as the operations worldwide have been suspended for almost a year. Cruise lines are struggling to find the way out, but the end doesn't really seem to be near.
One of the worst consequences of the pandemic's impact on the cruise industry is over 75.000 crew members losing their jobs and the opportunity to feed their families. Being one of them, I know how difficult it's been to accept that our lives are not entirely under our control. Unfortunately, some of our fellow crew members have lost their battle for life, and I would like to use this opportunity to remember them. May they rest in peace.
However, there is a light at the end of the tunnel. There was, there is, and will always be. In Serbia, where I come from, there is one saying we often use: "What doesn't destroy you, only makes you stronger". And, that's what this article is about.
I've decided to put my thoughts together and show how crew members from all over the world have proven to be resilient and strong in these tough times. Some of us have started new jobs or projects, acquired new skills and hobbies, have become volunteers, entrepreneurs, finished studies, and much more.
We've proven how valuable, creative, skillful, and hard-working we are, and how the experience of working on a cruise ship has made us flexible, competent, and open-minded. We've grown not only professionally, but also personally, and we are ready to face the challenges of the new world and "the new normal", as they say.
Crew Members' Testimonials
I've collected the testimonials, photos, statements of the crew members who were willing to share their experience of what they used to work on a ship, and what they are doing now. Crew members come from different cruise lines, different departments, from all over the world.
Before I start, I would like to say a quick word about myself. My name is Katarina, I come from Serbia and I've been working for Royal Caribbean for a few years as a Shore excursion staff. In June 2020, I decided to start this website Adventour Begins, and write about the cruise destinations and crew life, where I give useful tips, write about cruise ports and life at sea. Before I started my website, I didn't know ANYTHING about websites. I did everything from scratch, learned a lot, and today besides my own website, I've been writing content for a couple of other websites. That's my biggest achievement since the pandemic has started and I am very proud of it.
Read below the achievements and stories of fellow crew members, and feel free to write your own in the comments below.
Note: Special thanks to the Facebook group The Crew Bar, where crew members started the challenge of sharing "before" and "after" photos. That's where I've got the inspiration to write about crew resilience and to motivate crew members to stay strong and keep growing.
---
Jean-Paul (UK/South Africa) and Georgiana (Romania), Carnival Cruise Line:
"We met on cruise ships when we were both photographers and got engaged and later married. I later became Retail Manager in both Carnival Sensation and Inspiration, and my wife was my jewelry expert. I now work as Head of Guest Services as Manager for Westfield London, the largest mall in Europe, and my wife is a Guest Services Associate. We started in later February after leaving ships just before Covid-19 hit. Love and my wife being with me has helped me through 2020. This is our fourth job together."
---
Williejun Domingo, Cunard/MSC Bar Steward:
"The job that I have right now is an Online English teacher. This is a new thing for me , my whole career revolves only around the hospitality industry, working as a bartender on land and bar steward on ships. The new job I have right now makes me feel fulfilled because I am already out of my comfort zone. It's exciting to learn new things and I know I am doing the job right. The love and passion for kids is another factor why I pursued this job; overall, I'm loving the new experience although I'm still coping up with life on land, I know I'll be fine."
---
Joseph Ferna, from Saint Lucia, Carnival Cruise Line:
"I joined Carnival Glory in March and in just four days of joining we were no longer allowed to have guests onboard. After being at home for months and using up all my savings to take care of my family, I decided to start a small business from home."
---
Emma Lou Swallow, from the UK, Carnival Cruise Line:
"I needed any job when I got home so I applied for anything and everything, during the lockdown in England the petrol station was the only place that got back to me, so many people were wanting work. It's ended up being so helpful and a savior because I've had a stable bit of income across all the different tiers and lockdowns in England and feel like I've helped the community during this difficult year.

I've always loved customer service and helping people and it's been brilliant to be able to help in some way during the pandemic. My heart is still dedicated to performing and I'm striving to fulfill my dream and find a way to keep singing, dancing, and performing! Looking forward to working hard for my dreams in 2021! I am definitely missing ship life so so much and hoping and praying I can get back to it soon! It's been so hard for our community but we are so strong and such hard workers that we will be back stronger than ever!"
---
Tasha Allicock from Guyana works on the Covid-19 Relief & Support Project:
"It's been a good experience so far, I'm hoping to continue, but I am also hoping to go back to the ship when they fully reopen."
---
Marlon Paras, from Philipines, The World:
"My wife, my daughter, and I help each other in creating our baked and cooked products. We have been carefully checking the quality of our food even if it's just a small batch. We believe that food made with love and careful process even with a small return of income is worth sharing, and we already have a lot of returning customers."
---
Laura Jackson, from the UK, Dive Instructor (Royal Caribbean International):
"I loved working on ships and I know I will miss it so much. The people I met became my family and the places I saw gave me memories for a lifetime. After working as a travel agent for 3 years in London, 3 years on ships and many other years working abroad as a dive instructor, I really feel that the leap I made in September was the right thing to do.

I started my own business through Travel Counsellors. They have just won the Best National Travel Retailer in the British Travel Awards so I am delighted. Reassured that I made the right decision and excited for the future. Yes, the Covid pandemic has been very difficult, both personally and with starting a new business from scratch, but I ultimately had a dream to be my own boss and to continue doing a job that didn't feel like work.

I am now able to combine my passion for all things travel, my expertise and experience and build a business for myself. Looking forward to 2021 and I cant wait to travel again very soon."
FOLLOW LAURA'S FACEBOOK PAGE: @LJTravelCounsellor
---
Vance Rocco, from the USA, Holland America Line:
"I went from being the face and voice of a ship and handling guest complaints, to helping young people develop themselves. I don't know if I'll look back; let's see."
---
Rahul Joe's from India, Silversea Cruises:
"Well, we don't know when ships are going to start again so we had to do something. I always had 1 or 2 dogs with me, so I thought why don't I do it on a bigger scale because there is a high demand for this breed here in my state Uttarakhand, India so I just started it… Whenever ships are going to be started I will join it back and my father said he can help me with this business once I'm gone so .. it seems better to do something."
---
Marlenka Aidos, from Portugal (living in Canada), Holland America Line:
"2020 started as the best year of my life with a new romance and incredible adventures until in March we had to disembark the guests in Australia, midway our world voyage! We then were "floating" for 70 days without touching land until finally, we were able to disembark in Manila, where we and 20+ other ships had been waiting for this to happen.

I was the entire time just living on my savings from being the Effy ambassador on board MS Amsterdam, and I was running out of money fast, because the entire time I was paying rent of my apartment in Toronto, Canada where I have been living for the past 7 years! In September, I returned to my home in Toronto and while doing my 14-day quarantine I applied for a job at Marshall's where I had previously worked before my ship carrier. They hired me right away, although in the lowest position as a part-time cashier!

To make extra money I've also been selling some of my belongings that I no longer need on the Facebook market place and I'm also setting up my arts and crafts business. My boyfriend and I communicate every day and he's moving to Canada in January! We are both looking forward to going back to cruises and we are also considering yachts whenever this pandemic goes away!"
---
Jack Brown, Entertainer/Activities Host from the UK:
"The cruises may have come to a stop but I definitely have not, for my entertainment spirit still burns. Since being home I wanted to carry on entertaining people and bringing joy. Especially in these dull and troubled times.

When I'm not making comedy videos and sketches on my YouTube channel JSilvay, I'm working currently in my local "escape room" as a host and games master. This has been very fun and engaging for me and even though I can't see the guests' smiles behind the face masks, I'm hoping I've still given some joy with my entertaining skills until the cruises return."
SUBSCRIBE TO JACK'S YOUTUBE CHANNEL, LET'S SUPPORT EACH OTHER!
https://www.youtube.com/channel/UCnnYLObBAgXQxAFGv9Kr_2A
---
Elizabeth Silva, from Mexico, Celebrity Cruises:
"I was on my first contract onboard Celebrity Infinity when the pandemic started. I've learned about how important is to be healthy and just care about really important things, and that is to appreciate people who have cared about you on the ship in the hard times. Now back home, the most important thing in my life is to be happy and take care of my daughter while I am working at home."
---
Elena Tifrea, from Romania:
"Beloved friends from all around the world,

I know we are going through hard times, but I believe that we should stay strong and keep our bodies and minds away from everything that could harm us. I was super stressed at the beginning of this pandemic, and then I started to feel better, as I reorganized everything. I tried to stay as positive as I could, didn't quit on my workout, continued to eat the same healthy food.

I needed to do something because I knew that I can't go back to working on a ship, so I started looking for a job and so I found one. It was love at first sight and then I worked hard and got a promotion which came out of nowhere and changed departments and here I am: I am proud to announce that I am working for one of the biggest companies in the world as a Commercial Planning Executive even though I used to sing onboard Princess Cruises as a lead singer. But do not worry: I am still singing, I am still a recording artist and I will soon be back with a lot to offer! If you miss me, you can always follow me on my Instagram account (https://www.instagram.com/hellen.official.insta/) or LIKE & Subscribe to my YouTube Channel: HELLEN Official – YouTube

So, please, do not quit your dreams just because of what we are going through right now! Please hold on, stay positive, and take care of your mind & body, of your families, friends. Don't forget to get regular sleep and also exercise (you can easily do it within the comfort of your own place!).

In the end, it's all about rethinking how we work and what we value.

Sending you lots of love,

Hellen from Romania <3 "
---
John Keanu, from the Philippines, Cook onboard Celebrity Cruises:
"Working on a ship is hard, but got me a lot of knowledge and experience. When the pandemic started, it was difficult to find a job as a cook in the Philippines, and I realized it was a good idea to make artworks, to accept commission portraits. I have always loved art and participated in many competitions as a student. Because of my short income, I didn't finish college, but I was selling my artworks and worked part-time as a teacher of Art in one high-school in the Philippines before I started working as a cook.

So, when the pandemic started, I decided to go back to art, my lifelong passion. I started promoting my latest artworks on social media and a lot of my friends and people who love my art helped me. Now with the money I earn from my artworks, I can help my family, buy food, pay bills, and pay rent.
FOLLOW JOHN ON INSTAGRAM: @keanuart21
---
Jasmin Aganovic, from Bosnia & Herzegovina, Royal Caribbean International:
"I would have never imagined that this would become my new skill. Life is unpredictable."
---
Rodi, from Turkey, MSC: 
"I like my new job. I work less, and I earn more money. So far, so good."
---
Alexandr Angelskiy, from Ukraine, Celebrity Cruises:
'Honestly, the job on land is different from the ship, but I am still making good tips. This is temporary, so doesn't matter what kind of job it is. No matter where, I am always doing my best."
---
Anna Chubuk, from Ukraine:
"Even that I've become the Office Manager, I still cannot imagine my life without traveling. My heart belongs to the Sea and my soul to the traveling."
---
Gilang Tri, from Indonesia:
"I started the catering business in April 2020, and now I focus on developing the business together with my wife and one employee. And I believe that my catering will be a big company."
---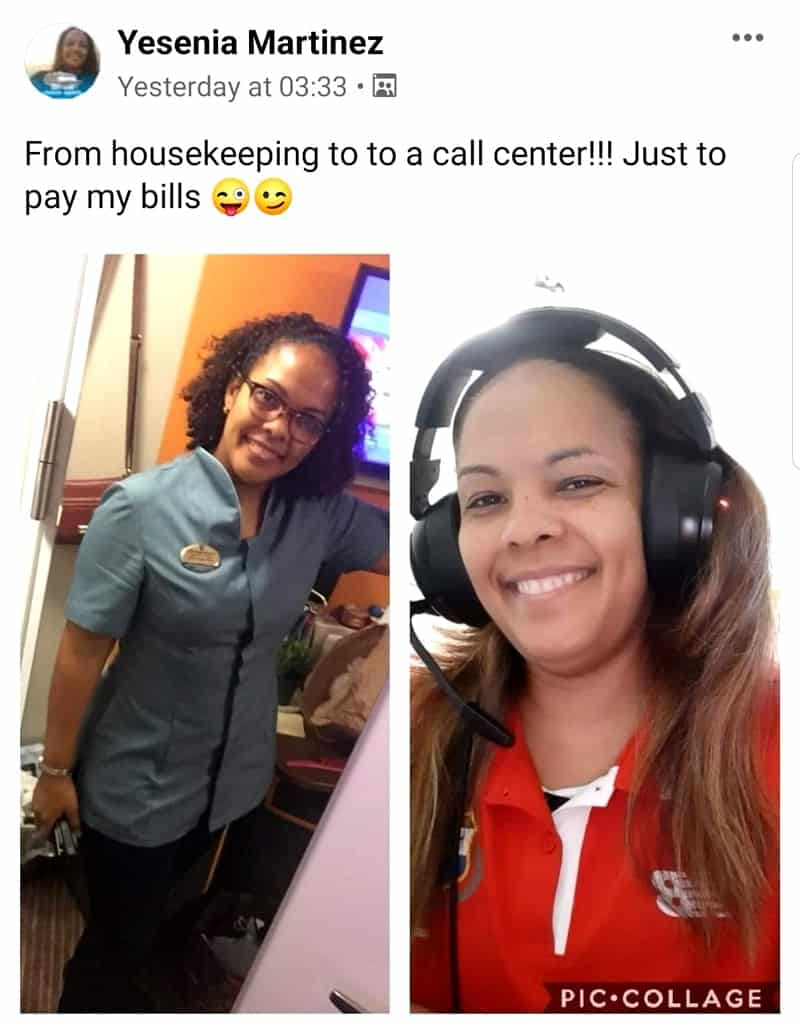 Final Words
There are thousands of other crew members out there, trying to find their way out of this situation, coming up with new ideas, projects, starting part-time or full-time jobs. We see many of them volunteering and fighting the Covid-19 in the front line, helping their families, encouraging people to get through these tough times.
We are all heroes and we should be proud of our achievements.
We will help the cruise industry recover and grow, but this time – more resilient, more experienced, and stronger than ever!
---
See Also: