Welcome to Ocho Rios cruise port, Jamaica!
Ocho Rios is a popular cruise port nestled on the north coast of Jamaica, 100 km/62 miles (1h 45-minute drive) east of Montego Bay, 73 km/45 miles (a 1-hour drive) east of Falmouth, and 84 km/52 miles (1h 15-minute drive) north of Kingston, Jamaica's capital.
The town of Ocho Rios is known for its bustling harbour lined with hotels, shops, eateries and a variety of natural attractions that you can visit nearby including the stunning Dunn's River Falls.
In this article, I share with you insider information on:
Ocho Rios cruise port (Ocho Rios cruise terminal, getting around the port)
Top 8 things to do in Ocho Rios, port highlights, the best Ocho Rios shore excursions
Check out today's cruise deals from Cruise Critic!
Ocho Rios Cruise Port
Ocho Rios cruise terminal consists of two piers where large cruise ships dock: Turtle Bay pier and James Bond pier (aka Reynold's pier).
Turtle Bay cruise pier is the main pier located in front of the downtown. It can accommodate either one large cruise vessel or two mid-sized cruise ships.
The cruise terminal features a small tourist information booth, a taxi stand, a shaded tour dispatch area and a small coffee shop where you can try the famous Blue Mountain Coffee. Upon exiting the terminal, you'll see numerous eateries and bars including the renowned Margaritaville, and in less than 5 minutes' walk you will reach Main Street where you'll find shops, bars, supermarkets as well as several city landmarks, such as the Church of Jesus Christ of Latter-day Saints, and the beautiful Methodist Church.
Parallel to Main Street and left from the terminal, you'll come across the beautiful Ocho Rios Bay Beach boasting soft white sand, crystal clear turquoise water and watersport activities.
James Bond cruise pier, also known as Reynold's Pier, is located further, around 800 meters (0.5 mi) from Ocho Rios downtown. It is a commercial industrial pier used by both cruise and cargo ships.
James Bond pier doesn't have facilities, except for the small parking area for tour buses and taxis. To reach Ocho Rios downtown, turn left from the exit of the terminal and walk approximately 15 minutes along the waterfront sidewalk.
Useful info:
Taxis in Ocho Rios are widely available and have fixed prices per person, however, you can always negotiate the price.
Ian Fleming International Airport is the closest airport to Ocho Rios port. It is located 16 km/10 miles (20 minutes drive) east of Ocho Rios.
Public transport is not reliable and not recommended for cruise ship passengers due to the ship's limited time in port.
The currency in Jamaica is the Jamaican Dollar (JMD; symbol J$). 1 US dollar equals around 154 JMD. See the

currency converter

US dollars and credit cards are widely accepted in most touristy places in Ocho Rios.
Search the

top-rated hotels in Ocho Rios
Top 8 Things to Do in Ocho Rios Cruise Port
Before I share with you the best things to do in the port of Ocho Rios, I invite you to sign up below and get my insider Shore Excursion Guide for FREE!
1. Dunn's River Falls
The famous waterfalls rank among the most visited attractions in Jamaica, and the best thing is they are located only a 5-minute drive (3.5 km/2 miles) from Ocho Rios cruise port.
The whole complex is set in a lush forest and boasts a beautiful sandy beach and many facilities including shops, eateries, changing rooms, and more.
The waterfall itself is a major attraction – you can either climb it (the climb takes 45 minutes, the activity is considered moderately strenuous and it requires a good physical shape), or you can walk past it (there is a staircase that runs parallel to the waterfall that goes all the way down to the beach).
Useful tips:
Water shoes

are mandatory (you can buy them on-site, however, the choice is limited) and you climb the falls in a

swimsuit

.
You will be given a briefing before the start, and it's important to follow the guide's instructions during the whole duration of the activity.
The best way to get there is by taxi or on a guided shore excursion. Considering the short distance from the port, a taxi may be a more affordable option.
Bring the ship towel
Bring a camera/phone as there will be no professionals taking photos of you. It is recommended to bring a

waterproof phone case

for your phone.
For more info, visit the official webpage

https://www.dunnsriverfalls.net/
Suggested article: 25 Top Shore Excursion Packing List Items
Check out Dunn's River Falls tours and activities
2. Swimming with Dolphins
The second best Jamaica attraction is the dolphin interaction at Dolphin Cove, situated close to Dunn's River Falls, only 5 minutes drive (3 km/1.8 miles) from the port of Ocho Rios.
Surrounded by green lush vegetation, this beautiful cove offers various dolphin programs (dolphin encounter, swimming with dolphins, the royal swimming with dolphins – Check out my article on Grand Cayman to read about the difference between the programs), a small zoo, interaction with stingrays, shark feeding, a bar-restaurant, a gift shop, and a trail through the rainforest that you can explore at your own pace.
Useful tips:
There will be a professional photographer taking photos of you during the dolphin interaction. You can purchase photos after you finish the activity.
Bring the ship towel.
Taxi is the best way to get there due to the short distance from the port.
Get more information on the official website

https://www.dolphincoveja.com/
3. Mystic Mountain Adventure Park
This mountain-top adventure park is located only 2.5 km/1.5 miles from the Ocho Rios cruise terminal.
A park is an ideal place for thrill-seekers, as you get to enjoy activities such as a Canopy Zip Line, riding up to the mountain on the Sky Explorer Chairlift to 700 ft above sea level, bobsledding, waterslides, and so much more! There are shops and a bar-restaurant on-site and the food is delicious with various vegetarian/vegan options.
Make sure you wear closed-toe shoes and bring a camera as the views are breathtaking!
Visit the official website for more information https://rainforestadventure.com/
Check out Mystic Mountain tours, activities and tickets
4. Cool Blue Hole Cascade
Situated only 13 km/8 miles (a 25-minute drive) southeast of Ocho Rios port, on Cascade Road in the heart of the lush rainforest, Cool Blue Hole Cascade features a natural limestone sinkhole that got its name from the deep azure hue of the water.
Numerous waterfalls, swimming holes, cliff dives, rope swings, and hiking are some of the natural wonders and activities available, and there are guided tours offered as well.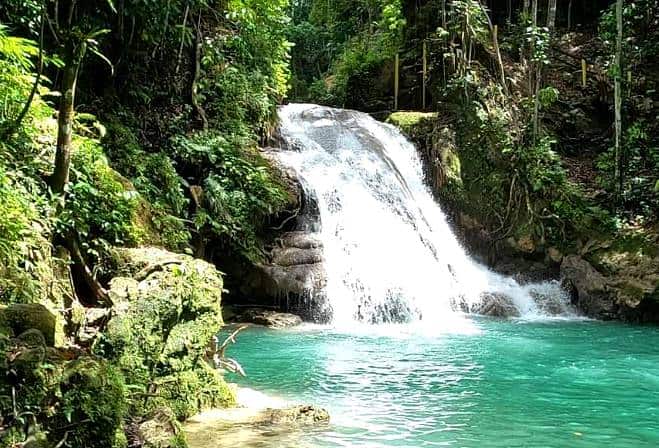 There are higher jumps for adrenaline seekers, and smaller ones for those who don't feel comfortable jumping from high up. The area is not crowded like in Dunn's River Falls, and there are great photo opportunities so bring your camera!
Also, bring both walking shoes for the hike and water shoes as the rocks are rough.
For additional information, visit the official webpage https://www.coolblueholeochorios.com/
Check out Blue Hole tours and activities
5. White River Valley
With its warm, crystal-clear waters and beautiful natural surroundings, White River can easily be compared to Blue Hole and other Jamaica's natural treasures.
The secluded White River Valley is located only a 10-minute drive from Ocho Rios and offers multiple adventure activities including river tubing, adrenaline-packed rafting, swimming, and ziplining.
Explore White River tours and activities on Tripadvisor and Viator
6. CHUKKA Adventures
Chukka is a reputable tour operator that operates in several Caribbean islands and partners with all major cruise lines.
They offer a wide range of activities throughout the entire island, including river tubing, ziplining, horseback beach riding, plantation visits, ATV rides, historical tours, rum tasting and so much more!
I've had the opportunity to visit Good Hope Estate when our ship docked in Falmouth, and I was stunned by the beauty and tranquility of the place. Besides adrenaline and historic tours, here you can enjoy swimming pools, waterslides, and a replica of Dunn's River Falls set in a lush tropical rainforest.
Good Hope Estate is located a 1h 15-minute drive (75 km/47 miles) from the port of Ocho Rios. If your ship docks in Falmouth, it's much closer (only 20 minutes drive) so I suggest you visit it from there.
Visit the Chukka Adventure official webpage
Explore CHUKKA Adventure tours and activities
7. Ocho Rios Beach Break
Ocho Rios boasts a beautiful white sandy beach in the heart of the downtown. This public beach is called Ocho Rios Bay Beach and boasts gorgeous crystal clear waters, scenic shaded spots ideal for families, watersports, and other beach facilities (toilets, table/chair rental, changing rooms, showers).
There is a reasonable entrance fee that costs J$200 (around 1.3 US dollars) per adult, and J$100 (0.60 US dollars) per child 12 years old and under. Access to the bars and restaurants is available.
Mahogany Beach, situated a 5-minute drive/30-minute walk from the port, is another great option if you seek a more peaceful and secluded option. Rentable chairs, a beach bar, watersports and other facilities are available.
If you prefer an all-inclusive package, several Ocho Rios resorts offer a day pass option with amenities, food and drinks included. Some of these are:
Jewel Dunn's River Beach Resort & Spa – Offers Adults Only Resort Day Pass (18+) for around 90 US dollars per person. 10 minutes drive from the Ocho Rios cruise port.
Jewel Paradise Cove Beach Resort – Adults Only Resort Day Pass (18+) for around 99 US dollars per person. 30 minutes drive from the cruise port of Ocho Rios.
8. Ocho Rios Downtown
If you decide to stay in Ocho Rios, there are numerous things you can do!
In front of the Turtle Bay cruise pier, you can visit the Island Village complex, featuring a wide range of stores, entertainment, coffee shops, bars and restaurants where you can indulge in Jamaican delicious Jerk chicken and island specialties.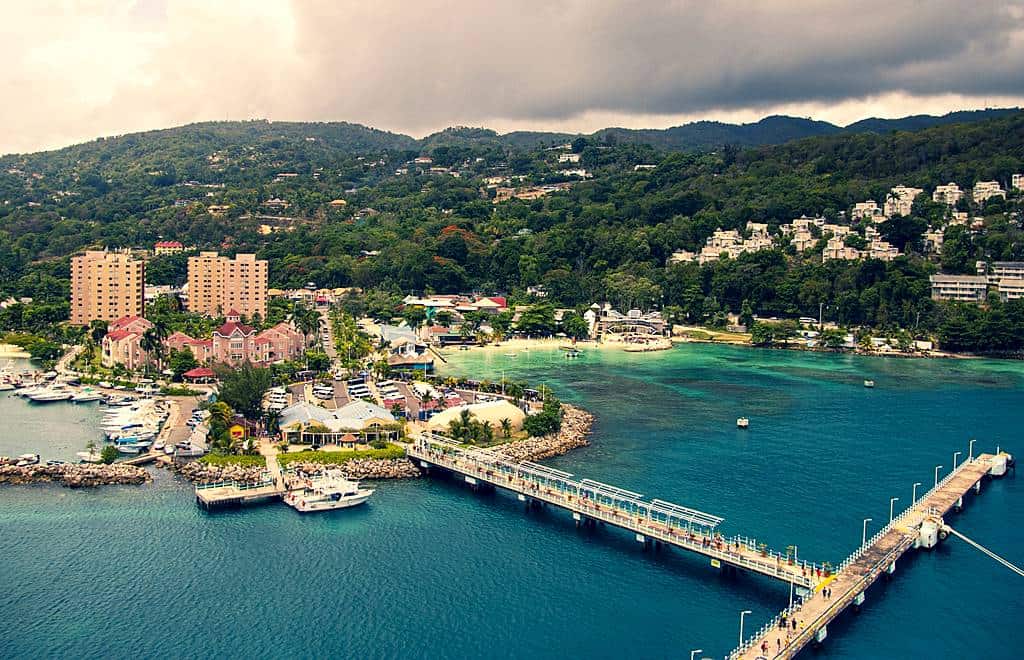 The famous Margaritaville and Starbucks are here, as well as a small, cozy Fisherman's beach.
If you continue walking, upon exiting the terminal you will reach Main Street filled with shops, eateries, banks, pharmacies, markets, and a couple of historic landmarks including the Church of Jesus Christ of Latter-day Saints and the Methodist Church.
To Wrap Up
Whatever you choose to do in Ocho Rios cruise port, make sure you plan your day accordingly to the cruise ship's schedule. Ocho Rios has so much to offer, I am sure you will have an unforgettable time in this exciting port of call!
Find more things to do in Jamaica in my Falmouth Cruise Port Guide!
---
Top 8 Things to Do in Ocho Rios Cruise Port, Jamaica
Dunn's River Falls
Swimming with Dolphins
Mystic Mountain Adventure Park
Cool Blue Hole Cascade
White River Valley
CHUKKA Adventures
Ocho Rios Beach Break
Ocho Rios Downtown
You May Also Like:
Snorkel Gear and Scuba Diving Equipment – Tips by a Pro!
25 Top Shore Excursion Packing List Items
Mediterranean Cruise Port Guides
This article may contain affiliate / compensated links. For full information, please see my disclaimer here.