Welcome to San Juan port guide!
Founded in 1521 by Ponce de León, San Juan is the vibrant capital of Puerto Rico and the third-oldest city that the Europeans established in the Caribbean. The picturesque capital is nestled on the northern coast of the island and is a perfect getaway for history buffs, sun-seekers, foodies, and adventurers! The cruise port is also one of the most popular homeports in the Caribbean, with the ability to accommodate up to eight ships at a time.
Sailing into the natural port of San Juan is a true feast for eyes! Make sure you wake up early to take in the stunning views of the harbor and do not miss the chance to admire the beautiful sunset sail away!
In this article, read about:
San Juan cruise port (cruise terminals, piers, getting there from the airport)
What to visit in San Juan on foot
Top 10 San Juan port highlights 
Popular San Juan shore excursions
Check out today's cruise deals from Cruise Critic!
San Juan Cruise Port
San Juan has two cruise terminals: Old San Juan Cruise Pier, conveniently located in Old San Juan, and Pan American Pier located next to the airport. The majority of cruise ships dock in Old San Juan, although a handful of Royal Caribbean, Celebrity, Norwegian Cruise Line, and Disney ships use the Pan American terminal, which is approximately a 10-minute taxi ride from the town center.
See Old San Juan cruise terminal on Google maps
San Juan Cruise Terminals
Old San Juan Cruise Pier
This terminal is located at the heart of Old San Juan, at Calle Marina quay, within walking distance from main city attractions and historic landmarks. It has 3 cruise piers that can accommodate up to 6 cruise ships:
Pier 1 – This pier has two berths

and boasts a

modern passenger terminal with facilities such as duty-free shops, luggage gangways, parking, and elevators. It is used by cruise lines including those operated by Azamara, Windstar, Silversea, and Seabourn. If you are cruising with

Norwegian

(NCL), Costa, MSC,

Disney

, among others, this is where your ship will dock. 

Pier 3 – This pier has a capacity for 2 ships and is used exclusively by

Royal Caribbean Line

. This pier is also used by ships that are in transit and stay in San Juan for the day.

Pier 4 – Pier 4 also has two docks and features a passenger terminal building with modern facilities including a duty-free shopping mall. This pier is used exclusively by

Carnival Cruise Line

and is also used as a turnaround port for Carnival cruise passengers. 
Note: Pier 2 is located between Piers 1 and 3. It is a small ferry terminal that offers ferry round-trip rides to Cataño Pueblo, a town nestled across the Bay of San Juan. The Cataño Ferry, known as La Lancha de Cataño, offers rides at the price of 0.50 $ per person one way (children 3-11 and seniors 60-74 pay 0.25 $). The ride lasts approximately 8 minutes, and ferries run every 15-30 minutes.
Shore Excursion Tip: The exit gates of Old San Juan piers are situated less than 500 ft (150 meters) from the gangway. This is where shore excursions meeting place usually is, however, make sure you always read the instructions on your tour tickets to double-check that. Make sure you bring your cruise card (Sea Pass) and a valid photo ID as these will be checked at the security gates.
Suggested article: 25 Top Shore Excursion Packing List Items
Pan American Pier
Pan American cruise terminal is usually used by Celebrity Cruise ships and passengers embarking and disembarking at San Juan (as mentioned above, San Juan is a home port, or a turnaround port, meaning that cruises start and end in San Juan). The terminal has two piers (Pan American Pier 1 East and Pan American Pier 2 West) and can accommodate two ships.
See Pan American Pier on Google maps
Note: Carnival cruise ships normally use Pier 4 (Old San Juan pier) as a homeport.
Pan American Pier is located approximately 4 km (2.5 mi) from Old San Juan pier and the historic center (a 10-minute driving distance). Sometimes, the cruise lines provide shuttle buses, whereas sometimes you will need to take a taxi at a cost of 10.00 $ per taxi one way. The main advantage of this pier is its proximity to the Isla Grande Airport which is located right across the cruise terminal.
How to Get to San Juan Port from the Airport
There are two airports near San Juan: Fernando Luis Ribas Dominicci Airport (commonly known as Isla Grande Airport) and Luis Muñoz Marín International Airport (known as Isla Verde International Airport).
Rent a Car – Check the best deals and prices
Isla Verde International Airport
Referred to as San Juan Airport (SJU), the airport is located approximately 11 km (7 mi) from Old San Juan cruise pier and the historic heart of the city. It is the main airport in San Juan and one of the busiest passenger airports handling international flights including the US and the Caribbean islands. It offers flights to several US cities, including Orlando, New York, Fort Lauderdale, Miami, Atlanta, Newark, Philadelphia, Tampa, Baltimore, and Boston.
Isla Verde International Airport is located in the Isla Verde district known for numerous hotels and beautiful sandy beaches, including Pine Grove surfing beach, Playa Isla Verde, Isla Verde beach, and a few others. If you are staying overnight, there are many hotels you can book in this area.
The best hotels near San Juan Airport: San Juan Airport Hotel, Courtyard by Marriott Isla Verde Beach Resort, Fairmont El San Juan Hotel, Hampton Inn & Suites San Juan, Hotel Villa Del Sol, Royal Sonesta San Juan.
The taxi ride from Luis Munoz Marin International Airport to the cruise ports (both San Juan Cruise Pier and Pan American Pier) lasts 15-20 minutes and the fixed fare is 21.00$ per cab each way. You'll find taxi kiosks and areas at several different points in the main terminal building.
Isla Grande Airport
It is a small local airport located near Pan American Pier that handles mainly domestic flights. If you need to embark early in the morning at Pan American Pier, it is recommended you stay in one of the hotels near this airport – Sheraton Puerto Rico Hotel & Casino, Hyatt House San Juan, or Courtyard by Marriott San Juan Miramar.
Explore Old San Juan on Foot
Old San Juan has been declared a UNESCO World Heritage Site and is known for its cobblestone streets, 16th-century walls and fortresses, picturesque architecture, expansive views of the water, and friendly locals. Numerous attractions and historic landmarks in San Juan are located within a walking distance from San Juan Cruise Pier, not to mention countless shops (San Juan boasts amazing duty-free shopping!), restaurants, bars, and entertainment places.
Some of the major historical landmarks of the town are just around the corner, so if you want to explore these landmarks on foot, head to the left as you leave the cruise terminal. In that direction, you can walk along the waterfront to the picturesque Paseo De La Princesa, an urban European-style promenade lined with trees, cafes, restaurants, and its iconic Raíces (Roots) Fountain, from where you can enjoy wonderful views of the coast. On weekends, there is usually an artisanal market where you can get local handicrafts and authentic products.
And just when you think that the fabulous fountain is the best part, you'll hear the waves crashing against the remnants of the old city fortifications. Follow the walkway around the old city walls and soon you'll reach Puerta de San Juan, the massive 17th-century gate marking the entry into the fortified city dating from the Old Spanish era. From there, walk another 10-15 minutes and you'll reach Castillo San Felipe del Morro, an imposing 16th-century Spanish fortress and one of the main San Juan highlights that you can tour for a nominal fee.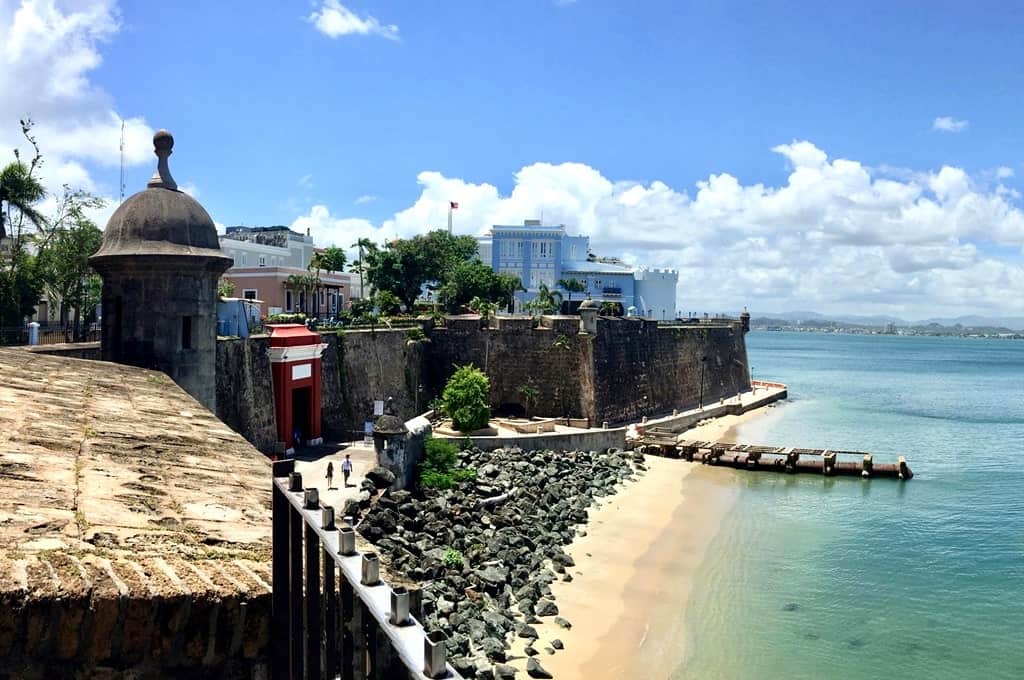 From El Morro fortress, you can walk back towards the cruise terminal and pass through the Old Spanish military barracks building on your way to the 16th century San Juan Cathedral (Cathedral Basilica Menor de San Juan Bautista) that contains the tomb of the Spanish explorer and city founder Juan Ponce de León.
Further along, you can see La Fortaleza – the Governor's Mansion dating from the 16th century, as well as the Pigeon Park (Parque de las Palomas) where you can get a chance to feed the birds. This area is the main Old San Juan shopping district (Calle de la Fortezela and Calle de San Francisco are the main shopping streets), so make sure you take some time to browse a wide variety of duty-free shops, department stores, and internationally recognized brands.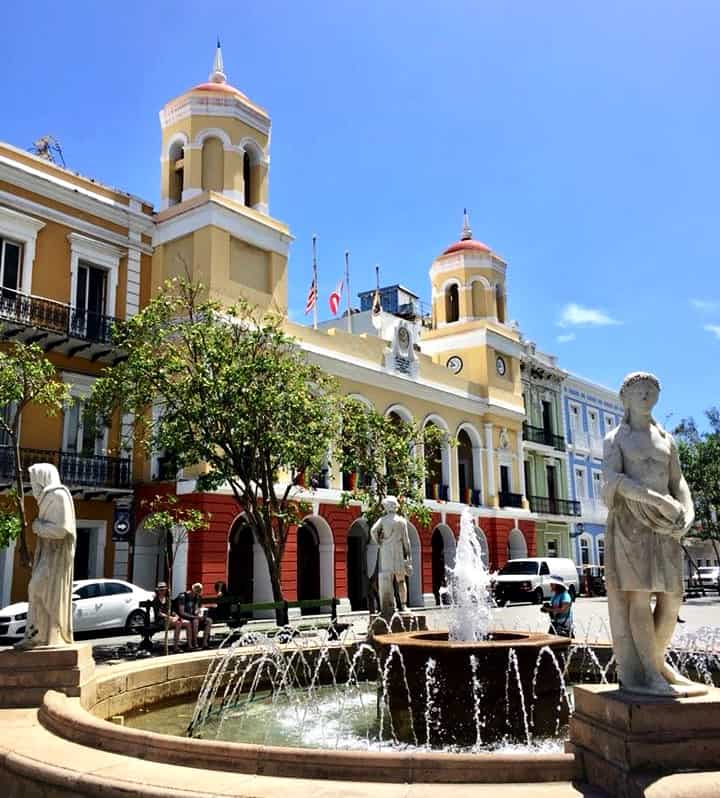 The area to the right of the cruise terminal is home to the Capitol of Puerto Rico (El Capitolio), a massive, monumental building normally visible from the upper levels of a cruise ship, housing the Legislative Assembly, and Playa Pena beach, a small rocky beach that is open to the public. Both are about a 15-minute walk from the cruise terminal. The Holocaust Memorial Monument and the Walkway of the Presidents are located on the opposite side of the Capitol building. The whole area is perfectly maintained and well worth visiting.
If exploring by foot is not your thing then you can opt for the free trolley (no narration) that follows three different routes and runs from 7 AM to 5:30 PM. Each has a stop at the cruise terminal, and you'll easily identify them. The trolleys are very popular and quite crowded, as they run infrequently. Just look across the street from the sidewalk between Pier 3 and Pier 4 and you'll see Trolley Stop No. 1.
Top 10 San Juan Port Highlights
1. Castillo San Felipe del Morro (aka El Morro)
El Morro is a San Juan National Historic Site sitting atop a high hill guarding the entrance to the San Juan Bay and one of the largest fortifications built by the Spanish in the Caribbean. The construction of the fortress took over two centuries to complete (built between the 16th and 18th centuries) and the citadel suffered multiple attacks throughout the centuries.
If your ship is docked at the Old San Juan, then it's about a 15-minute walk (approximately 1.2 miles), although it might take a bit longer if you have walking difficulties. It is an uphill walk, so make sure you bring appropriate clothes and keep hydrated, as it can be very hot and humid.
Suggested article: 25 Top Shore Excursion Packing List Items
Visit the casemates and the chapel, enjoy the fantastic views of the ocean from the 60-foot walls, and aim your camera on the cannons that still guard the harbor today. The open area at the fort and its proximity to the sea makes it excellent for kite flying. If you have kids, or you are just young at heart, bring a kite when you visit El Morro!
Entrance fee: 10.00 $ per person, includes entrance to both El Morro and Castillo San Cristobal.
Check out Castillo San Felipe del Morro tours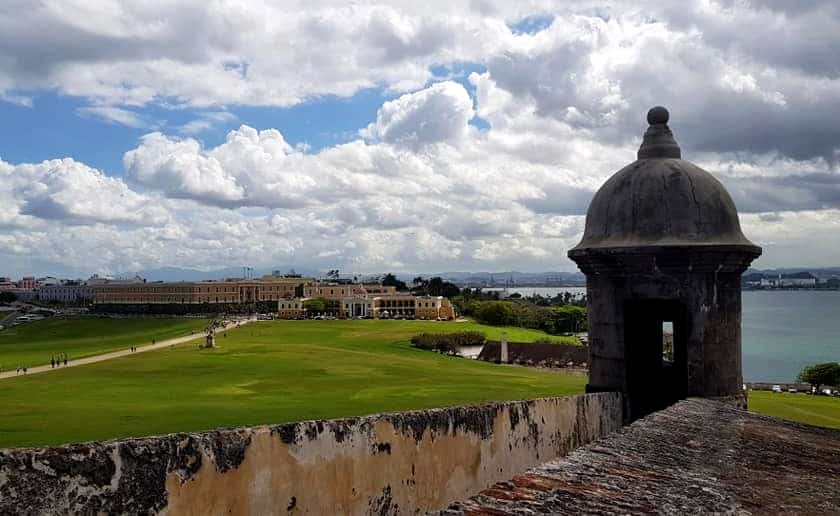 2. Castillo de San Cristóbal
The impressive Castillo de San Cristóbal is situated 1.5 km (1 mi) from Castillo San Felipe del Morro, and approximately a 10-minutes walk from the Old San Juan cruise terminal through downtown. Built for defense purposes, the fortification was built by the Spanish to protect against land-based attacks on the city of San Juan. Together with "El Morro", Castillo de San Cristóbal is part of the San Juan National Historic Site and can be visited with the same entrance ticket (10.00 $).
This fort is smaller and often less crowded than El Morro. Be sure to enjoy the breeze at the artery observation towers as well as the aerial views of the lighthouse!
See the list of Castillo de San Cristóbal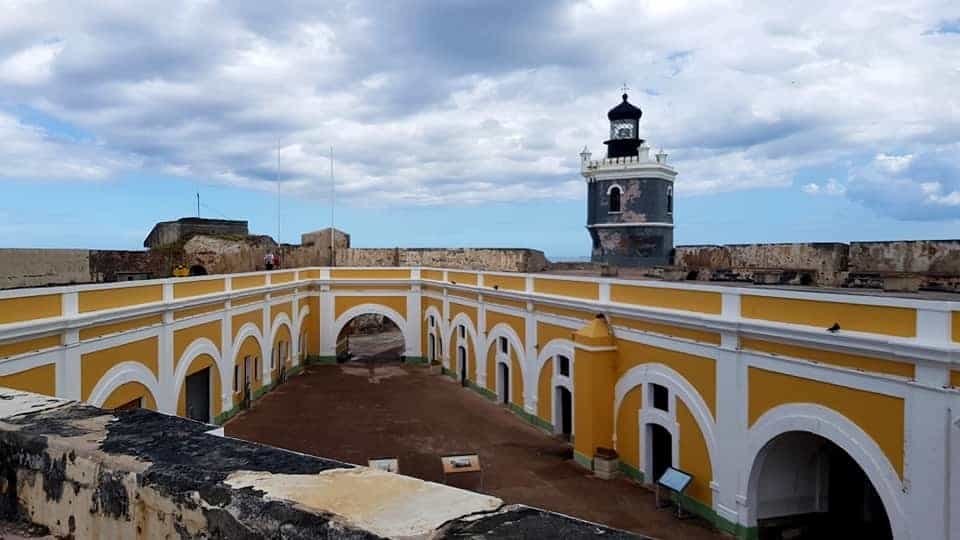 3. Stroll through Old San Juan
I've already mentioned earlier that Old San Juan is a UNESCO World Heritage Site and a stroll through its old, narrow streets is a true delight for the eyes.
Besides the fortresses, San Juan Cathedral (Catedral de San Juan Bautista) is definitely one of the must-see city highlights. It is undoubtedly the most famous religious site to visit and the second-oldest cathedral in the Americas. Located in the heart of Old San Juan, the cathedral features impressive religious and historical artifacts and holds the tomb of the city founder Juan Ponce de León. It is said that Ponce de León moved here and was later buried in this same church.
Museo de las Américas (The Museum of the Americas) is another Old Town landmark that you should visit if you are a history lover. Located on the second floor of a restored historic building Ballajá Infantry Barracks (El Cuartel de Ballaja), the museum showcases an ethnographic panorama of the history of various indigenous tribes, including the local Taino and culture of the Americas.
Old San Juan is packed with duty-free shops, eateries, bars, and there is one you absolutely must see – La Factoria bar, one of the filming locations for the music video for Despacito song! Dance to the tune of Despacito while you sip one of the most delicious mojitos you'll ever try! This place lives up to the reputation and has an incredible vibe! 
Check out Old San Juan walking tours
4. Casa Bacardi Rum Tasting
The renowned Casa Bacardi, the World's largest premium rum factory, is located approximately 20 minutes ride from the Old San Juan cruise port. To get there, you can book a shore excursion, take a taxi, or hop on a short ferry ride from Pier 2 at Old San Juan (I wrote about the ferry service earlier in the article).
The property is absolutely phenomenal and there are a couple of tours offered, including Mixology Classes and Rum Tasting Tours. You are going to take a ride around the property, watch a movie on the history of Bacardi rum-making, and see the fascinating historical artifacts. You will also get to taste the different types of rum and they will even explain to you the visual differences, what you need to mix them with and finally you get an opportunity to buy some of the rum that you've just tasted… And the best part is that the prices are much cheaper than anywhere else in the United States!
The estate is also very family-friendly and children are welcome!
5. Taste Puerto Rican Delicacies
If you are a foodie, embark on a culinary adventure and discover authentic Puerto Rican delicacies! The first on your list should be Mofongo, a local dish with fried plantains. Café Manolín, located at the heart of Old San Juan, boasts decades-old culinary tradition and offers a variety of delicious local dishes, including Mofongo! The cafe is very authentic and popular, with decent prices, so don't miss the chance to stop by!
You should also try sofrito sauce, a mouth-watering sauce that serves as the base for other local dishes, typically Caribbean rice and beans, Puerto Rican rum, chocolate, and sweets!
See the list of San Juan food tasting tours
6. Plaza Las Americas Shopping Experience
If you are looking for the famous duty-free shops of San Juan, you will find that Calle Fortaleza and Calle San Francisco are the two main shopping streets of Old San Juan. You will also find the brands like Coach, Tommy Hilfiger, Crocks, or Guess on Calle del Cristo.
And if you need to spend some more money be sure to check out Plaza Las Americas, the largest shopping mall in the Caribbean and the second largest in Latin America. With over 300 stores and "the center of it all" as its slogan, this mall does indeed have it all. You will find the usual suspects like Red Lobster, Cheesecake Factory, Starbucks, and others. You name it, from high-end stores to local arts and crafts.
Plaza Las Americas is located a 20-minute drive from Old San Juan port.
7. El Yunque National Forest Hiking
If you are a nature lover, you must visit El Yunque National Park, the largest nature reserve on the island of Puerto Rico. The rainforest boasts incredible biodiversity, stunning views from the observation towers, and lush hiking trails with natural pools and waterfalls.
Once you arrive at the destination, get a map and explore on your own the walking trails that will take you past La Coca Falls, La Mina Falls, the Yokahu Observation Tower, and the Mount Britton Lookout Tower observation point.
You can opt for an easy nature walk (Juan Diego Creek trail) or a 1-hour hike on one of several hiking trails, out of which Big Tree trail is the most popular one. Make sure you wear comfortable clothes, bring insect repellent, and don't forget to bring a swimsuit if you intend to swim in the falls!
Suggested article: 25 Top Shore Excursion Packing List Items
El Yunque National Forest is located approximately 50 km (30 mi) from San Juan Cruise Pier and it takes around 45 minutes drive to get there.
See the list of the best El Yunque National Forest tours
8. Campo Rico Horseback Ride
For adrenaline seekers, the hacienda Campo Rico offers various adrenaline tours and nature activities set in the wonderful Puerto Rican countryside. Campo Rico hacienda is located about 20 minutes drive from San Juan Cruise Pier, and offers ATV rides, horseback riding, ziplining, archery, and guided tours of the property.
I went for a horseback ride that took us through the former agricultural plantations and we saw iguanas and other local wildlife soaking up the warm Puerto Rican sun… so peaceful and impressive! Hosts and tour guides are very friendly and informative, so you'll learn about the history of the property and its biodiversity.
There is a small kiosk where you can refresh yourself after your tour, and purchase local souvenirs if you wish.
9. Sailing along San Juan Bay
One of the best things about San Juan is that you can visit most of its highlights by sailing along its beautiful, scenic coast. Old harbor offers wonderful sceneries and you can explore the city's 500 years old history while taking in the views of the magnificent El Morro fortress, La Fortaleza, La Puerta de San Juan, Paseo de la Princesa, and other landmarks.
Top off your sail with delicious snacks, lunch, and drinks to maximize your sailing experience!
See the list of San Juan Bay sailing tours
10. Playa Peña Beach Break
It would be odd to come to Puerto Rico and not go to the beach, admit it! Nevertheless, some of the island's most stunning beaches are actually outside of San Juan. However, there are several popular beaches worth a visit within the city, like Condado Beach, Ocean Park Beach, Pine Grove Beach (all three are located up to 15 minutes drive from the cruise port, and mostly used by guests staying at beach resorts), and the nearest Playa Peña Beach.
Playa Peña is located right outside Old San Juan, across El Capitolio. It is a small, rocky beach with crystal clear, warm water, a perfect getaway for those in search of a peaceful natural setting. It is not crowded, and it is a pleasant place to spend an hour or two before going back to more sightseeing. Make sure you bring water shoes, as it's rocky in some parts.
Suggested article: 25 Top Shore Excursion Packing List Items
Popular San Juan Shore Excursions
3. Old San Juan Segway Adventure
4. Bacardi Rum Distillery Tour
5. El Yunque National Forest Hiking
10. Old San Juan Sailing tours
Important Notes:
Passport is NOT required for U.S. citizens with a valid photo ID such as a driver's license. Non-US and visitors are.
You will find free Wi-Fi Internet in many coffee shops in Old San Juan, namely at Starbucks, which is located around 800 ft (250 meters) from the piers.
Most US phones should work in Puerto Rico but it is advisable to check with your provider to avoid roaming charges.
It is advisable for cruisers to fly into Puerto Rico one day prior to the start of the cruise or to fly in the morning as early as possible. Not only to have the opportunity to explore at least a bit of this wonderful island but also to guarantee that you don't miss your cruise.

Check the list of the best San Juan hotels

Lastly, in case you forgot some items back home, there is a CVS located across from Pier 2, a Walgreens located across from Pier 3, and Senior Frogs on the right of the Sheraton.
Check out today's cruise deals from Cruise Critic!
Check out the video on San Juan cruise port below!
---
This article may contain affiliate / compensated links. For full information, please see my disclaimer here.
---
You May Also Like:
Do you Need Reliable Travel Insurance? Get a Quote!