Whether it is your first time in the City of Lights and you want to visit the highlights of Paris in a day, or you are coming on a day trip to the stunning French capital, this Paris one day itinerary might help you get the most of the city in only several hours.
I've been to Paris many times, and the last time I came to visit was on a cruise ship where I've worked as a Shore excursion staff. The cruise ship docked in Le Havre, and one of the shore excursions offered by the cruise company was a day trip to Paris.
In this article, you'll read about:
One day Paris itinerary with maps, tips, and practical information
Things to see in Paris in one day
Le Havre cruise port: from Le Havre to Paris full-day tour
Le Havre Cruise Port: From Le Havre to Paris
Located on the western coast of France, in the beautiful French region of Normandy, the port of Le Havre is the second-largest cruise port in France consisting of several terminals suitable to accommodate the largest ships in the world. The city of Le Havre had been severely damaged during World War II and completely reconstructed afterward. Due to the innovative architecture and modern look of the rebuilt city, Le Havre has been declared a UNESCO World Heritage Site and has been developing ever since.
Le Havre cruise port is a very popular cruise and travel destination due to its proximity to the major Normandy attractions, such as the capital of Normandy – Rouen, Honfleur, Deauville, WWII Landing beaches, Mont Saint-Michel, and Paris. There are many day trips organized to these places by the shore excursions department onboard your cruise ship.
Recommended article: 12 Gorgeous Places To Visit in Normandy on a Cruise
How to Get from Le Havre Port to Paris?
The distance from Le Havre to Paris is 195 km, or a 2 hours 30 minutes driving distance. There are several ways to go to Paris from Le Havre:
Train from Le Havre to Paris – Cruise ships normally stay in Le Havre cruise port one full day, so if you choose to go to Paris by train, you should have at least several hours to enjoy the French capital. Le Havre is an industrial port, and to get to the commercial area where the train station is, you can either walk or take a taxi. The distance between the cruise port and Le Havre train station is around 2.5 km (1.5 mi), or a 30-minute walk. You'll find many taxi vehicles in front of the cruise terminal and they have fixed prices – around 10 € per vehicle one way. I highly recommend you take a taxi to avoid wasting your time. Click the ticket prices and timetables on https://en.oui.sncf/en/.
Private Transfer – This is the most convenient option if you want to have privacy and the luxury of being on your own. You can either book a private transfer with an English-speaking driver, or rent a car, but I suggest the first option as the tour operators are already experienced with cruise ship guests (just make sure you book a tour with a reliable tour operator / rent a car agency). Also, check your cruise ship all onboard time to ensure you arrive back on board at least one hour before cruise ship departure. Private transfer is usually a cheaper option than booking a private arrangement or shore excursions through the cruise line.
Book a shore excursion – You can choose between two options here: booking a shore excursion with your cruise line, or with an independent tour operator. Paris is quite far from Le Havre and there is always a risk that the ship will leave without you in case you arrive late for all onboard time. Thus, booking a shore excursion with your cruise ship guarantees you a safe return to the ship, and that ship won't leave you behind. The downside is that shore excursions booked through the cruise line can be very expensive (or fully booked). I suggest you always pre-book your Paris tour – it's cheaper and you save your spot.
However, cruise ship shore excursions are very expensive and that's why many cruisers choose to book Paris tours with independent tour operators. In case you decide to book an independent shore excursion, make sure you do it with a reputable tour operator experienced in working with cruise ship guests, and make sure they know what time your ship arrives/departs. This is a cheaper option that works perfectly if you are familiar with Le Havre cruise port, but if you are coming for the first time and don't feel confident about your Paris day trip, better go for the cruise ship offer.
Recommended article: Pros and Cons of Booking Cruise Ship Shore Excursions
Paris in a Day
As I've already been to Paris several times, I decided to join the cruise ship shore excursion that included transportation from Le Havre to Paris and 4 hours of free time in the City of Lights. 
Suggested article: 25 Top Shore Excursion Packing List Items
Our group counted more than 70 people, and we traveled via a comfortable double-decker bus. It took us 2 hours to reach Paris by using the highway, and the bus dropped the group off at the Arc de Triomphe. The group had 4 hours of free time, and as I was with my friends who have never been there before, I suggested showing them the highlights of Paris in only 4 hours.
They couldn't believe it was possible to see Paris in one day as it takes days and weeks to properly visit the city (I couldn't agree more), but for beginners, it is totally possible to cover Paris highlights in 4 hours – and I am about to show you how.
Before I begin, below you can see my 1-day Paris itinerary map, which covers all major tourist attractions and historical landmarks. Another thing I want to mention is that each of us spent around 20 € for the whole day.
Does it still sound impossible? Keep reading.
1. Arc de Triomphe
Most of the tourist buses drop their groups off at Place Charles de Gaulle, formerly named Place de l'Étoile (the Square of the "Star") – named after twelve avenues that end at the square in the middle of which stands the Arc de Triomphe, one of the most remarkable national monuments in Paris. One of the avenues at its end is the most famous avenue in the world – the Champs-Élysées.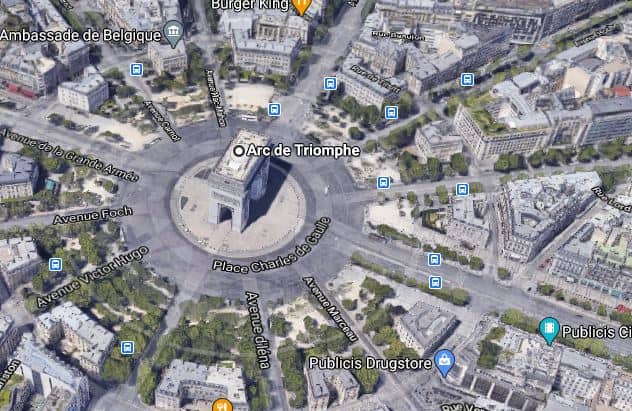 The Arch was commissioned in 1806 by Napoleon to commemorate the victory at Austerlitz and was completed thirty years later, in 1836. Nowadays, the most important national events take place at the Place de l'Étoile. The interior of the Arch is open for visitors, and you can climb to its top and admire one of the best panoramic views of Paris. The interior features a modernly designed, multimedia museum where you can find valuable artworks, a permanent exhibition about the construction and decoration of the Arch, as well as precious national documents such as the De Gaulle speech plaque and Proclamation of Republic plaque.
The Place de l'Étoile was the place where the bus dropped us off. As we didn't have time to go inside, we crossed the street by using an underground passage and went to admire the close-up view of the Arch.
The exterior of the Arch de Triomphe is impressive. The reliefs sculpted on the façades of the Arch depict the important moments of the French Revolution and the Napoleonic Era: battles, victories, the scenes of funerals, celebrations, and more. Beneath the Arch is the Tomb of the Unknown Soldier from World War I with an eternal flame burning to commemorate the dead who were never identified in two World Wars.
We spent around 15 minutes here, took some pictures, and continued to walk down the world-famous Champs-Élysées avenue, filled with high-class designer boutiques, chic restaurants, and luxurious hotels.
2. From Champs-Élysées to the Place de la Concorde
The Champs-Élysées avenue is long around 2 kilometers, and it takes a 20-30-minute walk to reach one of the largest squares in Paris – Place de la Concorde.
But, right before you reach it, on your right side you'll spot the roofs of two beautiful palaces, Le Grand Palais and Le Petit Palais, constructed in 1900 for the Exposition Universelle. Le Petit Palais houses the Museum of Fine Arts and Le Grand Palais, known for its glass roof, is home to an exhibition hall and a museum. If you are into art, here you'll find impressive exhibitions and the surrounding area is perfect for a walk.
Once you cross the street, on the opposite side of Le Grand Palais and Le Petit Palais, you'll come across Le Pont Alexandre III, one of the most magnificent bridges in Paris. It connects the Champs-Élysées quarter with Les Invalides and Le Tour Eiffel and it was also constructed in 1900 for the purpose of Exposition Universelle. It was named after the Russian Tsar Alexander III, who signed the agreement on the Franco-Russian Alliance in 1892. The bridge is sumptuously decorated in Art-Nouveau style and boasts numerous sculptures and works of art. From there you can make some great photos of the Eiffel Tower and the Seine river.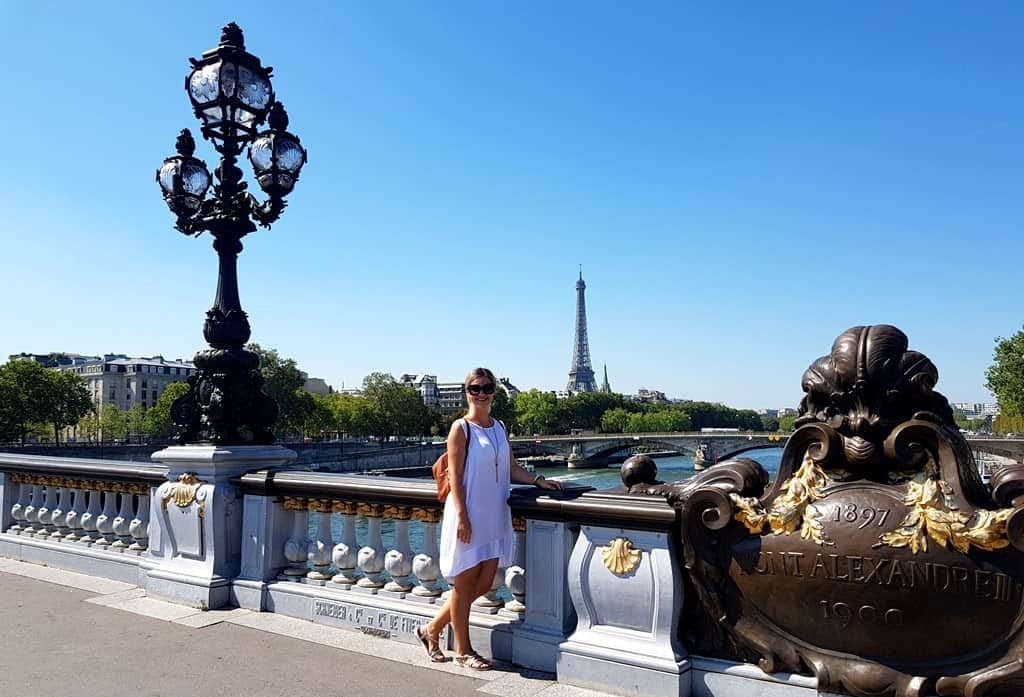 3. From Place de la Concorde to the Louvre
It takes around 1 hour to go down the Champs-Élysées to the Place de la Concorde, including a walk around Le Grand Palais, Le Petit Palais, and Le Pont Alexander III. If you are passionate about the history of art, and art in general (like I am), and you stay in Paris for a few days, you absolutely must visit these two gorgeous palaces. We were limited with time this time, so we moved on toward Place de la Concorde.
Once you reach Place de la Concorde, you'll be amazed by its extravagance and grandeur. The Opera House, Galleries Lafayette, and a few other landmarks are located within a 10-minute walk from the square. Place de la Concorde is filled with fountains and sculptures featuring important historical figures, as well as a colossal Egyptian Obelisk situated at its center. The 3300-year-old Obelisk from Luxor was a diplomatic gift to France in 1836 and its transportation to Paris was one of the biggest challenges back in time. It is a yellow granite column 23 meters high, decorated with Egyptian hieroglyphs depicting the reign of the pharaoh Ramesses the Great.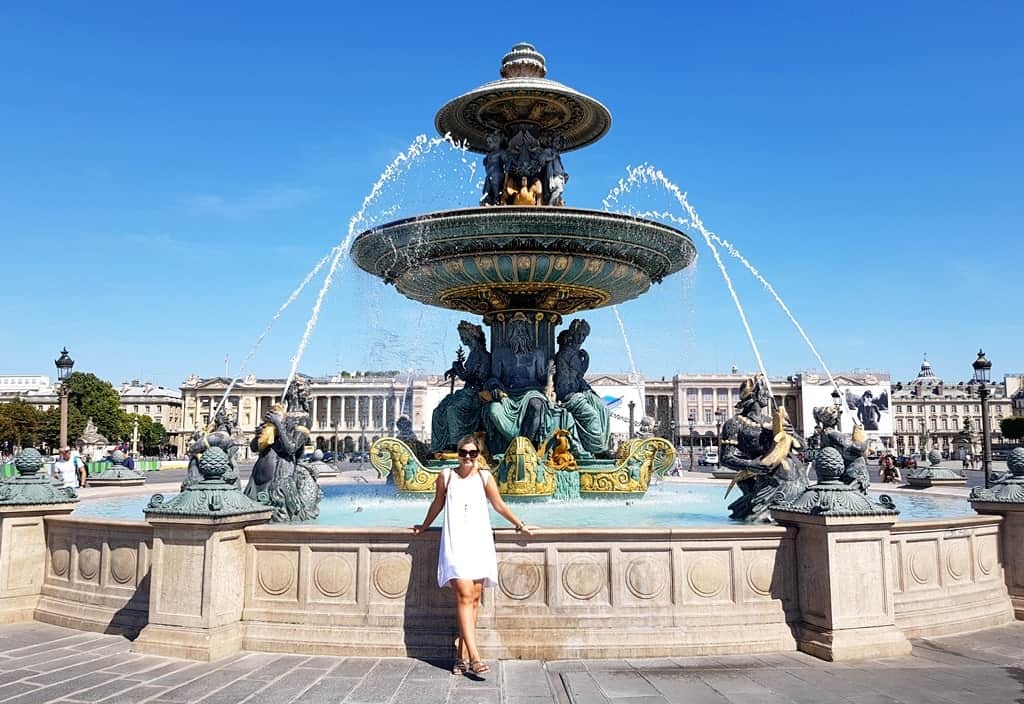 Place de la Concorde has significant historical value and a sad story behind it, as it was the place where important historical figures were guillotined during the French Revolution: King Louis XVI, his wife, Queen Marie Antoinette, other members of the Royal family, Maximilien Robespierre were publicly executed at the square.
The square's name was changed at the end of the 18th century as a sign of reconciliation ("Concorde" in French means "agreement, reconciliation") between the Ancient Regime and French Revolutionists, and remained that way until the present day.
Once you get to Place de la Concorde, take your time to take pictures and stroll around. Then you should continue to the Louvre by passing through Jardin des Tuileries, a vast public garden connecting Place de la Concorde with the Louvre museum.
The Tuileries Garden was built in the 16th century as the private garden of the Tuileries Palace where members of the Royalty used to reside and then transformed into a public park after the French Revolution.
It takes 15 minutes to walk (1,2 kilometers) through the garden and reach the Louvre. If you have more time, you can visit Musée de l'Orangerie, a fascinating museum located by the entrance to the Tuileries Garden (by the side where Place de la Concorde is located). The museum has an impressive collection of Impressionist art and houses world-famous Claude Monet's "Water Lilies". It is a relatively small museum, and it takes 1-2 hours to visit.
4. From Louvre to the Notre-Dame de Paris
Home to the Mona Lisa and the most impressive collection of the world's masterpieces and cultural legacy, Louvre is the most iconic Paris monument and the largest art museum in the world. It takes days to visit it properly, as it extends over an area of nearly 73.000 square meters. If you stay more days in Paris, you should plan a whole day for the Louvre visit and book the ticket in advance (otherwise, you'll spend a half day waiting in line to enter the museum).
Check out Louvre tours and skip-the-line tickets
The central area of the Louvre Palace where the entrance is located boasts the world-renowned Louvre Pyramid, a large glass and metal structure commissioned in 1984 by the president from that time, François Mitterrand, immortalized in the Dan Brown's novel the Da Vinci Code.
You can spend some time there before hitting the road to Notre-Dame de Paris, a symbol of Paris and the most important religious structure whose construction began in the 12th century.
Notre-Dame Cathedral is the finest example of the Gothic architectural style and a couple of years ago it was possible to climb to its top and admire the spectacular view over Paris (over 450 stairs to reach the top). Unfortunately, in April 2019, a devastating fire caught the roof of the cathedral and severely damaged it, so when I last visited Notre Dame at the end of 2019 it wasn't possible to get inside. Reconstruction and renovation works are still in progress and will last until 2024.
Once you start walking from Louvre to Notre Dame, follow the right bank of the Seine river until you reach a stunning building of Town Hall (l' Hôtel-de-Ville). From there you can admire the medieval building of the Conciergerie where hundreds of prisoners were kept before being executed during the French Revolution.
You can cross the Arcole bridge (Pont d'Arcole), follow Rue d'Arcole (Arcole street) and you'll reach the cathedral. Notre Dame is located on the Île de la Cité, a small natural island in the Seine River connected to the other parts of the city by bridges. Here you will see many boats cruising and if you decide to take a cruise (time-permitting), check out the Seine River Cruise offers.
It takes around 30 minutes walking from Louvre, along the Seine River, to the Hôtel-de-Ville and Notre-Dame cathedral (1,5 kilometers).
5. From Notre-Dame de Paris to the Eiffel Tower
One of the best views over Notre-Dame de Paris is from the Saint-Michel Bridge (Pont Saint-Michel), located only several minutes walking from the cathedral. Right across the street, there is an impressive fountain – Fontaine Saint-Michel, and there you'll be able to catch a taxi to go to the Eiffel Tower.
If you are limited with time, I highly recommend taking a taxi here, but if you prefer to walk, bear in mind that the distance between Notre-Dame de Paris and Eiffel Tower is around 4 kilometers.
Even though this part of the city can be very crowded, the taxi ride shouldn't last longer than 15 minutes, and a taxi driver shouldn't charge you more than 20 €. Always negotiate the price first, as they might try to rip you off, especially when they see you're a tourist.
The ride to the Eiffel Tower is scenic; you'll enjoy a panoramic ride along la Rive Gauche (Left Bank of the Seine river), you'll be able to spot the famous Orsay Museum (Musée d'Orsay) that houses the largest collection of Impressionist and post-Impressionist masterpieces in the world. The Orsay Museum is a must-see place in Paris and if you have time, save at least a couple of hours for a visit (book the tickets in advance in order to avoid waiting in line!).
6. From Eiffel Tower to the Arc de Triomphe
Once you reach the Eiffel Tower (La Tour Eiffel), you'll spot the Champ de Mars, a spacious green public area named after the Roman God of war – Mars, filled with local people selling souvenirs and refreshments.
The area is huge and from there you can take in the spectacular views of the Eiffel Tower.
Another place which I recommend you to go to is located right across from the Eiffel Tower, on the opposite side of the Champ de Mars – the Palais de Chaillot, an extraordinary palace constructed in 1937 for the Exposition Internationale. It is located on Chaillot hill overlooking the Gardens of the Trocadero (Jardins du Trocadéro), only a 5-minute walk from the Eiffel Tower.
The view you'll get from there is amazing, and once you are done with the photos, you can continue to the Place du Trocadéro (Trocadéro Square) where you can easily catch a taxi to take you back to the Arc de Triomphe.
Trocadéro Square is one of the busiest squares in Paris that got its name after the Battle of Trocadéro that took place in the 19th century. The protests, celebrations, and other events often happen here and the Trocadero metro station is among the most convenient ones due to its proximity to the Eiffel Tower.
Suggested article: 25 Top Shore Excursion Packing List Items
The distance between Place du Trocadéro and the Arc de Triomphe is around 2 kilometers, and if you are limited with time – it is better to take a taxi. It shouldn't cost you more than 8 € to get there. That's how we did it as we wanted to buy something to eat before meeting our group at the same place the bus dropped us off.
From Paris to Le Havre
My friend and I wasted a bit of time searching for the bakery and found the perfect one last-minute. We took some time to indulge in delicious French pastry and coffee at Brioche Dorée, my favorite French bakery, before joining our group and the tour guide. The trip from Paris to Le Havre lasted around 2 hours and we got to the cruise ship in the evening.
Conslusion & Important Notes
As you can see, we managed to visit the best of Paris in only several hours. There are many other places to see, such as the Latin Quarter, Montparnasse, Sacré-Cœur basilica, La Défense quarter, and much more. Paris is an incredible city with many opportunities, and you need at least two weeks to explore it, but if you want to see Paris in a day – I hope my article helped you decide where to go.
To conclude, find below several tips and important notes that I would like to share with you:
If you choose to do this half-day Paris itinerary, you should be ready for a lot of walking. If you plan to see the most iconic landmarks of Paris, you have to do it on foot, because the car or bus cannot reach those places.
For a taxi, don't forget to ALWAYS negotiate the price.
If you have more time to spend in Paris, book the tickets for the museums in advance, as you can waste half of your day just by waiting in line for the entrance. You can book a guided tour as well if you want to have a truly unique, full experience. If you consider visiting several landmarks and museums, you can take a look at the

museum day pass

or

skip the line tickets

offers

.  You can have a look at

Viator

(Trip Advisor's company),

Expedia

, and

Get Your Guide

,

they have pretty awesome options that you can choose from.

If you are looking for souvenirs, the area around Notre-Dame cathedral has some quite cheap souvenir shops where you can purchase French souvenirs.
If you are planning to climb to the top of the Eiffel Tower, save a whole day (or at least a half-day) for it! Don't try to visit more places at once, because you won't make it!
I hope you enjoyed this half-day Paris itinerary and that I've been helpful! Thanks for reading and I wish you happy cruising!
---
This article contains affiliate links. For full information, please see my disclaimer here.
You May Also Like: