Welcome to Le Havre cruise port, France!
Le Havre is one of the major ports in France, located in northern France's Normandy region, where the Seine River meets the English Channel on the Atlantic Coast. It is a popular stop in cruise itineraries due to its proximity to Paris (200 km/125 miles), Normandy beaches (145 km/90 miles), Rouen (92 km/57 miles), Mont Saint-Michel (220 km/137 miles) and other popular French destinations. In this article, read about:
Le Havre cruise port (Le Havre cruise terminal, getting around, useful tips)
7 best things to do in Le Havre port (including shore excursions to Paris, Rouen, D-Day Beaches, Honfleur, Deauville, Mont Saint-Michel, Etretat)
Visit also our cruise port guides to Lisbon, Gibraltar, La Coruna, Malaga, Barcelona, Ibiza, Palma de Mallorca, Brugge (Bruges), Copenhagen, Oslo, Helsinki, Tallinn, Amsterdam
Search the best Western Europe cruise deals!
Le Havre Cruise Port
Le Havre port is France's largest containership port and its second-largest cargo port (after Marseille). The port consists of a series of canal-like docks and is operated by the national agency "Grand Port Maritime du Havre". Port of Le Havre is also a popular port of call due to its developed port facilities and capacity to accommodate the world's largest cruise liners.
Cruise Terminal Le Havre (Terminal Croisière Le Havre) is located at the site called Pointe de Floride (Florida tip). The terminal consists of two docking piers located on Quay Roger Meunier and Quay Pierre Callet. The terminal building features facilities including a Tourist information office, free wi-fi, a couple of shops, security screening, check-in counters, a passenger lounge area, a taxi rank and car rental options.
Le Havre city center is located 2 km/1.3 miles from Le Havre cruise terminal. The walk is on flat surfaces, however, it's not very scenic as you need to go around the ferry terminal (port Le Havre regularly serves ferries to Portsmouth, UK) and Bassin de la Manche. It takes approximately a 25-minute walk to reach Le Havre downtown.
Alternatively, cruise lines/port authorities may offer shuttle bus transfers into the city, usually for an extra fee (around 5€ each way). Make sure you check this onboard before arriving at the port. Taxis are available in the terminal and the ride to the city center shouldn't cost you more than 10€ per vehicle one-way.
---
Port Le Havre has announced projects to build three new terminals on Pointe du Floride site and renovate the existing facilities. You can get updates on these projects on the Le Havre port official websites https://www.haropaport.com/ and https://www.havre-port.com/
---
Helpful info & links:
The currency in France is EURO (€). Local currency and credit cards are widely accepted. See the

currency converter

Museums and shops in Le Havre may be closed on Mondays.
There are normally shuttle buses provided by the port authorities or a cruise line (usually for an extra fee) to Le Havre downtown. Shuttle buses stop at Le Volcan arts theater complex and Espace Coty shopping mall.
Le Havre train station (Gare Le Havre) is the main railway station in Le Havre and is located 2.2 km/1.4 miles (a 30-minute walk) from Le Havre cruise terminal. It takes around 20 minutes walk to reach the train station if you walk there from Le Volcan. At Le Havre railway station you can catch trains to Paris, Rouen, Honfleur and other destinations. The trains in France are operated by SNCF (France's national railway company) and you can check the timetables and prices on their official website

https://www.sncf.com/

Le Havre bus station is located at the same place as the train station. Le Havre also has two tram routes and both lines serve the train/bus station.
Le Havre-Octeville Airport (Aéroport Le Havre-Louis Bleriot) is located only 8 km/5 miles north of Le Havre cruise port, however, the distance by car is 36 km/22 miles or a 35-minute drive.
Le Havre has an oceanic climate, cool and wet with a lot of rain and wind.
For useful cruise packing tips, check out my article

What to Pack for a Cruise in 2023 – Top 60 Cruise Essentials
7 Best Things to Do in Le Havre Cruise Port
1. Le Havre
The bustling city of Havre is best known for its unique post-WWII architecture and its UNESCO-listed city center. After the heavy 1944 bombings, the city needed to be quickly rebuilt and the renowned Belgian architect Auguste Perret was in charge of the project.
The majority of the buildings were built in reinforced concrete, which gave the city a somewhat grey and dim look. However, Le Havre is nowadays a vibrant city featuring amazing museums, a scenic public beach, great shopping opportunities, eateries and much more.
While there, don't miss out to visit the Museum of Modern Art André Malraux (MuMa Musée d'art moderne André Malraux) that has the second most important collection of Impressionist paintings after the Musée d'Orsay in Paris.
The iconic St Joseph's Church with its 110-meter high tower dates from 1950 and is a symbol of Le Havre representing the city's rebirth after the war. The church was made of steel and concrete and offers outstanding panoramic views of the city.
One of the most recognized structures in the city is the modern Le Volcan cultural center designed in the shape of a volcano. While in Le Havre, you can also visit the beautiful, 16th-century stone Le Havre Cathedral, Natural History Museum or Graville Abbey with its museum housing one of the finest collections of medieval statuary in Normandy.
Check out Le Havre sightseeing tours and activities
2. Paris
Le Havre cruise port is the main gateway to the French capital. Paris is located 200 km/124 miles (a 2-hour 30-minute drive) from the port of Le Havre each way. Due to the distance, the smart idea would be to visit Paris with a cruise ship organized shore excursion because the ship will wait for you in case the tour returns later than scheduled. However, cruise ship shore excursions are often too expensive, so booking a private round-trip transfer to Paris, or a tour with an independent tour operator may be cheaper options.
Alternatively, you can go to Paris by train (which is not recommended as the trains in France are not always reliable, especially when the ship is in port for a day). For the train timetables, check out the SNCF website.
Cruise lines normally offer various shore excursions to Paris. Some of them are guided, while some of them are "On Your Own" options that offer a round-trip transfer with a few free hours to explore Paris on your own (you usually get 3-4 free hours). If you choose to explore Paris on your own, I highly suggest you read my article Paris in a Day: How to Plan a Perfect Day Trip to Paris from Le Havre where I share very useful tips and a full 4-hour itinerary that covers all the major landmarks of Paris!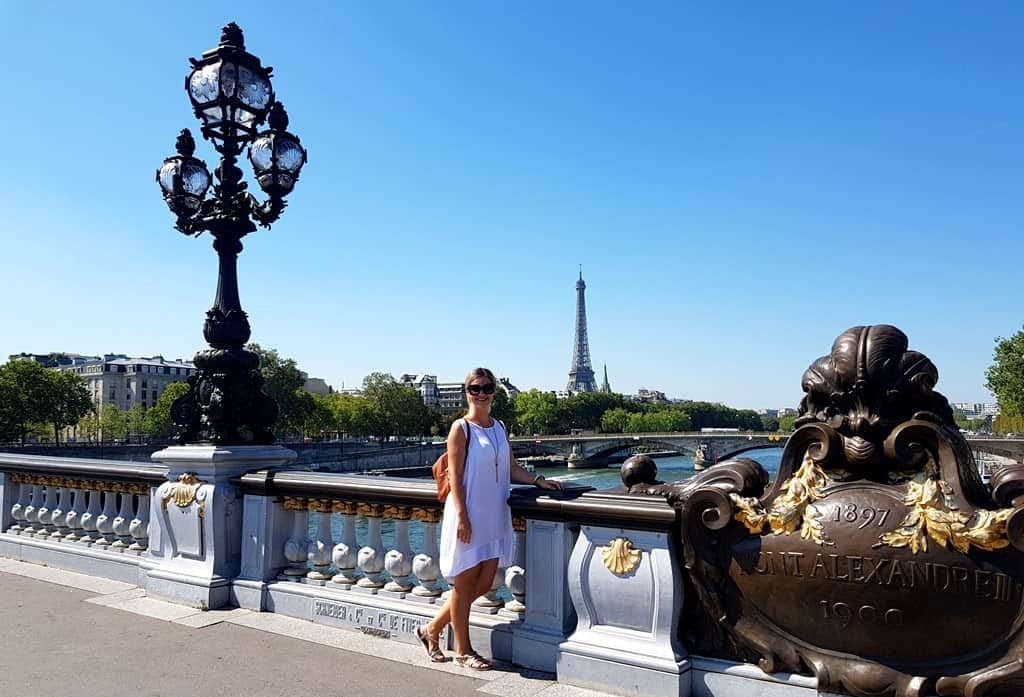 Here are some of the Paris attractions not to be missed:
Arc de Triomphe – The iconic triumphal arch stands at Place de l'Étoile at the top of the Champs-Élysées. It was built in 1836 to commemorate those who fought and died for France in the French Revolutionary and Napoleonic Wars. It has an observation deck from where you can admire the outstanding views of Paris. Find more info on

http://www.paris-arc-de-triomphe.fr/

Eiffel Tower – Gustave Eiffel's 324-meter-high iron tower is the symbol of Paris and one of the most recognized landmarks in the world. It was constructed in the second half of the 19th century for the 1889's Exposition Universelle (the world's fair) and is a UNESCO World Heritage Site. The tower offers the most spectacular views of the city and has three levels. It is highly recommended to visit the Eiffel Tower with a guided tour or to book the tickets in advance, as lines can be extremely long. The visit can take up to half-day depending on the queuing, so keep that in mind if you have limited time in the city. More info on

https://www.toureiffel.paris/en

Louvre – The world's most visited museum is housed in a historic palace in the heart of Paris and boasts a huge art collection including some of the best-known works of art, such as Da Vinci's Mona Lisa and the Venus de Milo. With its striking Louvre Pyramid, it is one of the most visited museums in the world so be prepared for long lines. It takes almost a full day to visit some of the major works of art so it's highly recommended to purchase the tickets in advance or book a guided tour. More info on

https://www.louvre.fr/en

Cathédrale Notre-Dame de Paris – The impressive 12th-century cathedral is located on the Île de la Cité (an island in the Seine River) and is one of the finest examples of Gothic architecture in France. It is temporarily closed due to the fire of 2019. More info on

https://www.notredamedeparis.fr/

Latin Quarter – Home to numerous medieval churches and museums, Panthéon, Sorbonne University and several higher education establishments, Latin Quarter is the oldest district in Paris known for student life and authentic vibe. Here, you can wander around its medieval streets filled with authentic cafes, eateries and bookshops or visit the famous Luxembourg Gardens situated nearby.
Orsay Museum (Musée d'Orsay) – Housed in a former railway station building, the museum features outstanding 19th and 20th-century European art collections. You need at least a couple of hours to visit the museum and it's recommended to purchase the tickets in advance. More info on

https://www.musee-orsay.fr/
Paris has many other landmarks and attractions that you can admire on your walk through the city, and I suggest you read my article for a detailed 4-hour Paris itinerary (with maps and useful tips): Paris in a Day: How to Plan a Perfect Day Trip to Paris from Le Havre
Check out Paris tours from Le Havre
3. Normandy Beaches
Normandy is a historically important region because of the events that took place in 1944 when the Allied forces disembarked in Normandy in order to drive Nazis out of France. The beaches where the Allies disembarked are known as D-Day Landing Beaches and they extend over 70 km along the coast of Normandy. There are 5 of them:  Omaha, Utah, Gold, Juno and Sword Beach. The entire area consists of numerous WWII monuments, museums, cemeteries and memorials, and some of the most important are:
The Landing Beaches
Arromanches-Les-Bains
Normandy American Cemetery and Memorial
Pointe-du-Hoc Ranger Monument
Overlord Museum
German Battery of Longues-Sur-Mer
The Memorial Pegasus
You can read about each of these landmarks more in detail in my article 12 Gorgeous Places to Visit on a Cruise to Normandy
Cruise lines normally offer organized shore excursions to D-Day Beaches and these are full-day tours as the driving distance to the sites may take up to a few hours. If you decide to book a shore excursion, make sure you carefully check the itinerary as not all of the places listed above are included in each of the tours (it would take a few days to visit all the sites!). Normally, tours dedicated to guests from the USA include Omaha Beach, Pointe du Hoc, Overlord Museum and the American Cemetery and Memorial, while the tours dedicated to Canadian guests include the visit to Juno Beach, Canadian Cemetery and Abbey d'Ardenne.
Check out Normandy Beaches tours from Le Havre
4. Mont Saint-Michel
The iconic Mont Saint-Michel is one of France's most visited destinations and a UNESCO World Heritage Site. This tidal island with its impressive 8th-century Mont Saint-Michel Abbey lies 217 km/135 miles (a 2-hour 45-minute drive) southwest of Le Havre cruise port.
Although Mont Saint Michel is located far from the port of Le Havre, there are numerous full-day shore excursions offered by the cruise line/independent tour operators. One day is enough to visit the island and the abbey, walk along its ramparts, enjoy spectacular views of the bay and visit the village. You can read a detailed Mont Saint-Michel review (as I went on a tour from Cherbourg) in my article How to Visit Mont Saint-Michel on a Cruise (from Le Havre and Cherbourg)
Check out Mont Saint-Michel tours from Le Havre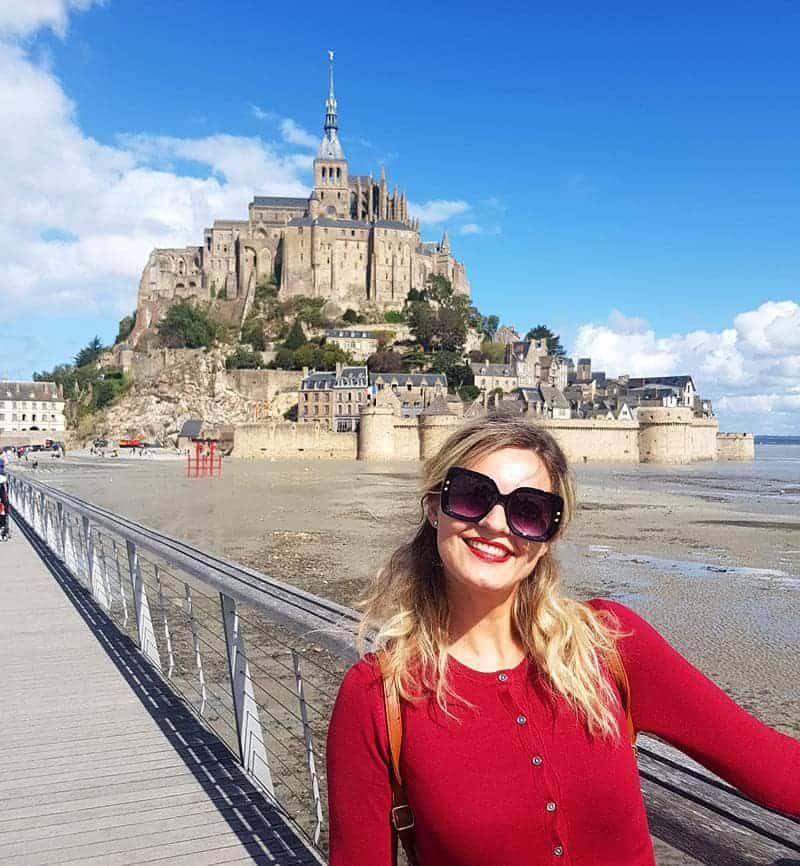 5. Honfleur and Deauville
The picturesque Honfleur is a port town located on Normandy's Côte Fleurie (The Flower Coast), 23 km/14 miles (a 30-minute drive) southeast of Le Havre port. Honfleur is easily accessible via the bridge "Pont de Normandie" and you can go there by taxi, train, bus, or on an organized shore excursion.
Honfleur is best known for its colorful harbour lined with charming cafes, picturesque facades, cobblestone streets packed with eateries and authentic, typically French shops, "chocolateries", "patisseries", and so much more… Honfleur is so pretty so make sure you bring a camera to capture the beauty and colors of this wonderful place! Some of the historic landmarks that you can visit in Honfleur are The Church of St. Catherine, the largest wooden church in France, and The Church of Saint Etienne which houses the Maritime Museum. 
Deauville is another beautiful place you can visit nearby and the majority of the shore excursions to Honfleur also include a visit to Deauville as the distance between the two is only 17 km/10 miles (a 30-minute drive).
Also called "Parisian Riviera", Deauville is a popular seaside resort and an upscale holiday destination known for its Casino (the grand Casino Barrier de Deauville), prestigious golf courses, horse races and the annual American Film Festival. While there, make sure you explore the town's chic boutiques, half-timbered buildings and elegant Belle Epoque villas, or head out to Plage de Deauville for a pleasant walk along the beach. If you are visiting Deauville straight from Le Havre cruise port, the distance between the two locations is around 43 km/28 miles (a 50-minute drive) each way.
Check out Honfleur and Deauville tours from Le Havre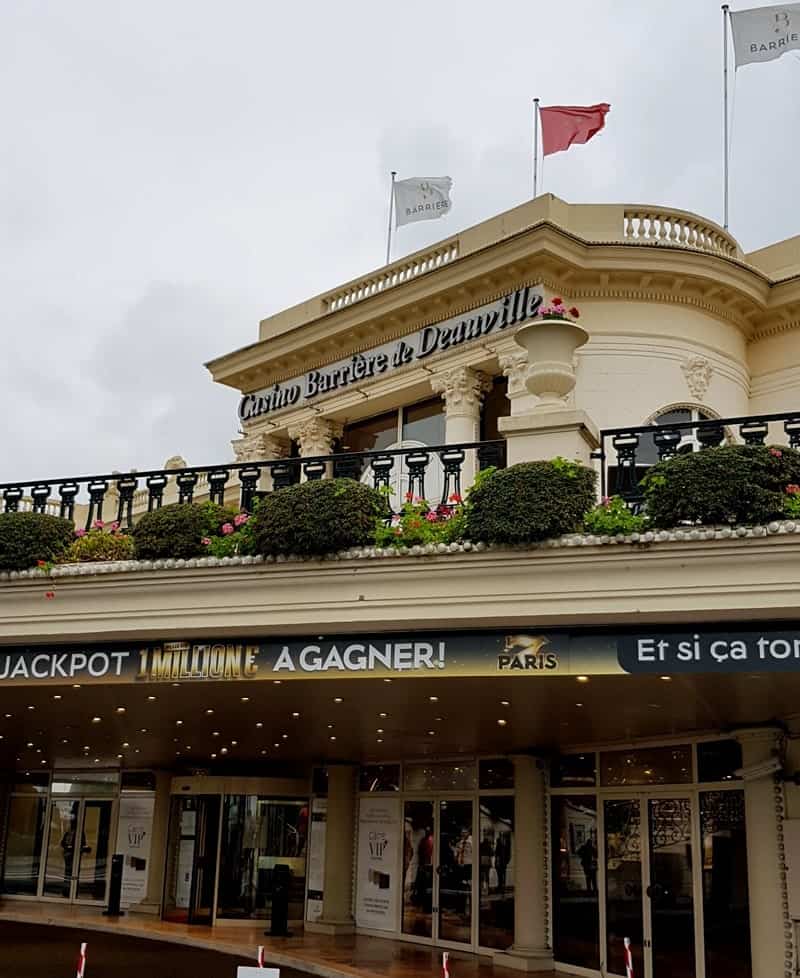 6. Rouen
Rouen is another French jewel, the capital of the Normandy region and one of the most beautiful French cities I've ever visited. The city lies approximately 98 km/61 miles (a 1-hour 20-minute drive) east of Le Havre cruise port and cruise lines may offer shore excursions to Rouen (depending on the ship's time in port).
Rouen played a vital role in the Roman era and Middle Ages and grew into one of the largest and richest cities in Europe in medieval times. Its impressive history is more than 2000 years old and nowadays you can admire the city's rich heritage on a walking tour around the city.
Rouen's skyline is dominated by the awe-inspiring 12th-century Gothic Rouen Cathedral (Cathédrale Notre-Dame de Rouen) that inspired the paintings of the Impressionist artist Claude Monet. The cobblestone Old Market Square is where Joan of Arc, a French heroine, was burned at the stake in 1431 during the Hundred Years' War.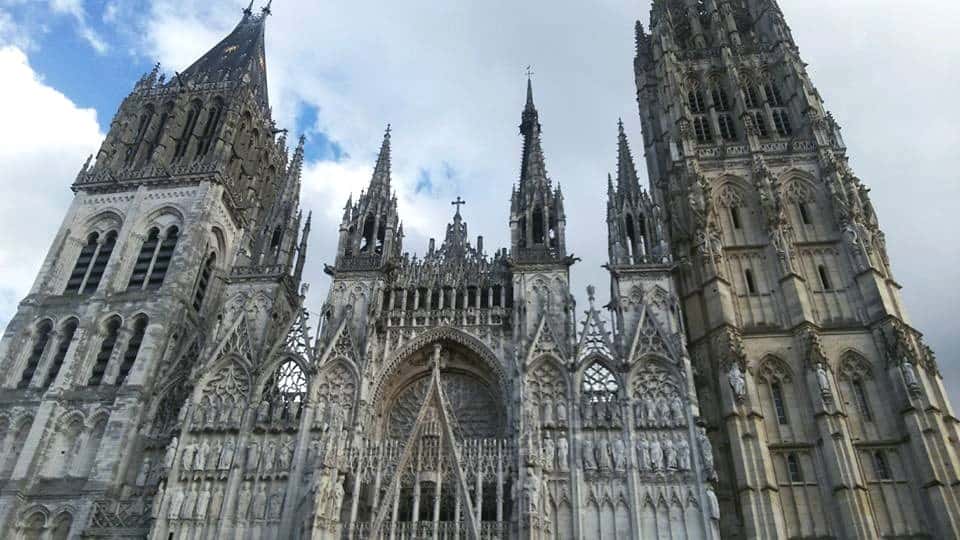 Nowadays, you can visit the Church of St Joan of Arc which was built on the place where she was burned, or visit the impressive Museum of Joan of Arc (Historial Jeanne d'Arc), located only 10 minutes' walk from the square. Other highlights include Le Gros-Horloge, a 14th-century astronomical clock tower and the 14th-century courthouse where Joan of Arc was sentenced to death.
Rouen is cobblestone and medieval, packed with touristy shops, cafes and eateries. It is easily accessible via train from Le Havre, however, it is recommended to book a guided tour to learn about the city's rich historical and cultural heritage.
Explore Rouen tours from Le Havre
7. Étretat
The picture-perfect Étretat is the Normandy coast's seaside resort that owes its popularity to the stunning sceneries and extraordinary landscapes. The resort is located 53 km/33 miles (a 55-minute drive) north of Le Havre cruise port and is famous for its dramatic white chalk cliffs that inspired the works of poets, writers and artists throughout centuries including Monet, Courbet, Leblanc and others.
Étretat has many scenic spots from where you can admire the spectacular rock formations (called "falaises" in French) as well as a pretty town where you browse shops or grab a bite at one of the charming eateries.
Explore Étretat tours and activities from Le Havre
Wrapping Up
Normandy is one of the most beautiful French regions and there are so many places to see! If your cruise ship docks in Le Havre, I highly suggest you book one of the shore excursions to Paris, D-Day Beaches, Rouen, Honfleur, or Mont Saint-Michel, regardless of the driving time as these places really deserve it! For more ideas on what to do and visit in Normandy, check out my article: 12 Gorgeous Places to Visit on a Cruise to Normandy
Visit also our cruise port guides to Lisbon, Gibraltar, La Coruna, Malaga, Barcelona, Ibiza, Palma de Mallorca, Brugge (Bruges), Copenhagen, Oslo, Helsinki, Tallinn, Amsterdam
---
You May Also Like:
25 Top Shore Excursion Packing List Items
What to Pack for a Cruise in 2023 – Top 60 Cruise Essentials
Western Europe Cruise Port Guides
Mediterranean Cruise Port Guides
This article may contain affiliate / compensated links. For full information, please see my disclaimer here.