Bienvenidos a Cozumel!
I came to Cozumel for the first time when I worked as shore excursion staff onboard a cruise ship, and instantly fell in love with it! This gorgeous Caribbean island seduced me, and it wasn't because of its beauty – it was because of its cheerful people, positive vibes, and friendly atmosphere you feel the moment you put your feet on the island's soil. In Cozumel, everything is about rhythms (the land of salsa) and music in every corner, movement, adventurous activities, and Caribbean vibes!
In this article, I share with you some vacation ideas of how to spend a fun-filled, memorable day in Cozumel.
If you want to read a detailed guide to Cozumel cruise port, I suggest you take a look at my article: Cozumel Cruise Port Info, Tours & Best Things to Do on a Cruise
Let me quickly tell you a few words on Cozumel before I share 8 incredibly fun things you can do on the island!
WHERE IS COZUMEL?
The island of Cozumel is part of the Mexican state of Quintana Roo and is located along the eastern side of the Yucatan Peninsula. The island is the third-largest island in Mexico with the largest town of San Miguel of Cozumel, lying along the western coast of the island. Cozumel's economy mainly relies on tourism – mostly on cruise ships coming to Cozumel as part of their cruise itinerary, and the cruise ship terminals are located within a walking or a short driving distance from the downtown.
The island is separated from the mainland by the Cozumel channel, and in order to reach the mainland, there are daily ferry boat departures from the ferry dock situated in the center of San Miguel. (I wrote about this in detail in my Cozumel cruise port guide). The ferry boat ride is quite rough and it lasts about 45 minutes (around 20km from Cozumel to the mainland). The boats are huge and very comfortable, so when the winds and the sea are not rough, the ride can be quite enjoyable (I advise you to bring seasickness pills).
Suggested article: 25 Top Shore Excursion Packing List Items
The main port the ferry boats dock on the mainland side is Playa del Carmen, a popular tourist resort. From there, you can start exploring Mayan ruins, or go have ultimate fun in one of Mexico's spectacular adventure parks. The city of Cancun is located 70 kilometers (a 1-hour drive) from Playa del Carmen.
However, this time we stay in Cozumel and if you want to read about the Cozumel tours to the mainland, check my Cozumel cruise port guide.
Now that you have an idea of where Cozumel is, let me share with you 8 incredibly fun things to do in Cozumel!
1. Royal Dolphin Swim at Chankanaab
Chankanaab Adventure Beach Park is one of the most popular tourist attractions in Cozumel, located only a 15-minute drive from the cruise ship terminal and San Miguel downtown. The adventure park is part of Cozumel's National Reef Marine Park that is said to be the scuba divers' and snorkeling paradise, as underwater you can find one of the most impressive coral reefs in the Caribbean.
Suggested article: Snorkel Gear and Scuba Diving Equipment – Tips by a Pro!
The beach park itself boasts many amenities you can enjoy, from dolphin swimming and encounters programs, manatee interactions, sea lion shows, to eco-archaeological tours, Tequila Village tours, and many others. The park includes two restaurants, a bar, a small beach equipped with sunbeds and umbrellas, a pool area, a snorkeling area, a lot of greenery, and Mayan ruins replicas… In one word, heaven for families, couples, groups of friends, everyone!
I had the opportunity to experience Dolphin Royal Swim and manatee interaction in their natural habitat, and it was one of the best experiences I've ever had! The trainers in the park were absolutely great, very helpful and friendly, so even if you feel uncomfortable at first, they'll quickly teach you how to swim with these adorable mammals.
Royal swim means that two dolphins push your feet to help you fly across the water's surface – just like Superman, and although it might seem scary, it's incredibly fun and entertaining! And, that's not all! You'll grab the fins of the dolphins and they will pull you to the other side of the swimming area! You'll enjoy a lot of contact with dolphins, they will kiss you, hug you, dance with you, and you'll learn so much about these friendly animals!
Chankanaab Adventure Beach Park offers different packages, depending on the activities and programs you want to join, whether you want to have lunch and drinks included or not, etc.
Cruise ships offer shore excursions to Chankanaab, so you also have an option to book with your cruise line or through an independent tour operator.
Suggested article: Pros and Cons of Booking Cruise Ship Shore Excursions
I recommend Chankanaab to everyone, and I can guarantee you'll have a fun-filled day you'll never forget!
See the list of top-rated Chankanaab tours and packages
2. ATV Ride Through Mexican Jungle
If you want to get dirty and explore the depths of a Mexican jungle in a thrilling way, the off-road ATV ride is a must!
There are many Cozumel ATV tours offered by different tour operators: some go to the Mayan ruins, secluded beaches, Punta Sur eco beach park, and I did the one going to the Jade Cavern – a hidden Mayan cenote!
My ATV tour lasted around 3 hours and included a ride to Jade Cavern, an underground cenote (a natural underground swimming hole) that used to be a sacred site of Mayan civilization in ancient times.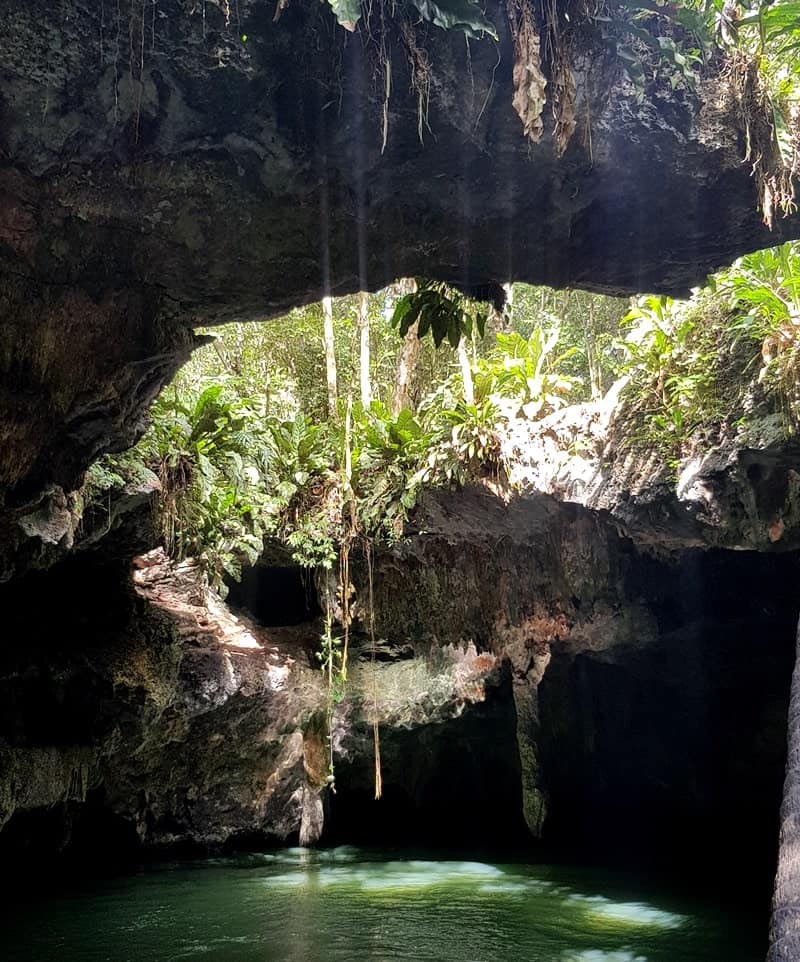 Normally, you can choose between a single ATV or double ATV, you get all the necessary instructions and equipment, and once your ride starts – you'll follow your instructor and group during the whole duration of the ride. The tour usually includes stops at several places, and the ride itself is a muddy and adrenaline-pumped experience!
Not recommended for people with back and chronic health issues, as well as for those who prefer to stay clean!
It is a must for those who seek fun, adrenaline, adventure, and a unique and memorable way to visit Cozumel!
Check out the top-rated Jade Cavern ATV tours
3. Jose Cuervo Tequilla Tasting
You can join this amazing tequila tasting tour in Discover Mexico Park, located only a 10-minute drive from San Miguel downtown, and a 5-minute drive from a cruise terminal.
Discover Mexico Park offers an ultimate cultural immersion into Mexico's rich cultural heritage: here you can make chocolate, create Mexican handcrafts, enjoy the specialties of the regional cuisine, learn about the history of Maya, enjoy live entertainment, and much more!
We did the Tequila tasting and it was one of the best tasting tours I've ever joined! The tour is educational, a Master Tequilier gives a lesson on tequila origins, the distillation process, and the correct way to savor it while you sample three different types of Jose Cuervo tequila: Blanco, Reposado, and Añejo.
After enjoying the premium quality tequila, you'll have a delicious Mexican taco buffet waiting for you on the other side of the park. The tour I joined also included margarita tasting, so you can imagine how perfectly my day ended!
See the list of the best Discover Mexico Park tours
4. Sea Trek Helmet Diving
Imagine going for a walk, but this time on the bottom of the ocean? Helmet diving is another exciting activity you can try in Cozumel! You get equipped with an astronaut-style helmet that keeps your head and shoulders dry during the whole time you are underwater, by providing a constant air supply.
It is suitable for beginners and people who don't have experience in underwater activities. You might feel edgy in the beginning, but Sea Trek instructors are very professional and caring, and you'll feel safe and comfortable during the entire diving activity.
The helmet is a bit heavy, but you'll quickly get used to it and by the time you reach the ocean bottom (you'll use a ladder to get down to a maximum of 20 feet / 6 meters depth), you'll forget you have it on your head!
Once you start your underwater walk, you'll discover a whole new world and forget about the time! Professional divers will be around you all the time, ensuring you are safe and taking your pictures! As I said, I lost track of the time while I was underwater, but I would say we were underwater for about half an hour.
After the helmet dive, you can stay at Sea Trek place and go snorkeling (they will give you the equipment) or just relax on sunbeds and try Mexican delicious food in their restaurant.
The photos are for an additional charge (they are not included in the package).
I recommend helmet diving for everyone who enjoys water activities and would like to try something different! It's particularly fun when you are with a group of friends or family, so you can make some great, creative underwater photographs!
Helmet Dive Experience near the Cruise Port 
5. Monster Jeep Ride to a Secluded Beach and Mayan Ruins
Jeep tours are also a popular way to explore the unknown, hidden trails of Cozumel. The tour I joined was organized by the cruise ship and it included a jeep ride through a rugged, off-road terrain overlooking the ocean, followed by a stop at a deserted Mayan ruin and a typical Mexican lunch at a remote beach.
The experience was truly one-of-a-kind and I recommend it to all adventure-seekers!
See the list of top-rated Cozumel jeep tours
6. Mexican Cooking Class at Playa Mia Beach Resort
For those of you who still look for fun, but want to have time to relax at the beach and drink margaritas as well, this might be the right place to go!
Playa Mia is a large beach resort offering all the amenities you need for a perfect beach day: an open-air buffet-style restaurant (they have a la carte menu as well), several bars, a long stretch of beach with cabanas, sunbeds, and umbrellas, watersports activities, pools, shops, etc.
They offer several tours and excursions, as well as some workshops, and I highly recommend signing up for a Mexican cooking class exclusively with a chef who will teach you how to make typical Mexican dishes! It is an incredibly fun activity where you get to learn about Mexican cuisine and savor the meal you make!
Both cruise ships and independent tour operators offer Playa Mia excursions, day passes, and packages.
One thing is sure – Whatever you choose to do in this wonderful resort, ultimate fun and a full belly are guaranteed!
See the list of the best Playa Mia tours
7.  Mix Your Own Margarita
You can enjoy this unique experience at BLU by Dolphinaris resort located in San Miguel downtown, and only a 10-minute drive from the cruise terminal.
This time, you get to mix up your own margaritas and become an expert "Mexologist"! This is an interactive bartending lesson where you'll learn the art of making margaritas and other Mexican cocktails.
The groups are small (not more than 10 people per group) and the class takes place at the bar overlooking the pool area and the sea, so the overall experience is above expectations!
After margaritas, you'll make guacamole that you get to savor with tortilla chips and light bites from the cantina kitchen.
You must be of legal age to consume alcohol, so this activity is not allowed for under 18 years old.
BLU by Dolphinaris resort is large and has many other things to offer, such as snorkeling activities and dolphin interactions. If you decide to come with kids, there are many other activities your kids can join, so you can all have a memorable day at one of Cozumel's most popular resorts.
8. Dance Salsa at Margaritaville
Right in front of the International cruise terminal, there is a large open-air Margaritaville bar-restaurant, where you can have some unforgettable fun for the perfect end (or beginning!) of the day! It doesn't only offer a delicious (yet, pricey!) Mexican specialties, but there are also all kinds of activities organized in the bar, such as salsa dancing, Bingo and Mexican Loteria time, etc.
Cruise guests absolutely adore it, and most of them prefer to end their day dancing in the bar before getting back to their cruise ship!
The dancing, crowd, great vibes, and lively atmosphere of Margaritaville attract all visitors and the perfect location of the place makes it easily accessible for both cruise ship guests and regular tourists! What else can I say – definitely a must-see place for all dance fans!
Viva Mexico! Stay Tuned!
I hope my article provided you with some fresh, creative ideas of what you can do in Cozumel! Whatever you choose to go for, I am sure you'll have an amazing time! If you want to read the detailed cruise port guide, check my article:
Cozumel Cruise Port Info, Tours & Things to Do on a Cruise
As I said in the beginning, Cozumel is all about smiling, friendly people, salsa beats, movement, and positive vibes! All you have to do is be positive yourself. Viva Mexico!
Check out today's cruise deals from Cruise Critic!
---
This article may contain affiliate / compensated links. For full information, please see my disclaimer here.
You May Also Like: