Welcome to Civitavecchia cruise port (Rome, Italy)!
Civitavecchia port is the largest and busiest Mediterranean seaport and the main gateway to Italy's capital city of Rome. The coastal town of Civitavecchia sits approximately 80 km/50 miles northwest of the eternal city. The ancient town of Civitavecchia was founded in the 2nd century and visitors who decide to stay in the town can explore its ancient monuments and a lovely seafront promenade.
However, most of the cruise passengers decide to visit Rome on their cruise. There are several ways to do so, and in this article, I share with you:
Civitavecchia cruise port information (Civitavecchia cruise terminal, getting around, how to get to Rome from the port)
The best things to do in Rome, shore excursions, things to do in Civitavecchia town
Also, if you decide to visit Rome on your own, I made for you an incredible 1-day Rome itinerary that I did myself the last time I visited Rome on a cruise!
Check it out: A Day in Rome: Day Trip from Civitavecchia to Rome
Visit also our cruise port guides to La Spezia (Florence/Pisa), Livorno, Naples, Cagliari (Sardinia), Santorini, Athens, Ajaccio, Marseille, Kotor, Palma de Mallorca, Barcelona
Civitavecchia Cruise Port
The port of Civitavecchia is the world's 13th busiest cruise port and it's massive – Officially named "Roma Cruise Terminal (aka RCT)", it consists of 8 cruise terminals and 15 berths that can accommodate the world's largest cruise liners. Civitavecchia port is also a homeport, meaning that cruises start and end in Civitavecchia.
See the port of Civitavecchia on Google maps
Port authorities (Port Mobility) provide free shuttle buses to transfer passengers between the terminals and Largo della Pace, one of the three information points located at the entrance to the terminal area. There are two shuttle bus lines: LINE A (green line) serves docks 10-13bis, while LINE B (light blue line) serves dock 25. Shuttle buses for people with disabilities are available.
The port of Civitavecchia also features the newly built 12 B North/Amerigo Vespucci Cruise Terminal with a large terminal building with an atrium and a massive luggage hall, check-in counters, a waiting area, a bar and a VIP area.
Civitavecchia port also has a large ferry terminal Autostrade del Mare (ADM), 2 large parking facilities, 8 bars and restaurants, and 3 information points (Largo della Pace is the main one). The historic port is located right by the entrance to the cruise terminal and here the visitors can admire historic monuments such as the imposing Fort Michelangelo, one of the main town's landmarks.
Free brochures are distributed to cruise passengers at Largo della Pace information point in order to get around the port more easily. Largo della Pace information point is open daily from 6:30 AM to 7:30 PM. For more detailed information on the Civitavecchia port, check out the websites https://civitavecchia.portmobility.it/ and https://www.civitavecchiaport.org/
The official Civitavecchia port address is Prato del Turco, 00053 Civitavecchia.
Useful info:
The currency in Italy is EURO (€). Local currency and major credit cards are widely accepted. See the

currency converter

Civitavecchia train station (Stazione Civitavecchia) is located 1.5 km/0.9 miles (a 20-minute walk) from Largo della Pace information point where the shuttle bus stop is. To get to the Civitavecchia station, you can either walk for 20 minutes or take a CSP City Bus at Largo della Pace, and in 10 minutes' ride you'll reach the station. CSP City Buses run every 20 minutes and a one-way ticket is 2€. At Civitavecchia train station, you can catch a train to Rome, one of the airports or other cities in Italy. To check the timetables and fares, check out

https://www.trenitalia.com/

Fiumicino Airport (also known as Leonardo da Vinci International Airport) is the main airport in Rome, and it's located 73 km/45 miles (a 1-hour drive) from Civitavecchia cruise port. FL1 train line runs daily between the Fiumicino Airport and Roma Trastevere Station and Roma Ostiense Station. You can catch the train at the airport, get off at "Trastevere Station" in Rome, and then change the line to Civitavecchia. There are numerous daily departures from Fiumicino Airport to Civitavecchia train station and the train ride lasts around 1h 30 minutes to 2 hours one way (with 1 change of train included).
Ciampino Airport is another airport located further away, about 87 km/54 miles (a 1h 20-minute drive) from Civitavecchia port. To get to Civitavecchia train station, you need first to take the ATRAL shuttle bus from Ciampino Airport to Ciampino train station. Then, at Ciampino train station you need to take the FL4 train line to Roma Termini station, where you'll change the line to Civitavecchia. The journey takes up to 2 hours one way and there are numerous daily departures.
Alternatively, you can book a taxi (which can be an expensive option) or a private transfer (recommended) to and from one of the airports.

Check out private transfer deals and offers here

Check out the best

hotels in Civitavecchia

and

Rome

A convenient way of visiting Rome is by Rome Hop on Hop off bus that includes stops at all major city landmarks. Check out Rome Hop on Hop off bus tours on

Viator

and

Get Your Guide
Suggested articles:
What to Pack for a Cruise – Top 50 Cruise Essentials
Top 25 Shore Excursion Packing List Items
How to Get from Civitavecchia to Rome?
BY TRAIN: Trains run approximately every 30 minutes from Civitavecchia train station to Rome. You can purchase the tickets at the ticket office, but also at the kiosk or at the bar inside the train station. The train ride from Civitavecchia to Rome can last from 40 minutes to 1 h 20 minutes one way, depending on which train you take and which station in Rome you get off at. There are several types of trains:
Civitavecchia Express train: The express trains normally operate four times daily (2 in the morning, 2 in the afternoon) from/to Civitavecchia train station and they are faster than regular trains as you can reach Rome within 40-50 minutes. Civitavecchia Express train stops only at the intermediate stations of Roma San Pietro and Roma Ostiense and the round-trip ticket cost is 15 € (getting around Rome via public transport is not included in this price). Note: From April 11 until November 1, 2022, the express train will operate 1 time in the morning (9:07 AM) from Civitavecchia and 1 time in the afternoon (4:30 PM) from Rome Ostiense station (scheduled to arrive at Civitavecchia at 5:20 PM).
Intercity train: If you want to get to Rome Termini station fast, you can take the Intercity train that does directly to Roma Termini and stops only at Roma Ostiense station. The second-class ticket costs 11 €, while the first-class costs 15 €.
Regular regional train: Regular trains are slower and cheaper than express trains. They serve San Pietro Station, Trastevere Station, Ostiense Station and finally Termini Station, which is the terminus station. The round-trip ticket cost varies from 9.20 € to 12 €, depending on the type of ticket you need. The BIRG daily ticket costs 12 € and includes unlimited use of public transport in Rome (subway, bus and tramway). This is a convenient option for those who plan to use public transport to get around Rome. In case you need only a one-way ticket that doesn't include public transport, you can get a Kilometer ticket that costs from 9.20 € to 10 € round trip.
Direct trains – "Le Frecce": These new trains link Civitavecchia train station with Roma Termini and Roma Tiburtina stations with no intermediate stops.
For timetables, fares and detailed information, you can check out

https://www.trenitalia.com/
To get around more easily, keep in mind the main train stations in Rome:
San Pietro Station (Saint Peter's Basilica, Castel Sant'Angelo, Vatican Museums)
Trastevere Station (Trastevere district, Campo di Fiori, Piazza Navona, Pantheon)
Ostiense Station (The Roman Forum, Colosseum, Pyramid of Cestius)
Termini Station (the central station of Rome is a gateway to the Spanish Steps, Trevi Fountain, Basilica of Saint John in the Lateran).
Additionally, Metro lines A and B, as well as the bus line 64 and tram 8 are a great way to get around the city and visit some of the main city landmarks including the Pantheon, Piazza Navona, Campo de Fiori, Piazza Venezia, and others.
BOOK A TAXI/PRIVATE TRANSFER: Rome is located 80 km/50 miles, or a 1 hour 20-minute drive southeast of Civitavecchia cruise port. Taxis in Italy are quite expensive so it's recommended to book a private transfer with a reputable tour operator that will guarantee your return to the port on time. Check out private transfer deals and offers
BOOK A SHORE EXCURSION: Since you will be probably staying in Rome for only one day, booking a guided shore excursion is the safest and most convenient way of exploring the city highlights due to the limited time you'll have. You can book a guided tour with your cruise line or with a reliable tour operator (usually a cheaper option), however, make sure you double-check the ship's all onboard time before leaving on a tour.
Also, many cruise lines offer "Rome On Your Own" shore excursions, which are basically just a guided transfer to Rome via bus or express train with free time in Rome included (you usually get around 4-5 hours to explore the city on your own). This is a great option if you don't want to travel with a group and if you want to do your own thing. However, in this case, I strongly advise you to plan your day carefully and purchase online tickets to the Rome attractions to avoid queuing and wasting time.
In case you don't mind walking, I highly recommend you read my article A Day in Rome: Day Trip from Civitavecchia to Rome where you'll find a detailed half-day Rome itinerary with maps and explanations. I did the "Rome by Express Train" tour while I was on a cruise, and this itinerary covers all major attractions and landmarks that first-time visitors should not miss!
Check out Rome tours and activities from Civitavecchia
Top Things to Do in Civitavecchia Cruise Port (Rome)
You'll find below the top things to do in Rome while on your cruise, as well as the best things to do in Civitavecchia in case to decide to stay in the port. Before I share it with you, I invite you to sign up below and get my exclusive, insider SHORE EXCURSION GUIDE FOR FREE!
1. St Peter's Basilica
The Basilica of St Peter is the largest church and one of the most impressive religious structures in the world. It is located in Vatican City and with its immense dimensions and surface area of 22.000 square meters, it can host around 20.000 people. The church is believed to be the burial place of Saint Peter and is home to countless monuments and masterpieces including the works of Bramante, Michelangelo, Maderno, Bernini, and other notable artists.
The entrance to the Basilica is free, although you may face lines and security screening. To get to the Basilica, you need to get off at Stazione San Pietro and then walk for 10 minutes to the square.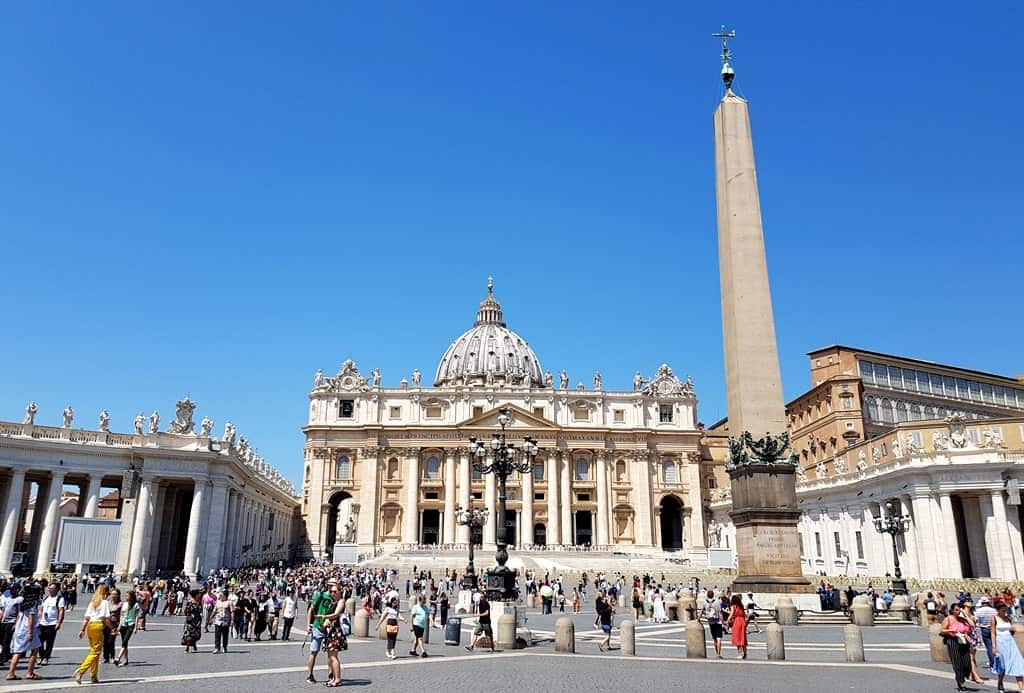 2. Vatican Museums
Vatican Museums are located next to the St Peter's Basilica and you need at least half-day to visit the major artworks and galleries. Due to the fact that Vatican Museums contain one of the largest collections of artworks in the world, I suggest you make a selection of the main points of interest based on what you want to see.
Some of the main places of interest are:
Sistine Chapel – Goethe said: "Without having seen the Sistine Chapel one can form no appreciable idea of what one man is capable of achieving". Michelangelo Buonarroti's masterpiece depicting biblical scenes is a number one must-see in Vatican Museums!
The Pinacoteca, with 18 rooms housing paintings dating from the Middle Ages to the 19th century, including the works of Giotto, Leonardo da Vinci, Raphael, Perugino and Caravaggio.
The Pio Clementino Museum – The largest complex inside the Museums that houses the most important Greek and Roman sculpture masterpieces.
Gregorian Egyptian Museum – This part consists of 9 rooms displaying exhibitions, monuments and artifacts from Ancient Egypt.
Gallery of Geographical Maps – It is one of the most fascinating rooms in the Museums and an unmissable place for history and geography buffs.
The Carriage Pavilion – It is located in a separate section of the Museums and displays carriages, cars and sedan chairs used by various popes throughout history.
The Raphael's Room – In the 16th century, the rooms were the private apartments of Pope Julius II, who commissioned the frescoes to Raphael.
If you are coming on a cruise and visiting Rome in a day, it is recommended to book a shore excursion with your cruise line to be on the safe side and not risk missing the ship. Alternatively, a cheaper option is to book a tour with a reputable independent tour operator (they usually have a lot of experience with cruise ship passengers so they'll bring you to your ship on time), or, if you decide to visit on your own, book a skip-the-line ticket to avoid queueing.
For information on prices and opening times, visit the official website https://www.museivaticani.va/
Check out the guided tours of Vatican Museums (including the skip-the-line tickets)
3. Castel Sant'Angelo
The imposing fortress is located on the right bank of the Tiber River, a 10-minute walk from St Peter's Square. The foundations of the castle date back to around 125 B.C and nowadays it hosts the National Museum of Castel Sant' Angelo where you can admire a large collection of sculptures, paintings, marble finds, weapons, furniture and various objects.
Check out Castel Sant Angelo's tours and activities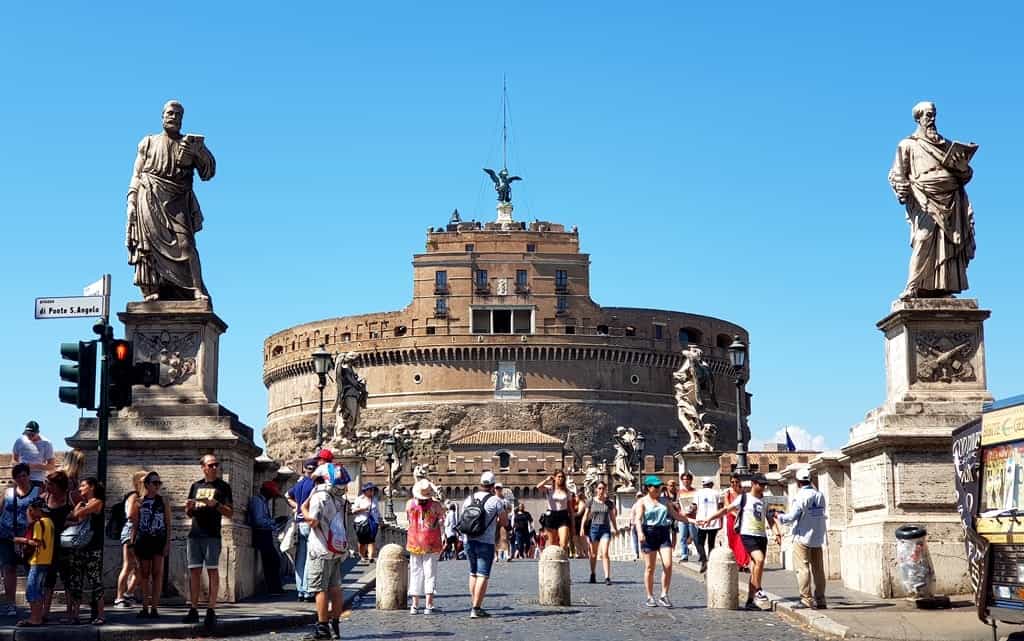 4. Colosseum
The majestic Colosseum is one of the seven wonders of the world and a UNESCO World Heritage Site. Named after its colossal dimensions, Colosseum is the largest ancient amphitheater in the world dating from 70-80 AD, built under the Roman Emperors Vespasian, and his heir, Titus. The massive amphitheater used to host gladiatorial contests, public spectacles, executions, animal hunts, theatre plays, and could hold on average 70.000 spectators. Colosseum has been the symbol of Rome for centuries, and nowadays is a must-see attraction!
Cruise lines offer numerous shore excursions to Colosseum, but you can also visit it on your own. To get to Colosseum, get off at Roma Termini station and then take the metro line B to the "Colosseo" stop. You will probably face long lines, so it's recommended to purchase the skip-the-line ticket.
Find information on prices and opening hours on https://www.thecolosseum.org/
Check out Colosseum tours and tickets
5. Roman Forum
The Roman Forum is one of the most fascinating archeological sites that used to be the center of everyday life and an administrative and commercial hub in Ancient Rome. Today, visitors can see the ruins of antique Temples (Temple of Saturn, Temple of Vespasian and Titus, Temple of Caesar, Temple of Vesta, Temple of Castor and Pollux…), basilicas, squares, Curia Julia (an ancient Senat House), Rostra (the elevated platform where public speakers used to stand), Arch of Septimius Severus, and other ancient structures.
It takes several hours to visit the entire forum, but in case you don't have time, you can admire it from the street Via dei Fori Imperiali as it has a promenade overlooking the forum. The Roman Forum is located right next to Colosseum and to get there, get off at Ostiense station and take metro line B stop "Colosseo".
Explore the Roman Forum tours and activities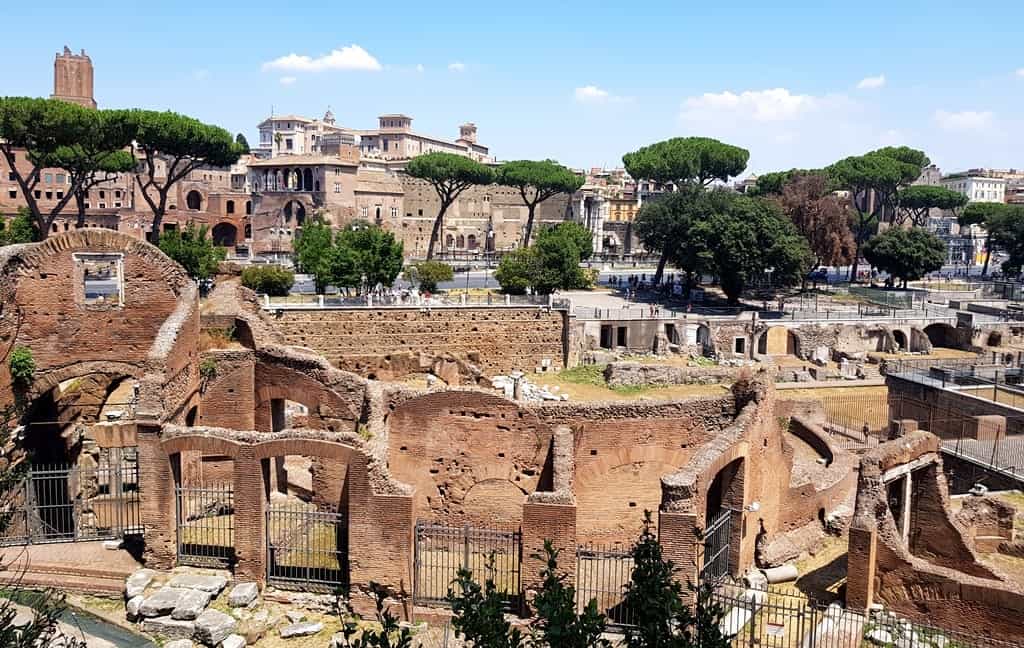 6. Spanish Steps
Piazza di Spagna, with its monumental staircase leading to the church of Trinità dei Monti and Bernini's baroque fountain Fontana della Barcaccia, is one of the most beautiful squares in Rome. The famous square has always been a popular cultural and tourist hub with a large number of hotels, restaurants, cafes and shopping streets.
To get to Spanish Square, get off at Roma Termini station, take the metro line A towards Battistini for 3 stops, and finally get off at the "Spagna" stop.
Check out Spanish Steps tours and activities
7. Trevi Fountain
Fontana di Trevi is a stunning baroque fountain with rococo elements and is certainly one of the most awe-inspiring fountains in the world. It has gigantic dimensions (26.3 meters high and around 49.15 meters wide) and was designed by Italian architect Nicola Salvi in the 18th century.
The history of the Trevi fountain is connected to Aqua Virgo, an aqueduct dating from 19 B.C. that was used to provide water to the Roman baths and the fountains in central Rome. The Trevi fountain was built at the endpoint of the aqueduct, on the site where three roads intersect, and therefore was named the "Three Roads Fountain" (the "tri viae" in Latin means "three roads").
Trevi Fountain is located in the historic center and is always packed with people. There is no entrance fee, however, be ready for a lot of crowds. While there, don't forget to toss a coin into the fountain to ensure you return to Rome!
To get to Trevi Fountain, get off at Roma Termini station, get the metro line A towards Battistini and after two stops get off at the "Barberini – Fontana di Trevi" stop.
Explore Trevi Fountain tours and activities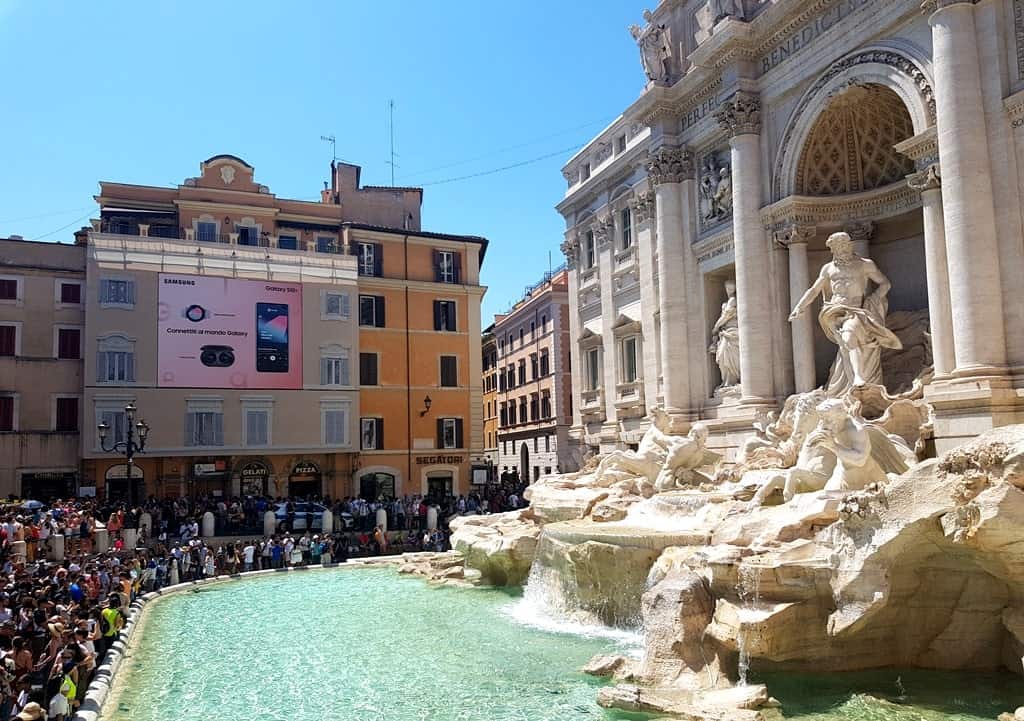 8. Piazza Navona
Originally built as the Stadium of Domitian in the 1st century AD, Piazza Navona is today one of the most visited and most elegant squares in Rome. The square is dominated by three lavish fountains (Fountain of the Four Rivers, Fountain of the Moor and Fountain of Neptun), and shadowed by the immense Sant'Agnese in Agone church, the 17th-century Baroque basilica that contains the skull of St. Agnes in a shrine.
Piazza Navona is located within a 10-minute walking distance of Trevi Fountain.
Explore Piazza Navona tours and activities
9. Pantheon
A former Roman temple, and nowadays the Catholic Basilica with an imposing dome and massive entry columns, the colossal Pantheon peacefully sits on the tiny Piazza della Rotonda, only 5-10 minutes walking distance from Piazza Navona and Fontana di Trevi.
The iconic temple was completed by Emperor Hadrian in 125 AD, it has a cylindrical shape and features the world's largest unreinforced dome made entirely of concrete. The central part of the dome has an immense opening that provides natural light to the interior of the temple, which houses tombs of renowned artists and members of the Italian Royal family, including Raphael, Vittorio Emmanuelle II, King Umberto I, and others. The entrance to the Pantheon is free of charge.
Check out Pantheon tours and activities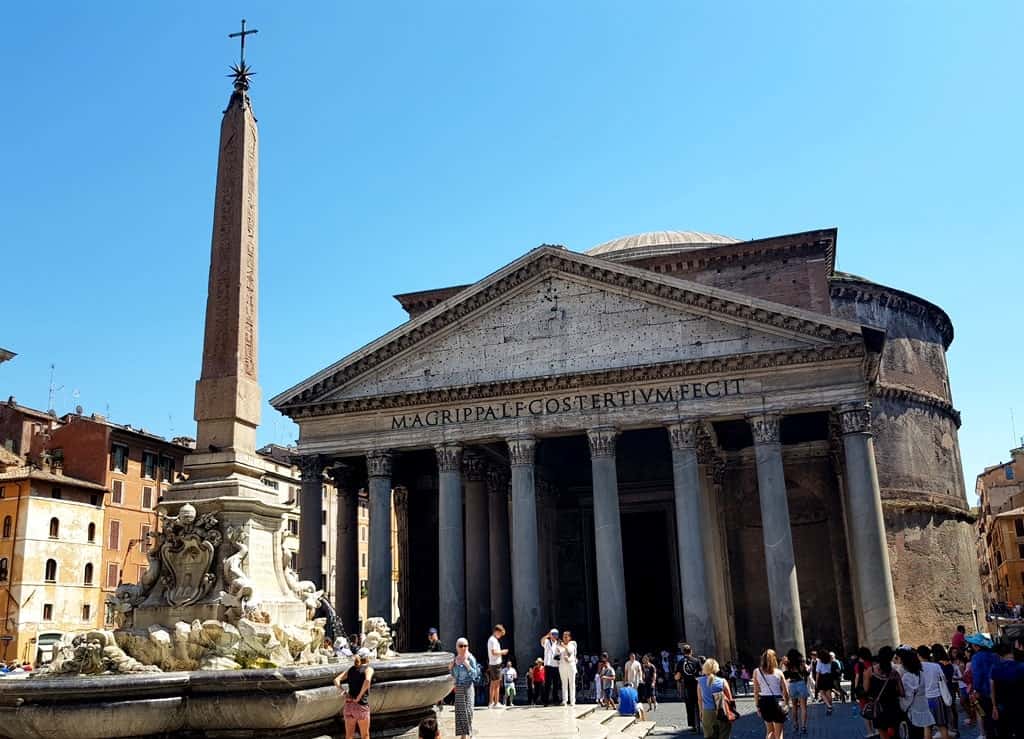 10. Campo de' Fiori
Not far from Piazza Navona and Pantheon, Campo de Fiori is a popular square hosting one of the most picturesque markets in the city. The square was built in the 15th century on the site of a former flower meadow, thus the name, according to the legend.
Here, you can find fresh fruits, vegetables, meats, fish, and try some Roman specialties for decent prices in the surrounding bars and eateries. The market is open-air and there is no entrance fee.
Explore Campo de Fiori tours and activities
So, in case you are still thinking of what to visit in Rome on your cruise, I hope my short list gave you some basic ideas! If you don't mind walking, I highly recommend you check out my article A Day in Rome: Day Trip from Civitavecchia to Rome with a full half-day Rome itinerary with maps and explanations! 
Top Things to See in Civitavecchia
If you decide not to go to Rome and stay in the town of Civitavecchia, here is a list of things to visit:
Fortezza Michelangelo (Forte Michelangelo) – The fortress is part of the historic port and you'll see it by the entrance to the port area. The heavy fortress was built in 1537 to protect the port and was named after Michelangelo who designed the center tower.
Civitavecchia National Archaeological Museum (Museo Archeologico Nazionale di Civitavecchia) sits right across from Forte Michelangelo and is housed in a 3-level building that used to belong to Pope Clemente XIII, dating from the early 18th century. In the museum, visitors can see exhibitions showcasing artifacts from the Roman and Etruscan times.
The Cathedral of San Francesco d'Assisi (Cattedrale di S. Francesco d'Assisi) – A beautiful elegant cathedral was built in the 17th century in the Neoclassical-Baroque architectural style. It's located a stone's throw from the Archeological museum and Forte Michelangelo.
Taurine Baths (Terme Taurine or Trajan) – The archeological site of the Taurine Baths is located on top of the hill approximately 5 km/3 miles from Civitavecchia town center. Known also as the Baths of Trajan, after the Roman emperor who founded the city, the baths are one of the most important thermal complexes of the Roman Age in the entire south Etrurian area.
Civitavecchia Beach (Spiaggia il pirgo) – A small pebbly beach is located right opposite the railway station and is backed by a colorful promenade.
---
Wrapping Up
If your cruise itinerary includes Civitavecchia cruise port, it's recommended to plan your day in advance to get the most out of your stay!
Once again, if you need a detailed half-day Rome itinerary that covers all major places of interest, check out my article: A Day in Rome: Day Trip from Civitavecchia to Rome
Visit also our cruise port guides to La Spezia (Florence/Pisa), Livorno, Naples, Cagliari (Sardinia), Santorini, Athens, Ajaccio, Marseille, Kotor, Palma de Mallorca, Barcelona
---
You May Also Like:
What to Pack for a Cruise – Top 50 Cruise Essentials 
Women's Cruise Wear – Top Cruise Essentials for Ladies
Cruise Guides for Mediterranean Ports of Call
Top 25 Shore Excursion Packing List Items
Snorkel Gear and Scuba Diving Equipment – Tips by a Pro!
Don't forget to subscribe below and get my exclusive SHORE EXCURSION GUIDE FOR FREE!
This article may contain affiliate / compensated links. For full information, please see my disclaimer here.