Labadee is the Royal Caribbean's private resort destination located on the northern coast of Haiti, within the arrondissement of Cap-Haïtien. Labadee is not an island, as many think! The resort lies on a Haitian peninsula that is leased to Royal Caribbean Cruises Ltd., for the exclusive use of passengers of Royal Caribbean International.
Labadee is fenced and secured, and guests are not allowed to leave the property. Once in Labadee, you'll meet locals hired by the Royal Caribbean, and also those allowed to sell their goods at the Artisan's Market. I've had a chance to visit Labadee numerous times while working as a Shore excursions staff, and in this article, I share with you insider information on:
Labadee port (getting around the resort, insider tips)
Top 15 things to do in Labadee and best Labadee shore excursions
Visit also our cruise guides to Aruba, Curacao, Bonaire, Falmouth, Cozumel, Costa Maya, Grand Cayman, Perfect Day at CocoCay, St Thomas, St Maarten, Nassau, Bermuda, Barbados
Labadee (Haiti) Port
Labadee (Haiti) port consists of two docks that can accommodate 2 cruise ships simultaneously (1 berth can accommodate the Royal Caribbean's largest cruise ships). Normally there is only one cruise vessel at a time in port, but sometimes there are two depending on the ship's size.
The pier is flat, around 400 m (1315 ft.) long and it takes around 5-10 minutes to reach the entrance to the resort, depending on the walking speed. Wheelchair assistance is provided for guests with wheelchair devices and mobility issues, and there is usually a small cart to take these guests to the entrance of the resort. When you reach the entrance, you'll be welcomed by lively local performers and Royal Caribbean staff working in the resort who will show you the directions.
Getting around Labadee (Haiti)
Labadee is relatively small and easy to get around, as it's less than 1 km long (0.5 miles) and half a kilometer wide (0.25 miles). It covers an area of 260 acres, and it takes around 15-20 minutes walk to get from the entrance to the resort to its end. The resort is exclusively designed for cruise ship guests and everything is perfectly organized. The roads and paths are paved and well-marked and there are signs all over the place. You'll find Royal Caribbean's friendly staff everywhere, happy to answer to all your questions. The whole resort is accessible and there are beach wheelchairs available, so guests in wheelchairs can easily navigate the area.
You'll spot a large map of the resort right by the entrance, as well as Information Center, a square where the tram stop is (next to a large wooden colorful chair), and a red building on your right where restrooms are (this area is marked as Dragon's Plaza on the map below).
If you can't or don't want to walk, you can take a free tram at the Dragon Tram Station that will take you to Columbus Cove Tram Station at the end of the resort. There are two stops in between, one at Nellie's beach (Barefoot Tram Station) and Town Square Tram Station (where the flea market is). Alternatively, a walk to Columbus Cove will take you around 15 minutes.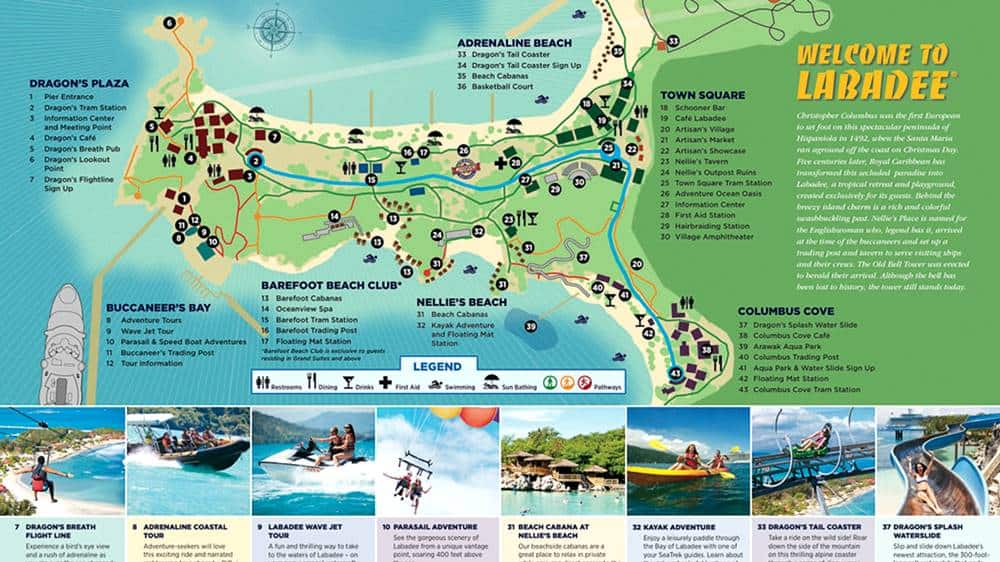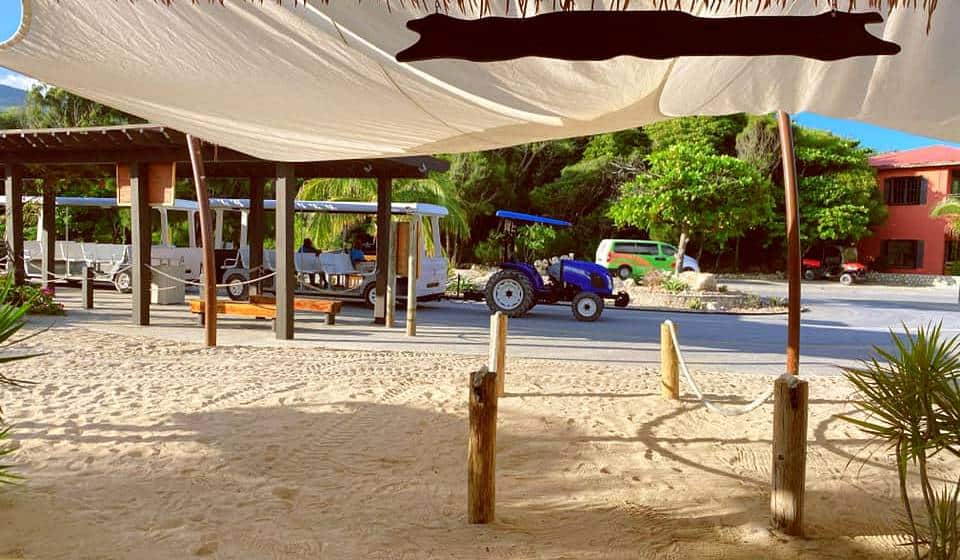 Buccaneer's Bay
Upon entering the resort on your right side you'll see an area known as Buccaneer's Bay. There is a shop where you can buy t-shirts, insect repellents, hats, Royal Caribbean souvenirs, sunscreen, sunglasses, and other practical items. These items are charged to your SeaPass card, so don't forget to bring it! Note that everything you purchase or sign up for on Labadee (shore excursions, drinks in a bar, items in Buccaneer's Bay, umbrellas, activities, and floating mats) will be charged to your Sea Pass card. You'll need cash only for Artisan's Market (flea market) if you want to buy things from local people.
At Buccaneer's Bay, you can also sign up for some cruise line-sponsored shore excursions that will take you outside Labadee (such as Amiga Island escape, snorkeling tours, Paradise Cove, cultural experiences and a tour of the local village, deep-sea fishing, speed boat adventure, etc.), and for the activities such as parasailing and jet ski.
For helpful packing tips for your Labadee cruise, check out my article What to Pack for a Cruise – Top 50 Cruise Essentials
Labadee Restaurants and Bars
There are three open-air buffet-style restaurants in Labadee and the food is complimentary for all guests and crew. The food is the same in all three restaurants and is prepared onboard a cruise ship. The food is barbecue style and consists of burgers, cheese, sausages, pork ribs, vegetables (corn, beans, salads), hot dogs, rice, fruits, and desserts. Water and a choice of soft drinks are complimentary, too.
The lunch is usually served from 11:30 am to 13:30 pm, and you can choose to eat wherever you want. The three restaurants are located in three different areas in the resort (you can see the names of the restaurants on a map above):
Dragon's Café – This is the restaurant that you'll spot right by the entrance, to your left, next to the Zipline sign-up hut.
Café Labadee – This restaurant overlooks Adrenaline Beach, opposite Town Square and the flea market.
Columbus Cove Café – Located on Columbus Cove beach, the furthest from the resort entrance.
Guests from suites have the right to use Barefoot Beach Club where they have their own, private beach and a bar restaurant.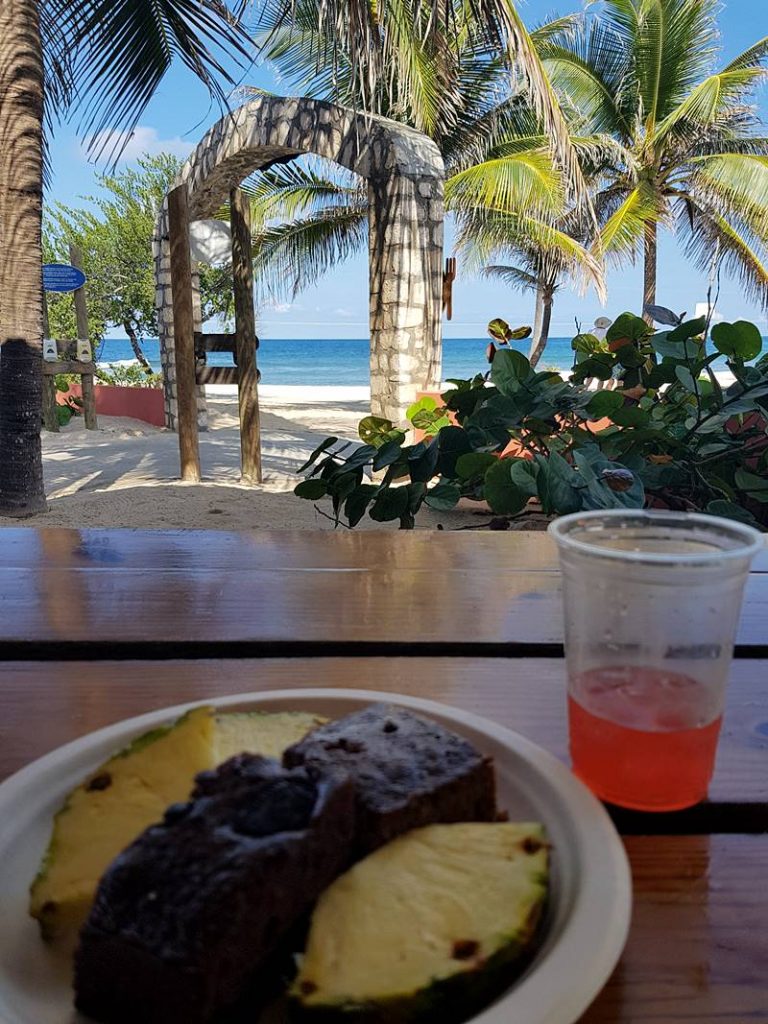 As for Labadee bars, there are several bars where you can enjoy signature cocktails, drinks, and beers. There are 5 bars in Labadee:
Floating Bar (Adrenaline beach)
Nellie's Tavern (Nellie's beach)
Columbus Cove
Schooner Bar (Town Square)
Dragon's Breath Pub (right by the entrance).
If you have a drink package, you can use it in Labadee bars. If not, the drinks are charged to your Sea Pass card. Bring some cash if you want to tip a bartender.
Labadee (Haiti) Beaches
There are 3 main beaches in Labadee Haiti and they are all free to access. Every beach has a lot of sunbeds that guests can use for free. If you want an umbrella or a floating mat, these are for an additional charge and you need to sign up for them at the nearest signup hut.
1. Adrenaline Beach
This is the first beach that you'll see upon entering a resort on your left. Adrenaline beach is the longest beach and you'll easily recognize it as the zipline goes over it. It is called "Adrenaline" beach due to the waves and rocky bottom (only at one end of the beach), so some parts of the beach are not allowed to swim. If you continue walking along this beach, you'll reach an area with dozens of loungers and beach beds where you can swim. There is also a sheltered shallow area where the Floating bar is, one of the most popular bars in Labadee.
2. Nellie's Beach
Nellie's beach is very popular with families due to its sandy bottom and shallow waters. It is located on the opposite side of Adrenaline beach, on the right side of the resort entrance. To reach it, you can either take a free tram (and get off at the first stop) or walk for less than 10 minutes. Nellie's beach boasts warm water and you'll easily identify it by the overwater and waterfront cabanas scattered around. Nellie's beach has a lot of shaded areas and gets crowded fast, so go there earlier to choose your preferred spot.
3. Columbus Cove
It is the remotest beach in Labadee, and it takes a 15-20 minute walk to reach it on foot. You can also take a free tram and get off at the last stop. Columbus Cove is a long beach ideal for kids and families. It boasts an aqua park, a waterslide, a restaurant, and a bar. Here you can sign up for activities such as the Arawak aqua park, waterslide, and kayaking. Beach bungalows are located here.
4. Barefoot Beach
This beach is exclusive for suite guests only. The beach is located next to Nellie's beach and has its own private bar/restaurant exclusively for suite guests.
15 Best Things to Do in Labadee Haiti
I mentioned above that the food, beaches, and sunbeds are complimentary in Labadee for all cruise ship passengers. Additional activities and shore excursions are available for a fee. These are all offered by the cruise line, so you can't book any activity or excursion with an independent tour operator. If you are sure that you want to do an activity, I suggest you pre-book it before your cruise as the prices are normally lower. It is also advisable to pre-book it as many activities are quickly sold out due to limited space.
Alternatively, you can book your activities onboard or in Labadee on-site (if you book it on-site, you will be charged on your Sea Pass card once you go back onboard). The prices onboard and on Labadee sign-up counters are the same. Before I share with you a list of top things to do in Labadee (Haiti), I invite you to sign up below and get my exclusive, SHORE EXCURSION GUIDE for FREE!
1. Labadee Wave Jet Tour
The jet ski sign-up hut is located at Buccaneer's Bay, right at the resort entrance. Jet Ski ride usually takes around 1.5 hours and is guided by an instructor. There is limited availability on these tours so I suggest you book it as soon as possible if you want to do the activity.
It's extremely fun, it allows you to enjoy a beautiful Haitian coast and capture some spectacular shots of the ship. There are lockers and changing rooms available at the Buccaneer's Bay. Before the activity itself, participants need to fill out the waivers and watch a safety video before receiving safety equipment.
Insider Tip: If you want to do a jet ski, sign up for it in the morning because in the afternoon the activity sometimes gets canceled due to the strong winds.
2. Tandem Parasail
The sign-up hut is at Buccaneer's Bay, next to the jet ski. I also suggest you sign up for it in the morning, because it often gets canceled in the afternoon due to the winds. There are weight restrictions on this activity, and you must sign a waiver before joining it.
3. Labadee Zipline
This is probably the most iconic and adrenaline-packed activity you can do in Labadee! Labadee zipline is the longest overwater zip line in the world and it stretches for 2,800 feet across the bay. The zipline starts 500 feet up the hillside and finishes on land at the opposite side of the bay, next to the Dragon's Café. Before I tell you more, keep in mind that there are 2 zip lines in Labadee (Haiti): Dragon's Breath Flight Line and Dragon's Fire Flight Line.
The main difference is in the position. Dragon's Breath Flight Line is a seated position, and Dragon's Fire Flight Line is head-first (flying like Superman). Dragon's Fire zipline is more extreme, slightly higher, longer (2.800 feet), and only for the brave ones! Dragon's Flightline sign-up hut for both ziplines is right by the entrance, on your left, next to Dragon's Café, at Adrenaline Beach. There are two sign-up huts next to each other.
For Dragon's Breath Flight Line, before the activity, you will receive a safety briefing and do a test ride before embarking on a truck that will take you to the hilltop from where you'll zip down. For Dragon's Fire Flight Line, there is no test ride and you go straight to the top of the hill. The ride normally lasts around 2 minutes (the longest 2 minutes in my life) and is absolutely spectacular! I did Dragon's Breath Flight Line (seated position) and I absolutely recommend it to anyone who wants to experience some adrenaline rush and (in my case) face their fear of heights.
Lockers are available for an additional fee at the zipline sign-up huts. Weight restrictions apply and a waiver must be filled out before the activity.
Insider tip: The two zip lines are two different activities, they have different briefings and start from different launch platforms. If you want to do it with a group of friends, make sure you all book the same activity at the same selected time. Bring your GoPro with a strap as there is no professional photographer taking pictures of you (I brought my waterproof phone case and took pictures with my phone). Wear sandals or close-toe shoes (if you have flip-flops, you'll probably drop them in the water). You cannot bring anything on your zipline except for sunglasses, a phone (at your own risk – make sure you keep it secured), and closed-toe shoes.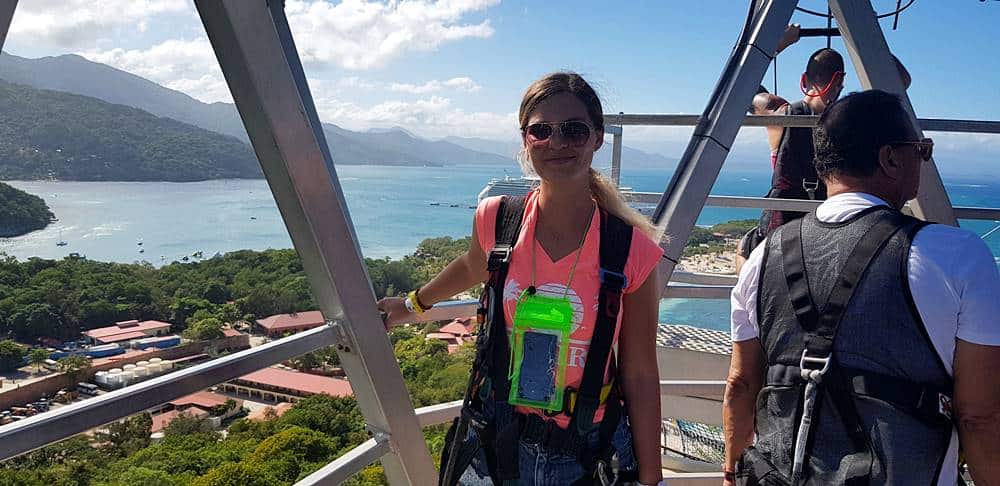 4. Dragon's Tail Coaster
Labadee coaster is another must-do activity in Labadee, as it goes through the lush forest and offers unmatched views of Labadee (Haiti) once you are at the top. Dragon's Tail Coaster sign-up hut is at the end of Adrenaline beach, near Café Labadee and the Floating bar. This activity is suitable for families, as 2 people can ride in one cart (one is the driver, another one is the passenger).
You can sign up for this activity onboard but you can also do it at the resort because there's always space. You can adjust your speed and brake if it goes too fast. I went on a roller coaster a couple of times and truly enjoyed it, even though I am afraid of heights. Weight and age restrictions apply, and you need to sign a waiver. Lockers are available at Dragon's Tail Coaster sign-up counter.
5. Dragon's Splash Waterslide
The waterslide is available at Columbus Cove and is mainly designed for kids (it's not really for adults). A waiver is required to be signed.
6. Arawak Aqua Park
The aqua park is located at Columbus Cove and is an activity designed for kids. There are selected times that you can choose from and there is limited availability. If you purchase a ticket, it is available only for 1 hour. Age restrictions apply, and a waiver must be filled out. Kids under 4 (if memory serves me well) can't go.
7. Kayak Adventure
Paddle a kayak along a beautiful Haiti coast onboard double kayaks that start at Columbus Cove. Weight and age restrictions apply, and you get a briefing and a waiver to sign before the activity.
8. Relax in a Cabana, Beach Bed, Beach Bungalow, or Beach Loungers
If you decide to spend a beach day, you can upgrade to one of the beach beds and cabanas for an ultimate stay in Labadee (Haiti).
Beach loungers are the cheapest option. They are located on Adrenaline beach and look like blue-white tents designed for two guests. The price is around $48 per lounger.
Beach beds are located at the end of Adrenaline beach, they offer more comfort and privacy. The price per beach bed is around $175 and includes 2 complimentary floating mats and a cooler with two bottles of water. Each is designed for two guests.
Beach bungalows are located in Columbus Cove, they can accommodate up to 6 guests who get 6 complimentary bottles of water and 2 floating mats. They have curtains for privacy and comfortable padded patio-type furniture. The price per bungalow is around $260.
Beach Cabanas – There are three different types of cabanas, they can accommodate up to 8 guests each and the price depends on the location (they range from $375 to $595 per cabana). They go from the lowest to the highest: Beach Cabana at Nellie's Beach, Waterfront cabana at Nellie's Beach, Cabana over the water at Nellie's Beach.
Guests in Barefoot Beach Club can book their private Barefoot Cabanas.
Note: For updated prices and availability, check out the Royal Caribbean's official website or the Shore excursion desk if you are currently onboard. 
9. Amiga Island Escape
This island is one of the most breathtaking places I've ever been in my life. It is located a 20-30-minute boat ride from Labadee, and you must book a shore excursion to get there (Amiga Island Experience and Island Escape are the two shore excursions that include a stop and free time on the island). The boat ride can be bumpy sometimes.
Amiga island is secluded and consists of only one bar, restrooms, hammocks, sunbeds, and shaded areas where you can relax. The island is a true gem and small, so you can walk around it in 10 minutes. You can also snorkel in some parts, but make sure you bring your own snorkel gear because you cannot rent it on the island.
To get more info about Amiga Island, check out my article 7 Private Islands in the Caribbean to visit on a Cruise
10. Labadee Snorkel Safari
Labadee beaches are sandy and not really good for snorkeling. If you want to go snorkeling, you need to book a guided snorkeling shore excursion named Labadee Snorkel Safari that usually departs twice per day (that's why it's better to either pre-book it or book it onboard to ensure your spot).
This snorkeling tour will take you to the open sea and stop at two beautiful snorkeling locations where you get to explore the fascinating Haitian underwater sea life. Personally, I haven't done it, but I had dozens of guests coming to provide me with great feedback on a tour. Snorkel equipment is included in this tour.
Insider Tip: Book a morning departure as afternoon departures sometimes get canceled due to the strong winds and waves.
11. Cruise along the Haitian Coast
If you want to enjoy the gorgeous views of Haiti's mountainous coast, you need to book a shore excursion for an extra fee. Royal Caribbean offers several sailing shore excursions that include fishing, sailing, snorkeling, complimentary food and drinks, sightseeing, adrenaline speedboat ride… There are normally one up to three departures a day for each tour, and I would suggest you always book a morning departure as the afternoon tours sometimes get canceled due to the windy weather.
I suggest you search on the Royal Caribbean official website for availability as not always all the tours are available. If you want to pay a cheaper price, I suggest you pre-book your shore excursion before your cruise to Labadee, and to ensure your spot on a tour – book it onboard latest!
These are some of the shore excursions you can book:
A Luxury Sailing Yacht Experience
Discover Haiti Coastal Cruise (a sightseeing cruise suitable for guests with walking difficulties!)
Paradise Cove and Haitian Village Escape (includes a visit to a local village)
Labadee Snorkel Safari
Speedboat Ride and Adventure
Amiga Island Experience
Island Escape
Labadee Sport Fishing
12. Haitian Village Sightseeing & Cultural Experiences
If you want to explore the culture and traditions of native Haitians, there are several Labadee shore excursions you can book. Some of them include a visit to a local village, while some include cultural workshops and a stroll around Labadee. There are usually one to three departures daily, and tours last from 1-3 hours so you can enjoy some time in Labadee afterward. Some of the shore excursions are:
Labadee Traditions (visit to a local village, cultural demonstrations, local dance)
Paradise Cove and Haitian Village Escape (includes a stop at the secluded cove)
Labadee Walking Tour (a 1-hour walk around Labadee resort, on this tour you don't go to a local village).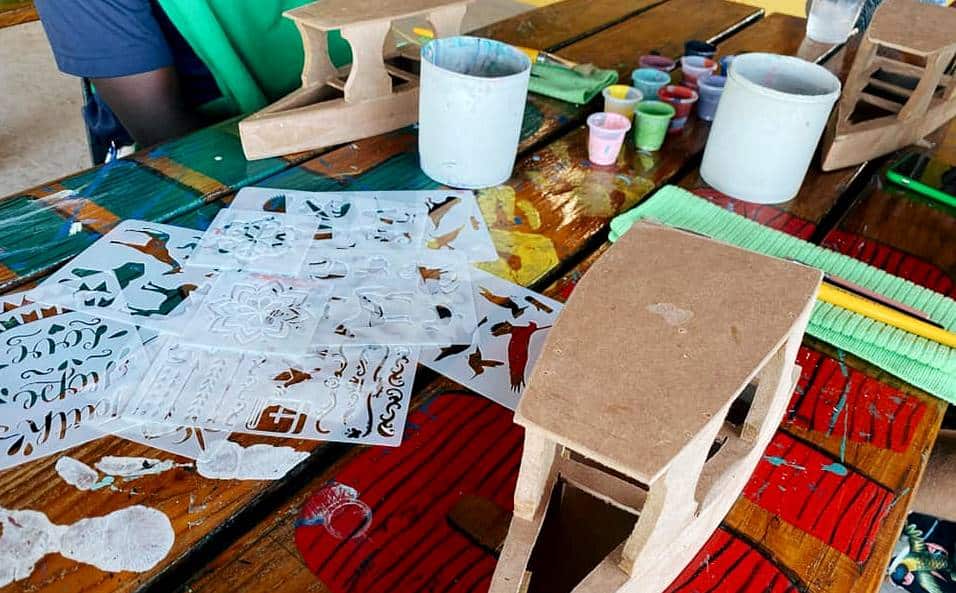 13. Artisan's Market Shopping Experience
If you want to go shopping in Labadee, you can head toward Town Square and Columbus Cove, and you will soon reach Artisan's Village and Market, a large area where native people sell handmade clothes, handicrafts, souvenirs, paintings, and much more!
You will need cash to pay for the items you buy from local people, however, if you buy something at a shop at Buccaneer's Bay, you'll need a SeaPass card as it is charged by Royal Caribbean onboard. Keep in mind that the local sellers are very pushy – that's just the way they are and don't feel obligated to buy something if you don't want to.
14. Adventure Ocean Oasis
Adventure Ocean Oasis is located in the central part of the resort between Adrenaline beach and Nellie's Beach. This area is reserved for the youngest ones, and you can't miss it as it's on the main road where the tram stops! It has a water park and kids' splash zone filled with toys, geysers, fountains, and a "wreck" of a pirate ship.
Adventure Ocean Oasis is free to use for everyone. There is a beautiful park right next to it, with flowers, plants, trees, hammocks, and wonderful views of Adrenaline beach.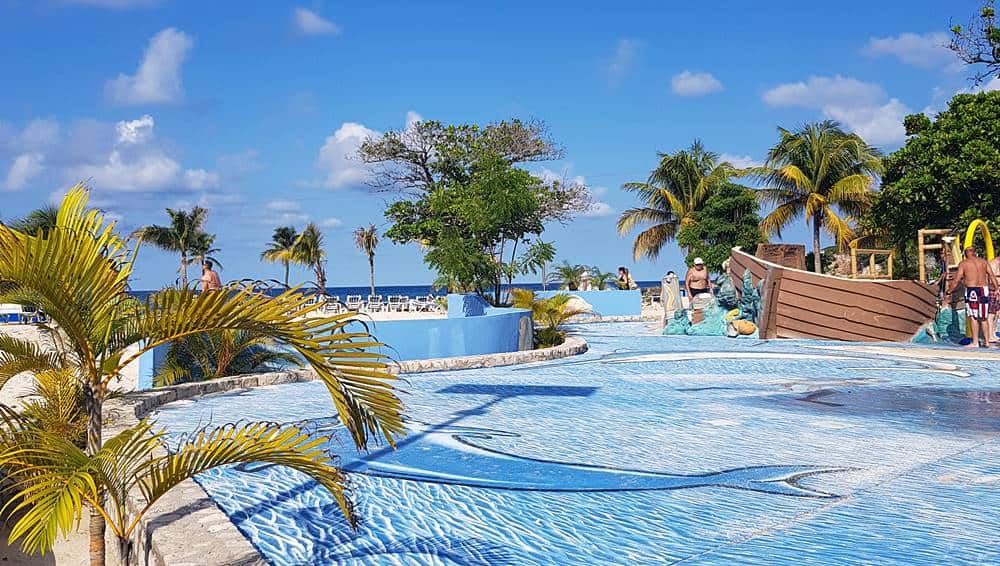 15. Labadee Beaches
Earlier in the article, I wrote about 3 main beaches in Labadee: Adrenaline beach, Nellie's beach and Columbus Cove (and Barefoot beach for suite guests only). If you decide not to spend any money on Labadee activities, excursions or shopping, you can simply spend a day at one of the beaches. Sunbeds are for free, and if you want to upgrade you can rent one of the loungers, beds, bungalows, and cabanas. There is a lot of shade all over the place, enough sunbeds, and all beaches are accessible for wheelchair users.
Wrapping Up
If you are planning a cruise to Labadee, get ready for an ultimately fun day and make sure you plan it ahead so you maximize your stay in the port of Labadee. To wrap up, here is a list of useful insider Labadee tips:
Bring your towel from the ship, because there is no towel station in Labadee.
Bring some cash if you want to shop at Artisan Market. If you want to purchase other activities, excursions, drinks (in case you don't have a drink package), and items in the Buccaneer's Bay shop, it will be charged to your SeaPass card (make sure you bring it with you).
Labadee lies within a gated area and is secured by private security. Labadee is safe to walk around, however, always keep an eye on your belongings. It is strictly forbidden to leave the resort area (you are allowed to do so only on a guided shore excursion).
You don't need to bring your passport/photo ID. Bring only your SeaPass card.
Lunch is usually served from 11:30 am until 13:30/14:00 pm, so make sure you plan your day and activities accordingly.
If you want to book activities and excursions, I highly suggest you book morning departures (especially snorkeling/sailing excursions, jet skiing, parasailing… ) because the wind picks up in the afternoon and excursions sometimes get canceled.
Always check the age and weight restrictions when booking Labadee activities.
Local people appreciate tips (street performers, dancers), as well as tour guides. These are not mandatory, though.
Bring

sunscreen

,

insect repellent

, a

waterproof phone case

, a

camera

(for the activities), light clothes, a

hat

, and

sunglasses

. You can purchase most of these items in the Labadee shop, however, they are more expensive there. Do not bring valuables with you.
There is NO wi-fi available in the resort (not even the ship's internet).
Pre-book your activities and shore excursions to ensure you have space on a selected departure time.
If an activity/shore excursion is canceled, you will be automatically refunded on board.
---
Visit also our cruise guides to Aruba, Curacao, Bonaire, Falmouth, Cozumel, Costa Maya, Grand Cayman, Perfect Day at CocoCay, St Thomas, St Maarten, Nassau, Bermuda, Barbados
---
You May Also Like:
25 Top Shore Excursion Packing List Items
What to Pack for a Cruise – Top 50 Cruise Essentials
Snorkel Gear and Scuba Diving Equipment – Tips by a Pro!
Don't forget to subscribe below and get my exclusive SHORE EXCURSION GUIDE FOR FREE!
This article may contain Amazon affiliate / compensated links. Please note that I am not affiliated with Royal Caribbean International and that this article is simply my review of Labadee as I visited it many times. For full information, please see my disclaimer here.