Welcome to Cococay Bahamas, the Royal Caribbean's ultimate paradise island!
Nestled approximately 55 miles north of Nassau (The Bahamas), a tiny Cococay island belongs to the Berry Islands, a group of Bahamian cays located north of the country. The island is exclusively used by the Royal Caribbean Cruises' passengers for tourism purposes and only Royal Caribbean's ships can dock there.
Cococay is also known as Little Stirrup Cay (the Little Stirrup Cay was renamed CocoCay in 2018) and is adjacent to Great Stirrup Cay, Norwegian Cruises' private island. Together with Nassau and Freeport, Perfect Day at Cococay has become one of the major stops in the Royal Caribbean's Caribbean cruise itineraries.
In this article, read about:
The Perfect Day at Cococay Port full review and useful tips
Things to do on Perfect Day at Cococay Bahamas (free and extra-cost activities, shore excursions)
Visit also our cruise guides to Aruba, Curacao, Bonaire, Falmouth, Cozumel, Costa Maya, Grand Cayman, Antigua, Bermuda, San Juan, St Lucia, Labadee, St Maarten, Nassau, Barbados
Perfect Day at Cococay Bahamas Port Guide
The Perfect Day at Cococay is less than a mile long from east to west and less than 480 yards (0.43 km) from north to south, which makes it perfect for one-day exploration. In 2019 the island was completely renovated and expanded by the Royal Caribbean and transformed into a cruise guests' paradise where you'll find breathtaking beaches, a freshwater pool, a thrilling waterpark, a great variety of activities and restaurants offered to guests free of charge or with an extra cost.
A maximum of two cruise ships can dock at a time in CocoCay port. Overnight options are not offered, however, new projects are on the way.
See CocoCay Bahamas on Google maps
Getting around the island:
Cococay is the Royal Caribbean's private destination and is perfectly safe. Royal Caribbean hired local people to work on the island, mostly coming from the Bahamas and South Africa. All crew are very friendly and strategically positioned throughout the island to ensure your time ashore is as stress-free as possible.
The pier is flat and suitable for people with walking difficulties and wheelchair users. The walk to the entrance to the island is short, however, if you don't walk to walk you can use a free little tram/golf cart that runs from the ship to the entrance of the island.
Additionally, there is a complimentary tram service all around the island. These trams run every 5 to 10 minutes and have multiple stops at major attractions including Arrivals Plaza (at the entrance, right by the main entrance to the Thrill Waterpark), Chill Island, Oasis Lagoon, South Beach, and Coco Beach Club.

The tram line is displayed on a Cococay map as the blue line, however, friendly and knowledgeable drivers can stop and pick you up even if you just wave to them, regardless of the location!

There are also trams that provide a ramp for wheelchair users. If you need an accessible tram, just ask any of the crew and they will arrange it for you. Guests should stay away from the road lines as the trams pass by frequently.
You will also find multiple wheelchair stations around the island with a large number of wheelchairs available free of charge. The wheelchairs have huge wheels and are beach-friendly.
Perfect Day on CocoCay is divided into two main parts: the "thrill area" and the "chill area". The cruise line has ensured that passengers can easily get from point A to point B on clearly marked and paved paths.
The housekeeping department onboard the ship normally provides the Cococay maps in all staterooms prior to the arrival and they are also provided by the entrance of the island. Sometimes, they are also available at the Shore excursion desk. Getting around the island is very easy, you will find maps and signs everywhere, together with a friendly, approachable crew to help you out.
CocoCay boasts a subtropical climate with hot, humid and rainy summers, and mild and relatively dry winters. To get useful packing tips for your cruise to CocoCay, check out my article

What to Pack for a Cruise – Top 50 Cruise Essentials
Perfect Day at Cococay offers guests many free and extra-cost activities to enjoy on the island:
Free things to enjoy at Perfect Day at CocoCay  
Chill Island beach area with Breezy Bay beach
Chill Grill
Oasis Lagoon freshwater pool
South Beach
Snack Shacks
Skipper's Grill
Harbor Beach
Splashaway Bay
Captain's Jill Galleon
Straw Market
Complimentary beach chairs and umbrellas
Complimentary beach-accessible wheelchairs
Freshwater showers, beach towels, life jackets
Complimentary tram service
Sports courts, fitness classes and complimentary activities organized by the ship on the island
Extra-cost activities at Perfect Day at Cococay
Coco Beach Club
Thrill Waterpark (with Adventure Pool, Wave Pool, Daredevil's Peak waterslide, Splash Summit and other thrilling waterslides included)
Up, Up and Away Helium Balloon
Zip Line
Captain Jack's
Shore excursions including kayaking, wave jet tours and others
Beach loungers, beach beds, cabanas
Snorkel equipment, floating beach mats
Free Things to Enjoy at Perfect Day at CocoCay Bahamas
One of the best things about Perfect Day at Cococay is that you don't have to pay extra to spend an enjoyable and memorable day on the island. Below are the free activities and facilities that you can enjoy on Perfect Day at Cococay:
Chill Island
Chill Island beach is a quiet part of Cococay, ideal for those of you who want to spend a classic beach day away from the bustling thrill zone. The beach is long and sandy with lots of shade and there is no loud music which makes it ideal for families with small kids. The water temperature is just perfect for swimming and relaxing.
Here, you'll find relaxing hammocks to enjoy free of charge, complimentary beach chairs and umbrellas, a Straw Market where you can buy souvenirs from the locals (bring some cash for this), the relaxing Wacky Seagull bar with a lot of shade, as well as Chill Grill restaurant. Complimentary lockers and swim vests are available on Chill Island beach, as well as the Snorkel Shack where you rent snorkel equipment for an extra cost. The place has a first-aid station, and a floating mat station and you can also rent beach beds and cabanas (with concierge service available) for an additional fee if you want to have more privacy.
Chill Island is located on the left side of the island from the Arrival Plaza (the entrance) and you can reach it via the clearly marked green pathway. This beach is closer to the pier and activities than South Beach.
Breeze Bay beach
In the north part of Chill Island, there is another beach called Breezy Bay and here you'll find a tour area where you can rent kayaks, paddleboard, or go for a jet ski tour. There is a Floating bar where you can relax in shallow waters and enjoy a cool drink (limited selection of drinks – beer and sodas) and more beach beds. This area also features volleyball and basketball courts where you can play free of charge, as well as some other activities. There is also a Snack Shack where you get some complimentary takeaway food.
Chill Grill
Chill Grill restaurant is one of the main places to eat. It offers Windjammer-like, buffet-style food options and it's complimentary for all guests. The menu includes hamburgers, hot dogs, tacos, Cuban sandwiches, freshly-made tortillas, a toppings bar, a selection of salads, fruits, desserts, a beverage station, a bar and so much more! The restaurant usually opens around 11:30 am and closes around 1:30/2 pm. You can eat your food on the beach or under the shaded areas where you'll find a large number of tables and benches.
Oasis Lagoon
The incredible Oasis lagoon is the largest freshwater pool in the Caribbean that can accommodate up to 1750 people at a time! This massive pool is located right in the heart of the island and one of the main attractions is the swim-up bar where you can get cool drinks (including Coco Loco – the Cococay specialty) and listen to the live DJ music while chilling in this tropical paradise.
If you come earlier, you can get some awesome complimentary chairs in the water (on a first come first serve basis). Around the pool you'll find complimentary beach chairs and umbrellas, palm trees shaded areas, and if you want to upgrade – you'll find cabanas for an extra charge, too.
South Beach
South Beach is located next to the Coco Beach Club and offers a relaxing beach experience with a stunning beach, complimentary beach beds/umbrellas, a bar and Snack Shack restaurant, and cabanas for an extra fee.
Snack Shack
There are 3 Snack Shack restaurants on Perfect Day at Cococay (Oasis Lagoon, Thrill Waterpark, South Beach) and they offer takeaway food choices, such as giant chicken sandwiches, mozzarella sticks, burgers, light salads, French fries and desserts.
Skipper's Grill
This restaurant has a similar concept to Chill Grill and is located in the heart of the island, between Oasis Lagoon and Harbor Beach. The food is complimentary and consists of sandwiches, burgers, hotdogs, salads, desserts and more. The restaurant normally opens around 11:30 am and is open until 1:30/2 pm.
Skipper's Grill has a really cool deck where you can bring your food and enjoy great views of Harbor Beach.
Harbor Beach
Harbor beach is kind of an inner inlet of Perfect Day at Cococay, an amazing option for non-swimmers or kids as there are no waves. The beach here is calm and sandy, with a large number of beach chairs and umbrellas. It is located in the center of Perfect Day at Cococay, next to the Skipper's Grill restaurant and Oasis Lagoon.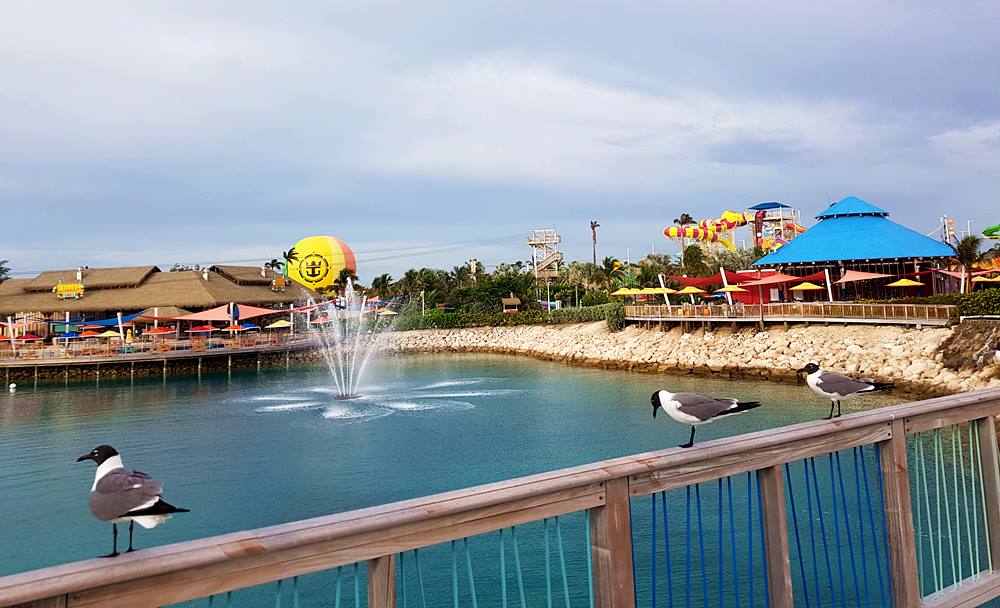 Splashaway Bay
Right outside the Thrill Waterpark, there is a complimentary play area for children with pools, fountains, mini waterslides, buckets, water cannons and many more ways to get soaked! The kids will love it, it's complimentary and you'll find benches around so you can sit and relax while your kids are having fun.
Captain Jill's Galleon
This realistic life-size galleon is another complementary splash area for children with waterslides, geysers, water cannons and tunnels.
Straw Market
The straw market is available on Chill Island and here you can browse for local souvenirs, t-shirts, sun protection, and local Bahamian souvenirs. Local people sell souvenirs and here they are not pushy like they may be in other Bahamian ports or in Labadee. Make sure you bring cash, although some stands may take a SeaPass card or credit card.
Other complimentary things at Perfect Day at Cococay:
Beach chairs and umbrellas
Beach-accessible wheelchairs
Freshwater showers
Beach towels
Life jackets
Lockers
Tram service
Sports courts, fitness classes and complimentary activities organized by the ship on the island
Things to Enjoy at Perfect Day at Cococay Bahamas for Extra Cost
Coco Beach Club
This stunning beach club offers an exclusive, resort-like experience for those of you who seek to upgrade their Perfect Day at Cococay experience.
This luxury beach complex features an ultimate infinity pool, a private beach, lounge areas, a bar, and an exclusive fine dining restaurant serving upscale food including steaks, lobsters, Caribbean specialties, amazing toppings and so much more! To enjoy the day beds and in-pool loungers by the infinity pool, head there early in the morning as these are available on a first-come-first-serve basis.
To access the Coco Beach Club you need to purchase a day pass which includes access to all amenities (sunbeds/umbrellas/loungers), the private beach and the restaurant. The beverages are not included unless you have purchased the drink package which works in Coco Beach Club like in all other bars on the island. The club has a limited guest capacity, up to 400 people maximum when two ships are in port, so it's highly recommended to pre-book your admission pass before the cruise.
You should also reserve the preferred time for your lunch because the capacity in the restaurant is limited. You can do this onboard or at the Coco Beach Club, but it's recommended to do it before you get to the island in order to make sure you have your table. If you pre-book the day pass, you'll get a letter in your stateroom on embarkation day explaining the whole procedure.
Coco Beach Club also offers two types of cabanas for an additional fee (below). When you purchase cabanas, you get free admission to Coco Beach Club. Both types of cabanas are wheelchair accessible.
Beach cabanas – Standard cabanas with a minibar, lounge area, beach chairs, and hammocks included.
Floating cabanas – Luxury, spacious Maldives-style cabanas designed for up to 8-10 people, with floating hammocks, private waterslides, personalized service (such as food and drink delivery by the cabana attendant), freshwater showers, and more.
Thrill Waterpark
Thrill Waterpark is an incredible waterpark complex that consists of 13 waterslides, the largest Wave Pool in the Caribbean, an Adventure Pool and so many other activities featuring different levels of thrills and excitement. The main entrance is located right at the Arrival Plaza and the admission fee covers unlimited access to all activities within the complex.
The Thrill Waterpark's major attractions are:
Daredevil's Peak Waterslide (the red line) – The tallest waterslide in North America and the most adrenaline-packed activity on the island. You need to climb 200 steps to reach the 135 feet launch pad from where you'll slide down.
Splash Summit – It offers 6 thrilling waterslides including The Twister, The Slingshot and four Splash Speedway Racers with 40 and 60-foot high launching platforms.
Adventure Pool – A large pool featuring an exciting rope swing, a rock climbing wall in the water, and a series of other obstacles and challenges.
Wave Pool – The biggest wave pool in the Caribbean. For the biggest waves, go into the deep and on the sides.
Other waterslides such as Dueling Demons (from a 75 feet high platform, twin drop slides), Screeching Serpent Waterslide (50-foot high platform), Green Mamba Waterslide (50-foot high platform), Manta Raycers Waterslides (25-foot high platform).
Thrill Waterpark useful info and tips:
Height, age and weight restrictions apply to all activities. Refer to the

Royal Caribbean official website

for more info.
Snack Shack serving complimentary food and snacks is the only restaurant available in the Thrill Waterpark.
All guests who purchase the Thrill Waterpark admission pass will get the bracelet that allows getting in and out of the Thrill Waterpark area anytime they want.
Each location has brand-new facilities including changing room, freshwater showers, complimentary lockers, and toilets.
For an ultimate experience, you can book Thrill Waterpark cabanas that can accommodate up to 6 people. If you book the Thrill Waterpark cabana, the admission ticket to the waterpark is included.
The Thrill Waterpark has a souvenir shop where you can purchase the items with your SeaPass card.
There are lots of beach beds and umbrellas to enjoy.
Up, Up and Away Helium Balloon Ride
To get the most spectacular views of Cococay, its attractions, stunning blue ocean and sugar-white sandy beaches, go for a thrilling helium balloon ride that gently rises 450 feet in the air. This activity runs if the weather permits it, so make sure you head there early in the morning to make sure you reserve a spot for the afternoon departure if the morning one is canceled. The winds are also calmer in the morning.
Captain Jack's
Located right by the entrance, Captain Jack's is an extra-cost, a la carte restaurant that serves chicken wings and fries. It's a great place to chill and listen to the live guitar music performed at the bar.
Zip Line
The zipline sign-up hut is located right next to the Thrill Waterpark and the activity requires a fee. This amazing zip line is 1600 feet long and the ride on each of them takes about 20 seconds. The lines provide an amazing view of the Thrill Waterpark and the whole island. There may be combo packages offered by the cruise line (Zip Line and Thrill Waterpark), but check this with the Shore excursion desk.
Useful tips:
Make sure to wear closed-toe shoes (if you wear flip-flops, you will most likely drop them off).
You need to be at least 48 inches tall and weigh between 75 lbs and 275 lbs to go on the zip line. The weight is checked before the activity.
Kids must be accompanied by adult parents or guardians.
Lockers are available for free. You need to leave all your stuff in the lockers.
Make sure you have a good camera on you, preferably with a strap to avoid dropping it.
Shore Excursions/Beach Rentals
The north part of Chill Island known as Breezy Bay features a tour area where you can rent snorkel and diving gear, floating beach mats, or book shore excursions such as jet ski tours and kayaking. Before the Covid-19 pandemic hit, Royal Caribbean-approved independent vendors and partners used to offer tours such as swimming with pigs and stingrays, but some of these were canceled because they were not in compliance with the new Covid protocols and local regulations.
However, in the near future these shore excursions may be available again, so make sure you keep an eye on the Royal Caribbean's website for updates. At the moment of writing this article (March 2022), jet skis and kayak rentals are available, as well as snorkel/diving equipment (rental is available at Snorkel Shack. Divers will be there to help you out) and stand-up paddle rental. You can also bring your own snorkel gear.
Other tours offered are the zip line, Up, Up and Away Helium Balloon Ride, but the check-in huts for these activities are located in different parts of the island.
Wave runners/Jet skis
Wavehut Water Sports Center is located in the north part of Chill Island (Breezy Bay beach). This activity is guided by a professional, knowledgeable instructor and it is mandatory to follow the specific itinerary for safety reasons. Before the tour, you'll be provided with a safety briefing.
A driver's license is required and there are strict weight restrictions.
Jet ski activity is based on weather conditions, meaning that the activity may be canceled or rescheduled (in case it's canceled, you get a full refund).
It is forbidden to consume alcohol prior to the ride.
Lockers are available on spot, however, it's not recommended to wear valuables on you.
Perfect Day at Cococay Bahamas Cruise Tips & Info:
Make sure you bring your SeaPass card, as you'll need it for any optional upgrades or purchases on Perfect Day at Cococay including Thrill Waterpark, Coco Beach Club, shore excursions and other activities.
It is highly recommended you bring cash for the Straw Market. Here, you'll find some stands that accept credit cards and SeaPass cards too, however, it's always better to have cash. Straw Market is the place where you go to buy souvenirs. Another souvenir shop is located in the Thrill Waterpark and in this shop you can use the SeaPass card.
The complimentary lunch in restaurants (Chill Grill, Skipper's Bar) starts around 11:30 am and is open until 1:30/2 pm. In Coco Beach Club, you need to reserve your lunchtime and table.
Bring towels from the ship. You can exchange the wet towels for dry ones at towel stations on the island. If you book a cabana or Coco Beach Club day pass, towels are provided.
If you want to tip your cabana attendant, make sure you have some cash on you.
Bring sunglasses, a sunhat, sunscreen and swimwear.
Your Royal Caribbean drink package works at Perfect Day at Cococay, just make sure to bring your SeaPass card.
If you purchase the Voom internet package, you'll have an internet connection on the island (Woo-hoo!!)
If you want to save money, it's recommended that you pre-book your day passes and activities such as Thrill Waterpark and Coco Beach Club as the prepaid prices are almost always cheaper than onboard ones.
Coco Beach Club has limited capacity and it's highly recommended you book the day pass before your cruise as it will most likely be sold out when you come onboard.
Get off the ship as earlier as you can if you want to enjoy Thrill Waterpark, Oasis Lagoon, or take up the prime spots by the pools or at the beaches. It gets more crowded later in the day.
Most of the parts of Perfect Day at Cococay are wheelchair-accessible, including the beaches, Oasis Lagoon, the infinity pool at Coco Beach Club, Wave Pool in Thrill Waterpark. There are wheelchair-accessible trams available as well.
If you plan to do the activities that can be canceled due to the wind and weather conditions such as a jet ski ride or a helium balloon, make sure you book them as earlier as you can as generally the wind is calmer in the morning.
Coco Loco is the official drink of Cococay – make sure you taste it!
To Wrap Up
Whether you choose to spend a quiet day at the beach or experience once-in-a-lifetime activities such as Thrill Waterpark or Up, Up and Away Helium Balloon – Perfect Day at Cococay Bahamas has it all! And make sure you come back again as won't have the time to try out all the amazing stuff in one day!
Have you been to Labadee, Haiti, another Royal Caribbean private destination?
Check out my Labadee Haiti Ultimate Port Guide (+ 15 Best Things to Do in Labadee)
Visit also our cruise guides to Aruba, Curacao, Bonaire, Falmouth, Cozumel, Costa Maya, Grand Cayman, Antigua, Bermuda, San Juan, St Lucia, Labadee, St Maarten, Nassau, Barbados
---
You May Also Like:
25 Top Shore Excursion Packing List Items
What to Pack for a Cruise – Top 50 Cruise Essentials
Snorkel Gear and Scuba Diving Equipment – Tips by a Pro!
Don't forget to subscribe below and get my exclusive SHORE EXCURSION GUIDE FOR FREE!
This article may contain affiliate / compensated links. For full information, please see my disclaimer here.