Greek Island Cruise: 5 Irresistible Reasons to Set Sail from Athens
Are you ready for an unforgettable adventure through the enchanting Greek islands? Picture yourself basking in the Mediterranean sun, surrounded by azure waters, whitewashed villages, and ancient wonders.
In this captivating blog post, I highlight the 5 reasons to embark on a Greek Island cruise from Athens. Get ready for a journey that offers a variety of cruise options, pre-cruise exploration of the Greek glorious capital, stress-free planning and an unforgettable island-hopping experience! Let's dive into the 5 reasons to book your cruise from Athens and discover the magic that awaits you in the Greek islands.
1. Variety of Cruise Options
Embarking on a cruise from Athens opens up a world of exciting possibilities with its wide range of cruise options. Whether you're seeking a leisurely island-hopping adventure or a more expansive journey that explores multiple countries, Athens serves as the perfect starting point.
Greek island cruises from Athens offer an array of itineraries that cater to different interests and preferences. You can opt for a shorter cruise that focuses solely on the captivating Greek islands. Picture yourself strolling through the enchanting streets of Mykonos, basking in the breathtaking sunsets of Santorini, or exploring the historical wonders of Rhodes. These cruises allow you to immerse yourself in the essence of Greece, embracing the laid-back island lifestyle, indulging in delicious local cuisine, and discovering hidden gems along the way.
For those seeking a more extensive voyage, Athens offers cruises that venture beyond the Greek islands. You can set sail on a grand adventure that takes you to neighboring countries like Turkey or Italy. Explore the fascinating ruins of Ephesus, walk the ancient streets of Dubrovnik, or marvel at the magnificent architecture of Venice. These cruises provide an enriching blend of cultures, history, and breathtaking landscapes, offering a truly immersive experience.
Furthermore, Athens is a major hub for major cruise lines, ensuring a wide variety of cruise options in terms of ship size, onboard amenities, and itineraries. Whether you prefer a large, luxurious cruise ship with a plethora of entertainment and dining options or a smaller, more intimate vessel that allows for a personalized experience, you'll find a cruise that suits your preferences.
With Athens as your embarkation point, you have the freedom to choose the cruise that aligns perfectly with your desired destinations, duration, and budget. The versatility and flexibility of cruise options from Athens ensure that every traveler can find their ideal voyage, creating memories that will last a lifetime.
To get the most out of your Greek Island cruise, I invite you to grab your copy of the "Mediterranean Cruise Port Guide", the most comprehensive guide to 45 Mediterranean cruise ports packed with practical information, expert tips & unforgettable experiences! (PDF format/200 pages.

Ultimate Guide to Mediterranean Cruise Ports
Plan your Cruise Itinerary in Less than an Hour and Maximize Your Port
Experience!
2. Vibrant Pre-Cruise Exploration
Vibrant pre-cruise exploration in Athens adds an extra layer of excitement and cultural immersion to your overall cruise experience. Before setting sail, this captivating city offers a plethora of activities and attractions that will leave you spellbound.
Athens is steeped in history, and you'll find yourself surrounded by ancient wonders and archaeological marvels. A must-visit is the Acropolis, a UNESCO World Heritage site that houses the iconic Parthenon, offering a glimpse into the grandeur of ancient Greece. Take a stroll through the historic Plaka neighborhood, where narrow streets are lined with charming shops, tavernas, and traditional houses, creating a postcard-worthy ambiance. Immerse yourself in the city's rich heritage by exploring the National Archaeological Museum, home to an impressive collection of ancient artifacts.
But Athens is not just a city of the past – it is a vibrant metropolis buzzing with contemporary energy. Take some time to discover its modern side, visiting trendy neighborhoods like Kolonaki or the bustling Monastiraki Square, where you can find local crafts, souvenirs, and vibrant street markets. Indulge in Greek gastronomy at traditional tavernas, where you can savor mouthwatering delicacies like moussaka, souvlaki, and baklava.
Taking the time to explore Athens before your cruise not only allows you to immerse yourself in the city's history, culture, and culinary delights but also sets the stage for the adventure that lies ahead. It builds anticipation and excitement as you prepare to embark on your Greek island cruise, infusing your journey with a deeper appreciation for the country's rich past and vibrant present.
I have an entire article dedicated to sailing from Piraeus cruise port (embarkation point for cruises sailing from Athens) and the 8 best things to do in Athens: Athens (Piraeus) Cruise Port Guide
In addition, you can watch my YouTube video on Piraeus cruise port and what to do in Athens on a cruise!
3. Effortless Travel and Stress-Free Planning
Embarking on a cruise from Athens offers a remarkable advantage: effortless travel and stress-free planning. Starting your journey in Athens eliminates the need to navigate complicated logistics, allowing you to focus on the excitement of your upcoming adventure.
One of the major conveniences is that the cruise line takes care of transportation and accommodation arrangements. Upon arrival in Athens, you can seamlessly transition from the airport to the cruise terminal, as many cruise lines offer dedicated transfer services. In addition, there is a direct metro line from the airport to the port of Piraeus, as well as numerous taxis readily available to take you to the port.
By starting your cruise from Athens, you save precious time and energy that would have been spent booking separate flights or arranging island-to-island transfers. Instead, you can relax and immerse yourself in the anticipation of the journey ahead. The cruise ship becomes your floating hotel, transporting you effortlessly from one Greek island paradise to another, without the need to worry about packing and unpacking multiple times or organizing intricate travel logistics.
One of the significant advantages of a Greek island cruise is the elimination of extensive itinerary planning. The ship's carefully curated route takes you to the best Greek island destinations, ensuring that you don't miss out on any highlights. From the world-famous Santorini with its mesmerizing sunsets to the lesser-known but equally captivating gems like Milos or Naxos, the cruise itinerary is designed to showcase the diverse beauty and cultural richness of the Greek islands.
This eliminates the need for meticulous research, booking accommodations, and arranging transportation to various destinations, freeing up your time to relax, explore, and indulge in the experiences presented along the way. By starting your cruise in Athens, you can truly embrace the carefree nature of your journey. Enjoy the peace of mind knowing that the cruise line has taken care of the logistics, leaving you to savor the anticipation, relax, and fully immerse yourself in the Greek island experience.
4. Extensive Flight Connections
Embarking on a cruise from Athens offers the advantage of extensive flight connections, ensuring easy accessibility for travelers from around the world. Athens is a major international hub with excellent flight connectivity to numerous cities worldwide. Whether you're flying from Europe, North America, Asia, or beyond, you'll find direct flights to Athens, making it a convenient starting point for your cruise adventure.
In addition, the extensive flight connections to Athens also make it easier to combine your cruise with other travel plans. If you wish to explore more of Greece or extend your trip to other European destinations, the well-connected Athens airport serves as a convenient gateway. You can seamlessly continue your journey by taking domestic flights to other Greek cities or connecting flights to various European capitals.
In summary, the extensive flight connections to Athens offer convenience, flexibility, and the opportunity to easily combine your cruise with other travel plans. Whether you're traveling from nearby European countries or far-flung corners of the globe, Athens provides a well-connected starting point for your unforgettable Greek island cruise.
5. Unparalleled Island-Hopping Experience
Embarking on a Greek island cruise from Athens offers an unparalleled island-hopping experience that allows you to explore multiple captivating destinations in a single trip. Imagine waking up to a new island paradise each day, ready to immerse yourself in the diverse beauty and unique character of the Greek islands.
One of the remarkable advantages of a cruise is the convenience of effortlessly exploring a variety of Greek islands. Each island boasts its own charm and allure, from the beautiful Rhodes with its iconic old town and stunning Lindos to the hidden gem of Milos with its pristine beaches and enchanting lunar landscapes. With a cruise, you have the opportunity to visit both popular and off-the-beaten-path islands, discovering the true essence of the Greek archipelago.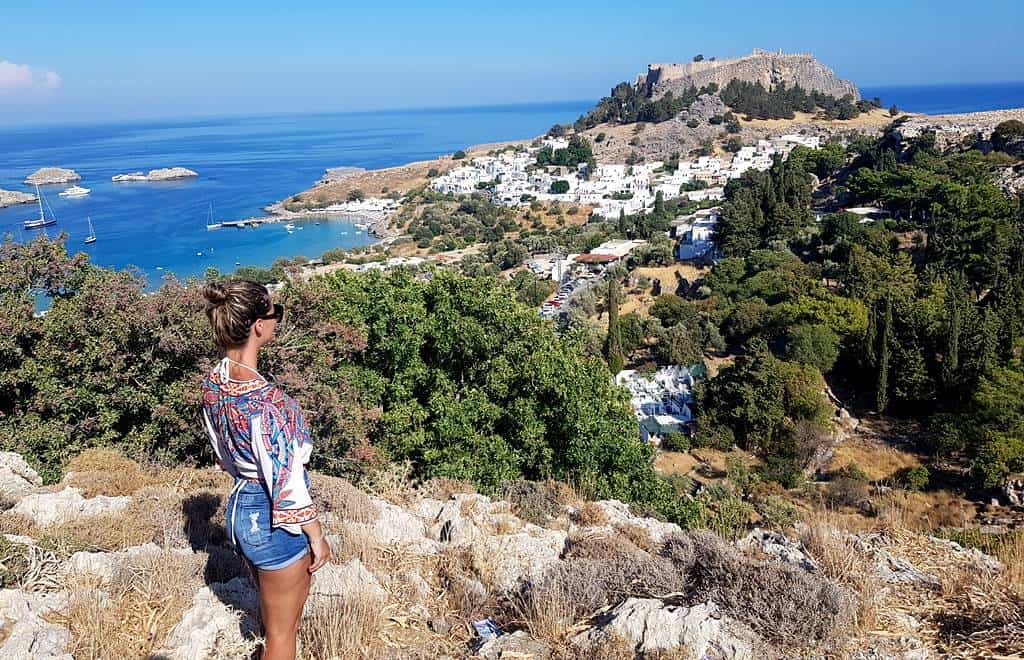 Furthermore, a cruise allows you to optimize your time and maximize your island exploration. While land-based travel may require time-consuming ferry rides and intricate planning to visit different islands, a cruise streamlines the process, providing a hassle-free experience. The ship becomes your floating hotel, transporting you effortlessly from one island to another, allowing you to make the most of your precious vacation time.
Wrapping Up
With a variety of itineraries, the convenience of starting in Athens, seamless logistics, excellent flight connectivity, and the joy of exploring multiple islands in a single trip, this journey promises an unforgettable experience. So, set sail from Athens and immerse yourself in the beauty, culture, and charm of the Greek islands, creating memories that will last a lifetime.
---
---
Visit also our cruise port guides to Athens (Piraeus), Santorini, Mykonos, Corfu, Rhodes, Chania, Heraklion, Katakolon, Civitavecchia (Rome), Kusadasi, Dubrovnik

Ultimate Guide to Mediterranean Cruise Ports
Plan your Cruise Itinerary in Less than an Hour and Maximize Your Port
Experience!
This article may contain affiliate / compensated links. For full information, please see my 
disclaimer
 here.