Welcome to Athens port guide!
Nestled in the Saronic Gulf in the southeast of Greece, the port of Piraeus is the gateway to the ancient city of Athens, the capital of Greece and the birthplace of democracy. With its majestic Acropolis, numerous museums, centuries-old sites, and historic landmarks, Athens is one of the most ancient cities in Europe and a frequent stop in Mediterranean cruise itineraries. In this article, read about:
Athens cruise port (Piraeus cruise terminals, local transportation, how to get from Piraeus to Athens)
Top 8 things to do in Athens & best Athens shore excursions
What to explore in the city of Piraeus (within walking distance from the port)
Visit also our cruise port guides to Mykonos, Santorini, Istanbul, Kusadasi, Crete (Heraklion), Chania, Kotor, Barcelona, Marseille, Rome (Civitavecchia), La Spezia (Cinque Terre), Villefranche, Rhodes
Search the best Mediterranean cruise deals!
Athens Port Guide (Port of Piraeus)
Port of Athens is located in Piraeus, an old city located approximately 10 km/6 miles (a 25-30-minute drive) from Athens city center. It is the largest Greek port and one of the largest passenger cruise ports in Europe. Piraeus is attractive due to its proximity to the Greek capital; it is a major hub for passenger cruise ships, ferries, and cargo ships, and it is also a home port for several ships starting and ending the cruises in Piraeus.
The port of Piraeus has a large ferry terminal offering roundtrip cruises to Greek islands such as Crete, Santorini, Rhodes, Lesbos, Zakynthos, Kefalonia, Samos, and other Mediterranean destinations. In case you are coming on a cruise to Athens, it is advisable that you come earlier to explore the wonderful sites and attractions this city has to offer.
Piraeus cruise port has 3 passenger cruise terminals that can accommodate up to 11 cruise ships, and each terminal has its own terminal building.
See Piraeus cruise port on Google maps
1. Terminal A (Miaoulis)
Miaoulis is the main terminal and it can accommodate up to 12.000 passengers (2 or 3 ships simultaneously). It has a terminal building with modern facilities including free Wi-Fi, air conditioning, duty-free stores, public phones, cafes, souvenir shops, ATMs, currency exchange, customs office, immigration, police, and check-in/departures. The terminal has a taxi rank and large parking that can accommodate up to 80 buses.
Terminal A is the closest one to the town of Piraeus. You can reach Piraeus downtown within a 15-minute walk, as well as the metro station where you can catch line 1 to go to Athens. As soon as you leave the terminal you will see buildings of the city and there is a nearby waterfront lined with some restaurants, shops, and cafes.
2. Terminal B (Themistocles)
This terminal is the furthest one from the city and consists of 2 long quays able to accommodate mega cruise ships (4.500+ passengers). The terminal building is situated across Quay Themistocles and is primarily used for turnarounds (for passengers embarking and disembarking in Piraeus).
The terminal building consists of facilities including an arrivals/departure hall, customs office, immigration, police, air-conditioning, free Wi-Fi, public phones, and a duty-free shop. There is a parking area and a taxi rank available next to the terminal.
3. Terminal C (Alkimos)
Cruise ship terminal C is located along the quay between Terminals A and B and has the capacity to accommodate up to 3000 passengers at a time. The terminal building features facilities including check-in, arrivals/departure hall, customs office, police, immigration, air-conditioning, free Wi-Fi, a taxi rank, and a parking area for buses and taxis.
Hop on Hop off buses are available in front of each terminal, ready to take you to Athens city center.
How to Get to Athens from the Port of Piraeus?
ON A SHORE EXCURSION – If you are coming to the Greek capital for the first time, the best way to get the most out of your day in Athens is to book a shore excursion. You can book it through your cruise line, or an

independent tour operator

if you opt for a more flexible schedule and tour flow.
METRO – The fastest way to get from Piraeus to Athens downtown is by metro. A 90-minute ticket costs 1.20€ and the train station is located approximately 20-30 minutes walk from terminals B and C. Metro ride from Piraeus I.S.A.P. metro station to Athens city center (Monastiraki metro station) lasts only 15 minutes. To save time, you can take a taxi to the metro station which usually costs no more than 10€ per vehicle one way.
TAXI – Due to the congested traffic, a ride to Athens can take anywhere from 20 minutes to 1 hour. Taxis are metered, however, be ready to negotiate. Always use yellow licensed taxis, and be ready to share the vehicle with a few more people if you go to the same destination. If you take a taxi from Piraeus to Akropolis, Akropolis Museum, Monastiraki Square, and Syntagma Square, the cost is 25-30€ per vehicle one way for each route. Once you get in a taxi, make sure the meter is on because otherwise, the driver might charge you more. A taxi from Piraeus Port to Athens International Airport costs 54€ per vehicle. Find more info on public transport in Piraeus at

Piraeus.org

PUBLIC BUS – Although it is one of the cheapest ways to go to Athens, a bus can be very crowded and time-consuming. To go to Athens, the best option is to use line 040. There is also bus line X80 (Piraeus-Akropolis-Syntagma Express) that connects Piraeus and Athens city center, however, this bus doesn't run regularly (at least it was out of service when I last visited in June 2023), so I highly suggest you take line 40. The ticket costs 1.50€ and the journey to Athens lasts around 1 hour as there are many stops along the way. The bus stop is near the cruise terminal buildings (OLP cruise terminal gate bus stop is the starting point) and they are quite easy to catch. In case you have difficulty finding it, you can ask any port employee and they will direct you to the station.
HOP ON HOP OFF BUS – Athens Hop on Hop off sightseeing buses are available at cruise terminals A and B, and there are several different companies offering rides. There are several different routes (Athens route, Piraeus route, Beach and Riviera route) and the buses stop at the major Athens highlights including the Temple of Zeus, Syntagma Square, Monastiraki Square, Acropolis and Parthenon, Acropolis Museum, Panathenaic Stadium, National Archaeological Museum, National Library, Ancient Olympic Stadium, and many others. The 24-hour ticket starts at 20€ per person, and the whole circuit takes around 1h 30 minutes. Check the Athens Hop on Hop off bus tours on

Viator

and

Get Your Guide

.
Watch my Athens (Piraeus) Cruise Port Guide YOUTUBE Video!
Helpful info & links:
Get more public transport info at

https://www.piraeus.org/

Athens is an old city with lots of cobblestones and Acropolis is on a hill, which may be challenging for people with walking difficulties.
The official currency in Greece is EURO (€). Local currency and credit cards are widely accepted. ATMs are available at cruise terminals and in the city. See the

currency converter

Renting a car in Pireaus cruise port is not recommended due to the traffic in Athens, however, if you decide to do so, you can check

rent-a-car deals online

.
Athens International Airport is located about 43 km/27 miles (a 50-minute drive) east of Piraeus cruise port. The port is well connected to Athens International Airport by Metro Blue Line 3 and the ride takes 55 minutes. The ticket costs 9€. If you are taking a taxi, expect to pay around 50€ per ride.
Athens has a Mediterranean climate with hot, dry summers and mild, rainy winters. Athens is hilly and in the summer, it can be really hot in places such as Acropolis. Make sure you wear a hat and sunscreen and keep hydrated. For more useful cruise packing tips, check out my article

What to Pack for a Cruise in 2023 – Top 60 Cruise Essentials
Top 8 Things to Do in Athens Port
Before I share the best things to do in Athens, I invite you to grab your copy of the "Mediterranean Cruise Port Guide", the most comprehensive guide to 45 Mediterranean cruise ports (including Athens, Piraeus), packed with practical information, expert tips & unforgettable experiences! (PDF format/200 pages)

Ultimate Guide to Mediterranean Cruise Ports
Plan your Cruise Itinerary in Less than an Hour and Maximize Your Port
Experience!
1. Ancient Acropolis with Acropolis Museum
For first-time visitors, Acropolis Hill is definitely the top pick! Built on top of the hill dominating the historic heart of Athens, Acropolis ranks among the world's most stunning ancient ruins. The iconic symbol of the entire archeological complex is the Parthenon, the largest temple of the classical antiquity period dating from 438 BC. With its massive Doric columns and monumental sculptures, the Parthenon is dedicated to the goddess Athena, the city's patron.
Acropolis consists of several other ruins worth visiting, including the Temple of Athena Nike, the Odeon of Herodes Atticus (the ancient theater built in AD 161), Propylaea (the entrance to the Acropolis), and the famous Erechtheion complex that features the Porch of the six caryatids, one of the most photographed ruins on Acropolis.
If you are visiting Acropolis, make sure you come early in the morning to avoid crowds and hot weather. The entrance ticket to Acropolis costs 20€ and I highly recommend you book skip-the-line tickets ahead of time to avoid lines and crowds at the entrance. However, by the entrance to the complex, there are instructions on how to book a skip-the-line ticket on-site and the whole process takes 5 minutes, assuming you have internet of course. If you are coming on a shore excursion, the ticket is normally included in the price. Explore Acropolis tours and skip-the-line tickets
Important notes:
Bear in mind that there are stairs to climb to reach the famous Parthenon at the top, and they are quite uneven and can be slippery. Along the way, there is some but not much shade provided by the trees growing around the hill. There is an elevator for disabled people, however, it's often out of service so double check on that before you join the excursion.
The entire area is rocky and uneven, so comfortable shoes are required. Also, if you are visiting during summertime, keep in mind that the weather can be extremely hot so make sure to bring a bottle of water with you.
The toilets and a kiosk where you can buy refreshments are only available at the entrance to the archaeological complex, so make sure to use the facilities before you climb to the ruins.
Acropolis Museum
The visit to Acropolis wouldn't be complete without the Acropolis Museum which contains one of the most valuable collections of ancient Greek art in the world. It is located below Acropolis Hill, around 300 meters from the archeological site, and is flat and walkable so guests with walking difficulties can easily explore it. The Acropolis Museum is also wheelchair accessible.
The museum covers a vast area and the facility itself takes at least a couple of hours to explore. Bright halls, modern architecture, and over 4000 priceless objects, paintings, artifacts, and art from the Acropolis archeological site await you in this fantastic museum. The entrance ticket is 15€ and is bought separately from the Acropolis complex. If you are planning to visit Acropolis and the museum, keep in mind that it will take half of your day.
Check out Acropolis Museum skip-the-line tickets 
2. Temple of Olympian Zeus
Also known as the Olympieion, the Temple of Olympian Zeus was the largest temple in ancient Greece. It was dedicated to "Olympian" Zeus, a name originating from his position as head of the Olympian Gods. The temple is not as preserved as Parthenon, and you cannot get very close to it. The famous site once consisted of 104 massive marble columns, but today only 15 columns remain standing. Despite being only the remains, the ruins definitely give you an idea of how grandiose the site used to be in the past.
The Temple of Olympian Zeus is part of the larger Archaeological Site of Olympieion, which also includes the Temple of the Delphinian Apollo and the Law Court at the Delphinion, the gates of the Themistoclean Wall, public baths, and Hadrian's Arch dating back from AD 131. The Temple of Olympian Zeus is wheelchair accessible. The site is open daily from 8 am to 3 pm, and the admission fee is 8€.
Explore the Temple of Olympian Zeus tours and activities
3. Plaka Neighborhood
For those of you who cannot walk uphill to the Acropolis or simply prefer shopping and taking in the local atmosphere, the Plaka neighborhood located between the Acropolis and Ermou Street is a perfect spot to spend a couple of hours. Plaka is a picturesque historic neighborhood that resembles a Greek island village with its charming mansions with colorful facades, sidewalk cafes, narrow pedestrian streets, small squares, taverns, and authentic shops.
Plaka is flat and easy to walk around, so in case you have difficulty climbing the Acropolis, you can stay and admire the Parthenon from the bottom (it's visible from the foot of the hill). Plaka quarter offers an amazing shopping experience, as the main shopping street in the city – Ermou Street is located close by. In this shopping paradise, you can find all – from authentic handicrafts and souvenir shops to high-end designer stores and internationally recognized brands.
---
Soak up the incredible aromas and vibrant colors of Athens food markets on a leisurely walk with Food Around Athens, our trusted partner! Immerse in the local culture and indulge your taste buds with various Meze dishes and Greek ouzo!
---
Monastiraki subway station is also a stone's throw from the main street, so this is the place where you should get off if coming by metro. The majority of Athens sightseeing tours include some free time, and the Plaka quarter is where the tour guides usually drop you off.
Explore Plaka tours and activities
4. Monastiraki Quarter & the Flea Market
Located right next to the Plaka quarter, the Monastiraki neighborhood is one of the most famous shopping areas in Athens, known for its old flea market where you find everything your heart desires! Look up and you'll be blown away by the beauty of the hilltop Acropolis overlooking the neighborhood and Monastiraki square, a central area near the flea market.
Monastiraki is a more casual district than the neighboring upscale Plaka quarter, and here you will find jewelry, clothing, authentic souvenirs, specialty stores, everyday goods, and a lot of restaurants where you can grab gyros or any other traditional Greek dishes. You will find that prices here are cheaper than in most places in Athens, however, beware of pickpockets as the area is quite crowded and chaotic. Monastiraki Subway station is located at Monastiraki Square, so you should get off here if you want to explore the historic heart of Athens on your own.
Monastiraki's major attractions include:
Tzisdarakis Mosque – An 18th-century Ottoman mosque that dominates Monastiraki Square has been turned into the Museum of Greek Folk Art.
Church of the Pantanassa – A former Greek Orthodox monastery dating from the 10th century, this old Byzantine jewel sits on the Monastiraki Square that got its name after the monastery ("monastiraki" means "little monastery"). The church has a beautiful interior that you can visit, but keep in mind that photos are not allowed.
Hadrian's Library – At a stone's throw from Monastiraki Square, you'll stumble upon the ruins of an ancient Roman library and cultural complex created by the Roman Emperor Hadrian in AD 132.
Roman Agora – From the street, you will be able to see one wall of Hadrian's Library and the ruins of the Roman Agora, an ancient marketplace and public space used for assemblies. The most dominant structure here is the Tower of the Winds, an octagonal ancient clock tower considered the world's first meteorological station. You can admire the site from the exterior, or you can pay 8€ and visit inside (the reduced fare in winter is 4€).
Ancient Agora – The marketplace and the center of everyday life in Ancient Athens, this site is adjacent to the Roman Agora and best accessed from Adrianoú Street. Public speeches, administration, commerce, athletic events, and theater performances… all took place right here! Stoa of Attalos, situated less than 5 minutes walk from the Hadrian's Library and Monastiraki Square, is the most emblematic building that today houses the archeological museum. The Temple of Hephaistos is another striking structure inside the site, built in the 5th century BC. This marble Doric temple is one of the best-preserved ancient Greek temples in Athens. The ticket for the Ancient Agora with the Museum is 10€.
Check out Monastiraki tours and activities
5. Athens City Sightseeing by Hop on Hop off Bus
Athens has so many archeological sites, historic landmarks, museums, and attractions that one day is simply not enough. However, if you are staying for a limited time in Athens and you want to make the most of your visit without joining a guided shore excursion, Hop on Hop off buses give you the flexibility and access to the main city sights in a short time.
Once you book a tour, you'll have access to the audio guide (in several different languages) as well as detailed maps of the city to help you along the way. They cover all major city landmarks as well as the coastline and beaches. The buses are available every 15-30 minutes at their stops and there are a few different companies offering the service. You can board Hop on Hop off bus right at the cruise terminals, or even book a shore excursion if offered by your cruise line.
Some of the stops include the highlights of Athens:
Syntagma Square – The most famous square in Athens facing Ermou Street (the main shopping street) on one side, and the Hellenic Parliament and the Tomb of the Unknown Soldier (The Changing of the Guards every day at 11 am is an interesting sight) on the opposite side.
Benaki Museum – Located near Syntagma Square, this impressive museum houses more than 30.000 artifacts from Greek history from Classical Greece to the Roman domination, medieval and Byzantine periods, and the fall of Constantinople, all the way to the present Greek state.
Museum of Cycladic Art – Only two blocks away from Benaki Museum and 700 m from Syntagma Square, this fascinating museum displays ancient Cycladic sculptures and artifacts (dating 3200-2200 BC), with family-friendly activities and interesting exhibitions. The admission fee is 7€, for kids under 18 and for people with disabilities is free of charge.
Acropolis & Acropolis Museum
National Library

National Archaeological Museum – Housed in a monumental Neoclassical building with over 8.000 square meters of exhibition space, this is the largest archeological museum in Greece and one of the greatest archeological museums in the world. The museum features five permanent collections with over 11.000 exhibits, including the Prehistoric Collection, Sculpture Collection, the Vase and Decorative Objects Collection, Stathatos Collection, and Metallurgy Collection. The admission fee is 12€. The museum is located 20 minutes walk from Syntagma Square.

Panathenaic Stadium – Only 10 minutes walk from the Plaka neighborhood and Acropolis, this stadium was ancient Athens's largest structure that could accommodate 60.000 spectators. Today, visitors can visit a replica of the original stadium which was rebuilt for the first modern Olympic games in 1896. It is a popular spot hosting ceremonial events and live concerts. The entrance fee is 10€ and it also includes the entrance to the museum dedicated to the Olympic Games.
Temple of Olympian Zeus
Insider tip: Cruise lines normally offer Hop on Hop off bus tours as well and for those booking onboard the cruise line just a friendly reminder – If you are docked in the further terminals, the buses will drop you off as well as pick you up at the terminal, which is quite convenient. Also bear in mind that there are several Hop on Hop off companies (red buses, yellow buses, blue buses) and cruise lines work with different ones so double-check the itinerary in case you are booking a cruise-line sponsored shore excursion. Explore Hop on Hop off tours on Viator and Get Your Guide
6. Athens Bike Tour
Although it might not be considered a highlight, Athens bike tours are very popular for those who love active adventures and rank among the bestselling tours in this port of call. If you prefer an action-packed vacation, go for an amazing bike ride through Athens with many stops along the way to hear the stories of the city's wonderful sights such as Hadrian's Arch, Temple of Zeus, Acropolis, and the Parthenon. These tours require comfortable shoes and as a recommendation, lots of water and sunscreen since the city gets really warm in the later mornings.
Explore Athens bike tours and activities
7. Mount Lycabettus
If you want to capture the most breathtaking pictures of Acropolis, the city of Athens and its coastline, head over to the city's highest point – Mt Lycabettus (Lykavittos), a limestone hill rising 886 feet (270 meters) above the Greek capital.
The best way to get there is to take the funicular that runs daily from 9 am to 2:30 am. The base station is on the corner of Aristippou and Ploutarchou streets, and funiculars run every 15 to 30 minutes, depending on the season and time of the day. Each can accommodate up to 34 passengers, and the ticket is 10€ round-trip/7€ one way per person. Get more info on the Mount Lycabettus website
On the cable car top station, you can visit St. George Church (Agios Georgios) and enjoy the view from the terraced restaurant and observation point. For adventurers and those of you in good shape, you can also hike to the top, but in that case, make sure you wear appropriate clothing and bring a lot of water.
Explore Mount Lycabettus tours and activities
8. Ancient Corinth & Canal Cruise
If you have already been to Athens, this day trip might just be the perfect option for you! This tour will take you on a 1-hour drive along the coast highway to the famous Corinth canal which is one of the biggest man-made canals in the world dating from the 19th century. The canal connects the Gulf of Corinth (Ionian Sea) and the Saronic Gulf (Aegean Sea) and separates Peloponnese from the Greek mainland.
Corinth Canal is 76 feet wide and 26 feet deep, which makes it difficult to navigate for large ships. Carved into a massive rock, the canal is today mainly used for recreational activities and as a tourist attraction. Once you come to Corinth, guests normally board a boat in the Greek village of Isthmia for a 45-minute ride through the canal. Make sure you bring a good camera, as the sights of the rising sheer rocks are truly impressive!
This day trip normally includes a visit to the ruins of the town of Corinth, known for one of the oldest Doric temples in Greece – the Temple of Apollo, built around 560 BC. You will visit the Archeological Site with the Archeological Museum of Ancient Corinth, marvel at the ancient buildings, temples, archeological findings, and artifacts, and learn about this important ancient city in Peloponnese.
Both the archeological site and the museum are accessible to people with disabilities. The entrance fee is 8€, free admission for kids under 18 and people with disabilities (and their companions). If you book a guided shore excursion, the tickets are normally included in the price.
Check out Ancient Corinth & Canal Cruise tours from Athens
What to Explore in the City of Piraeus
Archeological Museum of Piraeus – This museum is a true hidden gem of Piraeus and a perfect place to explore if you want to learn about the history of the town which used to be one of the major commercial centers of the Eastern Mediterranean and an important naval base of ancient Athens. Housed in a two-story building, this impressive museum has several different sections including a naval dockyard, pottery, archeological findings from everyday life, the bronze statues of Piraeus, religious life, plastic art of Hellenistic and Roman periods, and more. It takes 1 hour to visit the museum and the entrance fee is 4€. You can walk to the Archeological Museum (a walk from Terminal A takes 20-30 minutes), or you can take a

Hop on Hop off bus

(Piraeus route) that normally stops there.

Hellenic Maritime Museum – Anyone interested in maritime history will love to visit this lovely museum, situated only a 10-minute walk from the Archeological Museum of Piraeus. Founded in the mid-20s, this small museum boasts an attractive location overlooking the Zea Marina and features more than 2500 exhibits and charts dating even from the prehistoric era. Discover the naval and nautical history of Greece and admire a large collection of ship models, artifacts, paintings, and thousands of naval books and charts that were preserved and kept in this museum. The entrance fee is 4€, and it takes a 30-minute walk from Terminal A to reach the museum. 
The Church of Saint Nicholas is one of the most beautiful Greek Orthodox churches in Piraeus and an iconic landmark of the town. This remarkable architectural gem and an important religious site will enchant you with its beauty and is super close to the port itself (a 15-minute walk from Terminal A). The facade of the church, the elegant staircase, as well as the bright blue dome, really stand out from its surroundings, and it's a location worth visiting. Have in mind that this is a religious site and it requires proper attire.
Another religious jewel is Agia Triada Cathedral (Holy Trinity). Situated in the heart of Piraeus, this neo-Byzantine Greek Orthodox Cathedral dates from the 18th century and boasts marvelous architecture from both exterior and interior.
Electric Railways Museum – Located at the main train station of Piraeus, this tiny museum displays an impressive collection of old railway equipment, photos, pamphlets, and authentic conductor costumes. You can also enter an old wooden train carriage to see how the locals used to travel in the past. While you're there, take a glimpse of the railway station's central hall architecture dating from the 1920s – it's truly beautiful and worth taking a picture of!
Taste Local Seafood – Although traditional Greek cuisine is mostly known for its delicious meat specialties (gyros, souvlaki…), the city of Piraeus boasts a wide variety of seafood restaurants where you can taste some of the freshest and tastiest seafood in the world for reasonable prices. You can find numerous restaurants, taverns, and cafes on the city's waterfront where you can taste all sorts of dishes (If you come across a pan-fried fish coated in butter – go for it, as that's one of the local specialties!). For the best harbor views, Mikrolimano Bay and Zea Marina offer spectacular views of luxury yachts, picturesque fishing boats, and old houses lined with the coast.
Piraeus Fun Blue Train – The best way to explore Piraeus highlights is to hop on a local sightseeing train that waits for you at cruise terminals. The trolley trains run daily from 8:30 am until 15:30 pm every 30 minutes and they cost 4€. They stop at the major city attractions including Pasalimani (Zea Marina) – the main marina of the town, Piraeus Municipal Theater, the Archeological Museum, the Maritime Museum, and many others.
Check out Piraeus tours and activities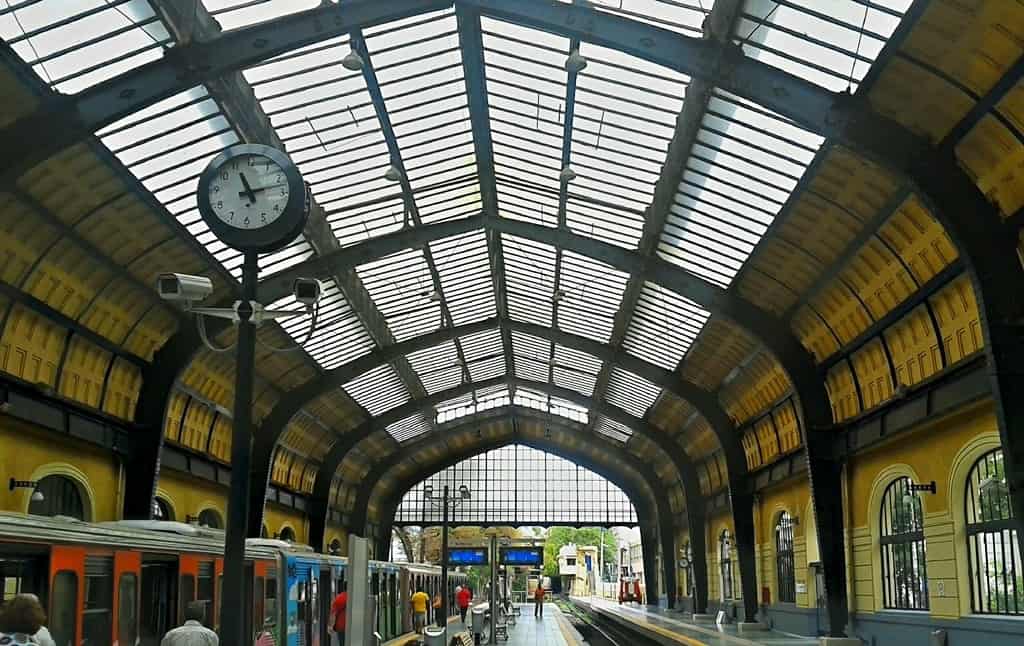 To Wrap Up
If your cruise itinerary includes Athens, I strongly advise you to carefully plan your day to maximize your port experience. As it's impossible to visit all the landmarks, you should make a priority list and select the ones you prefer. I hope my list can help you plan your stay and organize your day in this fascinating port of call. If you are embarking or disembarking in Athens, I definitely think you should consider staying a couple of days more so you can get the most out of the wonderful Greek capital.
Visit also our cruise port guides to Mykonos, Santorini, Istanbul, Kusadasi, Crete (Heraklion), Chania, Kotor, Barcelona, Marseille, Rome (Civitavecchia), La Spezia (Cinque Terre), Villefranche, Rhodes
---
Don't miss out on the opportunity to enhance your Mediterranean cruise experience with our "Mediterranean Cruise Port Guide"- your ultimate companion to discovering the region's hidden treasures and creating unforgettable memories; click below to purchase your copy today and embark on the voyage of a lifetime!

Ultimate Guide to Mediterranean Cruise Ports
Plan your Cruise Itinerary in Less than an Hour and Maximize Your Port
Experience!
---
You May Also Like:
25 Top Shore Excursion Packing List Items
What to Pack for a Cruise in 2023 – Top 60 Cruise Essentials
Mediterranean Cruise Port Guides
This article may contain affiliate / compensated links. For full information, please see my disclaimer here.