Welcome to St Lucia cruise port! (Post updated: October 2023)
The beautiful island of Saint Lucia is located in the West Indies, where the Atlantic Ocean embraces the eastern Caribbean Sea. St Lucia boasts stunning natural treasures, lush vegetation, fabulous beaches, and a bustling capital city attractive to cruise travelers. In this article, read about:
St Lucia cruise port (St Lucia cruise terminal, getting around, helpful tips)
Top 9 things to do in the port of St Lucia and best St Lucia shore excursions
Visit also our cruise guides to Aruba, Curacao, Bonaire, San Juan, Falmouth, Cozumel, Costa Maya, Grand Cayman, Antigua, St Kitts, Labadee, St Maarten, St Thomas, Bermuda, Barbados
St Lucia Cruise Port (Port Castries)
Cruise ships dock at the port of Castries, the charming capital city of St Lucia tucked in the Bay of Castries in the northwest of the island. St Lucia cruise port comprises two main cruise terminals: Pointe Seraphine and La Place Carenage, both located within walking distance from the town center.
Pointe Seraphine cruise terminal is located on the northern side of the bay, around 1.7 km/1 mile from Castries downtown. To get into town, you can either walk for 20 minutes or take a 5-10 minute taxi ride. Pointe Seraphine cruise terminal features a wide range of facilities, such as ATMs, a duty-free shopping complex, tour operator stands, souvenir stores, and a few restaurants and bars offering great food and amazing service. There is a taxi rank in front of the terminal, as well as parking for tour buses.
La Place Carenage cruise terminal is located at the heart of the Castries downtown, in the south of the bay. Historic landmarks, shops, restaurants, parks, and main city attractions including a famous Castries central market are within a short walking distance from the cruise terminal. You will find all the necessary cruise port facilities in the terminal area. A 10-minute walk from La Place Carenage is the Castries ferry terminal, providing daily ferry transport from St Lucia to the islands of Martinique, Dominica, and Guadeloupe.
In case all the berths are reserved and occupied, a cruise ship may anchor in the bay. In that case, passengers are transferred to La Place Carenage cruise terminal via tender boats.
See the St Lucia cruise port map on Google Maps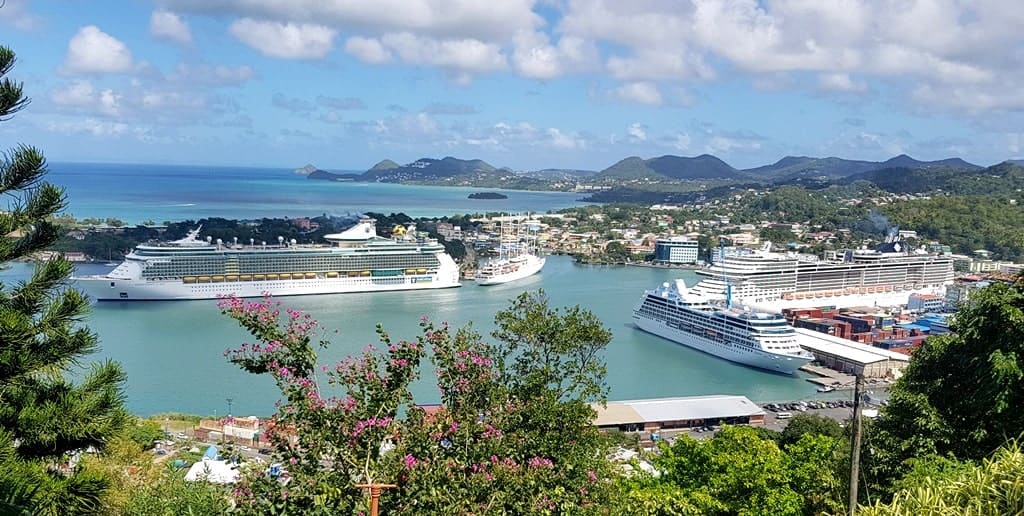 Useful info:
The port area and Castries downtown are flat and suitable for people with walking difficulties/wheelchair users. The town of Castries can be visited in a couple of hours, as the majority of landmarks and attractions are within short walking distance.
The nearest beaches to the St Lucia cruise port are Vigie Beach (a 5-10 minute drive/25-minute walk from both terminals) and Le Toc Beach (a 10-minute drive from La Place Carenage and a 15-minute drive from Pointe Seraphine cruise terminal).
The currency in St Lucia is the Eastern Caribbean dollar (XCD). 1 USD equals 2.69 XCD. US dollars and credit cards are widely accepted, so it is not necessary to change the money. ATMs are available in town.
Taxis are available around the terminal and downtown. The best way to get around the island is by taxi, car, or on a guided shore excursion. Coastal cruises and boat tours are also popular as they allow you to see Pitons, the island's top-rated natural attraction, from the water. Public buses are available, however, they do not run frequently and are not recommended for cruise passengers who stay only one day in port.
The high season in St Lucia lasts from mid-December to mid-April when the weather is warm and dry. The wet, rainy season lasts from June to November and tropical storms are frequent during this period. For helpful packing tips, read my article

What to Pack for a Cruise – Top 60 Cruise Essentials

There are two airports in St Lucia. Hewanorra International Airport is located in the south of the island, around 57 km/36 miles (a 1h 15-min drive) from the port of Castries. George F. L. Charles Airport services destinations within the Caribbean and is located 3 km/2 miles (less than a 10-minute drive) from the St Lucia cruise port.
Top 9 Things to Do in St Lucia Cruise Port
1. Castries
Castries, the island's capital, boasts a rich cultural and historic heritage. You'll find below the major attractions you can visit in the town. All of them are located within a 5-10 minute walk from La Place Carenage cruise terminal, and a 20-minute walk from Pointe Seraphine cruise terminal (except for the Governor-House, which is located a 10-minute drive from St Lucia port).
Cathedral Basilica of the Immaculate Conception – The 19th-century Cathedral Basilica of the Immaculate Conception is the symbol of the town and the largest church in the West Indies. It has an emblematic bell tower and a lavishly decorated interior filled with paintings and picturesque murals.
Derek Walcott Square – The church overlooks a leafy Derek Walcott park and square featuring a bust of Derek Walcott, the St. Lucian poet, playwright, and winner of the Nobel Prize in Literature in 1992.
King George V Gardens – King George V Gardens is a green oasis and a relaxing park featuring the statue of the Marquis de Castries.
Holy Trinity Anglican Church – Overlooking King George V Gardens, the church is another wonderful and peaceful place of worship.
Castries Central Market – Dating from the 19th century, the Central Market is a bustling open-air bazaar packed with stalls selling fruits, vegetables, spices, handmade crafts, arts, and clothes. Here, you can sample local food or taste authentic St Lucian coffee.
Governor-General House (Government House) – The magnificent estate offers unique panoramic views of the Castries harbor and is located a 10-15 minute drive from the port. The house dates from 1895 and is a true gem of Victorian architecture that nowadays serves as the official residence of the Governor-General. Surrounded by verdant gardens and placed in an extraordinary natural setting, the house is also a museum of history offering permanent and temporary exhibitions.
Check out Castries tours and activities 
2. St. Lucia's Historic Estates
Howelton Estate – Built on the historic hill and residential area of Morne Fortune (the Hill of Good Luck), a 10-15 minute drive from the cruise port, Howelton Estate is a gorgeous piece of paradise offering spectacular views of the Castries harbor. Another magnificent example of Victorian architecture, the estate is 122 years old and offers a wide variety of facilities to enjoy. The estate has been home to Caribelle Batik for almost 40 years and houses a batik studio offering batik-making demonstrations.
You can also book a chocolate-making tour and create your own exciting chocolates with different flavors, and learn how organic chocolate bars and coconut oil are made. There is a gift shop where you can buy local arts and handicrafts, as well as a bar where you can get a drink and relax in the lounge area overlooking the harbor.
St. Mark's Colonial House – St. Mark's colonial house is a 150-year-old Colonial house situated only a 10-minute drive from Castries port. Constructed on the steep hill of Morne Fortune, with breathtaking views of the Bay of Castries and the town, this beautiful 2-story white house features antique furniture, artifacts, valuable paintings, and locally hand-crafted artwork. The house is a museum where you can learn about its owners and the history of the island, and enjoy stunning views of Port Castries, Reduit beach, to Pigeon Island. Guests are usually offered refreshments and banana chips, a local delicacy.
Pink Plantation House – Perched above Castries, on Morne Fortune hill, Pink Plantation House is a 140-year-old French colonial mansion spreading over two acres of lush tropical gardens with fascinating views of the Castries port. The former colonial house was transformed into a beautifully decorated rustic house and restaurant boasting delicious cuisine and a relaxation area. There is also a gallery and a gift shop displaying the owner's artwork including hand-painted ceramic and pottery items. You can delight in the local food served on handmade ceramic plates, take a moment to enjoy the tranquility of the gardens, or take some incredible panoramic photos of the island! Pink Plantation House is located within a 10-minute drive from Castries downtown.
3. Gros and Petit Piton
Located in the southwest of St. Lucia, around 45 km/28 miles from the port of Castries, the Pitons are the absolute highlight of the island and a must-see place in St Lucia. The Pitons are a natural wonder that consists of two massive volcanic mountains – Petit Piton (743 m/2.461 ft) and Gros Piton (771 m/2.619 ft), declared a UNESCO World Heritage Site due to their phenomenal beauty and spectacular natural sceneries. The Pitons are part of the Soufriere Volcanic Centre and overlook the town of Soufriere and its bay.
Climbing the Pitons is one of the most exciting things to do on the island, but it's not recommended to go hiking without a tour guide. Petit Piton is quite dangerous and requires previous mountaineering experience, while the Gros Piton hike is safer and requires a moderate level of physical activity. The hike starts at the town of Soufriere and is around 3 km/2 miles long. The trail is rocky and steep in some parts – therefore, you should go with a tour guide as they know the fastest and safest way to get you to the top.
It takes at least a 1 hour 30 min drive to reach the Pitons. In case you don't want to hike, you can visit the Pitons by bus or a minivan in a small group, or by boat. The bus ride might take up to 1 hour 45 minutes, while the boat ride lasts up to 1 hour. Some boats are large (like ferries), with little shade, so make sure you bring sunscreen and a hat.
Cruising along the coast and the Bay of Soufriere will allow you to admire the mountains from the sea, and if you want to go by bus there are several spots in Soufriere town from where you can capture great shots of the Pitons. On your way to the town of Soufriere and the Pitons, you might spot the whales.
Explore Gros Piton tours and activities
4. Diamond Botanical Gardens
Located in the southwestern part of the island, a 15-minute drive from the Pitons and around 40 km/25 miles (a 1 h 30 min drive) from Port Castries, the Diamond Botanical Gardens is another must-see natural treasure. Spreading across six acres, on the outskirts of the town of Soufriere, this extraordinary tourist site boasts the most beautiful flora and fauna on St Lucia island. The gardens are home to the stunning Diamond Falls waterfall, the famous St Lucia waterfall particularly intriguing due to the changing colors of the water.
A few meters downstream, you'll come across the mineral baths whose construction and usage date from the era of the King Louis XVI of France. You can take a dip in the hot mineral springs, take unique photos of the Diamond waterfall, stroll through the gardens, or enjoy a local meal in one of the Soufriere restaurants (the town is located less than 1 km/0.6 miles from the Diamond Botanical Gardens.
Check out Diamond Botanical Gardens' tours and activities
5. Mud Bath at Sulphur Springs
Only a 10-15 minute drive from the Diamond Botanical Gardens and the Pitons, and a 1h 30-minute drive from the cruise port in St Lucia, the mystical Sulphur Springs are another attraction that will blow your mind away! Known also as Soufriere Qualibou Volcano and Soufriere Drive-In Volcano, Sulphur Springs is the world's only drive-in volcano whose last eruption took place in the 1700s and is nowadays considered a dormant volcano.
You can drive up to the edge of the geothermal springs and see the steam coming out of the Earth, caused by the water in the springs whose temperatures reach up to 340 Fahrenheit (170 Celsius). The water and soil are blackened due to the chemical reactions between sulfur, iron, copper, and other minerals and metals, and there are many hot pools and fumaroles all around – a truly impressive sight to see!
Within a short distance downstream from the hot sulfur springs, you can enjoy the geothermal mud baths, a popular tourist attraction. The water in the mud baths reaches 110 Fahrenheit (45 Celsius) and has therapeutic properties – it detoxifies the body and helps heal sunburns, eczema, and more. During the high season, you may encounter crowds as the baths are visited by both tourists and locals.
Check out Sulphur Springs tours and activities
6. Pigeon Island National Park
After an approximately 25-minute drive (14 km/9 miles) toward the northwest of St. Lucia, you'll come to Pigeon Island, a 44-acre islet and nature reserve connected to the mainland by a sandy, man-made causeway added in 1972. If you want to simultaneously enjoy the beautiful nature and learn about the history of St Lucia, this place is a must-see!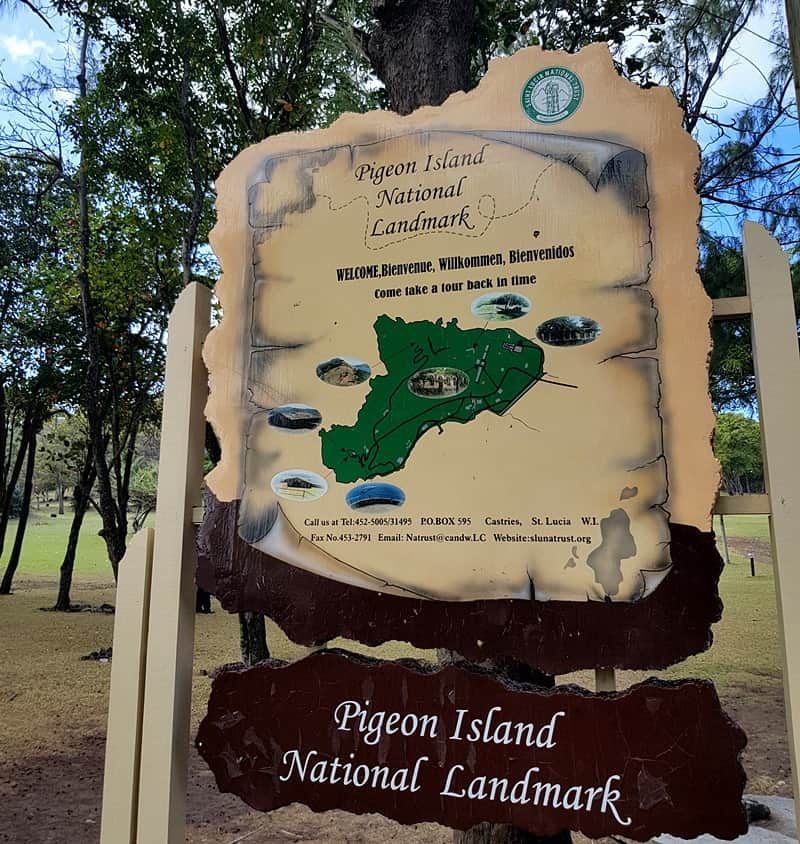 Throughout history, the place was occupied by the Amerindians, pirates, French and British, mainly due to its favorable strategic position. In the second half of the 18th century, British Admiral George Rodney conquered the island and built Fort Rodney on Signal Hill, the highest peak of the island, from where he could keep an eye on the French naval base of Fort Royal on Martinique. On top of the hill there are the military ruins and cannons open for visitors, and to get there, you need to take a 15-20-minute hike slightly uphill. It's totally worth the effort (moderate activity level), as from the hilltop you can admire the exceptional views of the northwest coast of St Lucia and Rodney Bay.
Once you get down to the bay, you can sunbathe at two wonderful beaches of Rodney Bay, visit the Interpretation Center and learn about the history of the island, stroll through the nature reserve, or grab a bite in one of the neighboring local restaurants. There is an admission fee to enter the Pigeon Island Nature Reserve.
Explore Pigeon Island tours and activities
7. Snorkel at Anse Chastanet
The island of St Lucia boasts rich marine wildlife and offers an amazing snorkeling experience. The best place to snorkel is Anse Chastanet, located within a short drive from the town of Soufriere and the Pitons, and around a 1h 30 minutes drive from the St Lucia port. Anse Chastanet is part of the Marine Reserve and you can explore the beautiful, shallow reef directly from the shore.
The beach is small, sandy and scenic, and the resort offers fascinating views of the Pitons and the volcanic mountains. The coral reef is home to a wide variety of tropical fish, while the ocean bottom houses sponges and gorgonian forests.
You can visit the place by boat (most of the snorkeling tours stop here), by car/on a land tour. There is also a nice beach restaurant where you can delight in the local St Lucian specialties while taking in the views of the Pitons.
There are several other spots popular for snorkeling: Anse Mamin, located near Anse Chastanet, a gorgeous quiet beach offering amazing snorkeling; Anse Cochon Bay and beach, situated further up on the northwest coast; Anse La Raye (the Bay of Rays, a rustic fishing village), Marigot Bay, and others. All these places lie along the west coast of St Lucia and are known for the fringing reefs and abundant sea life. For more experienced and daring ones, St Lucia scuba dive is an alternative option.
Explore St Lucia snorkeling and scuba diving tours
8. St Lucia Beaches
If you decide to spend a relaxing beach day on this amazing island, St Lucia beaches are absolutely breathtaking. Below is the list of the most famous ones:
Vigie Beach – Situated within a 20-minute walk or a 5-minute drive from the Castries port, Vigie Beach ranks among the most visited and popular beaches for cruisers. Its long, sandy stretch of beach, turquoise waters, a lot of natural shade, and a variety of beach facilities make it attractive for visitors of all ages. It can be crowded when several ships are in port, but despite that, it's beautiful and totally worth visiting. It is the closest beach to the cruise port.
Reduit Beach – Located a 20-minute drive north of Castries, Reduit Beach is a lively stretch of sandy beach tucked in the southern part of Rodney Bay. Its blue azure waters, enjoyable atmosphere, a lot of watersports options, and a large number of facilities guarantee a fun-filled beach experience for all visitors. Nearby, toward Pigeon Island, there is a Pigeon Island public beach, another beautiful spot you can check out.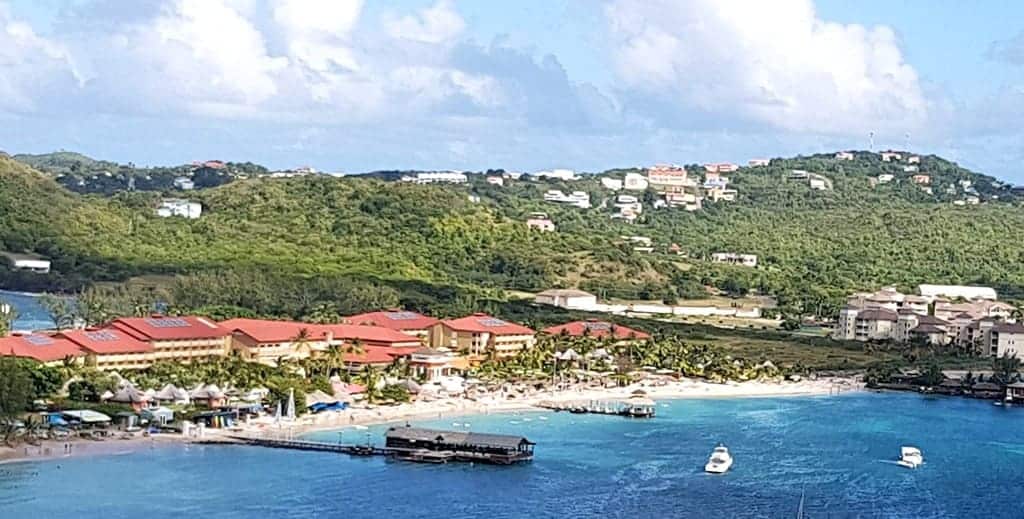 La Toc beach – Nestled south of the Castries, within a 10-15 minute drive from St Lucia port, La Toc public beach is a beautiful sandy beach offering all necessary facilities for a memorable beach day in St Lucia. You can access the beach through the Sandals Resort and although located near the town, La Toc Beach is not that busy.
Anse Chastanet – Besides being an amazing snorkeling spot, Anse Chastanet is also a popular beach and a perfect escape from the hustle and bustle of the towns. It is located near the town of Soufriere, consists of several upscale resorts, and is connected to Anse Mamin via a walking trail.
Anse Mamin is another secluded sandy beach located up north. It's an ideal place for a family picnic, as it's less crowded than other beaches.
Marigot Bay – Situated on the western coast of St Lucia, a 30-minute drive from Castries cruise port, Marigot Bay is a magnificent natural harbor with deep, crystal clear water and several beautiful, sugar-white beaches. Surrounded by densely forested hills from three sides, Marigot Bay boasts

luxurious hotels, beach resorts

, sophisticated restaurants, and a multitude of picturesque yachts, catamarans, and boats moored in its marina. The bay served as a setting for several Hollywood movies and has become popular worldwide. The bay also had an important role in the history of St Lucia, as it served as a battleground between French and British navies.
Grande Anse – Located around a 40-minute drive from the port of Castries, Grande Anse is a charming, secluded beach located on the eastern coast of Saint Lucia. If you search for lush nature, mountainous sceneries, peace and quiet, Grande Anse is a perfect spot. People come here to see the turtles, as the beach is a popular leatherback sea turtle nesting ground and turtles often come out of the water.
Jalousie (Sugar) Beach – If you seek the best views of the Pitons while swimming in the St Lucian crystal clear waters, Jalousie Beach (also known as Sugar Beach) is the top choice! Tucked in Pitons Bay, between Petit Piton and Gros Piton, the beach offers powdery, white sands, a great snorkeling experience (it is part of St Lucia Snorkel Marine Reserve) and features several resorts and restaurants backed by the stunning volcanic and mountainous landscapes. It takes a 1 hour 30-minute drive to get to Jalousie Beach from Port Castries.
Explore St Lucia beach tours and activities
9. St Lucia Adventure Parks
If you look for an adrenaline rush and a one-of-a-kind St Lucian experience, head over to one of the two top-rated adventure parks on the island: Treetop Adventure Park, located around a 1-hour drive from the cruise port, or Morne Coubaril Historical Adventure Park, situated near the Pitons and Sulphur Springs, a 1 h 30-minute drive from Castries.
Explore the island's rainforests via aerial tram and zipline and hike through the lush tropical forests. Zipline over the historic estate and banana plantations with breathtaking views of the Pitons and Sulphur Springs, or take a horseback ride into the volcano! 
Check out Adventure Park tours and activities
---
You May Also Like:
25 Top Shore Excursion Packing List Items
Snorkel Gear and Scuba Diving Equipment – Tips by a Pro!
This article may contain affiliate / compensated links. For full information, please see my disclaimer here.