Welcome to Barbados cruise port guide!
Barbados is a small island country in the Lesser Antilles of the West Indies – only 34 km/21 miles long and up to 23 km/14 miles wide – which makes it a perfect cruise destination as most of the highlights are within a short driving distance from the pier. With its capital Bridgetown nestled along the southwest coast of the island, Barbados is one of the best-developed Caribbean islands boasting refined elegance and rich British cultural and historical heritage combined with the colorful West Indian vibe.
In this article, I share with you:
Barbados cruise port info (Barbados cruise terminal, getting around the port)
Top 10 things to do in Barbados port and best Barbados shore excursions
Visit also our cruise guides to Curacao, Bonaire, Cozumel, Costa Maya, Grand Cayman, Perfect Day at CocoCay, Labadee, St Maarten, Bermuda, St Lucia, San Juan, St Kitts, Antigua
Barbados Cruise Port
Barbados cruise terminal is also known as Deep Water Harbour and is located approximately 1 mile from the Bridgetown city center (within a 10-15 minute walking distance). It consists of 4 quays that can accommodate up to 6 cruise vessels at a time. Depending on the assigned berthing location, the port and cruise line may arrange a complimentary shuttle service to the main terminal building.
Inside the terminal building, you will find souvenir and duty-free shops, a tourist information center, a post office, a designated wi-fi area, car rental services, tour operator booths, and restrooms. Tour buses, a taxi station, rent a car service and a small craft market are also available outside the terminal. Taxi fares are officially displayed, however, always confirm the price in advance to avoid inconvenience.
See Barbados cruise port on Google maps
Useful info:
The official currency in Barbados is the Barbados dollar (BBD) and the exchange rate is approximately 1 USD to 2 BBD. US currency is widely accepted across the island, and most stores and restaurants accept major credit cards too. I strongly suggest having small notes for your souvenir shopping, as cruise lines do not offer exchange services for this currency onboard the ship. See the

currency converter

The port area and the city center are flat and suitable for people with walking difficulties/wheelchair users.
Bridgetown city center is located within 10-15 minutes walking distance from the port. There is a waterfront boardwalk that stretches between Port Barbados Main Gate and the historic city center along Princess Alice Highway. The walk is pleasant and scenic. For those who prefer not to walk, there is a convenient shuttle service from the terminal building to downtown for around $1 per person. A taxi from the port to the city center costs approx. $5 per vehicle one way.
The Barbados Transportation Board operates the public buses across the island and the standard fare is 3.50 BBD per person payable only in local currency. You can check bus schedules at www.transportboard.com

.

Even though this is the cheapest way to get around, this may not be the most convenient due to the ship's limited time in port.
Taxis are probably the best way to explore the island, however, they are not metered. I strongly suggest you visit the tourist information office and get guidance about official fares before hiring the taxi, so you know what to expect and always agree on the price in advance with the driver. Check out the taxi prices on

Barbados.org

.
Rent-a-car is another convenient option, especially if you travel with a group.

Check out Barbados rent-a-car deals and prices

Barbados has warm tropical weather with pleasant temperatures all year round. The dry season lasts from mid-December to mid-April and this is the best time to visit the island. The rainy season lasts from July to November and tropical storms may occur during that period. To get helpful packing tips, check out my article

What to Pack for a Cruise – Top 50 Cruise Essentials

Barbados International Airport (Grantley Adams Airport) is located 17 km/10.5 miles from the port of Barbados. The taxi ride takes 25 minutes and costs $23 per vehicle one way.
Top 10 Things to Do in Barbados Cruise Port
If you are visiting this beautiful island for the first time, I strongly suggest you start your day by taking a guided tour which will allow you to learn the rich history and see the main highlights of Barbados. Normally these tours last 3-4 hours so you will have plenty of time to head to one of the stunning beaches or stroll around downtown.
Before I share with you the top 10 things to do in Barbados port, I invite you to sign up below and get my exclusive, insider SHORE EXCURSION GUIDE for FREE!
1. Bridgetown
If you decide to stay in Bridgetown or you have a couple of hours to visit the city, don't miss out to visit these Bridgetown attractions and landmarks:
Parliament Buildings – Housed in the 19th-century neo-Gothic buildings, Barbados Parliament is the third oldest Parliament in the Commonwealth and one of the city's main landmarks due to its stunning architecture and historical importance. The Barbados Museum of Parliament and the Barbados National Heroes Gallery are housed in the West Wing of the buildings and it's possible to tour the Museum on a guided interactive tour. The tour takes 45 minutes and the entrance ticket is $5 (or BBD 10).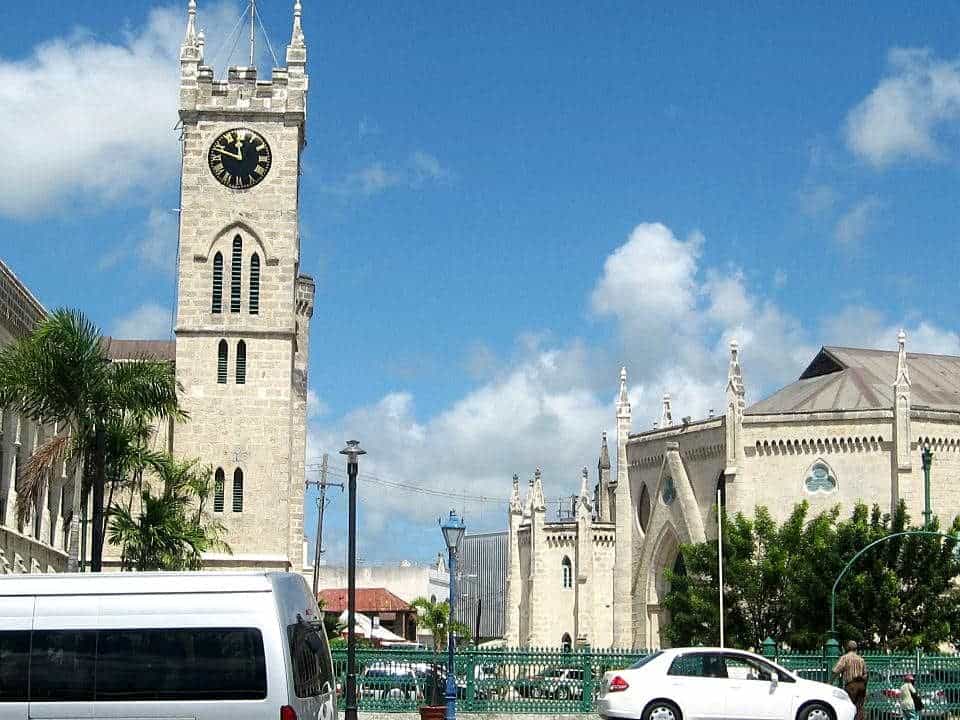 National Heroes Square and the Lord Nelson's Statue – Right across the Parliament Buildings, you'll spot two important monuments – a memorial to the Barbadians that were killed during the two World Wars is placed in the center of The National Heroes Square, and an imposing bronze statue of Admiral Lord Horatio Nelson, dating from 1813.
Nidhe Israel Synagogue and Museum – Only 350 meters north of the Parliament Buildings, you'll come across one of the oldest synagogues in the Western Hemisphere dating from the 17th century. The Synagogue features beautiful grounds, a cemetery, and an interactive museum. The entrance to the Synagogue is free. To enter the Museum, adults need to pay $12.50 (or BBD 25), and for children is $6 (BBD 12).
St. Michael's Cathedral – Only 200 meters from the Parliament Buildings you can visit this magnificent cathedral built in 1789 to replace the original church dating from 1165 destroyed by a hurricane. The church is made of coral stone and boasts the best and largest pipe organ in the Caribbean.
Broad Street – This street runs in the heart of the historic town and separates the Parliament Building and the National Heroes Square. It is known for great duty-free shopping (Diamonds International, Little Switzerland, The Royal Shop Barbados, the department stores…) and a variety of bars and eateries.
Independence Square – Opposite the Parliament Buildings and the National Heroes Square, you'll see a pedestrian Chamberlain Bridge and a picturesque Independence Arch, a popular photo op marking the entrance to the Independence Square. The square offers unique views of the surrounding yachts and recreational boats docked along the Constitution River and the Parliament on the opposite side of the river.
Carlisle Bay beaches – Only 350 meters south of Independence Arch, visitors can enjoy Carlisle Bay and its 2-mile-long beach. There are numerous beach clubs, bars, restaurants, and shops in this area centered around Bay Street which runs parallel to the beach. It takes 30 minutes' walk to get to the Carlisle Bay beaches from the cruise terminal.
Brandon's Beach – The closest beach to the cruise port, only 20 minutes walking distance north of the cruise terminal. Calm waters and soft white sand make this gorgeous beach the perfect stop for swimming and sunbathing. Beach chairs and umbrellas are available for rental. There is also a convenient beachfront restaurant where you grab a drink or something to eat.
Barbados Garrison – The largest in the British Colonies during the 18th and 19th centuries, the Barbados Garrison offers a great experience for all history buffs. Now home to the Barbados Defence Force, the garrison is a UNESCO World Heritage Site and is located 2.5 km (1.5 mi) south of Bridgetown downtown (a 5-minute drive). You can tour St. Ann's Fort, George Washington House, the Barbados National Armoury, and Savannah park within the complex.
Check out Bridgetown tours and activities
2. Harrison's Cave
Discover one of Barbados' most breathtaking natural wonders! According to historical documents, the cave was first mentioned in 1795 and was re-discovered by Jack Peeples in the early 1970s. Opened to the public in 1981, it is one of the most visited attractions in Barbados. These magnificent underground caves boast several galleries full of stalactites hanging from the ceilings, stalagmites emerging from the ground, cascading waterfalls, and natural passages.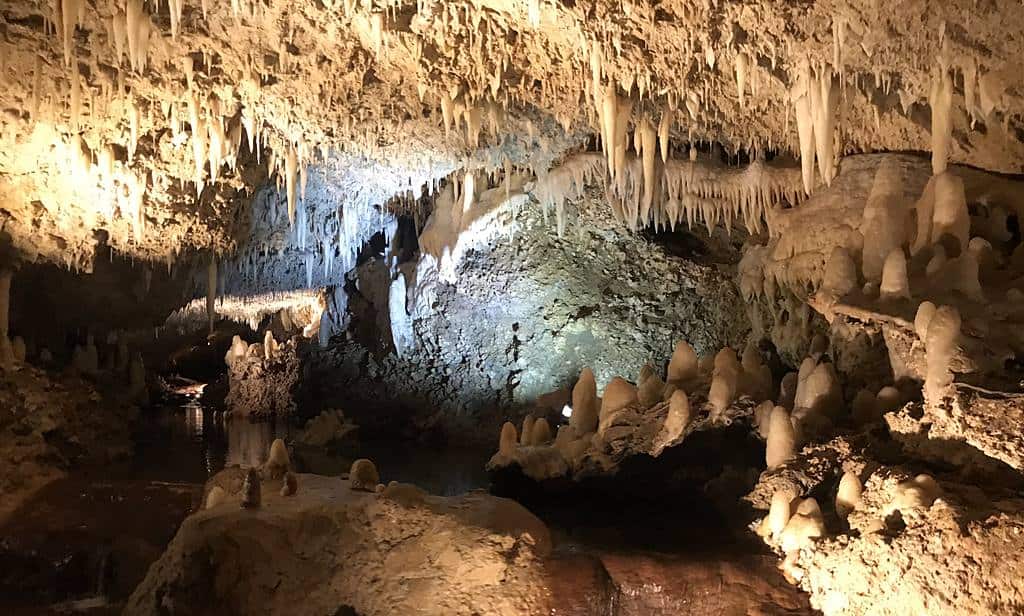 Visitors will watch an educational film before embarking on an electric tram for a one-mile journey through the caves alongside a knowledgeable guide. If you are more adventurous, you can book the Eco Adventure Tour and trek along natural trails before descending to explore the cave passages on foot or crawl to admire fascinating hidden formations.
It is recommended to book your tickets in advance, especially when cruise ships are in port because it sells out quickly. The Harrison's Cave areas are mostly flat and there is a lift available on site as well. The tram is equipped with a ramp to accommodate wheelchair users.
Harrison's Cave is located in the parish of St Thomas approximately a 25-minute drive from Bridgetown (14 km/ 8.7 miles). A taxi from the port costs $23 per vehicle one way. If you want to go by bus, take bus 4 at Princess Alice Bus Terminal (located a 10-15 minute walk from the cruise terminal) in the direction to Shorey Village, and get off at Holy Innocents bus stop. From that bus stop, you still need to walk around 15 minutes to reach the caves. The trip by bus takes around 40 minutes and the cost is BBD 3.50 ($1.75). Remember that public buses only accept local currency.
Check out Harisson's Cave tours and activities
3. Carlisle Bay
Barbados beaches boast the finest white sand and the most fascinating turquoise water in the world. Its 80 beaches are divided into calm seas (to the west) and rough seas (to the east), ideal for diving between rocks, windsurfing, or surfing depending on the one you choose.
Carlisle Bay is a small natural harbor and marine park located on the west coast, only one mile from Bridgetown. Here, you'll find three popular public beaches: Browne's Beach, Bayshore Beach, Pebbles Beach, and the famous Boatyard Beach club. All these beaches offer beach amenities and many restaurants along the breathtaking bay. If you are into snorkeling or diving, Carlisle Bay boasts a beautiful coral reef, home to abundant tropical marine life and numerous wrecks, including Berwyn, Eilon, C-Trek, and Fox, the most popular ones.
There is no entrance fee to the public beaches, however, the Boatyard Beach Club charges $25 per adult which includes the use of onsite amenities, one free welcome drink, and transport back to the cruise terminal.
Carlisle Bay is a 5-minute drive from the cruise port and a taxi costs around $5 per person one way. You can also reach the bay on foot and the scenic walk takes approximately 30 minutes.
Check out Carlisle Bay tours and activities
4. Andromeda Botanic Gardens
Renowned for its rich collection and picturesque location on a hill overlooking the Atlantic, Andromeda Botanic Gardens covers six acres featuring over 500 distinct species of plants. It is an excellent place for bird-watching and undoubtedly one of the must-see tourist attractions in Barbados!
Whether you choose a guided or self-guided tour, you will be provided with a brochure to help you identify the name of each species and get extensive information on the garden's history and interesting facts. The entrance fee is BBD 30 ($15) per adult and free of charge for children accompanied by a paying adult. Andromeda Gardens are partially wheelchair accessible.
Andromeda Gardens is located in the village of Bathsheba, in the Parish of St Joseph, approximately 21 km/13 miles from Bridgetown cruise port. A taxi from the cruise port will take about 30 minutes and costs around $30 one way. You can also take bus 6 to Bathsheba from Fairchild Street Bus Terminal located in Barbados downtown. Get off at the Andromeda Gardens bus stop. The journey takes approximately 50 minutes and the ticket costs BBD 3.50 per person one way. Bus 6 departs every hour.
Explore Andromeda Botanic Gardens tours and activities
5. St Nicholas Abbey
Constructed in 1658, this renowned place was once the heart of a giant sugar cane plantation and a small refinery. Today, it is one of only three known buildings featuring the Jacobin architectural style in the Western Hemisphere. The pretty gardens are well-tended and encompass the rustic ruins of the farm buildings and the old windmill.
The ground floor displays a fine collection of furniture, many made of mahogany and cane. Some of the pieces have been in the house since 1810. At the end of the tour, the owners share a family vacation movie from the 1930s that shows a sea voyage to Barbados from England, and what life was like on the old plantation.
Take a journey through the plantation grounds on the steam train tour and learn the history of St Nicholas Abbey along with a knowledgeable guide, tour the Great House and pass through the Mahogany woodlands all the way to Cherry Tree Hill viewpoint to get spectacular views of the coast. Visitors can also visit the plantation gift shop to taste and purchase their very own St Nicholas Abbey rum.
The entrance fee ranges from $40-$60 for adults and $15 for children under 12 years old. Mondays and Tuesdays are closed to the public. Visit the official St Nicholas Abbey webpage for more information. St Nicholas Abbey Heritage Railway is fully wheelchair accessible.
The plantation is located in the northern parish of St. Peter, approximately 27 km/16.5 miles northeast of Bridgetown port. The taxi ride from the cruise port is the easiest and quickest way to get to St. Nicholas Abbey. The trip takes around 30-35 minutes and the cost is around $30 (BBD 60) one way. You can also take the bus 1A at Princess Alice Bus Terminal in Barbados downtown (10 minutes walk from the cruise port) to Date Tree Hill, and get off at the Diamond Corner bus stop. From there, you still need to walk 20 minutes to reach St Nicholas Abbey.
Check out St. Nicholas Abbey tours and activities
6. Sunbury Plantation
Richly decorated with 17th-century Victorian antiques, Sunbury Plantation Great House is one of the most popular museums on the island and one of Barbados' most famous tourist attractions. The first mahogany and teak trees were planted here on the island in 1799, and many are still standing.
In addition to the collection of antique furniture, some of which was handmade from mahogany, the guided tours cover all aspects of domestic life on a plantation. The farm also has a collection of horse carriages. After the visit, guests can enjoy a Caribbean buffet at the on-site restaurant and stroll through the beautiful gardens.
Sunbury plantation is located in the Parish of St Phillip, approximately 18 km/11 miles from Bridgetown. A taxi ride takes around 30 minutes and you should expect to pay $25 – $30 each way. Alternatively, you can take bus 10 from Fairchild Street Terminal to Marchfield stop and walk 10 minutes to the Plantation. Entrance fee prices for an adult are BBD 25 ($12.50) and BBD 12.50 ($6.25) for children 5 to 12 years old.
Check out Sunbury Plantation tours and activities
7. Folkestone Marine Park and Museum
This artificial reef was formed in 1976 by the sinking of the SS Stavronikita, a 365 feet Greek freighter, located about half a kilometer from Barbados' west shore. The wreck is now resting upright in 120 feet of water with the corals growing on its masts and the fish swimming through its hull. This place is a paradise for snorkelers and experienced divers, and if you prefer not to get completely wet – kayaking might be a great alternative! Visitors will also find a reef interpretation center and marine life museum.
Cruise lines offer a wide variety of snorkeling and diving tour options. If you would rather stay on the dry side, you can still admire the beautiful marine life through the glass window onboard the Atlantis submarine.
Folkestone Marine Park is located in Holetown, approximately 12 km/7.5 miles or a 20-minute drive north of the cruise port. The taxi ride costs $17 each way. If you go by bus, take bus 1B from Princess Alice Bus Terminal and get off at First Street, Holetown. From there, you need to walk around 10 minutes to reach the marine park.
Check out Barbados' snorkeling and diving tours
8. Crane Beach
Bathed by the Caribbean Sea and the Atlantic Ocean, boasting light pink sands and crystal clear turquoise waters, Crane Beach is one of the most visited beaches that ranks among the 10 best beaches in the world. Its rugged cliffs, rolling dunes, and the color of its sand make it one of the most scenic beaches in Barbados.
Beach chairs and umbrellas are available for rental, as well as some water sports activities. Access to the beach is free, however, you can book the Crane Resort day pass redeemable at their bar and restaurants. A day pass allows you to use the elevator and the stairs that lead down onto the main beach.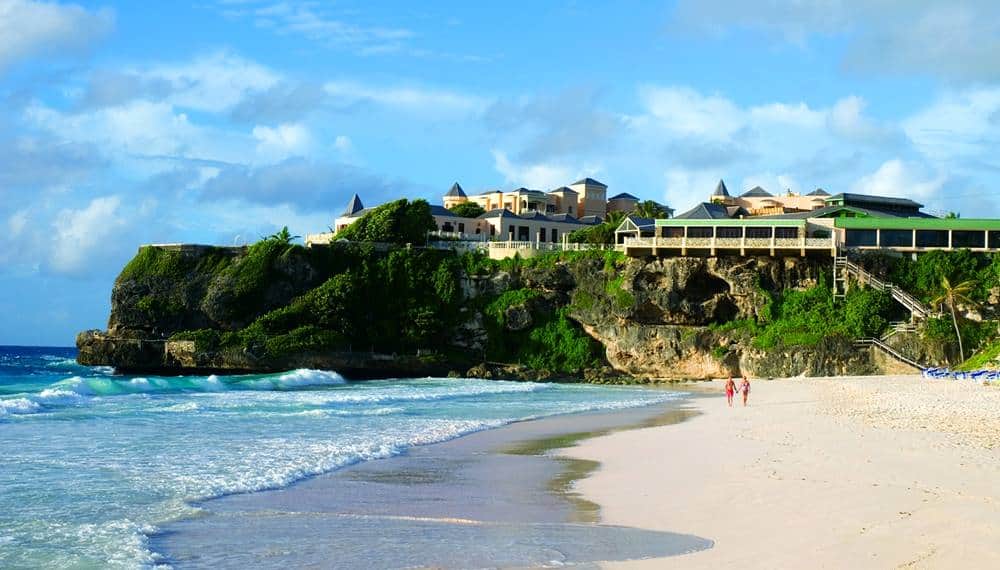 Crane beach is located on the southeast of the island, approximately 23 km/14 miles from Barbados cruise port. The ride takes about 35 minutes and a taxi from the cruise port costs approximately $27 each way. You can also take a bus 12D from Fairchild Street Terminal (Barbados downtown) to Crane (Collington Drive).
Insider tip: Due to the location of the beach, the currents are strong and the beach is not advisable for families with small kids and non-swimmers.
Check out Crane beach tours and activities
9. Bathsheba Beach & Village
Bathsheba is a small fishing village located on the east coast of Barbados in the parish of Saint Joseph, approximately 20 km/12.5 miles from the Barbados cruise terminal. The village is a true hidden gem boasting several quaint chapels and churches, including St. Aidan's Anglican Church, the most iconic one.
In the village, you can see the everyday life of local Bajans (another name for Barbadians) and enjoy local rum shops and restaurants along the scenic coast. Andromeda Botanic Gardens are located only a 5-minute drive from the village.
Bathsheba is also famous for its dramatic rock formations, rugged and scenic Bathsheba beach, and the Soup Bowl beach, known as one of the best surfing locations in Barbados. You can either go surfing, cool off in the shallow inshore pools carved out of the inshore coral reef, sunbathe on a sandy beach, or relax at beautiful Bathsheba Park.
Bathsheba is located around 30 minutes drive from the Barbados cruise terminal. A taxi from the cruise port will take around 35 minutes and costs $29 one way. You can take bus 6 from Fairchild Street Terminal located in Barbados downtown, and get off at Bathsheba.
Check out Bathsheba tours and activities
10. Rockley Beach
Another beach in Barbados that is worth visiting is Accra Beach, also known as Rockley Beach, located in the southern part of the island in the parish of Christ Church. It is a beautiful beach with crystal clear aquamarine waters, a great place for swimming, and one of the best beaches for families traveling with small kids. The beach offers amenities (2 beach chairs and an umbrella for around $15) and watersport rentals, and you'll find numerous eateries, cocktail bars, and beach resorts along its coast.
The distance between Bridgetown port and Rockley beach is around 6.5 km/4 miles and a taxi costs around $15 one way. The ride takes approximately 15 minutes. You can also take the bus 12A at Fairchild Street Terminal (Barbados downtown) and get off at the Chefette Rockley bus stop that is located right in front of the beach.
Check out Rockley beach tours and activities
To Wrap Up
If you are taking a cruise to Barbados, make sure you plan your day accordingly to your ship's time in port. Barbados has so much to offer and it's easy to get around on your own, however, if you want to learn about its rich cultural and historic heritage, booking a guided tour is the way to go.
Visit also our cruise guides to Curacao, Bonaire, Cozumel, Costa Maya, Grand Cayman, Perfect Day at CocoCay, Labadee, St Maarten, Bermuda, St Lucia, San Juan, St Kitts, Antigua
---
You May Also Like:
25 Top Shore Excursion Packing List Items
What to Pack for a Cruise – Top 50 Cruise Essentials
Snorkel Gear and Scuba Diving Equipment – Tips by a Pro!
Don't forget to subscribe below and get my exclusive SHORE EXCURSION GUIDE FOR FREE!