Welcome to the port of Lisbon!
Located in the western part of the Iberian Peninsula, nestled along the Atlantic coast and Tagus River, the bustling capital of Portugal is considered to be among the most beautiful European capitals. Lisbon is a city full of contrasts: it is known for its delicious food and Portuguese wine, world-famous "pasteis de nata", Fado rhythms, old city quarters, its riverbank, breathtaking monuments, and spectacular viewpoints.
Lisbon boasts a mild Mediterranean climate (the warmest winters in Europe and hot summers) and is perfect to visit anytime during the year. The sail-in is absolutely mind-blowing so make sure you come out on outer decks when your ships sails into the harbour.
I had the opportunity to visit Portugal's capital many times on a cruise ship where I've worked as a shore excursions staff and in this article, I want to share with you:
Lisbon port info (cruise terminals, getting around the port)
Top 10 things to do in the port of Lisbon (top attractions, the best shore excursions)
Visit our cruise port guides for Alicante, Bilbao, Vigo, Barcelona, La Coruna, Cartagena, Malaga, Cadiz, Gibraltar
Port of Lisbon
Lisbon cruise port (Port of Lisbon – Porto de Lisboa) is located in the heart of the historic city, within a short walking distance from the main city attractions.
It consists of three cruise terminals: (New) Lisbon Cruise Terminal, Santa Apolónia Cruise Terminal, and Gare Marítima da Rocha Conde de Óbidos.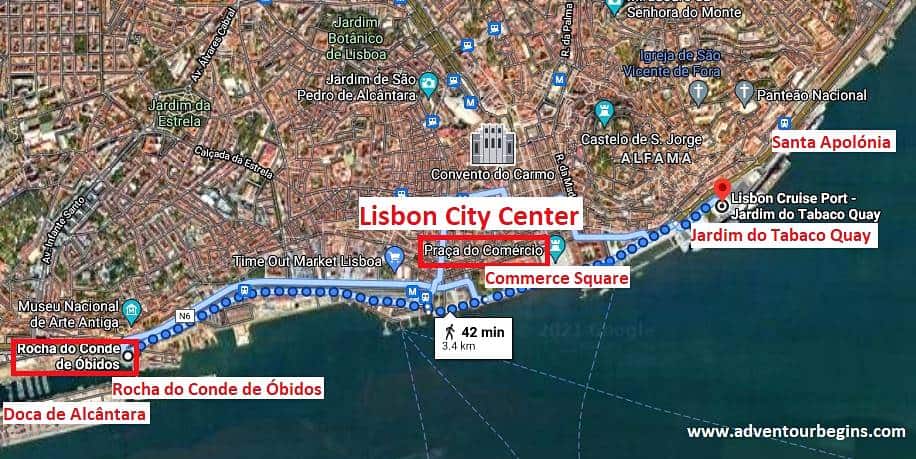 (New) Lisbon Cruise Terminal
Large cruise liners normally dock at the New Lisbon Cruise Terminal (also referred to only as "new terminal") inaugurated in 2017. The terminal overlooks the historic Alfama district and is located only 15-20 minutes walking distance from Commerce Square, the main square in Lisbon. This new cruise terminal integrates the new modern terminal building and the Santa Apolónia Cruise Terminal.
This cruise terminal officially consists of two quays – Jardim do Tabaco Quay located 950 meters (0.6 mi) from the main Commerce Square (Praça do Comércio), and Santa Apolónia Quay, situated a bit further, around 1.4 km (0.8 mi) from the city center.
The pier is 1.490 meters long (0.9 mi) and with its deepwater berths, it can accommodate several cruise vessels of various sizes, including the world's largest passenger ships.
The terminal features a large, 3-story modern building offering all kinds of amenities for cruise passengers, including a tourist information center, duty-free and souvenir shops, cafeterias, luggage storage area, (VIP) lounges, free wi-fi, latest security technologies, ATMs/exchange office, wheelchair assistance, tour booths/car rentals, a large taxi rank, parking, toilets, a panoramic view terrace, and a lot more.
Shore Excursion Tip: Cruise passengers with shore excursions booked with the cruise line will normally meet at the designated guest areas onboard and will be escorted outside to the tour buses. The pier is very long and the terminal building is usually crowded, which might create confusion so it's important to always stick with your group upon exiting the ship.
Some shore excursions with afternoon departure times and those booked with independent tour operators will normally meet their tour guides directly outside the terminal building. Make sure you ALWAYS follow the instruction on your tour ticket (tour meeting time and place).
Wheelchair users and guests with walking difficulties joining the tours are normally escorted earlier as it takes at least 10-15 minutes to leave the terminal building.
Even if you are not joining one of the tours and you have mobility issues – bear in mind that the pier is very long and takes time to get out!
Santa Apolónia Cruis

e Terminal
This cruise terminal is integrated with the New Lisbon Cruise Terminal, and complementary to the main terminal building.
Rocha do Conde de Óbidos Cruise Terminal
Rocha do Conde de Óbidos is located near the famous Ponte 25 de Abril bridge, approximately 3.5 km (2.2 mi) from the New Lisbon Cruise Terminal and 2.5 km (1.5 mi) from Commerce Square, Lisbon's central square.
There is 483 meters long quay featuring two berths, Rocha Conde de Óbidos and Doca de Alcântara (Doca do Espanhol) that can accommodate up to two smaller vessels simultaneously.
This terminal is normally used during the busy season when the New Lisbon cruise terminal is too crowded.
Public toilets, a tourist information center, parking, and taxis are available at this terminal.
Check the cruise schedule on Lisbon port official webpage https://www.portodelisboa.pt/
Local Transportation
Lisbon is a big city and is definitely best explored on foot, however, some parts of the city are hilly and some famous districts such as Belem are located a few miles away from the cruise port, so public transportation can come in handy.
Lisbon boasts well developed public transportation network (bus, tram, metro).
Tram
Besides being an efficient way to get around the city, Lisbon trams are also a famous tourist attraction due to their historic, authentic look.
A modern tram #15 connects Commerce Square and Belém district, and you can catch this tram at Commerce Square, located 10 minutes walk from the New Cruise Terminal.
Tram #28 is a unique wooden tram that connects the major historic districts in the heart of Lisbon: the bohemian Bairro Alto neighborhood, Graça, Mouraria, Alfama, Baixa, Chiado, and Madragoa districts. You can catch this tram across the street from the New Cruise Terminal, near Commerce Square ((Rua da Conceição) and the Fado Museum.
Check out the routes and timetables on https://www.carris.pt/
Metro
Lisbon metro is the fastest way to get around the city and boasts the status of one of the cleanest metros in Europe. It has four lines (Blue, Yellow, Green, Red), however, it doesn't run past some of the major city attractions and historic neighborhoods such as Belém.
The closest metro station to the New Cruise Terminal is Terreiro do Paço, located across Commerce Square, and there is also one metro station across Santa Apolónia cruise terminal. A single metro ticket costs 1.45 €.
If you are into exploring Lisbon highlights and the historic heart of the city, it's recommended to use the tram.
See Lisbon metro timetables and lines on https://www.carris.pt/
Bus
Lisbon has a great public bus network. The bus stop is right across the New Cruise Terminal and you can easily catch a bus to the Belém district. However, I don't recommend the bus if you want to explore the historic core of the city, as Lisbon's old town is hilly, with a lot of narrow, cobbled streets (where a bus can't go because of its size).
Read more about bus lines on https://www.lisbon.net/bus
Check out the routes and timetables on https://www.carris.pt/
Taxi
Taxis in Lisbon are an inexpensive and convenient way to get around the city. They often have a beige color and are metered. A taxi ride from the port of Lisbon to anywhere in the historic center shouldn't cost more than 8 € per vehicle. Uber is also available in Lisbon.
Lisbon Hop on Hop off bus
There are several Hop on Hop off bus companies in Lisbon. Open sightseeing bus has three routes (Red, Green and Blue Line) and is a great way to explore the city as it stops at its major landmarks and attractions. The ticket prices start at 19 € per person. Some Hop on hop off tours and combined with Tagus river cruise.
Check the Lisbon Hop on Hop off bus tours on Viator, Get Your Guide, and Tripadvisor
Lisbon Portela Airport
Lisbon International Airport is located around 10.5 km (6.5 mi) from Commerce Square or 25 minutes drive. To get to the airport, you can also use the metro.
Aerobús is the most frequent bus service that links the city center (Commerce Square) and Lisbon Airport. A one-way ticket costs 4 € (2 € for children aged 4-10) and a round trip ticket 5.40 € for adults and 3 € for children.
Read more about getting to the airport on https://www.lisbon.net/lisbon-airport
Hotels in Lisbon
The hotels located across the Lisbon cruise terminal are Eurostars Museum, Palacete Chafariz Del Rei, Lisbon Best Choice Apartments, Emporium Lisbon Suites.
The majority of hotels are located in Lisbon city center and within a short distance from the cruise port.
Check out the top-rated Lisbon hotels on Booking.com, Expedia, Agoda, Hotels.com, Tripadvisor
Do You Need a Reliable Travel Insurance? Get a Quote!
Top 10 Things to Do in the Port of Lisbon
I've visited the port of Lisbon several times and every time I visited it from a different perspective – by tuk-tuk, amphibious bus, segway, or simply exploring its historic neighborhoods on foot.
Before I share with you my list of the best things to do in Lisbon, I invite you to sign up below and get my exclusive, insider Shore Excursion Guide for FREE!
1. Explore Lisbon by Tuk Tuk
Lisbon by Tuk Tuk is an awesome way to explore Lisbon, and there are many tuk-tuk tours offered by local tour agencies and cruise ship companies. You'll find tuk-tuk vehicles in every corner of this old European capital, even on the postcards of Lisbon as they make an inevitable part of the city panorama.
If you are coming on a cruise ship, you'll find many local vendors and independent tuk-tuk drivers waiting for you outside the cruise terminal, eager to sell you their tours.
Exploring by tuk-tuk is a great way to visit Lisbon as a large portion of the city is very old, full of narrow cobblestone streets climbing uphill that you can't visit by bus or by car (and walking uphill can be exhausting). Tuk-tuk vehicles can easily move around those streets and reach stunning city viewpoints much faster than other means of transport.
Lisbon tuk-tuk prices
Tuk-tuk tours in Lisbon don't have any fixed prices. The price depends on your itinerary, tour duration, and your group size. Tuk-tuk vehicles can usually fit up to 6 people each, and the driver of a tuk-tuk is a tour guide at the same time.
Most of the agencies offer tour packages and they usually charge the price per group: if the group is larger, it will be the cheaper price per person, and if it's the opposite, expect to pay more.
The price also depends on your tour duration – you can choose a 1-hour, 2-hour up to an 8-hour tour, and the prices will depend on that.
The itinerary of the tour also affects its price. You can choose a tour around the historical part of the city (cheaper option), or you can explore further, it's up to you. Most tour agencies will offer you fixed tour packages, but they can also customize the tour according to your preferences.
Insider Tip: Cruise ship companies also sell tuk-tuk excursions onboard their ships, and the onboard prices are higher than regular tuk-tuk prices in the city.
If you decide to book a tuk-tuk ride in Lisbon with an independent tour operator, make sure you negotiate the price. There are so many tuk-tuk vehicles in Lisbon, and some drivers might try to rip you off, so inform yourself of the prices before you book.
What to Visit by Lisbon Tuk-Tuk
Miradouro da Graça Viewpoint – This fantastic lookout point is located in Graça District, one of the oldest suburbs of Lisbon situated on top of the city's highest hill. The view is absolutely spectacular and the place definitely worth visiting, as from here you can take the best panoramic photos of the city.
Miradouro da Senhora do Monte (Our Lady of the Hill) – Situated in the same neighborhood, from where you can admire the view over the main landmarks of Lisbon: Alfama district, Castle of Sao Jorge, as well as Tagus River estuary.
Miradouro São Pedro de Alcântara – Fabulous spot from where you admire the splendid panorama of Lisbon.
Rossio Square (Praça do Rossio) – The busiest and most lively area of Lisbon, a favorite meeting spot and home to various monuments and places of interest, such as the Column of Pedro IV (known as "the soldier king"), the 19th century National Theater D. Maria II,  Rossio Railway Station, and others. It is surrounded by numerous cafes, bars, and restaurants, and here you can find a good, relatively cheap place to stay as well.
Belém district – I'll write more about this renowned historic district below, however, there are three important monuments that you should remember to visit here: Belém Tower, The Monument to the Discoveries, Jerónimos Monastery.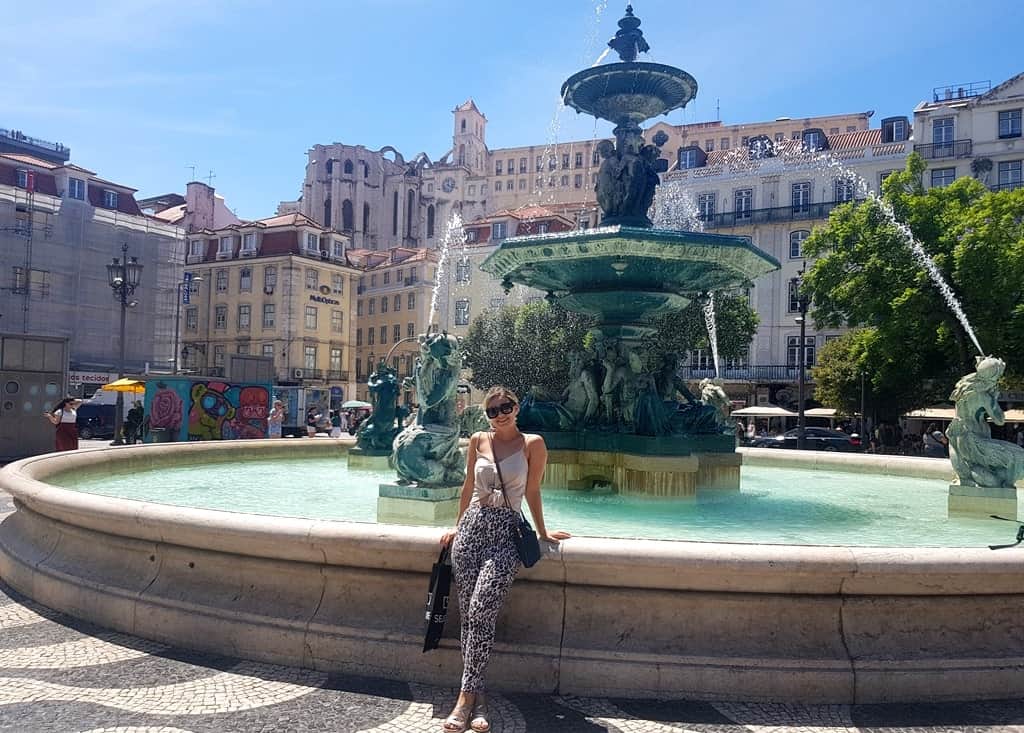 Check out Lisbon tuk-tuk guided tours on Viator and Tripadvisor
2. Hippotrip Amphibious Bus Ride
Hippotrip amphibious bus ride is by far the most fun way to visit Lisbon! An amphibious vehicle is a sort of bus that can enter into the water as well, so you get a tour of the city both by land and by water in a just 2-hour time (that's normally the tour duration).
There are only several amphibious vehicles in Lisbon and the tour is really popular, so if you want to ensure your spot, you should book the tour in advance (cruise lines normally offer this tour, so make sure you pre-book it)!
What to See on an Amphibious Bus Tour?
In the land part of the tour, you'll enjoy a panoramic drive through the historical quarter of Lisbon, passing by the Praça do Comércio (Commerce Square), Rossio Square, and Avenida da Liberdade, before you reach a remarkable historic district of Belém.
If you book a shore excursion with your cruise ship, the tour usually includes a stop at Belém, where you'll try famous pasteis de nata, a custard cream pastry crafted from a secret recipe from the Jerónimos monks.
A tour can also include a stop at Jerónimos Monastery, a UNESCO World Heritage Site, and the burial place of Vasco de Gama. It is one of the most important and most impressive religious buildings in Lisbon dating back to the 16th century whose monks used to serve as spiritual guidance to sailors and explorers in the Age of Discoveries.
After the land portion of the tour, the Hippotrip bus will drive into the Tagus River, and the moment itself is the highlight of the tour! Once on the water, your bus will sail along the river and get close to the iconic Belém Tower, the Monument to the Discoveries, and other landmarks.
I highly recommend everyone to book this tour if you have a chance, especially if you don't stay long in Lisbon (like cruise ship guests) and you still want to get the most of the city.
The tour by Hippotrip amphibious bus tour is educational, guides are at the same time animators, so you'll laugh a lot while learning about the history and landmarks of Lisbon. Make sure you bring your camera! Highly recommended, for everyone!
Suggested article: 25 Top Shore Excursion Packing List Items
Check out HIPPOTRIP amphibious bus tours on Viator and Tripadvisor
3. Stroll through Alfama District
If you want to feel the authentic spirit of Lisbon, this is the most unique way to do so! Alfama is the oldest district of Lisbon, situated in the heart of the city, on the slope between São Jorge Castle and the Tagus river.
If you are coming on a cruise ship, your ship will be docked right by the Alfama neighborhood (New Lisbon Cruise Terminal), so you'll just need to cross the street and start your walk.
In the past, under Moorish domination, Alfama was located outside of the city walls, populated by fishermen and the poor. During the Age of Discovery, it remained the neighborhood of low-class dockworkers and sailors; sailors' women used to sing melancholic songs when their beloved ones would set sail into the unknown, and that's how Fado music was born.
Nowadays, Alfama is a colorful labyrinth of narrow streets and alleys, numerous tiny squares, whitewashed houses, and picturesque buildings, which makes Lisbon the city of contrasts. Once you start climbing up the streets, in every corner, you can smell the taste of traditional local delicacies coming from tiny, authentic cafes, or you can come across beautiful, unexpected viewpoints offering unique views over the Lisbon and the Tagus River.
What to See in Alfama District?
Some major city landmarks are located in Alfama, such as:
Sé Cathedral (Lisbon Cathedral) – Built in the 12th century, this is the oldest cathedral in Lisbon.
The Monastery of São Vicente de Fora – Built on the site of the 12th-century monastery, the present building dates from the 17th century. It is one of the most important mannerist buildings in Portugal.
Church of Santa Engrácia – The 17th-century Baroque church transformed into the Panteão Nacional (National Pantheon) for important Portuguese personalities.
Castelo de São Jorge – One of the symbols of Lisbon dominating the city panorama. The castle is located on the highest peak of the São Jorge hill. The first fortifications date from the 1st century BC and throughout history the castle was occupied by many ancient civilizations. It was conquered by the Portuguese in the 12th century and served as the royal residence until the early 16th century. Nowadays, the castle is one of the most important historical national monuments and a museum open for a visit.

Museu do Fado (Fado Museum) – This amazing museum is located 5 minutes walk from the port of Lisbon. It boasts exhibitions on traditional fado, with audiovisual displays and archives.
Besides historical buildings, the Alfama district preserves the ancient spirit of the city and therefore should be among the first things to see on your bucket list. The best way to explore it is on foot, but you can also do it by tuk-tuk or by tram.
Check out Alfama district tours and activities on Viator and Tripadvisor
4. Explore Historic Belém District
Belém district is one of Lisbon's most popular neighborhoods nestled along the Tagus River, filled with green spaces, houses decorated with colorful tiles, important historic landmarks, and numerous seafood restaurants along its beautiful waterfront promenade.
Belém neighborhood is located approximately 8 km (5 mi) from the New Lisbon cruise terminal and the best way to get there is via bus, tram, bike, segway, or tuk-tuk. Belém is famous for its three important historic landmarks:
Belém Tower (Torre de Belém) – Built between 1514 and 1520, this tower's main function was to defend the city. It was at Belém that many of the great Portuguese explorers embarked on their overseas journey, as it was the main location of Lisbon's docks and shipyards back in time. Years later, the tower was transformed into a lighthouse and customs house.

Belém tower

has been declared a UNESCO World Heritage in 1983 and nowadays is one of the most visited symbols of Lisbon. The visits inside the tower are open for the public, and if you're staying in Lisbon for a few days, check it out, it's absolutely worth it!

Belém tower tours and activities

Monument to the Discoveries (Padrão dos Descobrimentos) – Located along the northern bank of the Tagus River, a 10-minute walk from Belém Tower. The monument is an impressive 52 meters tall structure, built in 1940 to commemorate the 500 years since the death of Henry the Navigator, who discovered the Azores, Madeira, and Cape Verde. The Monument was built in concrete and rosal stone and represents a sailing vessel, displaying the statue of Henry the Navigator in the middle along with statues of some of the best Portuguese explorers of that time on the sides. It is possible to visit the monument inside and climb to its observation deck – a perfect spot to admire the view over the Belém neighborhood. The Monument to the Discoveries tours and activities
Jerónimos Monastery (Mosteiro dos Jerónimos)

– A UNESCO World Heritage Site, and one of the most important religious structures in Lisbon. The western wing of the Jerónimos Monastery along with the main visitors' entrance is home to the

Maritime Museum, dedicated to the history of navigation in Portugal, definitely worth visiting while you are there.

Monastery of St Jerome tours and activities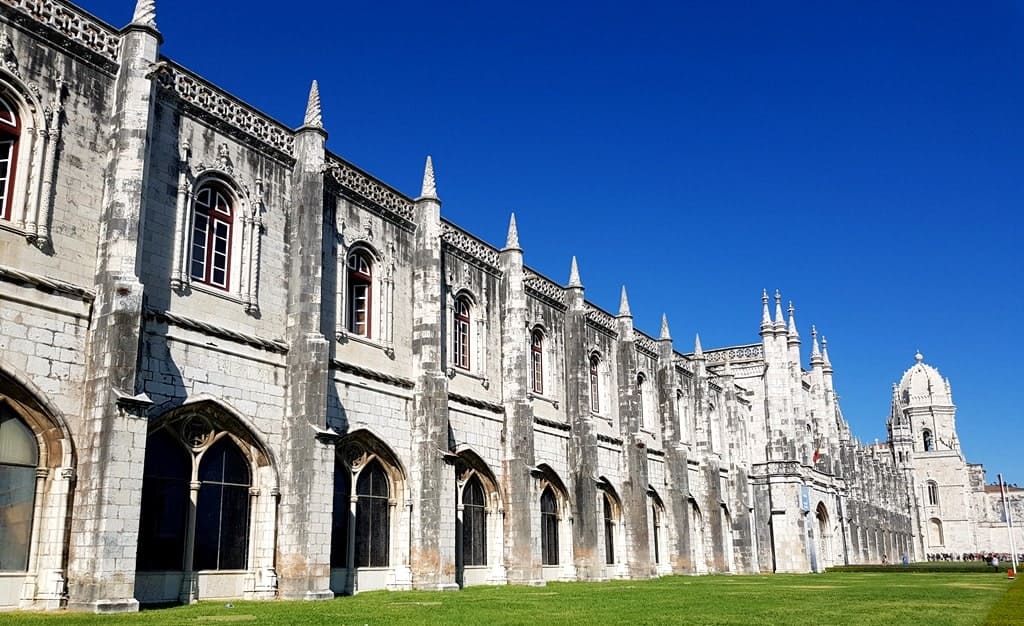 All three monuments – Belém tower, the Jerónimos Monastery, and the Monument of the Discoveries are located 10-15 minutes walk from each other. Besides those, you can have so much fun in the Belém district. You can visit botanical gardens, traditional Portuguese markets, or relax at one of the cafes, bars, and restaurants along the Tagus River. The area has many green surfaces, and it's absolutely worth spending the whole day there!
If you are looking for a unique and unconventional way to visit Belém, it is great to do it by segway, bike, or tuk-tuk.
Check out Belém district tours and activities on Viator and Tripadvisor
5. Baixa Neighborhood (Commerce Square, Rua Augusta)
The Baixa ("Downtown") is another popular historic neighborhood in Lisbon, located next to the Alfama district.
Lisbon downtown area and some major city attractions are part of the Baixa neighborhood:
Commerce Square (Praça do Comércio) – One of the main squares of the city which historically served as the main trading place, as the southern end of the square is open to the Tagus River. Commercial ships in the past used to unload their goods right onto the square, and ever since the plaza has carried the name "Commerce Square". The square is huge and in the middle of it proudly stands out the bronze equestrian statue of Joseph I – the king of Portugal in the 18th century.
Rua Augusta Arch – Another place of interest on the square is the famous Rua Augusta Arch, which marks the entrance to the main pedestrian street of Lisbon – Rua Augusta. The construction of the triumphal arch began in the 18th century, after the 1755 earthquake that destroyed a large portion of the city. It symbolizes the resurrection of Lisbon and features the statues of important historical figures such as Vasco de Gama and the Marquis de Pombal on the top of its pillars.
Rua Augusta – The main pedestrian street of Lisbon where you'll find many restaurants, pastry shops, and branded stores. It is a very lively and animated street and a must-see place in the city.
Rossio Square – This huge square is located at the end of Rua Augusta and is easily identified by the imposing Column of Pedro IV and the D. Maria II National Theatre.
Figueira Square (Praça da Figueira) – This large square is parallel to Rossio Square and is dominated by the Equestrian statue of King John I.
Avenida da Liberdade – A notable tree-lined boulevard, known as one of the most expensive streets in Lisbon.
Lisbon cruise terminal is located only 10-15 minutes walking distance from Commerce Square. You can reach it if you follow a beautiful waterfront promenade that is more than 9 kilometers long.
If you keep walking along the promenade, in 1.5 hours walk you'll reach the Belém neighborhood and the striking 25th April Bridge,  one of the symbols of Lisbon and the longest suspension bridge in Europe. It was built in 1966 and it has a similar look to the Golden Gate Bridge in San Francisco – the reason behind is that the same American Bridge Company was in charge of the construction of both bridges.
The bridge is impressive at all times of the day; I managed to see it at the dawn, during the day, in the evening, and at night, and in my opinion, the best timing to enjoy the view of it is at the sunset.
Check out Lisbon guided walking tours on Viator and Tripadvisor
6. Taste the Original Pastel de Nata
This is one of the things you absolutely have to do in Lisbon!
Pastel de nata is a delicious pastry with custard dusted with cinnamon. The creation of pastéis de nata is associated with Catholic monks of the Jerónimos Monastery who created the recipe in the 18th century. The monastery belongs to the parish of Belém, and that's the reason why pastel de nata is also called Pastel de Belém. Only a handful of people know the original recipe of pastel de nata and an interesting fact is that the recipe has never been written down.
Nowadays, pastéis de nata have been produced worldwide but the original recipe is being kept in secret: the original ones are produced by the Pastéis de Belém pastry factory in Lisbon, and one of the places where you can try them is Café Pastéis de Belém (Rua de Belém nº 84 a 92). I tried them, and they are super delicious!
See the location of Café Pastéis de Belém on Google maps
Check out Pastéis de Nata cooking class/tasting tours/Lisbon food tours on Viator and Tripadvisor
7. Lisbon Wine Tasting
Lisbon is also famous for its great wines produced in the wine region located west and north of the city, known as Estremadura.
Throughout the centuries, many families have preserved the tradition of wine-making and many of them offer wine tasting tours followed by a visit to the wine cellars. You can try Portuguese wines anywhere, but I recommend you taste them in authentic places with a long wine-making tradition (those places are usually family businesses over a century old), such as the one in the picture below.
I would also recommend you pair wines with Bolinhos de bacalhau, tasty codfish cakes, the most popular appetizer in Portuguese cuisine.
Explore Lisbon wine tasting tours and activities on Viator and Tripadvisor
8. Day Trip to Sintra and Cascais
One of the most popular day trips offered by both cruise lines and independent tour operators is a visit to the charming town of Sintra, located 31 km (19 mi) northwest of Lisbon.
Sintra is a picturesque town and municipality best known for its magnificent colorful palaces, castles, parks, gardens, and scenic beaches. Due to its historical significance and outstanding beauty, Sintra has been declared a UNESCO World Heritage Site. Some of the must-see Sintra highlights are:
The Palácio Nacional da Pena – A Romanticist castle known for its opulent yellow and red facade.
Palácio Nacional de Sintra – Known as the Town Palace, this is one of the best-preserved medieval royal residences in Portugal dating from the 15th century.
Castelo dos Mouros – The Castle of the Moors, a hilltop medieval castle.
Monserrate Palace – A 19th-century mansion inspired by Moorish, Gothic and Indian influences, set in the middle of lush botanical gardens.
Day trips from Lisbon usually take half-day due to the ship's limited time in port. These tours are guided, and guests normally get some free time as well.
The majority of the tours include a stop at Cascais, an upscale holiday destination located 17 km (10.5 mi) south of Sintra, on Lisbon seaside. It takes approximately 20 minutes to travel from Sintra to Cascais, and you get some free time in this beautiful resort town as well.
Cascais is known for its lavish villas, an imposing fort, a variety of museums, cobbled streets filled with lively bars and restaurants, and its golden sand beach.
You can get to Sintra and Cascais by train or bus from Lisbon, however, due to the distance and limited time in port, the best way to visit it is on a guided shore excursion.
Check out Sintra and Cascais tours and activities on Viator and Tripadvisor
Book a round trip private transfer to Sintra
9. Fátima Religious Site
Located 128 km (80 mi) north of the port of Lisbon, Fátima is one of the Christian religion's most significant pilgrimage sites. This site has been associated with the permanent apparitions of the Virgin Mary ((Our Lady of Fátima), the mother of Jesus, witnessed by three local shepherd children in 1917.
Nowadays, visitors can visit the Sanctuary of Our Lady of Fátima, a complex of religious buildings and basilicas which draws millions of religious people annually who come to pay homage to the shrine.
Check out Fatima tours from Lisbon on Viator and Tripadvisor
10. Day Trip to Óbidos
Located 90 km (56 mi) or a 1-hour 10-minute drive north of the port of Lisbon, Óbidos ranks among the best-preserved medieval villages and walled towns in Europe.
Strategically built on a hilltop near the Atlantic Ocean, the village still preserves the authentic spirit of old times with a maze of narrow streets, whitewashed houses, quaint squares, and Gothic architecture.
Make sure you visit Porta da Vila (the town gate) with its beautiful blue and white tile panels; Rua Direita, the main street lined with shops, bars, restaurants and small galleries; Praça de Santa Maria, the town's main square; Castelo de Óbidos, an imposing castle originally dating from the 9th century; Igreja de Santa Maria, the town's main church; Aqueduto de Óbidos, the 16th-century aqueduct.
You can shop for traditional handicrafts and taste the Ginjinha (ginja de Óbidos), a famous Portuguese liqueur made from sour cherries.
Some tours going to Óbidos also include a visit to Fátima religious site and Nazaré, a popular seaside resort on the Atlantic coast.
Check out Óbidos tours and activities on Viator and Tripadvisor
Book a round trip private transfer to Óbidos
---
Lisbon, the City of Discoveries
There is always more to discover in the port of Lisbon. It is an old city with a turbulent history, a mix of traditional and modern, whose eternal witness is the Tagus River, the symbol of the city's infinity.
If you are planning a cruise to Lisbon, make sure you plan your day ahead to maximize your stay in this wonderful city. You can explore it at your own pace, or you can book one of the amazing shore excursions and activities I listed above. Whatever you choose, an unforgettable time in Portugal's capital is guaranteed!
Visit our cruise port guides for Alicante, Bilbao, Vigo, Barcelona, La Coruna, Cartagena, Malaga, Cadiz, Gibraltar
---
10 Best Things to do in the Port of Lisbon
Explore Lisbon by Tuk Tuk
HIPPOTRIP Amphibious Bus Ride
Stroll through Alfama District
Explore Historic Belém District
Baixa Neighborhood (Commerce Square, Rua Augusta)
Taste the Original Pastel de Nata
Lisbon Wine Tasting
Day Trip to Sintra and Cascais
Fátima Religious Site
Day Trip to Óbidos
This article may contain affiliate / compensated links. For full information, please see my disclaimer here
You May Also Like:
25 Top Shore Excursion Packing List Items
What to Pack for a Cruise – Top 50 Cruise Essentials
Women's Cruise Wear – Top Cruise Essentials for Ladies