Welcome to the cruise port Belize!
Belize is a Caribbean country located on the northeastern coast of Central America, bordering Mexico, Guatemala, and the Caribbean Sea. Known for its rich Mayan cultural heritage, countless little islands (cayes), and Belize Barrier Reef – the second-longest reef in the world, Belize is a popular stop in the Caribbean cruise itineraries. In this article, read about:
Belize cruise port (Belize cruise terminal, getting around, helpful info)
Top 6 things to do in the cruise port of Belize and best Belize shore excursions
Visit also our cruise guides to Falmouth, Ocho Rios, Montego Bay, Cozumel, Costa Maya, Grand Cayman, Perfect Day at CocoCay, Labadee, Roatan
Cruise Port of Belize
Belize cruise port is a tender port, which means that ships anchor off the coast of Belize and use tender boats to transfer passengers ashore. The tender ride takes about 15-20 minutes and passengers are transferred to the Fort Street Tourism Village dock, located within a short walking distance from Belize City – the former capital of Belize.
Once you arrive at the dock, you'll see a shopping village in front of you with four terminal areas featuring numerous bars and eateries, tour and car rental booths, and dozens of duty-free shops. The terminal areas are the following: Terminal Area 1 "REEF", Terminal Area 2 "JAGUAR", Terminal Area 3 "MAYA", and Terminal Area 4 "PIRATE". Make sure you remember which terminal you disembark at because this will be the terminal where you'll wait for your tender to take you back to your ship. There may be more ships in port, so make sure you get on the right one to avoid delays and inconveniences.
The port area is safe. Upon exiting the port security gates, turn right on Fort St and after a couple of minutes' walk you'll reach the Belize Welcome Sign and an iconic red and white Baron Bliss lighthouse. However, it is not recommended to venture too far into Belize due to safety reasons. The best way to maximize your stay in Belize is to have an organized plan on what to do once you arrive in port.
See the cruise port of Belize on Google maps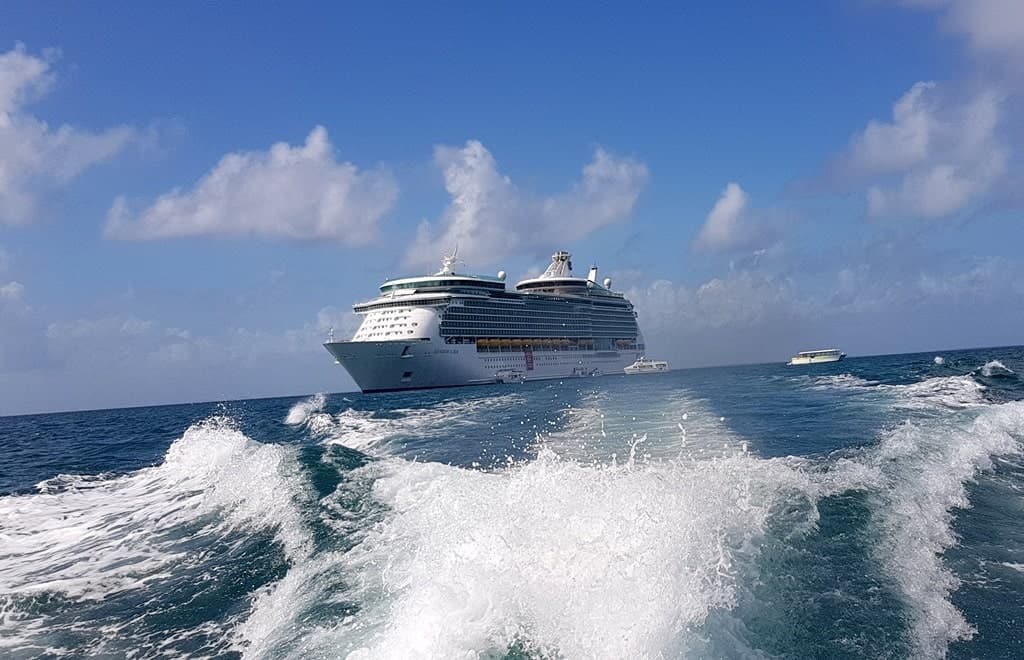 Useful info:
The port area is flat and wheelchair accessible.
There is no beach within walking distance.
Belize is the only country in Central America where English is an official language.
The best way to get around Belize is by taxi or on a shore excursion. Licensed taxis have green license plates and they are not metered, so make sure you agree on the price before the ride. Alternatively, you can book a shore excursion with your cruise line or a reputable independent tour operator.
Belize is not so safe to wander around on your own. The nearest attractions are located at a minimum 30 minutes drive, so booking an organized trip is convenient due to the ship's limited time in port. In addition, if you book a shore excursion that involves a boat ride, you'll be picked up and brought back straight to the ship (no need for a ferry boat ride to the Tourism Village).
Water taxis are another convenient transportation option for those of you who want to go to the islands of Caye Caulker and Ambergris Caye. Water taxis depart from a terminal that is located less than a 10-minute walk from the Tourism Village, close to Terminal 4 and Jungle Gift Shop. It takes about 1.5 hours one way to reach the resort town of San Pedro on Ambergris Caye, and the round-trip price costs about $56.50 US per person. A trip to Caye Caulker takes 45 minutes one way and the price is $36.50 US per person for a round-trip. The departures are not so frequent (there is one departure hourly or in two hours), so make sure you check the water taxi timetables beforehand at

https://belizewatertaxi.com/

Car rental in Belize cruise port is possible, however, keep in mind that local roads may be in a poor condition and not clearly marked. You can book a car online or with local tour operators you'll find in the port area.

Check out Belize rent-a-car deals and prices

Belize Tourism Board is located in Belize City across the Swing Bridge on Regent St, a 15-minute walk from the Belize cruise terminal.
Fort Street Tourism Village offers the best shopping opportunities in Belize. You'll find dozens of shops selling jewelry, local arts and crafts, souvenirs, tobacco, perfumes, clothing and more. The top-rated brands include Jungle Gift Shop, Diamonds International, Tanzanite International, Harley Davidson, Moho Chocolate factory and cafe, Pirana Joe, Cariloha and Del Sol.
Free wi-fi is available in some restaurants and bars in the Tourism Village cruise terminal.
The official currency in Belize is the Belize dollar (BZD). 1 USD equals 1.99 BZD. Credit cards and US dollars are accepted in the majority of shops and restaurants, but be sure to receive the change in US currency. ATMs are available in the Tourism Village and in Belize City. See the

currency converter

In 1962, after Hurricane Hattie, the country's capital was moved from Belize City to Belmopan. However, Belize City is the country's largest city and the main entry point for tourists.
Belize City's downtown area is located within a short walking distance from the port. The cruise passengers may not feel particularly safe wandering around on their own and Belize City hasn't got much to offer, so it's recommended to book a guided tour. However, if you decide to stay, there are a few things you can do. The Swing Bridge divides the city into two and is the only swing bridge operated manually that is still in function. The Museum of Belize showcases artifacts tracing the history of Belize and is located only a 10-minute walk from the terminal. St John Anglican Cathedral is a historic place of worship dating from the 19th century and is located a 20-minute walk from the port, across the Swing Bridge. Government House, located near the cathedral, was built in 1812 and is nowadays a history museum. The Baron Bliss lighthouse and Belize Welcome Sign lie only 200 m from the terminal and offer great photo ops. 
Calypso Train Tour is an open-air trolley tour that goes around Belize City, past major landmarks. This tour is usually offered by cruise lines and is an interesting choice for those looking to learn about the history and culture of Belize.
Philip S.W. Goldson International Airport is located 18 km/11 miles (a 30-minute drive) northwest of the cruise port of Belize.

Check out Belize flight deals

The peak season in Belize lasts from late November to mid-April, when the weather is dry and warm. The wet season lasts from June to November, with hurricanes impacting every three years because the country lies within the hurricane belt. For useful packing tips for your cruise to Belize, check out my article

What to Pack for a Cruise – Top 50 Cruise Essentials

Did you know that you can get up to 10% cash back on travel services you book with Booking.com, Viator, Rentalcars and Get Your Guide (actual cash, not points or miles!)? All you have to do is sign up for an annual WayAway Plus membership plan and start saving money on hotel, car, flight and tour bookings! Read more about the

WayAway Plus package

and if you decide to sign up, I am offering you an additional 10% off with this

PROMO CODE

!
Top 6 Things to Do in the Cruise Port of Belize
Belize port is known for its breathtaking islands (cayes), barrier reefs, Mayan heritage sites, and tons of outdoor adventure activities such as cave tubing and kayaking, horseback riding, ziplining, snorkeling, diving and so much more! Before I share with you the best things to do in Belize cruise port, I invite you to sign up below and get my insider, SHORE EXCURSION GUIDE for FREE!
1. Belize Cave Tubing
Cave tubing ranks among the best adventure activities you can do in Belize! The tour takes you into the rainforest outside of Belize City where you'll float on a tube through a cave system featuring spectacular rock formations. Cruise lines and independent tour operators offer various cave tubing excursions that take place at different locations such as Nohoch Che'en Caves Branch Archaeological Reserve and Jaguar Paw (both around a 1h 10-minute drive from the port).
Cave tubing tours may include lunch or are combined with different experiences such as ziplining, kayaking, hiking, or a visit to Mayan archaeological ruins. Upon booking a shore excursion, make sure you check the program of the tour. Also, keep in mind that there is at least a 45-minute drive each way to the rainforests and national parks where the caves are located. The safety equipment is normally provided by the tour operator, except for the water shoes that you should bring on your own.
Check out Belize Cave Tubing tours and activities
2. Mayan Archaeological Ruins
Belize boasts a rich Mayan heritage and there are plenty of archaeological sites scattered around the country. The most famous one is the Altun Ha Temple featuring temple pyramids out of which the Temple of the Masonry Altars is the largest one (16 meters/52 ft high). Altun Ha covers an area of 8 square kilometers and lies 53 km/33 miles (a 1-hour drive) northwest of the Belize cruise terminal.
Another famous ruin is Xunantunich Mayan Ruins, located near the town of San Ignacio, about 126 km/78 miles (a 2h 30-minute drive each way) southwest of the cruise port of Belize. This impressive archaeological site sits atop a ridge above the Mopan River and served as the Mayan civic ceremonial center of the Belize Valley region. The site features the remnants of ancient plazas, temples and palaces, and the imposing El Castillo temple — the second tallest in Belize. From the top of El Castillo, you can admire stunning panoramic views stretching into Guatemala.
Lamanai Archaeological Reserve lies 127 km/79 miles (a 2h 20-minute drive) northwest of Belize port and is the second-largest site in Belize that was once a major city of the Maya civilization. Mask Temple, Temple of the Jaguar and High Temple are the main ruins offering beautiful views of the New River. The site also features a museum and local arts and crafts souvenir store.
3. Snorkeling and Scuba Diving
The Mesoamerican Reef is the second-largest barrier reef in the world offering incredible snorkeling and scuba diving. The Belizean waters are home to vibrant coral gardens, nurse sharks, stingrays, sea turtles and fascinating marine wildlife.
One of the most popular snorkeling and scuba diving locations is Hol Chan Marine Reserve which lies just off the coast of the islands of Caye Caulker and Ambergris Caye. The protected reserve covers more than 18 square kilometers of coral reefs, seagrass beds and mangrove forests, and is also popular for fishing. Another top-rated snorkeling and diving location is a 124-meter-deep Great Blue Hole, a deep blue circular sinkhole located on the Lighthouse Reef atoll.
Check out Belize snorkeling and scuba diving tours
4. Belize Beaches and Islands
Belize boasts over 150 miles of islands (cayes), the two largest ones being Caye Caulker and Ambergris Caye, two resort islands known for their incredible beauty and unspoiled nature.
Caye Caulker is a gorgeous, small coral island known for amazing snorkeling, scuba diving, and manatee spotting. Experience the thrill of swimming with nurse sharks at Shark Ray Alley and discover the colorful world of the shallow Coral Garden, one of the best snorkeling sites for inexperienced snorkelers. Caye Caulker is known for its relaxed island vibe, pristine sandy beaches and crystal-clear turquoise waters great for swimming and sunbathing. A boat ride from Belize port to Caye Caulker takes about 45 minutes each way by water taxi.
Ambergris Caye is Belize's largest island and a top-rated destination renowned for its picture-perfect turquoise waters and water sports, including snorkeling, scuba diving and fishing. Ambergris Caye's coastline is protected by the 190-mile-long barrier reef and the island itself is 25 miles long and a little over a mile wide. The island was a trading post in Mayan times and boasts a rich historic heritage that you can learn by exploring a few small ruins scattered around the island. The major resort town is San Pedro, the only inhabited area on the island famous for a wide variety of eateries, shops, small businesses and bustling nightlife. The boat ride to Ambergris Caye takes about 1.5 hours each way by water taxi.
Starfish Island (formerly known as Bannister's Island) is often offered as a shore excursion as it's within a 20-minute boat ride from the cruise port of Belize. Starfish Island is small and boasts a beautiful sandy beach where you can swim and snorkel. The facilities available include sunbed/umbrella rentals, changing rooms, a small gift shop, a cafe and a restaurant where you can taste delicious Belizean dishes. I personally went to Starfish Island and wrote more about it in my article 7 Private Islands to Visit on a Cruise to the Caribbean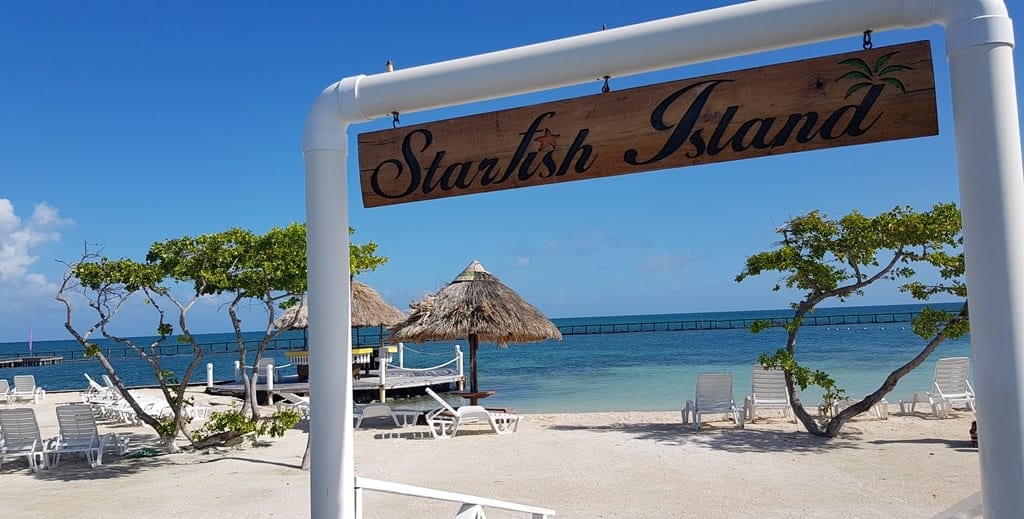 Half Moon Caye is an island and natural monument nestled at the southeast corner of Lighthouse Reef Atoll. It is part of the Belize Barrier Reef and is known for its bird sanctuary established in 1924. Half Moon Caye boasts a magnificent white sandy beach known as a sea turtle nesting ground. The entire island is protected as Half Moon Caye Natural Monument and can be visited on a day trip, however, a one-way boat trip takes about 2-3 hours, so it's not really convenient for cruise passengers.
5. Wildlife Sanctuaries
If you are looking to get to know Belize's native wildlife, there are plenty of options to choose from. The Belize Zoo, located 48 km/30 miles (a 50-minute drive) southwest of the cruise port, houses native, orphaned and rehabilitated animals in their natural habitat. The Belize Zoo and Tropical Education Center is home to over 200 animals, including over 45 native species. Set on 29 acres (12 hectares), the zoo is a great place to learn about the native wildlife of Belize's jungles and savannas and get up close with jaguars, toucans and red-tailed boas. Belize Zoo is wheelchair accessible. Get more info at https://www.belizezoo.org/
Alternatively, you can go bird-watching in Little Guana Caye (situated off the coast of Ambergris Caye), go manatee-watching in the waters of Caye Caulker or visit Community Baboon Sanctuary Visitor Center and Museum (A Black Howler Monkey Sanctuary) that offers tours through the rainforest and wildlife spotting. The sanctuary is located 44 km/27 miles (a 1-hour drive) west of the port of Belize. Find more info at https://www.howlermonkey.org/
Last but not least, you can also visit Crooked Tree Wildlife Sanctuary, a nature preserve featuring a network of lagoons, swamps, and estuaries sheltering endangered species such as the Central American River Turtle (locally known as Hicatee), Mexican Black Howler Monkey, and Yellow-headed Parrot. The sanctuary is one of the best bird-watching spots in Central America and lies 59 km/37 miles (a 1h 15-minute drive) southwest of the cruise port in Belize.
Check out Belize wildlife tours and activities
6. Taste the Local Cuisine
Belize boasts a delicious mix of different cultural influences when it comes to food. Fort Street Tourism Village has several eateries and bars where you can try local specialties such as Cochinita Pibil (Yucatán-style slow-roasted pork dish), Hudut (a fish cooked in a coconut broth, served with plantains or yams), rice and beans, stewed chicken, fry jacks (buns), and a variety of fish and seafood (lobster, red snapper, grouper, barracuda, conch fritters, or shrimps).
The restaurants you'll find in the port area include the Wet Lizard, Baymen's Tavern, Martha's Cafe, and a few more bars and grills. Bird's Isle Restaurant, located a 5-minute drive from the port, features amazing food and great sea views. San Pedro on Ambergris Caye and Caye Caulker also offer a variety of great restaurants and food options. Top off your day with local Belikin beer, fresh exotic fruits and desserts like Rum Fruit Cake, Milk Cake, Coconut Tart, and Sweet Potato Pudding.
Check out Belize food-tasting tours and activities
Wrapping Up
To maximize your stay in the cruise port of Belize, make sure you plan your day according to your preferences. If you love adventure, go for river tubing, horseback rides, or off-road rides. Explore the fascinating sea life on a snorkeling or diving tour, meet the native wildlife in one of the sanctuaries, or simply visit one of the cayes and enjoy some beach time. Other popular activities in Belize include ziplining, kayaking and horseback riding.
Visit also our cruise guides to Falmouth, Ocho Rios, Montego Bay, Cozumel, Costa Maya, Grand Cayman, Perfect Day at CocoCay, Labadee, Roatan
---
You May Also Like:
25 Top Shore Excursion Packing List Items
What to Pack for a Cruise – Top 50 Cruise Essentials
Snorkel Gear and Scuba Diving Equipment – Tips by a Pro!
Don't forget to subscribe below and get my exclusive SHORE EXCURSION GUIDE FOR FREE!
This article may contain affiliate / compensated links. For full information, please see my disclaimer here.