Welcome to Antigua cruise port guide!
Antigua and Barbuda is a sovereign island country located in the middle of the Leeward Islands between the Caribbean Sea and the North Atlantic Ocean. Antigua, with its capital city of St. John's, is the major island. Barbuda lies 63 km/39 miles north of Antigua, and its main city is Codrington, nestled on the island's west coast. Famous for its stunning 365 beaches, amazing coral reefs, and rich cultural and historic heritage, Antigua is a popular destination in the Caribbean cruise itineraries. In this article, read about:
Antigua cruise port (Antigua cruise terminal, getting around)
Top 10 things to do in Antigua port and best Antigua shore excursions
Visit also our cruise guides to Aruba, Curacao, Bonaire, Falmouth, Cozumel, Costa Maya, Grand Cayman, St Thomas, San Juan, Labadee, St Maarten, St Lucia, St Kitts, Barbados
Antigua Cruise Port
The port of Antigua is located in the island's capital St. John, tucked in a peaceful scenic bay located in the northwest of the island. Cruise ships dock at two main quays located next to each other: Heritage quay and Redcliffe quay with 4 berths in total (2 each) allowing four ships to dock simultaneously. Both quays are located within a 5-minute walking distance from the city center of St John's.
In February 2021, the new 5th berth that can accommodate the Oasis-class cruise ships (the world's largest cruise ships) was completed as a result of an agreement signed between RCG-Royal Group and the Government of Antigua and Barbuda.
See Antigua cruise port on Google maps
Heritage Quay – Most of the cruise ships dock at Heritage Quay, an open-air cruise terminal filled with over 30 duty-free shops, numerous bars, restaurants, a casino (King's Casino), banks, ATMs, a small craft market, hair-braiding stations, a taxi kiosk (with official taxi fares), and a tourist information center.
For those of you looking for shopping in Antigua, the Heritage Quay area offers everything your heart desires – from electronics (AMA Tech Electronics, The Music Shop), jewelry & watches (Diamonds International, Colombian Emeralds, Pandora, Abbott's Jewellery & Perfumery, Sterlings), liquors, tobaccos/cigars, clothing, authentic handicrafts and souvenirs, fine china and crystal, cosmetics, and so much more! In this area, you can also find several eateries and bars such as Island B-Hive Sports Bar, Cheers Antigua, and Delicieux Cafe.
Redcliff Quay – Centered around Nevis street and connected to the Heritage Quay by a waterfront boardwalk, Redcliff quay is a quaint area filled with old Georgian buildings housing eateries (Fred's Belgian Waffles & Ice cream, Cutie's, Big Banana), bars, shops, and boutiques.
Useful info:
St. John's city center is located only a few minutes' walk from the cruise port and can be easily explored on foot. The port area and downtown are flat and wheelchair-accessible.
There is no beach within a walking distance from the port of Antigua. The nearest beaches to the cruise port are Fort James Beach (a 10-minute drive), Yepton Beach (a 15-minute drive), Runaway Beach (a 15-minute drive), Deep Bay Beach and Galley Bay Beach (both a 20-minute drive from the port).
Taxi fares are mostly fixed in Antigua, so make sure to stop at the tourist information center to get information about the prices before taking a taxi to avoid surprises. You can also

download the official taxi rates in Antigua here

.
Keep in mind that local transportation used in the Caribbean is usually minivans or mid-size buses with little space for storage and air conditioning that may not be up to US standards.
The official currency in Antigua is the Eastern Caribbean dollar (XCD, aka ECD) although most shops and local vendors accept USD. Be sure to confirm in advance that your change will be given in USD as cruise lines do not offer exchange services for this currency. 1 USD equals 2.70 ECD. See the

currency converter

Antigua Airport (V.C. Bird International Airport) is located approximately 8 km/5 miles from the Antigua cruise ship terminal aka Deep Water Harbour. The taxi ride to the terminal takes around 15 minutes, and the cost is fixed at $13 per vehicle (up to 4 passengers) one-way.
The best time to visit Antigua is between mid-December to mid-April, during the peak season when the weather is warm and dry. The rainy season lasts from mid-June to mid-November and in this period hurricanes and tropical storms may occur. To get helpful packing tips for your cruise to Antigua, check out my article

What to Pack for a Cruise – Top 50 Cruise Essentials

Taking a ferry to Barbuda is usually not recommended to cruise ship passengers because a one-way ride lasts 90 minutes. However, if you are staying longer in Antigua, check out

Barbuda Express website

for information on prices and timetables.
Top 10 Things to Do in Antigua Cruise Port
Always take into consideration your cruise ship's scheduled time in port when planning your day in Antigua. Most cruise ships will arrive early in the morning and leave before sunset. Before I share with you the best things to do in the port of Antigua, I invite you to sign up below and get my insider, exclusive SHORE EXCURSION GUIDE for FREE!
1. Saint John's
I suggest you start your day learning about the history of Antigua's capital Saint John's, one of the oldest cities in the Eastern Caribbean. Admire the mixture of architecture, old churches, war memorials, a fish market, and notable landmarks either on a guided walking tour or on your own. Walking tours normally last a couple of hours, so you will have plenty of time after to enjoy other activities.
However, if you decide to explore on your own, you'll have an enjoyable time as the town is safe and locals are not pushy like in some other Caribbean ports. Here are the top landmarks and attractions you should visit:
St John's Anglican Cathedral – Less than a 10-minute walk from the cruise piers, you'll stumble upon this magnificent 19th-century Baroque church whose two cupola-topped towers dominate the town's skyline.
Museum of Antigua and Barbuda – Take an insight into Antiguan history at this simple museum located a 5-minute walk from the ship terminal. Learn about the formations of the islands, the indigenous people, colonization history, and their fight against the brutality of slavery.
Ebezener Methodist Church – This church is located on St Mary's street, a 5-minute walk from the port.
VC Bird Monument – Located only a 5-minute walk south of the cruise port, this imposing monument commemorates Vere Bird, the first Prime Minister of Antigua & Barbuda.
Public Market Complex – Located right across Heroes Park where VC Bird Monument is situated, this market is a bustling place offering a wide variety of products, including fresh fruits, vegetables, dry goods, clothing, electronics, and much more! This is the major marketplace on the island where you can experience the authentic, local vibe. The craft market and fish market are located across the street.
Holy Family Cathedral – This imposing cathedral is the main Roman Catholic cathedral built at the end of the 20th century. It features a modernist style and octagonal shape with a bell tower in the center. The cathedral is located next to Mount St John's Medical Center, approximately 1 km/0.6 miles from Antigua port.
Fort James – Located around 3.5 km/2.2 miles from Heritage Quay, Fort James is the ruin of an 18th-century fort with cannons and stunning views of the coast. A walk to the fort from the port takes 45 minutes, and a ride around 10 minutes. Another popular fort is Fort Barrington, located a 15-minute drive from the port.
If you are looking for beaches near St John's, check out Deep Bay Beach (beneath Fort Barrington), Galley Bay Beach, Fort James beach (near Fort James), and Yepton Beach.
Explore St John's sightseeing tours
2. Nelson's Dockyard and Shirley Heights Lookout
The 18th-century Georgian dock still in operation was built by the British Navy in a strategic location to keep their fleet safe during hurricanes and monitor French naval activity. In 2016 Nelson's Dockyard has listed as a UNESCO World Heritage site and is a must-stop when visiting Antigua. Tourists can visit the Dockyard Museum located in the former admiral's house to learn more about the Dockyard's rich history or wander around to see the restored buildings now converted into hotels, restaurants, shops, and galleries.
Take a short drive from Nelson's Dockyard to Shirley Heights, a restored military lookout and gun battery. You can stroll around the military fortifications and admire the magnificent views of Antigua from the lookout point.
Nelson's Dockyard is part of the National Park and is located in English Harbour on the south of the island, approximately 40 minutes drive (20 km/12.5 miles) from Antigua cruise port. A taxi from the cruise port to the Dockyard and Shirley's Heights costs $25 per vehicle one-way. The entrance fee to the dockyard is $8 and includes access to Shirley Heights and Dow's Hill. If you are more adventurous, you can take a 10-minute walk to the bus station and look for bus 17 to Nelson's Dockyard for about $2 per person. From there you can take a taxi to Shirley Heights.
Check out Nelson's Dockyard tours 
3. Stingray City
Did you know that if you kiss a stingray you'll get 7 years of good luck? Well, this is your opportunity! Get up close with these friendly creatures at Stingray City Antigua, a privately-owned site located on the island's east coast a 35-minute drive (18 km/11 miles) from the cruise port.
Once you arrive at the site, your guide will give you a briefing and you'll take a short boat ride off the coast to a shallow natural pool surrounded by coral reefs. Here you will have the opportunity to touch, feed, kiss, and play with stingrays while learning about these amazing and captivating animals. Tourists have also the opportunity to snorkel around the coral reef before returning to Antigua.
The only way to get to Stingray City is through an organized shore excursion. Make sure to check with your shore excursions team for availability, or pre-book your tour with an independent tour company. Due to the nature of this activity, this tour is not wheelchair accessible.
Check out Stingray City tours and activities
4. Prickly Pear Island Escape
If you are looking to escape from the crowd, take a trip to this little islet off the coast of North Sound. This inhabited island offers you the opportunity to relax on a sugar-white powdery beach, swim in shallow crystal-clear waters, and snorkel. The island has a beach bar and a restaurant where you can indulge in delicious lobster, conch, chicken, and other Caribbean specialties. You can also rent beach chairs and umbrellas, and use picnic tables.
If you are booking the Prickly Pear Island tour (with open bar and buffet) through your cruise line, keep in mind the availability is very limited so make sure to book your all-inclusive beach day in advance. Snorkel equipment is usually included in all-inclusive tours, however, make sure you bring your own in case it isn't.
Explore Prickly Pear Island tours and activities 
5. Antigua Beaches
Antigua beaches are ranked among the most beautiful beaches in the Caribbean. The island counts 365 beaches, one for every day of the year, and all of them are open to the public. The easiest way to get to the beach is to take a taxi. Many of them will offer to pick you up at a specific time to take you back to the port. Make sure you check the official taxi rates approved by the Government of Antigua and Barbuda before taking a taxi. The cruise line also offers a variety of beach transfers that include amenities and lunch.
Dickenson Bay – Located only a 15-minute away (4.5 km/2.8 miles) from the cruise port, Dickenson Bay is one of the liveliest beaches in Antigua. The beach is long and boasts white powdery sand and transparent, crystal-clear turquoise waters. It is located on the northwest coast which is not exposed to the Atlantic, so the water is calm and ideal for everyone. Here you will find beach amenities, watersports (jet skis, paddle boarding, boat trips), beach bars, and activities for the whole family. The area is full of restaurants and the beach is lined with hotel resorts, including the famous 5-star

Sandals Grande Antigua

. A taxi ride from the port to Dickenson bay costs $12 per vehicle each way. Taxis back from the beach are easy to find.
Valley Church Beach – Nestled on the southwest coast of Antigua, this gorgeous piece of paradise is considered one of the most beautiful beaches in Antigua. The Nest Beach Bar & Restaurant offers delicious food for you to enjoy, so make sure you try their famous coconut shrimp and Pina Coladas. Here you will also find three adult-only hotels

(Cocobay Resort at one end, Wild Lotus Camp in the middle, and Cocos Hotel at the other end)

, water sports, beach chairs, and umbrellas for rental. The distance between the Antigua cruise port and Valley Church Beach is 10.5 km/6.5 miles, and the ride takes about 20 minutes. The taxi costs approximately $20 per vehicle each way. You can also walk 10 minutes to the bus station and take bus 22 to Valley Church, the ticket costs around $1.50.
Darkwood Beach – Located in the southwest of the island, Darkwood Beach is a white sandy beach ideal for those in search of peace and quiet and good snorkeling. There is a little beach bar restaurant if you get hungry. Amenities are also available for rental. The distance between Antigua cruise port and Darkwood beach is 12 km/7.5 miles, approximately a 20-25 minute drive. A taxi costs $29 per vehicle one-way. Alternatively, you can take bus 22 from the city bus station and the ticket cost around $1.50.
Ffryes Beach – This stunning white sandy beach is located on the southwest coast of the island between Valley Church Beach and Darkwood Beach. It is a great beach for swimming as it is tucked in a calm Ffryes Bay boasting beautiful turquoise waters. Beach bars/restaurants (Ffryes Beach Bar/ Dennis Restaurant)

, and amenities are available.

The distance between the port of Antigua and Ffryes Beach is around 12.3 km/7.6 miles and the ride takes approximately 25-30 minutes each way. The taxi costs around $30 per vehicle one-way.
Carlisle Bay Beach – This uncrowded beach is located on the south shore of Antigua and offers you a picture-perfect setting, soft white sands, and great

snorkel

opportunities.  There are no amenities available at this location, however, adjacent to the beach is the famous 5-star

Carlisle Bay Resort

. If you are not on a budget you can choose to book a Day Pass at this resort to enjoy their amenities and meal included. The distance between Antigua port (St John's) and Carlisle Bay Beach is around 20 km/12 miles, and the ride takes around 35 minutes. A taxi from the port to the beach costs $29 per vehicle one-way.
Explore Antigua beach tours and activities
6. Snorkeling and Water Activities
Antigua is well known for its beautiful nature and rich marine life. There is a wide variety of water activities and snorkeling tours combined with beach stops, snacks, drinks, lunch, or just relaxing sailing across the Caribbean Sea options offered to the visitors. From the sea, you can admire the island's historic landmarks, breathtaking lagoons and beaches, and enjoy some of the best snorkeling in Antigua! Some of the main snorkeling sports include:
Cades Reef – This impressive reef is part of Antigua National Marine Park that spreads along the south coast of Antigua, southwest of Carlisle Bay Beach. It is a beautiful reef where you can spot pufferfish, parrotfish, sea turtles, and other aquatic wildlife. On the way to the reef, you'll cruise along Jolly Harbour, Valley Church Beach, Coco Beach, Ffryes Beach, Darkwood Beach, and a few others.

Check out snorkeling trips to Cades Reef

Devil's Bridge – Lying on the east coast of Antigua, Devil's Bridge is one of the most famous island attractions. The rugged limestone bridge formed by crashing waves is located in Antigua's countryside known for sugar cane plantations dating from the 17th century. Here you can witness the power of the Atlantic Ocean and take in the spectacular views of the rock formations and the sea. Nearby, you can take a dip into the glimmering waters of Long Bay Beach, surrounded by several eateries and hotel resorts. If you are coming by land, make sure you stop at Betty's Hope, the remains of the largest sugar plantation on the island (dating from 1674) preserved as a monument to the slaves who worked on plantations, now transformed into a museum.

Explore Devil's Bridge National Park tours and activities

Freeman's Bay – Located on the south coast of the island in English Harbour, Freeman's Bay is a popular area for snorkeling, hiking, and sightseeing. Here, you'll find numerous natural attractions and historic landmarks, including Nelson's Dockyard, Shirley Heights cliff, Pillars of Hercules, and a scenic, peaceful Galleon Beach, known for amazing snorkeling and turtle sightings.
Falmouth Harbour – Located next to the English Harbour and Freeman's Bay, Falmouth Harbour covers a large area consisting of several beaches and peaceful bays (Deep Bay, Pigeon Point Beach, Windward Bay…). Falmouth Harbour Marina is a popular spot filled with yachts, eateries, and several hotel resorts.
Nonsuch Bay – Nestled on the east coast, near Devil's Bridge, Nonsuch Bay is a tropical bay lined with white powdery beaches known for kitesurfing and a luxury

Nonsuch Bay Resort

.
Great Bird Island – Situated in the northeast of Antigua, this small islet is home to various endangered species including a racer snake. The islet is popular for birdwatching, hiking, and snorkeling activities.
Stingray City
Note: If you are considering taking any water-related activities, make sure to review the restrictions and take into consideration any pre-existing medical conditions and a physical fitness level before booking a tour. Many of these tours will require you to sign a liability release form prior to the start of the tour.
Check out Antigua snorkeling and water-related tours and activities
7. Hiking (Shirley Heights/English Harbour Area)
For adventure and nature lovers, Antigua offers a wide variety of options. The island's lush nature, mountainous landscape, and picturesque sceneries invite visitors to explore its natural beauties and spectacular views. There are many hiking tours organized by different tour operators, and some of them are combo tours with snorkeling, kayaking or biking included. English Harbour area (Shirley Heights) has several popular trails:
Carpenter's Rock Trail – Moderate trail, walk starts at Galleon Beach/Galleon Beach Resort, and you climb up to 150 m in height. The main points of interest are Pillars of Hercules and Mermaid Gardens in Shirley Heights, popular for its unique pool formations. To get to the gardens, you hike up for 15-20 minutes. Get your camera ready for amazing, awe-inspiring sceneries!
Shirley Main road – Moderate activity level, 30 minutes biking/1h walking, starts at Falmouth Harbour or Nelson's Dockyard.
Jones' Valley Trail aka Goat Track is an easy, 40-minute hike that starts up the road from Freeman's Bay and ends at Shirley Heights.
Middle Ground Trail – Easy trail, a 30-minute hike, starts at Pigeon Beach and ends at Fort Berkeley.
Besides Shirley Heights, Obama Mount (aka Boggy Peak) and Ridge Trail is another popular hiking spot – With an elevation of 402 m (1,319 ft), this is the highest peak of Antigua. The hike is more of an easy/moderate walk up the hill through the lush forest and National Park that lasts 1-3 hours. It has several starting points including Cades Bay, and Christian Valley (from the Village of Jennings). Carlisle to Rendezvous Bay walk is also interesting and offers beautiful views of the coast.
Check out Antigua hiking tours
8. Rainforest Canopy Zipline Adventure
Explore Antigua's breathtaking nature on this thrilling adventure through the island's tropical rainforest and Wallings Nature Reserve. More than ten zip lines, rope challenges, and two suspension bridges await you on this adrenaline-pumped adventure where you'll admire Antigua's unique scenery!
The tour starts on Fig Tree Drive road, located around 14 km/8.7 miles or a 30-minute drive from Antigua cruise port. This activity is family-friendly (kids-friendly). The safety equipment and briefing are provided before the tour. If you have any medical issues, or back/neck problems, you shouldn't select this tour as it is considered a strenuous activity.
See the list of Rainforest Canopy Zipline tours
9. Try out the Local Cuisine
While in Antigua, don't forget to treat your taste buds with the island's specialties and local dishes. If you seek an authentic culinary experience, you definitely need to try fungie, a dish mostly made with cornmeal, similar to the polenta, ducana (sweet potato dumpling or pudding), saltfish, and grilled lobster that are considered among the top-rated specialties in Antigua and Barbuda.
On the island, you'll find many restaurants offering international dishes as well as typical Caribbean cuisine that includes dishes such as seasonal rice and jerk meats. You can choose to go for a cooking class or embark on a scenic cruise that includes grilled lobster as part of the experience.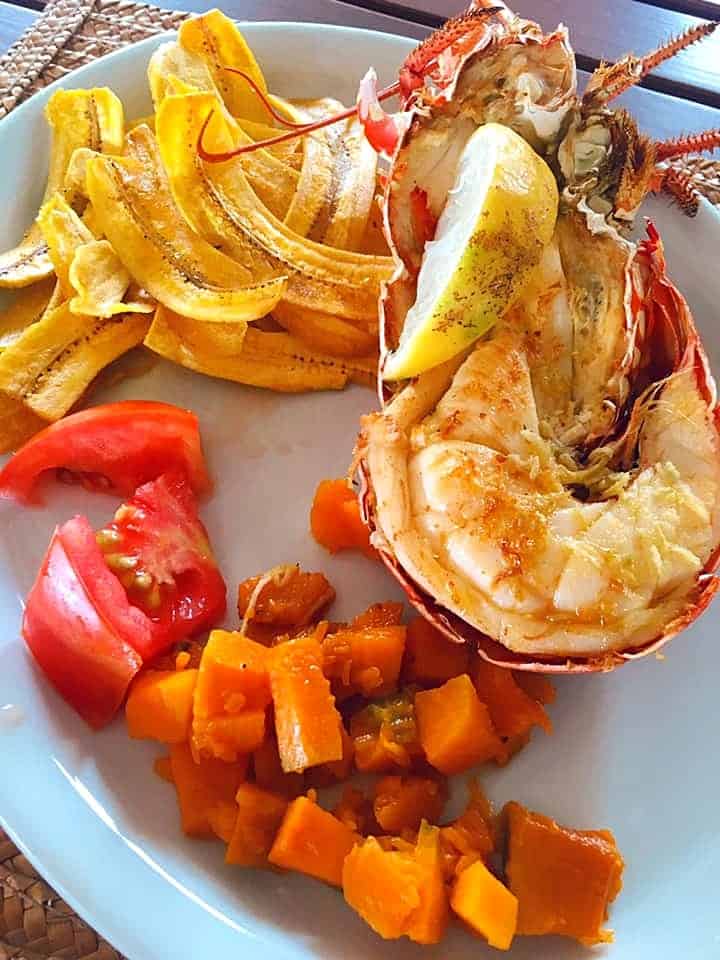 10. Helicopter Ride to Monserrat Island
Fly over Monserrat, the island devastated by the Soufriere Volcano in 1997, and get close to the still-active volcano. See the devastated areas evacuated and off-limits that are only accessible via aerial tour.
This tour is very limited and must be booked in advance. Make sure to check the availability with your cruise line excursions prior to your cruise. Sometimes if there are no shows, last-minute bookings can be accommodated. Weight restrictions apply so make sure you read all the information before booking.
To Wrap Up
To maximize your day in port, make sure you plan your day ahead as Antigua has so many incredible things to offer. Whether you choose to spend your day soaking up the Caribbean sun on one of its breathtaking beaches, enjoy spectacular views and sceneries, or learn about its rich history – a fun-filled, memorable day is guaranteed!
Visit also our cruise guides to Aruba, Curacao, Bonaire, Falmouth, Cozumel, Costa Maya, Grand Cayman, St Thomas, San Juan, Labadee, St Maarten, St Lucia, St Kitts, Barbados
---
You May Also Like:
25 Top Shore Excursion Packing List Items
What to Pack for a Cruise – Top 50 Cruise Essentials
Snorkel Gear and Scuba Diving Equipment – Tips by a Pro!
Don't forget to subscribe below and get my exclusive SHORE EXCURSION GUIDE FOR FREE!