Welcome to Bermuda cruise port!
Bermuda, the shipwreck capital of the world, is located in the North Atlantic Ocean and not in the Caribbean Sea as many think. It is a British Island Territory known for its perfect blend of British and American culture, soft sand pink beaches, stunning marine life, and as a golfer's paradise. With its capital city and the main seaport Hamilton, Bermuda is a top cruise destination welcoming around 150,000 visitors each year.
In this article, I share with you insider information on:
Bermuda cruise port (cruise terminal, local transportation, getting around the port)
Bermuda port highlights, shore excursions, and things to do on a cruise
Check out today's cruise deals from Cruise Critic!
Bermuda Cruise Port
Cruise ships dock at Royal Naval Dockyard which consists of two terminals: King's Wharf and Heritage Wharf, both located next to each other.
King's Wharf Bermuda is a naval dockyard, ferry, and cruise ship terminal where the large cruise ships dock, whereas smaller ships usually dock at Heritage Wharf. The historic areas, museums, shops, and restaurants are located within a short walking distance from the piers. There is a small terminal building with a Visitor Centre and there is often free wifi available.
The port is neat, well organized, and wheelchair accessible.
See Bermuda cruise port on Google maps
Local Transportation
There are different ways to get around in Bermuda. If your ship stays in port longer than a couple of hours, your best choice is to get a Bus/Ferry Day Pass, as it is more convenient and economical. You can get a 1-day pass or multi-day passes.
Bus
A 1-day pass costs $19.00/adult, $9.50/child, and you can use it across all transportation zones for both buses and ferries. If you decide to use the ferry/bus once or twice, then it will be cheaper for you to get a token.
A single bus ticket costs $3.50 ($2.75 using a token)/adult, $2.75/child. Day passes and tokens can be purchased at the tourist information center near the cruise terminal. Check the bus timetables and fares on the Government of Bermuda's official website
To get to Hamilton, take bus #8 in front of the Clock Tower Mall building approximately 5 minutes walk from the cruise terminal. The ticket price for adults is $5.00, children 5 to 15 years old cost $2.75, and for under 4 years old is free.
Ferry
Sea Express is the company that operates water ferries that are a quick and convenient way to get around the island. There are four different ferry routes: Blue Route, Pink Route, Green Route, and Orange Route. The closest ferry station is only a couple of minutes' walk from the cruise terminal.
Blue Route will take you to/from the Royal Navy Dockyard to Hamilton and the ride takes around 20 minutes. The ticket price for adults is $5.00, children 5 to 15 years old $2.75, and under 4 years old travel for free.
Orange Route is available only during summer months to/from the Royal Navy Dockyard to St. George and the ride takes around 45 minutes. The ticket price for adults is $5.00, children 5 to 15 years old cost $2.75, and under 4 years old travel for free.
Pink Route (Hamilton – Paget- Warwick) and Green Route (Hamilton – Watford Bridge – Cavello Bay – Rockaway) are also available but commonly used by commuters.
Check out/download the Bermuda ferry schedule
There is an official bus/ferry ticket kiosk right at the terminal, and here you can get your tickets (however, if you want to buy more than a 2-day pass, you need to go to the post office or get it in Hamilton). Transportation tokens can be also paid directly on the bus or ferry but you will need to have the exact fare in change. No change will be given back. Dollar bills are not accepted.
Taxi
Taxis in Bermuda are metered but not cheap and definitely are the best option at night when the bus and ferry services are reduced.
Taxis are either cars or small vans that can accommodate between 4 – 7 people. If you would like to hire a taxi per hour, it is also possible and rates are stipulated by the government (around $50 for 1-4 people per vehicle, and $70 for 5-7 people per vehicle). Wheelchair-accessible taxis are also available but limited.
Taxi station at the Royal Navy Dockyard is located right outside the cruise terminal and a ride to Hamilton city takes 20-25 minutes (subject to traffic) and costs approximately $50 per vehicle. Read more about Bermuda taxi fares here
Trolley
There is a free trolley service from the ship through the Dockyards at King's Wharf. It is very convenient for people with walking difficulties as it makes several stops along the way so you can hop on/hop off. It allows you to easily access some of the Dockyard's restaurants and places of interest, however, they operate every 10-15 minutes and might be crowded.
Note: Visitors are not allowed to drive in Bermuda, therefore there are no car rentals on the island.
Scooters are popular amongst visitors and rental places are available all around. Honestly, I do not recommend doing it especially if it's your first time in Bermuda. If you are planning to explore on your own, please make sure to get yourself familiarized with the Bermuda traffic system and behaviors. Bermuda roads are narrow and winding so always wear a helmet and bear in mind that riding a scooter in a foreign country might be a little risky. Also, keep in mind that Bermuda is British Overseas Territory, and people drive on the left side of the road.
Bermuda Currency
The official currency of Bermuda is the Bermudian Dollar (BMS; symbol $) and the exchange rate versus USD is 1 to 1. US dollars are widely accepted on the island, however, make sure you get the change in dollars as cruise lines do not offer exchange service for Bermuda currency.
Hotels in Bermuda
Check out the best Bermuda hotels here.
Bermuda Port Highlights & Things to Do on a Cruise
You should always take into consideration the scheduled time in the port of your ship when planning your day ashore. If it is your first time in Bermuda, consider taking an organized shore excursion to get the most of your day.
Suggested article: 25 Shore Excursion Packing List Items
For insider shore excursion tips, grab my FREE Shore Excursions Guide by signing up below!
1. Explore the King's Wharf Bermuda
Learn about Bermuda's Royal Navy Dockyard, the primary base of the British Navy for more than 150 years.
Royal Naval Dockyard is home to numerous shops specializing in handmade goods, arts and crafts. If you are into authentic handicraft, handmade jewelry and sea-glass ornaments, make sure you visit Bermuda Craft Market and Bermuda Arts Center, located less than 10 minutes walk from the pier. The Clock Tower Shopping Mall, located across the marina, is another place where you can find interesting souvenirs and specialty stores.
For history lovers, the National Museum of Bermuda housed in historic military buildings is a must! You will learn about the incredible, 500 years old history and culture of Bermuda while exploring exhibits and local art. The museum overlooks the port of Bermuda and offers wonderful ocean views.
Snorkel Park – A 5-minute walk from the National Museum of Bermuda, you'll stumble upon this family-friendly park where you can swim and relax at the beach, snorkel in shallow waters (water shoes recommended), enjoy water sports (gear rental, kayaks, pedal boats, and jet ski safaris), and park amenities including Hammerheads Bar & Grill. The admission fee is $5, for kids aged under 4 free. More information on the Snorkel Park Beach website
Bermuda Fun Golf – The golf course is located right next to Snorkel Park and offers beautiful ocean views.
Dolphin Quest Bermuda – Situated at the stone's throw from the National Museum of Bermuda, this marine center offers dolphin interaction programs and a fantastic experience for both kids and adults! Check the rates on the Dolphin Quest Bermuda website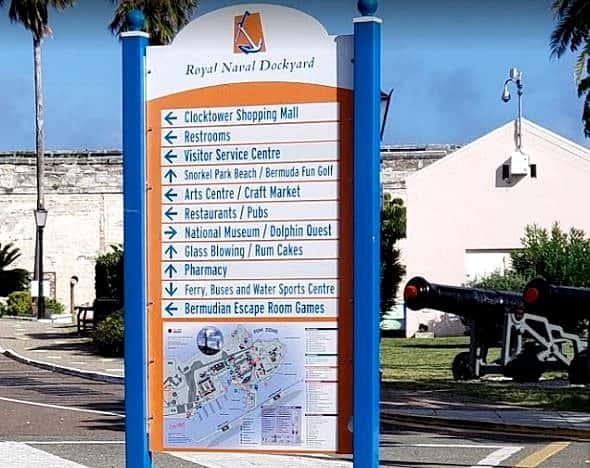 You can explore the Royal Navy Dockyard on foot, however, if it´s your first time in Bermuda, I strongly suggest taking a guided tour to learn all about Bermuda and its history.
Explore Royal Naval Dockyard tours
2. Discover the Crystal and Fantasy Caves
The spectacular cave was discovered by accident in 1907 by two young kids on their search for their lost ball. Take a guided tour of the most famous Bermuda's subterranean cavern and admire the marvelous limestone stalactite and stalagmite formations. You can also walk across a crystal-clear underground lake.
To get to the Crystal Caves, take the ferry from the Royal Navy Dockyard over to Hamilton (20 minutes) and then take bus #1 or bus #3 to the caves (30 minutes). Taxi from the cruise terminal to the caves takes approximately 45 minutes and will cost around $50 – $60 one way.
The entrance fee is $24 per adult, $10 for children 5 – 12 years old, and children 4 and under is free of charge. There is no need to book in advance, you can purchase a ticket directly at the entrance.
Visitors must be able to navigate and climb 81 steps inside the cave. Unfortunately, this attraction is not wheelchair accessible. Non-slippery footwear is recommended. Check the Crystal and Fantasy Caves website for more information.
Explore the Crystal and Fantasy Caves tours
2. Visit St. George's Town
Located on the east end of Bermuda, the town of St. George's is the oldest British settlement in the new world. This UNESCO world heritage site was founded in 1612 and was Bermuda's capital city until 1815. Stroll through the cobblestone streets of St. George's to Kings Square, explore the oldest fort, Bermuda Heritage Museum, St. Peter's Church, and roofless ruins of the neo-Gothic Unfinished Church.
To get to St. George's town, from Royal Naval Dockyard you can take the Orange line ferry that will take you directly to St George's market wharf, only a few minutes walking distance from Kings Square.
You can also take Bus Routes 1, 3, 10, 11 from Hamilton central bus station to St. George's, and the ride takes approximately 1 hour.
A taxi ride will take approximately 45 minutes and cost between $70 to $90 dollars.
4. Experience Bermuda's Marine Life
There are numerous shipwrecks and colorful coral reefs around the island boasting incredible wildlife teeming with parrotfish, turtles, butterflyfish, and snappers.
Suggested article: Snorkel Gear and Scuba Diving Equipment – Tips by a Pro!
Many of those reefs are located in shallow waters giving you the opportunity to snorkel from the beach, yet my best snorkeling experiences have been from a boat.
Sail across the Great Sound bay, snorkel and dive around the shipwrecks of the Constellation and Montana, and explore the wreck of the Sea Fern located inside Nonsuch Island nature reserve.
Besides snorkeling and diving, you can go helmet diving, snuba, paddleboarding, kayaking and so much more! If you rather choose to stay dry, you can admire the colorful reefs and wrecks through the many glass-bottom boat tour options.
Explore Bermuda snorkeling and water activities tours
5. Climb the Gibb's Hill Lighthouse
Erected in 1846, Gibb's Hill Lighthouse is one of the oldest iron-cast lighthouses in the world. Learn about the history of Bermuda and the construction of the lighthouse through the different exhibitions you will encounter as you climb up the 185 steps to the balcony before getting magnificent 360-degree views of the Southampton Parish and the West End.
In the lighthouse area, you can also find a restaurant, golf clubs, and several beautiful beaches including Horseshoe Bay and Sinky Bay Beach.
Gibb's Hill Lighthouse is located around 15 km (9.3 mi) from the Kings Wharf Bermuda. To get to the lighthouse, take bus #8 from the Royal Navy dockyard to Hamilton and get off near Henry VIII restaurant, from where there is a 5-10 minute trek to the lighthouse. Another option is to take bus #7 from the Dockyard to Hamilton and get off at Waterlot Inn restaurant bus station, from where you need to walk 10-15 minutes.
There is a $2.50 entrance fee and you do not need to purchase tickets in advance. Unfortunately, there is no elevator at the lighthouse. Find more information on Gibb's Hill Lighthouse website
Check out Gibbs Hill Lighthouse tours
6. Golfers' Paradise
Bermuda is a popular destination for golfers, and it is not a surprise as the island has the largest number of golf courses per square mile in the world.
There are 9 golf courses on the island and the following ones are the top 3 choices:
Mid Ocean Golf (18 holes) – Located in St. George's parish, a clifftop Mid Ocean Golf is ranked #1 Golf course in Bermuda and one of the best in the world. Green fees cost approximately $275 per round and club rental is around $75. Mid Ocean is quite expensive compared to other courses and the rate varies depending on the time of the year. Due to the popularity of this golf course, reservations should be made as much as 3 months in advance. To get there, you can take the Orange ferry line from the Dockyard to St. George's and then take bus #1 to the golf club. More information on the

Mid Ocean Golf Club website
Tucker's Point Golf Club (18 holes) – Located in St. George's parish, the golf club is part of the Rosewood Resort and offers great ocean views and the harbor. Green fees cost approximately $210 per round and club rental is around $75. Reservations should be made at least 48 hours prior to your visit. From the Dockyard, you can take the Orange ferry line to St. George's and then take bus #1 or bus #3 to the golf club. Visit the

Tucker's Point website
Port Royal Golf (18 holes) – Located in Southampton Parish, this golf club is well-known for the spectacular ocean views, green lush scenery, and oceanside cliffs. Regular green fees cost $180 per round, however, during summer months the Royal golf offers a special package for cruise passengers at $150 per round. It is recommended to make your reservation in advance. From the Royal Navy Dockyard, you can take bus #7 to Hamilton and get off at the Middle road stop. Visit the

Port Royal Golf Club website
Note: Public buses do not allow you to carry clubs so if you are bringing your own, a taxi is your best choice.
7. Bermuda Beach Break
Bermuda is well known for its famous pink sand beaches and azure waters. Most of the swimming beaches are located on the south shore of the island while on the eastern side of Bermuda you can experience some snorkeling and diving.
Horseshoe Bay Beach
Nestled on the south shore, in Southampton parish, Horseshoe Bay is probably the number 1 tourist destination in Bermuda famous for its beautiful soft sand beaches and picture-perfect setting.
Surrounded by picturesque limestone cliffs, this horseshoe-shaped pink beach is great for swimming and snorkeling, so you should expect large crowds during the summer months.  Amenities like umbrellas and snorkeling equipment are available for rental (expect to pay around $50 for two loungers and an umbrella), but you can bring your own towel as well. You can get some food at the nearby bar-restaurant if your get hungry, and for those enjoying scenic views, there is a jogging path that leads to the cliff with spectacular views.
With its crystal clear water and powdery sands, the beach is friendly for both adults and kids (especially a little shallow cove nicknamed "baby beach"), only be mindful of some rocky parts (water shoes recommended).
To get to the beach, take bus #7 from Dockyard to Hamilton via the south shore beaches and the trip should take around 25 minutes.
A taxi from the Bermuda cruise port will cost around $30 each way, whereas a more cost-effective option is to share a minivan at the price of $7 per person (you need to wait until the van is full).
Explore Horseshoe Bay tours and activities
Church Bay Beach
This snorkel paradise is located in a peaceful sheltered bay on the South Road in the Southampton parish, only 5 minutes drive from Horseshoe Bay. It has a small sandy beach tucked in a Church Bay Park, a great diving and snorkeling spot.
Suggested article: Snorkel Gear and Scuba Diving Equipment – Tips by a Pro!
However, beware because the water on this beach is deeper than other beaches in Bermuda. The water can be choppy sometimes, it's rocky and it's got seaweed, so it's not really recommended for small kids. The beach is off the beaten track and has no amenities on it, so don't expect crowds. It can also be challenging for people with walking difficulties as there is a long wooden stairwell down to the beach.
To get to the Church Bay Beach from Bermuda cruise port, take bus #7 from Dockyard to Hamilton via the south shore beaches and the trip should take around 25 minutes. A taxi from the Royal Navy Dockyard will cost around $25- $30 each way.
Tobacco Bay Beach
Another amazing location for snorkeling is located in a sheltered bay in St. George's Parish, on the far east end of the island. This sandy beach is known for its scenic, craggy coastline, great snorkeling, and shallow, clear water. The beach offers amenities (chair/umbrella rentals, showers, restrooms), water activities (kayaking, paddle boarding), and there is a bar-restaurant nearby where you can get food and drinks.
From Bermuda cruise port, you can take the Orange ferry line to St. George's and then a 20-minute bus ride to Tobacco Bay Beach from the St. George's Visitor Services Centre in King's Square.
Warwick Long Bay Beach
Located in Warwick parish, this gorgeous pink sand beach is Bermuda's longest beach and is considered the best beach for snorkeling. Water is a little wavy so I recommend it for experienced snorkelers and strong swimmers as currents can be strong. There are no facilities on the beach (restrooms are available).
The beach can be reached on foot from Horseshoe Bay and is connected via a walking trail to Jobson's Cove Beach.
To get there, take bus #7 from Bermuda cruise port to Hamilton via the south shore beaches and the trip should take around 40 minutes.
Jobson's Cove Beach
This beautiful pink sand beach is located in Warwick Parish and is known as a popular spot for wedding proposals.
Jobson's Cove is a tiny beach that offers calm waters and it's a great place for swimming and snorkel. Make sure you bring everything you need as there are no facilities in the area.
Suggested article: 25 Top Shore Excursion Packing List Items
To Wrap Up
Bermuda is absolutely wonderful so make sure you plan your stay to get the most of your day! Locals are friendly, sites amazing and not to mention the beaches of unmatched beauty. Bermuda cruise port is fully accessible and offers a variety of options for people of all ages, guaranteeing to you and your family a safe, unforgettable, and memorable stay.
Check out today's cruise deals from Cruise Critic!
---
This article may contain affiliate / compensated links. For full information, please see my disclaimer here.
You May Also Like:
Do You Need a Reliable Travel Insurance? Get a Quote!