You are taking a cruise to Normandy and wondering how to get to Mont Saint Michel, the magical fairy-tale castle that you've only seen on postcards from France?
Well, whether you are visiting Normandy on a cruise or visiting from Paris, it is very easy to get to this incredible UNESCO World Heritage Site (declared in 1979).
I was lucky enough to visit Mont Saint-Michel abbey twice, while I was working on a cruise ship in the Shore Excursions department. The cruise itinerary we did included a stop at the ports of Le Havre and Cherbourg, two perfect gateways to the Normandy region and its main attractions.
Suggested articles:
Paris in a Day: How to Plan Your Perfect Day Trip to Paris?
12 Gorgeous Places to Visit in Normandy on a Cruise
Le Havre Cruise Port Guide, Things to Do, Shore Excursions
Cherbourg Cruise Port Guide, Things to Do, Shore Excursions
How to Get to Mont Saint Michel?
Mont Saint Michel is located in Normandy, one of the most beautiful regions in France, in the bay where the mainland embraces the Atlantic.
Our ship docked in Le Havre, a city and port in northwestern France, in the Normandy region. It takes around 2 hours 30 minutes drive to reach Mont Saint-Michel from Le Havre (223 km; 139 mi), whereas from the town of Cherbourg (another port where cruise ships sometimes dock) it takes a bit less, up to 2 hours (178 km; 110 mi).
If you are coming from Paris, you need approximately 4 to 4 hours 30 minutes to get to Mont Saint-Michel (see the train timetables and fares on https://www.sncf.com/fr). French roads are very good and well connected, so you shouldn't have any trouble finding this place – it's one of the most famous French sights and therefore very well marked and easy to find.
We took the tour bus to get there, and once we came, the bus driver parked the bus in the parking lot and we continued on foot. The important thing to know is that if you are coming by car or any other transport, you will be required to leave your vehicle in a parking lot situated 1.5 km (0.9 mi) away from the abbey (you can't go directly to the abbey!).
From the parking, you need to walk 10 minutes to the shuttle bus station and wait for the shuttle bus to take you to the abbey. Shuttle bus service is for FREE and you don't have to pay for it.
At the shuttle station, you will find a tourist office and restroom facilities and I recommend you to use them, as inside the abbey there are no toilets available (as far as I saw, only by the entrance to Mont Saint Michel there are toilets, but quite small and crowded).
The line for the shuttle bus can be long, but shuttle buses keep coming so don't get panicky if so see a long line – you shouldn't wait more than 10-15 minutes in line for a shuttle bus even when it's super busy. Also, don't get confused if you see that the shuttle bus is making a few other bus stops – don't worry – Mont Saint-Michel is the final one and you cannot miss it (you will remain speechless when you see the abbey anyway).
Book the private transfer to Mont Saint Michel
More practical information and detailed info on how to get to Mont Saint Michel you can find on the official websites: https://www.ot-montsaintmichel.com/ and http://www.bienvenueaumontsaintmichel.com/en
Mont Saint Michel Facts
Many people are wondering whether Mont Saint-Michel is a castle, a fortress, an island, an abbey… The truth is – it's all of that, as its role throughout history has been changing and the place served for different purposes.
Mont Saint-Michel is a tidal island, meaning that it's exposed at low tide and submerged at high tide, connected to the mainland by a man-made causeway.
Due to the mystical surroundings of tidal islands, Mont Saint-Michel has been the site of religious worship since its foundation: the first building constructed on top of it was a small chapel built by St. Aubert, bishop of Avranches, in the 8th century.
St. Aubert claimed to have had visions of the archangel St. Michael telling him to build an abbey on the promontory on the top of the island, which the bishop did but only after the third time St. Michael had appeared in his visions. Soon after that, the site became a pilgrimage center, and in 966 a Benedictine abbey was built there.
Throughout its history, it was damaged and rebuilt many times, due to many wars that took place in France (the French Wars of Religion), but it resisted during the Hundred Years' War between England and France, which strengthened the faith of the French people.
The turbulent history explains why the abbey was fortified by high walls. After the French Revolution, it was dissolved and soon became a state prison under Napoleon I and remained a prison until it was finally restored in 1874 and classified as a historic monument.
Since then, many works on the abbey have been conducted until the present day, which has made Mont Saint-Michel one of the most important religious and historical monuments in France.
What to Do in Mont Saint Michel?
1. Mont Saint Michel Abbey
The main place to visit is the abbey church perched on the top, built in Romanesque and Gothic style in the period from the 11th to 16th centuries. The tower and the spire, crowned by a statue of St. Michael, were added in the 19th century, while some other buildings, military walls, and the village surrounding the abbey were built in different periods throughout history.
There is a breathtaking panoramic view of the bay from the medieval walls (built from the 13th to the 15th century) which you can access during a regular Abbey tour. The visit to the Abbey is an absolute must once you come to the site, but beware: it can take time to visit and you have to be in decent physical shape in order to endure the tour! There is a lot of climbing involved and a lot of stairs.
The last time I was there, the fee to enter the Abbey was around 10 €, while the access to the Mont Saint-Michel village and surroundings in entirely free.
The visit to the Abbey took me at least 2 hours, and it was quite impressive as I felt I was taken back to the past and the whole history of the place emerged in front of my eyes. Different centuries are reflected in different construction stages and styles of architecture. For history addicts, Mont Saint-Michel abbey is a dream place.
Check out Mont Saint-Michel tours from Paris
Explore Mont Saint-Michel tours from Le Havre
2. Walk along Mont Saint Michel Ramparts
Just a quick word and a reminder – The visit to the village and walking along the ramparts of the Abbey is entirely free. The second time I visited Mont Saint-Michel I didn't visit the abbey (as I did it the first time I came) so I took my time and walked along the ramparts where I enjoyed panoramic views of the bay.
There are many hidden corners around the fortified walls that only persistent tourists (including me) end up finding – some of them even have benches and places to sit, so I saw many tourists taking a rest or having some snacks there, enjoying the amazing view of the Abbey and its surroundings.
3. Stroll through Mont Saint Michel Village
Access to the village is free and everyone is welcome. Once you enter the site, first you need to pass through the main street of the village in order to climb to the Abbey which is on the top (a lot of climbing involved). The streets are old and narrow, filled with shops, bakeries, patisseries, restaurants, guest houses, and hotels.
Most of the houses in the village, some of them dating back to the 15th century, have been transformed into hotels and guest houses, or restaurants. They've still preserved the original exterior as they represent a historical monument, so they blend in perfectly with the rest of the place.
Find accommodation and hotels in Mont Saint Michel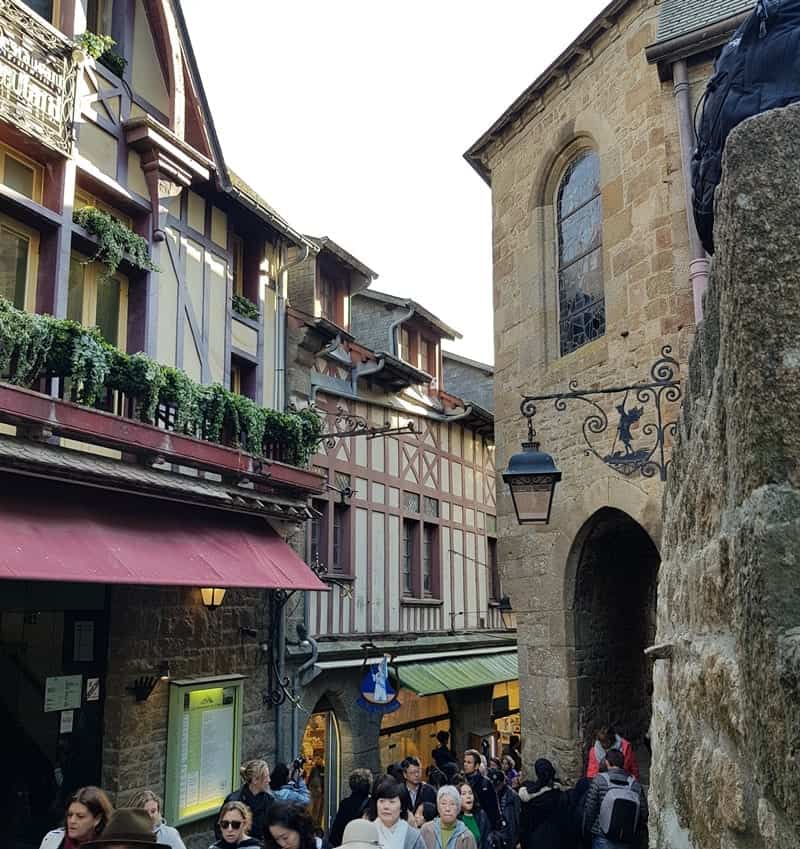 Prices in the village are quite high, and one very important note – many bakeries and places offering take-away food do not accept credit cards, so make sure you have some cash with you if you don't want to stay hungry or thirsty.
Overall, you can take a nice walk and spend some quality time in the village even if you don't want to visit the abbey. But, if you are a first-time visitor, the visit to the abbey is a must – it's absolutely worth visiting and you will remember it for a lifetime.
Au Revoir, Mont Saint-Michel!
Mont Saint-Michel is the place where one should return at least a couple of times during a lifetime. Not because of its extraordinary beauty and historical importance, but because of the emotions and energy this place evokes.
The statue of the Archangel Michael, covered with gold, dominates the Mount and reminds all its visitors that the purpose of life lies in the faith – in God, people and ourselves. France should be proud to have a holy place such as Mont Saint-Michel.
Check out the best Mont Saint Michel tours and activities
---
You May Also Like:
25 Top Shore Excursion Packing List Items
What to Pack for a Cruise – Top 50 Cruise Essentials
A Day in Paris: How to Plan your Perfect Day Trip to Paris?
12 Gorgeous Places to Visit on a Normandy Cruise
Le Havre Cruise Port Guide, Things to Do, Shore Excursions
Cherbourg Cruise Port Guide, Things to Do, Shore Excursions
Subscribe below and get my exclusive, insider SHORE EXCURSION GUIDE FOR FREE!
This article may contain affiliate / compensated links. For full information, please see my disclaimer here.