Welcome to the port of Cherbourg, France!
Cherbourg-en-Cotentin, often known as just Cherbourg, is a city nestled at the northern end of the Cotentin Peninsula in the department of Manche, Normandy region, in northwest France. Strategically located on the English Channel, the port town of Cherbourg has always been an important commercial, ferry, military and cargo port.
Nowadays, Cherbourg is a popular stop in cruise itineraries due to its proximity to D-Day Landing Beaches, Mont Saint-Michel and other historic sites in Normandy. In this article, read about:
Cherbourg cruise port (Cherbourg cruise terminal, getting around, useful tips)
7 best things to do in Cherbourg port & Cherbourg shore excursions
Visit also our cruise port guides to Le Havre, Marseille, Amsterdam, Dublin, Dover, Bilbao, La Coruna, Copenhagen, Helsinki, Tallinn, Oslo, Brugge (Bruges)
Search the best Western Europe cruise deals!
Port of Cherbourg
Port Cherbourg is protected by Cherbourg Harbour, the second-largest man-made harbour in the world, which has played a significant role since the 18th century due to its excellent strategic position. The harbour is home to one of three naval bases in France (besides Brest and Toulon) and holds an arsenal of the French Navy. Cherbourg also serves passenger ferries to England (Portsmouth, Poole), Ireland (Rosslare, Dublin) and Spain (Bilbao).
Cherbourg cruise ship terminal consists of two quays: Quai de France, where the majority of the cruise ships dock and Quai de Normandie, situated next to it. Both quays are located within a 15-minute walk from Cherbourg downtown.
Quai de France features an impressive terminal building housed in a former railway station dating from the early 20th century (Gare Maritime Transatlantique). Here, cruise passengers can find a tourist information center and a souvenir shop. Free shuttle buses to Cherbourg town center are normally provided by the port authorities, however, some cruise lines may offer this service for a small fee. The walk to the town is very pleasant, on flat surfaces, so shuttle transfer is not really necessary. A taxi rank and bus parking are available in front of the terminal building.
One part of the Gare Maritime houses the iconic Cité de la Mer, a maritime museum and one of the most visited attractions in Cherbourg.
Helpful info & links:
See Cherbourg cruise schedules on

https://www.cherbourg-port.fr/

The currency in France is EURO (€). Local currency and credit cards are widely accepted. See the

currency converter

Cherbourg is very easy to get around. The majority of surfaces are flat and suitable for guests with walking difficulties/wheelchair users.
The downtown area is located only 15 minutes walk from the port. It is centered around a picturesque marina (Bassin du Commerce) filled with yachts and recreation boats. To reach the town center, you need to cross a small bridge (Pont Tournant) and right behind the waterfront area, you'll find the Old Town with its cobbled streets, shops and eateries.
Cherbourg train station (Gare de Cherbourg) is located around 2 km/1.3 miles or a 25-minute walk from the Cherbourg cruise terminal. The trains in France are operated by SNCF (France's national railway company) and you can check the timetables and prices on their official website

https://www.sncf.com/

The distance between Cherbourg and Paris is 360 km/224 miles or approximately a 4-hour drive each way. The train ride to Paris lasts around 3 hr 20 minutes.
Cherbourg has a warm, temperate climate with cold, wet winters and pleasant yet windy summers. For useful cruise packing tips, check out my article

What to Pack for a Cruise in 2023 – Top 60 Cruise Essentials
7 Best Things to Do in the Port of Cherbourg
Before I share with you the best things to do in the Cherbourg cruise port (including the shore excursions to Normandy Beaches, Mont Saint-Michel, Cap de la Hague, Bayeaux, Caen…), I invite you to sign up below and get my FREE Shore Excursions Packing List! (PDF/printable format)
1. Cherbourg
Cherbourg is a very easy place to get around and all the main attractions are located within a walking distance of the port. In the old town, you'll find a wide variety of eateries and wine bars where you can sample Normandy's cuisine specialties including fresh seafood, famous "camembert" cow cheese, apples, and apple cider "calvados"…
While there, you shouldn't miss out to visit the town's main landmarks. Some of the main Cherbourg attractions are:
La Cité de la Mer – The iconic maritime museum is housed in a beautiful 240-meter long Art Deco building of Gare Maritime Transatlantique. A part of the museum is dedicated to the legendary Titanic, as Cherbourg was one of the ports of call before the Titanic's crossing. La Cité de la Mer is also home to La Redoutable, the world's largest submarine open to visitors, and an impressive aquarium with 17 tanks holding more than 4.000 marine creatures.
Thomas Henry Museum (Musée Thomas Henry) – The art museum is located in the heart of Cherbourg and contains works of famous artists, including Jean-François Millet who lived near Cherbourg and painted realistic scenes of rural life in the Cotentin in the 19th century. The museum also features paintings and sculptures dating from the 15th-19th centuries.
Cherbourg Theater – Also known as Théâtre à l'italienne (Italian theater), the theater is located in the heart of the town and is part of Le Trident, a group of three theatres in the city of Cherbourg-Octeville. The theater overlooks Place du Général de Gaulle and boasts a beautiful Beaux-Arts facade.
Basilica of Sainte-Trinité (Basilique Sainte-Trinité de Cherbourg-en-Cotentin) – Listed as a Historic Monument, Holy Trinity Basilica is one of the oldest churches in Cherbourg.
Parc Emmanuel Liais – A peaceful oasis is located only a stone's throw from the old town.
Fort du Roule (Batterie du Roule) – The 19th-century fortress is situated on the outskirts of Cherbourg and nowadays houses the Liberation Museum (Musée de la Libération) dedicated to the World War II and D-Day events in Cherbourg. In 1928, the Navy built extensive tunnels under the fort to store equipment and during WWII several tunnels, casemates for artillery, and gun emplacements were built. Both a museum and tunnels are open to the public.
Ravalet Castle (Château des Ravalet) – The famous Renaissance castle is located a 15-minute drive from Cherbourg port. It was built in the 16th century by Lord Ravalet and is surrounded by splendid gardens (Parc du Château des Ravalet).
2. Mont Saint-Michel
The spectacular Mont Saint-Michel is a UNESCO World Heritage Site and one of France's most visited treasures. This tidal island with its impressive 8th-century Mont Saint-Michel Abbey lies 178 km/110 miles (a 2-hour drive) southwest of Cherbourg.
Cruise lines normally offer shore excursions to Mont Saint-Michel and if you want to visit this amazing place, it is recommended to book a tour with the cruise ship or a reliable independent tour operator due to the distance. I went on a tour to Mont Saint-Michel from Cherbourg, and you can read a detailed Mont Saint-Michel review in my article How to Visit Mont Saint-Michel on a Cruise (from Le Havre and Cherbourg)
Check out Mont Saint-Michel tours from Cherbourg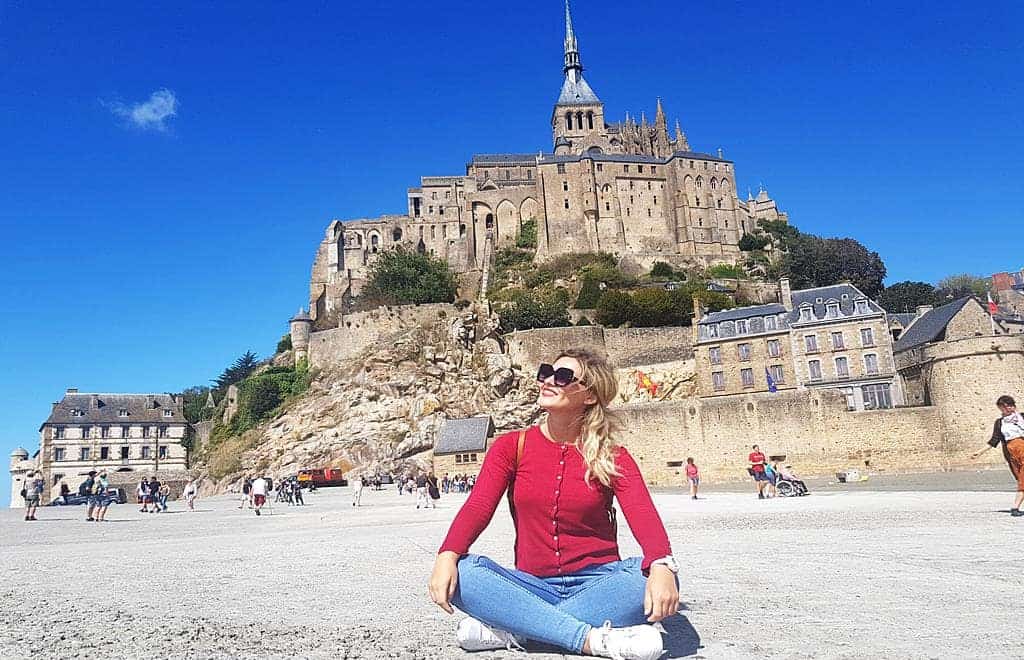 3. D-Day Landing Beaches
In 1944, the Allies disembarked in Normandy in order to fight against the Nazis and drive them out of France. They disembarked on the beaches of Normandy (today known as D-Day Landing Beaches) extending over 70 km along the region's coast. There are five main D-Day landing beaches: Omaha, Utah, Gold, Juno and Sword Beach. The entire area consists of numerous WWII monuments, museums, cemeteries and memorials and it takes a few days to visit all of them. The most important ones are:
The Landing Beaches
Arromanches-Les-Bains
Normandy American Cemetery and Memorial
Pointe-du-Hoc Ranger Monument
Overlord Museum
German Battery of Longues-Sur-Mer
The Memorial Pegasus
Cruise lines normally organize shore excursions to some of these places and it's highly recommended to book one of these if you are a WWII buff. However, keep in mind that these are full-day trips as it takes from 1 hour to over 2 hours drive each way to reach the D-Day locations.
One of the most visited ones is the Arromanches Debarkment D-Day Museum (Musée du Débarquement) located in Arromanches, which is in the center of the Gold Beach landing area. The impressive museum displays artifacts, models, photographs, and films related to Normandy Invasion and is one of the main places of interest to visit. You can read about other D-Day landmarks more in detail in my article  12 Gorgeous Places to Visit on a Cruise to Normandy
Explore D-Day Beaches tours from Cherbourg
4. Bayeux
The charming town of Bayeux is located 94 km/59 miles (a 1h 15-minute drive) southeast of the port of Cherbourg and only 10 km from the Arromanches. Bayeux managed to preserve its original charm and beauty as it wasn't much damaged during the WWII bombing and is nowadays one of the most beautiful towns in Normandy. 
The town is known for its striking Bayeux Cathedral (Notre Dame de Bayeux), a masterpiece of Norman Romanesque and Gothic architecture dating from the 11th century. Situated in the heart of the medieval old town, the cathedral originally housed the famous Bayeux Tapestry, the most iconic monument of Bayeux listed as a UNESCO World Heritage Site. The tapestry is today housed in Musée de la Tapisserie de Bayeux, where you can admire the exceptional 70-meter-long embroidery depicting the Norman Conquest of England in 1066 by William the Conqueror, Duke of Normandy.
5. Cap de la Hague
If you want to take in the gorgeous sceneries and spend a day in Normandy's countryside with not much driving time involved, you should book a trip to Cap de la Hague, a cape at the tip of the Cotentin peninsula, boasting dramatic cliffs, pebbled beaches and a rocky coastline of spectacular beauty.
There are several places you can visit in this area, and the best thing is that it's only 30 km/19 miles (a 40-minute drive) away from Cherbourg port. Some of the must-see attractions in the Cap de la Hague area are:
Nez de Jobourg – A granite cliff made of the oldest rocks in France is located 128 meters above sea level and offers outstanding views of the Atlantic Ocean.
Goury Lighthouse – The iconic lighthouse is located on the rock in the middle of La Manche, "at the very end of the world" and offers amazing photo-ops.
Port Racine – The smallest port in France and one of the most photographed places in Normandy.
6. Honfleur and Deauville
If you don't mind driving for too long, you should head to Honfleur, one of the most charming towns in Normandy. Honfleur is located 188 km/117 miles (more than a 2-hour drive each way) southeast of Cherbourg and lies on the Seine estuary on the so-called Côte Fleurie (Flowery Coast) of Normandy.
The town boasts a picturesque harbour (Le Vieux Bassin) renowned for its architecture, especially its half-timbered 16th-century buildings and the Church of Sainte Catherine, the largest wooden church in France. This colorful medieval town was painted numerous times by artists such as Claude Monet and Gustave Courbet and is nowadays filled with typically French shops, eateries and cafes that you can discover on a walk around its medieval cobbled streets.
On your way to Honfleur, make sure you stop at Deauville, the glamorous seaside resort located only a 20-minute drive from there. Here, you'll find a great number of chic boutique stores, luxurious casinos and a long scenic beach where you can take a stroll and take in the ocean views.
Although Honfleur and Deauville are truly beautiful, keep in mind the driving distance to these places. If your cruise itinerary includes a stop in Le Havre, it's highly recommended to visit Honfleur from there as the driving distance between the two places is only 35 minutes.
Explore Honfleur tours from Cherbourg
7. Caen
Caen is the capital of the Calvados department and is located 122 km/76 miles (a 1-hour 30-minute drive) southeast of the port of Cherbourg. The city is famous for its Caen Castle (Château de Caen) built in the 11th century by William the Conqueror, as well as for its outstanding medieval architecture including the L'Abbaye-aux-Hommes (aka Abbey of Saint-Étienne) that nowadays houses the City Hall, the Church of Saint-Étienne-le-Vieux (St. Stephen's Church), Église Saint-Pierre de Caen (St Peter's Catholic Church) and The Abbey of Sainte-Trinité (Abbaye aux Dames de Caen).
While there, don't miss the chance to visit the famous Mémorial de Caen, an exceptional museum dedicated to World War II, D-Day landings and the Cold War.
Check out Caen tours and activities
Wrapping Up
Whether you choose to spend a day in the charming Cherbourg or you decide to explore the region, make sure you plan your day to get the most out of it! If you want to read more about things to see and do in Normandy, check out my articles:
Visit also our cruise port guides to Le Havre, Marseille, Amsterdam, Dublin, Dover, Bilbao, La Coruna, Copenhagen, Helsinki, Tallinn, Oslo, Brugge (Bruges)
---
You May Also Like:
25 Top Shore Excursion Packing List Items
What to Pack for a Cruise in 2023 – Top 60 Cruise Essentials
Western Europe Cruise Port Guides
Mediterranean Cruise Port Guides
Don't forget to subscribe below and get your FREE Shore Excursions Packing List! (PDF/printable format)
This article may contain affiliate / compensated links. For full information, please see my disclaimer here.