Welcome to port Cork (Cobh, Ireland)!
The port of Cork is the only port in Ireland with a dedicated cruise berth in Cobh, a town nestled on the south coast of Ireland, located 16.5 km (10 miles) or a 30-minute drive from Cork city center. In this article, read about:
Port Cork (Cobh cruise terminal, getting to Cork, local transportation)
8 best things to do in Cobh/Cork cruise port (port highlights, shore excursions)
Visit also our cruise port guides to Greenock (Glasgow), Belfast, Holyhead, Dover, Dublin, Invergordon (Inverness), Amsterdam, Copenhagen, Le Havre
Search the best Western Europe cruise deals!
Port Cork Info – Cobh Cruise Terminal
The majority of cruise ships sailing to Cork dock at Cobh's historic harbour known as Cobh Heritage Center located in the town center of Cobh, approximately 30 minutes drive from Cork. This cruise terminal has 1 berth and can accommodate cruise vessels up to 350 meters (1.148 ft) long.
Cobh Heritage Center cruise terminal is adjacent to the Cobh train station which is only 50 meters from the place where passengers disembark. You will find Wi-Fi, snacks and drinks, a gift shop, and basic tourist information in the terminal. Besides being historic shipping, emigration and naval harbour from where the Titanic set sail, Cobh Heritage Center is also a museum where visitors can learn about Ireland's fascinating past.
Cobh city center is located only a 5-minute walk from the terminal and there is a wonderful waterfront boardwalk filled with cafes, restaurants and parks taking you there. You can get maps, brochures and all the necessary tourist information at the Cobh tourist office, situated only 350 meters (1.148 ft) from the cruise terminal.
If there is more than one cruise ship in port your ship might be assigned to Ringaskiddy Quay, a deep water port and a ferry terminal located approximately 20 minutes drive from Cobh. This pier can accommodate cruise ships up to 360 meters (1.181 ft) long and has 1 berth. Smaller cruise ships up to 152 meters (498 ft) long can dock at the port of Cork, located in the heart of the city of Cork.
Helpful info & links:
Cork harbour is one of the most picturesque and beautiful natural harbours in the world! It's highly recommended to go on the outer decks during the sail-in, preferably on the port side of the ship.
Cobh Heritage Center cruise terminal is wheelchair accessible, however, guests using devices and with walking difficulties might find it difficult to navigate Cobh city center as some parts are hilly.
The official currency in Ireland is EURO (€). ATMs and currency exchange are available in the town. Local currency and credit cards are widely accepted. See the

currency converter

The weather in Ireland is unpredictable so it is recommended to

dress in layers

and wear comfortable shoes. For useful cruise packing tips, check out my article

What to Pack for a Cruise in 2023 – Top 60 Cruise Essentials

The best way to get to Cork from Cobh is by train, and the station in Cobh is conveniently located next to the Heritage Center. The trains to Cork city center run hourly, and the journey takes approximately 25 minutes. The train terminus and the station where you need to get off in Cork is Cork Kent Station. The ticket costs around 3.45€ one-way. Find more information on

https://www.irishrail.ie/

Taxis are available outside the port and the fare to Cork is approximately 35€ – 45€ one way. The trip takes around 20 minutes (subject to traffic). Official taxis in Ireland are metered and rates are set by the National Transport Authority and drivers are obligated to provide a receipt at the end of a journey. Uber and other taxi applications are illegal in Ireland.
There is also a bus line 200 from Smalls Well in Cobh (located 10 minutes walk from the dock) to Saint Patrick's Quay in Cork. The round-trip fare costs around 6€ and the trip takes around 45 minutes. Check the timetables and prices at

https://www.cobhconnect.ie/

or

https://www.transportforireland.ie/

Cork Airport is located 29 km/18 miles (a 30-minute drive) west of Cobh cruise terminal.
8 Best Things to Do in Cobh/Port Cork
Before I share with you the list of the top 8 things to do in port Cork, I invite you to sign up below and get my FREE Shore Excursions Packing List! (PDF/printable format)
1. Cobh Heritage Center (The Queenstown Story)
If you want to learn about turbulent Irish history, then you should first head to this unique heritage museum located right at the cruise terminal, next to the Cobh railway station. The museum consists of permanent exhibitions allowing visitors to learn about the largest Irish emigration, the country's maritime history, the Irish Potato Famine that left in starvation over a million people in the 19th century…
You will see exhibitions of the first steamship that made a transatlantic trip in 1838, learn about the tragic sinking of RMS Lusitania in 1915 and see exhibitions on the RMS Titanic whose last port of call before it sank in 1912 was Cobh (back then Queenstown).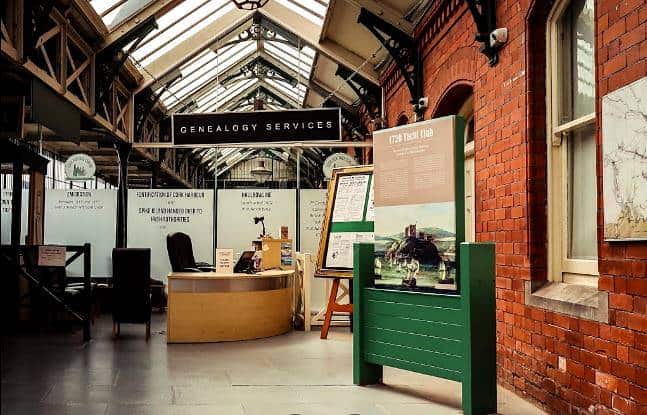 Right outside the Heritage Center, you will find the statue of Annie Moore, the first emigrant to the United States processed through the immigration station at Ellis Island.
The admission fee for adults is 13.50€, for children under 18 is 9€ and for kids under 12 is 7€. A family pass is also available for 34€ (2 adults + 4 children). Cobh Heritage Centre is fully accessible for wheelchair users and the entire center is step-free. Find more information on https://www.cobhheritage.com/
Check out Cobh Heritage Center tours and activities
2. The Titanic Experience
Take a guided walking and virtual tour alongside a knowledgeable guide and learn all about the connection of the Titanic and Cobh harbor, its last stop before its sinking in 1912.
Housed in the former White Star Line ticket office on Casement Square, only a 5-minute walk from the cruise terminal, this visitor attraction offers a powerful insight into the Titanic's everyday life. You will learn about the living conditions for third and first-class passengers on board the ship and even experience the chill of sinking as one of the last 123 passengers who embarked on the Titanic right at that place!
The whole experience is designed to make you feel and live the destiny of these last 123 passengers, and you'll even get a boarding pass with one of their names! It is a truly unique experience and a must when visiting Cobh. The Titanic Experience Center is wheelchair friendly, there is a small device lift that will take you to the reception level.
The whole tour takes around 1-1.30 hours and the departures are every 15-30 minutes. The tickets are required and prices vary from 10.80€ – 12€ for adults and 7.20€ – 8€ for children aged 4-16. Family passes are also available and the prices range from 21.60€ to 41€. It is recommended to book tickets online to avoid disappointments and lack of space. Tickets must be booked up to midnight before the day before your visit. Find more information on https://www.titanicexperiencecobh.ie/
Check out Titanic Experience tours and activities
3. St. Colman's Cathedral
Also known as Cobh Cathedral, this magnificent church standing on a hill overlooking the town and the harbor is the tallest church in Ireland with its 91.4-meter tall (300 ft) spire. The construction of this imposing neo-Gothic church started in 1868 and was completed in 1919. The tower has a carillon of 49 bells making it one of the largest in Europe.
The iconic cathedral is located in the heart of Cobh, less than a 10-minute walk from the pier. It is open daily and has free admission. St Colman's Cathedral is wheelchair accessible.
See St. Colman's Cathedral tours and activities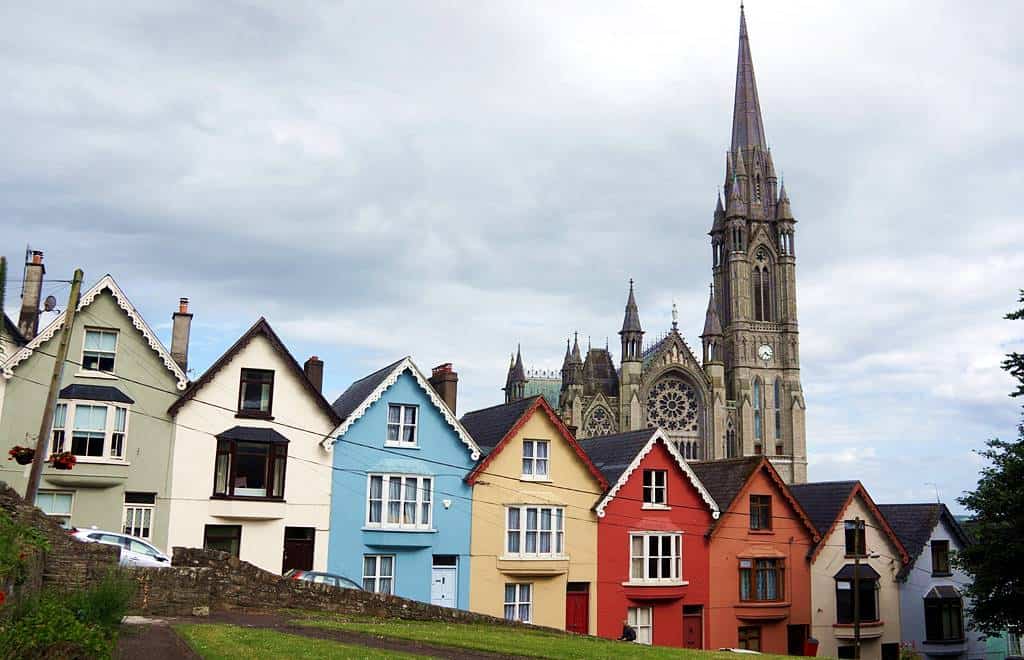 4. Highlights of Cork
Cork city spans both banks of River Lee and boasts numerous medieval churches, forts, picturesque lively streets, and a fantastic tourist offer.
If you want to get the most out of Cork in a day, I suggest you either explore the city on foot (however bear in mind the city is hilly) or take Cork Hop on Hop off bus tour and explore the main attractions of Cork at your leisure with their non – stop loop. Onboard the Hop on Hop off bus you will have access to information about the city, its rich history and architecture. Some of the main Cork attractions included in the sightseeing bus itineraries are:
Shandon Bells & Tower at St Anne's Church – Built in 1722, this is the oldest church in the city featuring 36.6 meters (120 ft) tall tower that you can climb and admire the most stunning 360-degree views of Cork city. To get to the observation area located on top of the tower, you need to handle 132 steps. The biggest attraction is the bells that visitors can ring on the church's first floor. The admission fee for the Tower ranges is 5€ for adults and 2€ for children (5-15 years old). A family ticket is 12€ (2 adults + up to 4 children). See more info on

http://www.shandonbells.ie

/
Cork City Gaol – The restored 19th-century city prison converted into an impressive museum featuring exhibitions, night tours, and a gift shop. The admission rates vary from 10€ to 12€  for adults and 6.50€ to 8€ for children. Family tickets are available. Check more on

https://corkcitygaol.com/

The English Market – The most famous market in the city opened in 1788 and is known for its long tradition of selling organic and locally produced goods. You can find everything here, from a great selection of cheese, meat, seafood, vegetables, fruits, bread, spices and sauces to an extraordinary collection of wines from all around the world. It is an indoor market housed in an old building boasting remarkable architecture.
University College Cork (UCC) – You can tour this magnificent campus and learn about the history of this renowned college founded in 1845 as one of three Queen's Colleges.
Nano Nagle Place – A restored walled convent with breathtaking gardens and a museum dedicated to the nun Nano Nagle, who worked tirelessly to educate the poor people of Cork. Find more information on

https://nanonagleplace.ie/

Crawford Art Gallery – A fascinating art gallery displaying a collection of 2000 paintings, sculptures, glass and video works.

https://crawfordartgallery.ie/

FitzGerald Park – Nestled along the River Lee, this peaceful oasis offers an extensive green space boasting fountains, sculptures, walking paths, and beautiful views over the river. Cork Public Museum (history and ethnography museum) is located in the park.
St Finbarr's Cathedral – A beautiful, neo-Gothic cathedral was built in the 19th century and is dedicated to the city's 6th-century patron saint, Finbarr of Cork.
It is recommended to purchase Cork Hop on Hop off tickets online. The prices start at 17€ per person.
Check out Cork sightseeing tours and activities
5. Blarney Castle
Explore the most visited attraction in Cork, the legendary medieval stronghold originally built around 1200 AD, but demolished afterward and finally restored in 1446 by Dermot McCarthy, King of Munster. According to the legend, the Lia Fáil or "Stone of Destiny" was part of the king's throne and it is said that people kissing the stone will receive the gift of eloquence and persuasiveness.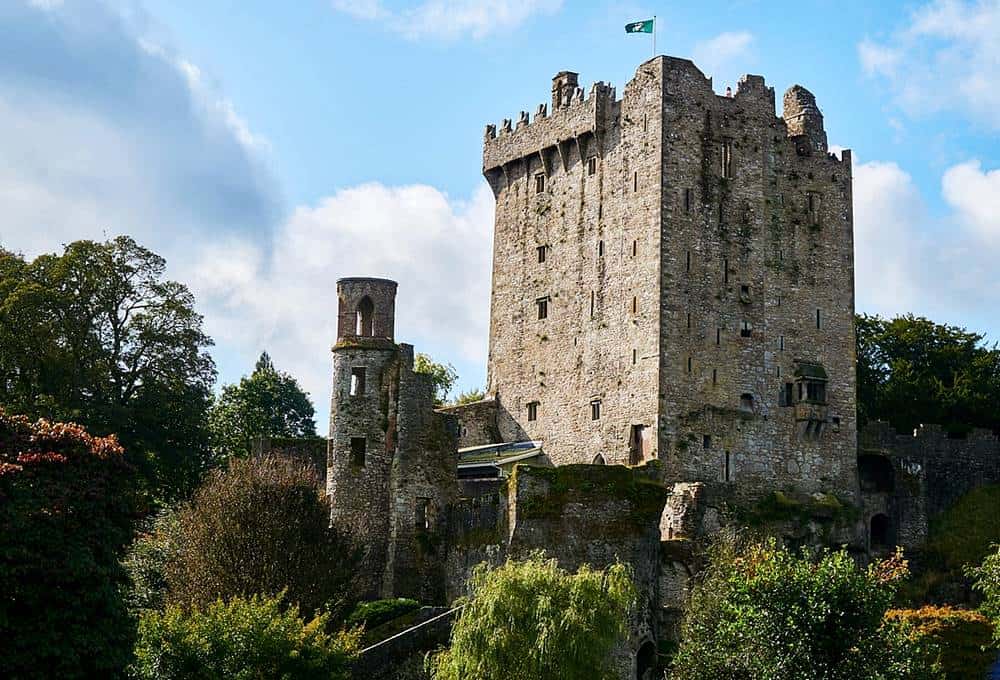 The stone was set into a tower of the Blarney Castle in 1446, and ever since the castle has been attracting visitors from all over the world to kiss the stone and tour the castle and its mystical gardens.
The entrance ticket is 20€ for adults and 8€ for children aged 6-16. A family ticket (2 adults+2 children) is also available for 50€. Entrance for children aged 6 and under is free. I strongly recommend purchasing tickets online to avoid the long lines at the entrance. Also, online prices are a little cheaper. Guests with mobility challenges are welcome to explore the castle grounds and gardens. Certain areas are not paved. Find more information on Blarney Castle's official website https://www.blarneycastle.ie/
How to Get to Blarney Castle from Cobh and Cork?
From Cork – Blarney Castle is situated in Blarney Village, 8.5 km (5 mi) from Cork. From Cork city center take bus 215 (multiple stations in the city: Cork City Bus Station at Parnell Place, St Patric's Street, City Library, South Mall stop, Cork City Hall) to Blarney Church stop. From there you need to walk less than 10 minutes to the entrance of the castle. The journey by bus takes approximately 20 minutes and the fare costs around 6€ round trip. Check the timetables and fares at

https://www.buseireann.ie/

.

A taxi from Cork city center to Blarney Castle costs around 25€ and the drive takes around 15 minutes.
From Cobh – Cobh Heritage Center is located 25 km (15..5 mi) from Blarney Castle. The easiest way to get here is on an

organized shore excursion

so you don't need to worry about transportation and entrance fees. If you wish to explore it on your own, you will need to take the train to Cork and then switch it over to bus 215. Check the train timetables at

https://www.transportforireland.ie/

.

A taxi costs between 45€ – 55€ and a drive takes approximately 40 minutes each way subject to traffic conditions.
Check out Blarney Castle tours and activities
6. Kinsale
Take a trip over the small quaint fishing village of Kinsale, known as the gourmet capital of Ireland and famous for its rich history, narrow streets, colorful shops, and scenic harbor. You can visit Kinsale Museum featuring exhibits on local history, and admire two old military forts:
Charles Fort, a star-shaped 17th-century fort also known as the "new Fort" is located a few minutes drive from Kinsale. This imposing military fortress served as a British Army base until Irish Independence in 1921.
Across the harbor is located Fort James, a pentagonal fort also known as the "old fort" that was built to defend the harbor in 1607.
How to Get to Kinsale from Cork and Cobh?
From Cork – Kinsale is located around 25 km (15.5 mi) from the city of Cork. Éireann bus 226 departs from Cork Kent railway station (Horgan's Quay) and goes directly to Kinsale (you get off at Kinsale Town Car Park, the last stop). The ticket costs around 6€ round trip and the journey takes approximately 50 minutes. The taxi ride takes approximately 30 minutes and you should expect to pay between 40€ – 50€ one way.
From Cobh – From Cobh cruise port, my suggestion is to take an

organized transfer

or an

organized shore excursion

as it's the most reliable option due to the distance between Cobh cruise terminal and Kinsel (which is around 50 km/31 mi, or 50 minutes drive). If you want to go there on your own, you need to take a train from Cobh to Cork and then switch over to bus 226. This option is not recommended as you will be traveling up to 2 hours each way.
Check out Kinsale tours and activities
7. Fota Wildlife Park
Situated on Fota Island around 6 km (3.7 mi) north of the port of Cobh, this verdant 100-acre park is home to more than 100 species of exotic animals and an ideal place to spend the day with the family.
You can choose to explore the park on your own at your own pace or take one of the behind-the-scenes tours to get up close and feed some of their most popular animals like the friendly Humboldt penguins. The park also offers more in-depth tours where you will learn about the rangers' day-to-day life and our role in preserving our world.
The entrance fees range from 18€ (online price) – 19.90€ for adults and 12.50€ – 13.70€ for children under 16 years old. Family passes are also available and range from 54.60€ – 74€. Tickets are cheaper online, so it's advisable to prebook them. Find more information on Fota Wildlife Park's official webpage https://www.fotawildlife.ie/
To get to Fota Park, you can take the regular train from Cobh Railway Station to Cork Kent Station (or from Cork to Cobh if you are coming from Cork), and get off at Fota train station which is in the middle of the route. The fare is around 6€ and the trip takes approximately 10 minutes from both directions. There is a 10-minute walk from the stop to the entrance to the park. A taxi ride takes approximately 10 minutes and costs around 15€ one way. Guests with mobility challenges are welcome to the Fota Wildlife Park.
Check out Fota Island tours and activities
8. Waterford
The oldest city in Ireland was founded by Vikings in 914 AD and offers interesting places to visit such as the impressive Medieval Museum, the 13th-century Reginald's Tower, the Bishop's Palace, and the renowned House of Waterford Crystal, the finest crystal makers in the world. Explore the manufacturing facility and visitor center to get a close-up view of the process behind the famed glasswork.
Waterford is located in the southeast corner of Ireland approximately 120 km (75 mi) from Cork cruise port. It takes around 1h 45 minutes to get to Waterford from both Cobh cruise port and Cork. Due to the distance and limited time in port, I suggest booking an organized shore excursion through the cruise line or a reliable tour operator. There is no direct train from Cobh to Waterford so you will need to change trains and the journey could take more than 4 hours one way. An alternative option is to take a taxi or book a private round-trip transfer.
Explore Waterford tours and activities
To Wrap Up
If you are taking a cruise to Ireland, make sure you plan your day ahead as this part of the country has so much to offer. You can choose to spend your day in the wonderful Cobh, explore the highlights of Cork, or take a day trip to one of Ireland's picturesque towns and villages. The best way to do it is on an organized shore excursion as your day in port is limited, however, if you are well organized you can take it easy and explore the port at your own pace.
Visit also our cruise port guides to Greenock (Glasgow), Belfast, Holyhead, Dover, Dublin, Invergordon (Inverness), Amsterdam, Copenhagen, Le Havre
---
You May Also Like:
25 Top Shore Excursion Packing List Items
What to Pack for a Cruise in 2023 – Top 60 Cruise Essentials
Western Europe Cruise Port Guides
Mediterranean Cruise Port Guides
Don't forget to subscribe below and get your FREE Shore Excursions Packing List! (PDF/printable format)
This article may contain affiliate / compensated links. For full information, please see my disclaimer here.