Welcome to Copenhagen cruise port!
Conveniently nestled in the Baltic Sea, Denmark's capital city is considered the coziest country in Northern Europe and has been ranked as one of the happiest cities in the world. The city is renowned for its fairytale historic castles, modern architecture, delectable cuisine, and a variety of things do to. In this article, read about:
Copenhagen cruise port (Copenhagen cruise terminal, getting around, helpful info)
10 best things to do in Copenhagen port and best Copenhagen shore excursions
Search the best European cruise deals!
Copenhagen Cruise Port
Copenhagen cruise port – Copenhagen Malmö Port (CMP), consists of three cruise terminals: Ocean Quay (Oceankaj), Langelinie and Nordre Toldbod.
Ocean Quay is located in the north of Copenhagen, approximately 8 km/5 miles (a 20-minute drive) from the city center. This harbor is the furthest one from the city center and the busiest one as it has 4 berths (Ocean Quay 331-334) that are normally used for turnarounds or larger cruise ships. Depending on the berth assigned to your ship, you will find a Tourist information center where you can pick up some free city maps, luggage check-in and waiting areas, a few souvenir shops, restrooms, and if you are lucky free Wi-Fi as well.
Langelinie Pier 190-198 is located only 3.5 km/2.2 miles away from the city center and it's normally used by smaller cruise ships. There is no cruise terminal building here but there are several souvenir shops, a few cafes, and a Tourist information center. From this pier, you can take a pleasant 30-minute walk along the scenic Langelinie promenade to the city center. The promenade is lined with shops and cafes, and here you can see the iconic bronze Little Mermaid statue, inspired by the main character from H.C. Andersen's fairytale, a work of sculptor Edvard Eriksen.
Nordre Toldbod (Københavns Havn) is located a 15-minute walk from the Lingelinie pier and a 10-15 minute walk from the main city attractions. It is located in a beautiful waterfront area backed by the 17th-century Kastellet fortress overlooking the old harbor. Smaller ships, luxury megayachts, and ferries normally dock here.
Helpful info & links:
Cruise lines normally offer a convenient shuttle service to downtown for a nominal fee and it's recommended to purchase the tickets in advance onboard the ship.
The official currency in Denmark is the Danish Crown (Danish Krona – DKK). 1 DKK equals 0.13€.  Euros and US dollars are only accepted in a few souvenir stores. Credit cards are widely accepted. See the

currency converter

The cruise terminals are well connected to Copenhagen downtown. Public transport is very convenient and the cheapest option to get around the city. Tickets are valid for all forms of Copenhagen transportation (buses, metro trains, trains, harbor boat buses) and allow unlimited transfers during the period of validity. A two-zone ticket that is valid for 1h 15 costs 24 DKK (around $3.50/3.22€) and covers the transportation from all cruise terminals to the city center and vice versa. Tickets can be purchased directly at ticket machines at stations (cash or credit card) or from bus drivers (cash only).
From Oceankaj terminal (Ocean Quay), you can take bus line 27 to Østerport Station. This bus runs two to four times per hour. The return bus departs from the east side of Østerport train station. Make sure you catch a bus displaying Oceankaj as the final destination because only these buses stop at the passenger cruise terminal. During summer, bus line 25 is usually available from Oceanskaj to Nørreport Station, which is the best option if you want to walk into the city or catch a connecting transfer to other locations. Make sure you purchase the tickets at the ticket machine in the terminal before boarding a bus.
From Langelinie pier you take a pleasant 5-minute walk along the promenade to the Little Mermaid statue, another 10 minutes to Nordre Toldbod, and then 10 minutes more to the city center – a beautiful walk along the waterfront or through the Kastellet fortress. Østerport station is located a 20-minute walk from Langelinie dock.
If you want to take a bus, there is bus line 27 that takes you from Langeliniekaj to the Østerport station. This bus runs every 20 minutes, and the bus ride lasts 10 minutes. On the way back, make sure you catch bus line 27 with Færgeterminal Søndre Frihavn as the final destination (if you take the one displaying Oceankaj, that will take you to the Oceankaj terminal). Always double-check with a driver, though, because some buses might stop at Indiakaj, located a few blocks away from the cruise terminal.
You can check the timetables at the official webpage

https://dinoffentligetransport.dk/

Taxis in Copenhagen are metered and can be paid in local currency or by credit card. Make sure to confirm your payment method in advance. Remember that like in any other Scandinavian country, this service is not cheap.
Copenhagen is a bike-friendly city and if you want to feel like a local it is very easy to rent a bicycle and explore the city on two wheels.
When the passenger cruise ships are in port,

Copenhagen Hop on Hop off sightseeing buses

are normally available at the terminals. The price starts at around $30 per person and upon booking you choose which route you would like to take (Classic Tour, All Lines Tour, Colorful Copenhagen Route, Urban Copenhagen Route). The tickets are usually valid for 72 hours and include stops at around 30 points of interest, such as Amalienborg Palace, Little Mermaid statue, Tivoli Gardens, Rosenborg Castle, City Hall Square, Nyhavn, Opera House, Gefion Fountain, and much more! Check out Copenhagen Hop on Hop off bus tours on

Viator

and

Get Your Guide

Copenhagen Card will give you access to 80 different attractions and museums as well as free transport in the city.

Book a Copenhagen card

Strøget pedestrian street located in the heart of Copenhagen is the main shopping area – from local souvenir shops, high-end stores, and small boutiques, you will definitely find something for everyone here! Strøget is located approximately 20 minutes walk from Østerport station and a 25-minute walk from the Nordre Toldbod terminal.
Copenhagen has a temperate climate with cold winters and mild, pleasant summers. For useful cruise packing tips, check out my article

What to Pack for a Cruise in 2023 – Top 60 Cruise Essentials

Copenhagen Airport is located 15 km/9 miles (a 30-minute drive) south of the port of Copenhagen.
10 Best Things to Do in Copenhagen Cruise Port
Many of the attractions in Copenhagen are within walking distance from the city center and can be easily reached on foot. If it's your first time here, I strongly suggest booking a guided tour to learn all about the history and culture from an officially certified guide.
1. The Little Mermaid
Inspired by Hans Christian Andersen's fairy tale about a mermaid who gives up everything to be united with her prince on land. This famous sculpture is located within walking distance of Langelinie Pier and is the smallest but the most visited attraction in Copenhagen.
Explore the Little Mermaid tours and activities
2. Nyhavn
Stroll down the most famous street in Copenhagen located right in the heart of the city and admire the colorful 17th and 18th-century townhouses featured in many postcards. Do not miss building N9, the oldest in the canal that has not been renovated since its construction, and building N17 housing the oldest operating tattoo shop since 1884. This famous site was once considered a red-light district. Nowadays, it's full of cafes, bars, and restaurants and it is considered the most expensive street in the city.
Explore Nyhavn tours and activities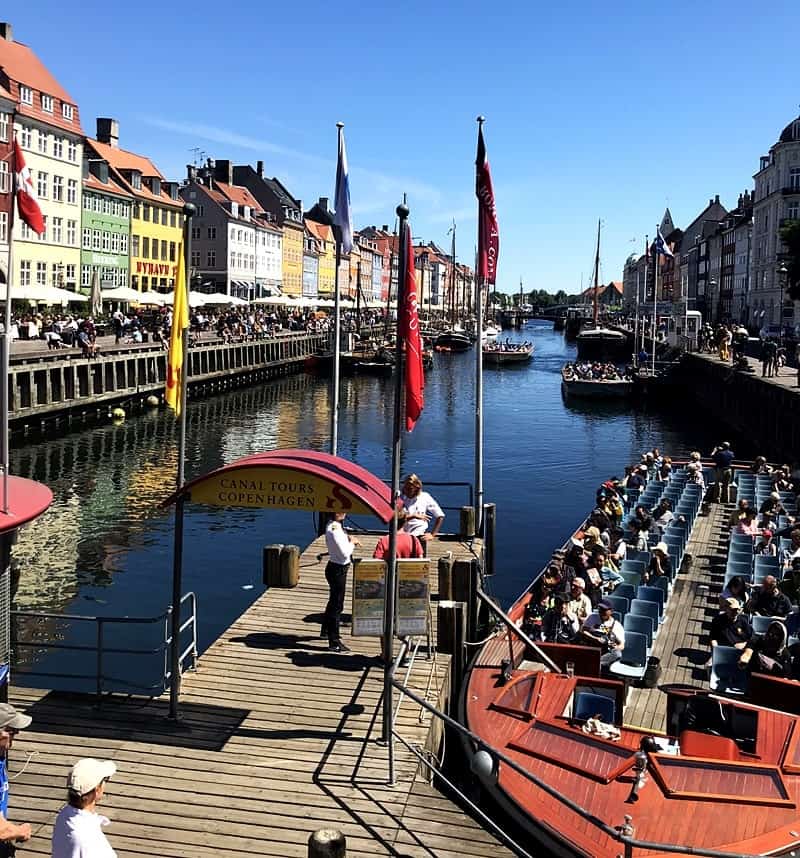 3. Tivoli Garden
Founded in 1843, Tivoli Gardens are one of the oldest amusement parks in the world that receives approximately 4 million visitors per year. In this wonderful park, you will be able to admire themed gardens, the longest saltwater aquarium in Northern Europe, and take a ride in the oldest wooden rollercoaster in the world!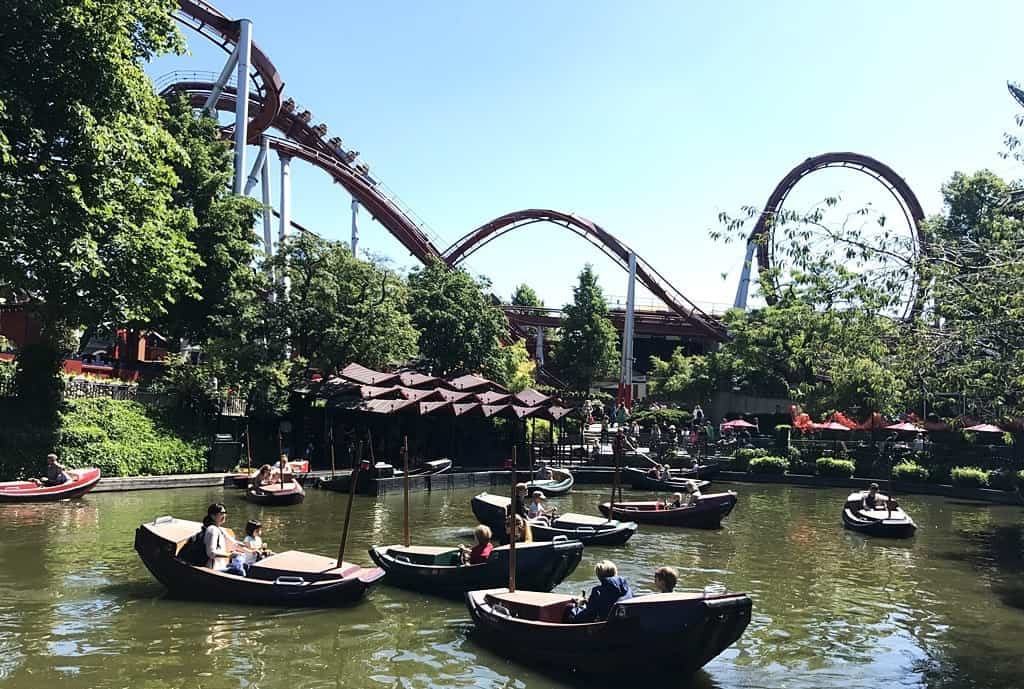 Tivoli Gardens are located a few minutes walk from Copenhagen Central Station. If you are in the city, you can take S-train from Nørreport Station (Lines A, B, C, E, H) or bus 1A from Kongens Nytorv.
Tivoli Gardens are open during the spring and summer months. The entrance fee for adults and children over eight years old is 155 DKK and 70 DKK  for children 3-7 years old. Every ride has a different price, however, an unlimited ride ticket is available at 169 DKK. Tickets can be purchased in advance to avoid waiting at the entrance booth. Find more information on https://www.tivoli.dk/en/
Check the Tivoli admission tickets and tours
4. Christiansborg Palace
Home to the Danish Parliament, the supreme court, and the Ministry of State, Christiansborg Palace is located on Slotsholmen, a small islet filled with historic buildings, only a 10-minute walk from Nyhavn. This palace was once home to the Royal family and is still used by the Queen for official events.
Explore the Royal reception rooms, the Royal Kitchen and Christianborg Church, and do not miss the opportunity to climb up the Christianborg Tower, the highest tower in Copenhagen where you will be able to get magnificent views of the city and even enjoy meal at the tower's restaurant. Access to the tower is free of charge, however, tickets are required to visit some attractions inside the palace. The palace tower is not open on Mondays. Find more information on https://kongeligeslotte.dk/
Explore Christiansborg Palace tours and activities
5. Amalienborg Palace
The home of the Royal Danish Family is located in the center of Copenhagen. The 18th-century Rococo Royal complex consists of four different palaces, two of which are open to the public.
The Levetzau's Palace (Christian VIII's Palace) houses the Amalienborg Museum with access to the impressive Faberge Chamber, the ground floor, and the Piano Nobile. The Moltke Palace (Christian VII's Palace), the most expensive of the four palaces due to the extravagant interiors, was used for receptions and ceremonial purposes. This palace is open for guided tours when the Royal Family is not present.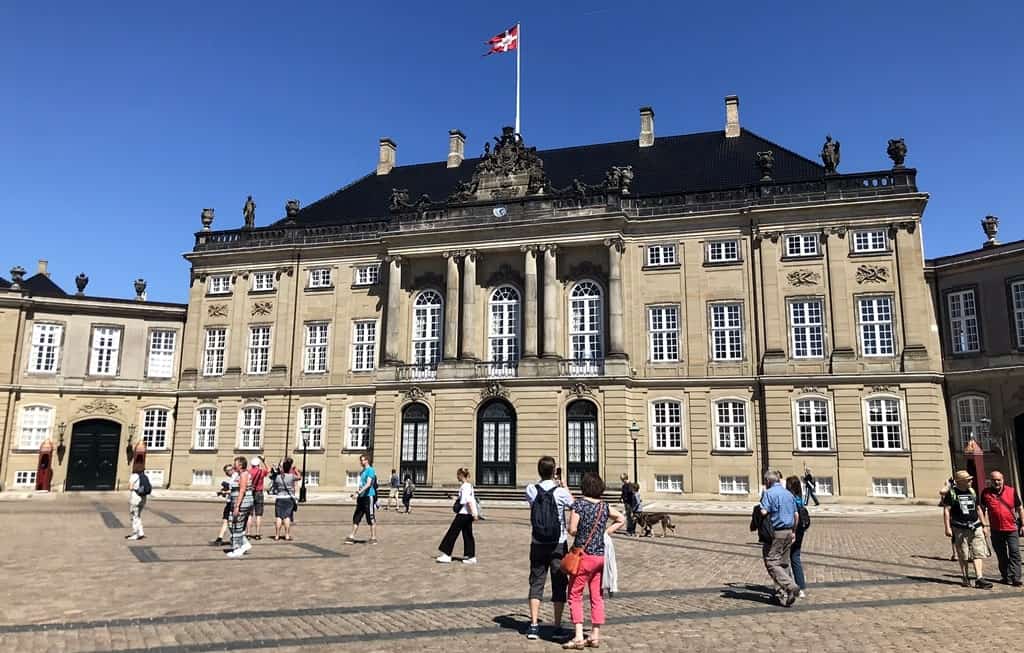 Amalienborg Museum is wheelchair accessible. I strongly suggest you book your tickets ahead of time to secure your spot and avoid lines and waiting. If your time in Copenhagen is limited, I suggest admiring this beautiful palace from the outside and do not miss the change of guards happening every day at noon! Find more information on https://www.kongernessamling.dk/
Explore Amalienborg Palace tours & activities
6. Rosenborg Castle
Located in the heart of the city, this romantic castle was built by Christian IV in the 17th century and is considered one of the prettiest castles in Copenhagen. Built in the Dutch Renaissance style, the stunning castle is set in Kongens Have (King's Garden), a magnificent garden filled with lime-tree-lined paths and pavilions, a popular spot for the locals.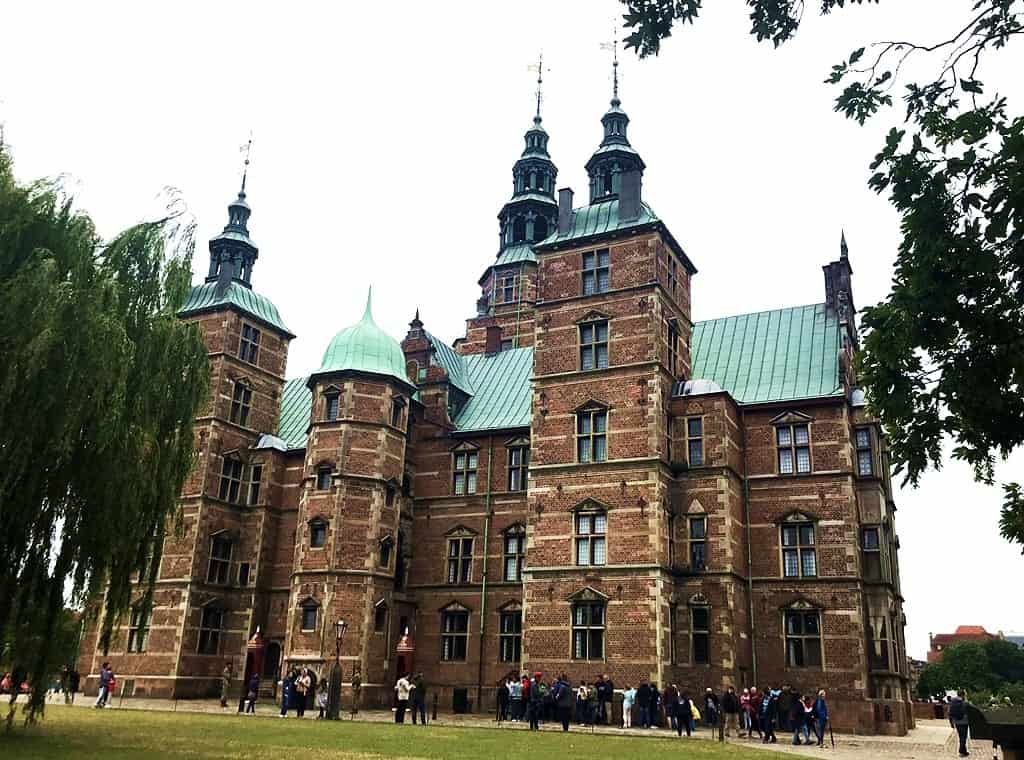 The Castle is home to the museum exhibiting the Royal Collections from the late 16th to the 19th centuries and the Royal treasury displaying the Crown Jewels and the Danish Royal Regalia. Of special interest to the visitors are the Throne Chair of Denmark and a Coronation Carpet that you can admire on your guided visit.
Guests with limited mobility are able to explore only the ground floor and the basement. I suggest you book online to secure your desired time slot. Tickets can be purchased in the Castle Museum and the last ticket is sold 20 mins prior to closing time. Find more information on https://www.kongernessamling.dk/
Explore Rosenborg castle tours and activities
7. Kronborg
If you wish to explore outside the city center, head to Northern Europe's largest Renaissance Castle and a UNESCO World Heritage Site, Kronborg Castle, located in the town of Helsingør approximately a 1-hour drive from Copenhagen cruise port. This 15th-century Renaissance castle is said to be the setting for William Shakespeare's famous play Hamlet.
To reach Kronborg you will need to take a train from Copenhagen Central Station to Helsingør (Elsinore) and then walk approximately 15-20 minutes to the Castle. The trains run every 20 minutes and the ride takes approximately 45 minutes. The surrounding town offers other great options for sightseeing, museums, and local cuisine.
Guests with limited mobility can access the castle courtyard. However, it is not possible to access the interior. You can purchase your tickets directly at the castle or in advance. Free entrance for any guest under 18 years old. Find more information on https://kongeligeslotte.dk/
Explore Kronborg Castle tours and activities
8. Christiania
Known as Freetown, Christiania is Denmark's Hippiest district located a 20-minute drive from the Copenhagen cruise port. This former military base is now home to almost 900 people. This community has its own rules and regulations completely independent of the Danish government.
You can stroll the colorful streets full of graffiti and enjoy a live performance in one of the many music venues here. Jazz lovers should check out Jazzclubben, where you will find professional and amateur musicians. Stop at ALIS Wonderland, one of Copenhagen's most famous skateparks. You will find restaurants, cafes and souvenir shops as well.
Freetown is located in the Christianshavn area, only a 10-15 minute walk from Nyhavn. There is no direct public bus from the cruise ship pier so the best option is to walk or take a taxi.
See the list of Freetown Christiania tours and activities
9. The National Gallery of Denmark (SMK)
The Danish National Gallery is the largest art museum in Denmark that features a large collection of Danish and international art from the past seven centuries. This museum is especially famous for the amazing collection of Danish Golden Age and contemporary art as well as one of the world's best Matisse collections.
The SMK is located in the center of Copenhagen, close to Nørreport station. Entrance tickets can be purchased ahead of time or directly at the museum. Guests with walking difficulties and wheelchair users can access the museum. Find more information on https://www.smk.dk/en/
Explore the Danish National Gallery tours and activities
10. Bakken Amusement Park
Constructed in 1583, Bakken is the oldest amusement park in the world, set in a lush Jægersborg Dyrehave, a deer park spreading over 1.000 acres of woodland. In the park, you will find 31 different rides, both carousels and thrill rides for all ages including an 82-year wooden rollercoaster. This is a popular weekend spot for Danish families.
To get here, you can take an S-train (or Sound-train) from Copenhagen, and the ride takes only 20 minutes. Entrance to the park is free, but tickets are necessary for the rides. The distance between Bakken and Copenhagen cruise port is a 25-minute drive (approximately 12 km/8 miles), so a taxi might be an alternative option. Find more information on https://www.bakken.dk/english/
---
You May Also Like:
25 Top Shore Excursion Packing List Items
What to Pack for a Cruise in 2023 – Top 60 Cruise Essentials
Baltic & Scandinavia Cruise Port Guides
Western Europe Cruise Port Guides
This article may contain affiliate / compensated links. For full information, please see my disclaimer here.