Welcome to Amsterdam cruise port guide!
Known for its beautiful canals, tulips, authentic Dutch architecture, bicycles, and tolerant, friendly locals, the capital of the Netherlands is one of the most visited ports by cruise ships and river cruises in Europe.
Amsterdam is a relatively small city easy to get around and most of the main city attractions can be reached on foot. In this insider cruise port guide, read about:
Amsterdam cruise port info (Amsterdam cruise terminal, local transportation, getting around the port)
Top 10 port highlights & Amsterdam shore excursions
Check out today's cruise deals from Cruise Critic!
Amsterdam Cruise Terminal
Port Amsterdam has two cruise terminals: Passenger Terminal Amsterdam, located near the city center, and Felison Cruise Terminal located in the town of IJmuiden approximately 30 km (18.6 mi) from Amsterdam.
Passenger Terminal Amsterdam
Most of the cruise ships dock at Passenger Terminal Amsterdam (PTA), conveniently located in the city center within walking distance from the central station and city attractions. Housed in a modern, wave-like glass building, PTA has 2 berths that can accommodate ships up to 630 m combined length. Inside this modern building, cruise passengers will find a reception hall, a tourist information center, a cafe, shops, and free wifi internet.
See Passenger Terminal Amsterdam on Google maps
Amsterdam is also a popular homeport (passengers embark and disembark in Amsterdam) for several cruise lines and there is a locker rental facility in the terminal. You can rent small lockers for 4.00 € and big ones for 6.00 € and store your luggage for 24 hours. You can also rent segways, bikes, or book boat and sightseeing tours in the terminal. There is large underground parking available for a fee as well.
Best hotels near Passenger Terminal Amsterdam: Mövenpick Hotel (right next to the terminal), Hotel Jakarta Amsterdam, Hotel Fine Harmony, Hotel Library Amsterdam, The Hendrick's Hotel, Anna Houseboat, City Hotel Amsterdam, Grand Hotel Amrâth Amsterdam, DoubleTree by Hilton Amsterdam Centraal Station (near the Central Station)
Getting to Amsterdam Central Station and the City Center
Passenger Terminal Amsterdam is located approximately 2.2 km (1.3 miles) from the city center (a 30-minute walk) and main city highlights. To get to the center, you need to follow the road to Amsterdam Central Station that you will reach within a 10-15-minute walk along Piet Heinkade street located in front of the terminal building (you'll see the street upon exiting the terminal, turn right and you'll reach the station). When you reach Central Station, the city center will be on your left-hand side.
If you don't want to walk, a tram station is just across the street. The tram station's name is Muziekgebouw Bimhuis and here you need to catch a GVB tram 26 and get off at the next station which is the Central Station. A 1-hour ticket costs 3.20 € per person one-way, but you can also buy a daily ticket that costs 8.00 €. Only cards are accepted, no cash, and you buy the tickets on the tram. You can also take a taxi to the Central Station (expect to pay around 10.00 € per taxi for a 5-minute ride), or Uber.
At Central Station, you can rent bicycles, book canal and sightseeing tours, get a Hop on Hop off bus, or catch a connecting train to one of the nearby cities.
Getting to the Schiphol Airport from Amsterdam Passenger Terminal
Schiphol airport is located approximately 17 km (10.5 mi) from the Amsterdam Passenger Terminal, which takes around 30-40 minutes drive. A taxi will charge you 45-50 € per vehicle one-way, and if you are going to the city center, the rates are 39.oo € flat. Uber is available too.
An alternative option is to take a train from the airport to Central Station. The trains run regularly and the journey takes around 15-20 minutes. You can purchase tickets for 5.50 € (second class) and 8.43 € (first-class) including the 1.00 € surcharge for buying a disposable ticket. Once you arrive at Central Station, you can either enjoy a 10-minute walk to the ship or take the tram 26 to Muziekgebouw stop and walk to the terminal for a couple of minutes.
Also, if you are staying at a hotel, ask at the reception if there are shuttles to the airport because most of the hotels in Amsterdam provide shuttle transport to the Schiphol airport for an additional fee.
Private transfer from the cruise terminal to the airport (and vice versa) – Check out the prices
IJmuiden Cruise Terminal
Due to the implementation of Tourist Tax for transit passengers since January 2018, several cruise lines including MSC, Cruise Maritime Voyages, Costa Cruises, Aida Cruises, some Holland America Line, P&O Cruises, and Cunard dock at IJmuiden cruise terminal, located a 40-minute drive from Amsterdam.
IJmuiden is a small town located at the North Sea Canal's entrance and one of the main gateways to Amsterdam, Haarlem, Delft, Hague, Zaandam, Rotterdam, and other popular travel destinations in Holland. It is located approximately 30 km (18.6 mi) from Amsterdam, which is around 40 minutes drive.
There are two cruise terminals: Felison Terminal, an old ferry terminal (providing daily ferries to Newcastle-upon-Tyne/North Shields in the United Kingdom) that sometimes accommodates small cruise ships, and a new Felison Cruise Terminal.
See Felison Cruise Terminal on Google maps
Cruise ships dock at Felison Cruise Terminal that has two open water berths (Monnickendamkade and Volendamkade) suitable to accommodate mid-sized and large cruise vessels up to 295 m long (each). It is a relatively small terminal featuring a cafe, a tourist information desk, toilets, a souvenir stand (when ships are in port), a nice balcony with a smoking area and a beautiful view of the harbor, and a lift for disabled passengers. There is parking next to the terminal, and water taxis, boats, and buses are easily accessible.
Best hotels near Felison cruise terminal: Leonardo Hotel IJmuiden Seaport Beach, Basecamp Tiny House Eco Resort, Hotel Raw at the Quay (next to the ferry terminal), Augusta Hotel (also near the ferry terminal), Hotel Prinsenhof IJmuiden (IJmuiden town center)
Things to Do in IJmuiden
The town center is around 4.5 km (2.8 mi) far and that you need to walk approximately 1 hour to reach it. There is not much to do there, so if you decide to stay in IJmuiden, within a 10-minute walking distance from the Felison Cruise Terminal, you'll come across several attractions and landmarks:
IJmuiderstrand – a long public beach
Bunker Museum where you can learn about how IJmuiden was part of the notorious German "Atlantik Wall" during World War II.
IJmuider Zee-en Havenmuseum – a small Maritime Museum located 30 minutes walk from the terminal.
'Ijmuiden aan Zee' Boulevard with several hotels, restaurants, cafes, and stores. This place has a large parking and overlooks a beautiful seaport marina.
The surrounding area is green and hiking and biking are also popular activities. You will find several bike rentals around the port.
The largest complex of ship locks in the world! At this moment the largest ship lock in the world is under construction – 500 m (1640 ft) long, 70 m (230 ft) wide, and 18 m (59 ft) deep! The project is scheduled to be finished by 2022, and the main purpose is to enable the largest cruise ships to access the port of Amsterdam. It's a truly impressive sight, and you can admire it from the upper decks of your ship.
How to Get from the port of IJmuiden to Amsterdam?
Book a shore excursion – This is definitely the best option as you will be able to get the most of your day without worrying whether you'll miss your ship. Suggested article:

Pros and Cons of Booking Cruise Ship Shore Excursions

Public bus – If you plan to go to Amsterdam, there is a bus stop 200 m away from the cruise terminal (Badweg bus stop) where you can get a bus to Amsterdam (the R-Net bus line 382 that departs from IJmuiden aan Zee to Amsterdam Station Sloterdijk and vice versa). Bear in mind that the journey takes around 50 minutes and that Amsterdam Station Sloterdijk is located around a 10-15 minutes drive from Amsterdam city center and Central Station. The ticket starts at 5.50 € one-way and you pay by card (you cannot pay in cash on public transport). Once you arrive at Station Sloterdijk, to reach the city center you will need to take a GVB tram 19 to Elandsgracht stop which is around 15 minutes ride). Check the prices and timetables on www.

9292.nl/en

and

www.connexxion.nl/en/

Taxi – Taxis in the Netherlands are metered and you can get them at the terminal. However, they are quite expensive and expect to pay around 80.00 € per taxi one-way. They accept both cash and credit cards.
Private transfer – Check the prices and availability on

Viator

and

GetTransfer
Getting from Amsterdam Airport Schiphol to Felison Cruise Terminal
Amsterdam Airport Schiphol is located 28 km (17.4 mi) from Felison Cruise Terminal and there is no direct connection between them. The best way is to take a taxi/book a private transfer. However, if you want to go by bus, you need to take a train to Amsterdam Sloterdijk Station from the railway station at the airport. The trains run frequently, every 10-15 minutes, and the ride lasts 11 minutes. Once you arrive at Sloterdijk Station, you can catch R-Net bus line 382 to IJmuiden aan Zee and get off at Badweg bus stop.
Amsterdam River Cruises
Amsterdam port is also one of the largest river cruise ports in Western Europe that welcomes more than 2500 river cruise ships per year (before the Covid-19 pandemic hit). Amsterdam is a homeport for Rhine-Main-Danube and the Black Sea cruises that include stops at Cologne, Vienna, Bratislava, Budapest, and other European cities. River cruise docks are located at Amsterdam Passenger Terminal and right across Central Station; the terminal consists of 37 berths of different sizes featuring modern facilities and offering easy access to the historic center of the city.
Top 10 Amsterdam Highlights & Shore Excursions
When planning your day ashore, always take into consideration your ship's scheduled time in the port. If it is your first time here, consider taking an organized shore excursion to maximize your day in Amsterdam cruise port.
For exclusive, insider shore excursion tips, sign up below and get my FREE Shore Excursions Guide!
Note: Due to the Covid-19 pandemic, most of the museums and attractions I listed below are temporarily closed. Please check the updates on the landmarks' official websites.
1. Anne Frank House
Located in the center of Amsterdam, Anne Frank House is one of the most visited sites welcoming more than a million visitors every year. In this house, Anne, her family, and four other people used to hide for 761 days during the Nazi persecution during World War II. Unfortunately, in 1944 all eight of them were captured and sent to the concentration camp. The only survivor, Mr. Otto Frank returned and decided to fulfill Anne's dream of being a writer by publishing Anne Frank's diary, a book that has been translated into more than 70 languages. The museum features personal objects of the people that hid in the house annex, including Anne's diary.
Anne Frank House is located 20 minutes walking distance from Central Station; from here you can also take a tram 13 or 17 to Westermarkt stop.
Entrance tickets are required. Due to the popularity of this site and limited capacity you should consider to pre-purchase your tickets online. Also, take into consideration your time in port because you will need to select a specific visit time when making your booking. The ticket prices for adults are 14.00 €, children 10- 17 years old 7.00 €, and children 0-9 years old 1.00 €. I strongly suggest you check your cruise line Shore Excursions brochure for available tours to Anne Frank House and book in advance to secure your spot.
Unfortunately, the Anne Frank House annex doesn't have an elevator or ramps. Guests with mobility challenges can access the modern part of the museum, the café, and the shop.
Explore Anne Frank House tours
2. Rijksmuseum
Visit the only Museum with a road inside of it but not for cars, only for bicycles. The Rijksmuseum features almost one million objects but only 8000 pieces of artwork are displayed including several of Rembrandt's portraits and his famous "Night Watch". The second floor houses the largest library in the Netherlands.
An entrance fee is required, and it is strongly recommended to purchase your tickets in advance as you will need to select a time for your visit. The adult price is 20.00 € and free for children 18 years and under.
To get there, take a tram 2 or 5 from Central Station and get off at Hobbemastraat stop.
Guests with mobility challenges are welcome as the museum is wheelchair-friendly.
See the list of Rijksmuseum tours 
3. Van Gogh Museum
Another must-stop during your visit to Amsterdam is the Van Gogh Museum where you can discover the life and the largest artwork collection of the famous Vincent Van Gogh. The Dutch impressionist painter suffered from mental illness since his early years and remained poor throughout his life, becoming famous one century after his death.
An entrance fee for the museum is required; the adult price is 19.00 € and it's free for children under 18.
To get there, take a tram 2 or 12 from Central Station and get off Van Baerlestraat station. After a few minutes' walk, you'll reach the museum.
Guests with mobility challenges are welcome as the museum is wheelchair accessible. Visitors on a wheelchair that requires assistance can bring one companion free of charge.
See the list of Van Gogh Museum tours and skip-the-line tickets
4. Royal Palace
Dominating the Dam Square in the heart of Amsterdam, the Royal Palace is one of the three palaces in the Netherlands. This imposing palace was originally built as the City Hall back in the 17th century and then became the seat of the Royal family. When there is no official event, the Palace is open to the public and you can take a tour of the magnificent interior, see original furniture and learn about the rich history with a certified guide.
If your time in port is running short, it is worth admiring the palace's stunning architecture from the exterior.
An entrance ticket is required and can be booked in advance. The adult price is 10.00 € and it's free for children under 17.
The Royal Palace is located only a 10-minute walk from Amsterdam Central station. You can also take tram 2, however, I strongly suggest you enjoy a nice stroll through Damrak Avenue full of stores, cafes and souvenir shops.
5. Red Light District
This famous neighborhood is located in the center of Amsterdam and houses the world's oldest profession. Dating back to the 16th century, this district was the favorite area for sailors arriving from around the world due to the proximity to the harbor. Even though all the action takes place during the night, Red Light District is still a very popular tourist destination during the day. The best way to explore it is by foot or bicycle due to its narrow alleys.  Here you can find selected museums, small cafes, souvenir shops and of course the famous ¨coffee shops¨ and red light window shops.
Explore Red Light District tours and activities
6. The Heineken Experience
If you are a beer lover, this tour is the perfect pick for you! Discover the history behind this famous beer on an interactive, self-guided 90-minute tour through the old brewery and enjoy a refreshing tasting at the end!
The entrance fee for adults is 21.00 € (two drinks are included) and for children aged 12- 17 is 17.00 €.
To get to the Heineken Brewery, take a tram 24 at Central Station and get off at the Stadhouderskade stop.
Guests with mobility challenges are welcome as the museum is wheelchair-friendly.
Explore Heineken Brewery tours and activities
7. Take a Canal Cruise
No visit to Amsterdam is complete without taking a boat trip through the famous and colorful canals listed as UNESCO World Heritage site. Experience Amsterdam from the water, see many of the main city landmarks, admire the 17th-century architecture, and learn about the Dutch culture and history!
To book a canal tour, you can make your way to Central Station and you will find a variety of tour options there or you can schedule your trip directly with your Shore Excursion team onboard/with an Independent Tour Company. These tours last approximately an hour so you still have plenty of time to explore or visit other attractions in Amsterdam.
8. Zaanse Schans Windmills
Take a trip to the most popular attraction located in the north of Amsterdam approximately 16 km (10 mi) from the cruise port. In Zaanse Schans village, you can see original windmills from the 17th and 18th centuries, some still operating to this day. Visit one of the museums located in this village, such as the Wooden Shoe Workshop, Bakery Museum, and enjoy some cheese tasting!
There is no entrance fee to Zaanse Schans village but there is a 4.00 € fee to visit each Windmill or 10.00 € for Zaans Museum; however, you can purchase a Zaanse Schans card for 23.50 € for adults and 16.00 € for children aged 4 – 17. This card will give you access to all windmills, museums, and much more! Visit the official page for more information www.dezaanseschans.nl
To get to Zaanse Schans, you can take the R-net bus line 391 from Amsterdam Central Station. Buses run frequently (every 15 minutes), round-trip ticket costs 8.00 € and the journey takes approximately 45 minutes. If you plan to use a bus more times on that day, you can buy a daily ticket for 11.50 € which includes an unlimited bus ride in that region (the ticket name is Zaanstreek – valid for Zaan region). In the summer months (July and August), the Express bus line 891 will take you directly from Amsterdam Central Station to the Zaanse Schans in 20 minutes.
You can also take the train from Central Station to Zaandijk – Zaanse Schans station. The ticket is 6.80 € when bought online, and if you purchase on-site, it's slightly more expensive. The trip by train takes 17 minutes. Once you get off at the station, you need to walk 15-minutes to get to the village.
Zaanse Schans village is fairly flat for guests with mobility challenges.
See the list of Zaanse Schans tours from Amsterdam
9. Keukenhof Gardens
The breathtaking Keukenhof is the world's largest flower garden and the most visited attraction during the summer, welcoming over a million visitors per year. The Keukenhof gardens feature over 7 million flowers including 800 different types of tulips spread across an area of 32 hectares. Open throughout the year, the best time to see the tulips is from March to May.
An entrance fee is required; the ticket costs 18.50 €. Entry is free for children under 12.
Keukenhof is located in the town of Lisse approximately 35 km (21.8 mi) from Amsterdam cruise port, and it takes around 40 minutes drive to get there. From Central Station, you can take a 20-minute train to Haarlem Station and then take bus 50 to the gardens.
Due to the limited time in port, I strongly suggest you take an organized shore excursion from the cruise line.
See the list of Keukenhof Garden tours 
10. Delft
Explore this beautiful medieval town known for its hand-painted blue-and-white pottery, charming canals, and famous for being home to the renowned painter Johannes Vermeer.
Delft is located approximately 65 km (40 mi) away from Amsterdam port. From Central Station, there is a direct train to Delft at the price of 14.30 € and the ride takes approximately 1 hour. The best way to visit Delft is on an organized shore excursion so make sure to check with your Shore Excursions team for the available tours.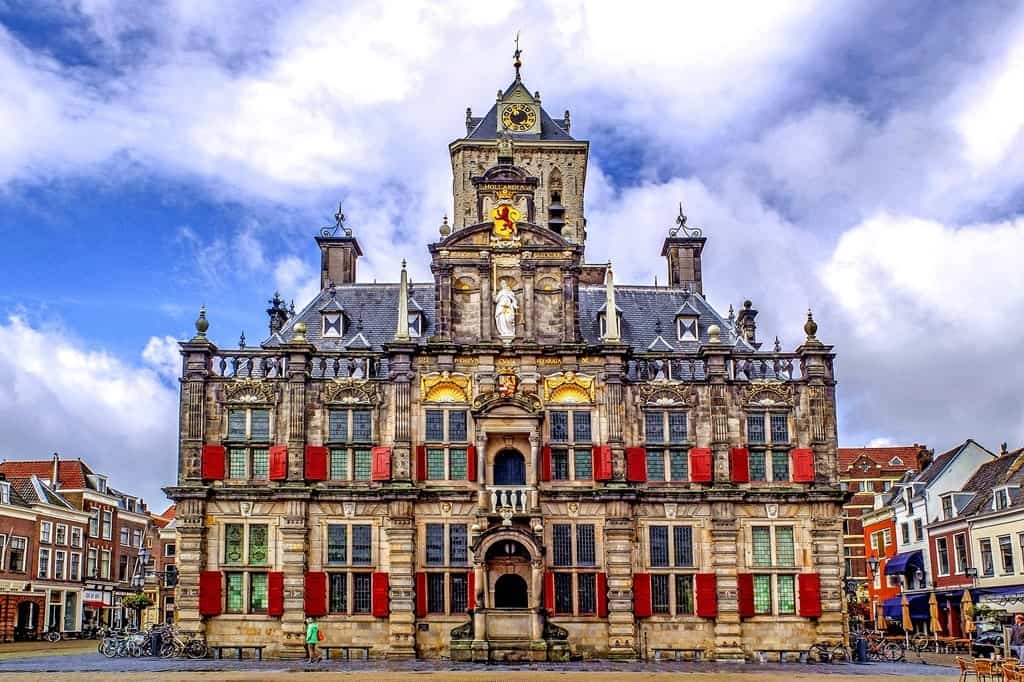 To Wrap Up
Known as the cycling capital of the world, Amsterdam truly deserves your attention! Make sure you plan your day ahead to maximize your day in this wonderful port of call!
Check out today's cruise deals from Cruise Critic!
---
This article may contain affiliate / compensated links. For full information, please see my disclaimer here.
---
You May Also Like:
Do you Need Reliable Travel Insurance? Get a Quote!