Welcome to the port of Dublin, the capital and the biggest city of Ireland! Known for pubs, musical culture, and rich historic and cultural heritage, Dublin is considered one of the best European destinations. If you are taking a cruise to Ireland, Dublin will probably be one of the stops on your cruise itinerary together with Belfast, Cork, Holyhead, Dover, and several other ports.
In this article, read about:
Port of Dublin (cruise terminal info, getting around the port, local transportation)
10 Awesome things to do in the port of Dublin (+ best shore excursions)
Check out today's cruise deals from Cruise Critic!
Port of Dublin (Cruise Terminal Info)
Port of Dublin is Ireland's largest cargo and cruise port. Cruise ships dock at Alexandra Basin (Alexandra Quay), approximately 3.2 km (2 mi) away from the city center.
Alexandra Basin consists of three berths (30, 33, 37), the most important for cruise liners being Ocean Pier 33 where the majority of large cruise ships dock. Alexandra Basin is located within an industrial area and cruise passengers are strictly forbidden to walk around the pier.
The Port Authorities normally provide a complimentary shuttle bus to the entrance of the port (no. 2 Branch Road), from where guests can navigate on foot or use public transport to get into the city center.
There isn't a proper terminal building, so cruise ships will often set up a small information desk onboard the ship.
Some cruise vessels also dock at berth 18 located on North Quay Extension, in front of the Tom Clarke Bridge. There is no shuttle provided here and guests are allowed to exit the port on foot via the blue gates on East Wall Road.
Small cruise ships sometimes dock up the river Liffey close to the city center.
With six large ferry companies (Irish Ferries, Stena Line Ferries, The Isle of Man Steam Packet Company, P&O Ferries, CLDN, and Seatruck Ferries), operating up to thirteen sailings daily, Port Dublin is also one of the main ferry ports serving routes across the Irish Sea to Holyhead (Wales), Liverpool (England), Douglas (Isle of Man), and Cherbourg (France).
See the Dublin port cruise schedules on https://www.dublinport.ie/
Local Transportation
From Ocean Pier 33, passengers are provided with a complimentary shuttle bus to the port entrance at no. 2 Branch Road South, from where they can walk to the city center (depending on your speed this can take you around 20 – 30 minutes on foot).
The nearest Luas Red Line Tram stop is located at The Point village (look out for The Point tram stop), approximately a 17-minute walk (1.4 km/0.9 mi) from there.
From berth 18, The Point tram stop is located only 9 minutes walk (750 meters).
Cruise lines sometimes offer a convenient shuttle service from the cruise ship directly to the city center and the price for a round trip costs around $12 per person. The tickets must be purchased onboard the ship to avoid lines and delays on the pier.
A limited amount of taxis are also available outside the ship by the port entrance. The fare is around 15 € per vehicle one way to downtown and the trip takes around 10 minutes depending on traffic conditions. If you are traveling with a small group, it's cheaper to take a taxi than a cruise line shuttle bus.
Dublin Hop on Hop off buses are also available, and the prices start at 23 € per person. They make around 30 stops at major Dublin city highlights and the loop takes around 1 hour 45 minutes. Check out Dublin Hop on Hop off sightseeing bus tours on Tripadvisor, Viator and Get Your Guide
Useful links:
Irish Rail official website https://www.irishrail.ie/
Dublin Bus http://www.dublinbus.ie/
Bus Eireann (Irish bus service provider in all regions except for Dublin region where its sister company Dublin Bus provides services) https://www.buseireann.ie/
Dublin Luas Tram (Green and Red Line) https://luas.ie/
Currency in Ireland
The official currency in Ireland is EURO (€). The exchange rate is approximately 1.17 US dollars for 1 €. Currency converter
US dollars are not accepted in Ireland. Most cruise lines offer exchange services for this currency onboard the ship.
Hotels in Dublin
The hotels in Dublin nearest to the port of Dublin are The Gibson Hotel and The Mayson. The rest of the hotels are located in Dublin downtown. 
Check the hotels in Dublin on Booking.com, Agoda, Expedia, Tripadvisor, Hotels.com
10 Amazing Things to Do in the Port of Dublin
Many attractions in Dublin are located right in the city center and can be easily reached on foot. Make sure you grab a city map from the tourist information center before your independent city exploration. If you prefer not to walk, can take one of Dublin Hop on Hop off double-decker buses along O'Connell street.
If you would like to explore beyond Dublin, then I will strongly suggest booking an organized shore excursion through the cruise line or a reliable tour operator, especially if your time in port is limited.
Dublin Pass City Card is a great option if you plan on doing a lot of sightseeing, as it allows you to access over 35 attractions, museums, and monuments in Dublin for free. Read more on https://dublinpass.com/
Before I list the 10 best things to do in the port of Dublin, I invite you to sign below and get my exclusive, insider Shore Excursion Guide for FREE!
1. Trinity College and Book of Kells
Admire the rich architecture and history of Ireland's most prestigious and oldest university dating from the 16th century. The Old Library contains over 4.5 million books including the famous Book of Kells, the 8th-century illuminated manuscript Gospel book containing the four Gospels of the New Testament, one of Ireland's National Treasures.
Trinity College is located in the city center, opposite the Parliament House.
There is no entrance fee to walk through the campus of Trinity College, but there is a fee to visit the Book of Kells and the Trinity College Library.
The admission fee ranges from 13 € to 16 € for adults and is free for children under 12 years old. A family ticket is available at the price of 32 € (2 adults + 2 children under 18). Online booking is required and you'll need to select a specific entry time for your visit. Find more information on https://www.tcd.ie/
The Old Library is fully wheelchair accessible but you will need to speak with one of the staff to give you access to the elevator.
Check out Trinity College Library reviews, tours and activities on Tripadvisor and Viator
2. Dublin Castle
This iconic landmark is one of the most important buildings in Irish history. Built by King John of England in the early 13th century, this imposing castle was the seat of the English and British rule in Ireland. Nowadays a major Irish government complex and a conference center, the castle is open to the public and used for important national events and state receptions.
Visit the Chapel Royal and admire the stunning architecture and stained glass windows, decorated with coats of arms representing many of Ireland's Viceroys; The Revenue Museum, located in the crypt of the Chapel Royal; the opulent decoration of the State Apartments including the Throne Room; the famous St. Patrick's Hall, one of Ireland's greatest ceremonial rooms.
Stroll through the Castle Gardens and visit the Garda Síochána Memorial Garden, dedicated to Irish police members killed in the line of duty.
Dublin Castle is located in the heart of Dublin on Dame Street, within walking distance of many major tourist attractions such as the Trinity College, City Hall, and St Patrick's Cathedral.
The price for a 1-hour guided tour of the State Apartments, Medieval Section and Chapel Royal ranges between 10 € – 12 € for adults and is 6 € for children (12-17). A family ticket (2 adults + up to 5 children) costs 30 €.
For self-guided tours, the entrance fee for adults ranges between 6 € – 8 € and is 4 € for children 12 to 17 years old. Find more information on https://www.dublincastle.ie/
Wheelchair users are welcome in all areas of the State apartment and the Gardens, but Chapel Royal is only partially accessible.
Check out Dublin Castle reviews, tours and activities on Tripadvisor and Viator
3. St. Patrick's Cathedral
Experience the impressive Gothic architecture of the largest church in Ireland and one of the most visited places in Dublin. Admire the beautiful stained glass windows and spectacular decoration while learning about the history of the church throughout the centuries and the important people buried here like Jonathan Swift, author of Gulliver's Travels.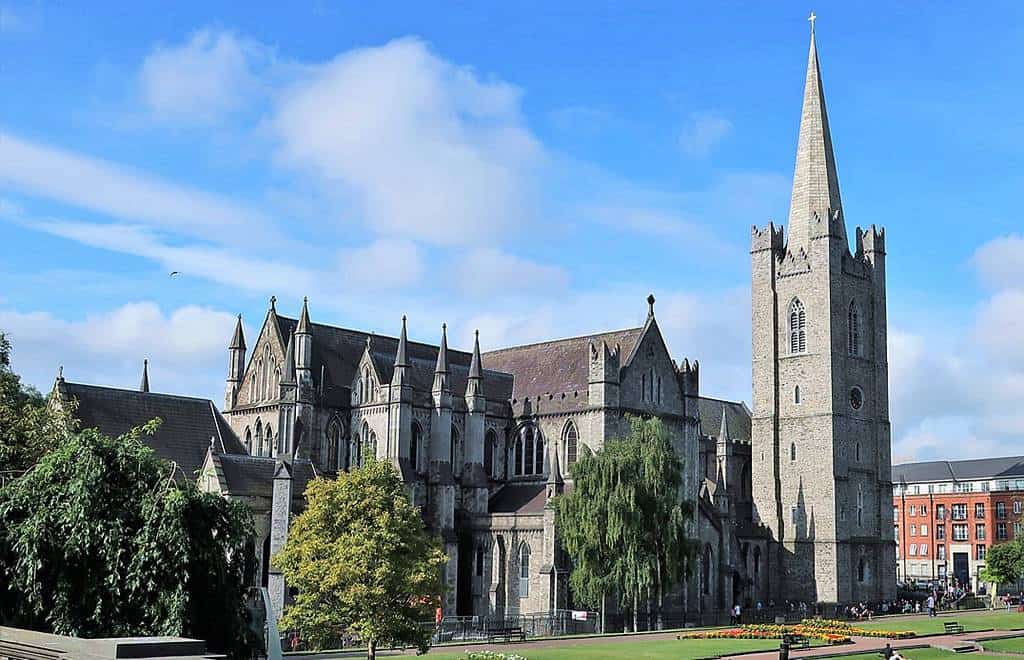 Visitors can also choose to climb up the bell tower to get magnificent views of the city. The cathedral is known for its world-famous choir, established in 1432, which still performs daily during school term.
St Patrick's Cathedral is located in the center of Dublin, at the stone's throw from Dublin Castle, Christ Church Cathedral, and a wonderful St Stephen's Green park.
The entrance fee is 8 € for adults, 7 € for children, and 18 € for a family of 2 adults and 2 children under 16. I strongly suggest you book your tickets online to skip the long lines and maximize your time at this site. Find more information on https://www.stpatrickscathedral.ie/
There is a lift and ramp at the main entrance for wheelchair users.
See St. Patrick's Cathedral reviews, tours and activities on Tripadvisor and Viator
4. Malahide Castle and Gardens
Experience the fairytale world of this 12th-century medieval castle and learn about the aristocratic Talbot family, owners of the castle from 1185 to 1975. Explore the private rooms and visit the beautiful Botanical Gardens & Butterfly House.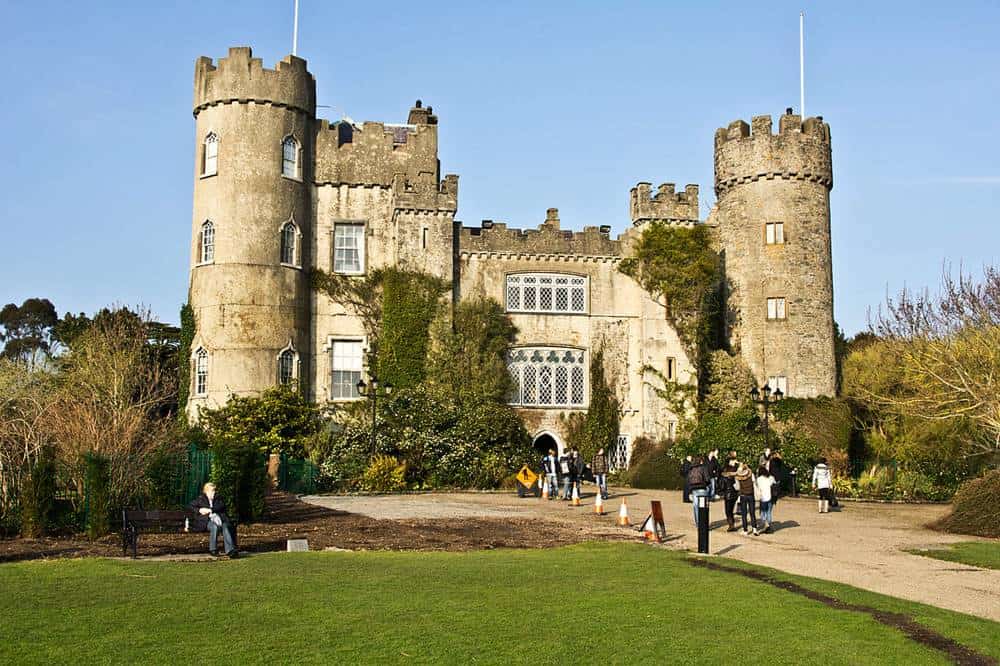 If you are traveling with kids, do not miss participating in the interactive Fairy Trail, a magical experience in the wooded West Lawn, suitable for kids of all ages. 
Malahide Castle offers different tour packages that start at 14 € per adult (the visit to the castle included). Visit the official web page to choose the most convenient experience for you https://www.malahidecastleandgardens.ie/
How to Get to Malahide Castle from the Port of Dublin?
This enchanting castle is located in Portmarnock, approximately 14.5 km (9 mi) or a 30-minute drive north of the port of Dublin.
From the city center, you can take the Dublin Bus #32 or #42 at Talbot Street in the city center and get off at Malahide Castle stop. Check the timetables on https://www.dublinbus.ie/
The fare is only a couple of euros but bear in mind that the trip can take around an hour due to the multiple stops.
A taxi from the city center costs approximately 25 € – 30 € per vehicle one way.
Check out Malahide Castle and Gardens reviews, tours and activities on Tripadvisor and Viator
5. Temple Bar
Established in 1840, The Temple Bar is home to Ireland's largest whisky collection and the most iconic bar in Dublin.
This amazing place is located in one of Dublin's most charming districts of the same name (The Temple Bar neighborhood), full of cultural centers, art galleries, pubs and restaurants, famous for its lively day and night life.
If you wish to enjoy a drink or get a bite to eat, I suggest you head there early (opens at 10:30 am) otherwise be ready for a little waiting because it can get crowded.
Official webpage https://thetemplebarpub.com/
Temple bar is located in the city center, approximately 5 minutes walking distance from Trinity College.
Check out Temple Bar reviews, tours and activities on Tripadvisor and Viator
6. Grafton Street
For your shopping pleasures, head over Grafton, one of the main shopping streets in Dublin. This lively street offers a variety of souvenirs shops, high-end stores, and many cafes, restaurants and bars.
Even if shopping is not on your list, walking along this pedestrian street and enjoying the local artist and musicians' performances will make you feel the authentic spirit of Dublin city!
Explore Grafton Street reviews, tours and activities on Tripadvisor and Viator
7. Jameson Whiskey Distillery
Take a visit to the original distillery of the biggest-selling Irish whiskey on the planet! Learn about the history, process and the different types of Whiskey on an interactive tour before enjoying a complimentary drink.
Whiskey-blending and cocktail-making classes are also available at an extra cost.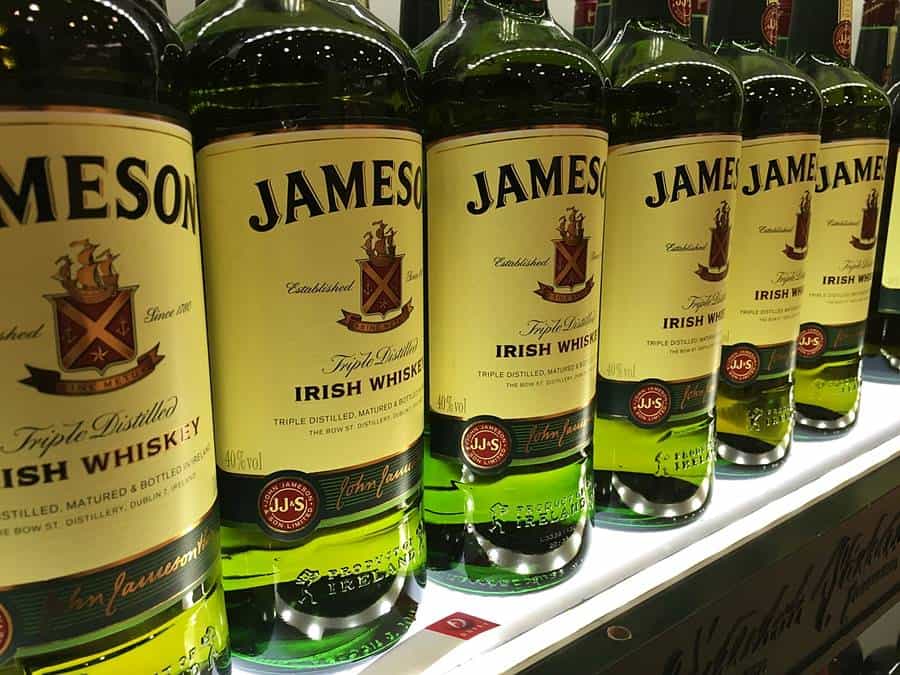 Jameson Distillery is located just off Smithfield Square, on Bow Street. You take the Luas red light tram at The Point station or in the city center and get off at the Smithfield stop. If you walk, it takes approximately 15 minutes walk from Temple Bar and 20 minutes from Trinity College to get there.
A taxi from the pier will cost around 15 € and the trip takes about 10 minutes.
Entrance tickets can be purchased online or directly at the distillery; the cost is 25 € for adults and 19 € for students/seniors.
Find more information on the official webpage https://www.jamesonwhiskey.com/
Jameson Distillery is fully wheelchair accessible.
Check out Jameson Distillery reviews, tours and activities on Tripadvisor and Viator
8. Guinness Storehouse
If you are a beer lover then you shouldn't miss the opportunity to visit Guinness Storehouse, located in St James's Gate district, approximately 20 minutes walking distance from Dublin city center.
Experience the history of Ireland's most iconic beer on a self-guided tour of the old fermentation plant of the brewery and enjoy some beer at the tasting rooms.
Visitors can also savor fine dining while taking in breathtaking 360-degree views of Dublin city from the renowned Gravity Bar.
Adult tickets start at 18 € and 10 € for children 5-17 years old. A family ticket is available at the price of 46 € for 2 adults + 2 children.
Check more info on the official webpage https://www.guinness-storehouse.com/
The Guinness Storehouse building is wheelchair accessible (it has ramps and lifts).
To get there, you can either walk 25 minutes from Dublin city center, or you can take the bus 123 from O'Connell Street Upper to James Street.
Explore Guinness Storehouse reviews, tours and activities on Tripadvisor and Viator
9. The Merry Ploughboy Pub
Nothing better than music and food to top off your visit to this bustling city! Experience traditional Irish entertainment and cuisine at the famous MPBP, the only pub in Ireland owned and run by musicians. Their Irish music & Irish dancing show have been awarded several times as the best traditional show in Ireland.
Pre-booking tickets for the dinner show is a must as it normally sells out quickly, so make sure you book the visit on time.
You can also check availability on their official web page https://www.mpbpub.com/
The MPBP is located on Edmondstown Road, approximately 20 minutes drive south of the port of Dublin.
See The Merry Ploughboy Pub reviews, tours and activities on Tripadvisor and Viator
10. The Wicklow Mountains National Park
Take a trip to the filming location of the popular romance film, "P.S. I Love You" and the famous Mel Gibson movie, "Braveheart". The landscape of this beautiful national park is more magnificent in reality than it looks on-screen.
Gentle slopes, serene lakes, and deep glacial valleys offer many chances to fish, kayak, and hike. Many of the tours offered to Wicklow include a stop at the monastic city of Glendalough, founded in the 6th century by St. Kevin, known as the valley of the two lakes. You will enjoy a traditional Irish lunch and some free time to roam and explore the mystical and natural beauty of the valley.
The national park is located only 30 km (18.5 mi) south of Dublin cruise port, and it takes less than a 1-hour drive to get there. The best way to get there is on an organized shore excursion which will take you to the most scenic spots and famous spots in the national park.
Explore The Wicklow Mountains reviews, tours and activities on Tripadvisor and Viator
To Wrap Up
Whether you decide to take in Ireland's natural landscapes, visit its impressive castles and historic landmarks, or spend time enjoying authentic Irish whiskey in one of its lively pubs, you will spend an unforgettable time in Dublin. Make sure you plan your day ahead so you can maximize your stay in this wonderful port of call!
If you are planning the British Isles cruise, make sure you check out my cruise port guides to Cork, Belfast, Invergordon, Glasgow, Holyhead, Dover
Read Also: 25 Top Shore Excursions Packing List Items
---
This article may contain affiliate / compensated links. For full information, please see my disclaimer here.