Welcome to Valencia port of call!
Nestled along the banks of the Turia River, overlooking the Mediterranean Sea, Valencia is one of the major ports of Spain together with Barcelona included in the Western Mediterranean cruise itineraries. The city is incredibly beautiful and boasts a rich cultural and historical heritage, delicious local cuisine, stunning architecture, and a typical Spanish vibe. In this article, I share with you:
Valencia port information (Valencia cruise terminal, getting around the port)
12 best things to do in Valencia, port highlights, Valencia shore excursions
Visit our cruise port guides for Barcelona, Malaga, Tenerife, Lanzarote, Madeira, Palma de Mallorca, Ibiza, Rome (Civitavecchia), Florence (Livorno), Palermo (Sicily), Marseille,  Gibraltar, Lisbon
Search the best Mediterranean cruise deals!
Valencia Port Information
Besides being an important Mediterranean cruise passenger and ferry port, the port of Valencia is Europe's 5th largest cargo and container seaport. The port is located in an industrial area, approximately 10 km/6 miles (a 25-minute drive) from the historic city center.
Cruise ships in port usually dock at the Trasmediterránea cruise terminal located on the Poniente Quay (Muelle de Poniente). This terminal consists of 2 berths (395m and 379m long respectively) located close to the Valencia Passenger Terminal, where cruise passengers have access to a tourist information center, a duty-free shop, a restaurant/cafeteria, souvenir shops, Internet Access, phones, restrooms. This passenger terminal also provides regular ferry transportation to and from the Balearic Islands.
When this terminal is busy, cruise ships dock at the Port of Valencia's North Extension which consists of 2 quays 430m and 440m long that can accommodate the world's largest cruise ships. There is no terminal building here and shuttle buses are provided to take guests to the main terminal building. On the pier, you will find taxis, tour buses and shuttle buses.
Helpful info & links:
Check the cruise schedules on the

Port Authority of Valencia official webpage

The currency in Valencia is EURO (€) like in the rest of Spain. Major credit cards are accepted in most places, but always make sure you have some cash for souvenirs and tipping (tipping is not mandatory, though). See the

currency converter

.
Cruise lines normally provide shuttle buses to the city center for an extra cost. The driving distance from the Valencia port to the city center is approximately 20-30 minutes one way, depending on the traffic. The shuttle bus drop-off/pick-up point is near Valencia's old town, only a 5-minute walk from the famous Serranos Gate (Torres de Serranos) that marks the entrance to the old town area.
A taxi to the city center shouldn't cost you more than 30€ per vehicle, which might be a cheaper option than a shuttle bus if you are traveling with a group. Always make sure you negotiate the taxi price in advance to avoid inconveniences.
Valencia Hop on Hop off sightseeing bus tours are available in the city and cover the main city attractions. You can check out the offer on

Viator

and

Get Your Guide

Shopping in Valencia – The shops and attractions in most parts of Spain, including Valencia, are normally open from 10:00 am to 2:00 pm, and then from 4:30 pm to 8:00 pm. Spanish siesta time is usually 2-3 hours long and takes place in the middle of the day. However, some department stores and shopping centers are open non-stop. Museums and historic landmarks are usually closed on Mondays.
Valencia has an extensive and reliable public transportation network that consists of buses, trams, and the metro. To get around the city, you can use the public buses operated by EMT (check the schedules at

https://www.emtvalencia.es/

) or the metro (get the metro map at

https://www.metrovalencia.es/

). The single ticket costs 1.50€.
Valencia central bus station is located at 11, Menéndez Pidal Street, approximately a 15-minute walk from the shuttle bus drop-off point. Check the schedules at

https://www.alsa.com/

If you're planning to use public transport in Valencia, you can also get Valencia Tourist Card that offers you unlimited rides and discounts at museums, shops and restaurants. A 24-hour card costs 15€ and you can purchase it at tourist information offices in the city center, bus stations, airport or online.
Valencia Airport (Aeropuerto de Valencia), also known as Manises Airport, is located around 17 km/10.5 miles from Valencia port. The driving distance is around 20 minutes.
Valencia enjoys a subtropical Mediterranean climate with mild winters and hot summers. For useful cruise packing tips, check out my article

What to Pack for a Cruise in 2023 – Top 60 Cruise Essentials
12 Best Things to Do in Valencia Port
Valencia is a mixture of old and modern, and if you are coming for the first time, I suggest you take a tour around the city as it boasts marvelous architecture, a beautiful old town and plenty of shops, eateries, and places to explore.
Before I share the best things to do in Valencia, I invite you to grab your copy of the "Mediterranean Cruise Port Guide", the most comprehensive guide to 45 Mediterranean cruise ports (including Valencia), packed with practical information, expert tips & unforgettable experiences! (PDF format/200 pages)

Ultimate Guide to Mediterranean Cruise Ports
Plan your Cruise Itinerary in Less than an Hour and Maximize Your Port
Experience!
1. The Serranos Towers
The Serranos Towers (Torres de Serranos) are considered to be one of the largest Gothic city gates in Europe. They were constructed at the end of the 14th century as one of the twelve gates that formed part of the ancient city wall, the Christian Wall of Valencia city.
From its terraces, you can enjoy beautiful views of the city and the Turia River. They overlook the Pont dels Serrans, which is a bridge that you need to cross in order to get into the Old Town area. The shuttle bus will drop you off 5 minutes walk from there. The entrance fee to the tower and observation deck is 2€. The Serranos Gate is closed on Mondays.
Check out Serranos Towers tours and activities
2. Plaza de la Virgen
Only 5 minutes walking distance from The Serrans Towers, you'll come across this beautiful square which used to be the site of an earlier Roman Forum. The square is also known as Plaça de la Seu and Plaça de la Mare de Déu.
This large pedestrian square is home to the Turia Fountain which represents the Turia River and depicts Neptune, and a number of outdoor cafes and important historical buildings. The most emblematic building is the 17th-century Basílica de la Mare de Déu dels Desemparats, a basilica dedicated to the patron saint of Valencia, Our Lady of the Forsaken. The basilica features a blue-tiled dome and an impressive Baroque interior that you can visit free of charge.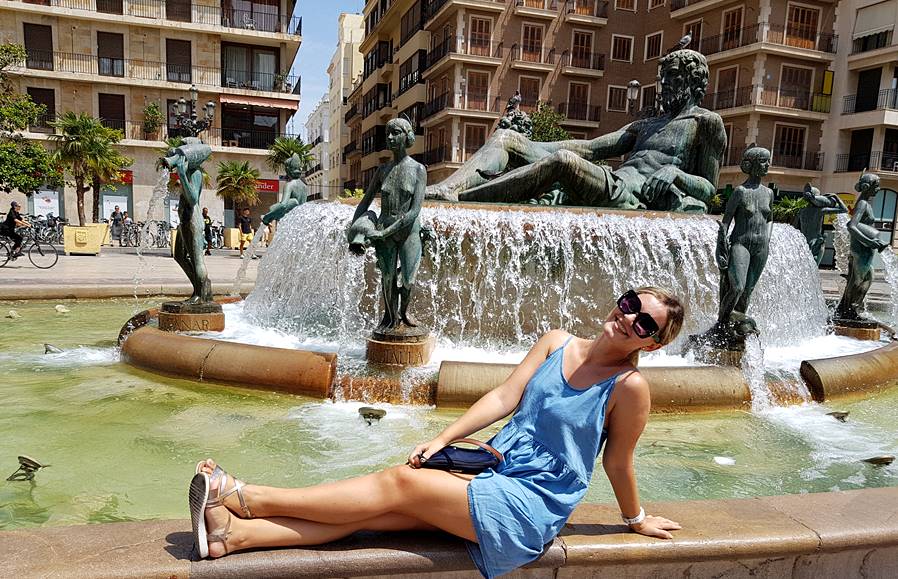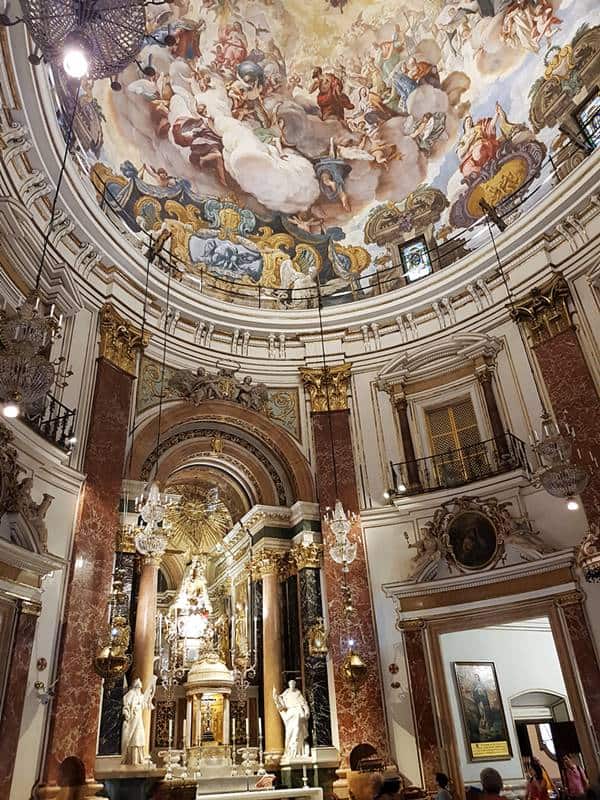 Right next to the basilica, you can admire the famous Porta dels Apòstols (Door of the Apostles) of Valencia's Santa Maria Cathedral (Saint Mary's Cathedral), known for the impressive carvings of the 12 apostles adorning the entry. Already from there, visitors can enjoy the view of the iconic El Micalet, the 51-meter tall cathedral bell tower which is today the symbol of Valencia.
Check out Plaza de la Virgen tours and activities
3. Valencia Cathedral
Dedicated to the Assumption of Our Lady of Valencia, this iconic cathedral is also known as Saint Mary's Cathedral (Santa Maria Cathedral), La Seu de València ("La Seu" means "the cathedral"), or simply Valencia Cathedral. The cathedral is very large and a part of it is located on Plaza de la Virgen.
The cathedral was built in the 13th century on the site of the former Visigothic cathedral, which had been transformed into a mosque under Moorish rule. The cathedral features the Gothic architectural style with Romanesque, Renaissance, Baroque and Neoclassical elements, and it boasts numerous 15th-century paintings in its interior.
One of the most precious relics is a purported Holy Chalice, believed by many to be the true Holy Grail. It is kept in the Chapel of the Holy Chalice, one of the several cathedral chapels.
The most emblematic landmark of the cathedral is the octagonal El Micalet (El Miguelete) bell tower, built between 1381 and 1424. The bell tower was originally a free-standing tower and was joined to the cathedral at a later date. El Micalet has 4 floors that you can climb (207 steps in total) and admire the breathtaking views of Valencia's Old Town.
If you keep walking Carrer del Micalet street from Plaza de la Virgen, you'll soon reach Plaça de la Reina, another beautiful square from where you can enjoy the most beautiful views of the Cathedral and the bell tower.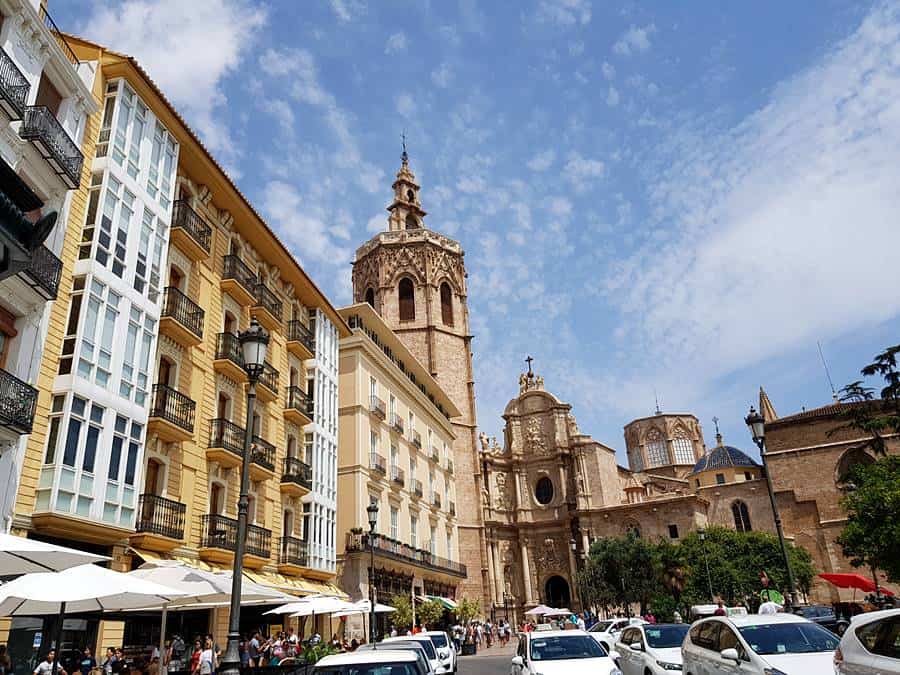 The admission fee to the Valencia Cathedral is 9€, and this price includes a visit to the museum and an audio guide. If you want to climb the bell tower, you need to pay an additional 2.50€. Discounted rates are available for children, senior citizens, groups, and holders of the Valencia Tourist Card. Find more information on Valencia Cathedral's official webpage
Check out Valencia Cathedral tours and activities
4. Plaça de la Reina
This lively square is located less than a 5-minute walk from Plaza de la Virgen and offers the most stunning views of Valencia Cathedral and its iconic bell tower. The square is bordered by plenty of shops, cafes, bars and restaurants and is partially pedestrian. Its central area is a park where you can find benches and shaded areas.
On the opposite side of the Valencia Cathedral, you can admire the 13th-century Church of Santa Catalina with its 18th-century Baroque tower housing the belfry.
Check out Plaza de la Reina tours and activities
5. Explore the Old Town Streets
Barrio del Carmen and La Seu are two Old Town neighborhoods where the majority of historic landmarks are located. They are part of the Ciutat Vella district that basically starts at the medieval Serranos Towers and includes a network of narrow, winding streets filled with shops, restaurants, tapas bars, museums, and other historic landmarks.
Plaza de la Virgen and Plaza de la Reina are part of the old town area, as well as some other squares and landmarks that I am about to list below. While wandering around its cobbled streets, I suggest you try the delicious local ice cream and sangria, or grab a bite at one of the numerous tapas bars. Keep in mind that the prices may vary depending on where you go (the price of a glass of sangria in front of the Valencia Cathedral and the one in the neighboring streets vary substantially). Some parts of the old town are cobblestone, so make sure you wear comfortable footwear.
Explore Valencia Old Town tours and activities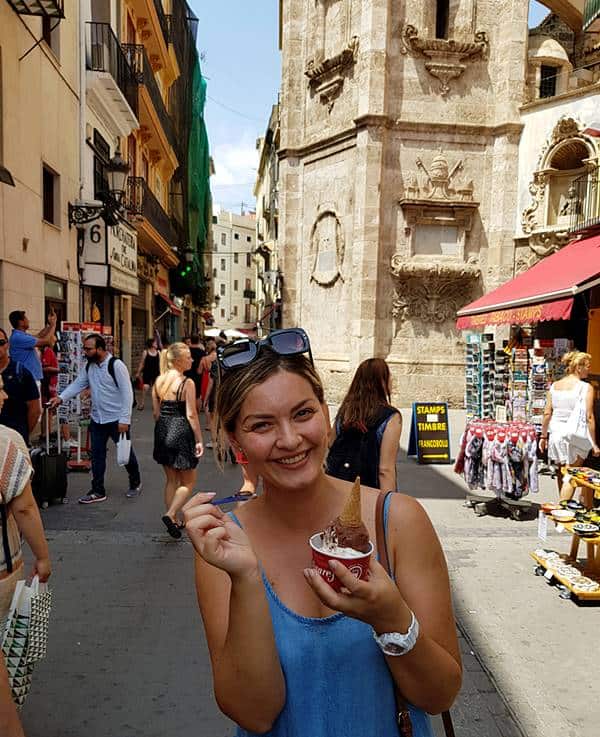 6. Plaza del Ayuntamiento
This magnificent plaza is one of the largest squares in Valencia and is dominated by the imposing building of Valencia Town Hall (Ayuntamiento de Valencia). Dating from the 18th century, the majestic Town Hall was built in an eclectic style and features an elegant marble staircase, municipal archives, a City History Museum, and an impressive clock tower. When there are no official meetings and city councils going on, the City Hall is open to the public and you can take a guided tour for 3€ per person.
Plaza del Ayuntamiento is partially closed to traffic and very often hosts open markets at weekends. It features a large fountain, green areas, and a couple of other important landmarks, including the Correos – the main post office building. Here you will find many shops, restaurants and cafes. To get to the Plaza del Ayuntamiento, all you have to do is continue walking Carrer de Sant Vicent Martir street from Plaza de la Reine and in 5 minutes you'll reach the Town Hall square.
Check out Plaza del Ayuntamiento tours and activities
7. Valencia Bullring
Less than a 5-minute walking distance from the Plaza del Ayuntamiento, you'll reach Plaza de Toros de Valencia, officially Plaça de bous de València, or Valencia Bullring. Inspired by Rome's Colosseum and France's Arena of Nîmes, Valencia Bullring was built in the 19th century in the Neoclassical style. This massive bullring was used for bullfighting back in past, and nowadays features a museum and guided tours.
Right across the street is located the imposing building of the North Station (Estación del Norte), the main railway station in Valencia.
Check out Valencia Bullring tours and activities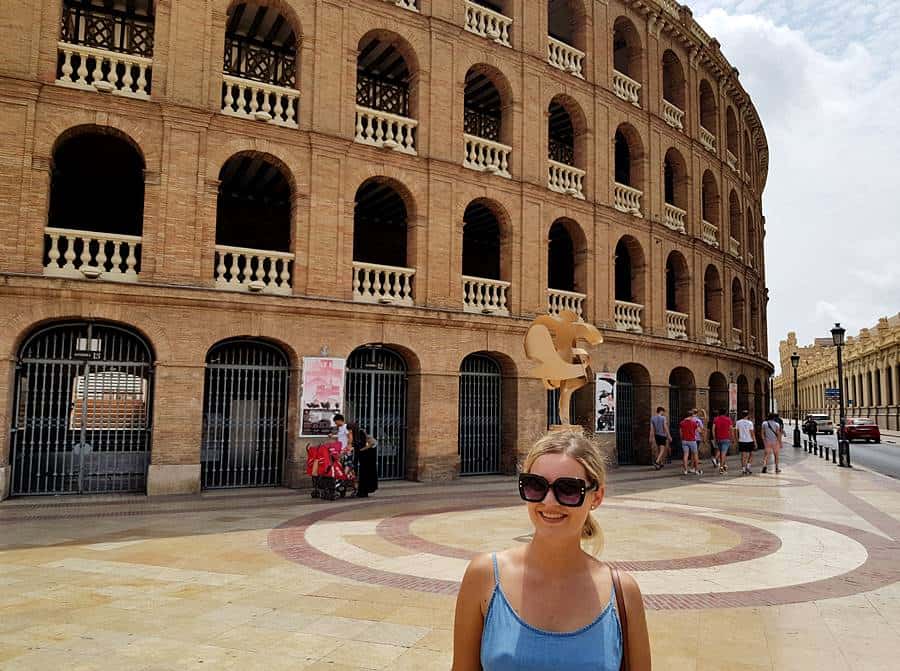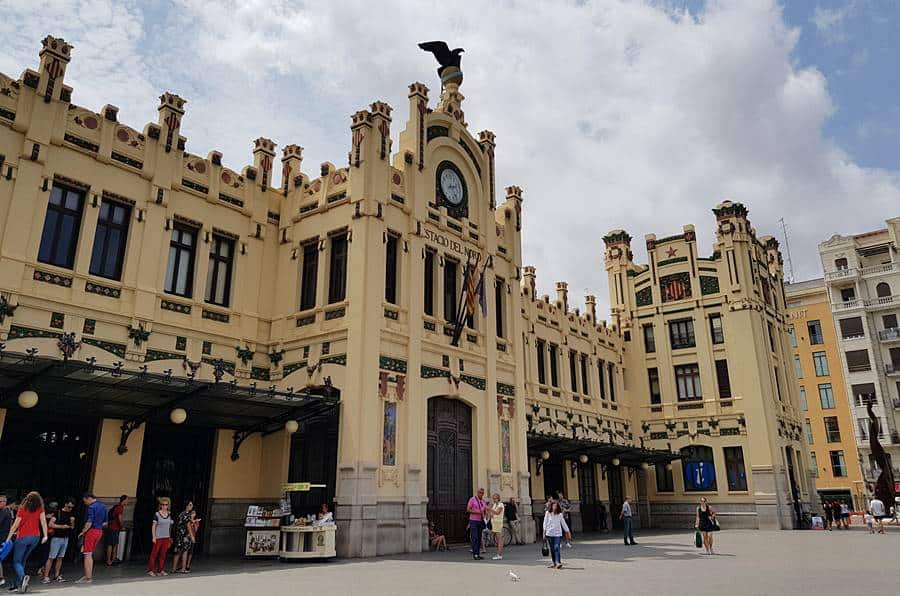 8. Mercado Central
During your visit to the city, the Central Market of Valencia should be at the top of your bucket list. This is the place where you get to feel the unique city vibe and interact with its friendly locals.
Housed in an Art Nouveau building dating from the first half of the 20th century, Mercado Central spreads across more than 8.000 square meters and ranks among the largest markets in Europe. You'll find all sorts of products here, from meats, fish, seafood, pastry, fruits, vegetables, cheese and wine selection, to souvenir shops, restaurants, and tapas bars.
Mercado Central is located a 5-minute walk from both Plaza de la Reina and Plaza del Ayuntamiento. It sits across the Llotja de la Seda and the Church of Santos Juanes (San Juan del Mercado).
Check out Mercado Central tours and activities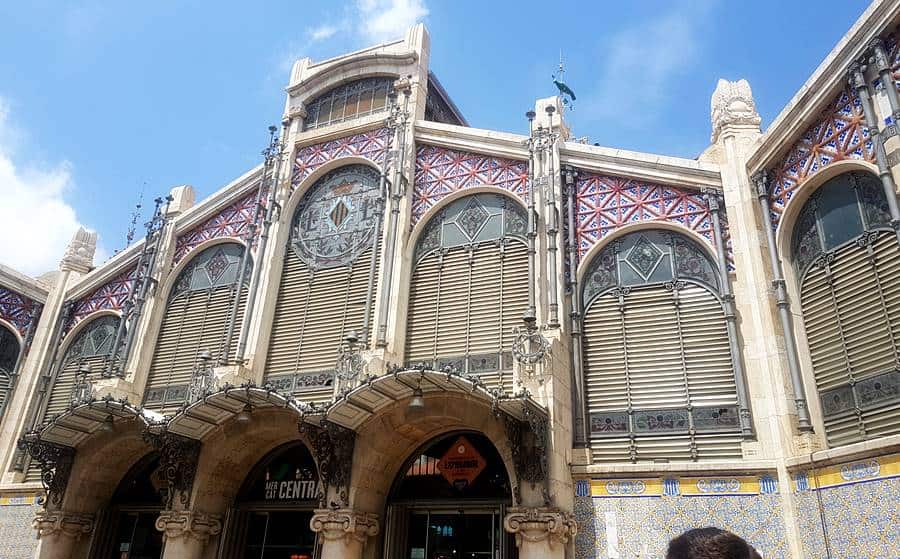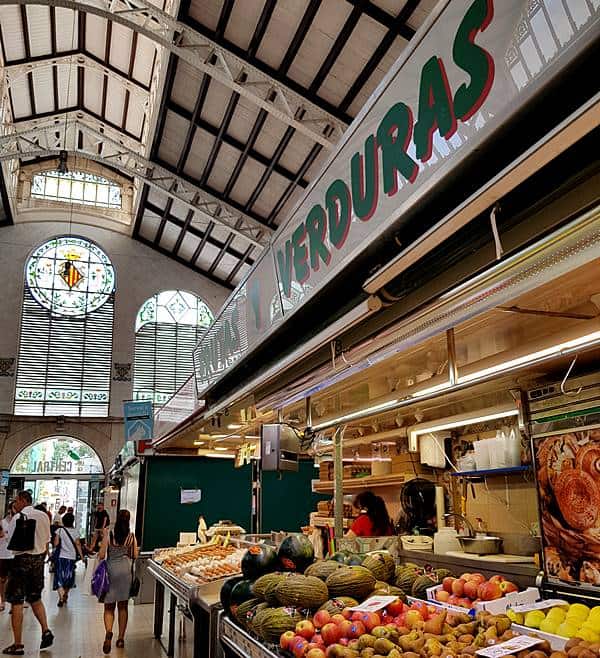 9. La Lonja de la Seda
The Llotja de la Seda (La Lonja de la Seda in Spanish) is a UNESCO World Heritage Site and one of the main Valencia attractions. The "Silk Exchange" building was built in the 15th century in the late Gothic style and used to be a hub for the city's silk and commodities traders.
La Lonja de la Seda consists of several halls including the majestic Sala de Contratación (The Contract Hall) whose lavishly decorated space and massive spiral columns illustrate the power and wealth of a major Mediterranean mercantile city in the 15th and 16th centuries. The admission fee is 2€ and it's closed on Mondays.
Check out La Lonja de la Seda tours and activities
10. The City of Arts and Sciences
The City of Arts and Sciences (Ciudad de las Artes y las Ciencias) is a huge cultural and architectural state-of-the-art complex inaugurated in 1998. The complex is located within a huge landscaped park and consists of several buildings, including:
The interactive Science Museum (Museu de les Ciències Príncipe Felipe) housed in a massive 3-floor building that resembles the skeleton of a whale;
The Hemispheric Planetarium (L'Hemisfèric) featuring an IMAX Cinema, planetarium and laserium. Also known as the "eye of knowledge", L'Hemisfèric resembles a giant eye and is the centerpiece of the City of Arts and Sciences.

The Oceanographic Marine Park

Aquarium (L'Oceanogràfic) is the largest oceanographic aquarium in Europe, home to over 45.000 animals from 500 different species, including sea lions, sharks, dolphins, penguins, walruses, beluga whales, and others.
Palau de Les Arts Reina Sofia is an opera house and performing arts center dedicated to music and the performing arts.
The City of Arts and Sciences is located a 10-15-minute drive from Valencia Old Town, and a little bit less than a 15-minute drive from Valencia port. The admission prices vary depending on what attractions you want to visit. There are a number of combined tickets and guided tours offered as well. Find additional information on the City of Arts and Sciences official website.
Check out the City of Arts and Sciences tours and activities
11. Albufera Nature Reserve
L'Albufera de València is the largest freshwater lagoon in Spain and a wetland featuring a great variety of flora and fauna that you can observe on a guided tour. Take a boat ride through the lagoon and then head over to the village of El Palmar where you can try the most delicious paella, a Valencian traditional rice dish. History says that paella was actually invented here in Albufera!
Albufera Nature Reserve is located 24 km/15 miles from the port of Valencia, or a 30-minute drive.
Check out Albufera Natural Park tours and activities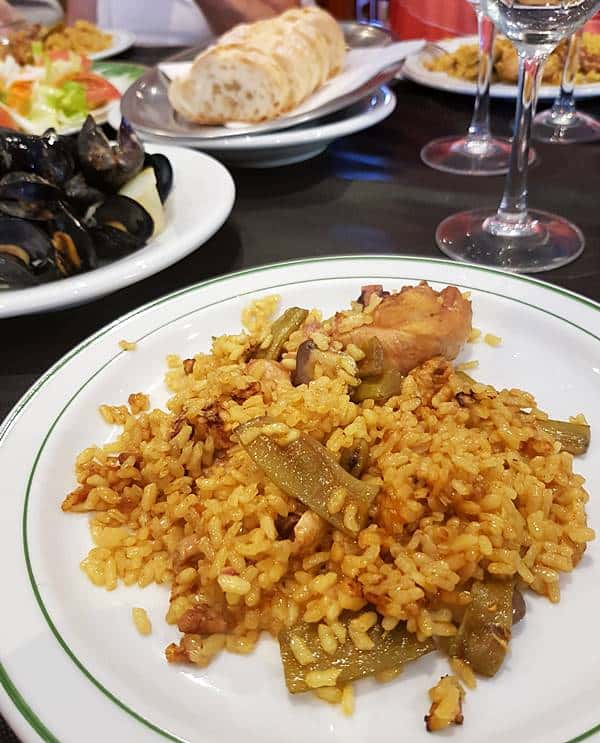 12. Valencia Beaches
Valencia boasts over 20 km of sandy beaches and if you are planning a beach day in Valencia, you're lucky because some of the most popular beaches are located close to the cruise port.
Las Arenas Beach (Playa de las Arenas) is situated around a 10-minute drive from Valencia cruise port. It features a vast stretch of fine, golden sand and offers a lot of facilities including chair/umbrella rentals, toilets, a snack bar and water sports. It has a seafront promenade filled with cafes and restaurants, and some of the budget-friendly hotels are located here (check out the Hotels in Valencia section).
La Malvarossa Beach (Playa de la Malvarossa) is another beach that is connected to Las Arenas beach at the northern end and boasts a wide stretch of golden sands. This beach offers the same amenities as Las Arenas Beach and is popular with locals. Distance from the port: 15 minutes drive
Pinedo Beach (Playa de Pinedo) is located south of the port of Valencia. It offers great views of the port and is backed by a promenade lined with a number of restaurants and cafes. Distance from the port: 20 minutes drive
Wrapping Up
Valencia is a bustling city that offers something for everyone, from stunning architecture and rich history to wonderful cuisine, wide public beaches, amazing shopping, and beautiful natural surroundings. Make sure you plan your day ahead to maximize your stay in Valencia cruise port!
Visit our cruise port guides for Barcelona, Malaga, Tenerife, Lanzarote, Madeira, Palma de Mallorca, Ibiza, Rome (Civitavecchia), Florence (Livorno), Palermo (Sicily), Marseille,  Gibraltar, Lisbon
---
Don't miss out on the opportunity to enhance your Mediterranean cruise experience with our "Mediterranean Cruise Port Guide"- your ultimate companion to discovering the region's hidden treasures and creating unforgettable memories; click below to purchase your copy today and embark on the voyage of a lifetime!

Ultimate Guide to Mediterranean Cruise Ports
Plan your Cruise Itinerary in Less than an Hour and Maximize Your Port
Experience!
---
You May Also Like:
25 Top Shore Excursion Packing List Items
What to Pack for a Cruise in 2023 – Top 60 Cruise Essentials
Mediterranean Cruise Port Guides
This article may contain affiliate / compensated links. For full information, please see my disclaimer here.